Selecting the perfect benchtop colour and design is a crucial step in creating your perfect Kinsman Kitchen. The right benchtop will become a focal point in your kitchen and is a key factor in creating your dream kitchen style. With so many options to choose from- from colours, materials, profiles, and more, it's easy to become overwhelmed. That's why we are here to help! Below, we explore our top 5 tips and considerations to keep in mind when choosing your benchtops.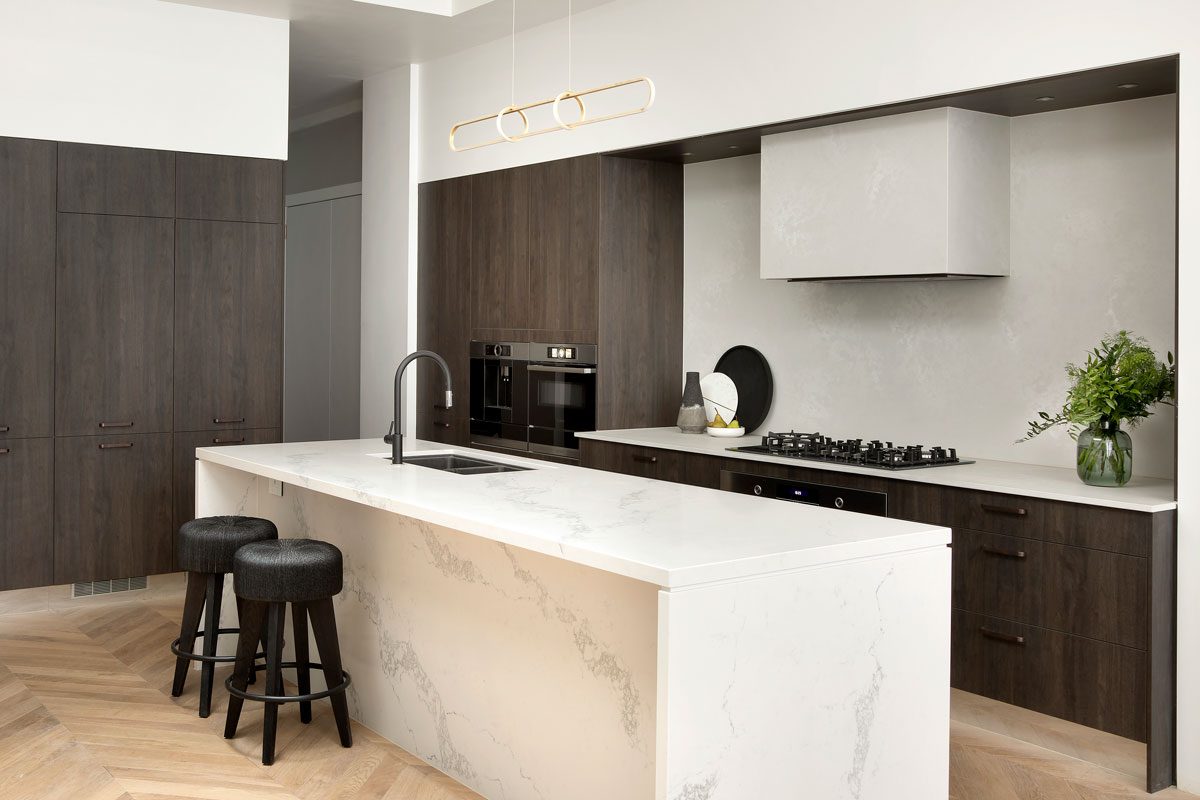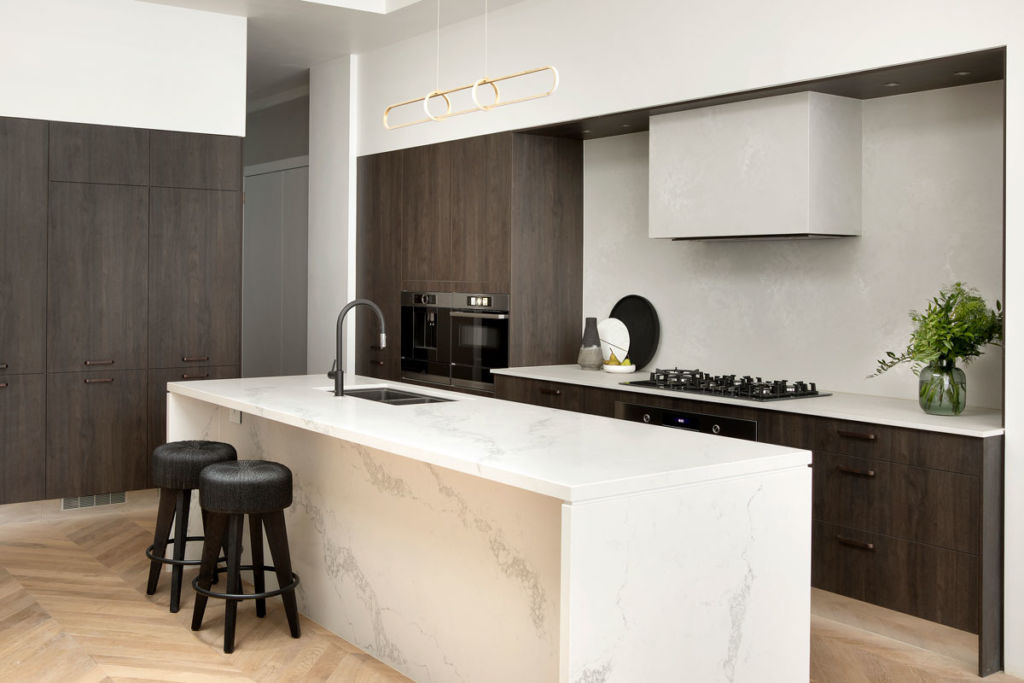 Surface appeal.
Whether you love a marble, concrete or timber-look benchtops, at Kinsman Kitchens we are proud to offer a number of premium, stylish and easy-to-clean benchtop surfaces for you to choose from.
Our extensive laminate benchtops are a consistently popular choice. Manufactured in Europe, they come in a wide variety of colours at an affordable price, making them a practical and economical choice. This range includes our two premium timber-look colours, which features vertical grain edging and knots and planking to create a natural wood-feel- perfect for a fresh take on a Country style kitchen.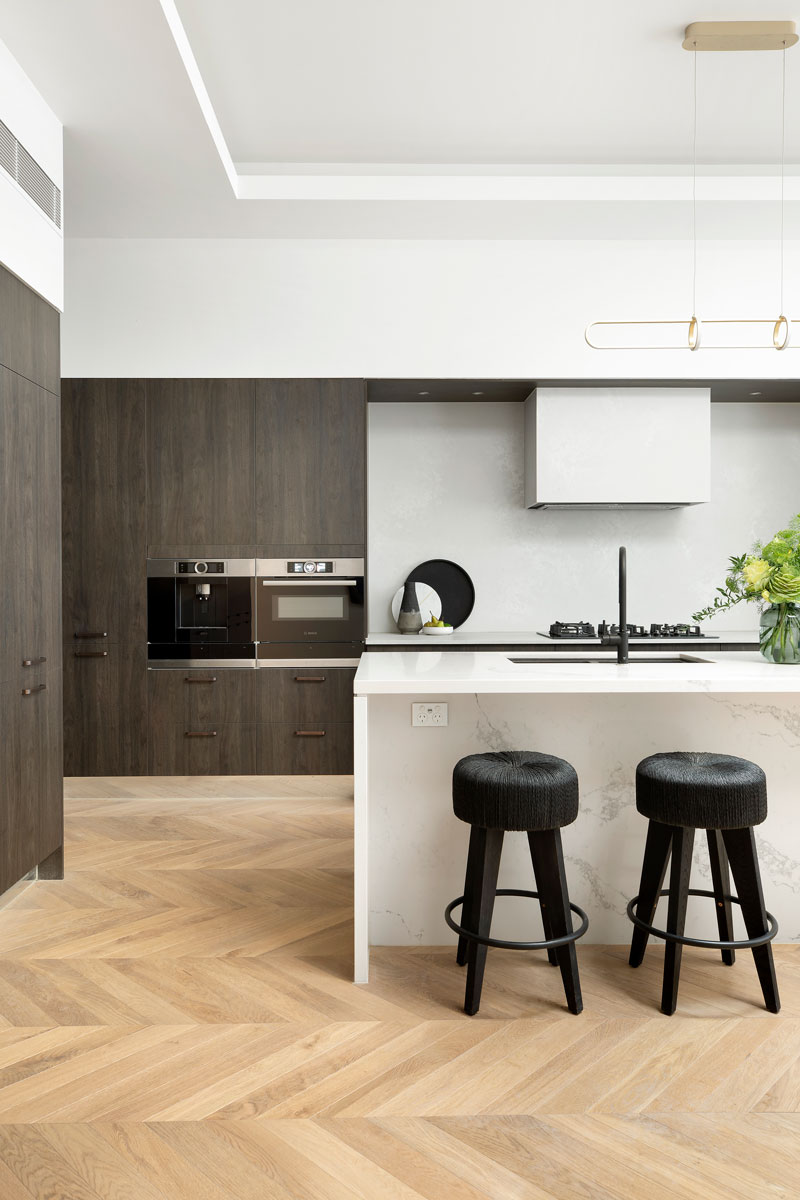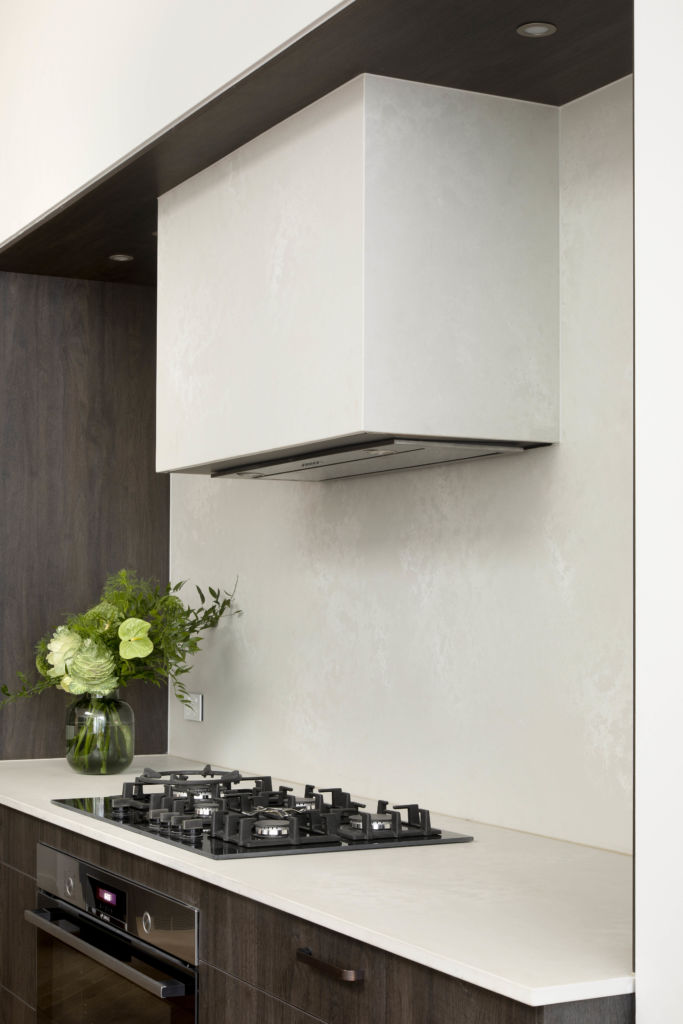 Caesarstone's quartz surfaces effortlessly fuse style and functionality, allowing you to achieve a myriad of looks including luxe marble or concrete-inspired styles, without the maintenance that the true surfaces require. Highly resistant to stains and scratches, as well as featuring anti-bacterial qualities, these tops are a beautiful and hygienic option for your new Kinsman Kitchen.
Style tip: Extend your quartz surface up to the splashback and/or wrap around your rangehood for an effortlessly luxe look. This can be seen above in the opulent and contemporary kitchen Jesse & Mel presented on The Block 2019.
Through thick or thin.
Benchtops come in a variety of thicknesses, from 20mm, 40mm to 100mm and beyond, catering to a variety of styles, needs and budgets. Slim tops are very much on-trend and bring a clean and modern feel to any kitchen, and as Caesarstone slabs are typically 20mm thick, it's also a cost-effective option.
Thicker benchtops add a level of luxury and opulence that ensure that your countertop will be a showpiece in your kitchen and suit a variety of kitchen looks, from a timeless Hamptons-look to a sleek industrial style.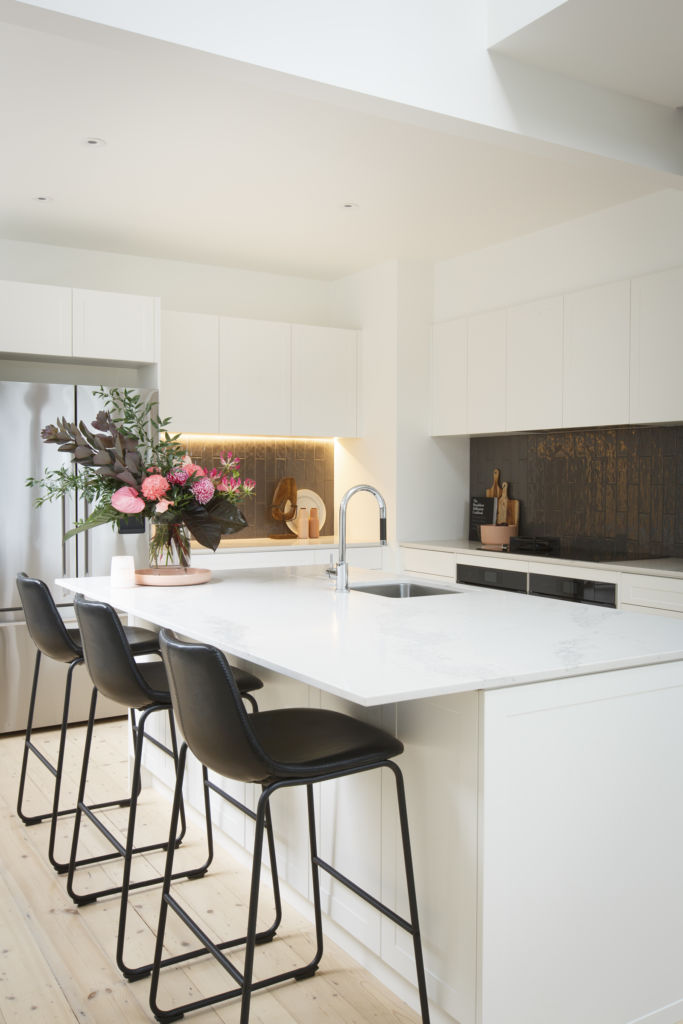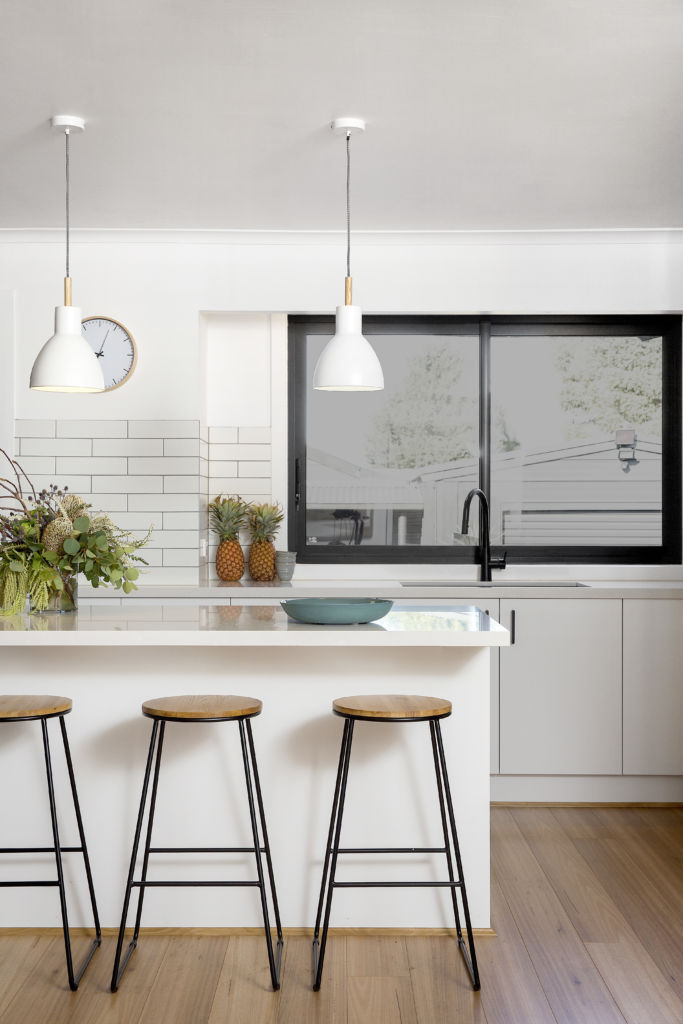 Would you opt for 20mm thick (left) or 40mm thick (right)?
Can't decide? We love to include both in kitchen design: ultra-thin back benchtops teamed with a glamorous chunkier profile on an island bench dials up the drama.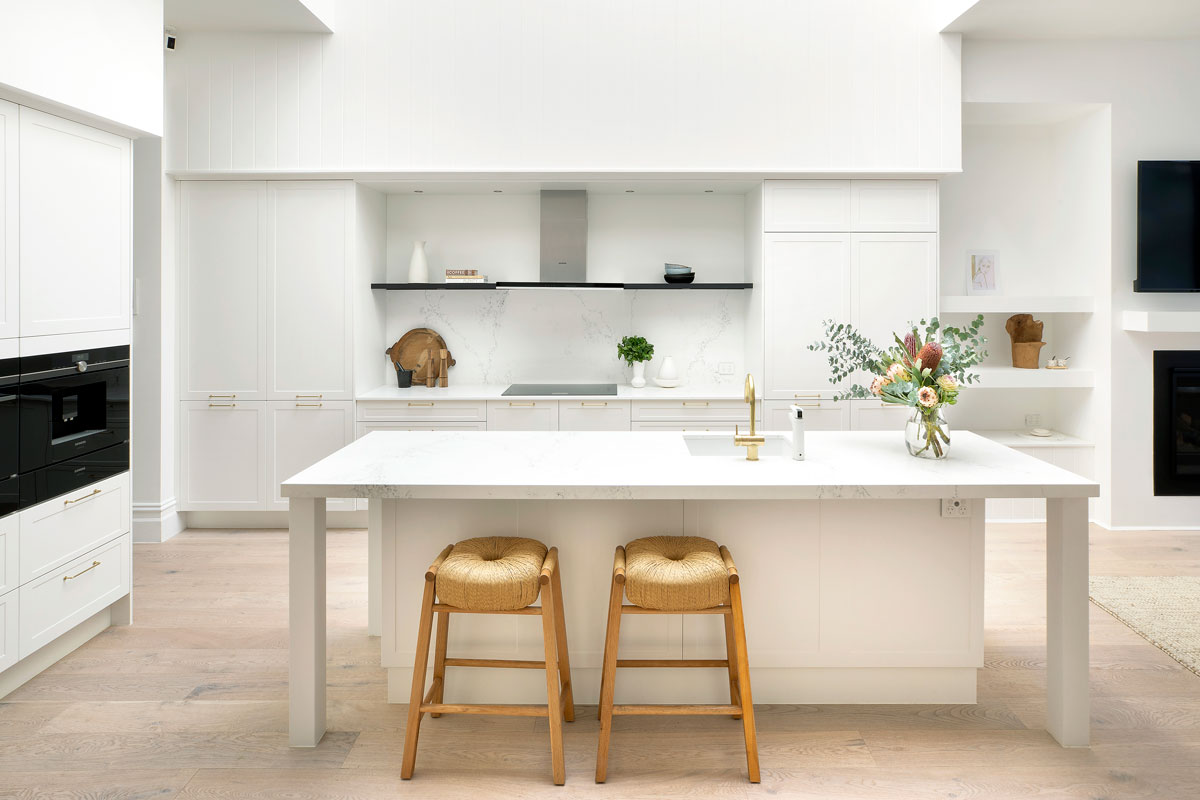 Deb & Andy's winning kitchen from The Block 2019 features a stunning mixture of thick and thin benchtops in Caesarstone's Empira White.
Chasing waterfalls.
One of the most popular design options for island benches is a waterfall edge- and it's easy to see why. Characterised by the benchtop surface cascading down one or both sides of the benchtop down to the floor, this timeless feature can be achieved with either quartz or laminate surfaces.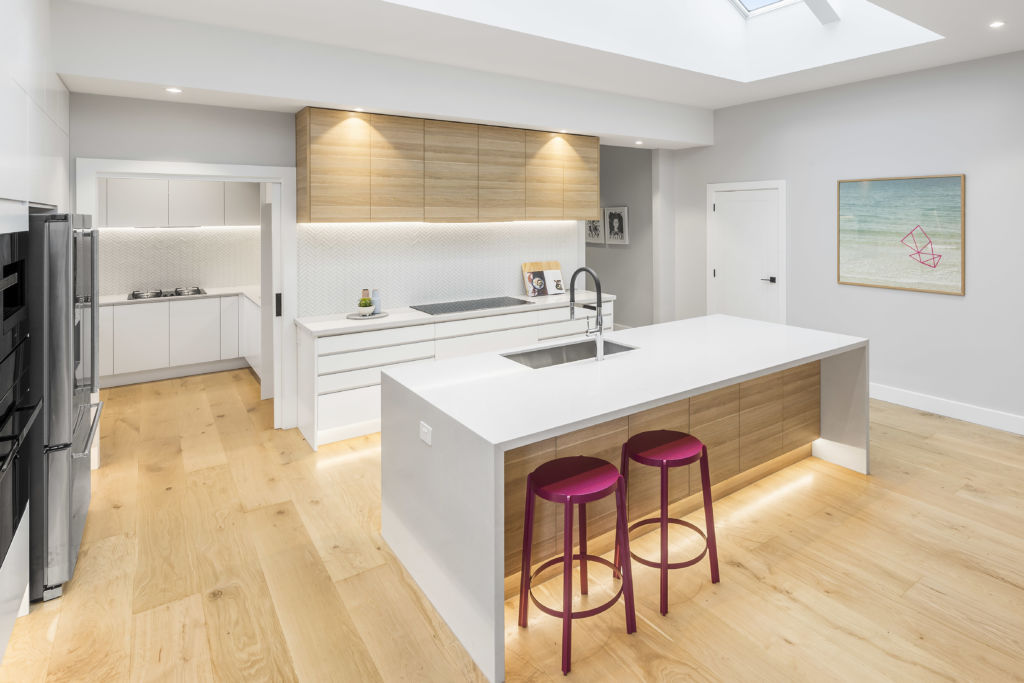 Play with profiles.
Select a benchtop profile that complements your kitchen style – with so many options to choose from you are bound to find your perfect fit. Love the Hamptons or Country look? Consider a Pencil Round or Mitred edge top. Alternatively, a Shark Nose edge profile, defined by its sharp and sleek angle, is an attractive and eye-catching option for those wishing to create a modern kitchen.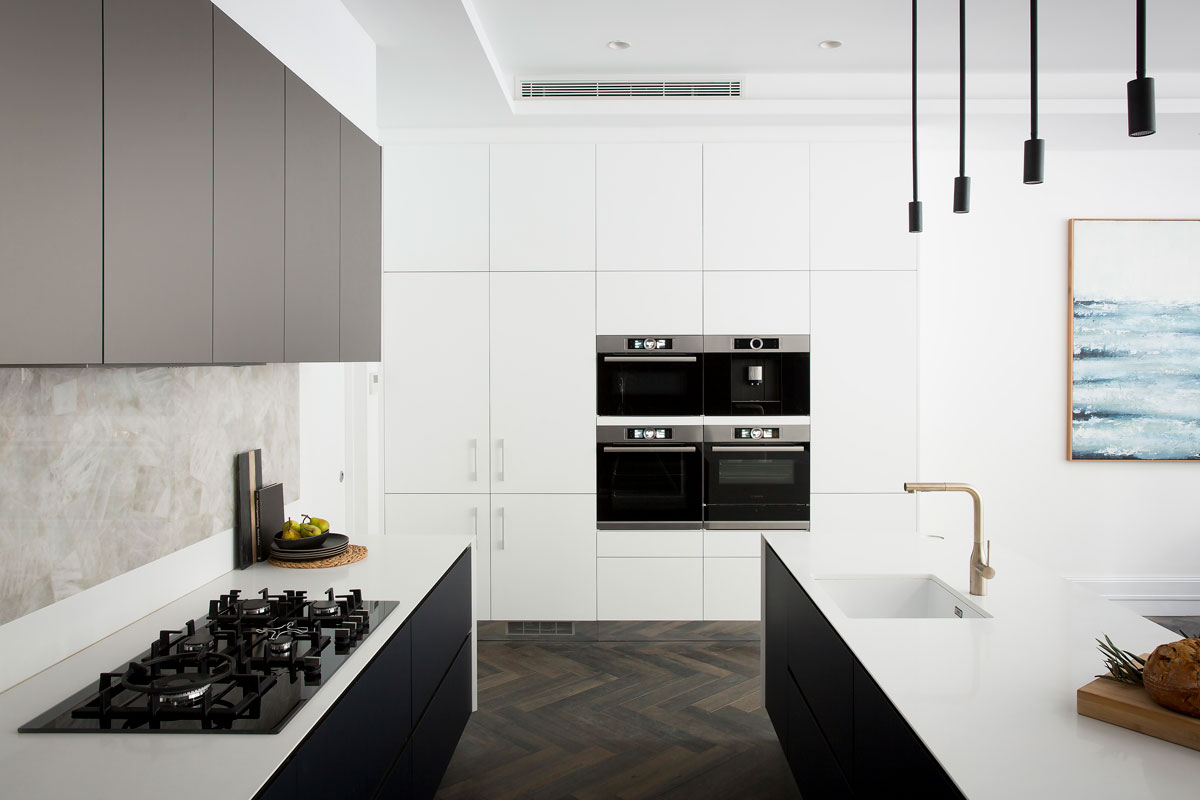 Mitch & Mark, from The Block 2019, opted for sleek Caesarstone Pure White tops with Shark Nose profiles to create a sleek, modern and dramatic kitchen look that wow'd the judges.
Style tip: For a unique look consider a combination of profiles within your kitchen design. For example, you may like a more dramatic profile such as the Shark Nose on your island bench for an eye-catching detail and pair with a timeless profile such as a Mitred profile along your back benches.
Take a seat.
If space permits, including an island bench in your kitchen floor-plan creates a stylish and functional gathering space for your family and/or guests when entertaining. Extend your benchtop across the island to form an overhang, perfect for a seating area and a modern day dining area in your kitchen (as seen below).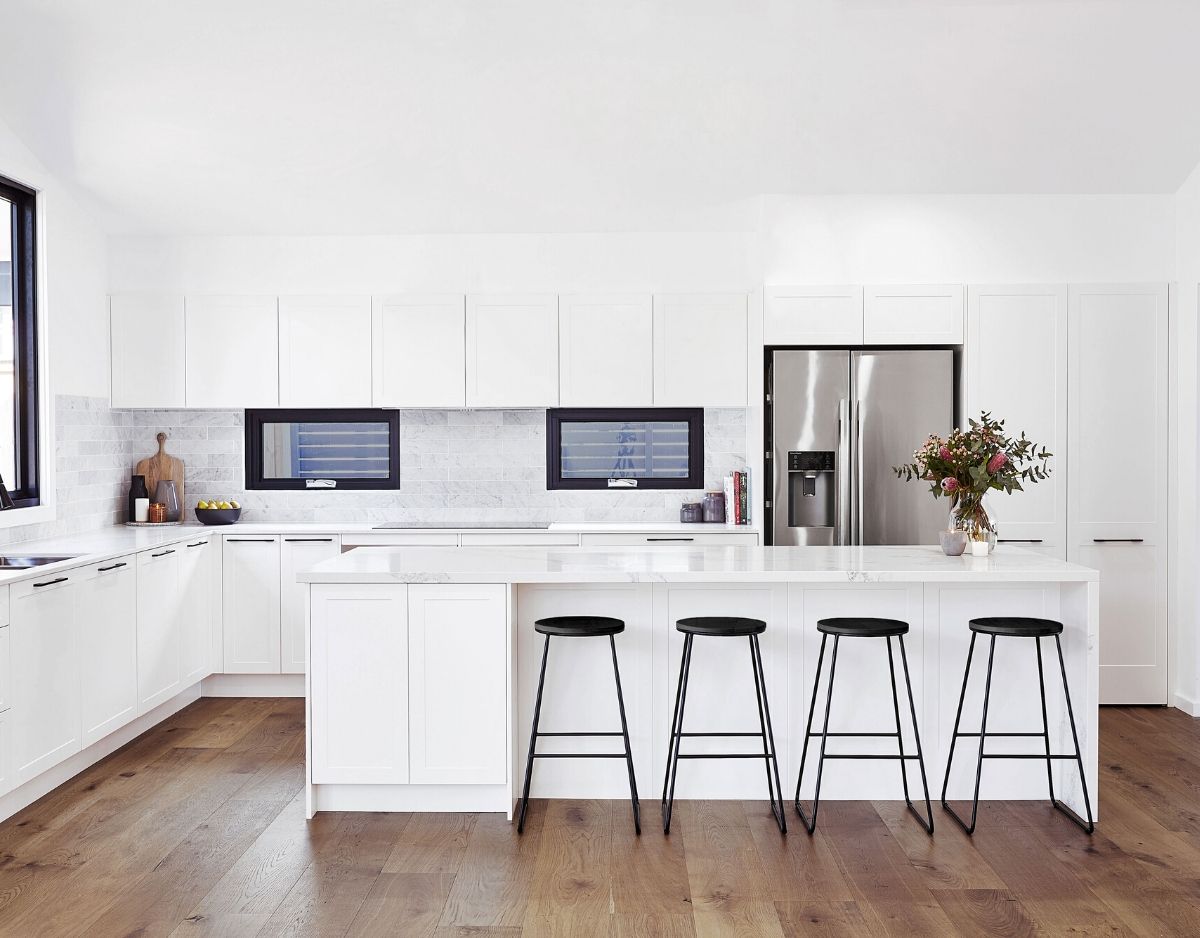 Add a seating zone to your island bench to create a space that brings family and friends together.
Ready to create your perfect Kinsman Kitchen with the perfect benchtop?
Book your expert design appointment today HERE. Plus, for a limited time enjoy $1,500 0ff selected Caesarstone benchtops (terms & conditions apply), find our more HERE.
For more kitchen inspiration download our new catalogue HERE.