Neale Whitaker presents The Kinsman Kitchen Video Series
The kitchen is more than just a room, it's a part of the family. Whether you are looking to create a kitchen to suit your lifestyle or renovating to sell, Australia's foremost style guru, Neale Whitaker is here to help you start planning your very own Kinsman Kitchen.
Throughout this exclusive kitchen series, Neale will guide you through the Kinsman Kitchen journey and cover all the essentials you need to know about the process. Be sure to learn more about Kinsman, familiarise yourself with our range, pick up ideas for a more functional kitchen design and identify potential issues to look out for.
So sit back, relax and enjoying viewing this series to spark inspiration for your kitchen journey with us!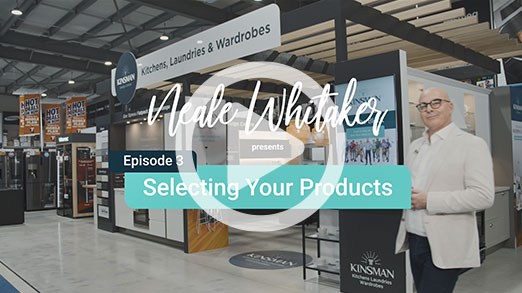 Episode 3
In this episode Neale Whitaker explains the importance for all kitchen renovators to visit a Kinsman Showroom so they can understand the different kitchen ranges, experience the functionality of the products, and decide what finishes suit their home. All Kinsman Showrooms are found within selected The Good Guys stores.
Create a kitchen or laundry you today!