| | |
| --- | --- |
| Find Your Nearest Kinsman Showroom within | |
Please note some of our showrooms may have reduced the opening hours. We advise our customers to call in advance before visiting a showroom.
Important Update – All New South Wales and Victoria Kinsman showrooms are currently unmanned until further notice. In the meantime, we advise our New South Wales and Victoria customers to download a copy of the latest Kinsman catalogue HERE, or book a virtual design appointment HERE.
New South Wales – Currently unmanned
| | |
| --- | --- |
| Kinsman Showrooms are located within The Good Guys stores. | |
ALEXANDRIA 
45-59 O'Riordan Street
Alexandria NSW 2015
(INCL Wardrobe Display)
Phone: (02) 8006 5553
Showroom within The Good Guys
Speak to a showroom consultant during these hours: 
Mon – Sun 11:00am – 3:00pm

ARTARMON
NEW KITCHEN DISPLAY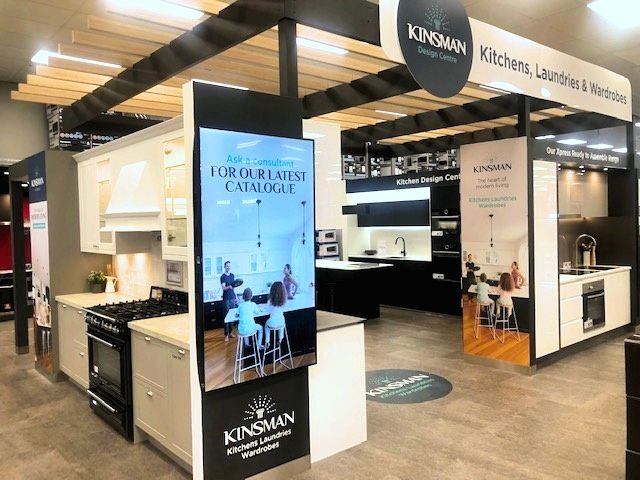 Home HQ, 1 Frederick Street
Artarmon NSW 2064
(INCL Wardrobe Display) 
Phone: (02) 8006 5487
Showroom within The Good Guys
Speak to a showroom consultant during these hours: 
Mon – Sun 11:00am – 3:00pm

CAMPBELLTOWN
NEW KITCHEN DISPLAY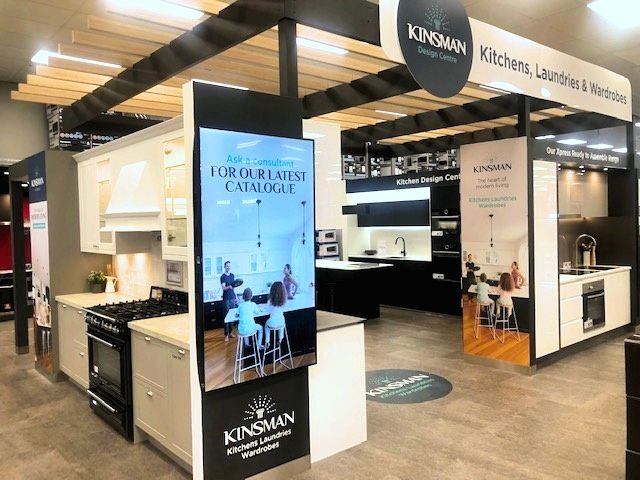 24 Blaxland Road
Unit 13-15, Homebase Campbelltown
Campbelltown NSW 2560
(INCL Wardrobe Display)
Phone: (02) 4602 5028
Showroom within The Good Guys
Speak to a showroom consultant during these hours: 
Mon – Sun 11:00am – 3:00pm

CARINGBAH
NEW KITCHEN DISPLAY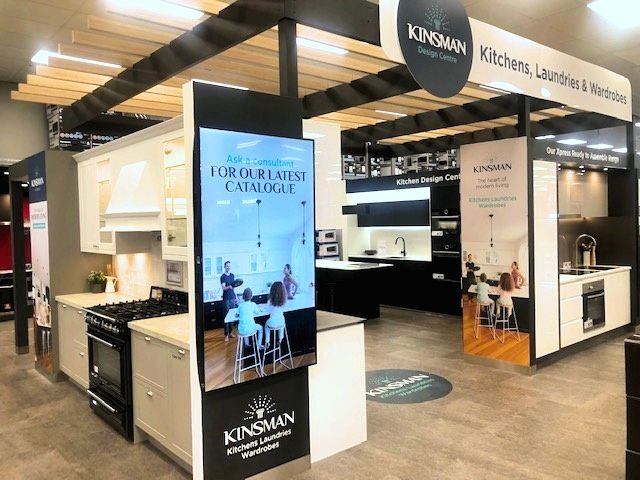 1/152 – 158 Taren Point Road
Caringbah NSW 2229
(INCL Wardrobe Display)
Phone: (02) 8559 0126
Showroom within The Good Guys
Speak to a showroom consultant during these hours: 
Mon – Sun 11:00am – 3:00pm

CASTLE HILL
KITCHEN DISPLAY + POP UP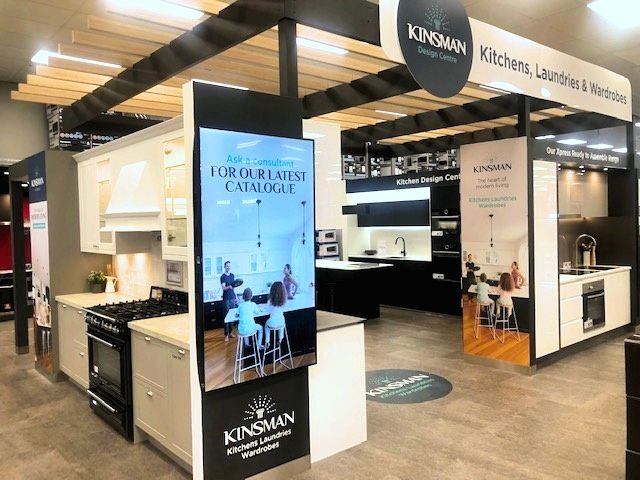 Hills Super Centre
18 Victoria Avenue
Castle Hill NSW 2154
Phone: (02) 8004 8615
Showroom within The Good Guys
Speak to a showroom consultant during these hours: 
Mon – Sun 11:00am – 3:00pm

ERINA
620 – 658 Terrigal Drive
Shop Axa 05, Erina Fair Shopping Centre
Erina NSW 2250
(INCL Wardrobe Display)
Phone: (02) 4304 5718
Showroom within The Good Guys

Speak to a showroom consultant during these hours: 
Mon – Sun 11:00am – 3:00pm

KOTARA
150 Park Avenue
Unit 12 Kotara Homemaker Centre
Kotara NSW 2289
Phone: (02) 4001 0912
Showroom within The Good Guys
Speak to a showroom consultant during these hours: 
Mon – Sun 11:00am – 3:00pm
PENRITH
88-90 Mulgoa Road
Penrith NSW 2750
(INCL Wardrobe Display)
Phone: (02) 4702 1207
Showroom within The Good Guys
Speak to a showroom consultant during these hours: 
Mon – Sun 11:00am – 3:00pm

WARRAWONG
79-85 King Street
Warrawong NSW 2502
Phone: (02) 4203 2617
Showroom within The Good Guys
Speak to a showroom consultant during these hours: 
Mon – Sun 11:00am – 3:00pm

Victoria – Currently unmanned
| | |
| --- | --- |
| Kinsman Showrooms are located within The Good Guys stores. | |
BAYSWATER
NEW KITCHEN DISPLAY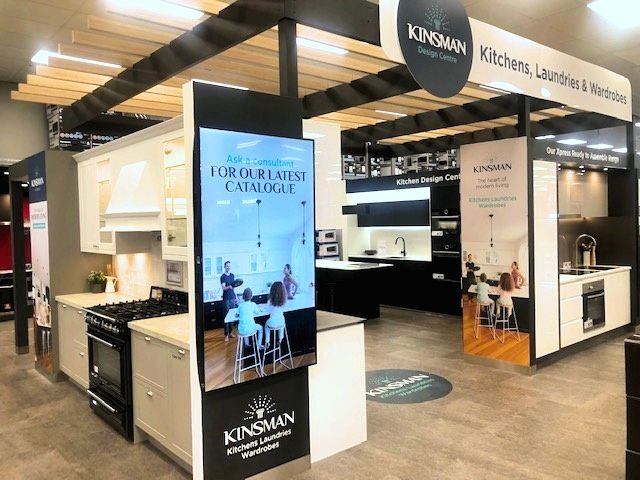 2, 224-234 Canterbury Road
Bayswater VIC 3153
(INCL Wardrobe Display)
Showroom within The Good Guys
Phone: (03) 8777 1057
Email: bayswater@kinsman.com.au
BRIGHTON
Brighton, VIC 3186
Showroom within The Good Guys
Phone: (03) 9005 2208
CRANBOURNE
NEW KITCHEN DISPLAY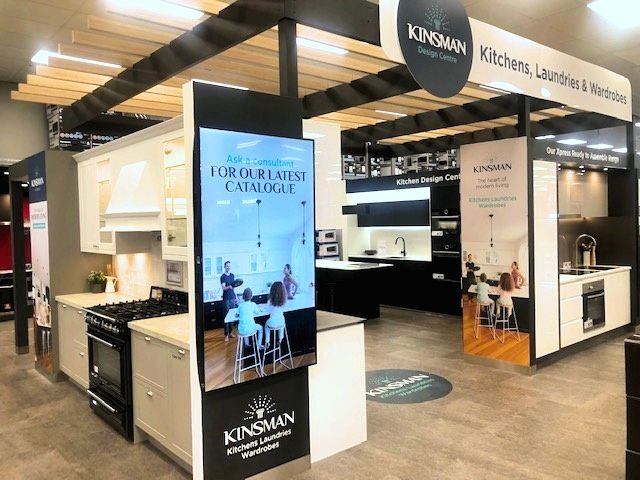 24/350-398 S Gippsland Hwy
Cranbourne VIC 3977
Showroom within The Good Guys
Phone: (03) 8595 1557
DANDENONG
NEW KITCHEN DISPLAY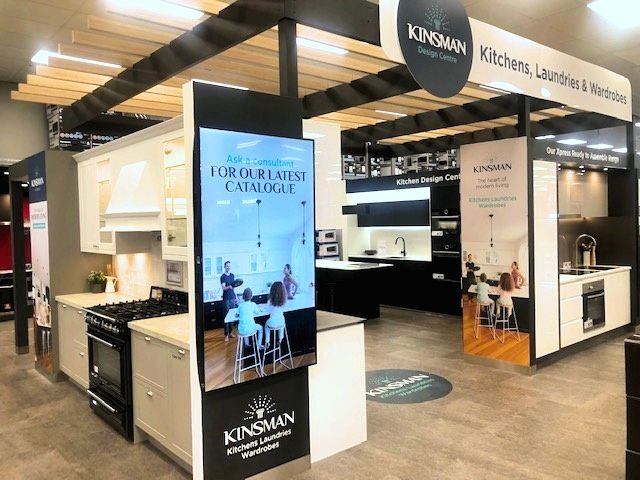 Tenancy 1, 55-67 Frankston – Dandenong Road
Dandenong VIC 3175
Showroom within The Good Guys
Phone: (03) 8797 0247
Email: dandenong@kinsman.com.au
ESSENDON
DFO Essendon, 4 Homemaker Hub Tenancy 20
Bulla Rd, Essendon Fields VIC 3041
(INCL Wardrobe Display)
Showroom within The Good Guys
Phone: (03) 9005 2224
Email: essendon@kinsman.com.au
Speak to a showroom consultant during these hours: 
Thur 10:00am – 5:00pm
Fri 10:00am – 5:00pm
Sat 10:00am – 6:00pm
Sun 10:00am – 5:00pm
FRANKSTON
NEW KITCHEN DISPLAY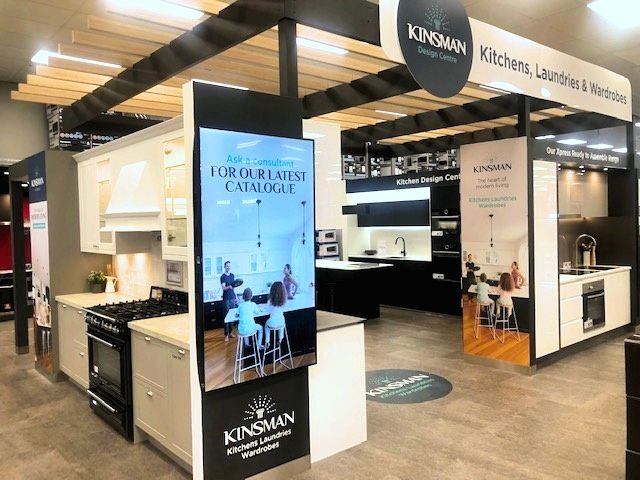 Frankston Power Centre, 111 Cranbourne Road
Frankston VIC 3199
Showroom within The Good Guys
Phone: (03) 8797 0223
Email: frankston@kinsman.com.au
Speak to a showroom consultant during these hours: 
Sat 8:30am – 4:00pm
Sun 11:00am – 4:00pm
GEELONG
NEW KITCHEN DISPLAY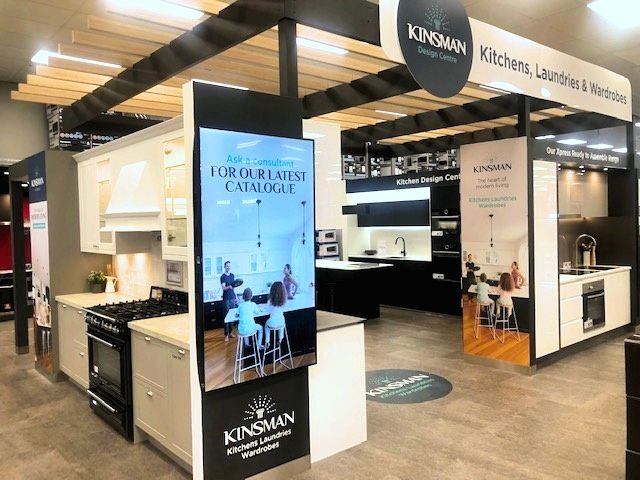 1/40-50 Fyans St, South Geelong VIC 3220

Showroom within The Good Guys
Phone:(03) 5215 6127
Email: geelong@kinsman.com.au
Speak to a showroom consultant during these hours: 
Sat 8:30am – 4:00pm
Sun 12:00pm – 4:00pm
MARIBYRNONG
2-6 Sloane Street
Maribyrnong VIC 3032
(INCL Wardrobe Display)
Showroom within The Good Guys
Phone: (03) 9005 2194
Email: maribyrnong@kinsman.com.au
NUNAWADING
Home HQ, 372-394 Whitehorse Road
Nunawading VIC 3131
(INCL Wardrobe Display)
Showroom within The Good Guys
Phone: (03) 8824 9060
Email: nunawading@kinsman.com.au
Speak to a showroom consultant during these hours: 
Sat 8:30am – 4:00pm
Sun 11:00am – 4:00pm
PRESTON
NEW KITCHEN DISPLAY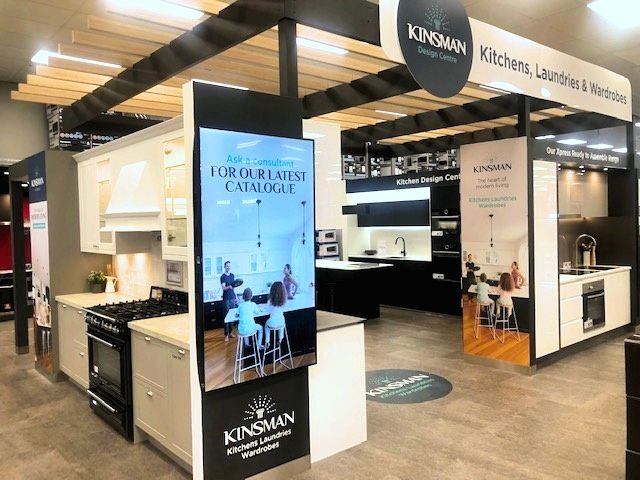 Northland Homemaker Centre
11a Murray Road
Preston VIC 3072
Showroom within The Good Guys
Phone: (03) 9005 2195
Email: preston@kinsman.com.au
SPRINGVALE
754-769 Princess Highway 
(INCL Wardrobe Display)
Showroom within The Good Guys
Phone:(03) 8518 5608
Email: springvale@kinsman.com.au
THOMASTOWN
NEW KITCHEN DISPLAY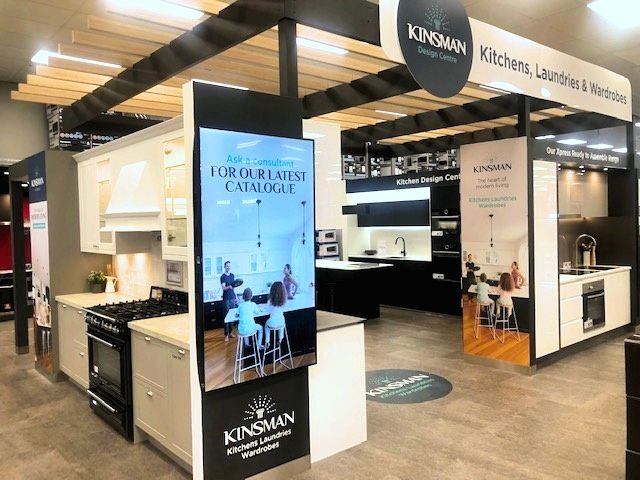 30 Dalton Road
Thomastown VIC 3074
(INCL Wardrobe Display)
Showroom within The Good Guys
Phone: (03) 9005 2228
Email: thomastown@kinsman.com.au
THORNBURY
NEW KITCHEN DISPLAY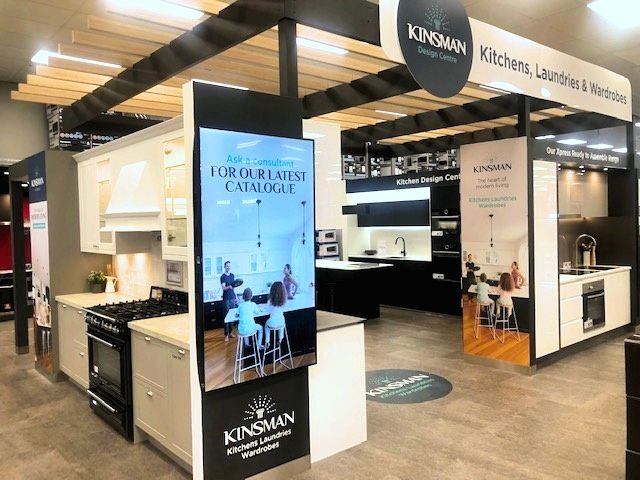 327 Darebin Rd, Thornbury VIC 3071
(INCL Wardrobe Display)

This is a standalone showroom
Phone:(03) 9426 7430
Email: thornbury@kinsman.com.au
Consultant available during opening hours: 
Sat 9:30am – 4:00pm

Queensland
| | |
| --- | --- |
| Kinsman Showrooms are located within The Good Guys stores. | |
BUNDALL
Unit 1a, 13-15 Upton Street
Bundall QLD 4217
(INCL Wardrobe Display)
Showroom within The Good Guys
Phone: (07) 5551 0271
CARSELDINE
NEW KITCHEN DISPLAY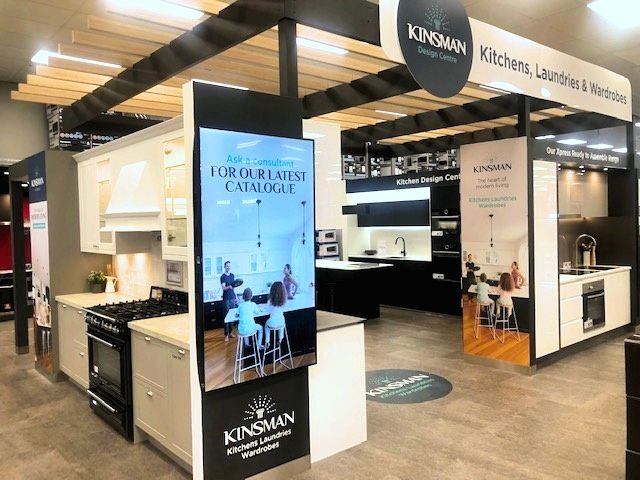 Carseldine Homemaker Centre,
1915-1925 Gympie Road Bald Hills
Carseldine QLD 4036
Showroom within The Good Guys
Phone: (07) 3102 1202
HELENSVALE
NEW KITCHEN DISPLAY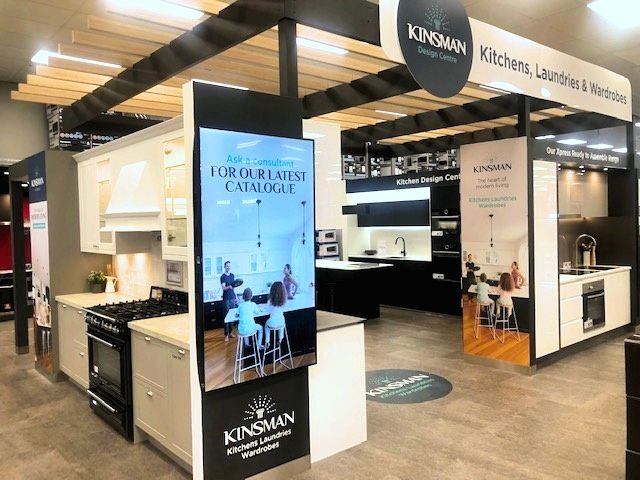 Homeworld Helensvale,
15/502 Hope Island Road
Helensvale QLD 4212
Showroom within The Good Guys
Phone: (07) 5551 0284
LUTWYCHE
412 – 430 Lutwyche Road
Lutwyche QLD 4030
(INCL Wardrobe Display)
Showroom within The Good Guys
Phone: (07) 3866 5644
MACGREGOR
NEW KITCHEN DISPLAY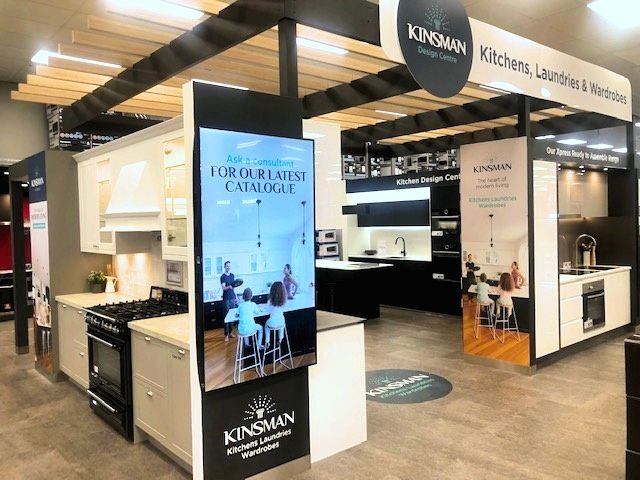 4, 555 Kessels Rd 
 MacGregor, QLD 4109
Showroom within The Good Guys
Phone: (07) 3102 1310
OXLEY
2140-2148 Ipswich Road
Oxley QLD 4075
(INCL Wardrobe Display)
Showroom within The Good Guys
Phone: (07) 3102 2518
South Australia
| | |
| --- | --- |
| Kinsman Showrooms are located within The Good Guys stores. | |
Showroom Coming Soon
MILE END
Tenancy T08/09, 121 – 150 Railway Terrace
Mile End, SA 5031
(INCL Wardrobe Display)
Phone: (08) 7079 9473

Speak to a showroom consultant during these hours: 
Mon – Wed 09:00am – 5:30pm
Thurs 9:00am – 9:00pm
Fri 9:00am – 5:30pm
Sat 9:00am – 5:00pm
Sun 11:00am – 5:00pm