How to measure your kitchen.
Kick off your kitchen journey by sending us a drawing of your space with accurate measurements. This will really help when we start working together on a design for your new kitchen. We will be able to provide you with better layout options and a detailed price during your first design appointment. Here are some great tips for accurate measuring and space planning.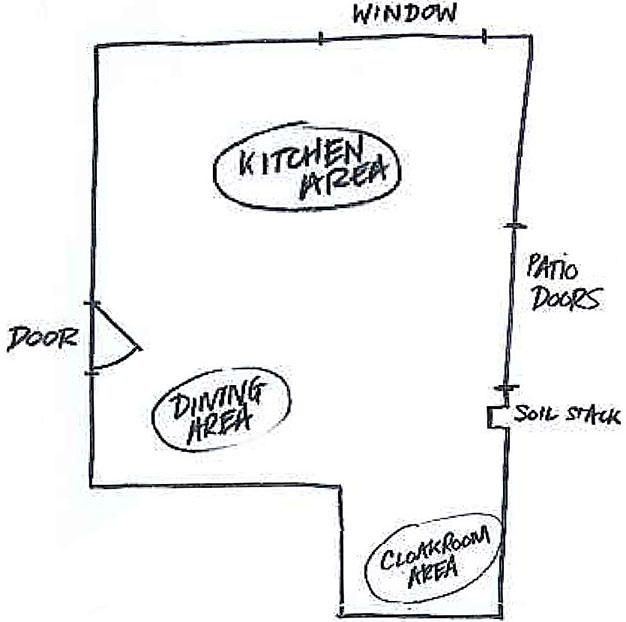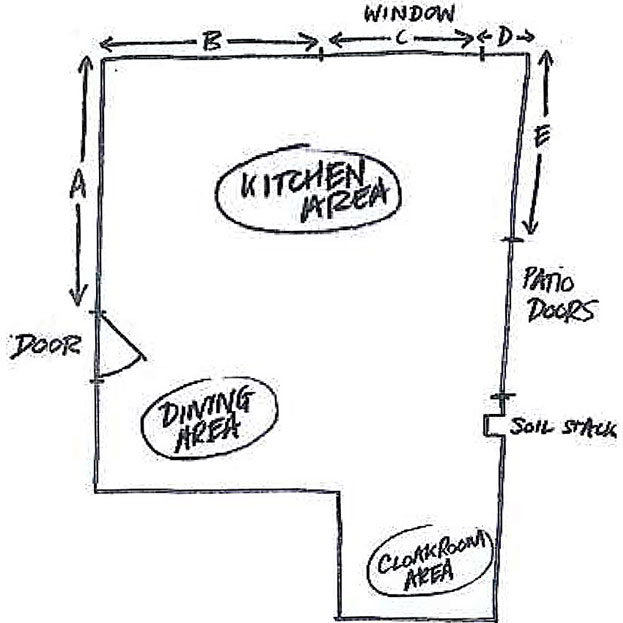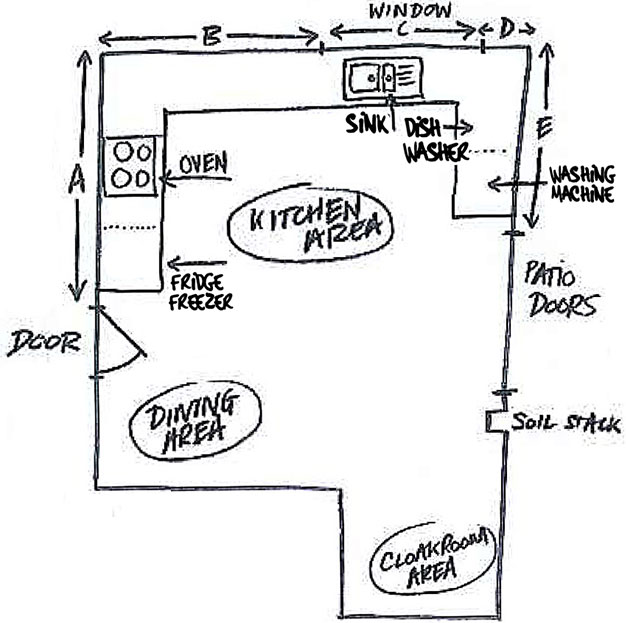 Step 1
To begin, download our grid paper here or you can go ahead and use any paper and sketch your room as a simple box, detailing all areas that will contain kitchen cabinets and appliances – be sure this includes any major structural features and protrusions.
Step 2
Make a note of any openings in your room – knowing where doors, windows and archways are will help us get your design just right. Tell us where any sewer pipes, hot water systems, electrical meters, gas meters, fuse boxes, air conditioning ducts are in case they impact on the space where kitchen cabinets and appliances will be going.
Step 3
Before measuring, label all the critical areas on your plan (for example A, B, C, etc), including any window and door measurements. Alongside your plan write the same letters as a key, then simply grab your tape measure and fill in the relevant measurements i.e. A=, B= etc.
Step 4
Most people already have an idea of the kind of kitchen shape they want. If you're one of them be sure to sketch out your rough design. Also, make a note of all key elements such as any appliances and the position of your sink.
Remember this is just to get us started. We'll do our own, more thorough measuring at a later stage, if required, so don't panic if yours isn't millimetre perfect. Whether using millimetres or centimetres be consistent and use the same throughout.
The Kinsman way to a modern kitchen
We have two ranges to choose from, our fully assembled Designer Range and our flatpack Xpress Range. Manufactured in Australia from quality materials and backed by a 7 year warranty.
Designer Appointment
Getting started is easy! We offer a free design appointment in-home or via video call.
Just prepare your plans before the appointment and we'll work with you to create the perfect kitchen for your needs.
At your appointment, your designer will:
Discuss your needs and ideas around style and functionality
Share the latest in international and local kitchen design trends
Show you colour options and samples
Note your kitchen space and any special requirements
Provide on the spot pricing based on your kitchen preferences and discuss a range of finance options.
Just 4 steps to a new kitchen.
1. Design Appointment
One of our expert kitchen designers will work through your measurements, style, needs and budget. You'll be shown colours and samples to make selections and receive on the spot pricing. Simply pay 10% to get started.
2. Site check
Once we receive all your appliance details a check measurer will come to your home to measure the site against the plans and chosen appliances, ensuring all details are accurate.
3. Final plans and costing approval
After the progress payment is made, the final plans and price will be supplied for your sign- off. You can view your final plans and communicate with us at any time via 'my kitchen', our online communication portal.
4. Delivery & Installation
After final payment (60%) is made, you can expect your Kinsman Kitchen to be delivered to your door. A beautiful new kitchen doesn't get any simpler than this!