Mitch and Mark – House 1 Kitchenette revealed.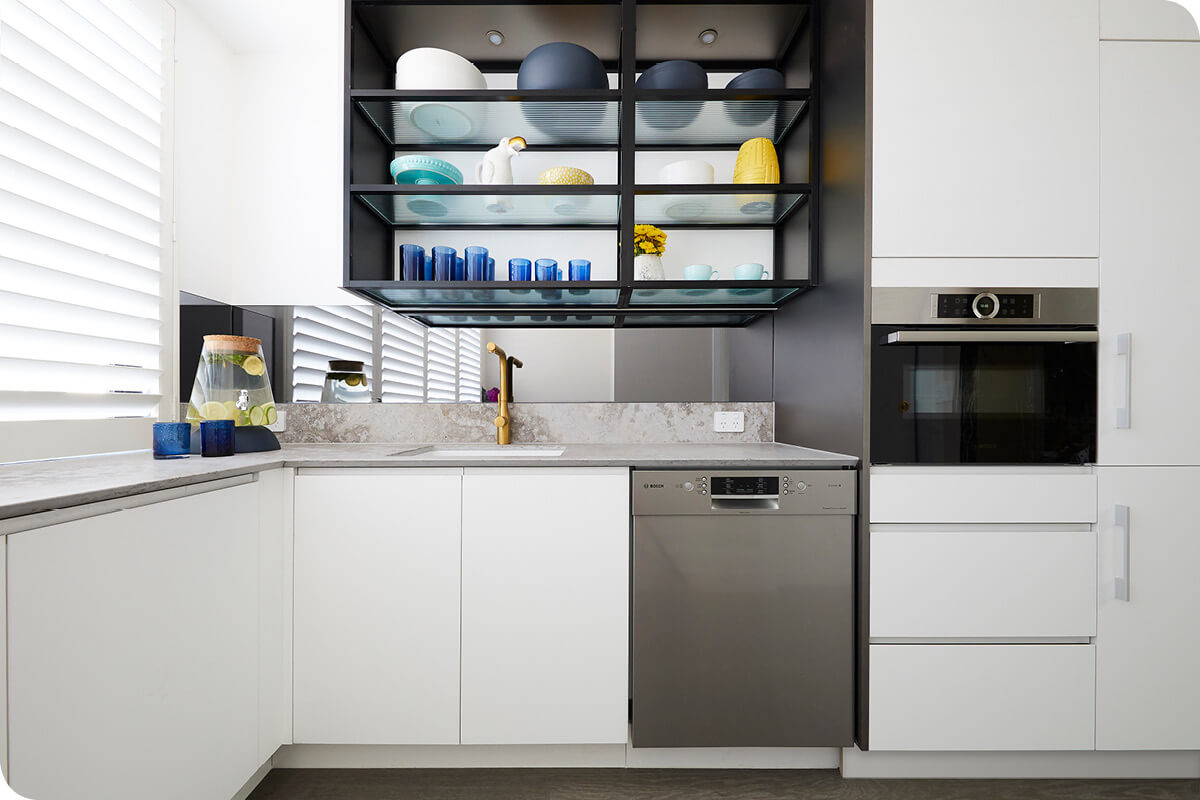 Mitch and Mark have created a functional kitchenette space to service their winning entertainment area and the rest of the second level of their home with their usual glamourous flair. Kinsman's new Oxley Supa Ultra White cabinetry has been used to complement the light-filled space and Palm Springs design theme. To add extra interest they opted to frame the units with Kinsman's new Oxley Titan Metallic finish.
2020 Black Alumin framing with broadline glass shelves provides a striking visual effect, effortlessly tying in with the black framed windows throughout their house, allowing natural light in and providing décor styling opportunities.
Mitch and Mark have continued the Caesarstone's Excava benchtop finish that they used in their Entertainers area into their kitchenette space. This paired with Bosch appliances, including an integrated fridge, Marq integrated handles and a plethora of storage options make this a space that ticks all of the boxes.
Cabinetry: NEW Oxley Supa White Supa Matt, NEW Oxley Titan Metallic
Handles: Matt Anodised Bar 12-K-71, Marq, Touch Catch
Benchtop: Caesarstone® Excava 20mm Sharknose
Kickboards: Oxley Supa White Supa Matt
Accessories: 2020 Black Alumin Framing with Broadline Glass Shelves, Internal Drawers, Hidden Bin, Steel Cutlery Tray, LeMans Corner Pull Out Corner System
Lighting: Warm LED Strip Lighting
Appliances: By Bosch