Winners of Master Bedroom
Harry and Tash have created a spacious walk-in wardrobe that is a joy to be in. The robe sits within the entry to the master bedroom. Decorative glass shelves have been positioned upon entry, evenly lit with Premium Verti-Strip Lighting, to allow the homeowners to place a mixture of accessories and decor items center stage.
Shaker-style doors in Somersby Classic White Matt have been paired with Dark Oak Natural interiors for a modern yet classic look. A makeup station at the heart of the robe features a Caesarstone Statuario Maximus benchtop and our new Smart Mirror (with an in-built Bluetooth speaker no less!) completes the glamorous look.
It's all about the details in this robe and it's full of smart storage solutions from a Wardrobe Lift to a Folding Mirror, Scarf Rack and Jewellery Compartment Trays. Lighting plays a strong role in the success of the design LED Sensors and Warm LED Light Bars, behind the stylish exterior.
Key Features:
Cabinetry: Exterior doors – Somersby White Matt,
Interior finish – Dark Oak Natural
Desk: Caesarstone Statuario Maximus 20mm Pencil Round
Handles: Ribe Black Stain Timber (34-K-151) NEW
Accessories: Loox Multi-Dimensional Mirror NEW, Wardrobe Lift, Folding Mirror, Scarf Rack, Jewellery Compartment Trays
Lighting: Warm LED Light Bar, LED Sensors, Premium Verti-Strip Lighting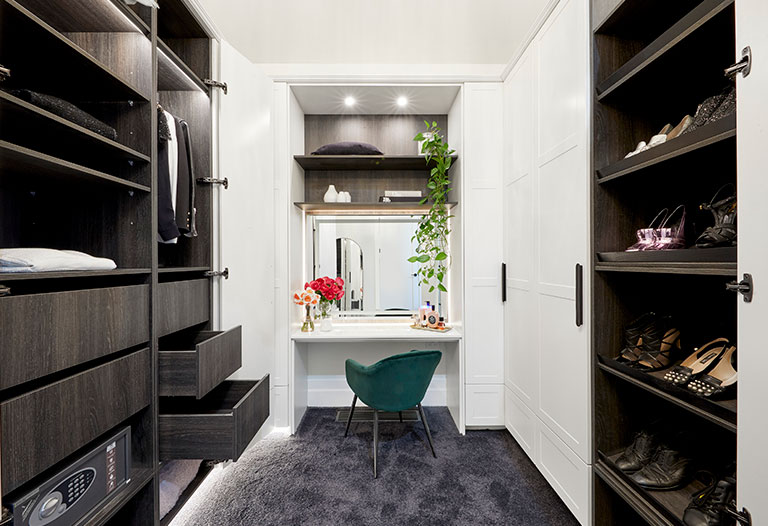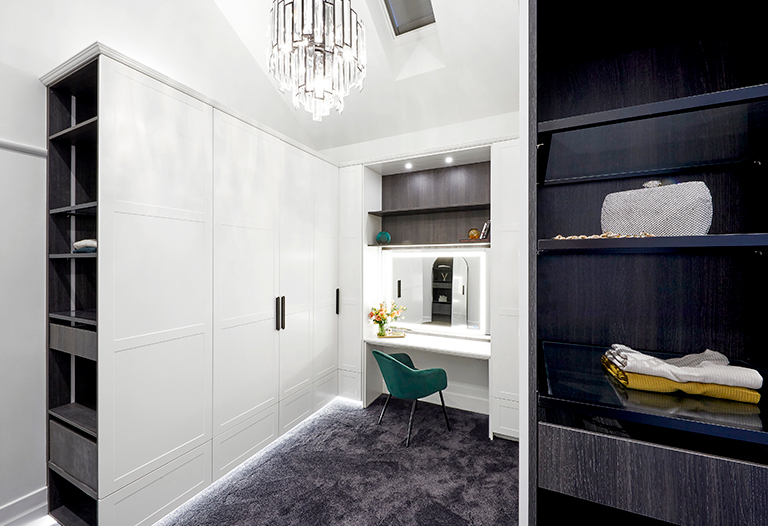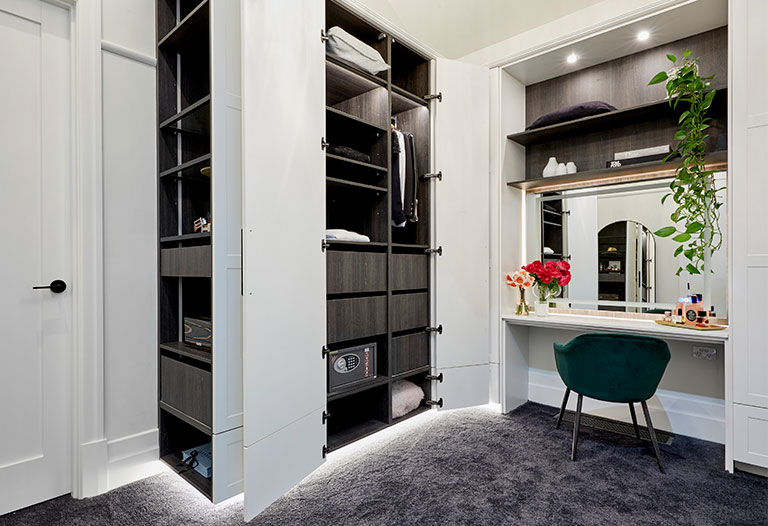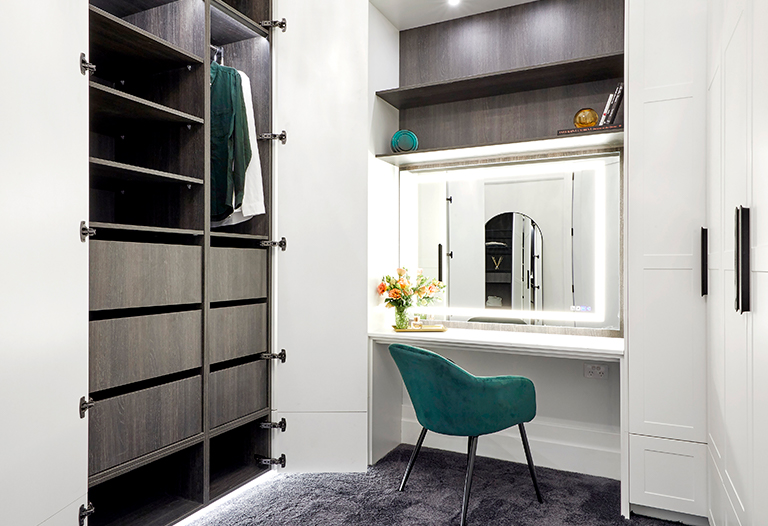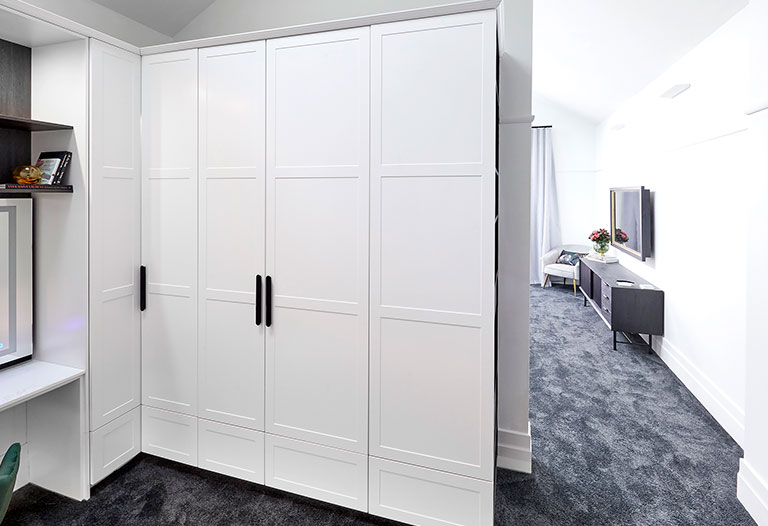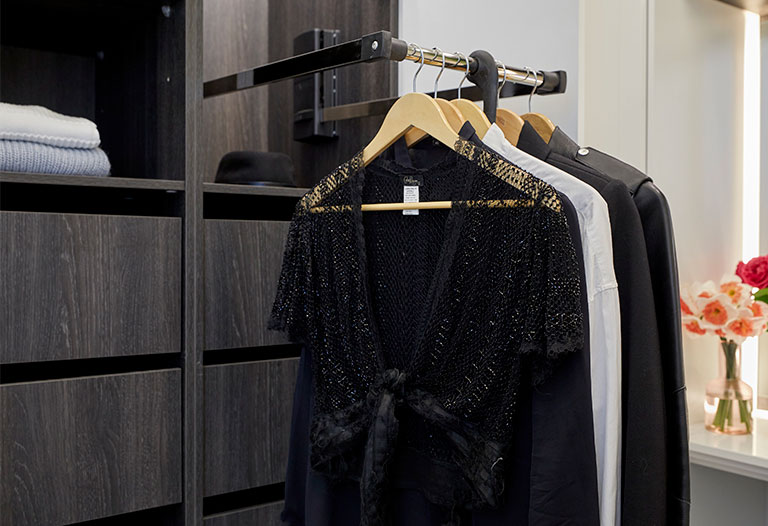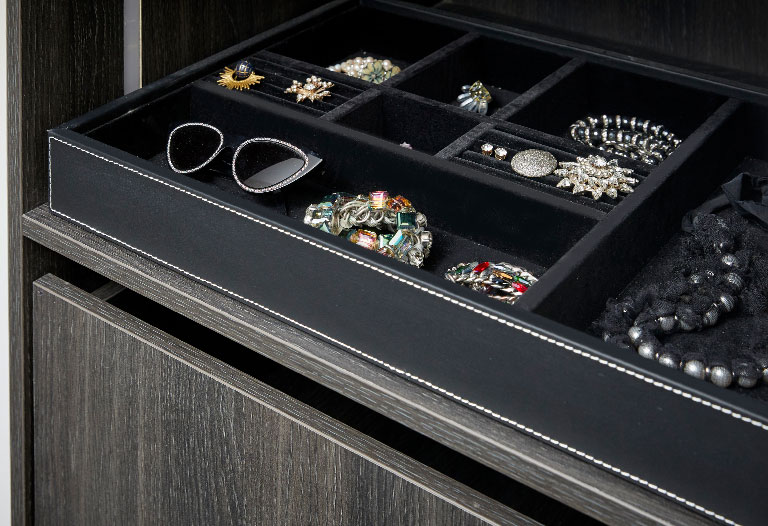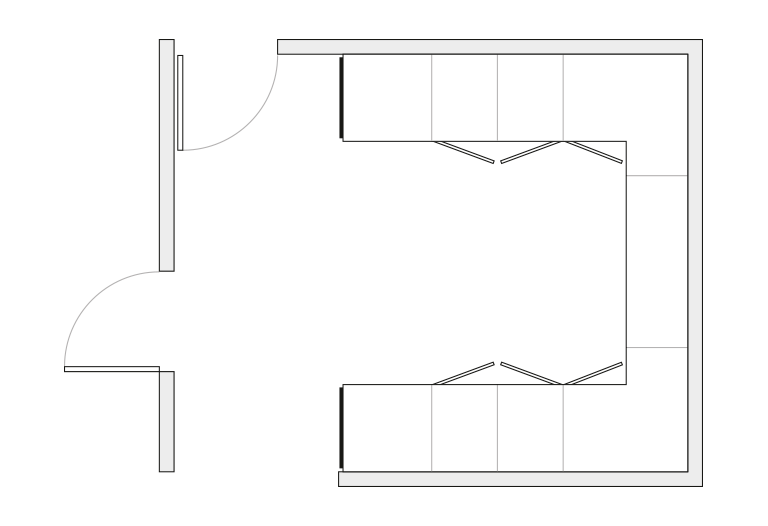 Somersby Shaker-style doors in Classic White Matt emulate the period features of the house perfectly. Paired with Kinsman Wardrobes' Satin Black lounge handles, this wardrobe boasts modern elegance with a timeless touch. Contrasting with the fresh white cabinetry doors, the rich interior of this stunning robe features Dark Oak Natural cabinetry which contrasts not only in colour, but texture too. Warm LED lighting enhances the opulence that this wardrobe has to offer, showcasing a lavish display of clothing as well as producing clear visibility of the Top and Pants Rails. The wardrobe lift mechanism ensures garments that are hung on the top rail of the wardrobe can be pulled down and accessed easily at a comfortable height.
Last but certainly not least, the open shelving combinations beneath the cabinetry doors match the luxurious interior of the wardrobe in Dark Oak Natural. This design presents immediate contrast when you walk into the room and allows prize possession such as handbags or your favourite shoes to take pride of place on display, adding a personal touch.
Key Features:
Cabinetry: Exterior doors – Somersby White Matt,
Interior finish – Dark Oak Natural
Handles: Satin Black Rounded D (22-K-131)
Accessories: Wardrobe Lift, Trouser Rack
Lighting: Warm LED Strip Lighting