Light and airy, Harry and Tash wanted to create a sleek, Scandi style in their studio. A neutral colour palette opens the room, maximising a sense of space. Timber-look accents bring the outdoors in with their natural warmth. The kitchen includes a generous back run of Essendon White cabinetry, topped with a Natural Halifax Oak benchtop, combining style and functionality perfectly. Home to all the essentials you would expect, this kitchen includes a cooktop, oven, bar fridge, sink and hidden pull-out bin. Opposite the white bank of cabinetry stands a sizeable island bench which exudes luxury with its waterfall design in Caesarstone® Airy Concrete™, providing ample preparation and dining space.
Key Features:
Cabinetry: Ballina Essendon White Satin*
Benchtop: Natural Halifax Oak Benchtop
Island Benchtop: Caesarstone® Airy Concrete™
Handles: Black Anodised Bar Handle (12-K-80)
Accessories: Pull Out Ninka Bin
Appliances: Bosch
Sink & Tap: Oliveri
Fridge: By Contestants
*Available in the Studio Range
In the living area, Harry and Tash have included an entertainment unit in their design with an abundance of storage space! The father-daughter duo have selected White Satin cabinetry from the Kinsman Wardrobe Range; with a Black Marq integrated handle, adding a contemporary twist to the classic design. A Natural Halifax Oak benchtop has been chosen to sit on top of the unit to tie in with the kitchenette joinery in the studio space.
Key Features:
Cabinetry: White Satin with Black Marq
Benchtop: Natural Halifax Oak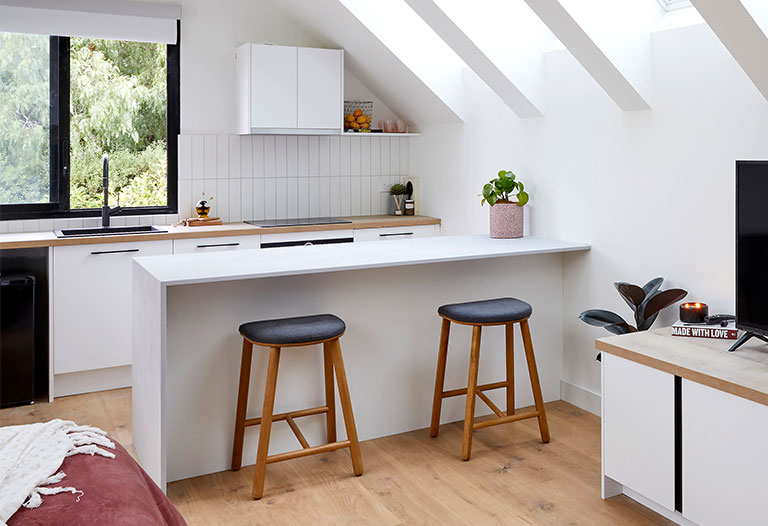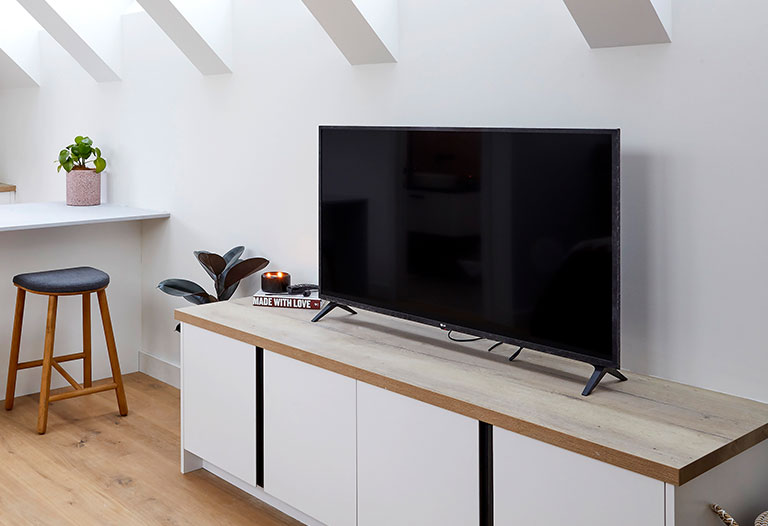 Throughout their kitchen Harry and Tash have chosen a thoughtful mix of contemporary and period styling with their colour and finish choices. Essendon cabinetry in White Satin features a continuous black channel handle which is inset into the cabinetry carcass itself. The effect is magnified with the use of feature, vertical profile Avoca doors in Prime Oak and Caesarstone Airy Concrete benchtops and splashbacks.
The eye is immediately drawn to the feature rangehood box and floating timber shelving along the back of the kitchen, with a splashback in Caesarstone's Airy Concrete. Continuing the theme of subtle black touches throughout the space, the island bench has been designed around Kinsman's black 'U' framed leg which supports the 60mm Airy Concrete top's overhang.
Within the butler's pantry, 2020 Alumin frames with broadline glass shelving act not only as an eye-catching feature, but also as practical storage and decorative zone, ensuring functionality is still maximised while keeping the space light and airy.
Key Features:
Cabinetry: NEW Avoca Prime Oak Matt, Essendon White Satin
Handles: NEW Thin Flat Bar in Graphite 15-K-147
Benchtops: Caesarstone Airy Concrete 20mm Arris edge, 60mm mitre edge on island
Splashbacks: Caesarstone Airy Concrete
Kickboards: Essendon White Satin, Prime Oak
Accessories: 2020 Alumin Black Framing with Broadline Glass, Walnut Cutlery Trays and Knife Holder, Design Side Glass Sided Drawers, TT2C Stainless Steel Towel Rail, NEW Ninka Bin
Sink & Tap: Oliveri
Lighting: LED Warm Downlights, Warm LED Strip (Pantry)
Fridges: Bosch
Appliances: NEFF
It may be small, but Harry and Tash's laundry packs a style, design and functionality punch! The couple chose a great mix of contemporary and period styling with their finish choices throughout the room.
The neutral backdrop of Essendon White Satin cabinetry used predominantly throughout the space allows the room to feel larger and gives focus to key items within the design. This includes the use of our new feature door fronts Avoca, showcasing a thin fluted style profile in Prime Oak, which is complemented by Kinsman's new Thin Flat Bar handle in Graphite.
Functionality is a key focus in this design with a stacked Bosch washer and dryer, a laundry pullout basket, touch catches for all wall cabinets, sink and tap, LED strip lighting and more; ensuring that this is a laundry that works hard while looking great.
Key Features:
Cabinetry: NEW Avoca Prime Oak Matt, Ballina Essendon White Satin,
Handles: NEW Thin Flat Bar in Graphite 15-K-147, Touch Catch
Benchtops: By Contestants
Kickboards: Prime Oak
Accessories: Laundry Wire Pull Out Basket (400 wide)
Sink & Tap: Oliveri
Lighting: Warm LED Strip Lighting
Appliances: By Bosch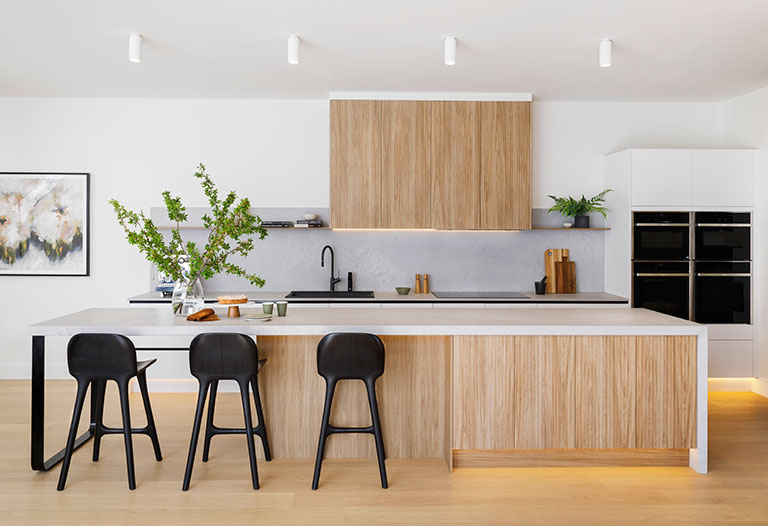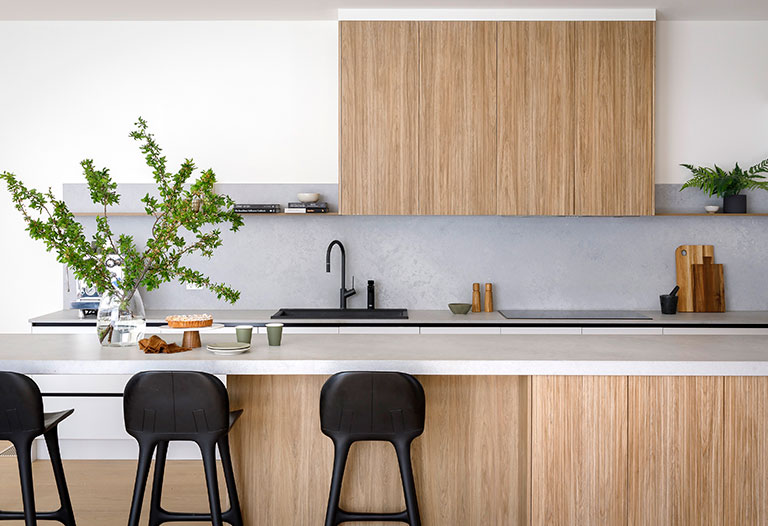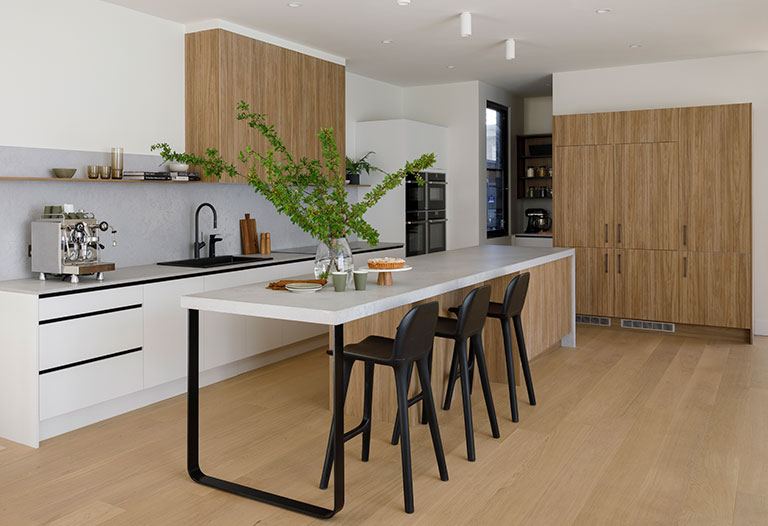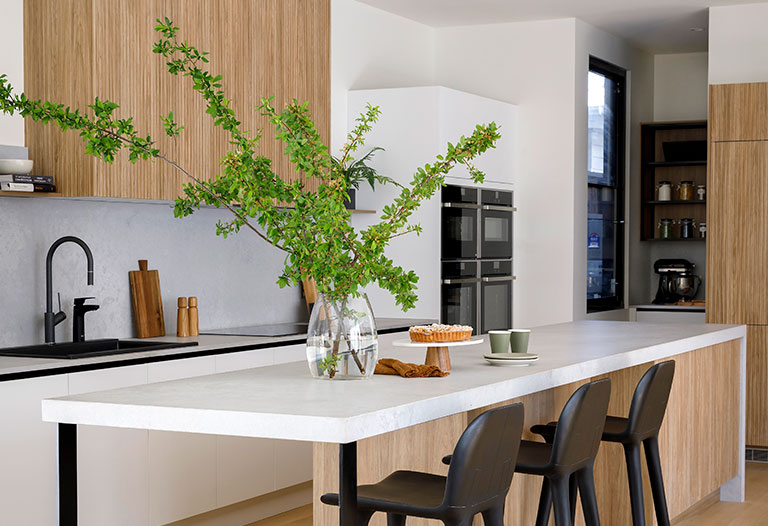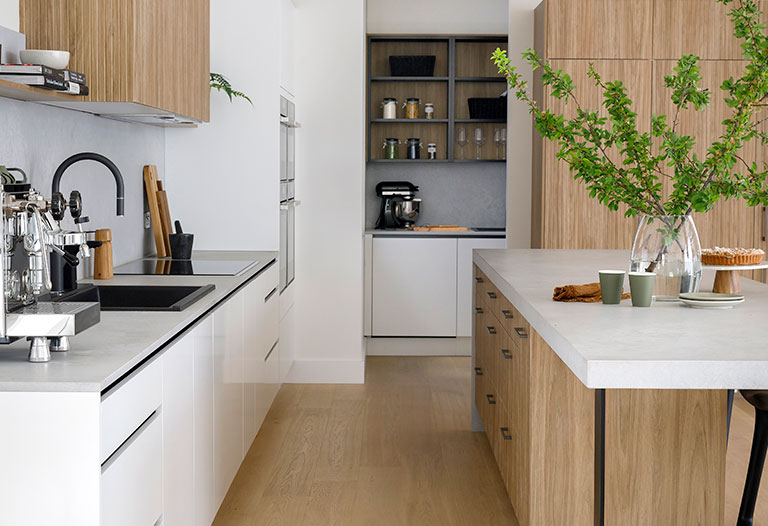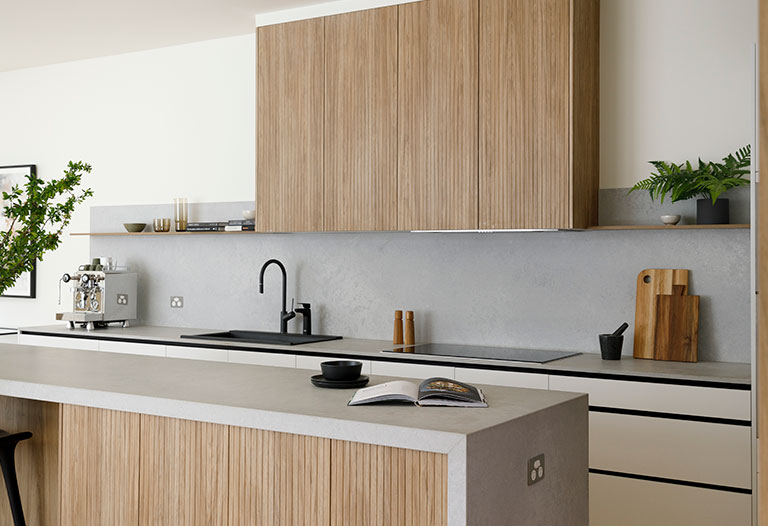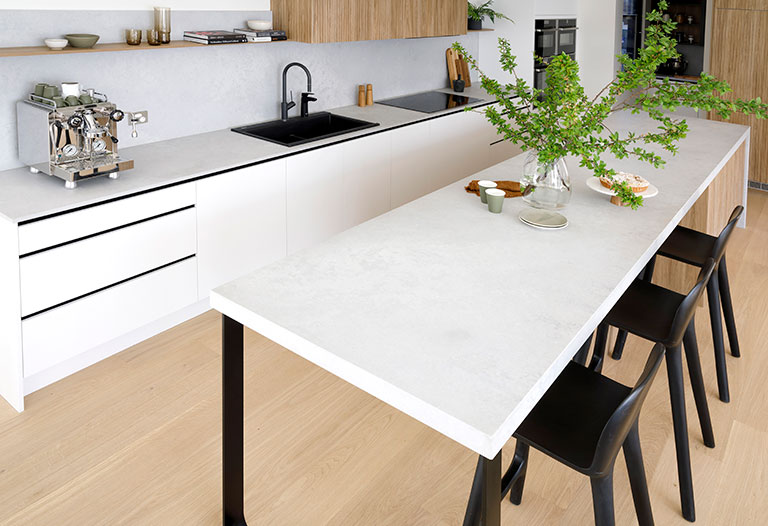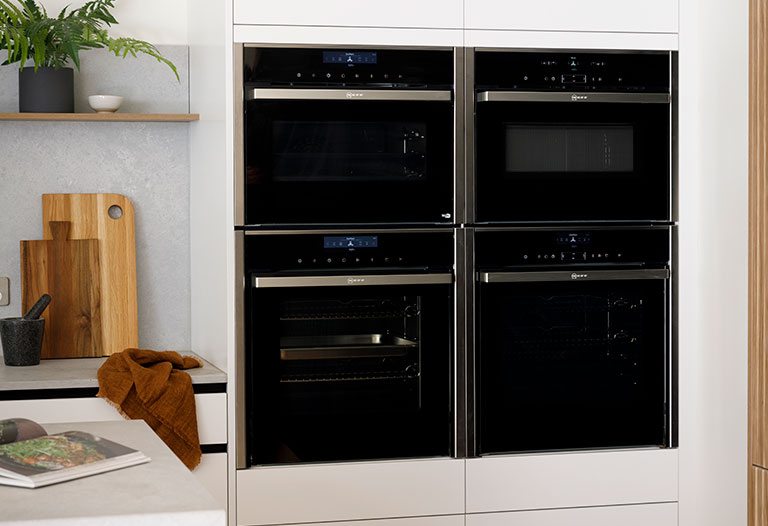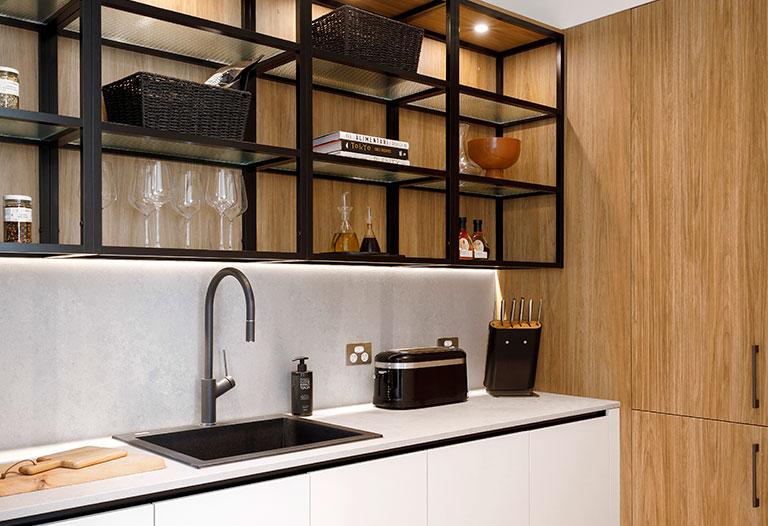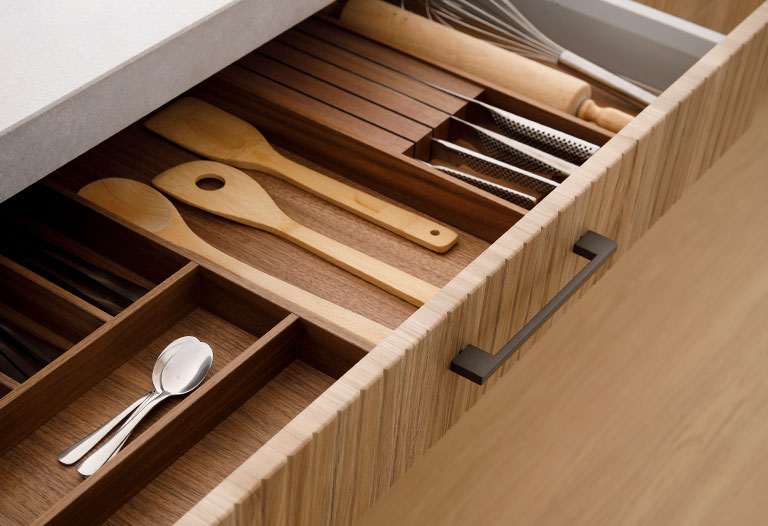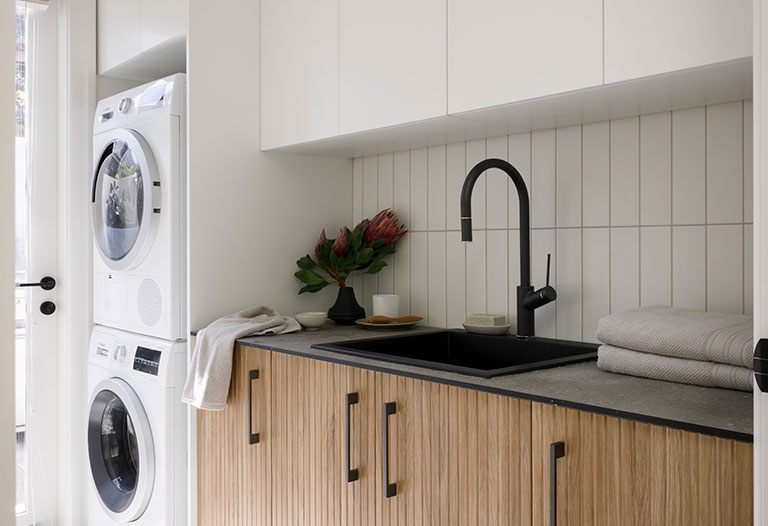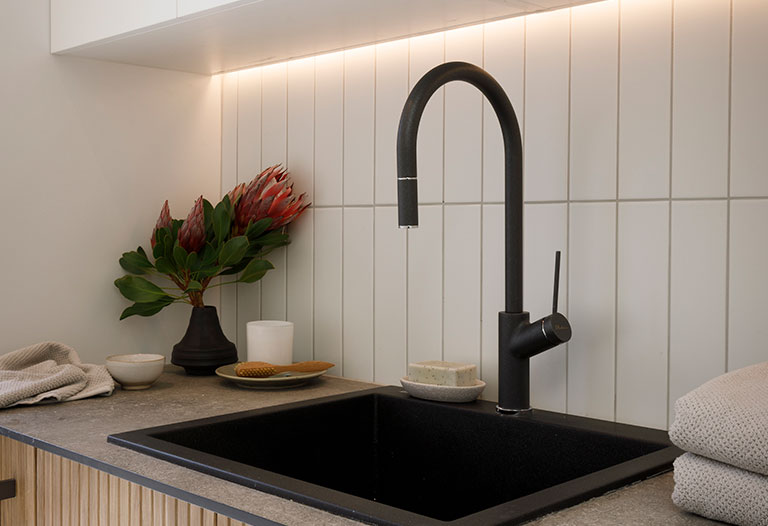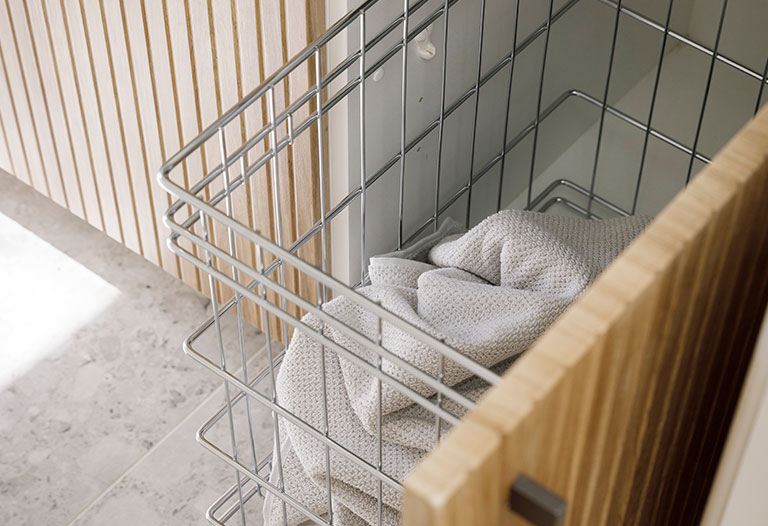 Winners of Master Bedroom
Harry and Tash have created a spacious walk-in wardrobe that is a joy to be in. The robe sits within the entry to the master bedroom. Decorative glass shelves have been positioned upon entry, evenly lit with Premium Verti-Strip Lighting, to allow the homeowners to place a mixture of accessories and decor items center stage.
Shaker-style doors in Somersby Classic White Matt have been paired with Dark Oak Natural interiors for a modern yet classic look. A makeup station at the heart of the robe features a Caesarstone Statuario Maximus benchtop and our new Smart Mirror (with an in-built Bluetooth speaker no less!) completes the glamorous look.
It's all about the details in this robe and it's full of smart storage solutions from a Wardrobe Lift to a Folding Mirror, Scarf Rack and Jewellery Compartment Trays. Lighting plays a strong role in the success of the design LED Sensors and Warm LED Light Bars, behind the stylish exterior.
Key Features:
Cabinetry: Exterior doors – Somersby White Matt,
Interior finish – Dark Oak Natural
Desk: Caesarstone Statuario Maximus 20mm Pencil Round
Handles: Ribe Black Stain Timber (34-K-151) NEW
Accessories: Loox Multi-Dimensional Mirror NEW, Wardrobe Lift, Folding Mirror, Scarf Rack, Jewellery Compartment Trays
Lighting: Warm LED Light Bar, LED Sensors, Premium Verti-Strip Lighting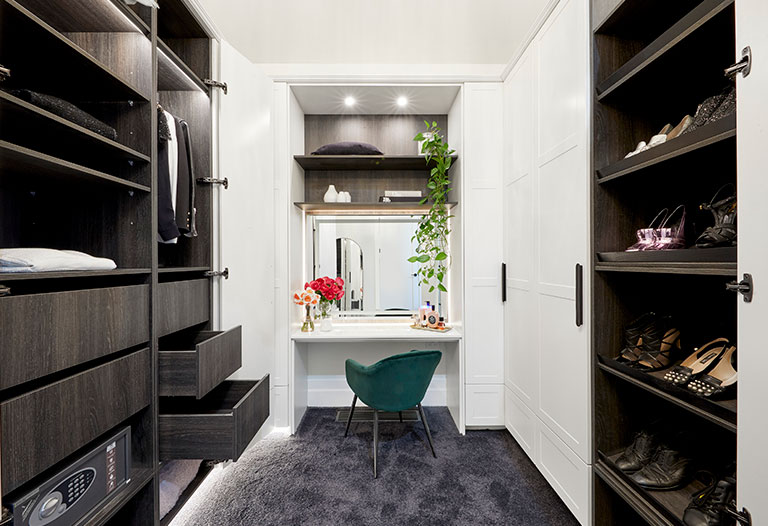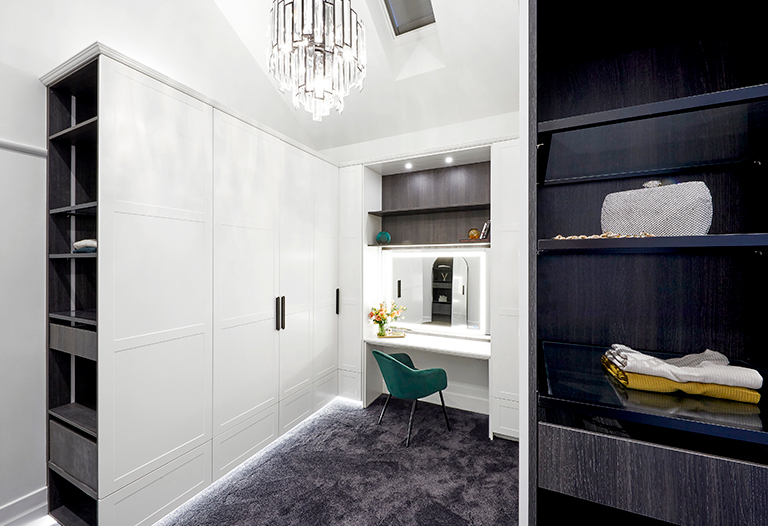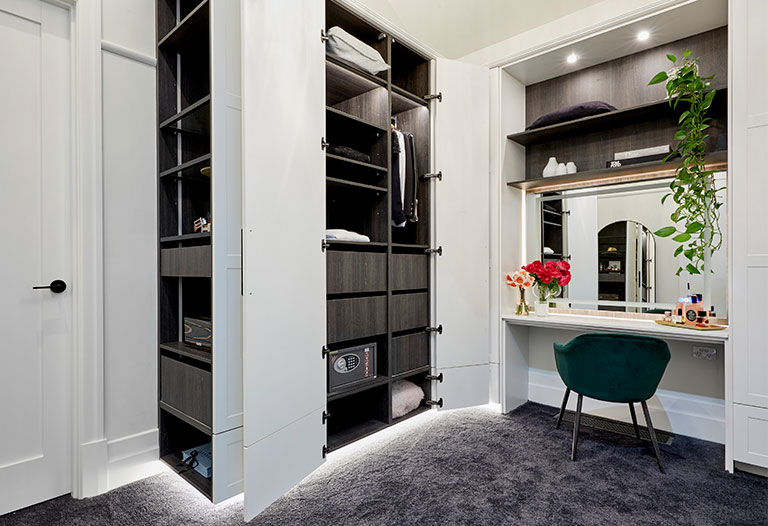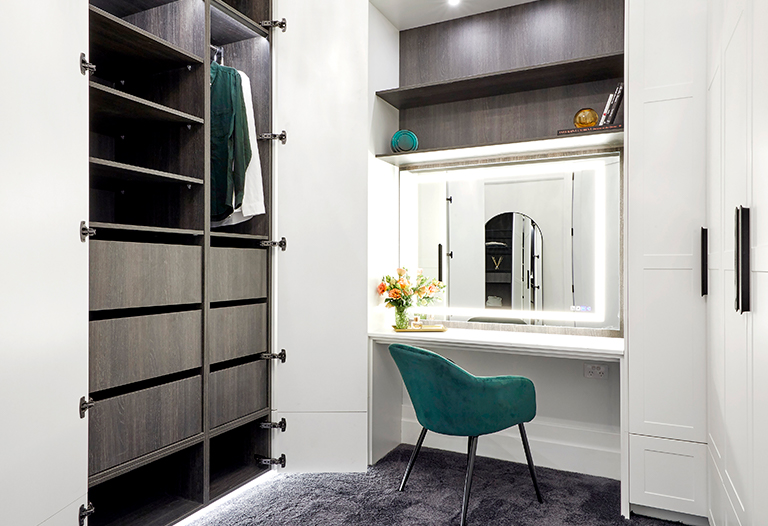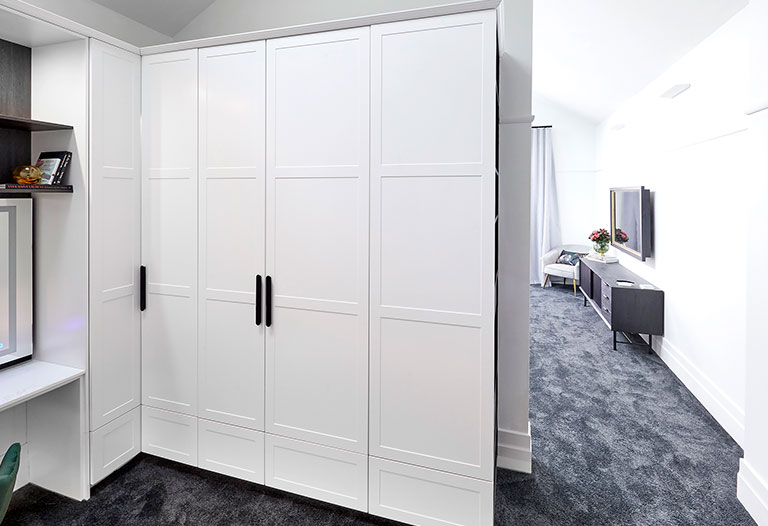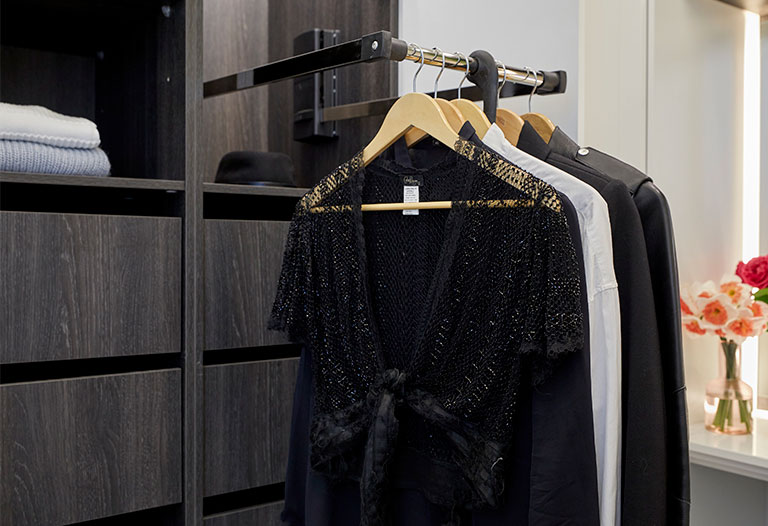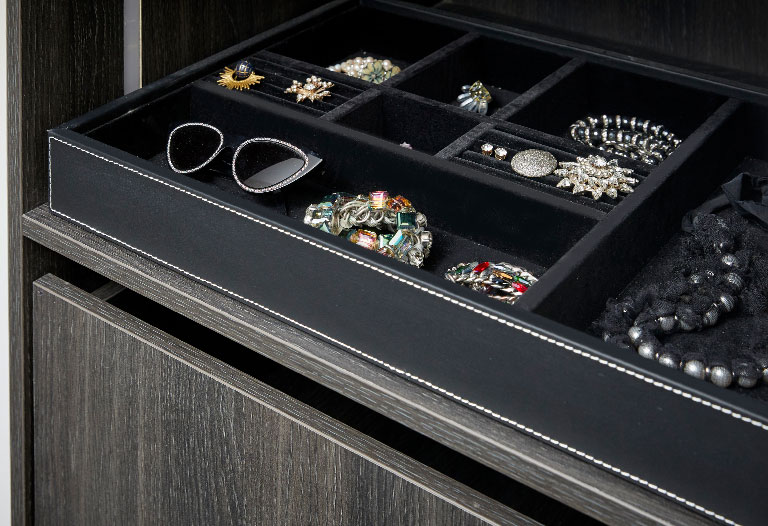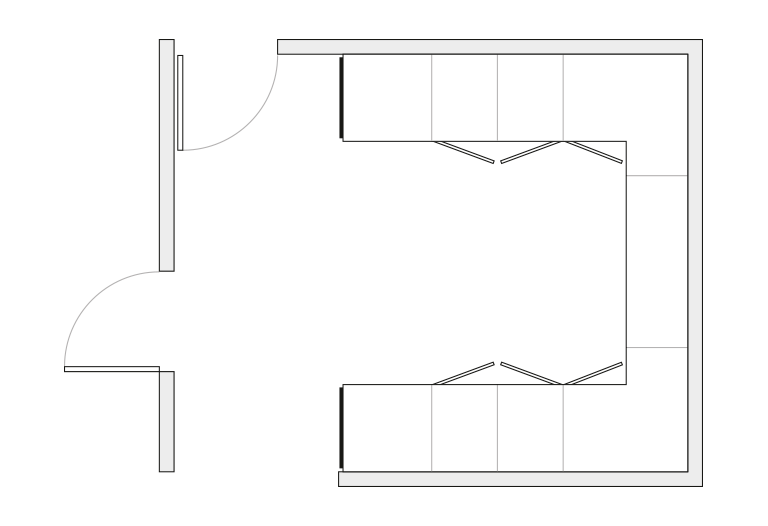 Somersby Shaker-style doors in Classic White Matt emulate the period features of the house perfectly. Paired with Kinsman Wardrobes' Satin Black lounge handles, this wardrobe boasts modern elegance with a timeless touch. Contrasting with the fresh white cabinetry doors, the rich interior of this stunning robe features Dark Oak Natural cabinetry which contrasts not only in colour, but texture too. Warm LED lighting enhances the opulence that this wardrobe has to offer, showcasing a lavish display of clothing as well as producing clear visibility of the Top and Pants Rails. The wardrobe lift mechanism ensures garments that are hung on the top rail of the wardrobe can be pulled down and accessed easily at a comfortable height.
Last but certainly not least, the open shelving combinations beneath the cabinetry doors match the luxurious interior of the wardrobe in Dark Oak Natural. This design presents immediate contrast when you walk into the room and allows prize possession such as handbags or your favourite shoes to take pride of place on display, adding a personal touch.
Key Features:
Cabinetry: Exterior doors – Somersby White Matt,
Interior finish – Dark Oak Natural
Handles: Satin Black Rounded D (22-K-131)
Accessories: Wardrobe Lift, Trouser Rack
Lighting: Warm LED Strip Lighting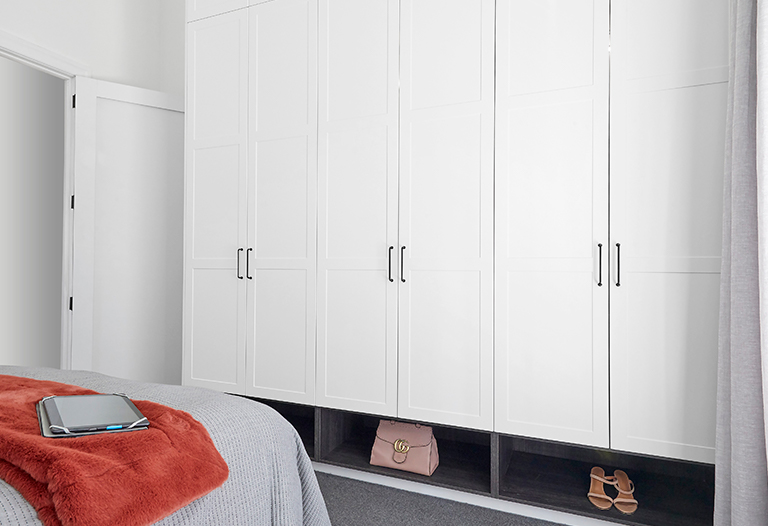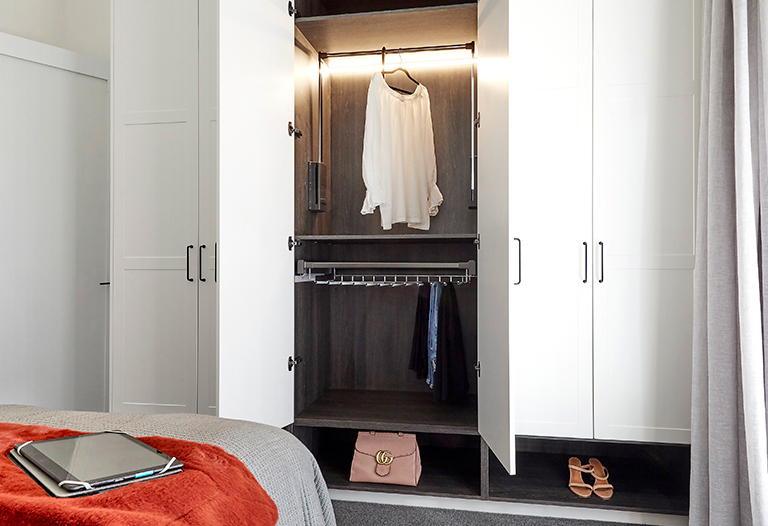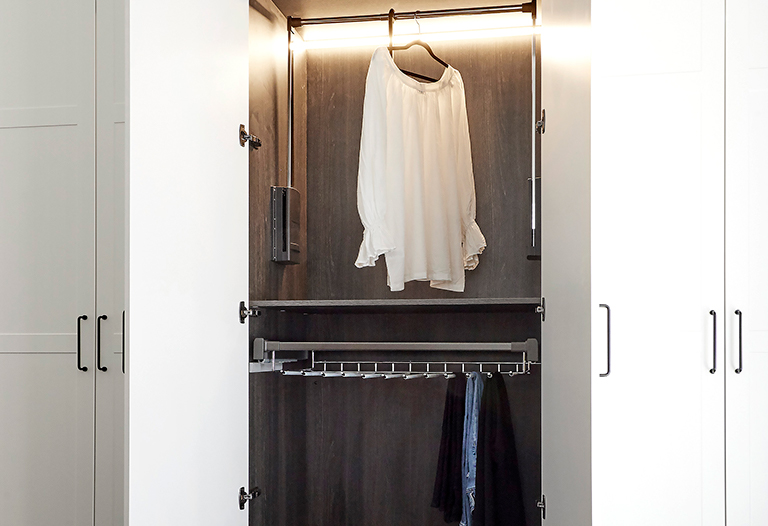 Fresh and clean, Harry and Tash opted for a simple yet elegant to their Second Guest Bedroom wardrobe. Somersby White Matt cabinetry doors look seamless against the wall, the perfect choice to make the space look larger. Our classic Shaker-style door profile and warm timber-look internal finish mirrors the cabinetry chosen for the Guest Bedroom One and Master Bedroom robes, ensuring that this stylish colour palette and style flows seamlessly throughout the home.
The pair have delivered efficient use of the small space by including essential accessories such as pull down hanging rails, drawers and shoe storage, all illuminated by our Warm LED Strip Lighting for clear viewing and opulence.
Key Features:
Cabinetry: Exterior doors – Somersby White Matt,
Interior finish – Dark Oak Natural
Handles: Satin Black Rounded D (22-K-131)
Accessories: Wardrobe Lifts, Shoe Drawers
Lighting: Warm LED Strip Lighting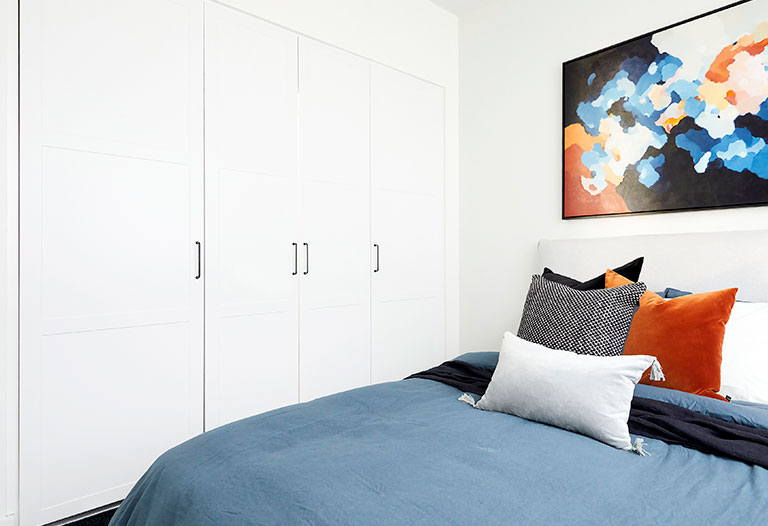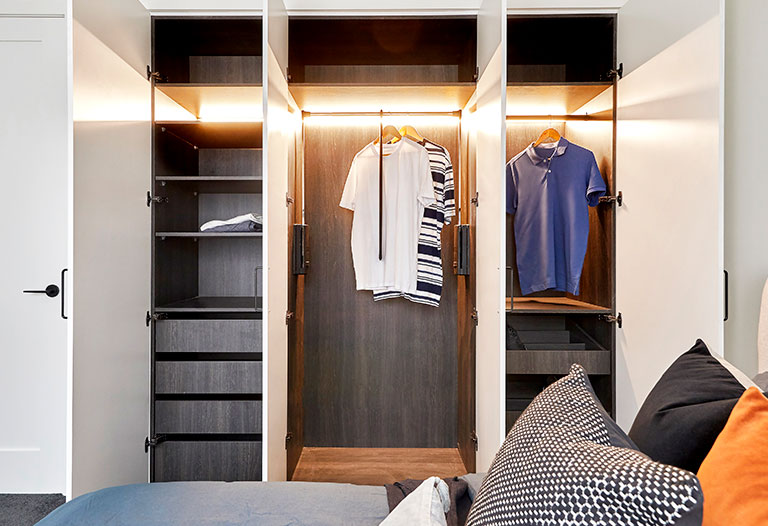 For this space Harry and Tash had versatility in mind so that the new homeowner could use it as a bedroom, home office or rumpus. To bring this idea to life, the VIC team chose to design a multi-functional wardrobe bursting with both storage solutions and entertainment. Embracing a balanced approach, this spacious robe accommodates a duo of hanging space, drawers and shelving; perfect for clothes, linen, toys and other household items. The built-in TV nook is where the entertainment begins, complete with LED downlights and a textured Chalk Ceramic laminate benchtop, adding a luxurious focal point displaying prized possessions.
The sleek colour palette of Somersby White Matt and Dark Oak Natural interior finish is a seamless approach that runs through the wardrobe joinery throughout the house. To ensure that the room is as light and airy as possible, the white cabinet doors conceal the dark and indulgent interior.
Key Features:
Cabinetry: Exterior Cabinetry: Somersby White Matt,
Interior Finish: Dark Oak Internals
Handles: Satin Black Rounded Bar handles 22-K-131
Benchtops: Chalk Ceramic Benchtop
Lighting: Black angled LED Lighting, LED Downlights
Beneath a light and bright stretch of windows, Harry and Tash maximised functionality from wall to wall by pairing a practical desk area gracefully with a bay seating. In contrast to their wardrobe finishes, this home office displays a sleek and handle-less style featuring Touch Catch and Push To Open drawers, topped with a Prime Oak benchtop ensuring a flawless flow of light and airy elegance throughout the home. Last but not least, the stylish bay seat is more functional than meets the eye, containing ample storage beneath the seat, the final upstairs rooms provide the perfect opportunity to keep clutter to a minimum.
Key Features:
Cabinetry: Exterior Cabinetry: Essendon White Satin,
Handles: Touch Catch Doors, Push To Open Drawers
Benchtops: Prime Oak