Warm and opulent, Sarah & George's master walk-in robe makes an immediate impact. Offering open units in our Dark Oak Natural interior finish for easy viewing and access, as well as a makeup station with an FX Series desk, this is a robe that turns heads.
Smart accessories have been used to ensure that there is a space for everything in this closet. On one side is the functional open cabinetry. The other features display cabinets fitted with glass shelves, a compartment tray for displaying jewellery & watches, as well as a home safe to lock away precious items. With the new Smart Mirror bringing further functionality and practicality, this walk-in robe ticks all the boxes!
Key Features:
Cabinetry: Interior finish – Dark Oak Natural
Desk: FX Series – White Cement NEW
Accessories: Trouser Rack, Shoe Rack, Wardrobe Lift, Loox Multi-Dimensional Mirror NEW, Jewellery Compartment Trays, Home Safe, Glass Shelves
Lighting: LED Light Bar in Black, Warm LED downlights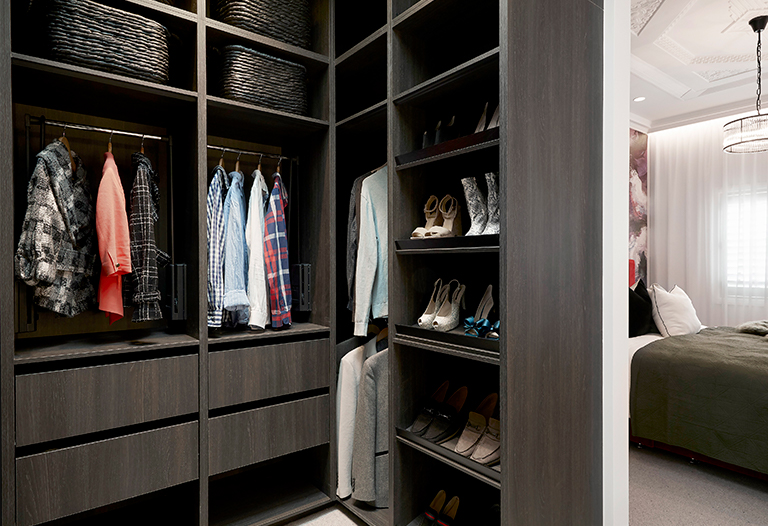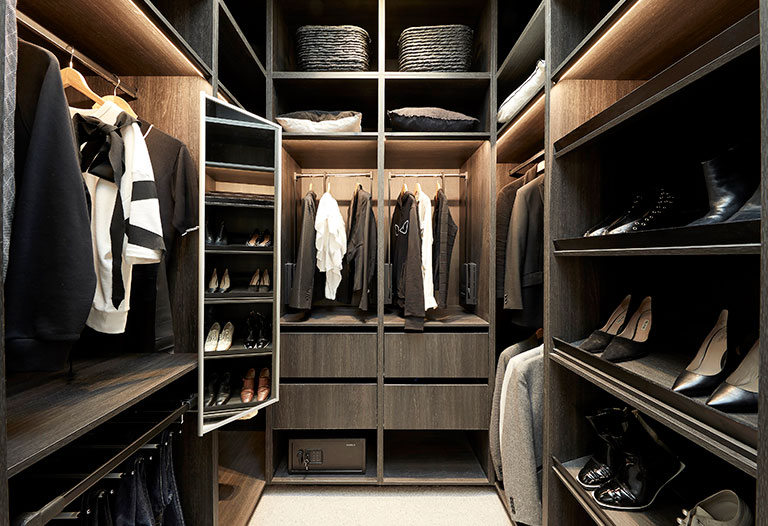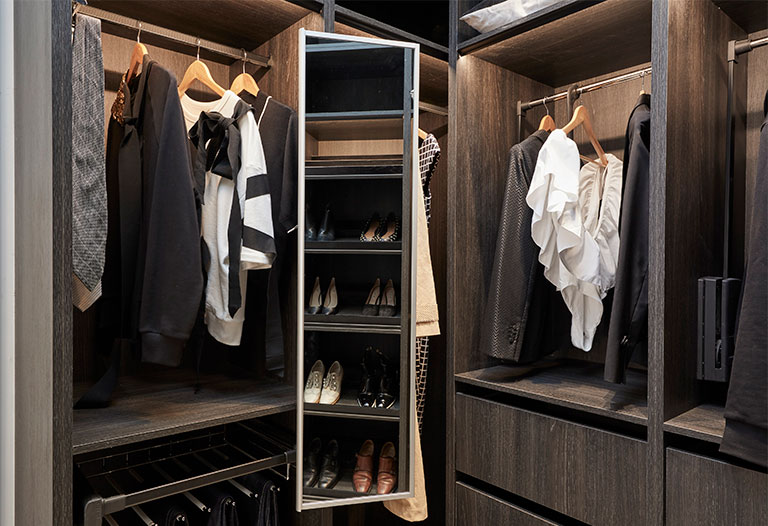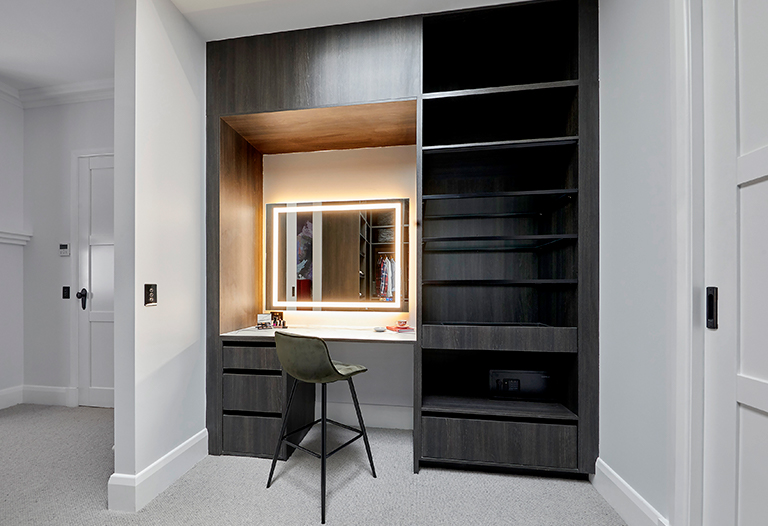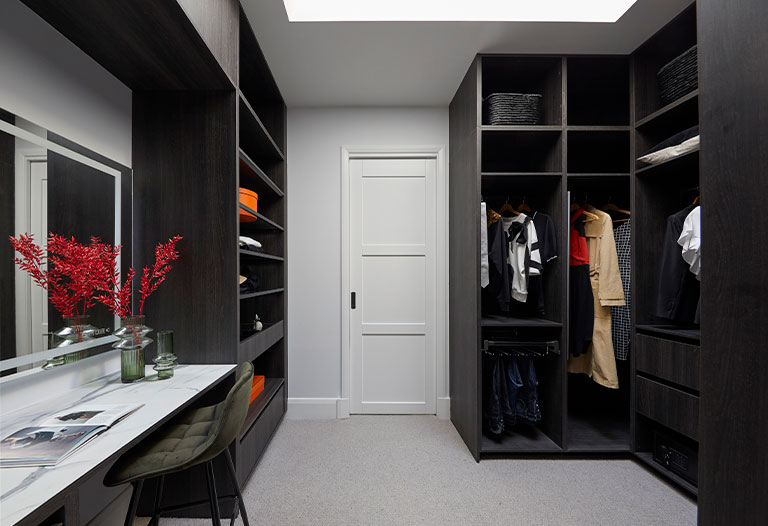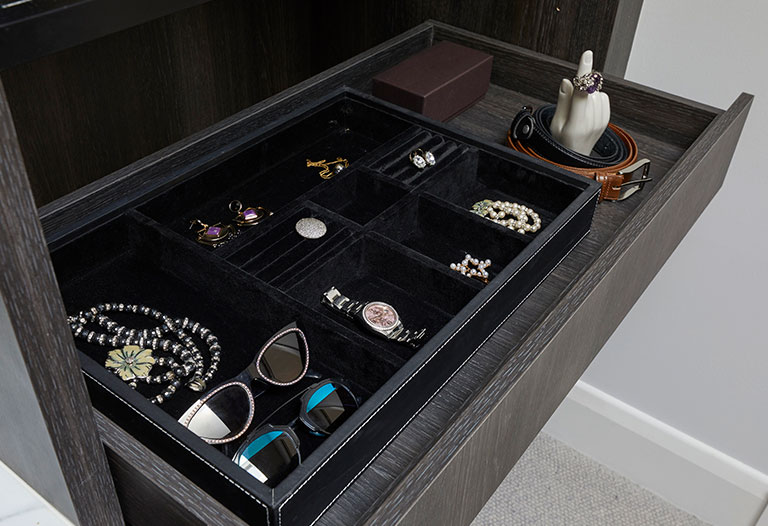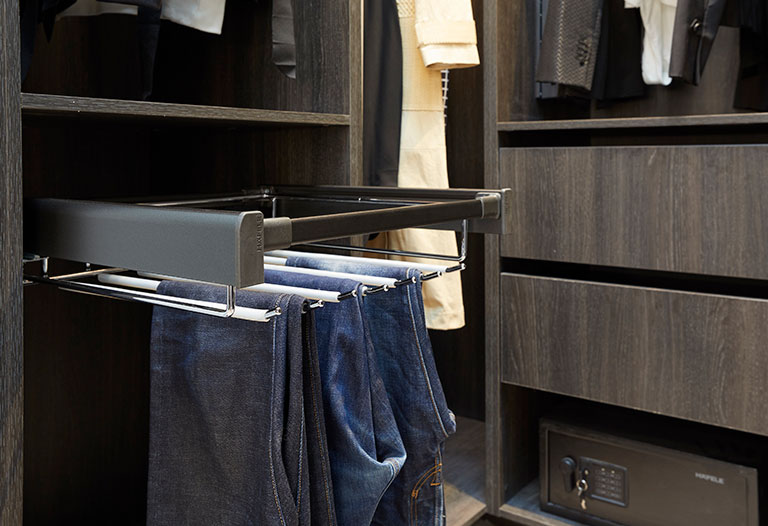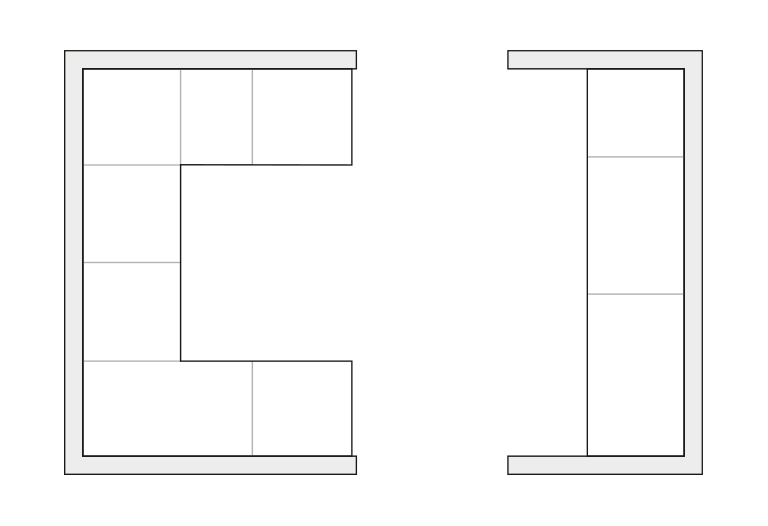 Sarah and George achieved a light and airy feel with their guest bedroom wardrobe; the Stone Grey colourway adds a modern twist to our classic Somersby Shaker-style doors, perfect for the period of this home. Dark toned timber round dial knobs combined with the light cabinetry ooze luxe.
When the hinged doors are opened, grey linen look interior is revealed with ample hanging space, elegant black framed glass shelves and draw combinations which showcase a display of jewellery. Black angle front lighting features in each wardrobe unit, accentuating glamour with interior glass shelving, allowing the light to generously flow throughout the cabinet.
Joined to the bedroom is a multifunctional room that can be used as a study, dressing room or make-up station, built from our Home Office range. The airy laminate benchtop in Chalk ceramic finish contrasts with the Dark Oak Natural cabinetry which has been chosen for the open draw units, seamlessly flowing from the dark toned timber accents featured on the bedroom wardrobe door handles and throughout the rest of the home. Timber backing has been chosen for the Black Frame Wall Cabinets that hang overhead, balancing the warm timber colour within the room. LED strip lighting flows down behind the Black Frame to ensure that the space remains light and to accentuate grandeur.
Key Features:
Cabinetry: Exterior doors – Somersby Stone Grey Matt,
Interior finish – Grey Textile (Wardrobe) and Mountain Oak (Home Office)
Desk: Chalk Ceramic Laminate
Handles: Capello Oak Black Knob (22-K-150), Touch Catch
Accessories: Black Frame Glass Shelves
Lighting: NEW LED Light Bar in black