Daniel and Jade's walk-in wardrobe features a successful mixture of open shelving and drawers as well as exposed half and full length hanging space. A sleek, industrial colour palette has been created with the use of our Grey Textile interior finish paired with the exterior door finish and Brave Bow Matt Black handles. These doors then open up to a secret passage leading into their ensuite, allowing a seamless flow of cabinetry eliminating the need of a separate door or opening. Our new Brave Bow Matt Black handles are a thoughtful nod to the period style of the home and tie in with their guest bedroom.
Storage solutions abound with the inclusion of a Home Safe, Folding Mirror, Wardrobe Lifts, as well as Multifunction Inserts and Boxes in black. A Rotating Shoe Rack and Glass Shelves are showpiece accessories that ensures this is a robe that stands out from the crowd.
Key Features:
Cabinetry: Exterior doors – FX Series – Grey Cement NEW,
Interior finish – Grey Textile
Handles: Brave Bow Matt Black (38-M-08) NEW, Touch Catch
Accessories: Rotating Shoe Rack NEW, Wardrobe Lifts, Multifunction Inserts and Boxes in Black, Home Safe, Glass Shelves
Lighting: LED Sensors, LED Light Bar in black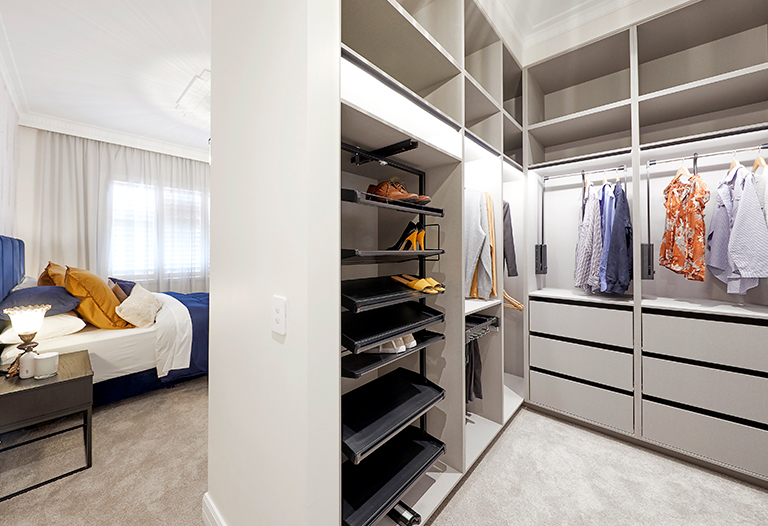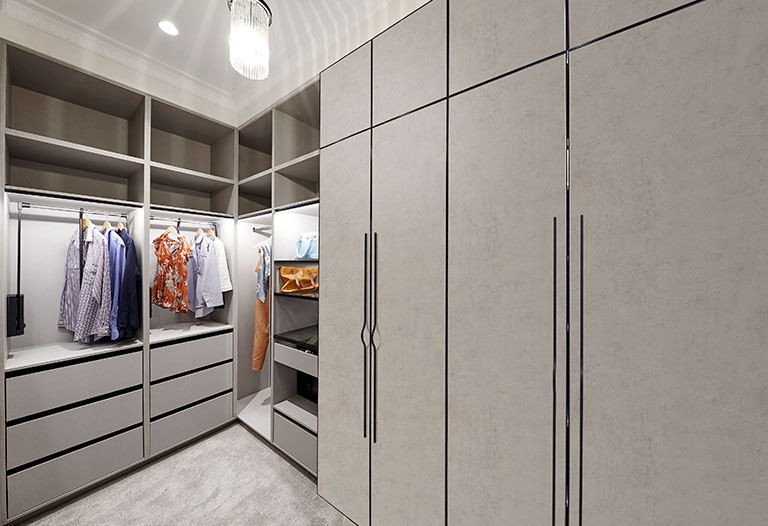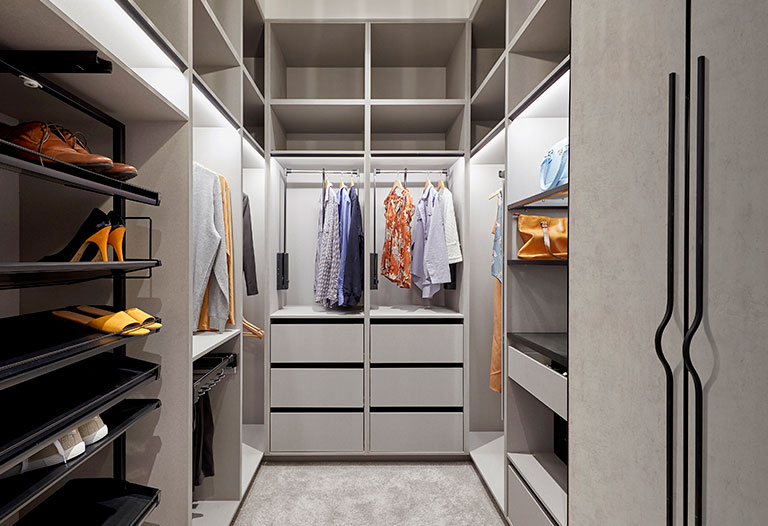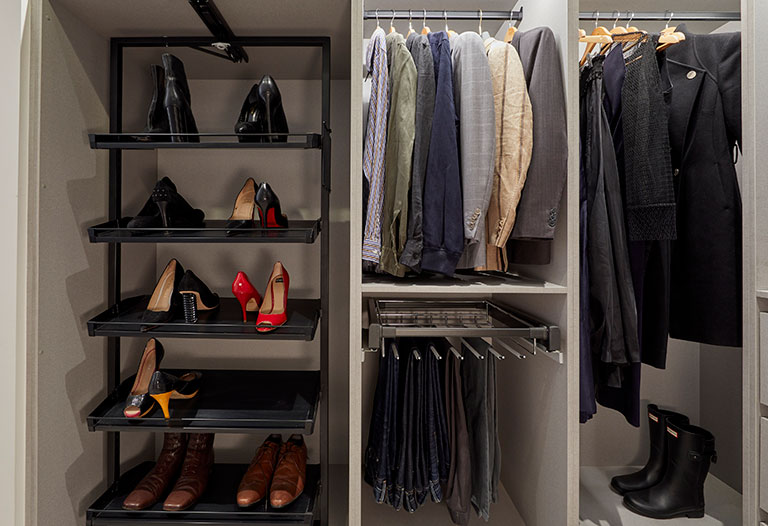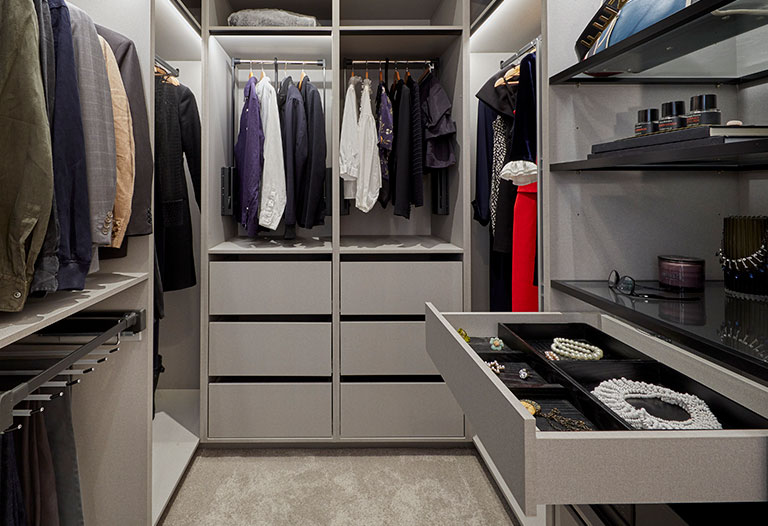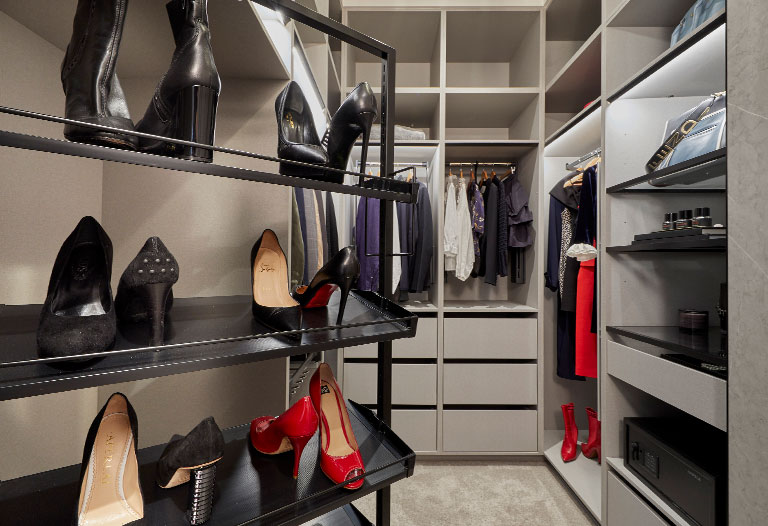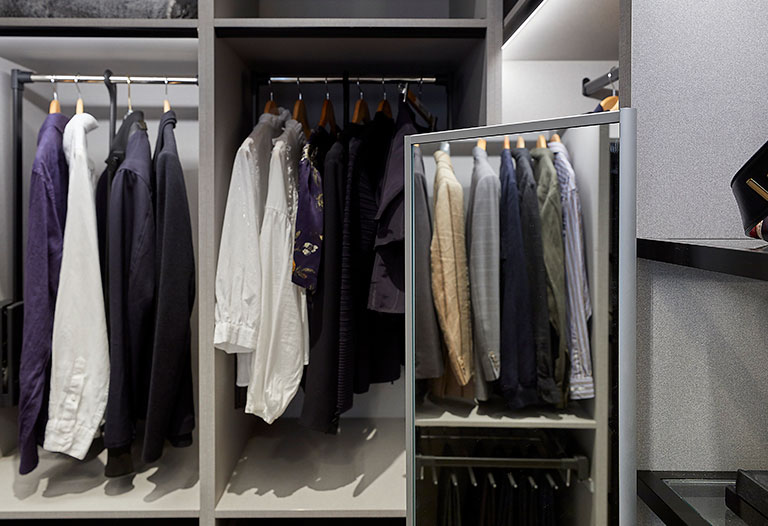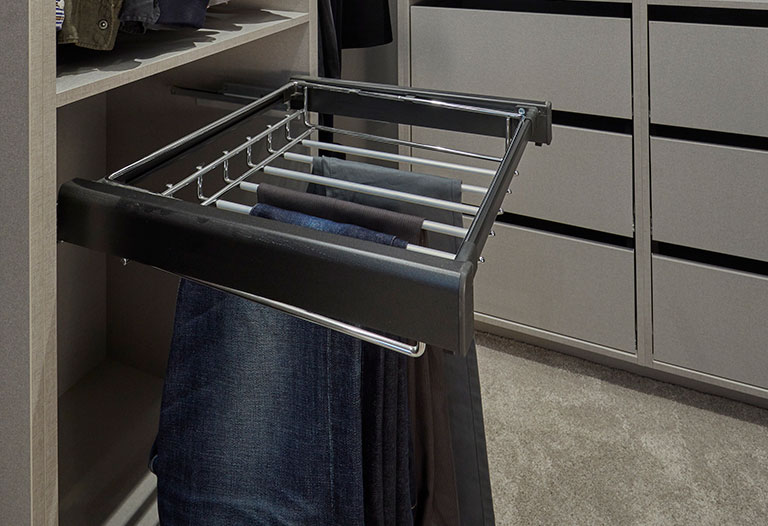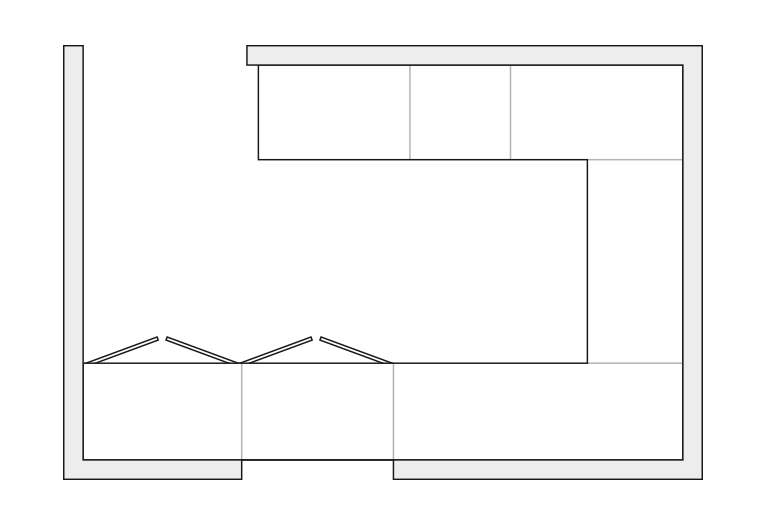 A monochromatic colour palette of dark timber tone, Bottega Oak, and the contrasting interior of grey textile creates a soft and opulent aesthetic to this guest bedroom. With shoe rack pull outs, plenty of drawer and hanging space, the lightly coloured interior finish paired with Warm LED lighting lends itself well to visibility of garments within the wardrobe and adds warmth to this cool and natural colour palette. Jade and Daniel have chosen Matt Black Brave Bow handles which takes this wardrobe back in time through its grand design and ornate detail; which complements the texture of the oak-look doors.
Key Features:
Cabinetry: Exterior doors – Bottega Oak Woodmatt,
Interior finish – Grey Textile
Handles: NEW Brave Bow Matt Black Handle (38-M-08), Touch Catch
Accessories: Shoe Racks
Lighting: LED Light Bar in Black