Opulent and moody, Lysandra has created a head-turning kitchen space that is the centerpiece of her home. A sopshicated colour palette has been achieved by pairing our subtle shaker-style Camden kitchen cabinets in a Bottega Oak Woodmatt finish with matte Brass handles and soft-white natural stone benchtops and splashbacks. Wall cabinetry with Vertical Broadline Glass inserts add interest to the design highlighted with Warm LED Lighting, perfectly complementing the incredible wine cabinet which sits next to it.
"In my kitchen and pantry, I wanted a space that exuded warmth and natural beauty," says Lysandra. "With Kinsman's Camden Bottega Oak Woodmatt cabinetry, the heart of my home came to life. The intricate details, combined with the timeless handles in Matt Brass, add the perfect touch of elegance and sophistication. To add a touch of modernity and style, I incorporated Broadline Glass and other accessories, creating a harmonious blend of functionality and aesthetics."
A generous kitchen island bench provides ample seating space and additional storage, while the butler's pantry offers all the necessities cleverly hidden away from view. The space includes a well-planned cleaning zone consisting of a Hafele Corner Le-Mans pull out system, Ninka Bins and Inner Drawers. "Every inch of space was optimised, making cooking and storage a breeze," explains Lysandra.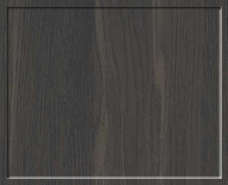 Cabinetry:
Camden Bottega Oak Woodmatt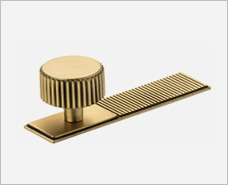 Handles:
Matt Brass Knob (34-M-25)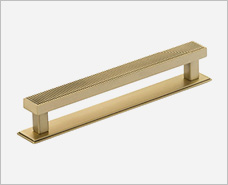 Handles:
Matt Brass Bar (38-M-30)
Cabinetry: Camden Bottega Oak Woodmatt
Handles: Matt Brass Knob (34-M-25), Matt Brass Bar (38-M-30), Touch Catch
Accessories: Broadline Glass, Inner Drawers, Häfele Ninka Bins, Cutlery Trays, Häfele Le-Mans Corner system
Lighting: Warm LED Strip Lighting
By client: Benchtops & Splashbacks - get the look with Silestone by Cosentino in Eclectic Pearl. Appliances
Lysandra's laundry certainly has wow factor! Moody and opulent, the laundry and mudroom area are worthy of being included in her home tour! Our Bottega Oak Woodmatt doors have been used again, connecting this room to the nearby kitchen, but this time featuring the classic Shaker-style Montauk profile. The star of the design must be the Patina Brass Inserts featured across the wall cabinetry, pairing beautifully with the detailed style of our Matt Brass Knob and Bar handles. To add of sense of light to the space, our Montauk White Matt joinery was the perfect choice to complement the darker cupboards, kit kat tiled splashback, and natural stone benches.
"The laundry and mudroom became a haven of organisation and efficiency, thanks to Kinsman's Montauk White Matt and Montauk Bottega Oak Woodmatt cabinetry," Lysandra says. "The Patina Brass inserts added a touch of luxury and character. The carefully selected handles and touch catches not only enhanced the visual appeal but also made the everyday tasks seamless."
The room is very multifunctional, ticking all the boxes. The laundry appliances have been placed under the bench allowing for plenty of folding space, as well as a hanging rail to dry clothing. Opposite, tall cupboards provide the perfect space to store a multitude of items and the seating nook allows for shoes to be removed before entering the home, minimising mess. The Arched Pet Bed was selected for the beloved family pets and is one of Lysandra's favourite features within the design.
"The Arched Pet Bed has got to be one of my favourite touches," says Lysandra with a smile. "It brings a sense of charm and comfort, even for my pets!"

Cabinetry: Montauk White Matt, Montauk Bottega Oak Woodmatt with Patina Mesh Inserts
Handles: Matt Brass Knob (34-M-25), Matt Brass Bar (38-M-30), Touch Catch
Accessories: Arched Pet Bed, Laundry Wire Basket
Lighting: Hafele Warm LED Strip Lighting
By Client: Benchtops & splashback - get the look with Silestone by Cosentino in Victorian Silver. Appliances, Brass Hanging Rail
Master Walk-in Wardrobe Reveal
Lysandra's Walk in Wardrobe evokes a sense of luxury and sophistication. The wardrobe design combines our dark, rich timber-look Estella Oak Matt Interiors with our sleek Black Alumin Framed Acrylic Doors. The contents of the robe are illuminated by Warm Verti-Strip LED lighting, which allows for a soft, warm glow, adding to the luxurious and welcoming ambience.
The galley-style layout features a clever mixture of storage solutions, from hanging space to soft-close drawers and open shelving. The central walkway within the design is wide and spacious, the open joinery allowing optimal access to clothing and accessories. The wardrobe is a sanctuary of style and organisation with accessories that include Shoe Drawers, a Makeup Station, and 2020 Black Frame Glass Shelves.

Doors: Black Alumin Frame with Acrylic Insert
Interior Finish: Estella Oak Matt
Handles: Supplied with Black Alumin Frame cabinetry
Accessories: Shoe Drawers, Make Up Station, 2020 Black Frame Glass Shelves
Lighting: Hafele LED Verti-Strip Lighting