House 1
– Ronnie & Georgia
Basement
As part of their Basement design, Ronnie and Georgia opted to include a generous entertainment unit along one wall, which provides the perfect place for a television and other audiovisual essentials. A plethora of additional storage has been achieved with seven cabinets with Touch Catch handles, which also include two Deep Internal Drawers, meaning that organising the unit is easy and quick.
Deep, opulent Bottega Oak Woodmatt joinery adds instant glamour to the room, and pairs beautifully with a Caesarstone® top in Vanilla Noir, a surface featuring a deep ebony base with beautiful beige and vanilla veining, and a high gloss finish that evokes luxury and modernity. Matching kickboards in Bottega Oak Woodmatt include LED Strip Lighting underneath, creating a floating effect.
Key Features:
Cabinetry: Bottega Oak Woodmatt
Benchtop: Caesarstone® Vanilla Noir
Kickboards: Matching Bottega Oak Woodmatt
Handles: Touch Catch
Accessories: Internal Drawers
Lighting: Häfele LED Strip
Master Bedroom
Ronnie and Georgia's impressive Walk In Robe provides ample storage in their Master Bedroom. A mixture of open shelves and exterior doors creates endless organisation options while allowing users to decide what they wish to put out on display and what will be concealed behind closed doors. Premium LED Verti-Strip Lighting illuminate the robe, while a Sound System and USB Charger ensure that this is a space the user will enjoy using every day.
"It was important for our wardrobes to compliment the overall theme of our room, whilst also providing ample storage, explains Georgia. Because at the end of the day, storage is key when it comes to busy families!"
The colour palette mirrors their First Guest Bedroom, with the couple opting for Kinsman's Montauk White Matt, a new door that features a shaker-style profile with a 40mm rail surround. Natural Oak Matt Interior Finishes add to the coastal palette, while Satin Brass Rounded Bar handles add a touch of luxe.
Key Features:
Exterior doors: NEW Montauk White Matt
Interior finish: Natural Oak Matt
Benchtop: Caesarstone® Noble Grey
Handles: Satin Brass Rounded Bar 34-K-155
Accessories: Häfele Sound System & USB Charger
Lighting: Häfele Premium LED Verti-Strip Lighting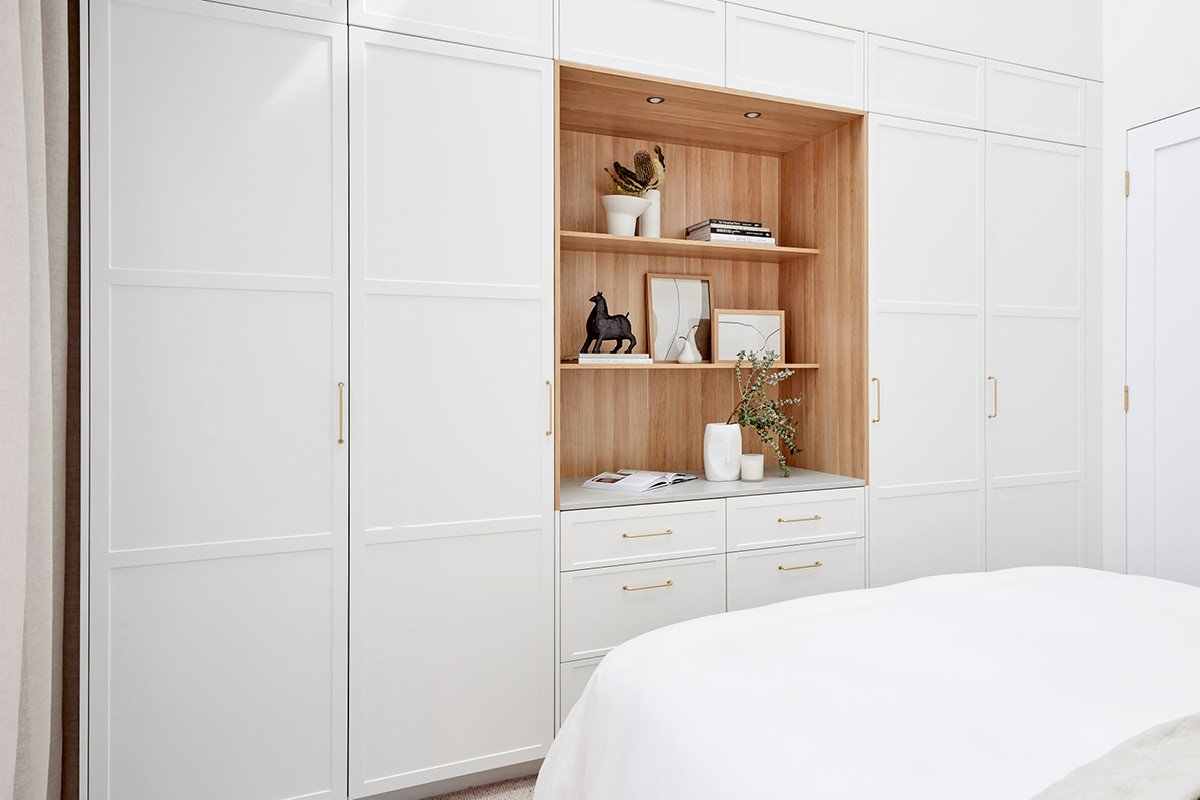 Winners of Guest Bedroom 1
Ronnie and Georgia selected White Matt Montauk profile doors for their first guest bedroom robe to create a classic look with a modern edge. Montauk is new to the Kinsman range, featuring a shaker-style profile with a 40mm rail surround, finished in a luxurious matte finish.
The crisp white has been teamed with Natural Oak Matt used for both the interiors and a feature dresser storage area which provides the perfect place for styling, creating a beautiful focal point in the design. The warm grey hue of Caesarstone's® Noble Grey, which has been used as a benchtop within the dresser, complements the timber and white colour scheme and adds instant glamour.
Not only is this robe visually beautiful, but it abounds with storage too! Six soft-close drawers sit below the dresser while on either side, tall cabinets open to reveal a combination of full and half hanging, open shelves and shoe racks. Luxurious elements, including Satin Brass Rounded Bar handles and black hanging rails, USB outlets within the wardrobe and Light Bars, complete the look.
Key Features:
Exterior finish: NEW Montauk White Matt
Interior finish: Natural Oak Matt
Benchtop: Caesarstone® Noble Grey
Handles: Satin Brass Rounded Bar 34-K-155
Accessories: Häfele Black Hanging Rails & Häfele USB outlets
Lighting: Häfele Black Light Bars
Subscribe and get the latest new and offers
from The Block and Kinsman Kitchens