Winners of Kitchen Week
Evoking the charm and character of the Hamptons style, Kirsty and Jesse's spectacular kitchen is the jewel of their home. Celebrating a rich yet sophisticated palette of ink blue, brass, and marble, this room will transport you to the iconic luxury Country to coast destinations it has been inspired by.
Montauk Ink cabinetry features throughout the kitchen and pantry. Its inky blue hue paired with its 40mm shaker-profile detailing allows the Brass Patina Mesh door panels to stand out with its raw beauty. The Brass Patina is an incredible new addition to the Kinsman range. Made from uncoated genuine brass mesh, which will age and oxidise over time, this door treatment is an extraordinary design component within the room.
Intricate detailing is found throughout the kitchen which is very much in keeping with a quintessential Hamptons style. Caesarstone® Aterra Blanca has been used across the countertops, its elegant misty white surface and delicate earthy veins a perfect fit with the palette. The bespoke Brass Inlay placed within the island bench matches new matte brass Barrington Knobs with backing plate and Cup Pull handles. Federation Capping and Decorative Pilaster Blocks in Montauk Ink Matt complete the look.
The family-focused kitchen abounds with storage, courtesy of smart accessories, to ensure that there is room for everything. Cutlery Trays, Cross Wire Rails for Pot Drawers, Non-slip Drawer Matts, Internal Drawers, Stainless Steel Internal Drawer with Acrylic Base and Ninka Bins make organisation a breeze. A butler's kitchen flows seamlessly from the main kitchen, housing more Bosch appliances, an extra sink and tap and dishwasher and a plethora of storage and prep space.
"We wanted our kitchen to be an absolute standout, to be the heart and soul of the house, says Kirsty. We wanted it to feel homely and the kind of space you can imagine lots of great family and friend dinners being created. Having such a large home, we wanted to make sure the kitchen also represented its grandeur."
Key Features:
Cabinetry: NEW Montauk Ink Matt, NEW Montauk Ink Matt with Patina Mesh
Benchtop: NEW Caesarstone® Aterra Blanca 40mm with Brass Inlay
Splashback: Tiles by contestants
Handles: NEW Barrington Knob with Backing Plate in Matt Brass 34-M-25, NEW Barrington Cup Pull in Matt Brass 15-M-12, Touch Catch
Kickboards: NEW Montauk Ink Matt
Accessories: Design Sides, Cutlery Trays, Cross Wire Rails for Pot Drawers, Non-slip Drawer Matts, Internal Drawers, Stainless Steel Internal Drawer with Acryclic Base, Häfele Ninka Bin, Federation Capping in Montauk Ink Matt, Decorative Pilaster Blocks in Montauk Ink Matt
Lighting: Häfele Premium LED Strip lighting, Warm LED Downlights
Appliances: By Bosch
Fridge: By Gaggenau
Pantry Sink: By Oliveri
Other features by contestants: Billi Tap, kitchen sink, kitchen & pantry taps
Guest Bedroom Two
Kirsty and Jesse prove that a window's placement is a positive rather than a negative when designing a wardrobe for a secondary bedroom. The pair opted to use the window in their Second Guest Bedroom as the centrepiece to plan their U-shaped robe around.
The white of the Shaker-profile Montauk exterior doors contrast with the greenery outside the window. At the same time, Satin Brass Rounded Bar handles add the finishing touch to creating the Hamptons style found throughout their home. Premium LED Verti-Strip lighting adds to the luxury of the robe while still being highly functional, and by adding the drawers below the window, a bench seat has been formed.
Key Features:
Exterior Doors: NEW Montauk White Matt
Interior Finish: Natural Oak Matt
Handles: Satin Brass Rounded Bar 34-K-155
Lighting: Häfele Premium LED Verti-Strip Lighting
Master Bedroom
Stepping into Kirsty and Jesse's grand Walk-in robe, the user is treated to two generous banks of cabinetry. One side offers a combination of soft close drawers, half hanging space and a Rotating Shoe Rack. Additional hanging space and open shelving feature on the other side, providing a plethora of storage in their Master Bedroom.
A classic meets coastal colour palette has been established using Shaker-style Montauk White Matt doors paired with Matt Brass Bar handles. The Natural Oak Matt interior finishes are accentuated with Black Light Bars, and the inclusion of our new Makeup Mirror in Anthracite is the perfect addition to ensure getting ready in this robe each day is a joy.
"Making sure that the design of our wardrobe fitted our Hamptons, Coastal vibe will being practical for a large family home was very important to us, explains Kirsty. "We used have used a palette of white, oak and brass throughout to create it. We especially love the Matt Brass Bar handles as it ties in with the rest of our house."
Key Features:
Exterior Doors: NEW Montauk White Matt
Interior Finish: Natural Oak Matt
Handles: Satin Brass Rounded Bar 34-K-155
Accessories: NEW Häfele Makeup Mirror in Anthracite, Häfele Rotating Shoe Rack
Lighting: Häfele Black Light Bars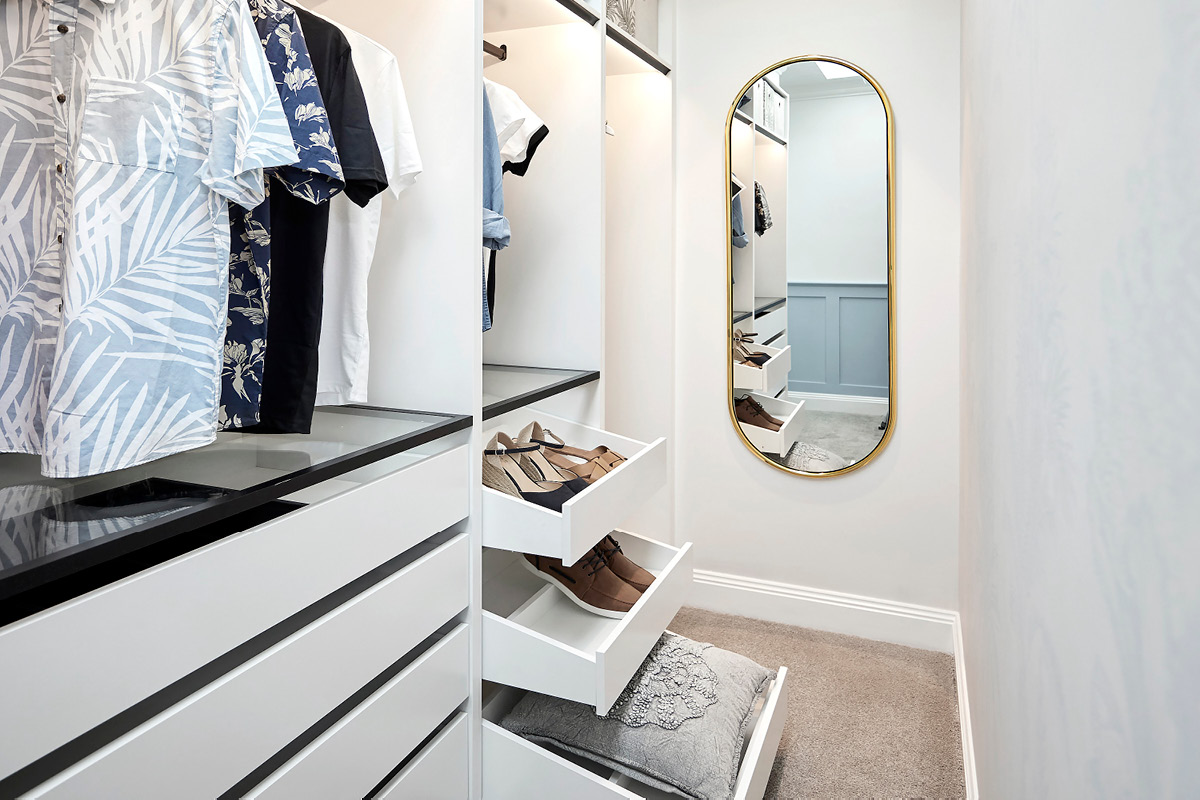 Guest Bedroom 1
Kirsty and Jesse have designed a classic and elegant Walk-In robe that delivers storage in spades featuring Hanging Rails, Shoe Drawers, open shelving, soft-close drawers and a Jewellery Compartment Tray. Black Framed Glass Shelving allows the jewellery to be displayed, creating a glamorous robe that any guest would love.
Striking black accessories contrast against the White Satin interior finishes for a bold monochromatic look. Black Light Bars have been used throughout the design, adding warmth to the interior of the robe while illuminating the clothing and other items stored within.
Key Features:
Interior finish: White Satin
Accessories: Black Framed Glass Shelves, Show Drawers, Häfele Black Hanging Rails & Häfele 8 Compartment Tray
Lighting: Häfele Black Light Bars
Subscribe and get the latest new and offers
from The Block and Kinsman Kitchens