Basement
An impressive home entertainment storage unit takes centerstage in Luke and Josh's Basement. Ticking all the boxes, the design includes open shelving in Estella Oak Matt, allowing decor items to be styled and placed out on display.
A mixture of tall and lower cabinetry in White Cement doors from our FX Series adds to the industrial colour scheme, complemented with bold Square Hook Matt Black handles. Thin 20mm tops in Caesarstone's® Frosty Carrina feature throughout, providing an organic element with soft ivory white tones and delicate powdery veins.
The design balances style with function, with Inner Drawers and accessories such as Lift Down Doors ensuring that the unit works hard while looking beautiful. Premium LED Verti-Strip lighting within the cabinetry illuminates the contents within, elevating the overall design.
Key Features:
Exterior doors: FX Series White Cement
Interior finish: Estella Oak Matt
Benchtops: Caesarstone® Frosty Carrina
Handles: Square Hook Matt Black 34-K-125
Accessories: Häfele Lift Down Doors, Inner Drawers
Lighting: Häfele Premium LED Verti-Strip
Winners of Master Bedroom
Twins Luke and Josh have created a statement Walk-in wardrobe that is sure to turn heads. A natural colour palette has been achieved by combining Natural Oak Ravine exterior doors with matching Natural Oak Matt interior finishes. Bold Square Hook Matt Black handles complement the Black Framed Glass Shelves, which feature alongside a mixture of hanging space, drawers and open shelving.
"When designing our wardrobe spaces, we always consider how the design will complement the style of the room, and whether it will be a bold feature, or blend in, explains Luke. I think this walk-in is standout and suits our uber-modern style." "It's not just about the look either, adds Josh. We have added details that takes it to the next level, such as the LED lighting, a television point and the Loox Multidimensional Mirror."
At the centre of the design is a makeup station topped in Caesarstone® Frosty Carrina and includes the Loox Multidimensional Mirror. This smart mirror combines makeup and mood lighting, a demister, and a Bluetooth-powered sound system! The pair have used glass doors once again, this time across the opening shelving to the right, which also features terrazzo wallpaper instead of a back panel.
"We have designed this robe for some who takes pride in their wardrobe and is happy to make it a feature instead of a hideaway zone, and I think our design reflects this", says Luke.
Key Features:
Exterior doors: Natural Oak Ravine
Interior finish: Natural Oak Matt
Make up station: Caesarstone® Frosty Carrina
Handle: Square Hook Matt Black 22-K-129
Accessories: Black Framed Glass Shelves, Häfele Loox Multidimensional Mirror, Häfele Black Hanging Rails
Glass doors: By contestants
Decorative wallpaper: By contestants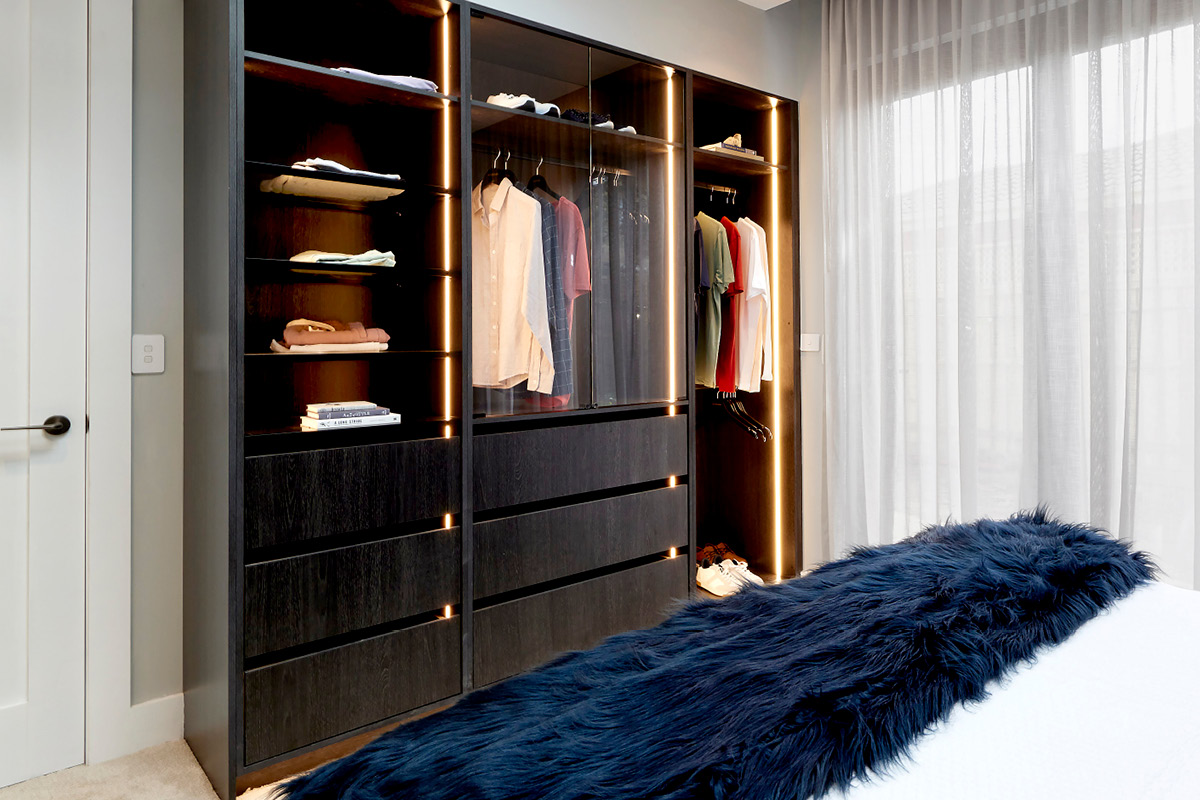 Guest Bedroom 1
Selecting a combination of hanging space, drawers and shelving, Luke and Josh have designed a Walk-In style robe for their first Guest Bedroom. Rich and opulent Estella Oak Matt interior finishes are illuminated by Premium LED Verti-Strip lighting. In a bold move, the brothers plan to add glass door fronts to the design, putting the contents within the robe on display.
Black accessories, including Hanging Rails, complement the Dark Timber interior finish. The inclusion of Kinsman's Black Framed Glass Shelving breaks up the joinery while providing the perfect place to style accessories and decor items.
Key Features:
Interior finish: Estella Oak Matt
Accessories: Black Framed Glass Shelves & Häfele Black Hanging Rails
Lighting: Häfele Premium LED Verti-Strip
Glass Doors: By contestants
Subscribe and get the latest new and offers
from The Block and Kinsman Kitchens