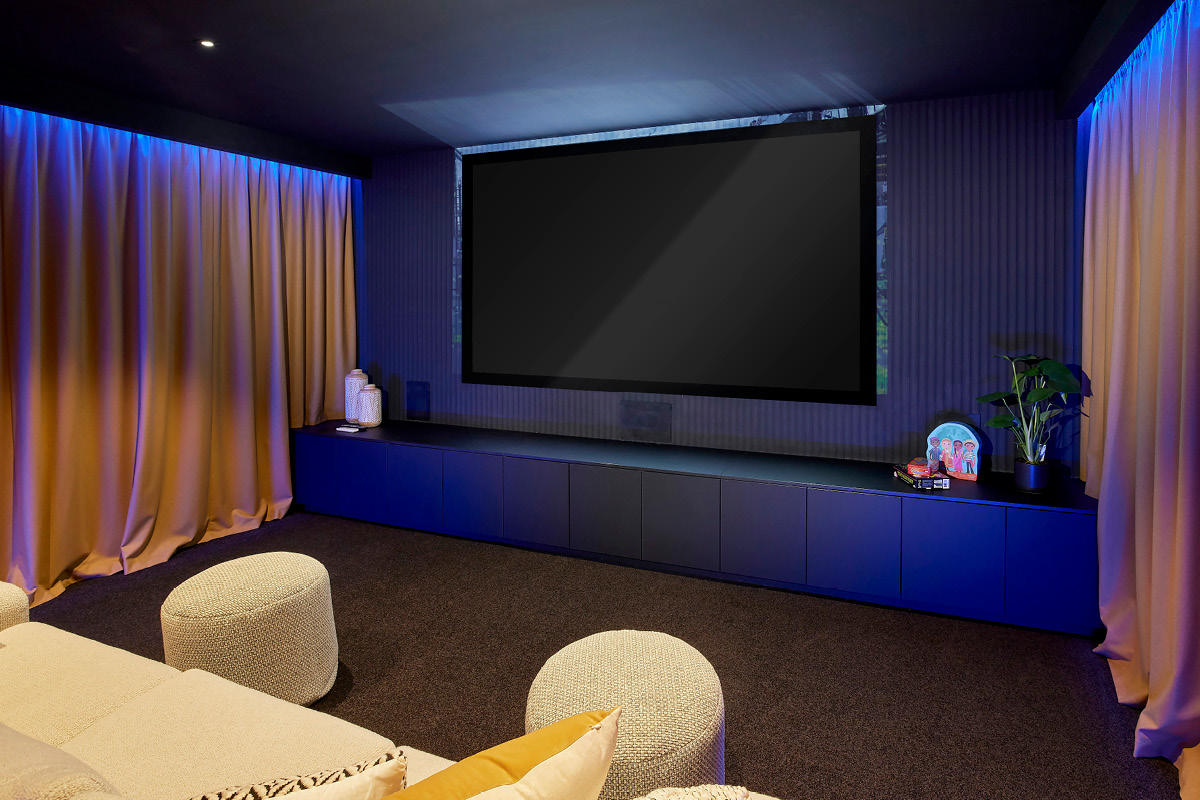 Basement
Tanya and Vito elevated their Basement with a chic, straight-line home entertainment unit featuring Kinsman joinery. Thanks to bold Volcanic Black exterior doors paired with warm timber-look Estella Oak Matt interior finishes, a modern and sophisticated palette adds an eye-catching feature within the space. Cabinetry has been left handleless, the Touch Catch doors adding to the sleek look. LED Strip lighting illuminates the design perfectly and adds the finishing touch to this successful design.
Key Features:
Exterior doors: Volcanic Black
Interior finish: Estella Oak Matt
Handles: Touch Catch
Lighting: Häfele LED Strip
Master Bedroom
They may be Reno rookies, but Tanya and Vito have pushed the creative envelope with their wardrobe design for their Master Bedroom. The colour scheme of white, black and timber is sleek and chic using White Satin exterior doors, Natural Oak Matt interiors, Ribe Black Satin Timber and kickboards in Volcanic Black.
"I was drawn to a fresh white palette for the wardrobe as I love how it allows the whole room to feel larger and more open, says Tanya. I then added the timber-look interiors to play on the mid-century vibe we love and then layered with the Ribe handles that have such a cool and unique design."
The L-shaped Walk-in Robe includes a number of space-saving accessories such as Wire Pull-outs, a Trouser Rack Pull-out and a Laundry Hamper, as well as a beautiful lighting scheme thanks to Black Light Bars. "It was very important to us to have practical storage within our design, explains Vito. We focused on creating the most amount of usable storage that we could within our designs."
Within the Master Bedroom itself, the couple opted to create a Straight-line wardrobe that doubles as an entertainment hub. The timber tones of Natural Oak Matt cabinetry and Ribe Oak Timber handles add warmth to the space. Within the unit, a combination of Black Framed Glass Shelves and Black Hanging Rails provides additional storage. It also features a Mirror Television, allowing the user to watch television from the bed.
Walk In Wardrobe
Exterior doors: White Satin
Internal finish: Natural Oak Matt
Kickboard: Volcanic Black
Handles: Ribe Black Satin Timber 34-K-151
Accessories: Häfele Laundry Hamper, Häfele, Flexstore Trouser Rack Pull-out, Häfele Flexstore Wire Pull-out
Lighting: Häfele Black Light Bars
Straight-line Wardrobe with entertainment hub
Exterior doors: Natural Oak Matt
Interior Finish: White Satin
Kickboard: Volcanic Black
Handles: Ribe Oak Timber 34-K-152
Accessories: Black Framed Glass Shelves, Häfele Black Hanging Rails
Lighting: Häfele Black Light Bar
Mirror Television: By contestants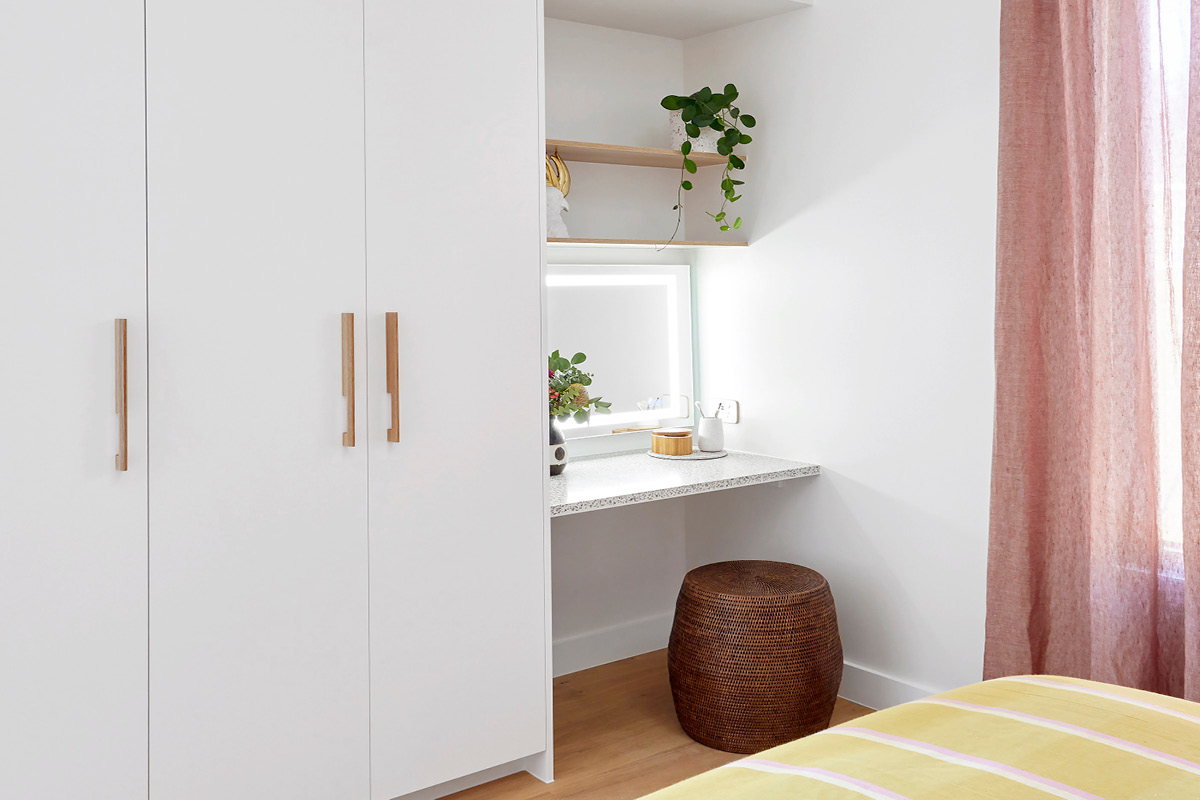 Guest Bedroom 1
Tanya and Vito designed a chic hinged wardrobe for their guest bedroom that includes a standout make-up station. Kinsman's Loox Multi-Dimensional Mirror is perfect for make-up lighting with its built-in LED Warm White lights and also has special features such as Bluetooth connectivity – enabling you to play music whilst getting ready!
The couple has created a beautiful space filled with everything a Guest Bedroom robe needs (and more), including hanging space, a folding mirror, and soft-close drawers. Beautiful Black Frame Glass Shelving allows the warm glow of Light Bars to shine down throughout the design.
The pair opted for a modern and neutral colour palette with White Satin doors, warm Natural Oak Matt interiors, and timber-look Oak Bar handles, evoking a natural look and feel for the space.
Key Features:
Exterior doors: White Satin
Interior finish: Natural Oak Matt
Handles: Oak Bar 22-K-122
Accessories: Black Framed Glass Shelves, Häfele Loox Multidimensional Mirror, Häfele Black Hanging Rails & Häfele Folding Mirror
Lighting: Häfele Black Light Bars
Make up station/Desk: By contestants
Subscribe and get the latest new and offers
from The Block and Kinsman Kitchens