With The Block Grand Finale Auction having taken place on Sunday, here at Kinsman HQ we have been reminiscing about the incredible spaces we created with the Blockheads this series. From showpiece kitchens to luxury laundries, wonderful wardrobes and colourful kids' bedrooms, the spaces from this season showcased how working with Kinsman combines style with functionality. With so many stunning rooms to look back on, below we take a closer look at the winning spaces and what makes them so special.
Winning Kitchen: Eliza & Liberty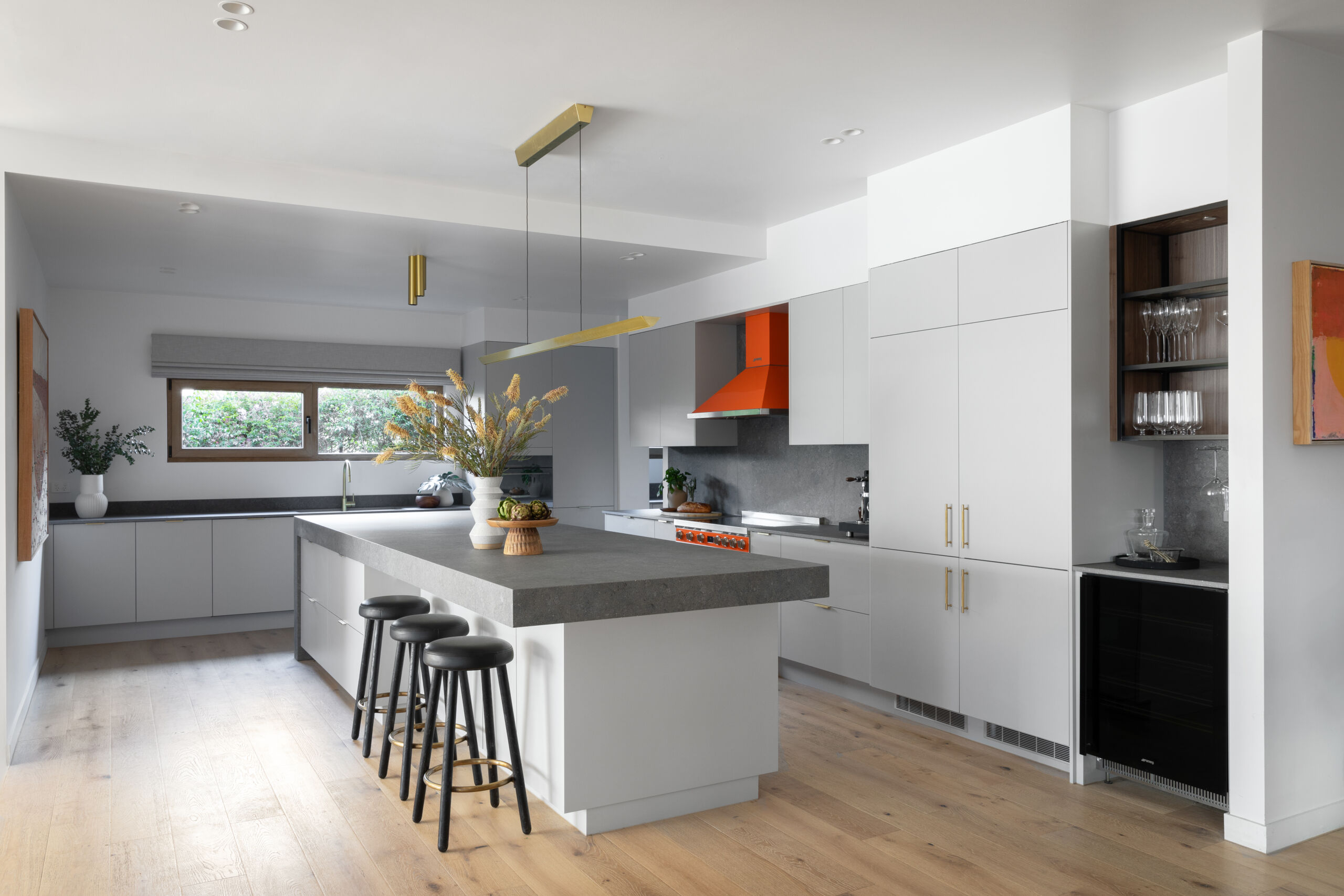 They may have used their gnome point to secure their win, but Eliza and Liberty's kitchen was more than worthy of the crown! Bold and exciting, Eliza and Liberty's winning kitchen design demands attention and is full of great kitchen ideas! 
The orange Smeg Portofino Freestanding Cooker with matching Canopy Rangehood is the central focal point within the layout, complemented by our Oyster Grey Matt joinery, Brushed Brass handles, and dark moody benchtops. 
Storage and organisation abound within the kitchen, with a plethora of cabinets featured throughout, including the kitchen island bench. Design Side Drawers provide plenty of space for larger items such as pots and pans, while our new Cooking Agent unit has been strategically placed next to the stove to allow access to cooking essentials. The separate butler's pantry also provides another useful space for appliances and storage, featuring our new Budino Walnut Woodmatt joinery. 

Winning Laundry: Eliza & Liberty
Sitting pretty behind their standout kitchen and pantry, Eliza and Liberty's winning laundry room is another standout room within their home. Game-changing appliances, plenty of storage space which includes a separate linen room, and a modern colour scheme are at the heart of the design.
Oyster Grey Matt cabinetry features again, paired with Budino Walnut Woodmatt doors, complemented by Brushed Brass Lip Pull handles and Silestone by Cosentino in Blanco Maple14 Q40 benches. A generous linen cupboard with opening shelving in Budino Walnut Woodmatt provides even more storage, allowing these items to be neatly hidden away while still easy to access.  

Winning Studio: Steph & Gian
Steph and Gian's winning guest studio space, featuring their wardrobe design not only impresses with its functionality but also adds a touch of artistry to the room!
A sophisticated colour scheme elevates the visual appeal of the wardrobe, making it a centrepiece within the room. The combination of Dove Grey doors paired with Walnut handles exudes a timeless elegance that perfectly complements the warm and inviting tones seen throughout. The design features open shelves in Oak Woodgrain on each end, creating the perfect place to showcase décor and personal touches. Beyond its decorative appeal, this wardrobe serves multiple purposes in the guest studio. It acts as a clever partition, separating the bedroom from the ensuite, creating a sense of privacy and organisation. Meanwhile, it offers much-needed storage, cleverly blending various elements to cater to the guests' needs.

Winning Master Bedroom Wardrobe: Steph & Gian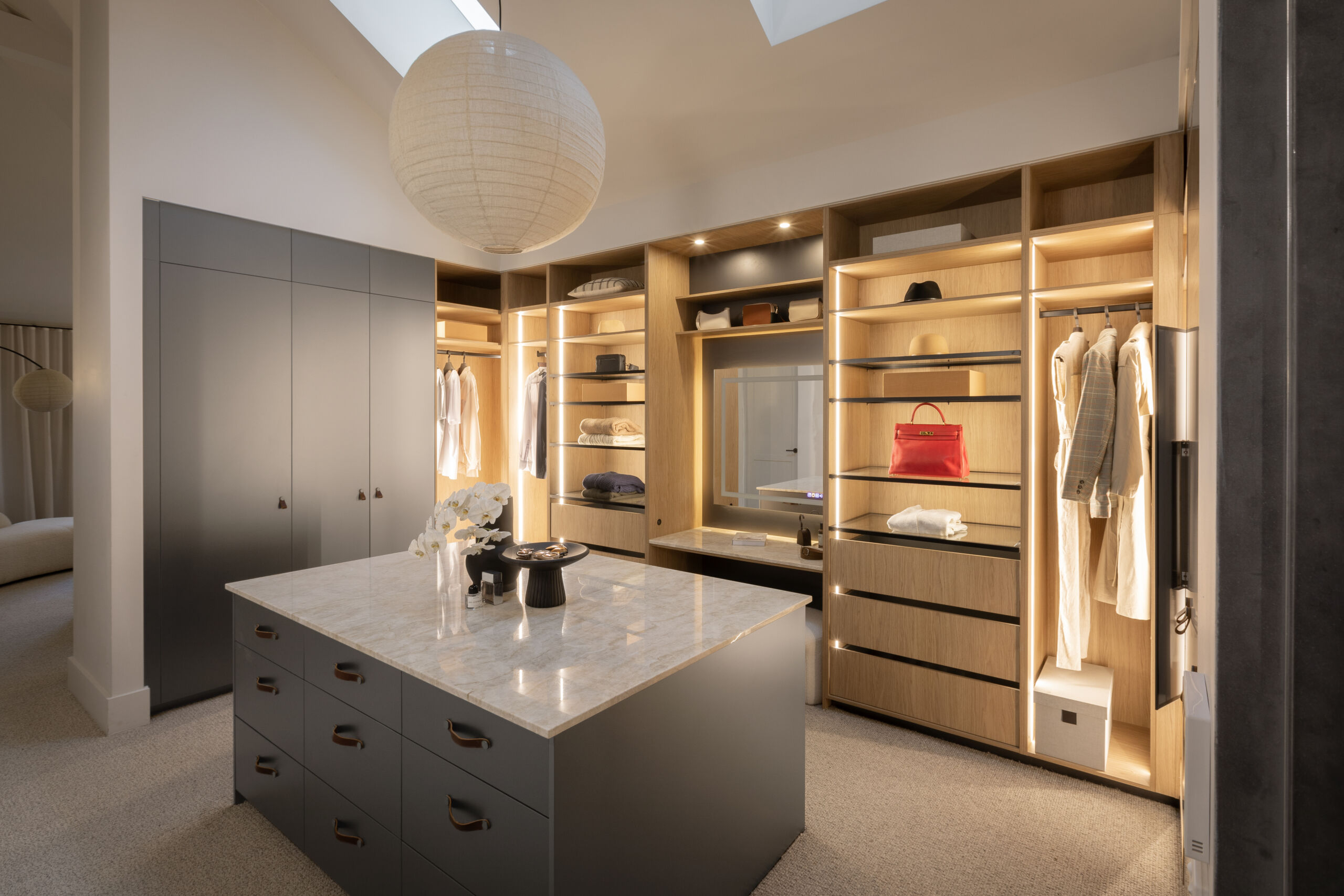 Steph and Gian have created a winning walk-in wardrobe that dreams are made of! The only house to include an island bench, the design is a masterclass in style and storage. 
Kinsman's New Platinum Metallic doors create a luxe feel as you enter the space, and the contrasting internal colour of the Oak Woodgrain timber-look finish ties both the joinery and the benchtops together with the moody textures. Leather Dark Brown Pull and Strap wardrobe door handles complete the look.
The design includes Black Frame Glass Shelves on each side of the makeup station which also features a Häfele Mirror. The shelving creates the perfect place to display handbags and favourite accessories, while behind closed doors a wealth of hanging space, soft-close drawers, and clever storage solutions such as the impressive Rotating Shoe Rack ensures that keeping the wardrobe organised is a breeze.

Winning Kids Bedroom One: Steph & Gian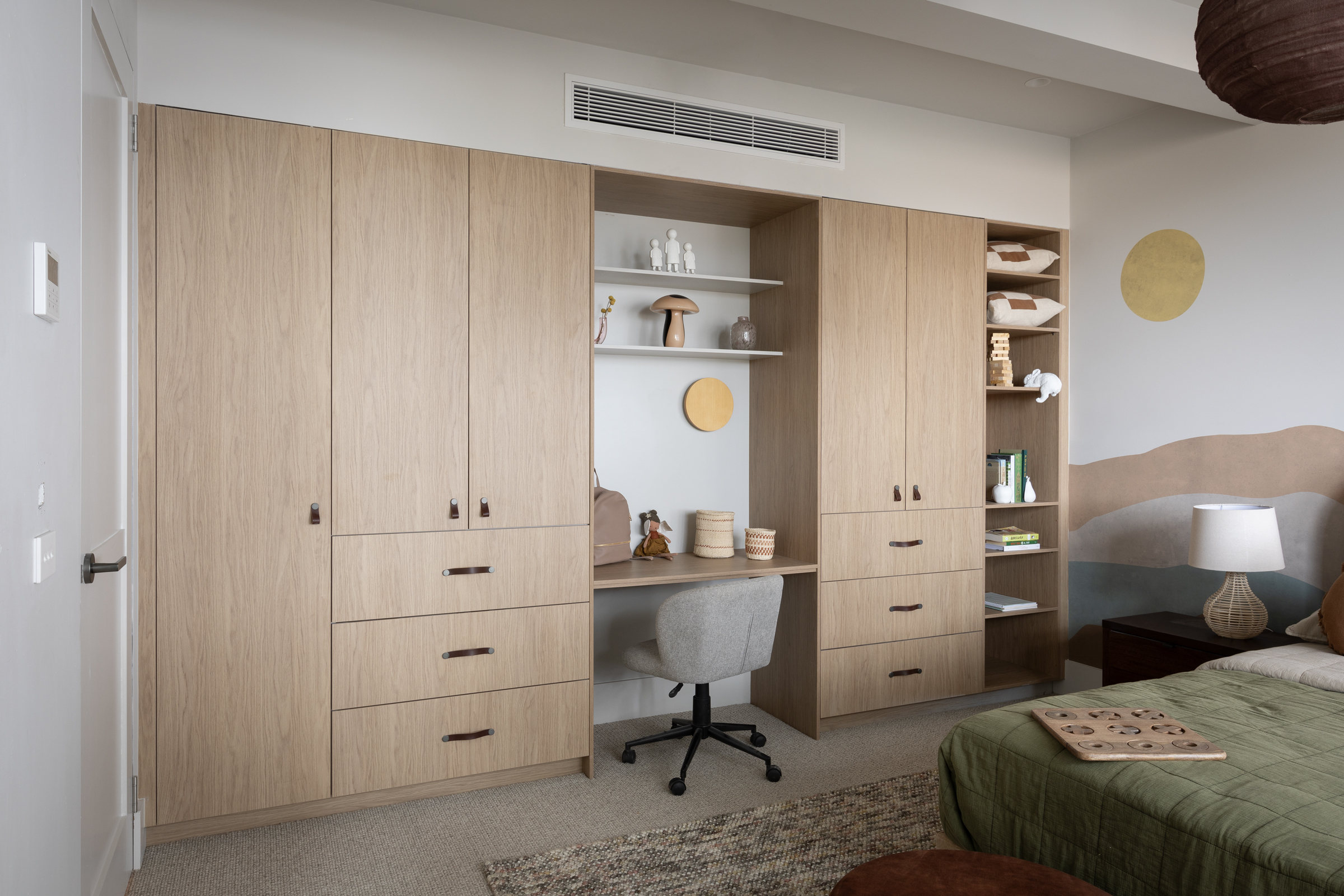 Steph and Gian presented a generous wardrobe in their guest bedroom that celebrates a welcoming colour palette. Central to the look are the Oak Woodgrain doors and Dark Brown Leather Strap handles. A desk provides the perfect study zone or a makeup table.
A wealth of storage is created with a mixture of hanging space, open shelving, and soft-close drawers. Light Bars in Black with Sensors add to the look, while illuminating the contents of the wardrobe.

Winning Kids Bedroom Two: Steph & Gian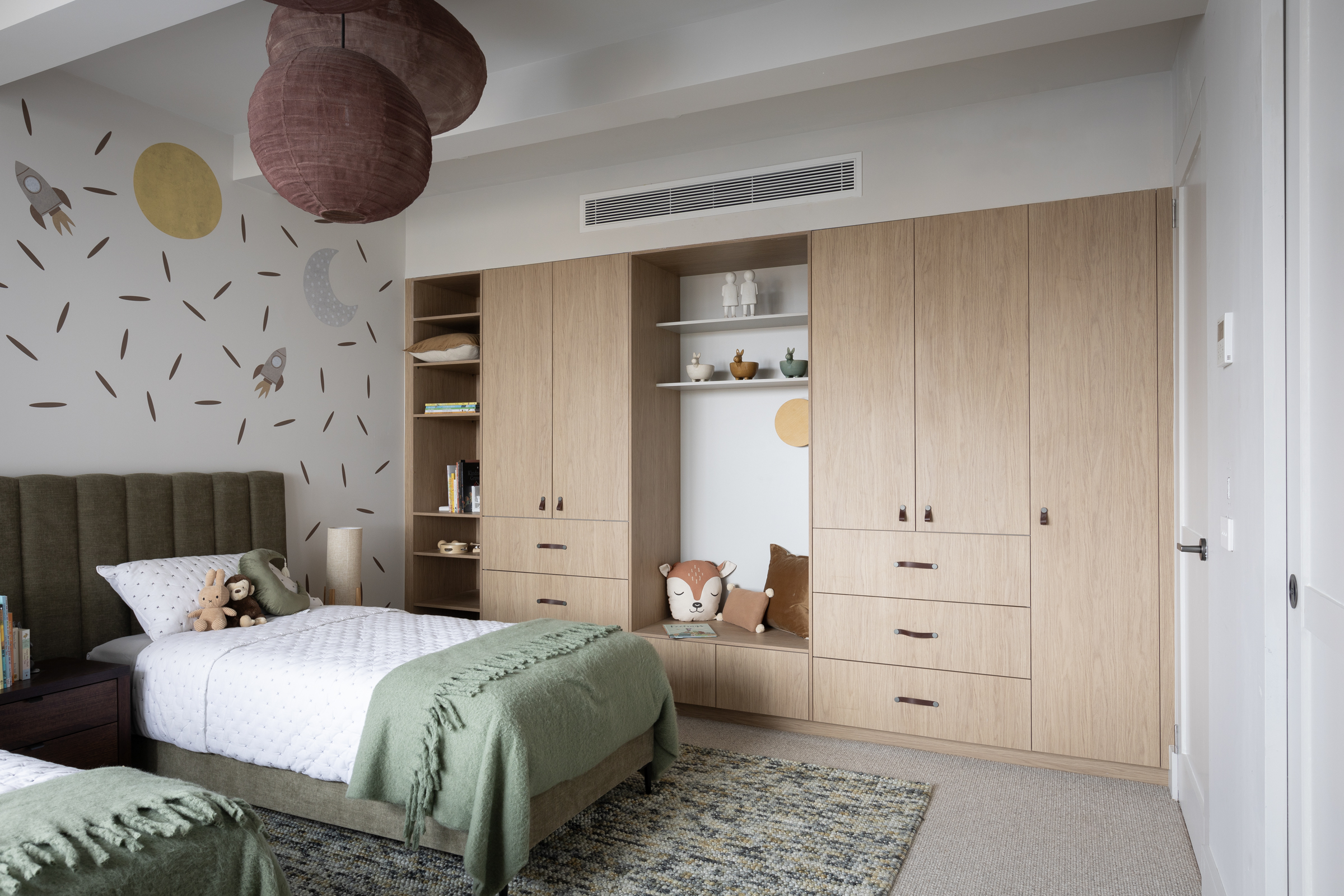 Mirroring the design and colour palette of their other guest bedroom wardrobe, Steph and Gian have presented another well-planned and eye-catching design that includes a seating nook. Oak Woodgrain doors with Dark Brown Leather handles create a warm yet neutral look.
Within the robe, Dove Grey interiors are highlighted by black Light Bars, which are activated when the doors open thanks to sensors. Open shelves on one side of the layout allows for items to be displayed- the perfect place to store books, décor, and artwork.