Steph & Gian win The Block 2023 with a record-breaking profit of $1.75 million!
It's tools down on the most drama-filled season of Australia's favourite renovation TV show, The Block. After 12 weeks of incredible renovations from the five teams, which included thirty outstanding Kinsman kitchens, laundries, and wardrobes, it all came down to the showstopping Auction last night! 
On a night of the highest of highs and lowest of lows, viewers saw a mixture of life-changing amounts being won, interwoven with more modest amounts and one house being passed in. In the end, Sydney-based couple Steph and Gian took out the coveted win, accumulating an awe-inspiring $1.75 million in prize money! Sisters and reno rookies Eliza and Liberty came in second place with an impressive profit of $1.05 million- their winning Kinsman kitchen contributing to their result. 
To celebrate House 4's spectacular win, we step into their winning home one last time and explore the Kinsman spaces that brought it to life! 
Love what you saw on The Block and want to transform your home? Book your in-store, in-home, or virtual design appointment HERE. For more inspiration, images, and product details, download our new Ideas Catalogue HERE.
The Kitchen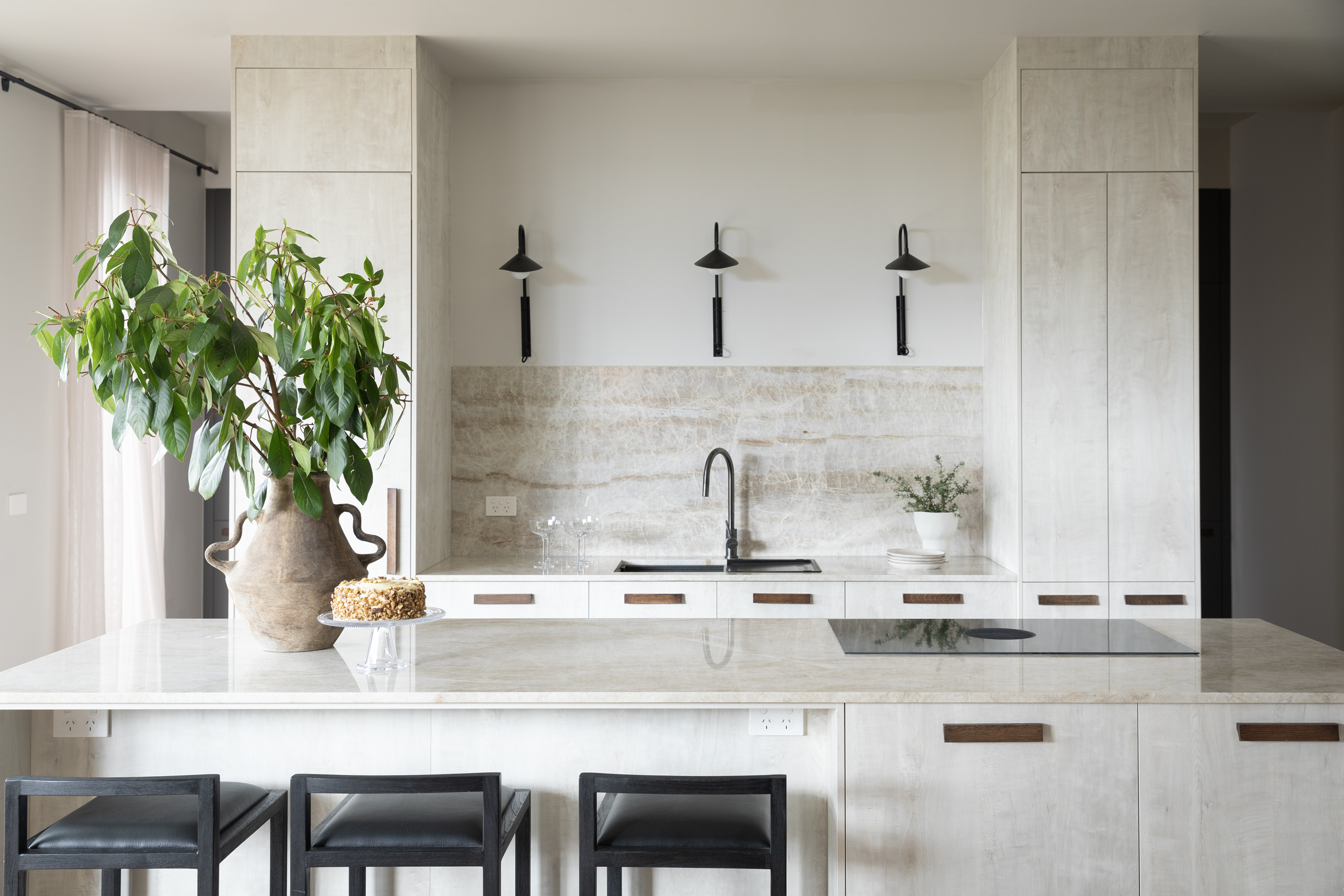 A perfect balance of practicality and good looks, Steph and Gian's laundry focused on useability, storage, and style. The Japandi-inspired colour palette echoes that of their kitchen, focusing on organic tones and texture, achieved by blending our new Porto Maple Woodmatt and Platinum Metallic cabinetry, statement Ebony Stained American Oak handles, and creamy marble-look benches and splashbacks.
The laundry room design was carefully considered to produce a space that ticks all the boxes. The Fisher & Paykel front-loader washing machine and dryer from The Good Guys have been positioned side by side, allowing a generous bench to be placed above– perfect for folding and sorting clothing. Clever laundry room ideas achieve abundant storage, with a Pull-out Wire basket and Häfele's Tandem Side, particular highlights. Tall cupboards allow for easy storage for items such as brooms, mops, and ironing boards.
"This is a brilliantly functional laundry," said judge Darren Palmer of the room. "We've got a connection to the outdoors through a door, it has lots and lots of bench space, and all the appliances you could need."  
The Master Walk In Robe.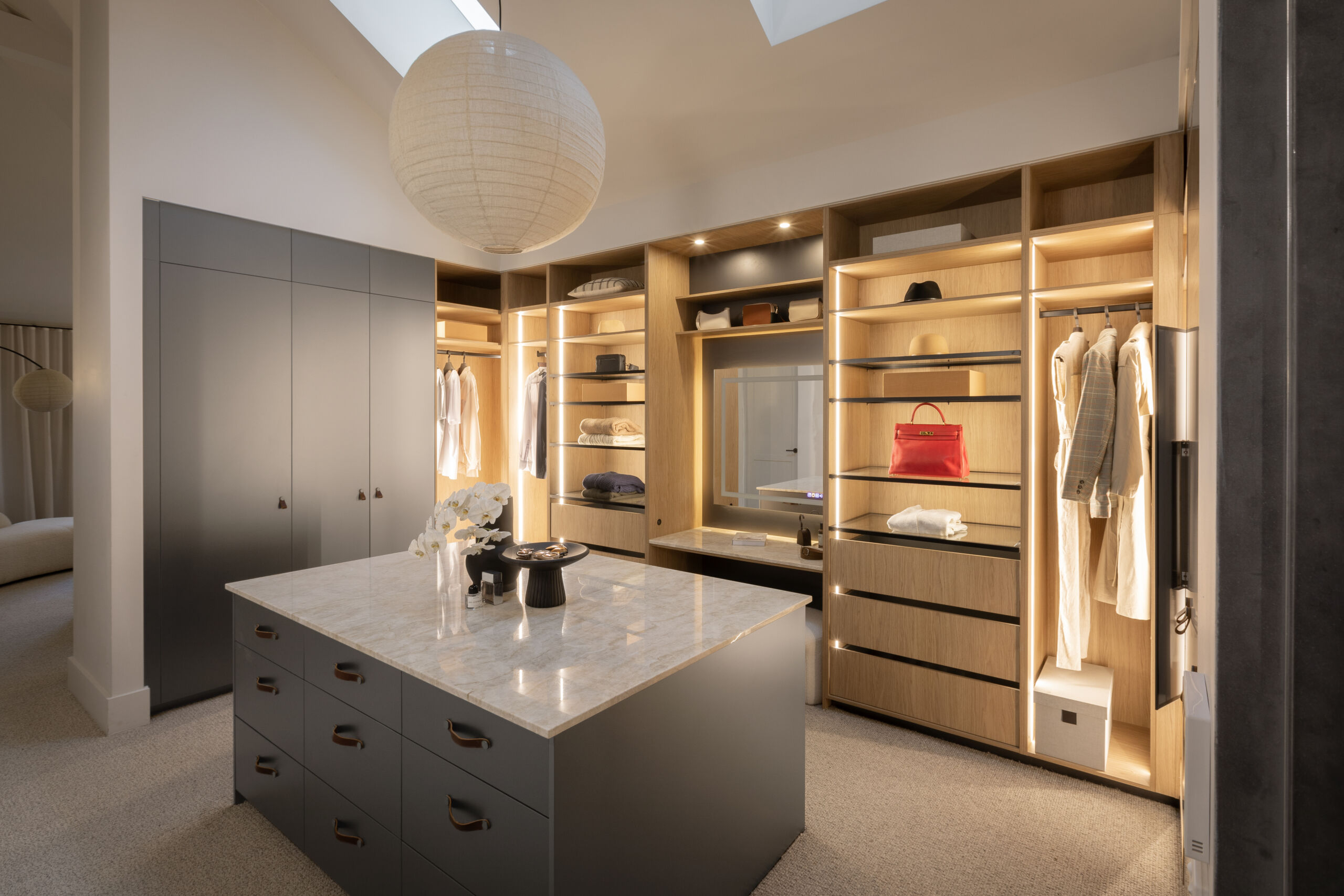 Awarded the winners of Master Bedroom and Wardrobe Week, Steph and Gian created a walk in wardrobe that dreams are made of! The only house to include an island bench, the design was a masterclass in style and storage. The large-scale U-shaped layout maximises cabinetry and storage, with the central island bench taking centre stage. Our new Platinum Metallic doors create a luxe feel as you enter the space, and the contrasting internal colour of the Oak Woodgrain finish ties both the joinery and the Cosentino benchtops together with the moody textures. Leather Dark Brown wardrobe door handles with Pewter Buttons, Hafele accessories, and Black Frame Shelving complete the look. As the winners of the $20,000 Kinsman Wardrobe upgrade, Steph and Gian have created a standout wardrobe that provides the very best in high quality finishes and hardware.
"Luxury, luxury, luxury," exclaimed Shaynna Blaze. "From the size, the scale, the vintage bag- they've nailed it!" Fellow judge Marty Fox clearly agreed with her, awarding the space a perfect score of 10!
The Kid's Double Wardrobes.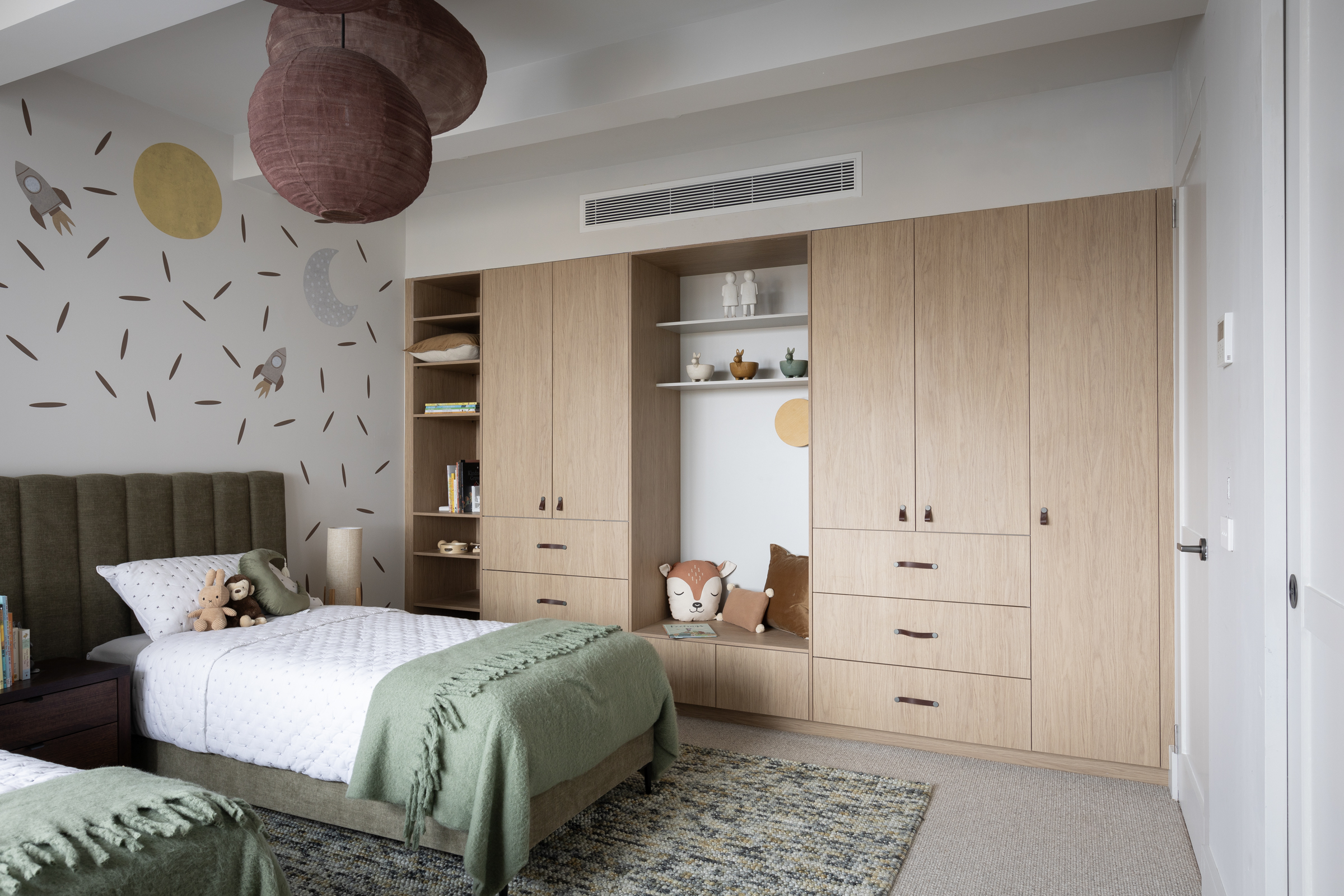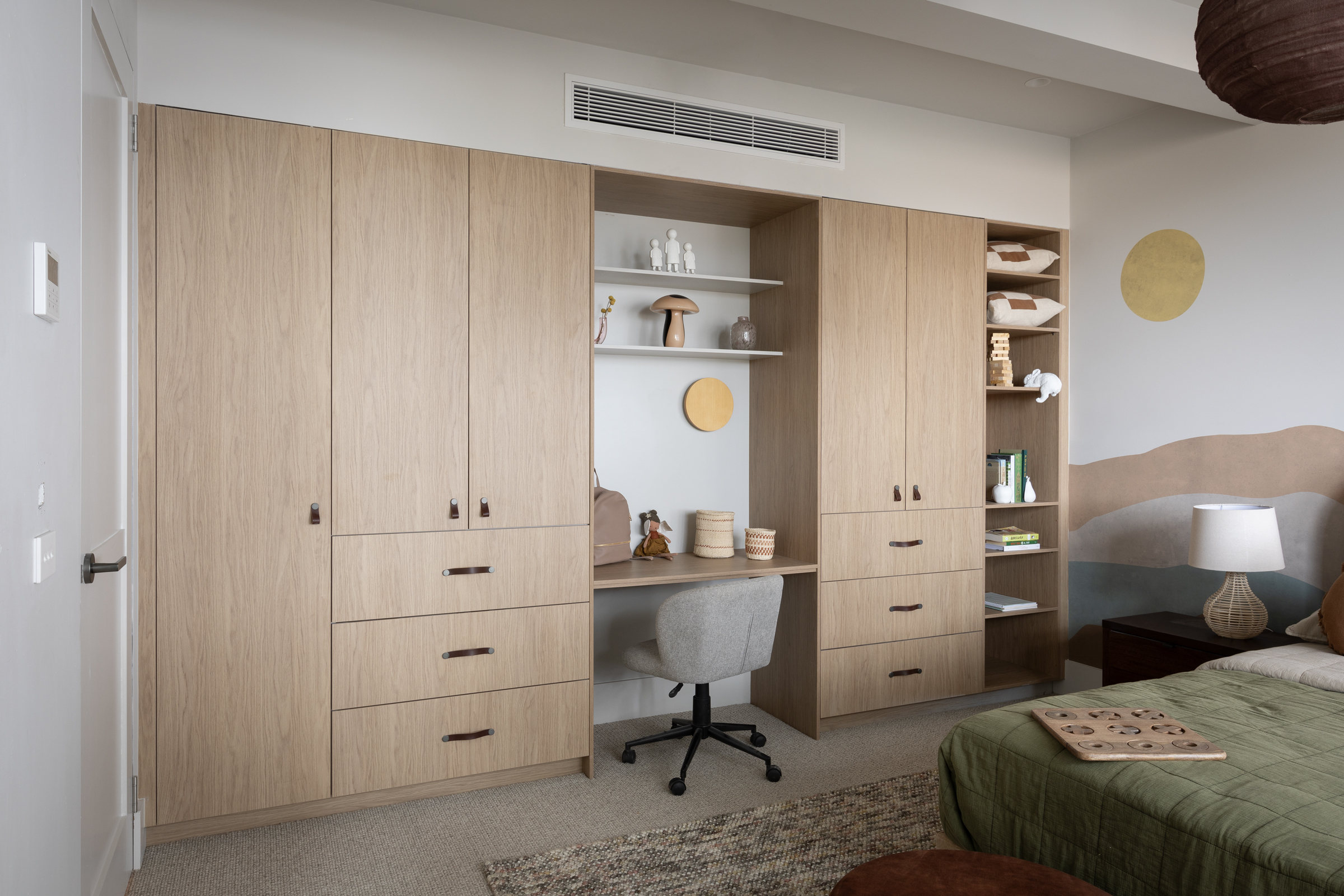 Producing two stunning children's bedrooms in Week 9, Steph and Gian were awarded yet another win for their wardrobe design, earning a perfect score of 30 out of 30 from the judges. The two hinged wardrobes were pivotal to the success of each room, offering a plethora of storage, style, and multifunctional design thanks to a desk and seating nook. Oak Woodgrain doors with Dark Brown Leather handles created a warm yet neutral look. Within each robe, Dove Grey interiors are highlighted by Black Light Bars, which are activated when the doors open thanks to sensors. Each wardrobe featured a mixture of hanging space, soft-close drawers, and open shelves, providing ample space to store clothing, shoes, accessories, and toys.
Guest Studio Wardrobe.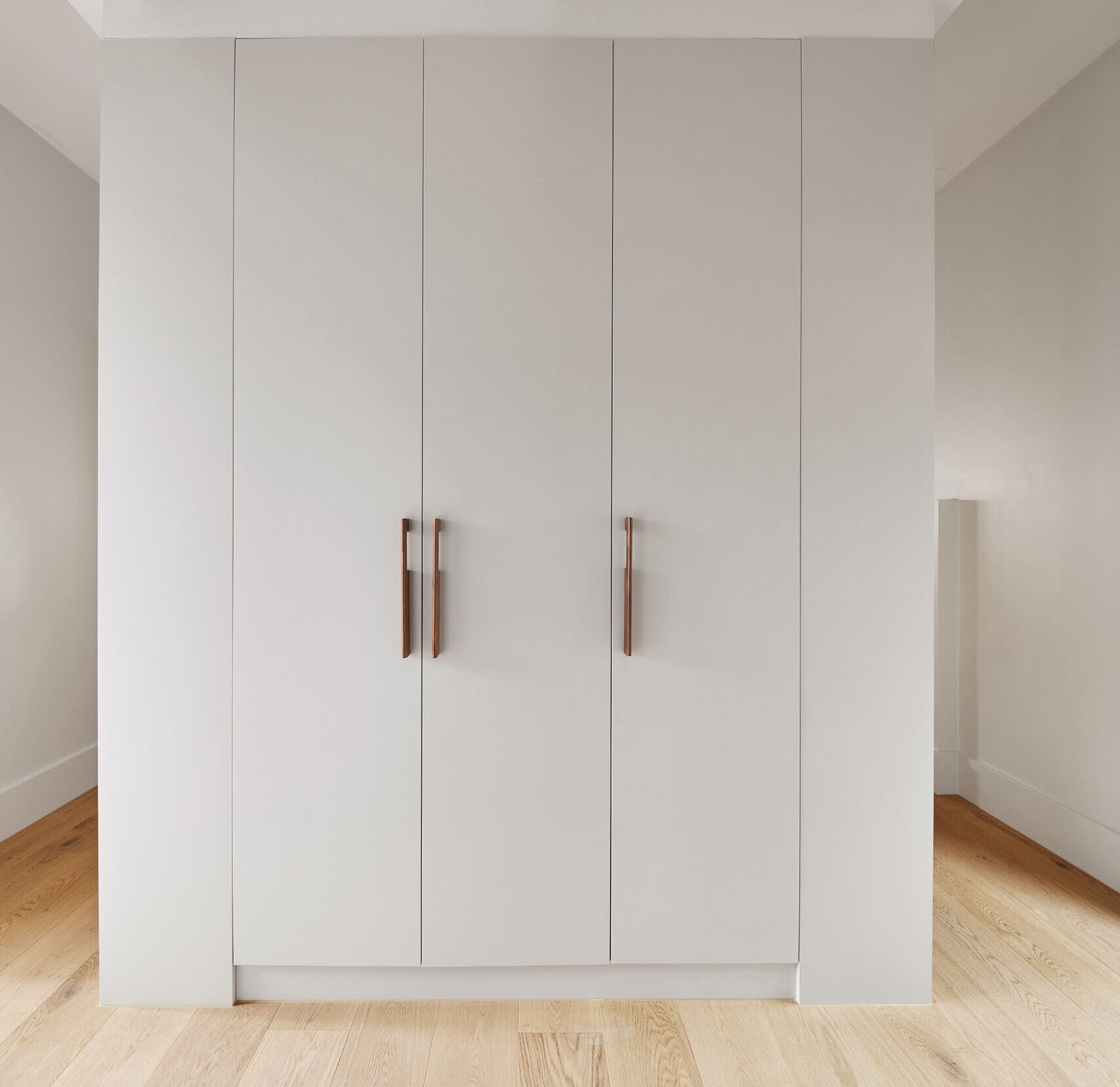 A sophisticated colour scheme elevated the visual appeal of the wardrobe within the pairs winning Studio Wing all the way back in Week 2, ensuring it's a centrepiece within the room. The combination of Dove Grey doors paired with Walnut handles offers a timeless elegance that perfectly complements the warm and inviting tones seen throughout. Open shelves in Oak Woodgrain feature on each end, creating the perfect place to showcase décor and personal touches. Beyond its decorative appeal, the wardrobe serves multiple purposes in the guest studio. It acts as a clever partition, separating the bedroom from the ensuite, creating a sense of privacy and organisation. Meanwhile, it also offers much-needed storage, cleverly blending various elements to cater to the guests' needs.
The wardrobe stood out to the judges, with Darren ticking off everything it delivered. "We have hanging, we have drawers, and a little fridge and coffee area," he listed. Marty pointed out that it adds to the room's appeal overall. "This is perfect for a teenager or someone staying for the weekend," he explained. "This is the smallest room by far, but it doesn't feel like it."
Love what you saw on The Block 2023 and want to create the best kitchen, laundry, and wardrobes on your block? Book your in-store, in-home, or virtual design appointment HERE. For more inspiration, images, and product details, download our new Ideas Catalogue HERE.
Final results.
House 1- Kyle & Leslie. Reserve: $2,970,000, Winning bid: $3,100,000, Total profit: $130,000
House 2- Leah & Ash. Reserve: $2,970,000, Winning bid: $0 Passed in, Total profit: $0
House 3- Kristy & Brett. Reserve: $2,970,000, Winning bid: $3,035,000, Total profit: $65,000
House 4- Steph & Gian. Reserve: $3,350,000, Winning bid: $5,000,000, Total profit: $1,650,000, Total winnings: $1,750,000
House 5- Eliza & Liberty. Reserve: $3,250,000, Winning bid: $4,300,000, Total profit: $1,050,000