It's the biggest reveal so far on The Design Duo Series "Twin Off"- the highly anticipated kitchens! While the twin sisters and interior designers Alisa and Lysandra Fraser had the same floorspace for their open-plan kitchen, living and dining areas for their family homes, the finished rooms couldn't be more different – very much highlighting the 'dark versus light' interior design approach that the series is based on.
The duo turned to the experts at Kinsman to help bring their kitchen design and looks to life and the results are spectacular! "How good do our Kinsman kitchens look," asked Alisa. "So good!" They both reply in unison. 
Step inside and decide for yourself which design is your favourite.
Alisa's Kitchen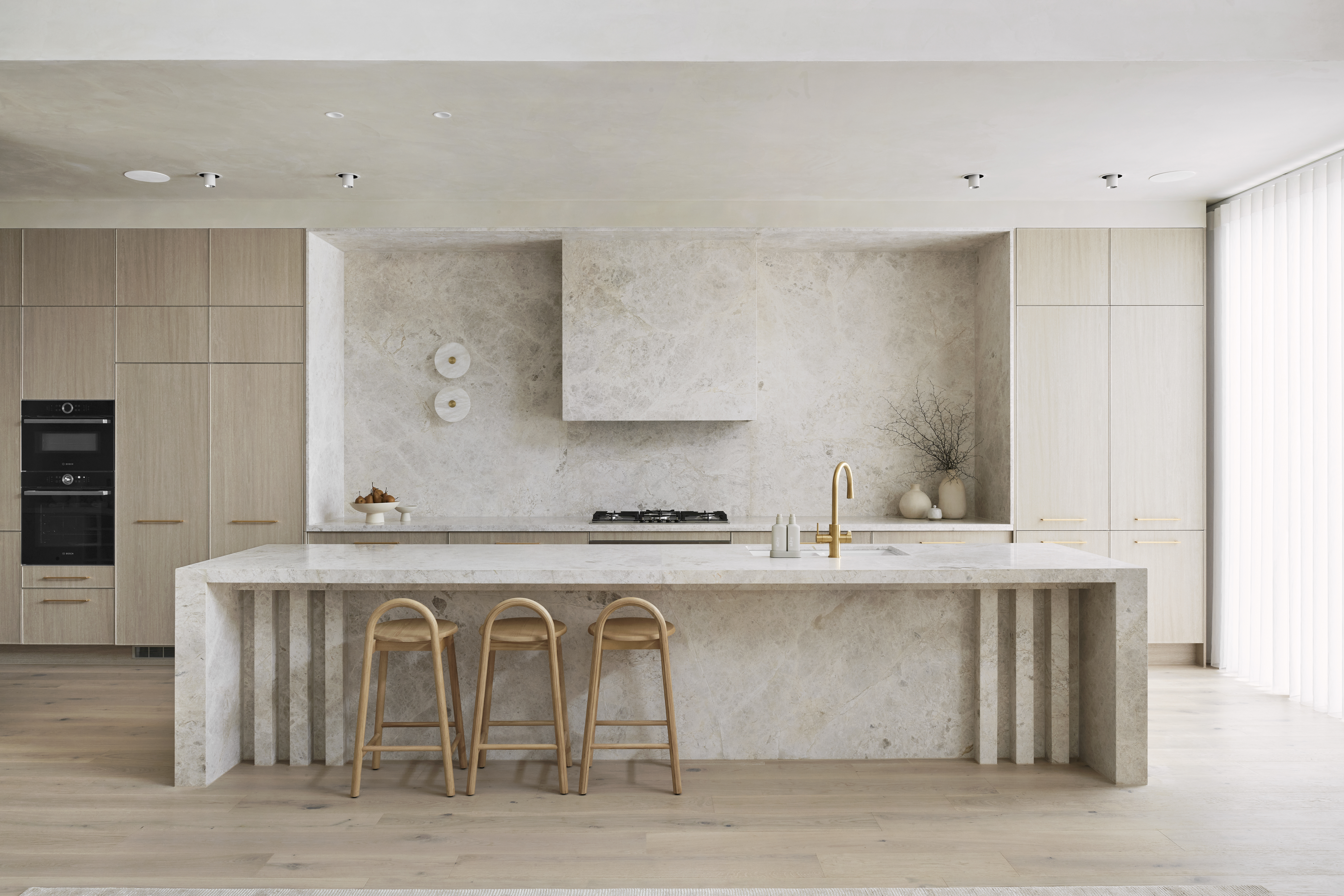 In keeping with the rest of her home, Alisa has produced a soft and serene kitchen look with a combination of our popular slim-Shaker style Camden doors in Coastal Oak Woodmatt, teamed with Brushed Brass Bar handles for a touch of glamour. The larger kitchen of the two, Alisa describes her layout as having 'cabinets for days' which is undoubtedly the case for the amount of base kitchen cabinetry the space offers. To balance this, Alisa opted for no wall cabinetry, keeping the space spacious and airy, and selecting benchtops and splashbacks in a similar shade to our joinery. Integrated appliances such as fridges and the dishwasher are hidden behind matching joinery panels, creating a seamless look.
"In my kitchen and pantry, I sought a coastal oasis that combined functionality with a relaxed and inviting atmosphere," explains Alisa. "Kinsman's Camden Coastal Oak Woodmatt cabinetry became the foundation of my culinary haven. The Brushed Dark Brass Bar Handles and Touch Catches added a touch of sophistication, while the Ninka Bins and inner drawers made storage a breeze." 
Balancing form and function, the kitchen and pantry offer a wealth of storage solutions such as our Ninka Bins, Inner Drawers and Cutlery Trays. A blend of drawers and cupboards feature throughout, ensuring there is a place for everything. A generous 3-metres-long kitchen island bench offers plenty of seating space for friends and family to gather while entertaining. "The result is a space that seamlessly blended style with practicality, making cooking and entertaining a joyous experience," smiles Alisa.  
A butler's pantry is another welcome feature within the kitchen design, allowing Alisa to hide mess away while entertaining. The neutral colour palette and finishes have been continued into the pantry, which showcases arched details, brass hardware, and beautiful tiles across the splashbacks. A true butler's pantry, the design features a second sink, tap, and cooking appliances. 
"This is the best kitchen I've ever designed," says Alisa. 

Key features:
Cabinetry: Camden Coastal Oak Woodmatt
Handles: Brushed Dark Brass Bar (15-M-03), Touch Catch
Accessories: Hafele Ninka Bins, Inner Drawers, Cutlery Trays
By client: Benchtops & Splashbacks – get the look with Silestone by Cosentino in Nolita. Appliances, Rangehood Box, Floating Shelves with Strip Lighting.
Lysandra's Kitchen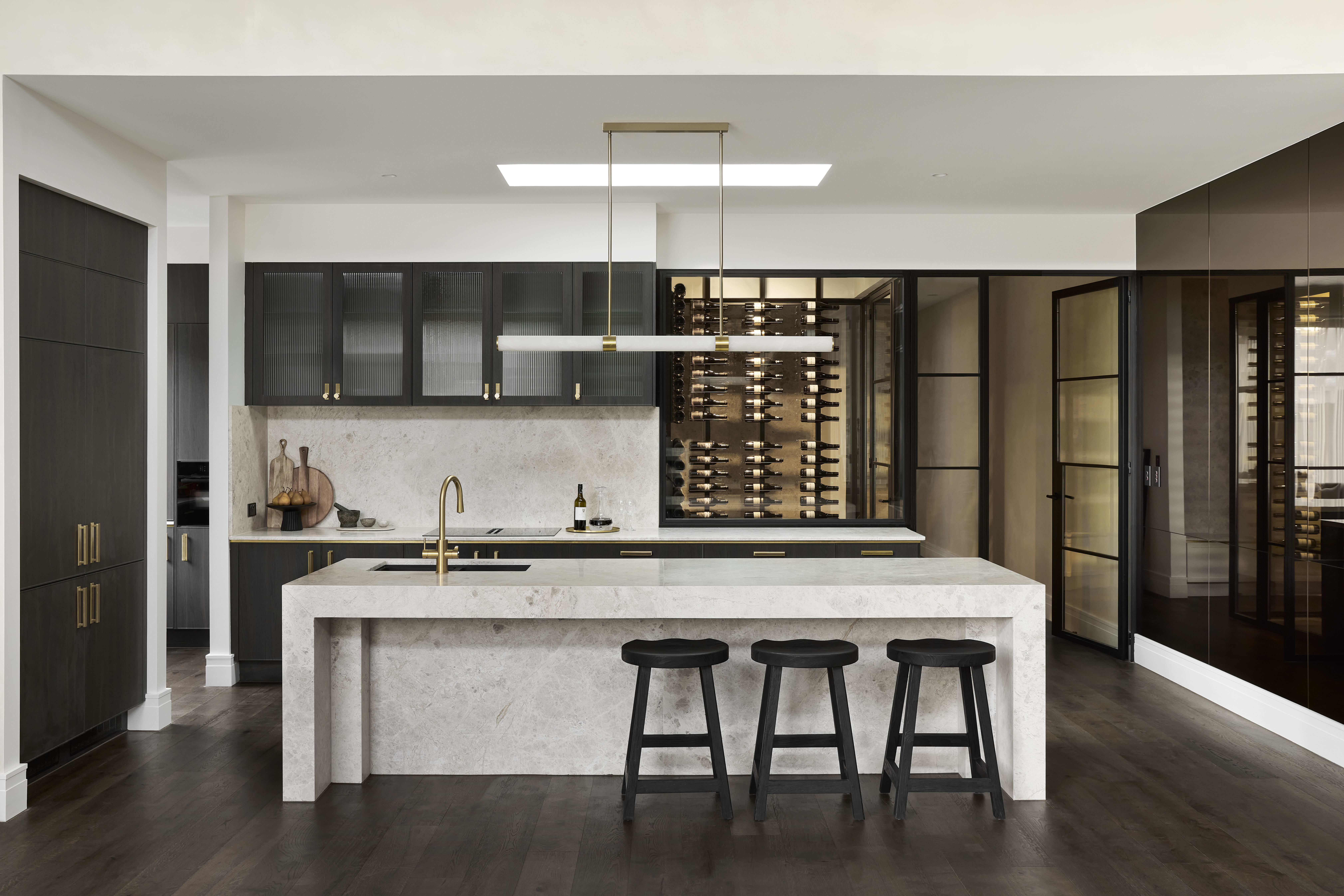 "My kitchen is my favourite room in my house," says Lysandra. Opulent and moody, Lysandra has created a head-turning kitchen space that is the centrepiece of her home. A sophisticated colour palette has been achieved by pairing our subtle shaker-style Camden kitchen cabinets in a Bottega Oak Woodmatt finish with matte Brass handles and soft-white natural stone benchtops and splashbacks. Wall cabinetry with Vertical Broadline Glass inserts add interest to the design, highlighted with Warm LED Lighting, perfectly complementing the incredible wine cabinet next to it.
"In my kitchen and pantry, I wanted a space that exuded warmth and natural beauty, and this is better than I ever anticipated," says Lysandra. "With Kinsman's Camden Bottega Oak Woodmatt cabinetry, the heart of my home came to life. The intricate details, combined with the timeless handles in Matt Brass, add the perfect touch of elegance and sophistication. To add a touch of modernity and style, I incorporated Broadline Glass and other accessories, creating a harmonious blend of functionality and aesthetics."
A generous kitchen island bench provides ample seating space and additional storage. At the same time, the butler's pantry offers all the necessities cleverly hidden away from view. The room includes a well-planned cleaning zone consisting of a Hafele Corner Le-Mans pull-out system, Ninka Bins and Inner Drawers. "Every inch of space was optimised, making cooking and storage a breeze," Lysandra says.
Lysandra chose to orient the kitchen to look out over the living and dining spaces and the outdoor zone. "I really wanted to design my kitchen so that it looks out to the pool," explains Lysandra. "So when the kids are in the backyard or the pool, I could see them when I prep dinner." While this design decision meant that her kitchen footprint was smaller than that of her sisters, the space offers plenty of style, storage, and functionality and really acts as the heart of her beautiful family home. 

Key features:
Cabinetry: Camden Bottega Oak Woodmatt
Handles: Matt Brass Knob (34-M-25), Matt Brass Bar (38-M-30), Touch Catch
Accessories: Broadline Glass, Inner Drawers, Hafele Ninka Bins, Cutlery Trays, Hafele Le-Mans Corner system
Lighting: Warm LED Strip Lighting
By client: Benchtops & Splashbacks – get the look with Silestone by Cosentino in Eclectic Pearl. Appliances
Now that the tour is finished, the scoring begins, with each sister grading the others space! Alisa gave 9 ¾ for Lysandra's dark and moody space, while Lysandra gave 9 for Alisa's coastal haven, deducting a point for her compact dining zone. Do you agree with these scores? 
Fallen in love with one – or both – of these kitchens? Create your own perfect kitchen for your home with Kinsman!
To begin, book an in-store, in-home, or virtual appointment. Alternatively, download our Ideas & Inspiration Catalogue HERE for more images, inspiration, and product information.
Subscribe to watch the entire series which includes the reveals of the stunning Kinsman kitchens, pantries, and mudrooms. www.youtube.com/watch?v=xcqa-JlfHEk&t=1s
Tune in next Sunday to see the laundries reveal.
Photo credits: Jenah Piwanski