The Perfect Pair: Porto Maple Woodmatt and Platinum Metallic cabinetry
One of the latest trends that has been making waves is the artful combination of two distinct cabinetry colours to create a harmonious and visually striking kitchen. In this blog post, we delve into the exquisite fusion (as seen in the kitchen of Block winners, Steph & Gian) of Kinsman's Porto Maple Woodmatt and Platinum Metallic, a pairing that effortlessly strikes the perfect balance between soft and moody tones in a light neutral kitchen.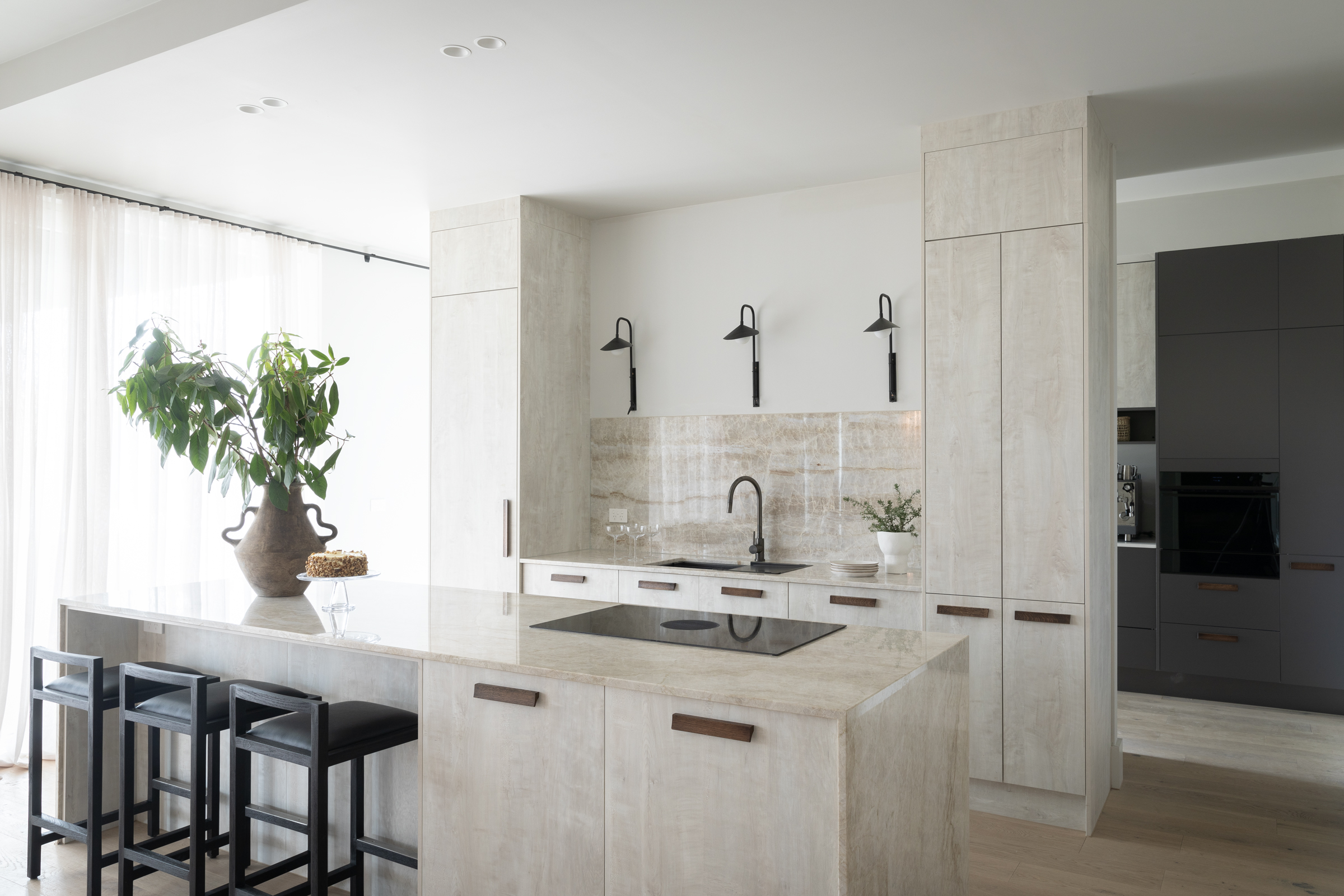 Imagine a kitchen that exudes brightness, sophistication, and a touch of drama—all at once. This is precisely what the combination of Kinsman's Porto Maple Woodmatt and Platinum Metallic achieves. Porto Maple Woodmatt brings a soft, natural warmth to the space, while Platinum Metallic introduces a subtle moody allure. The result? A kitchen that is both inviting and contemporary, a true testament to the power of color in design.
To truly appreciate the magic of this color pairing, let's take a closer look at the stunning kitchen of Steph and Gian, winners of The Block 2023. Their kitchen is a masterpiece that seamlessly incorporates Porto Maple Woodmatt and Platinum Metallic, creating a space that is as functional as it is aesthetically pleasing.
Cabinetry Contrast: The strategic use of Porto Maple Woodmatt and Platinum Metallic cabinetry creates a captivating visual contrast. The cabinets in Porto Maple Woodmatt bring a sense of coastal calm to the kitchen created by the lightness, while the cabinets on the island bench in Platinum Metallic anchor the space with a touch of sophistication. Steph and Gian seamlessly continued this blended style into their pantry and laundry for a beautiful flow between all working spaces. Peaking through from the pantry or visible on one side of the island bench only, we love how the subtle hints of the darker Platinum Metallic cabinets are seen from various angles of the kitchen yet do not overpower the main light colour style of the Porto Maple Woodmatt.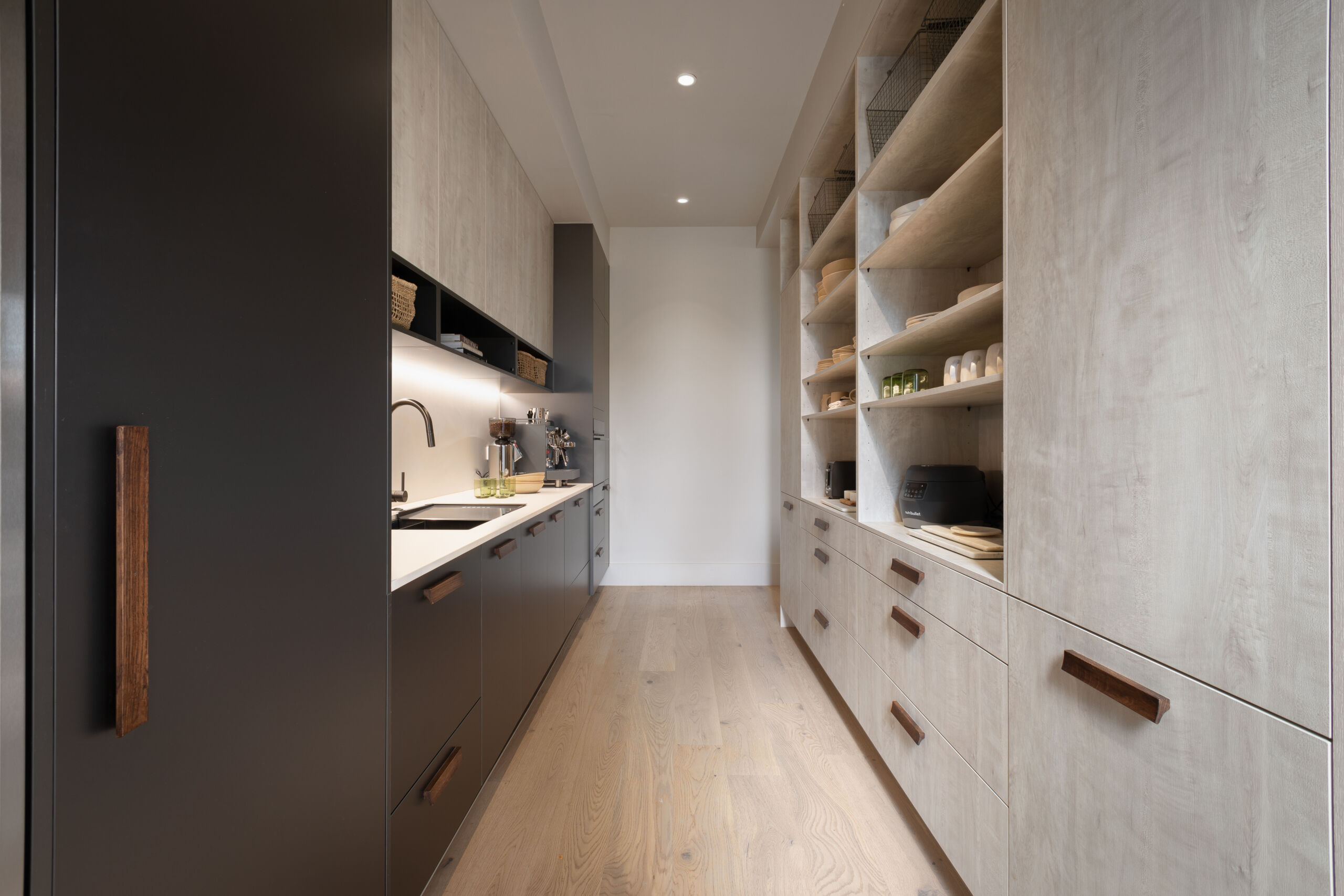 Their nearby laundry has a colour palette which echoes that of their kitchen, focusing on organic tones and texture, repeating a mixture of Porto Maple Woodmatt and Platinum Metallic cabinetry, statement handles, and creamy marble-inspired benches and splashbacks. The Fisher & Paykel front-loader washing machine and dryer have been positioned side by side, allowing for a generous laundry bench to be placed above– perfect for folding and sorting clothing. Laundry cabinet ideas achieve abundant storage, with a Pull-out Wire basket and Häfele's Tandem Side, particular highlights. Tall cabinets allow for easy storage for items such as brooms, mops, and ironing boards.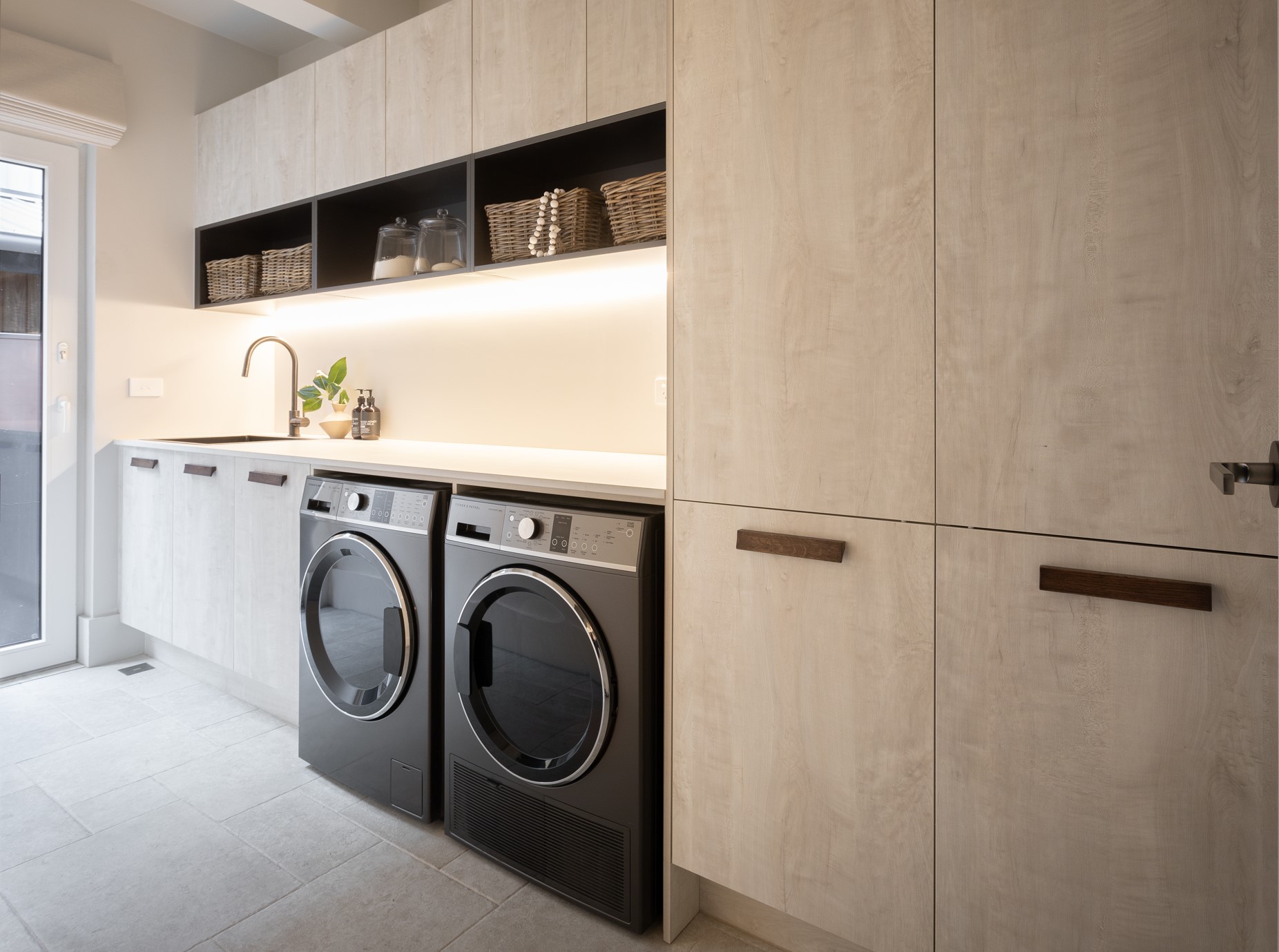 The marriage of Porto Maple Woodmatt and Platinum Metallic in this kitchen, pantry and laundry design reflects the elegant neutral style we saw throughout Steph & Gian's winning house. The combination of these shades allows for the creation of a room that is not only stylish but also adds another dimension to a space. Drawing inspiration from Steph and Gian's award-winning kitchen, you too can start you renovation journey with Kinsman to design a kitchen that seamlessly blends soft and the moody tones, resulting in a space that is both timeless and contemporary.  

Fallen in love with a kitchen & laundry style from The Block, and ready to bring it into your home with Kinsman?
For expert advice on kitchen and laundry design or product choices, book an in-store, in-home, or virtual appointment. Alternatively, download our Ideas & Inspiration Catalogue HERE for more images, inspiration, and product information.