It's another big week for the Design Duo, Alisa and Lysandra Fraser, as they continue to bring their dream family homes to life. Episode 5 saw the sisters produce the all-important laundries, as well as lower-floor powder rooms and hallways. Each laundry design features plenty of storage and style, as well as the signature light or dark looks we've enjoyed seeing this series. 
Brimming with laundry room ideas and inspiration, read on to discover all the Kinsman products that ensure that laundry day is a joy in each home! 
Alisa:
"I'm saying it, this is my favourite part of my house," declares Alisa. Alisa collaborated with Kinsman to create a stylish and functional laundry and mudroom. The neutral colour palette echoes that of her Coastal Luxe kitchen, mixing laundry cabinetry in Camden Coastal Oak Woodmatt and Amaro Smooth which is a stunning warm white tone. Polished Brass Matt Knob handles add to the glamourous look.
"In my laundry, I wanted a space that seamlessly combined functionality and style. With Kinsman's Camden Coastal Oak cabinetry, my vision came to life," says Alisa. "The warm tones of the wood perfectly complemented the coastal aesthetic I desired. The polished brass handles and touch catches added a touch of sophistication and elegance."
Balancing form and function, the laundry layout delivers storage and organisation options in spades! Must-have accessories such as the Hafele Tandem Sides and Laundry Wire Pull-outs make laundry day a breeze. The mudroom consists of a seating area, with space to store shoes underneath the bench, and tall cupboards on the other side to place linen or tall items such as brooms and mops, delivering plenty of smart and exciting small laundry room ideas.
"To optimise storage and organisation, I incorporated Hafele Tandem Sides and laundry wire pull-outs," Alisa explains. "These accessories made it effortless to keep everything in its place, from cleaning supplies to laundry essentials. With Kinsman, every aspect of my laundry was carefully considered, ensuring that it not only met my practical needs but also reflected my personal style."

Laundry & mudroom details:
Cabinetry: Camden Coastal Oak Woodmatt, Camden Amaro Smooth          
Handles: Polished Brass Matt Knob (15-K-149), Touch Catch
Accessories: Hafele Tandem Sides, Laundry Wire Pull-outs
By Client: Benchtops – get the look with Silestone by Cosentino in Nolita, Laundry Chute, Floating Shelves, Appliances
Lysandra: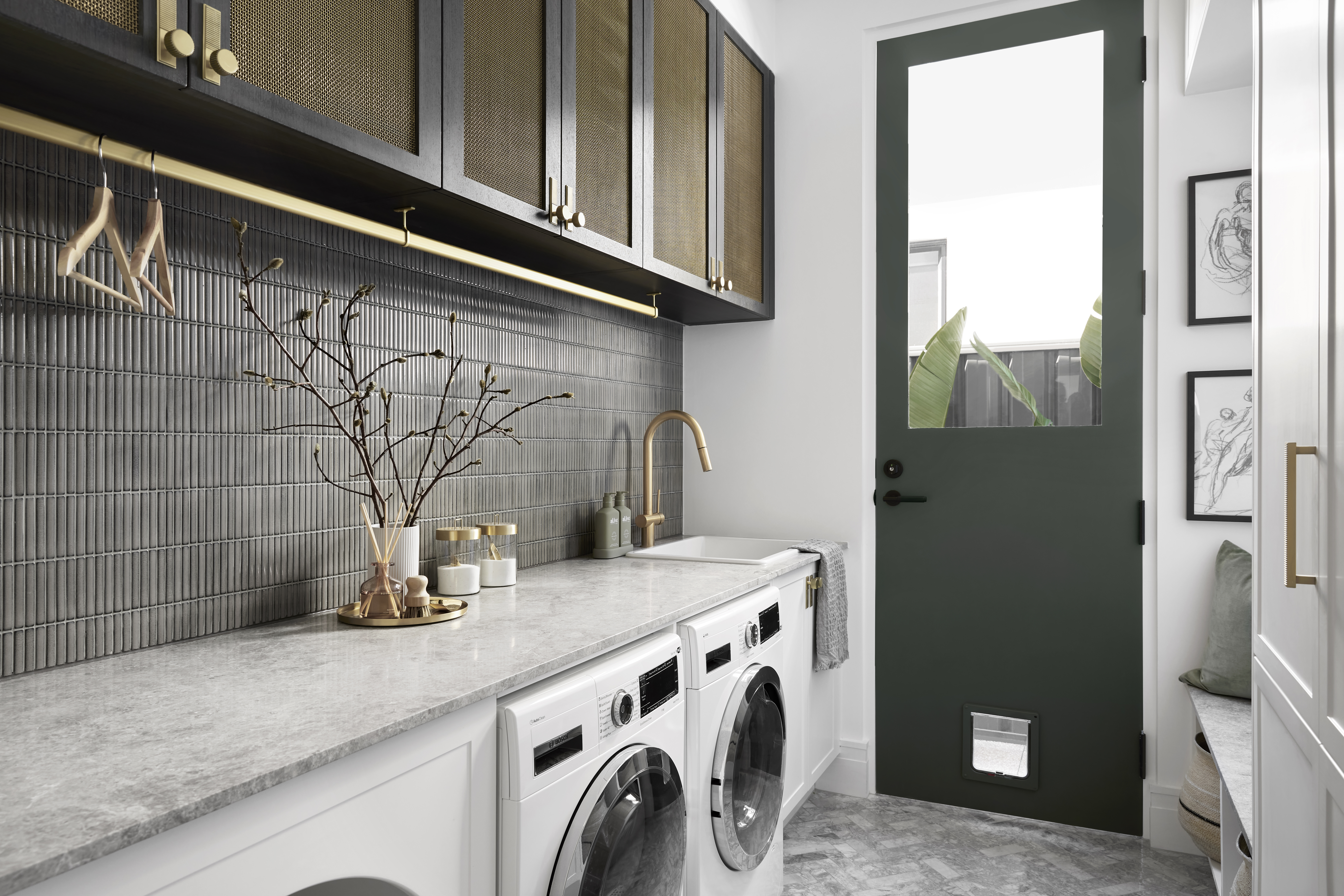 Lysandra's modern laundry certainly has wow factor! Moody and opulent, the laundry and mudroom area are worthy of being included in her home tour! Our Bottega Oak Woodmatt doors have been used again, connecting this room to the nearby kitchen, but this time featuring our classic Shaker-style Montauk profile. The star of the design is the Patina Brass Inserts featured across the wall cabinetry, pairing beautifully with our detailed Matt Brass Knob and Bar handles.  To add a sense of light to the space, our Montauk White Matt joinery was the perfect choice to complement the darker cupboards, kit kat tiled splashback, and natural stone benches.
"Kinsman has also fitted out my laundry, and once again it looks so different to Alisa's, but it has just as much storage", explains Lysandra. "I love the dark cabinetry with the brass inlay detail -it adds a touch of luxury and character."
The room is very multifunctional, and full of modern laundry ideas, ticking all the boxes. Bosch laundry appliances have been placed under the bench allowing for plenty of folding space, as well as a hanging rail to dry clothing. Opposite, tall cupboards provide the perfect space to store a multitude of items and the seating nook allows for shoes to be removed before entering the home, minimising mess. The Arched Pet Bed was selected for the family's beloved cat, Bobby, and is one of Lysandra's favourite features within the design.
 "The Arched Pet Bed has got to be one of my favourite touches," says Lysandra with a smile. "I love how Kinsman have looked after my little cat Bobby with his own built-in bed!"

Laundry & mudroom details:
Cabinetry: Montauk White Matt, Montauk Bottega Oak Woodmatt with Patina Brass Inserts
Handles: Matt Brass Knob (34-M-25), Matt Brass Bar (38-M-30), Touch Catch
Accessories: Arched Pet Bed, Laundry Wire Basket
Lighting:  Hafele Warm LED Strip Lighting
By Client: Benchtops & splashback – get the look with Silestone by Cosentino in Victorian Silver. Appliances, Brass Hanging Rail
After revealing the laundry and powder rooms, it was time for the sisters to score each other's designs – with Lysandra awarding Alisa a perfect 10! Her space wasn't far behind though, a 9 reflecting the beauty and functionality of her design choices. 
Ready to bring your laundry renovation ideas to life with Kinsman?
Simply book an in-store, in-home, or virtual appointment. Alternatively, download our Ideas & Inspiration Catalogue HERE for more images, inspiration, and product information.
Subscribe to watch the entire series which includes the reveals of the stunning Kinsman kitchens, pantries, master walk-in wardrobes laundries, and mudrooms. 
https://www.youtube.com/@alisa-and-lysandra
Photo credits: Jenah Piwanski