Week 2 on The Block saw the contestants complete their Guest Wing studios, and each team presented very different and exciting spaces. One thing they did have in common was the amazing Kinsman Wardrobes which offered plenty of style, functionality and storage galore! Plus, up for grabs was a prize package worth $50,000, which included a $20,000 Kinsman Wardrobe upgrade package and a stunning Kelly Hermes bag we also provided.
Step inside each space to discover all the details of the wardrobes and the highlights for the judges Shaynna Blaze, Darren Palmer and Marty Fox. 
House 1: Kyle and Leslie 
Place: 2nd
Score: 23
Grounding and inviting, Kylie and Leslie's guest wing included a luxe Hinged wardrobe. A neutral and textural colour palette comes to life with the pairing of FX Series White Cement doors and elegant Matt Black Anodised Square Hook handles, striking the perfect balance between contemporary and timeless.
The judges loved the calming and neutral palette and the continuation of soft curves we saw in their bathroom last week. Darren praised the choice of wardrobe doors in the Cement finish as it works with the rest of the room's colour scheme, while Shaynna was pleased with the storage on offer within the robe. 
Upon opening the wardrobe, storage is abundant, with hanging space, open shelving, and soft-close drawers providing a versatile and organised storage solution in Kinsman's Oak Woodgrain interior finish. Adding a touch of comfort and entertainment to the room, the couple cleverly integrated a television within the centre of the wardrobe design.
Key Features: 
Doors: FX Series White Cement 
Interior Finish: Oak Woodgrain 
Handles: Matt Black Anodised Square Hooks (34-K-125) 
Accessories: Matrix Drawers, HäfeleBlack Hanging Rails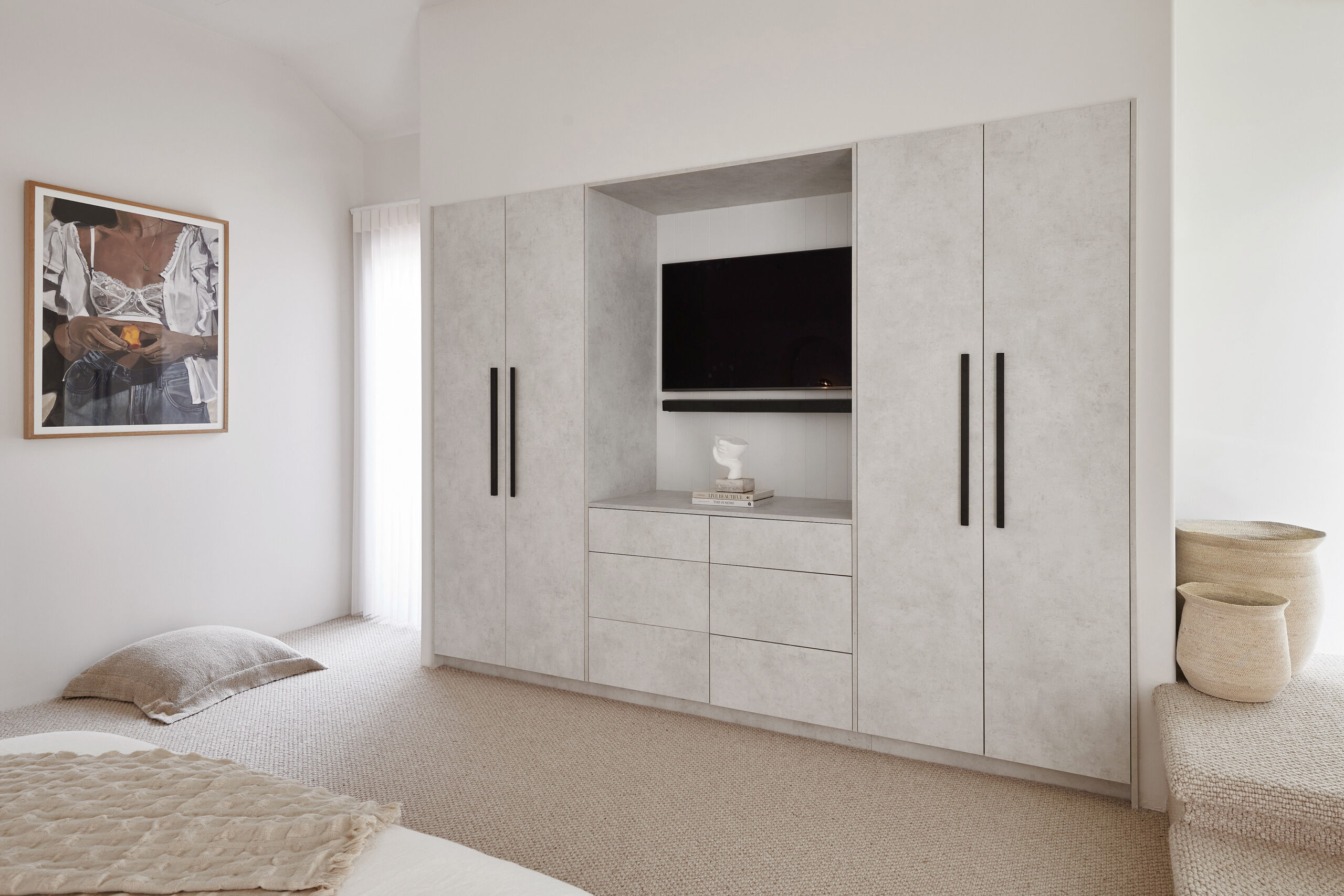 House 2: Leah and Ash 
Place: Equal 4th
Score: 21
Leah and Ash's ingenious double door wardrobe design combines style and functionality. Rich and stylish, the wardrobe's colour palette exudes sophistication with the combination of Bottega Oak Woodmatt doors and Brushed Orb Bar handles.
Inside, the Grey Textile interiors add a touch of luxury, creating a welcoming and cosy ambience for anyone using the space. The judges may have had their concerns over the layout of the Studio; however, they did praise the colour palette, including the rich timber tones of the wardrobe cabinetry. 
Despite its compact size, the wardrobe delivers valuable storage. The duo have skilfully maximised the space by incorporating a blend of hanging rails, shelves, and metal side drawers. This clever arrangement ensures there is a dedicated place for every item, making it effortless to keep the wardrobe organised and tidy. It also seamlessly conceals the pull-down Murphy Bed.
Key Features: 
Doors: Bottega Oak Woodmatt
Interior Finish: Grey Textile 
Handles: Brushed Orb Bar (22-K-120) 
Accessories: Häfeleblack hanging rails
By contestants: Murphy Bed & cabinetry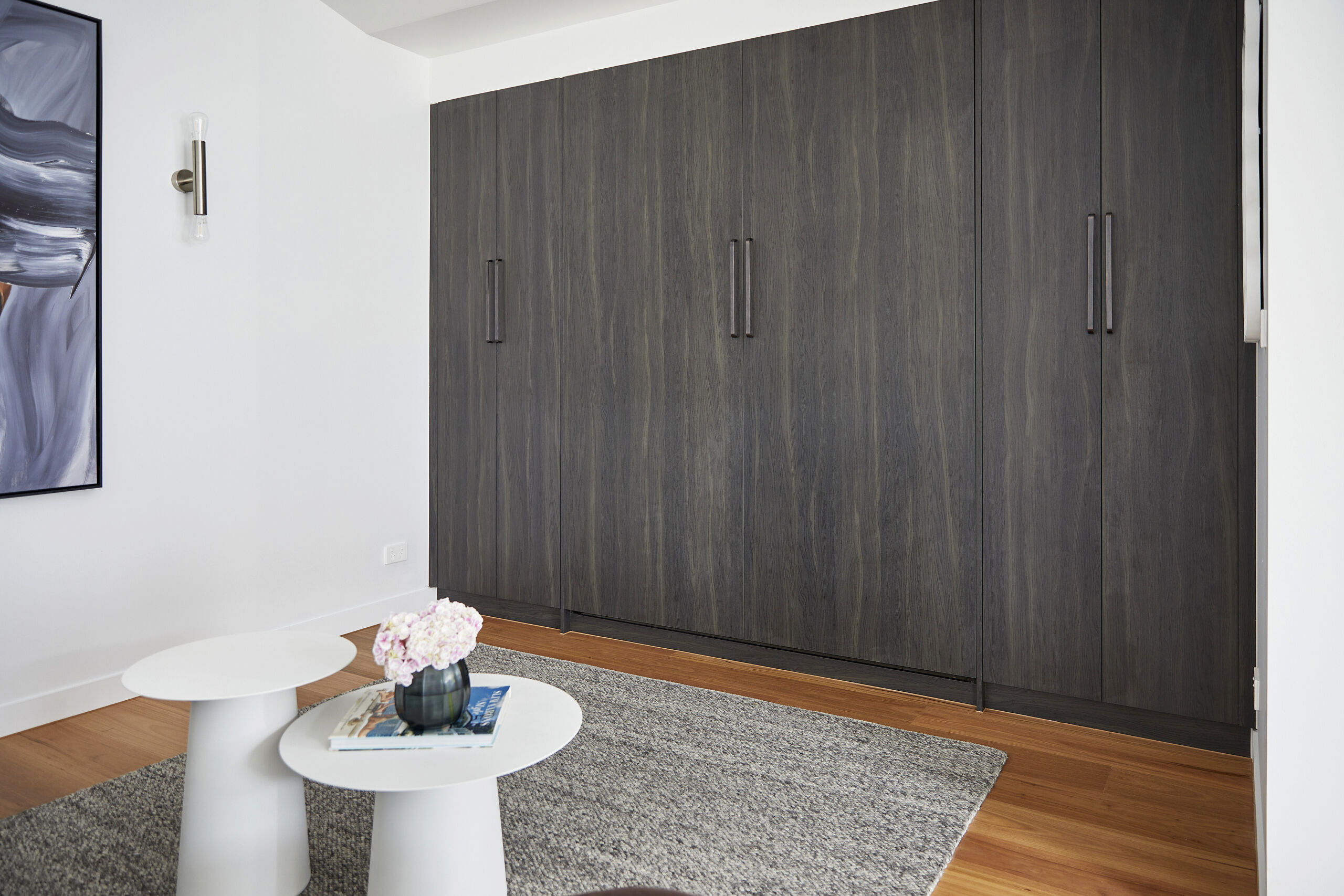 House 3: Kristy and Brett 
Place: Equal 4th
Score: 21
Kirsty and Brett's wardrobe adds to their overall look in their Guest Bedroom space. The green Bonsai Smooth exterior doors, paired with elegant Brushed Dark Brass handles, make a bold statement, establishing the wardrobe as a stunning focal point within the room. Natural tones continue within the robe, with the interior finishes boasting a timber-look Oak Woodgrain, providing hanging space, open shelving, and soft-close Matrix drawers. 
The judges dubbed their space 'Treehouse meets New York loft', and Shaynna loved the olive green colour tones which connect the room to the outdoors.
The wardrobe design provides plenty of storage, including hanging space, open shelving, and the convenience of soft-close Matrix drawers. With ample storage and a harmonious colour palette, this wardrobe is not just visually appealing but also serves as a functional and organised haven for guests.
Key Features: 
Doors: Bonsai Smooth 
Interior Finish: Oak Woodgrain 
Handles: Brushed Dark Brass D (15-M-03) 
Accessories: Matrix Drawers, HäfeleBlack Hanging Rails
By contestants: Open shelving and matching joinery by wardrobe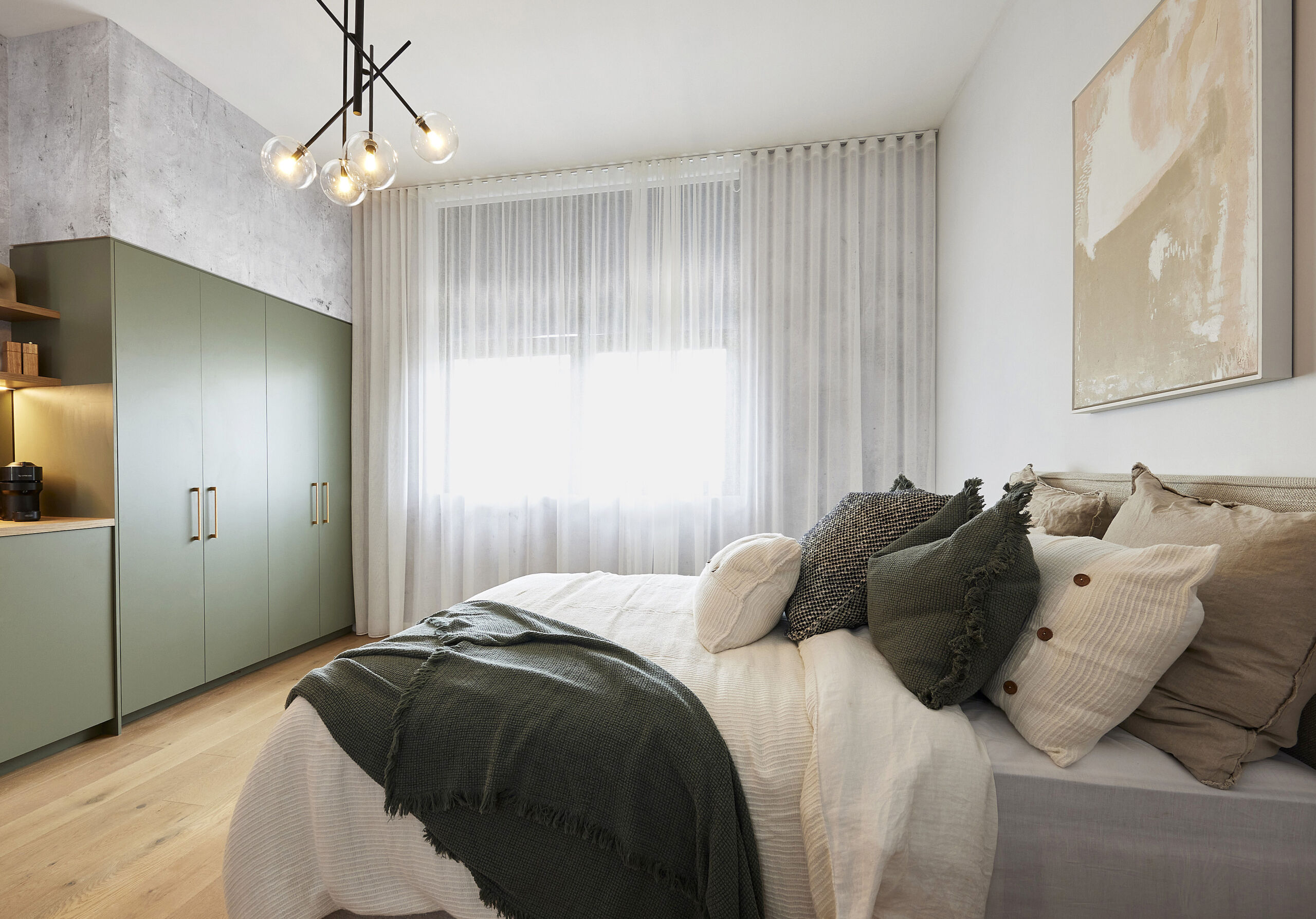 House 4: Steph and Gian WINNERS
Place: 1st
Score: 24.5
Welcome to Steph and Gian's winning guest studio space, where their wardrobe design not only impresses with its functionality but also adds a touch of artistry to the room! A sophisticated colour scheme elevates the visual appeal of the wardrobe, making it a centrepiece within the room. The combination of Dove Grey doors paired with Walnut handles exudes a timeless elegance that perfectly complements the warm and inviting tones seen throughout.
The design features open shelves in Oak Woodgrain on each end, creating the perfect place to showcase décor and personal touches. Beyond its decorative appeal, this wardrobe serves multiple purposes in the guest studio. It acts as a clever partition, separating the bedroom from the ensuite, creating a sense of privacy and organisation. Meanwhile, it offers much-needed storage, cleverly blending various elements to cater to the guests' needs.
The wardrobe stood out to the judges, with Darren ticking off everything offers. "We have hanging, we have drawers, and a little fridge and coffee area," he listed. Marty Fox pointed out that it adds to the room's appeal overall. "This is perfect for a teenager or someone staying for the weekend, he explained. This is the smallest room by far, but it doesn't feel like it."
Key Features: 
Doors: Dove Grey 
Interior Finish: Oak Woodgrain 
Handles: Walnut (35-K-105) 
Accessories: HäfeleBlack Hanging Rails 
By contestants: Mirror, bar fridge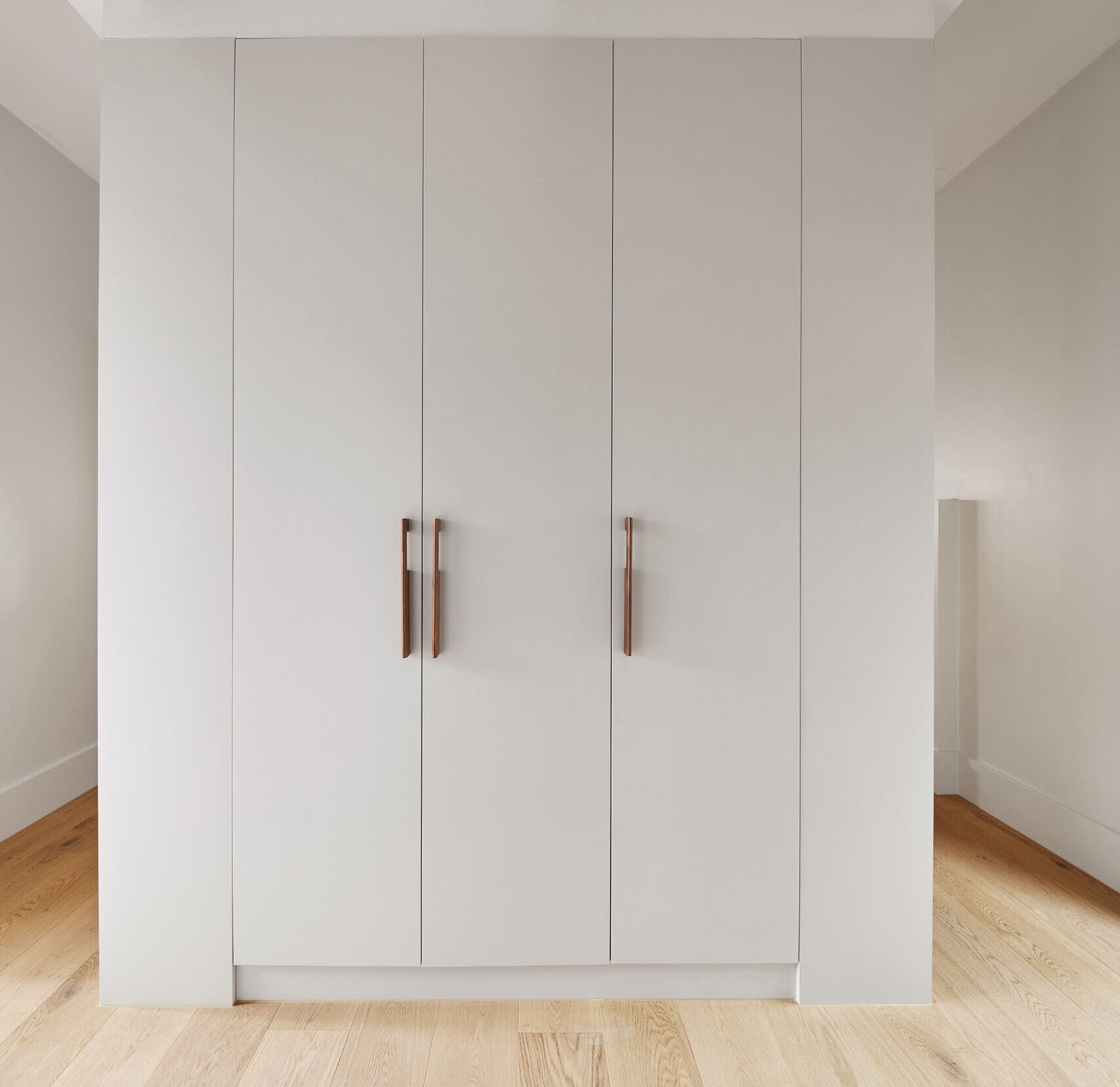 House 5: Eliza and Liberty 
Place: 3rd
Score: 21.5
Eliza and Liberty's Studio is light and bright, focusing on servicing the pool area that will be directly outside. The judges appreciated the multifunctional design, which includes an entertaining zone, a desk, and a kitchenette- not to mention the generous storage provided by the Kinsman Wardrobe. Fresh White Satin doors with Rail Brushed Dark Brass handles open to abundant storage options concealed within Estella Oak interiors while adding to the neutral colour palette found throughout the room.
The wardrobe design boasts a thoughtful layout, maximising storage with a mix of half-hanging space, practical shelving, and soft-close drawers. This strategic arrangement ensures that all essentials, whether clothing or belongings, find a dedicated and well-organised space.
Adding a touch of sophistication and practicality, the wardrobe features Black LED Bar lighting activated with sensors. This intelligent lighting solution illuminates the wardrobe's contents, making it effortless to find what you need, even in dim lighting conditions.
Key Features: 
Doors: Fresh White Satin 
Interior Finish: Estella Oak
Handles: Rail Brushed Dark Brass (38-M-51) 
Accessories: HäfeleBlack Hanging Rails
Lighting: HäfeleLED Bar lighting in Black with Sensors 
This week highlighted the impact that an excellent wardrobe design and style can have on your bedrooms, and the great news is that there is still plenty of wardrobe inspiration to come this season of The Block! We can't wait to see how Steph and Gian use their Kinsman Wardrobe upgrade in their Master Bedroom Walk-in robe- or to see that incredible red Kelly bag sitting pretty in their home! Stay tuned.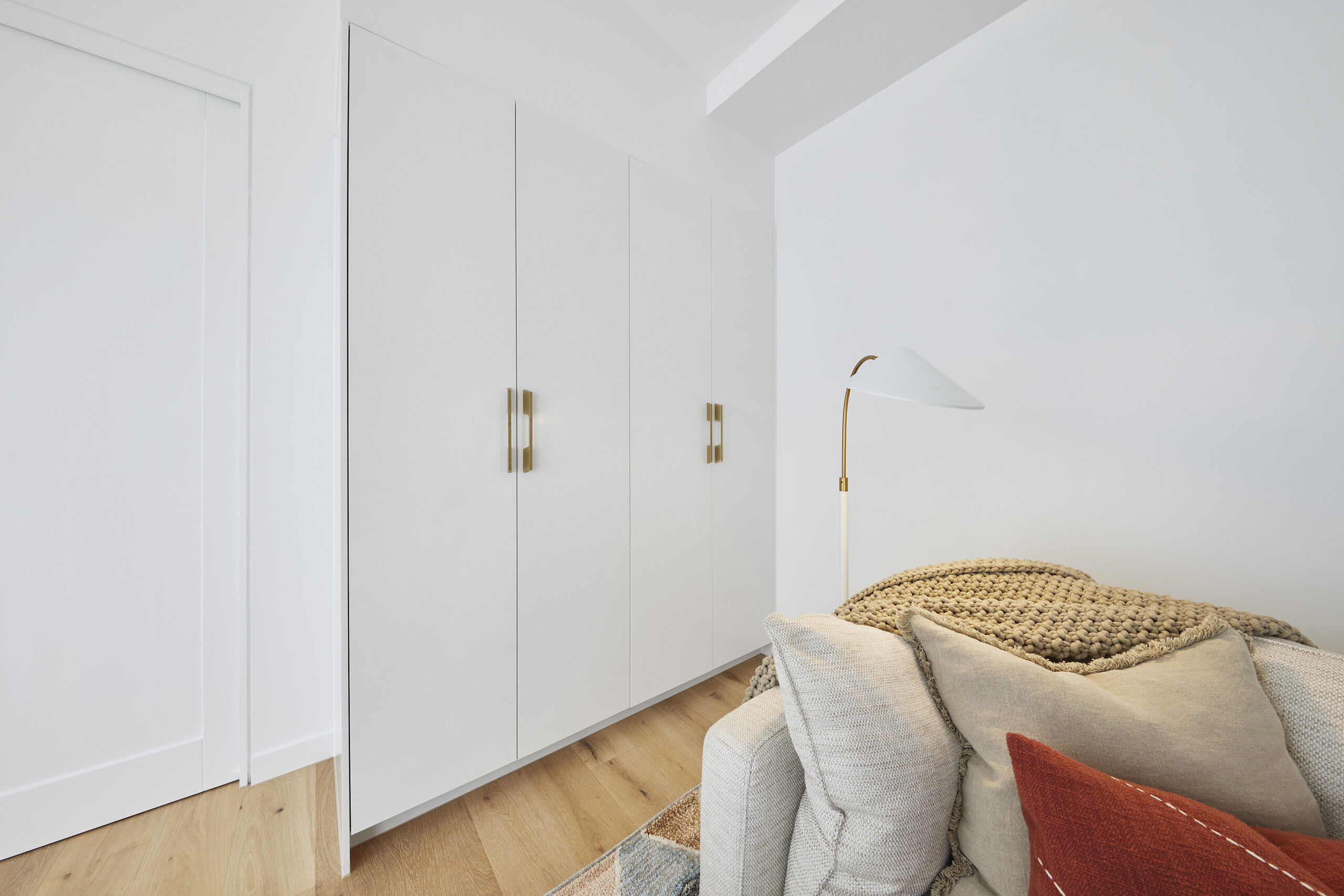 For expert advice on guest bedroom wardrobe design or product choices, book an in-store, in-home, or virtual appointment. Alternatively, download our Ideas & Inspiration Catalogue HERE for more images, inspiration, and product information.