The appeal of white kitchens in Australian homes is easy to see. A white colour palette is a classic and timeless piece that suits most homes and styles. White cupboards reflect light well, making your kitchen feel brighter and bigger, perfect for smaller rooms in particular. Not to mention that a neutral joinery scheme provides the perfect blank canvas to create focal points within your design such as styling elements, splashbacks, lighting and more.
Love a white kitchen look and want to learn more? Read on to discover how you can enhance your white kitchen with the perfect elements – cabinets, countertops, flooring, and lighting fixtures – for a stunning and functional design.
White kitchen cabinets are a timeless choice for kitchen renovators. With features such as cleanliness, simple design, and their ability to seamlessly blend into various design styles, white joinery is a classic selection that will stand the test of time. White cabinets can also create an illusion of space as light bounces around the room- making them an ideal choice in smaller kitchen spaces.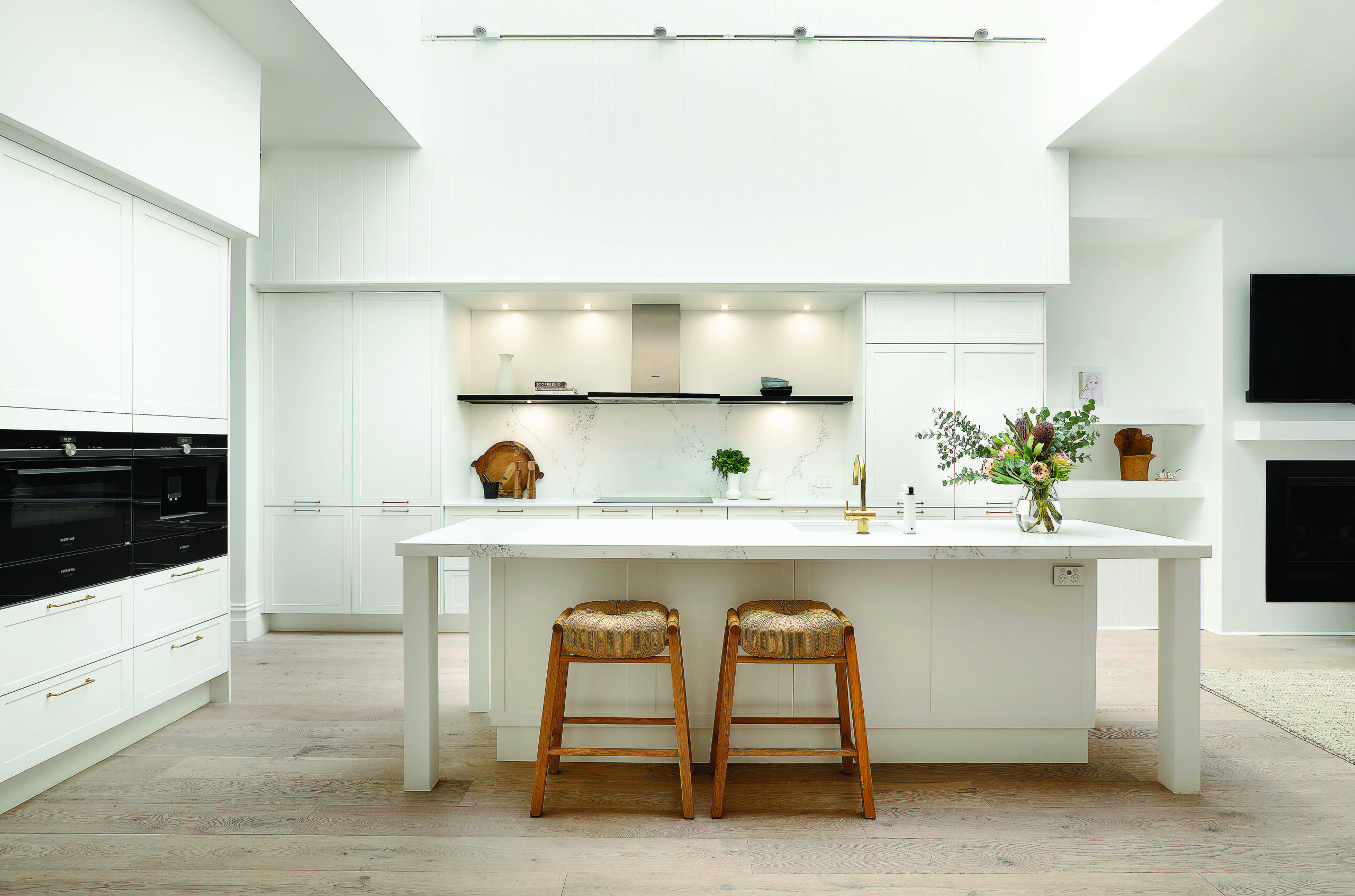 There are 3 main 'collections' of white kitchen doors that you can opt for within the Kinsman range:
1. White Shaker Cabinets.
If we had to name the number one door style, it would definitely be the Shaker-style. Elegant and modern; we offer a number of Shaker designs to suit any kitchen and home. Our Somersby door offers a traditional, bold square indent design with a 60mm profile, while the new Montauk offers a slimmer 40mm rail design. Camden, by contrast, features a subtle and thin profile and is a wonderful choice if you want to create a more understated and contemporary look.  
2. Classic White Cabinets.
Timeless yet modern, a paneled-door profile complements a variety of popular kitchen styles, from Hamptons to Coastal and Mid-century modern. Check out our Avalon, Avoca and Sorrento kitchen door designs and create a kitchen style that will turn heads. 
3. Modern High Gloss Cabinets.
Perfect for contemporary homes and kitchens, high-gloss kitchen cabinets will certainly reflect light around your space while looking effortlessly chic. Opt for a flat door profile and consider an integrated handle to create a sleek and seamless look.
White Kitchen Countertops Options.
Whether you're after aesthetic appeal, pure practicality or both, Kinsman has an ideal benchtop solution. We offer a range of products from premium high gloss laminate, to stylish mineral surfaces.
All our benchtops are available in a wide range of fashionable colours that evoke the look and feel of popular countertop styles such as marble, concrete, timber, and more. Unlike these natural products, however, our options are easy to clean and maintain, as well as highly resistant to scratches and stains.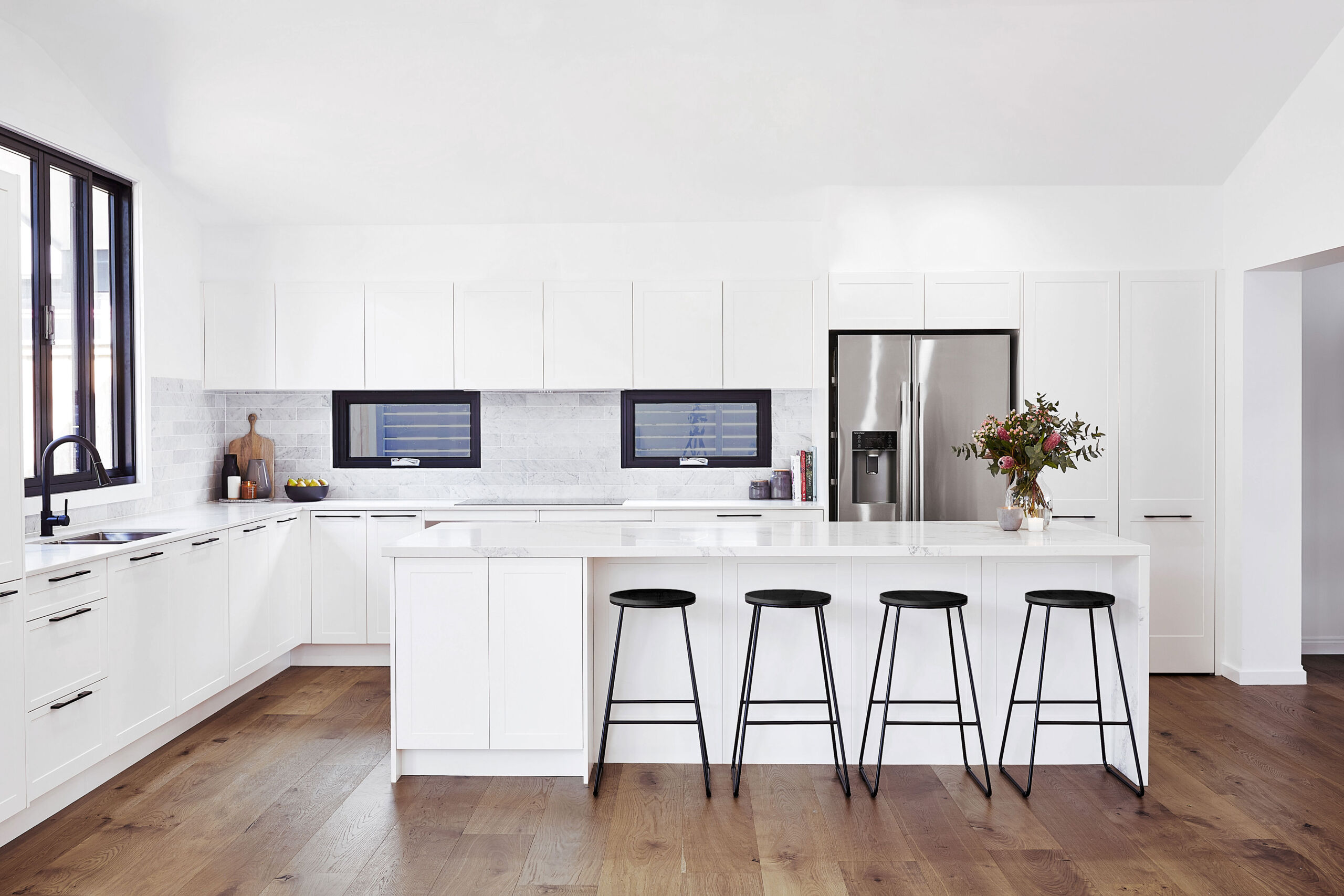 Your flooring selection and the material you choose will enhance the overall aesthetic and functionality of your kitchen design. Again, there are many options to choose from, with tiles, hardwood flooring and laminated or vinyl options being the most popular materials in Australian interiors.
White or Light Coloured Tiles will complement and enhance your white kitchen joinery and countertops. Easy to clean and a cost-effective option, we also love the many styles and sizes that tiles offer.
Hardwood Flooring is another popular choice that suits a variety of styles and homes. Wooden floors are an investment that not only look beautiful in any kitchen, but also offer durability and longevity- making the investment more than worth it!
Laminated or Vinyl Flooring is cost-effective as well as highly scratch and stain-resistant ensuring it's a great choice for your kitchen as it's one of the most high-traffic areas of your home. As the top layer is water-resistant, they are also easy to clean and maintain – perfect for busy family households.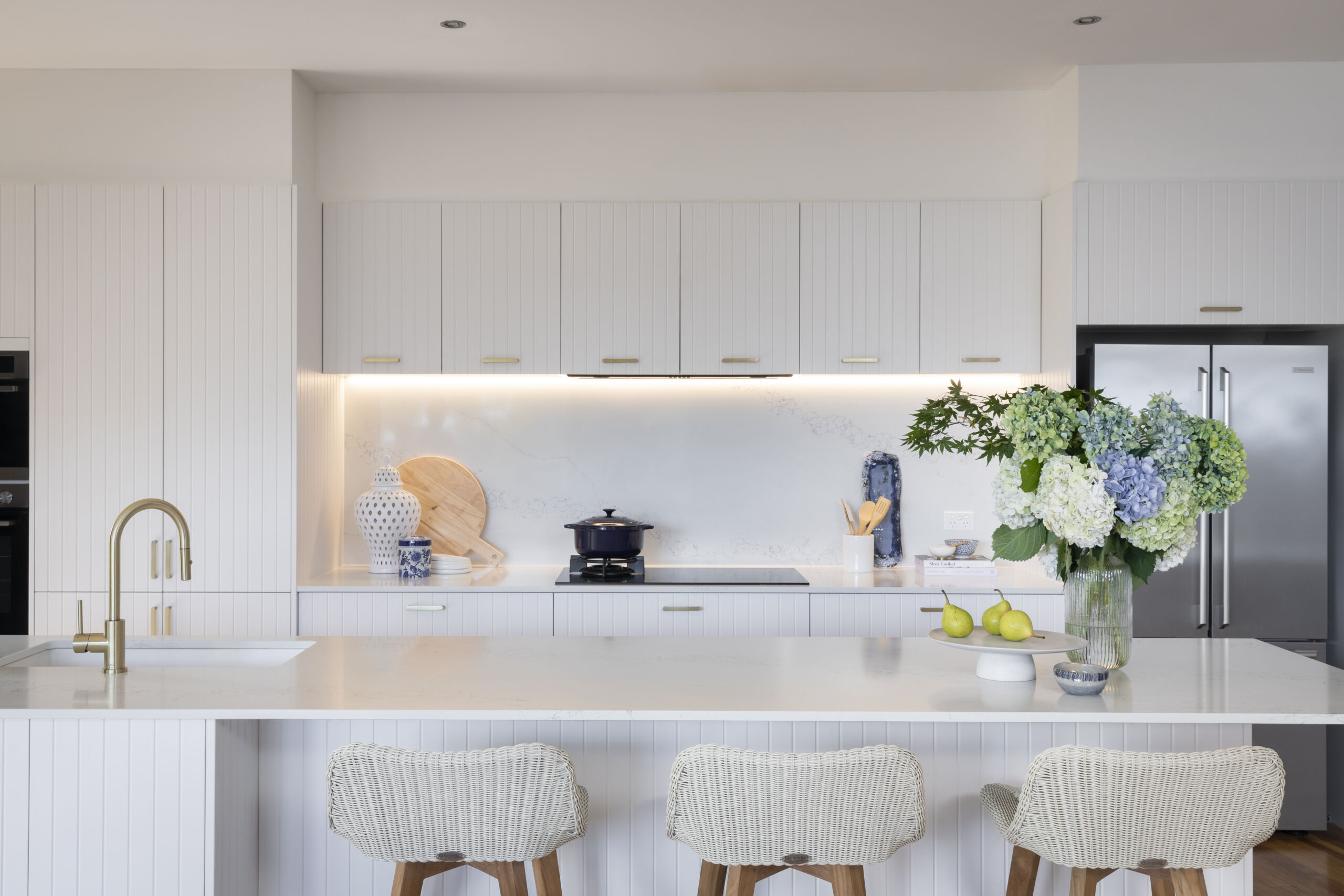 Often a forgotten design element, a clever lighting scheme will transform your kitchen – both in terms of form and function. There are a variety of lighting options that you can use in a kitchen, and we recommend incorporating at least two- if not more- to produce the ideal combination of both task and ambient lighting.
Pendant Lighting. Often hung over an island bench, or another key focal point in your kitchen, pendant lights provide a design statement that will bring your kitchen style to life. Pair individual pendants or select a bar with several smaller lights along it – the possibilities are endless!
Recessed Lighting. Also known as downlights, recessed kitchen lights sit flush with the ceiling, creating a seamless look. We love down lights as they allow you to spot light all of the key food prep spaces in your kitchen- making sure that you can chop, slice and dice safely when cooking up storm- safely.
Under Cabinet Lighting. Our Flexy Strip LED lighting is another great lighting option in your kitchen. Place below wall-hung cabinets to illuminate your splashbacks and key appliances such as cooktops.