Hailed as the 'Design Duo' after their triumphant win on The Block in 2013, Alisa and Lysandra Fraser have just launched their new 'twin-off' series on YouTube. The series follows the sisters as they build their very own family homes side-by-side in Somerton Park, South Australia. With their two very distinctive styles, Alisa and Lysandra are excited to showcase their homes room by room, exploring the design process all the way to the final reveals with Kinsman as we are the official sponsors of the kitchens, pantries laundries, mudrooms, and master walk-in wardrobes.
Episode 1 saw the twins start their build off with a bang – tackling the all-important master suites and master walk-in wardrobes. Step inside each incredible space to discover all the details.
Alisa's Master Walk-in Wardrobe.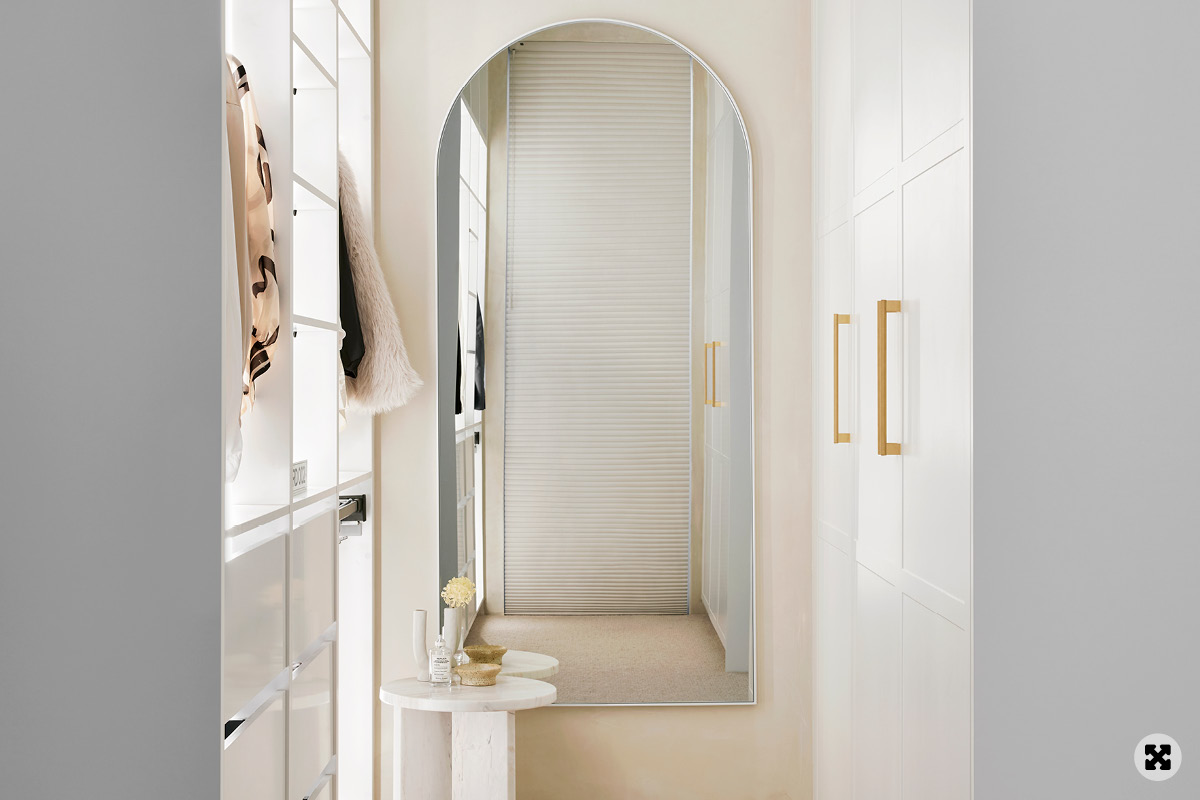 Light and bright, Alisa has created a tranquil sanctuary with her walk-in wardrobe design, which connects to the primary suite and flows into the ensuite. Style-shaker Montauk doors in White Matt have been teamed with Fresh White Satin interiors, achieving an all-white colour palette. The Brushed Dark Brass Bar handles add the perfect amount of glamour to the room.
"Come on through to my beautiful Kinsman walk-in wardrobe, says Alisa leading, the way through to the centre of the robe. I have never had a wardrobe this glamorous! It is just as beautiful as my master bedroom, which is a big compliment for that space."  
This wardrobe is a haven of organisation and inspiration with luxury extras such as Trouser Pull Outs and Warm LED Verti-Strip Lighting. The lighting scheme adds form and function to the design, highlighting the clothing and accessories thoughtfully stored within the combination of hanging, shelving and drawer solutions. The blend of open and hidden storage options provides timeless beauty to a space where getting ready is a joy.
"It was so easy working with Kinsman designing this walk-in robe, explains Alisa. And I love the added extras you get, such as the LED strip (lighting); it just makes such a difference- it makes the room glow, and the quality is next-level good! Small things like the pull-out pant rack are one of my favourite features."

Key features:
Doors: Montauk White Matt
Interior Finish: Fresh White Satin
Handles: Brushed Dark Brass Bar (15-M-03), Touch Catch
Accessories: Trouser Pull Outs
Lighting: Hafele LED Verti-Strip Lighting
Lysandra's Master Walk-in Wardrobe.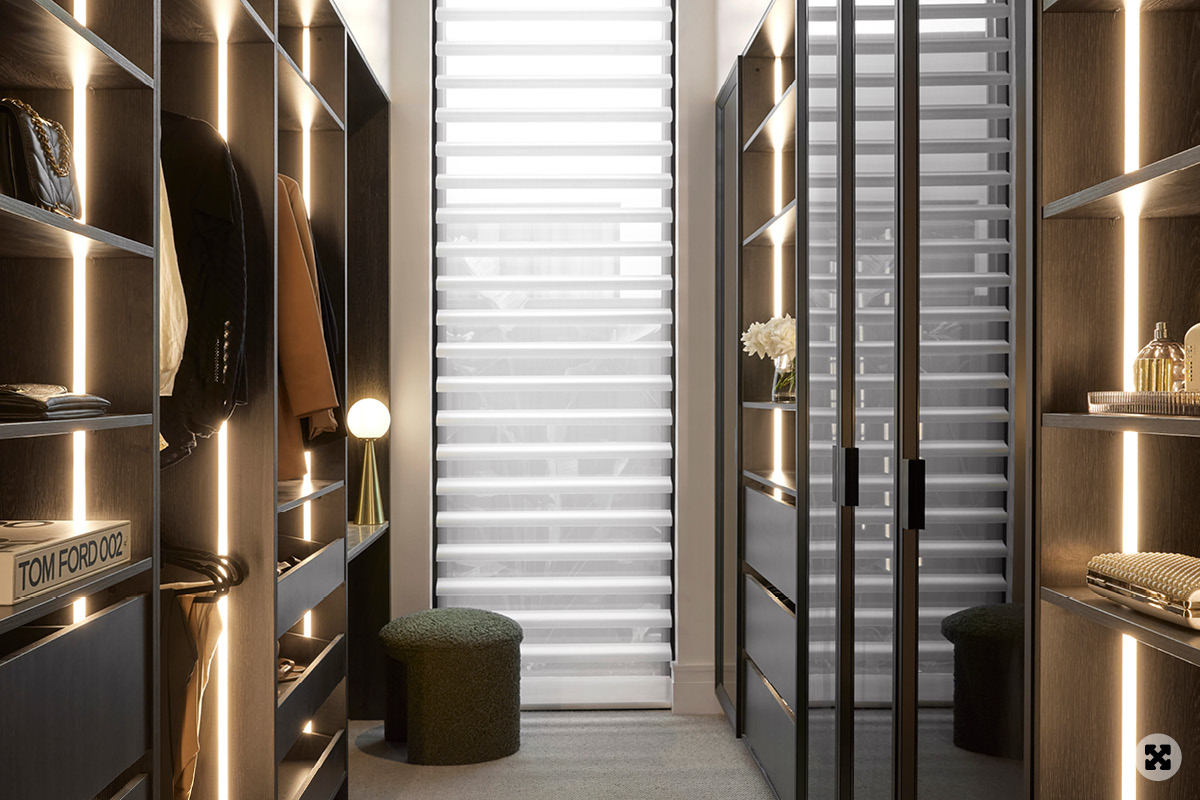 Lysandra's walk in robe effortlessly evokes a sense of luxury and sophistication. The wardrobe design combines our dark, rich timber-look Estella Oak Matt Interiors with our sleek Black Alumin Framed Acrylic Doors. The contents of the robe are illuminated by Warm Verti-Strip LED lighting, which allows for a soft, warm glow, adding to the luxurious and welcoming ambience.
"It's honestly the wardrobe of my dreams, smiles Lysandra. It feels so luxurious, thanks to Kinsman. It really does tick all the boxes!" 
The galley-style layout features a clever mixture of storage solutions, from hanging space to soft-close drawers and open shelving. The central walkway within the design is wide and spacious, the open joinery allowing optimal access to clothing and accessories. The wardrobe is a sanctuary of style and organisation with accessories that include Shoe Drawers, a Makeup Station, and 2020 Black Frame Glass Shelves.
The layout and the storage accessories are a standout to Lysandra. "I've got double hanging behind cupboards, open hanging, shoe racks – and look, I have my very own little makeup nook too."

Key features:
Doors: Black Alumin Frame with Acrylic Insert
Interior Finish: Estella Oak Matt
Handles: Supplied with Black Alumin Frame cabinetry
Accessories: Shoe Drawers, Make Up Station, 2020 Black Frame Glass Shelves
Lighting: Hafele LED Verti-Strip Lighting
Which look do you love the most? Create the perfect wardrobe for your home and style with Kinsman.
For expert advice on wardrobe design or product choices, book your free in-store, in-home or virtual design appointment HERE .
For more inspiration, download our latest catalogue HERE.
Subscribe to watch the entire series which includes the reveals of the stunning Kinsman kitchens, pantries, and mudrooms. www.youtube.com/watch?v=xcqa-JlfHEk&t=1s
Photo credits: Jenah Piwanski