Courtney Act is an Australian drag queen, singer, author and television personality who has appeared in iconic productions such as Australian Idol and RuPaul's Drag Race. With an enviable collection of outfits and accessories to store, Courtney enlisted the help of Kinsman to transfer her wardrobe space into a glamorous oasis that balances style with functionality. 
The result is a wardrobe fit for a queen. Take a tour with Courtney Act and see the inside of this glamorous space.  
The layout. 
The design consists of a U-shaped layout with a mixture of hanging space, open shelving and drawers. Courtney wanted to create a 'His & Hers' wardrobe for her and Shane that doubles as an ultimate drag room for all of Courtney's beautiful outfits, shoes and accessories.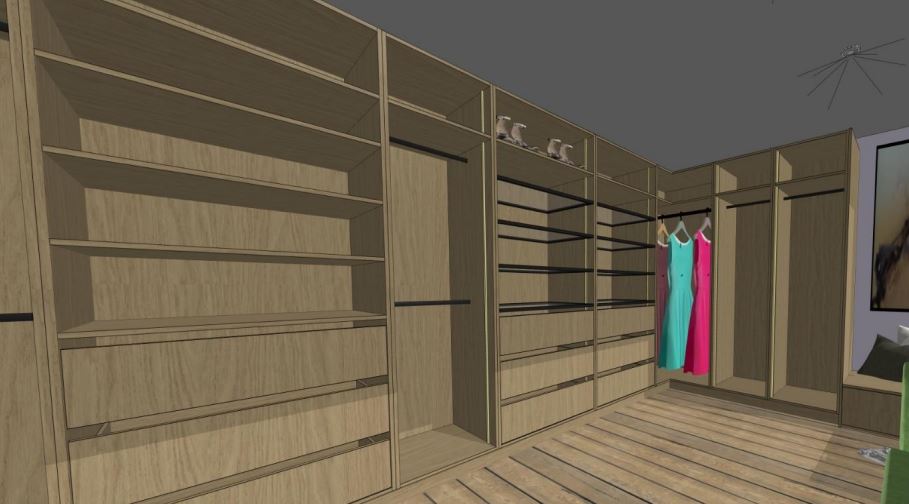 The style. 
The colour palette evokes a warm and inviting aesthetic with Kinsman's timber-look Oak Woodgrain used for both the exterior doors and interior finish. Flexy LED lighting illuminates the contents within the joinery and black frame shelving, while brass handles add the perfect amount of glamour.  

Luxury additions.
Kinsman's Black Frame Glass Shelves take centre stage within the space, providing a plethora of room for Courtney to display her stunning collection of jewellery and accessories. Below the shelves sit more soft-close drawers with internal dividers used again to make organisation a breeze.  
Banquet seating in the corner of the robe offers the perfect space for putting on shoes or packing suitcases when travelling- or simply enjoying the view! It also provides hidden cabinets below the bench seat for extra storage and ensures every inch of space is utilised within the room.  
The result is more than just a wardrobe; it's an experience! One that can be enjoyed every day!
Transform your wardrobes with Kinsman today for a life that is beautifully organised!