Discover Your Perfect Wardrobe Layout
With so many stylish and functional options to choose from, selecting your perfect wardrobe layout can be a challenge. Here at Kinsman, we have taken the guess work out for you and below explore some of the best wardrobe designs.
Walk-in, Walk-through, Hinged or Sliding – which is the ideal design for you? Read on to discover your perfect wardrobe layout!
Walk-in Wardrobes.
The ultimate in luxury, a Walk-in wardrobe is a lust-have for all bedrooms. Making getting ready a joy each and every day, a walk-in robe allows you to showcase your clothes, shoes and accessories and more with everything out on display so you can find it easily.
If your floorplan allows for it, an island bench will not only act as the focal-point for your closet, it also maximises storage with deep drawers. Quartz benchtops from Caesarstone or Cosentino will further enhance this glamorous space.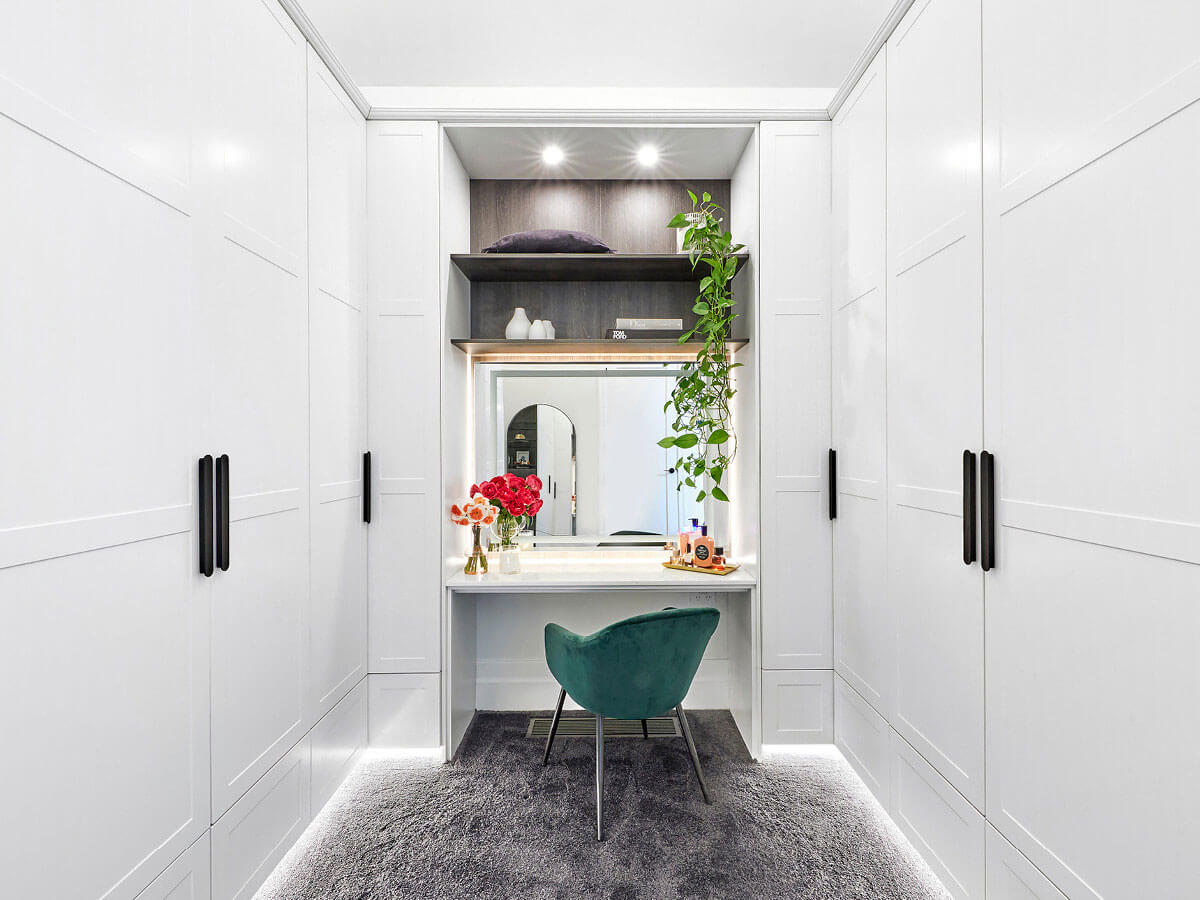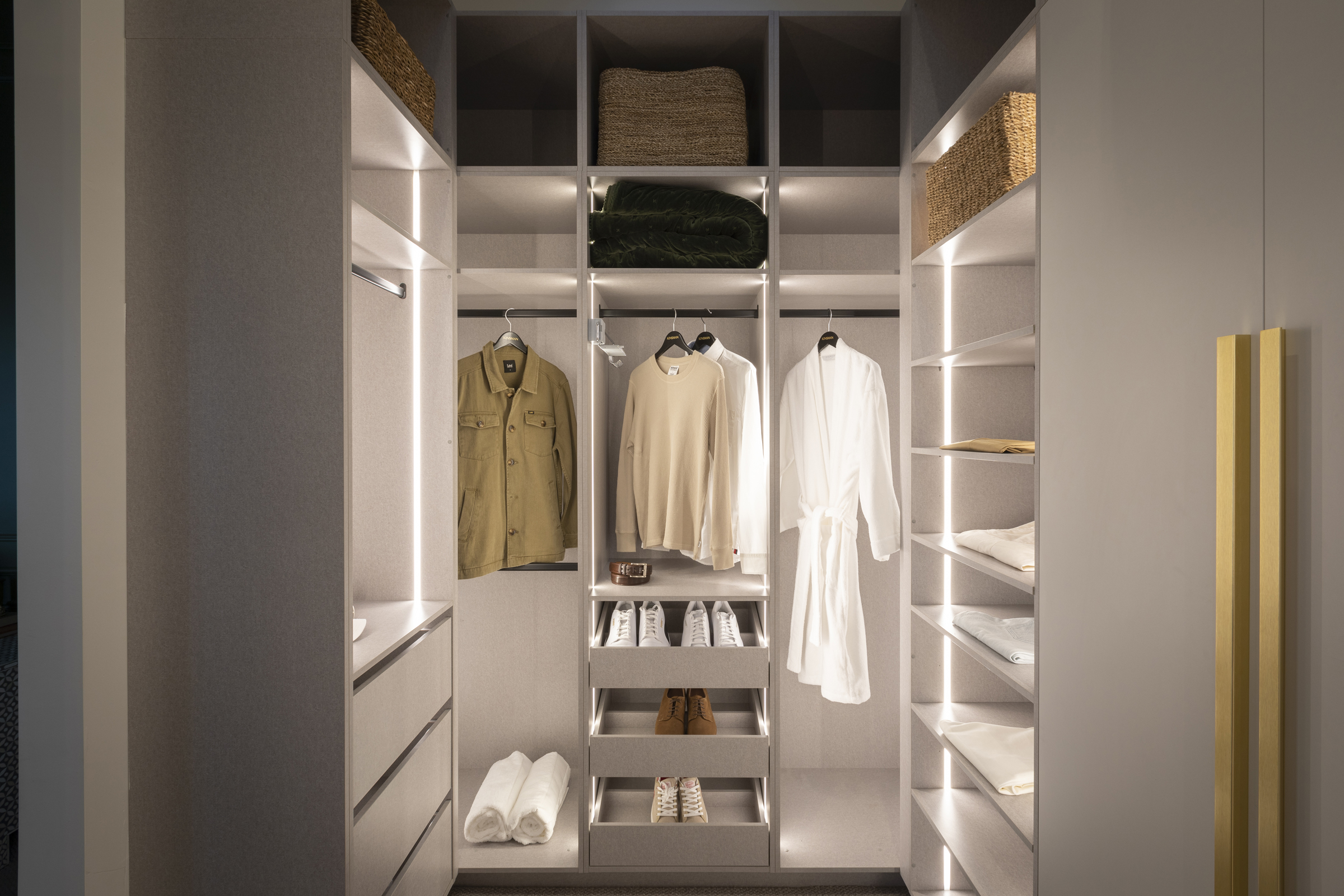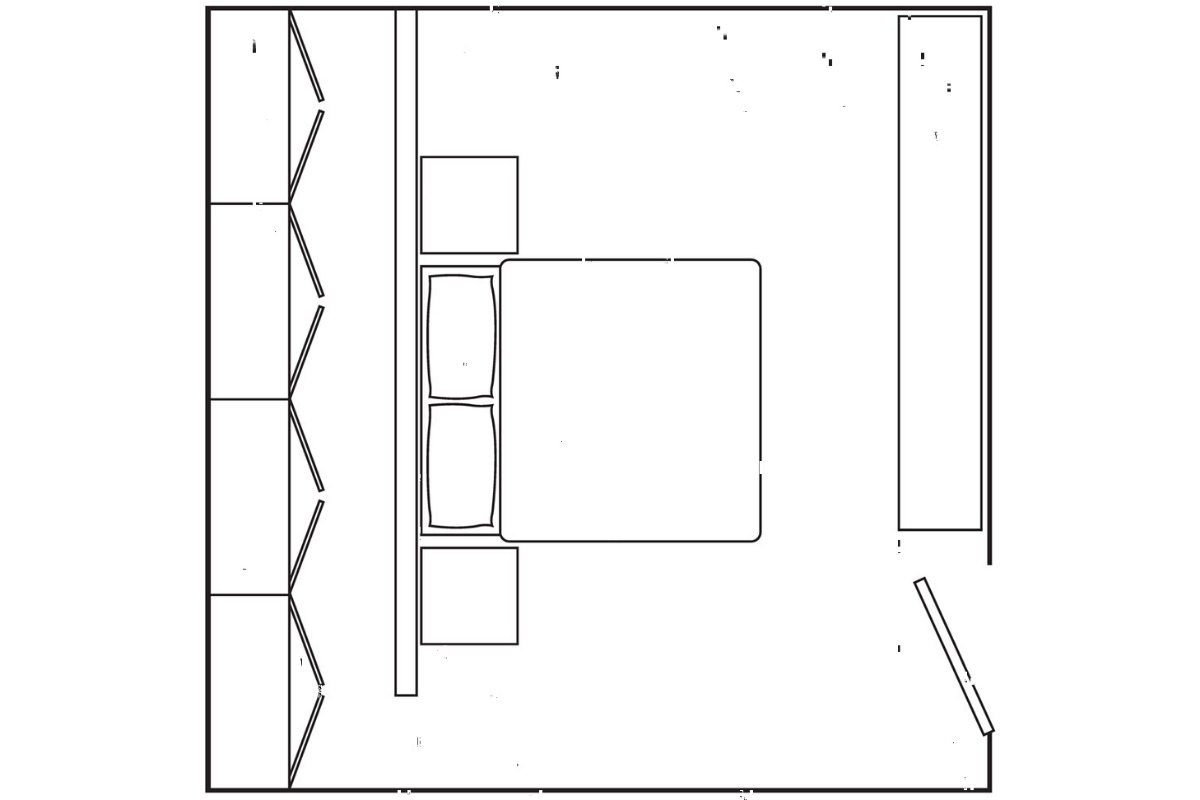 If space permits a walk-in robe can be a game changer in terms of how you use your wardrobe and your bedroom.
Walk-through wardrobe.
Connect two rooms, such as your Master bedroom and ensuite with a Walk-through wardrobe. An excellent use of space, a Walk-through closet creates a stylish walkway for all of your prized possessions.
Depending on space available you may like to create a galley-style design with robes on either side. If one run of cabinetry works better for your space, consider installing a mirror on the opposite wall to create the illusion of space and more light. This is also a great option if you want to connect your bedroom, wardrobe and bathroom to flow on from one another.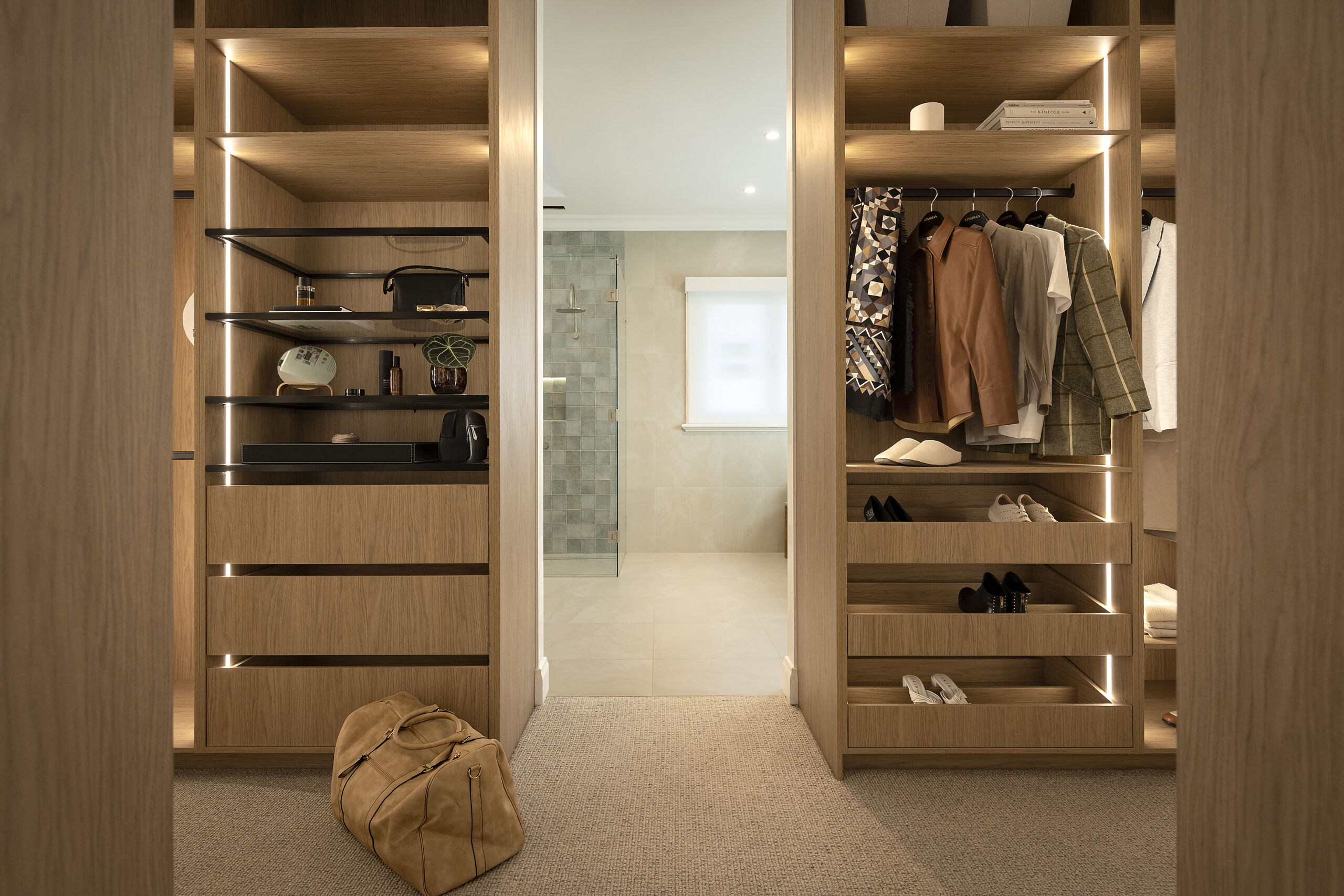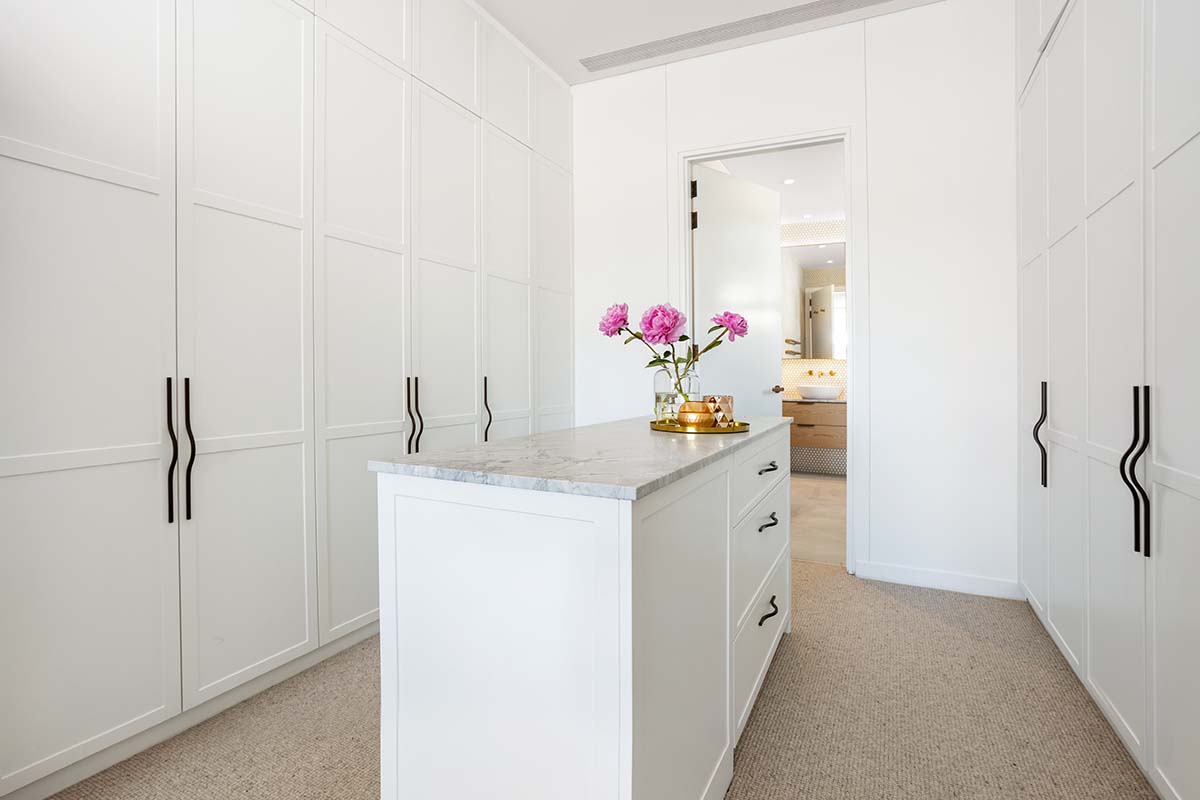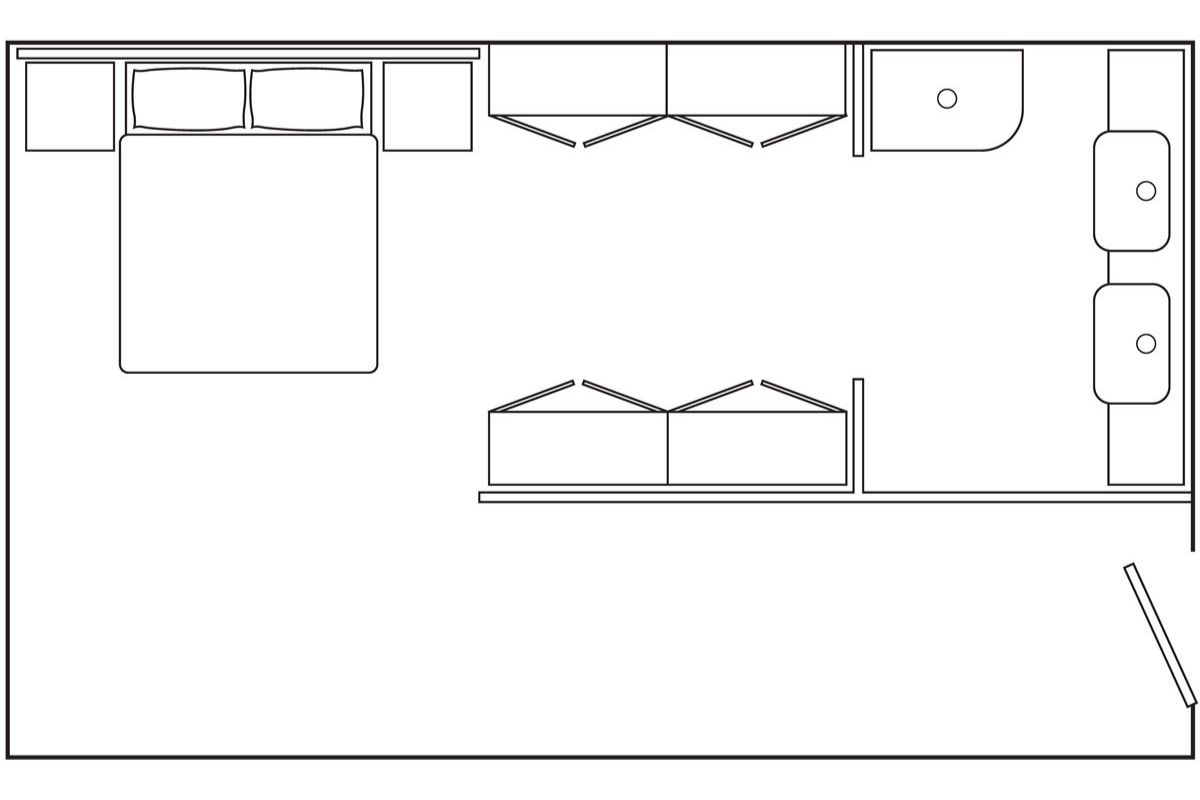 Rachel and Ryan created a moody, luxe walk-through robe that connect their Master bedroom and ensuite.
Hinged wardrobes.
A Hinged wardrobe design is one our most popular layouts and for good reason. Suitable for both smaller and larger rooms, your external door and handle selection can make a real statement in your bedroom and tie the room to the cabinetry used throughout the rest of your home.
Store clothing, shoes, accessories and more behind external doors that come in a range of colours and profiles. Within your robe, a selection of our storage extras, as well as LED flexy lighting will ensure that organisation is a breeze.
Designer tip: Hinged wardrobes are very versatile design-wise. Consider adding a study nook to one end of your Hinged wardrobe to make this a multi-purpose space that ticks all the boxes!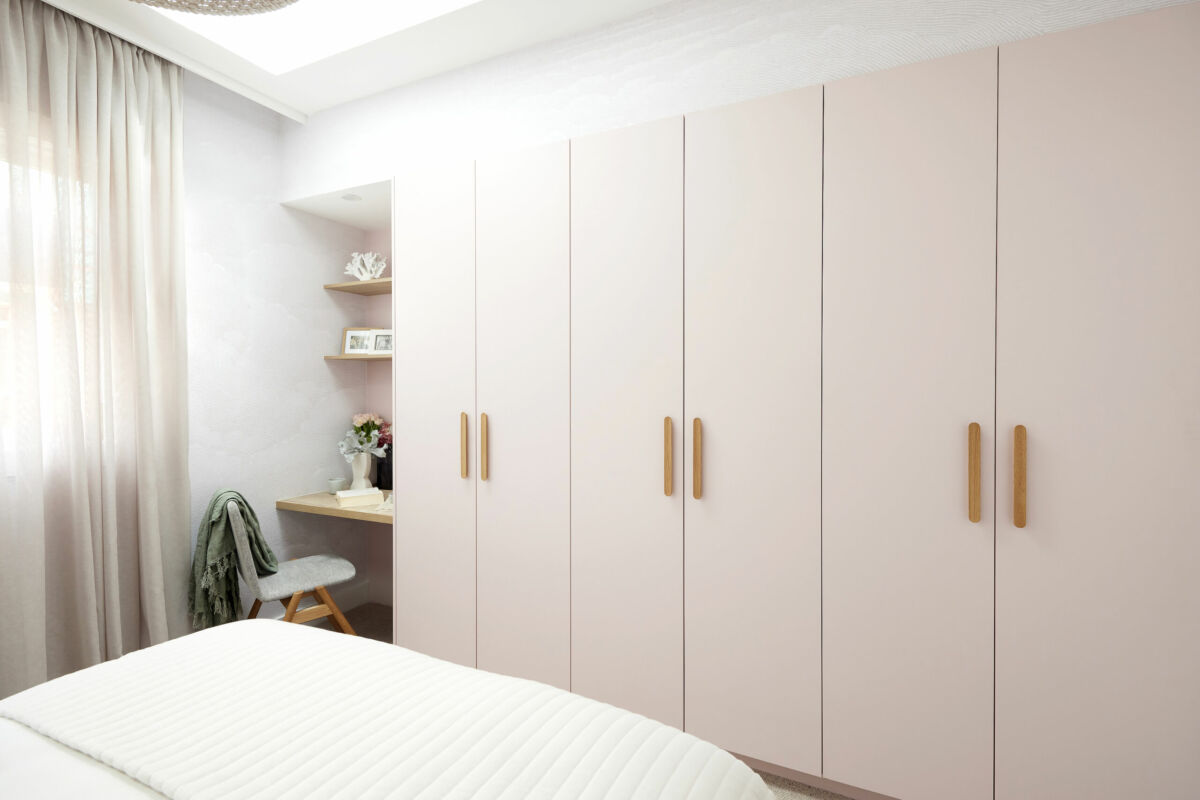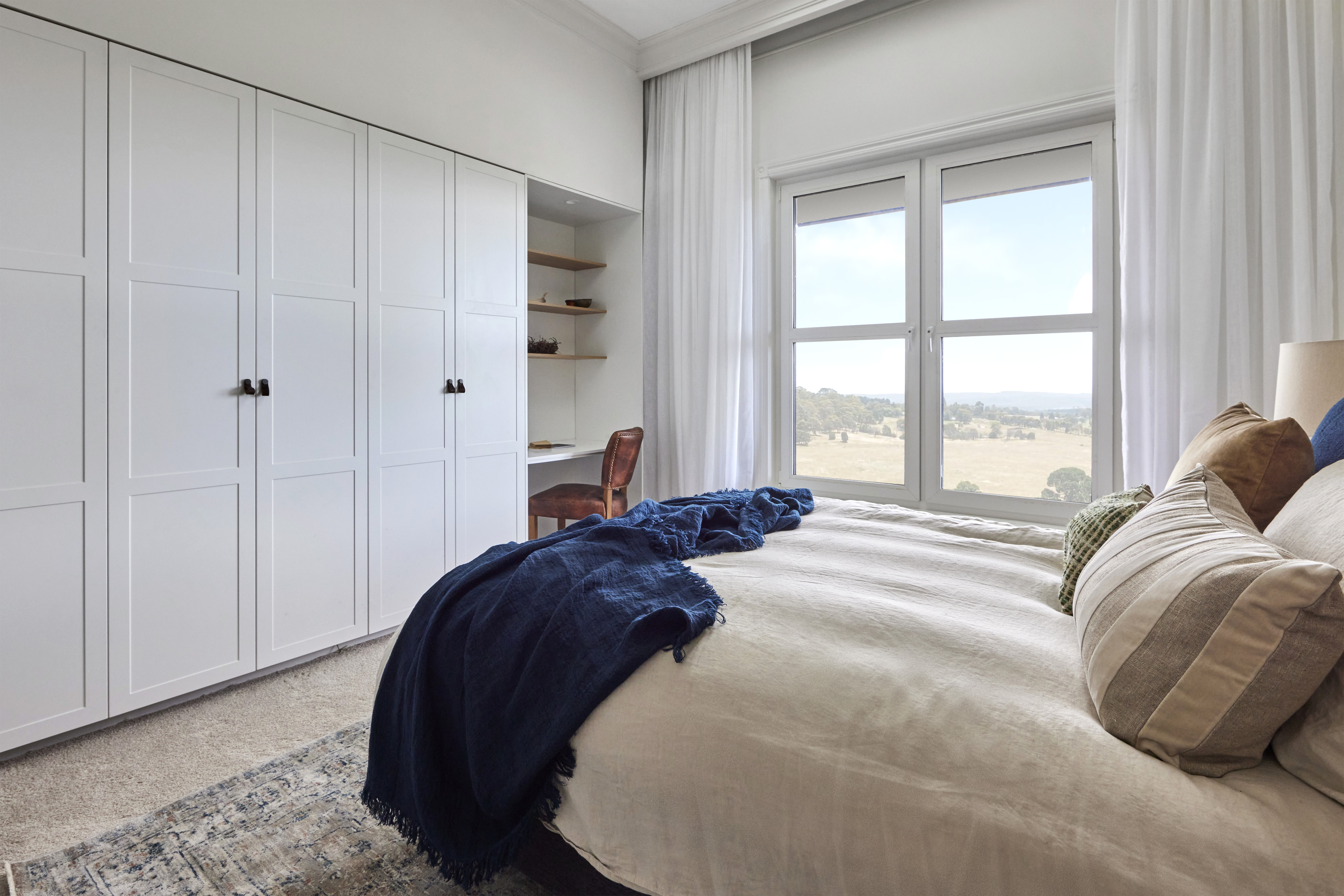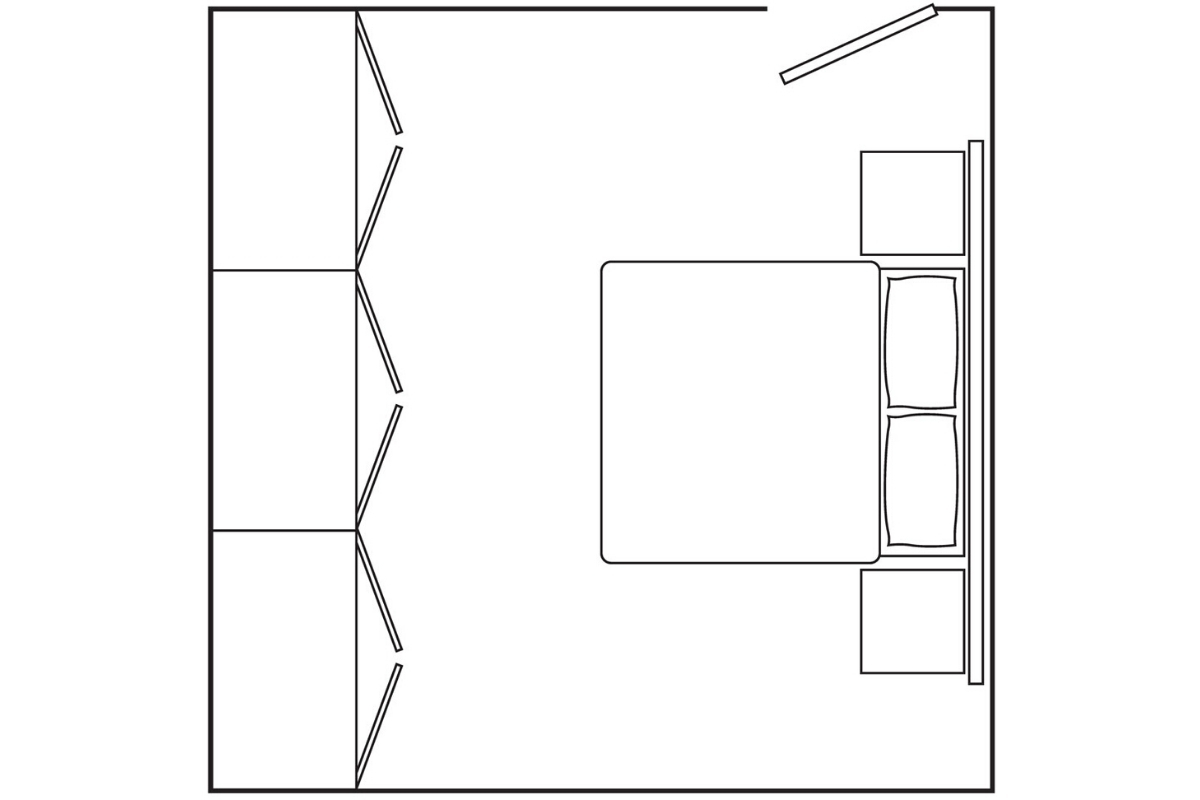 Mitch & Mark created a picture perfect, pink Hinged wardrobe that also included a study nook.
Sliding wardrobes.
They say good things come in small packages and this is absolutely true when talking about Sliding wardrobes. Ideal for smaller rooms, this layout packs a style and storage punch.
Conceal your belongings behind our Tri-panel door system which is designed for flexibility. Create a simple, chic one-colour look or mix and match for dramatic impact. Utilise extras such as hanging rails, open shelving, drawers, shoe racks to make a small robe work hard.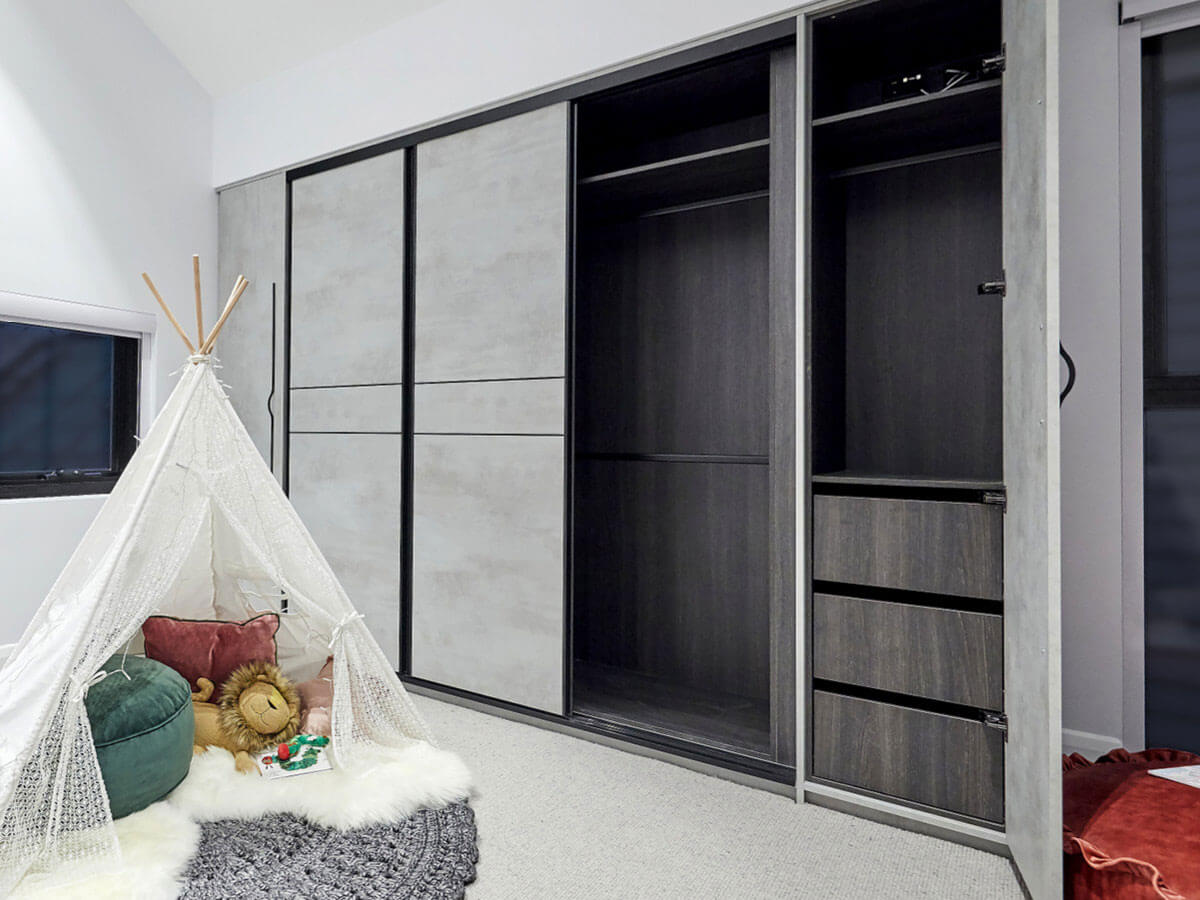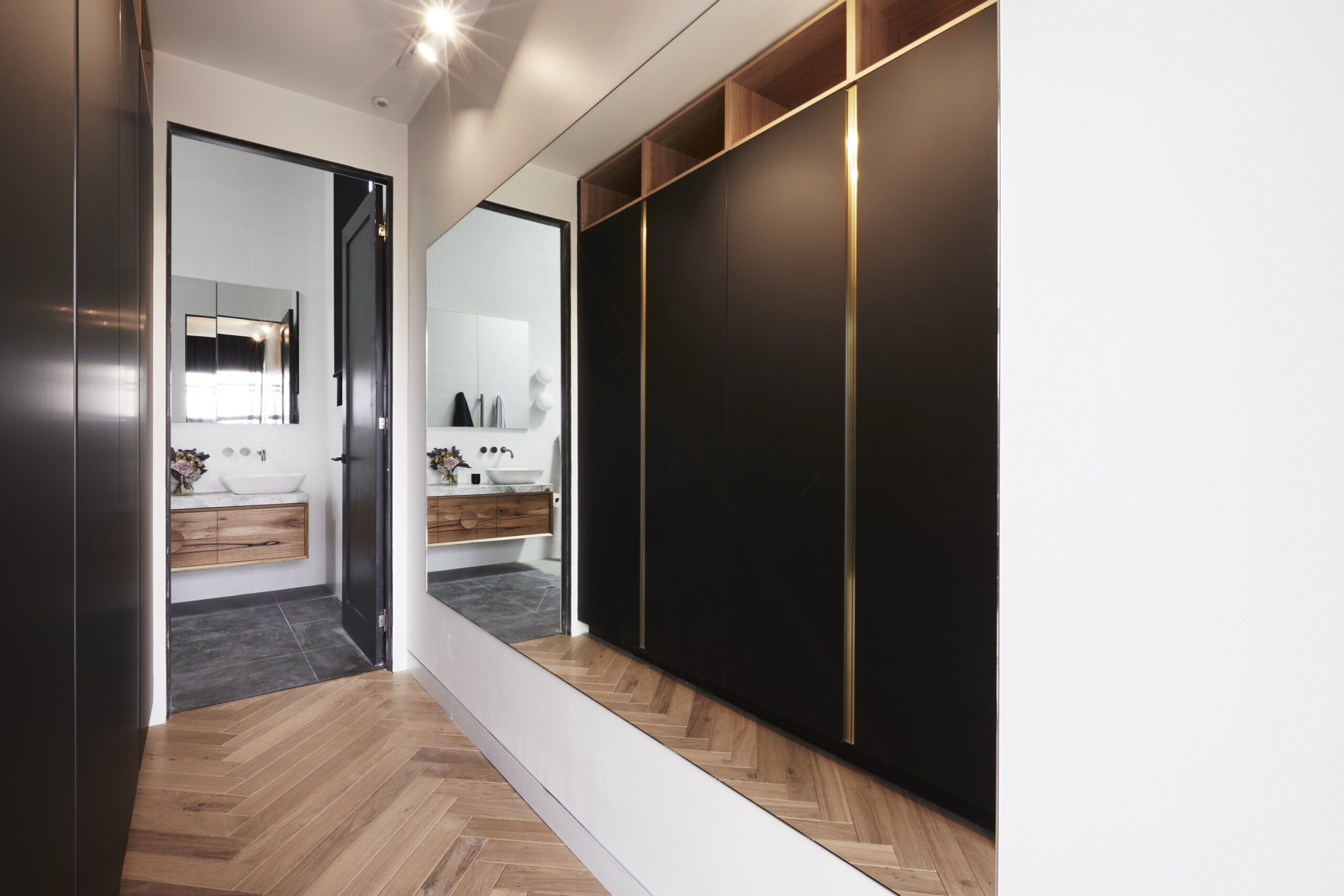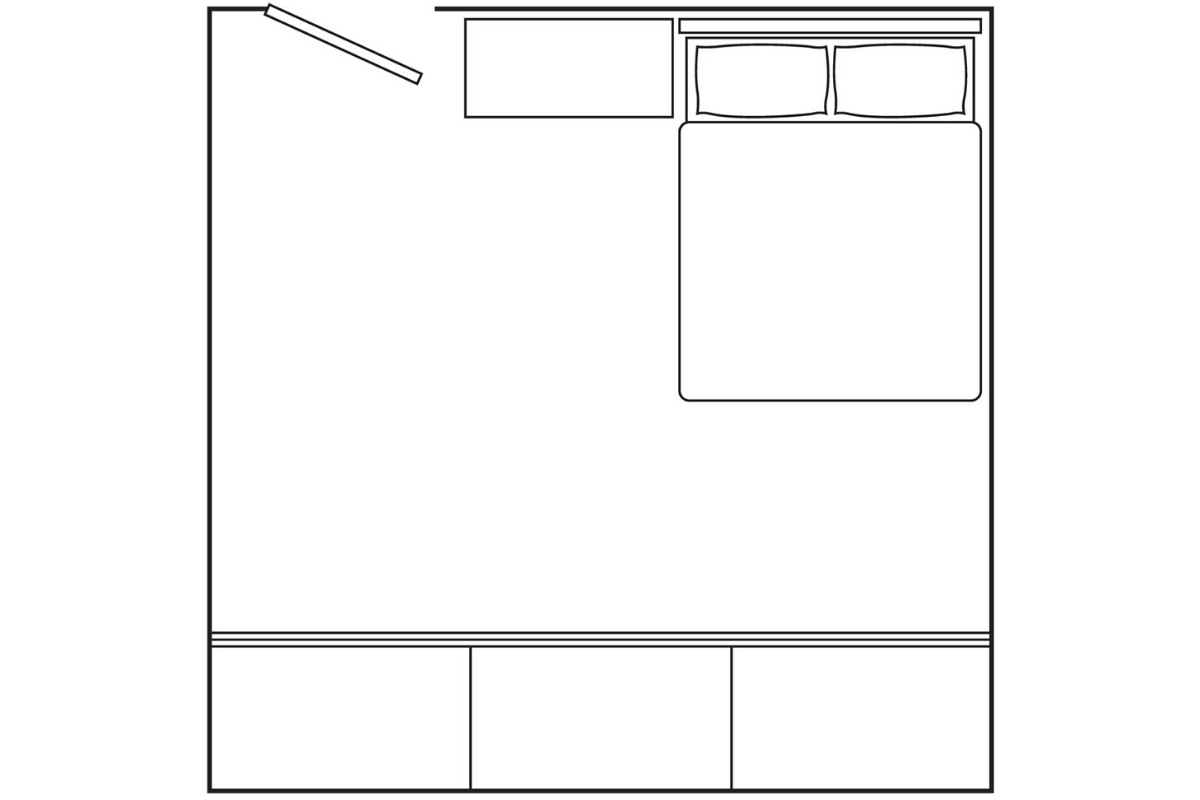 The FX Series Beton Texture finish used in this design is available with our Premium Sliding wardrobes and helps to accentuate the room's industrial and contemporary style.
Be inspired to get beautifully organised with your perfect wardrobe layout!