More than just kitchens, Kinsman offers you stylish and premium products and finishes that allow you to bring your dream kitchen, perfect pantry, luxe laundry, wonderful wardrobes and harmonious home offices to life. Achieve a beautiful and cohesive flow by using matching cabinetry, benchtops and accessories such as handles throughout your home. Your kitchen is a perfect starting point to inspire the look of the rest of these important room however, you can also transform your home by designing new wardrobe and home office spaces.
Home Offices.
Times are changing, and we're finding ourselves spending more time at home and for many of us that includes working and/or studying from home as well. We understand that a working space must strike the perfect balance between comfort and productivity. That's why the Kinsman Home Office range has been created to provide a variety of Home Office solutions that are both stylish and functional.
A designated home office space means you can maximise your productivity in comfort without the distractions of the rest of the home. Bring style elements from your kitchen such as matching cabinetry to create flow and include shelving for additional storage as well as to open up the space. Is space limited? Not an issue: we love to design streamline spaces that provide you with everything that you need to get your work done.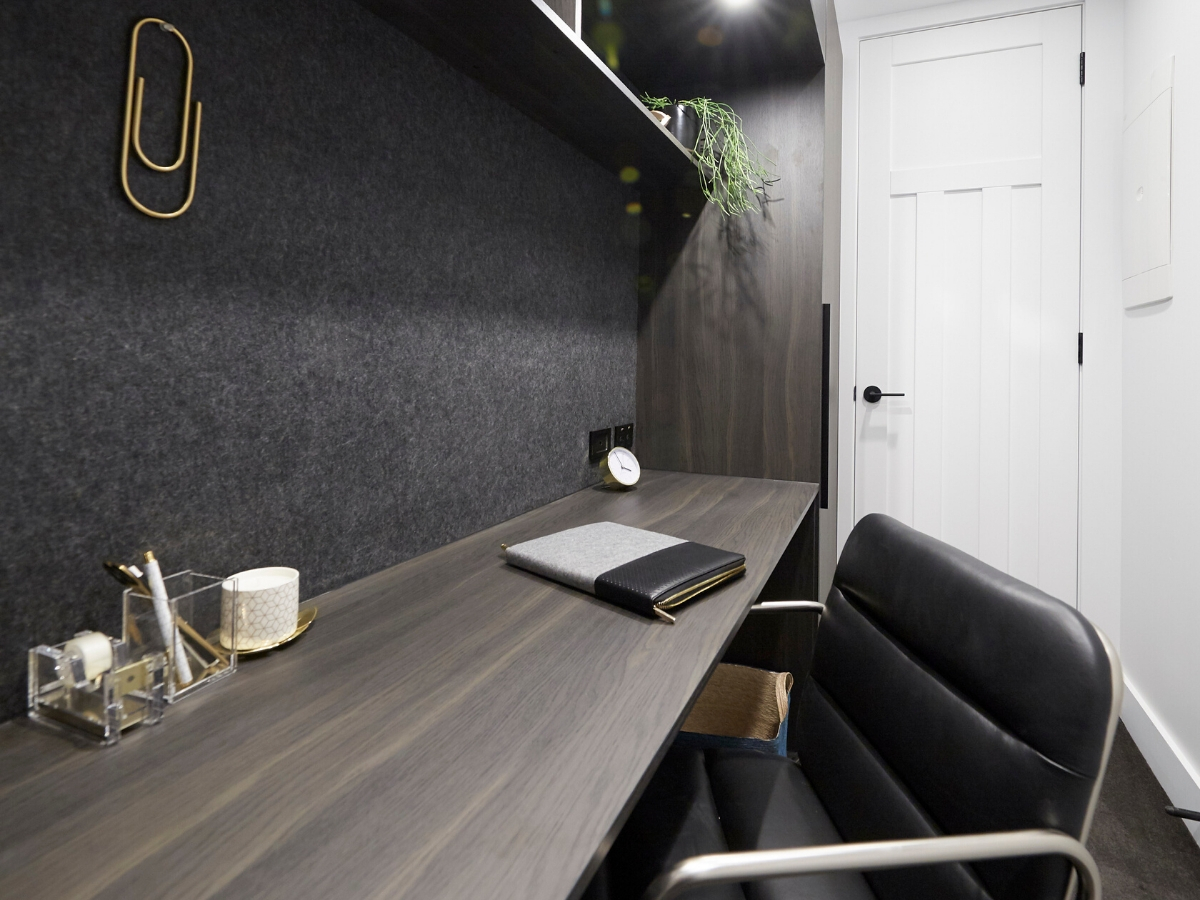 A designated working space like the above means you can maximise your productivity during the day and switch off at night.
Adding a home office to a Walk-in or Hinged wardrobe is a smart solution if you don't have space for a separate room, plus, it provides a stylish and functional element to your robe and bedroom. Bring in the colour palette from your kitchen through matching cabinetry and add a Caesarstone desktop for a luxe extra.
Design tip: Shelving creates extra storage for work/study items and also allows you to add colour and personality with decor items – we love items such as vases, plants, candles, books and small art pieces.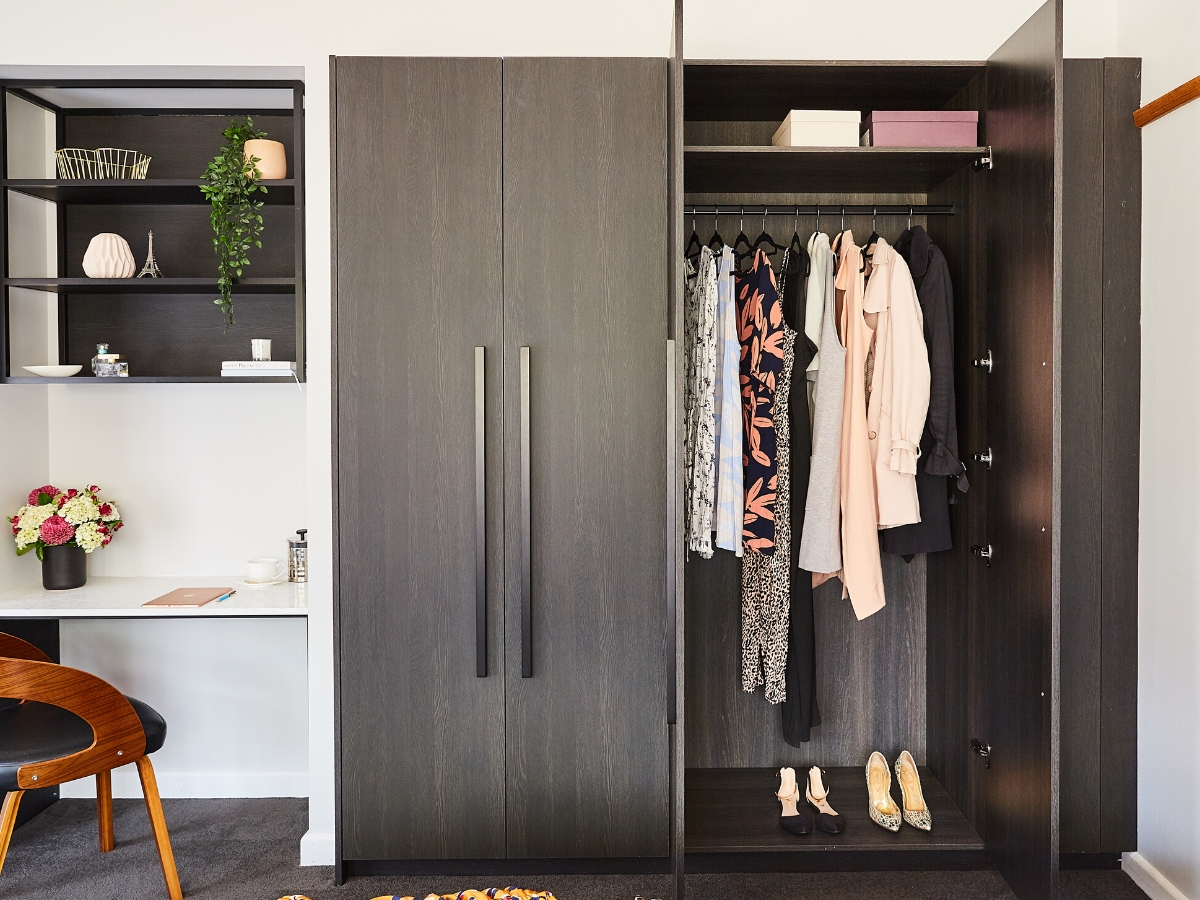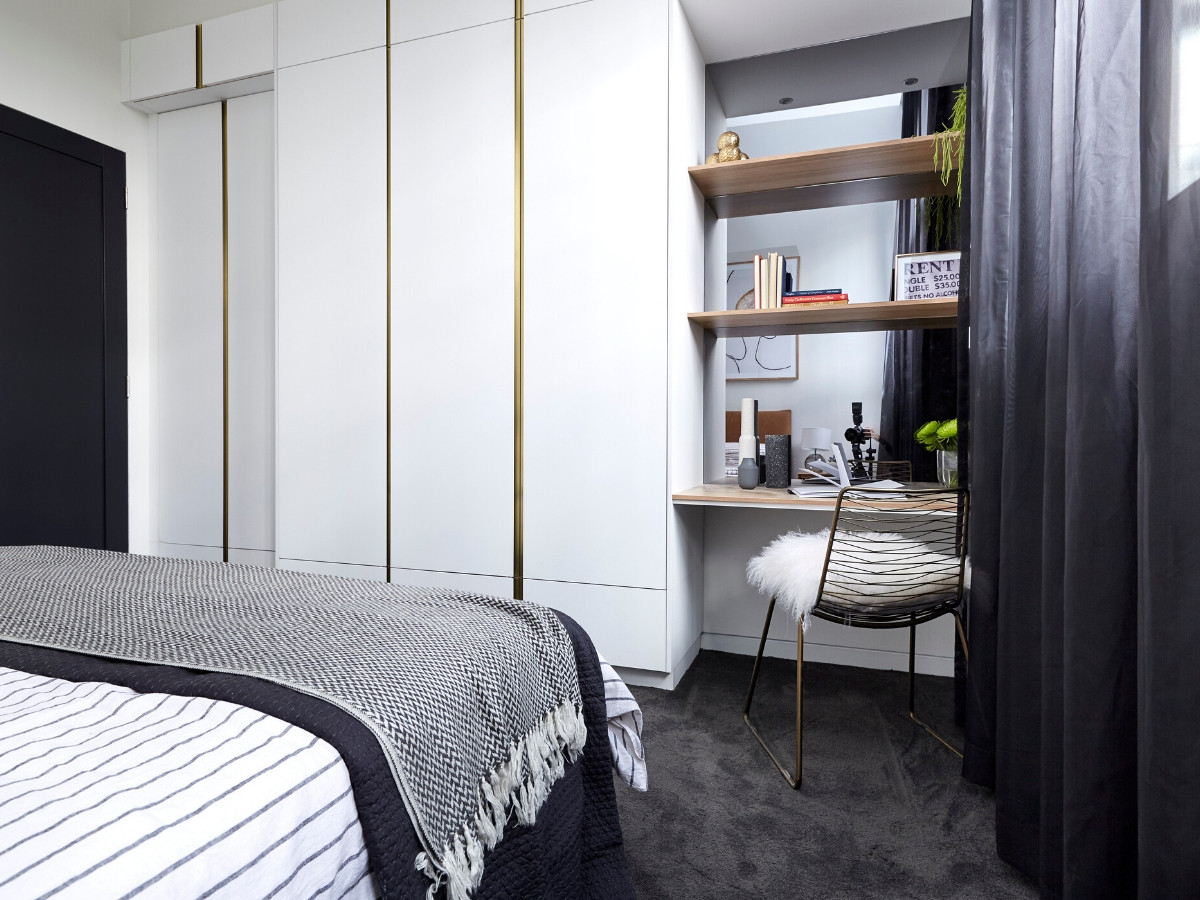 Create a bedroom to love with the inclusion of a desk area.
Laundries.
Transform your laundry into a room you love spending time by combining style with functionality. Consider matching your laundry to your kitchen with the same style of cabinetry and benchtops for a complementary look. A successful laundry design includes plenty of storage created by a combination of doors and drawers and folding space.
Love a modern Hamptons look in your home? A mixture of Somersby doors in either a crisp white or light grey tone paired with a marble-look top such as Caesarstone's Empire White can be carried throughout your kitchen and laundry to evoke the style. If a bolder, opulent look is desired, we love to match warm timber-look cabinetry with a concrete-look countertop – the possibilities are endless!
Designer tip: If budget doesn't allow for quartz countertops in both kitchen and laundry, elect to use a laminate benchtop that closest matches that of your kitchen. Our laminate benchtop range offers a variety of beautiful options that are both affordable and stylish.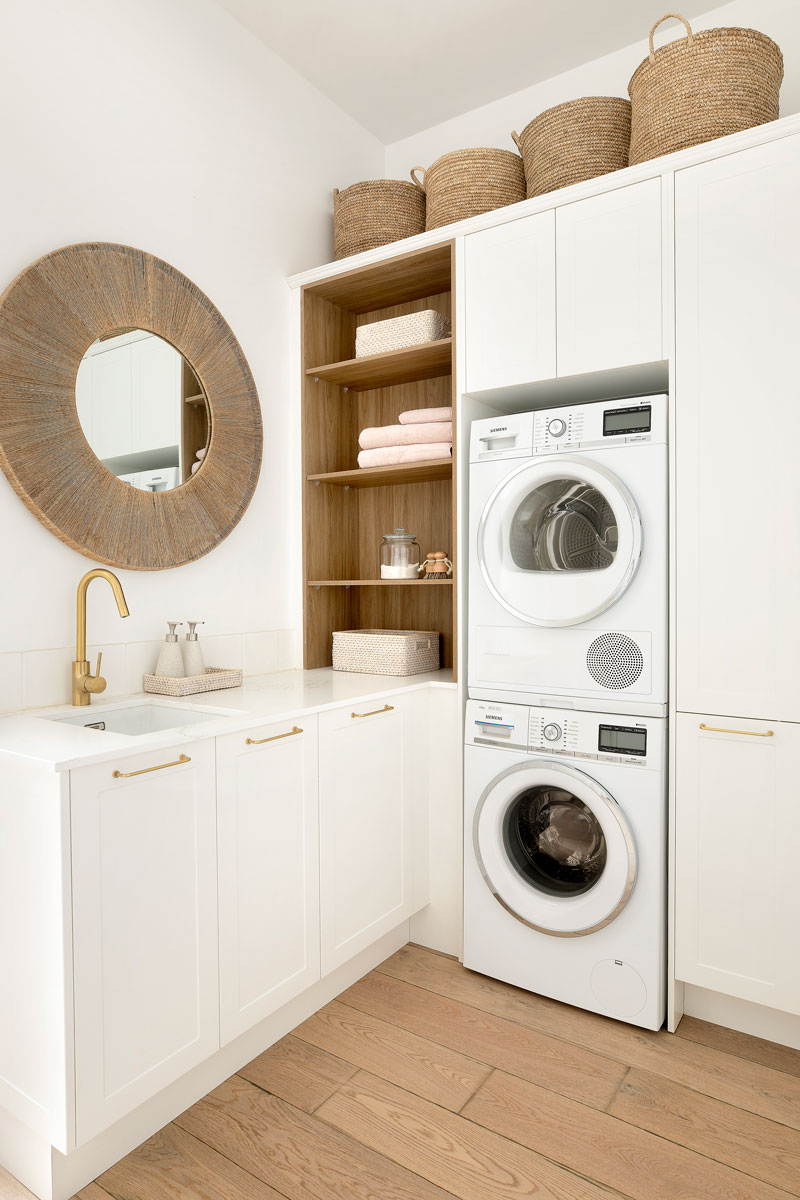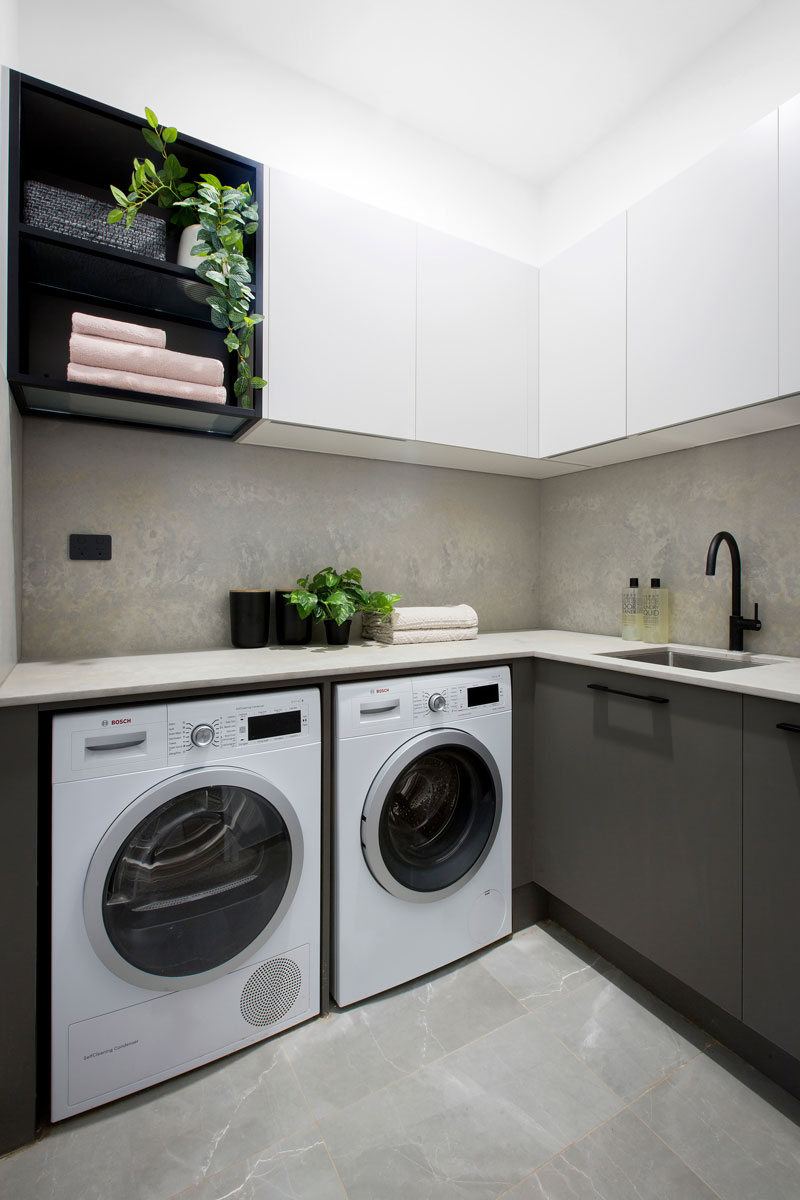 The multi-use laundry/pantry design was predominant on The Block 2019, where many of the contestants incorporated this design with great success.
Pantries.
No matter the space you have to work with, we are here to help you create a pantry that works hard for you and makes organisation a breeze! Choose from a single, walk-in or Butler's pantry design in your home and take advantage of our extensive range of accessories to maximise your storage. Continue the style of cabinetry and countertops from the kitchen into the pantry to create a cohesive look.
If space permits, a Butler's pantry or Butler's kitchen is the ultimate in pantry design, combining storage with elements of kitchen functionality- ranging from additional prep area, extra appliances such as ovens and dishwashers as well as a plethora of storage. It's a great option for those who love to cook and entertain, as it functions as a mini-kitchen – with the added bonus of being able to hide all the mess from guests!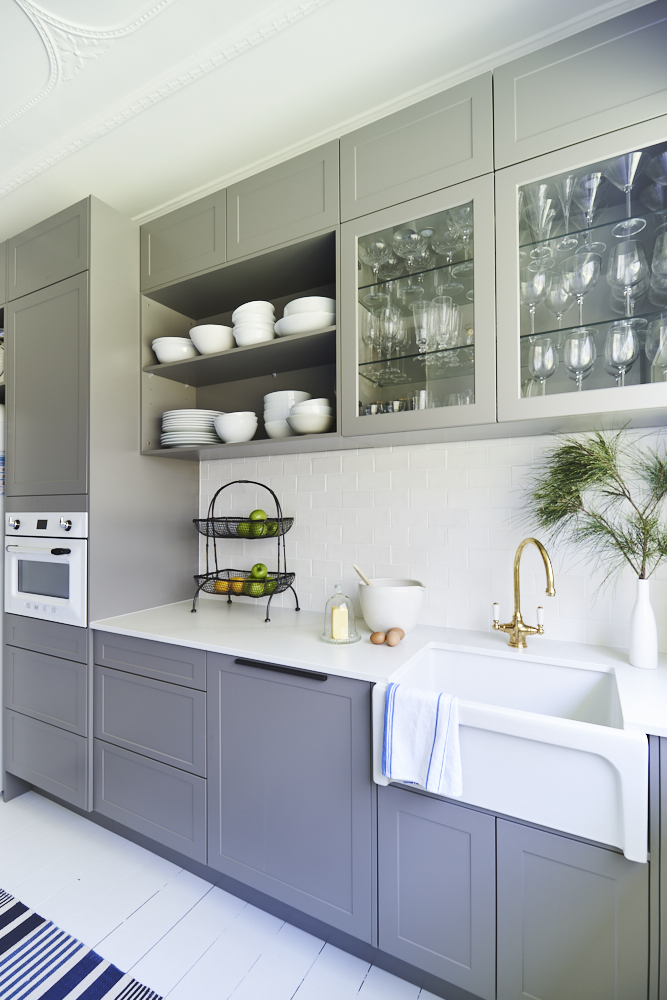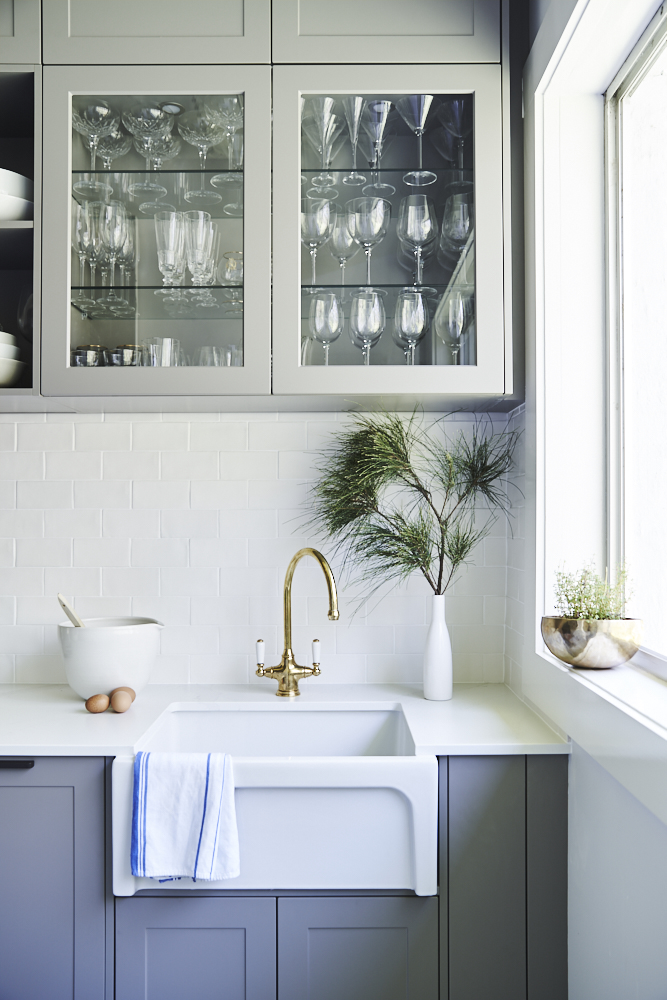 Star attraction: Style guru and judge on The Block, Neale Whitaker entrusted Kinsman to create a light-filled, stylish and functional Butler's pantry that perfectly suits his country-style Kinsman Kitchen and which acts as a mini-kitchen. The style matches that of the kitchen, including the Somersby cabinetry in Strata Grey.
Ready to bring your perfect kitchen, laundry, home office and wardrobe to life?
Book a free in-home, in-store or Virtual Design Appointment HERE today. Don't forget to order a Kitchen or Wardrobe style sample pack when you book a Virtual Design Appointment.