Kitchen and Laundry Makeover: Sunbury, VIC. 
A new home build in Sunbury, just 40 minutes north of Melbourne's city centre, its location full of vineyards, native wildlife and a growing foodie scene gave homeowners Danielle and Michael an exciting opportunity to create the kitchen and laundry of their dreams. The couple commissioned Kinsman to bring their dream spaces to life, resulting in two rooms that brim with style and functionality. 
Below we explore both spaces and share the exciting details that are bound to inspire your next renovation project. 
The Kitchen.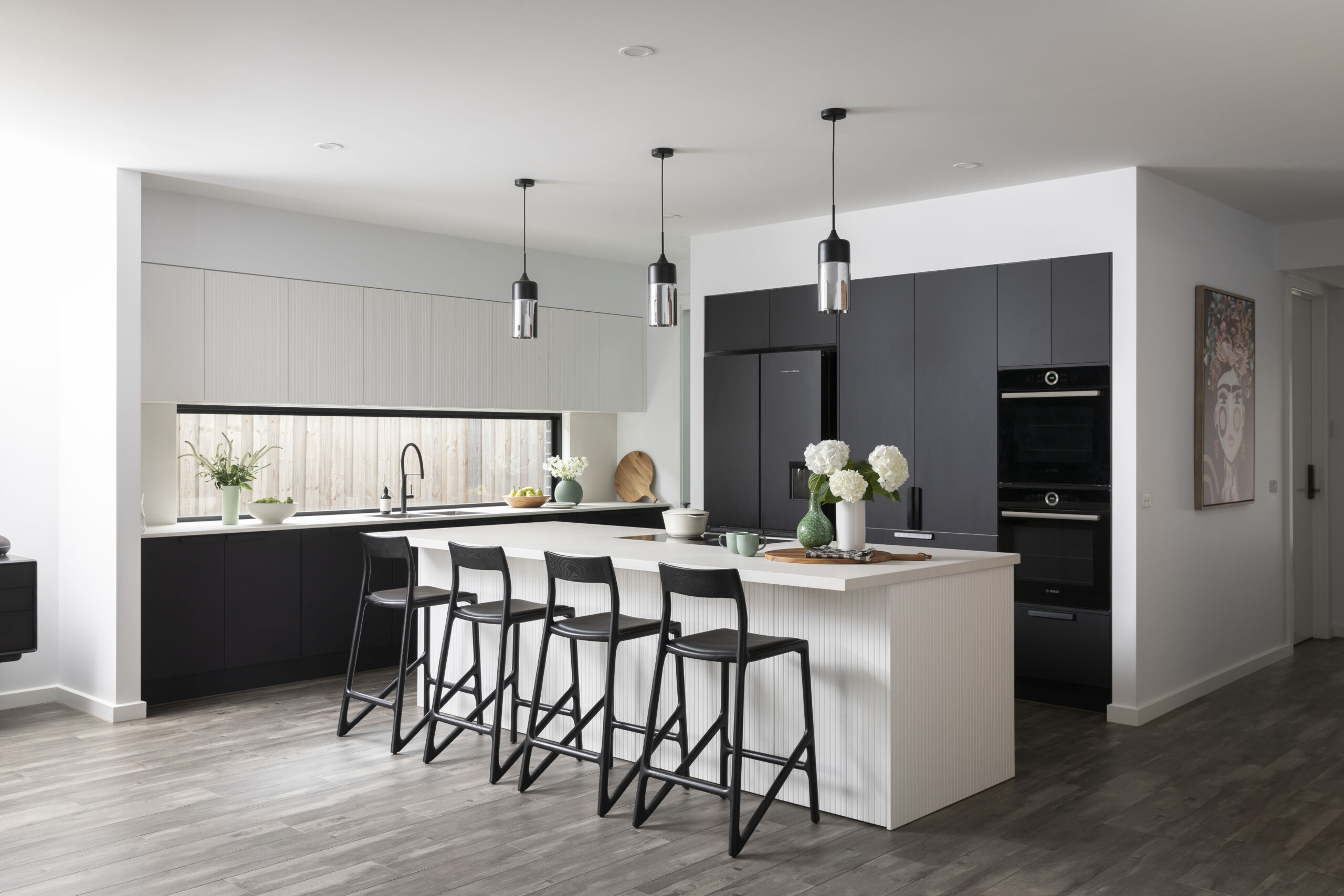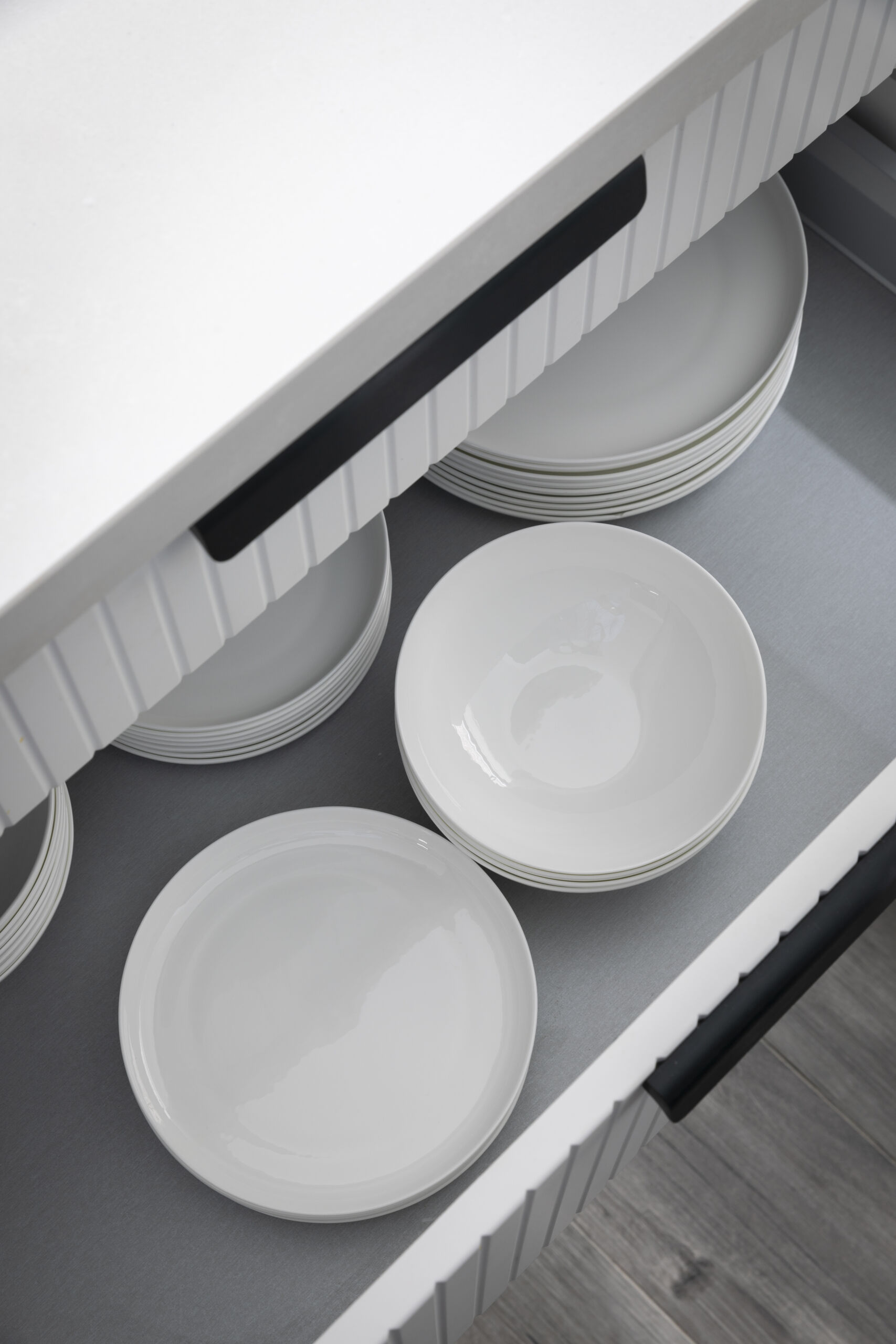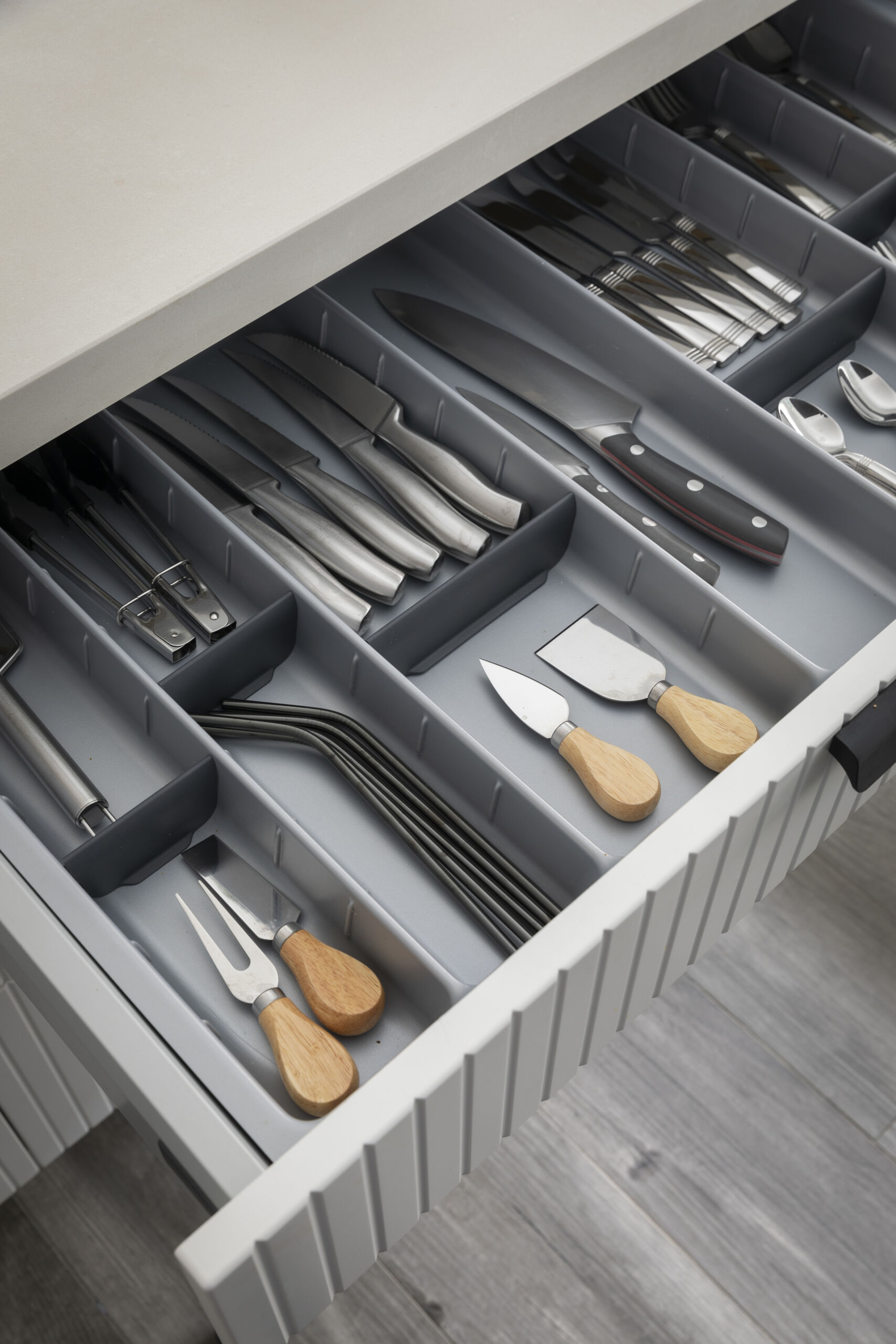 As the heart of their new home, the kitchen takes centre stage. "Starting from a blank canvas was exciting because we had so many options and layouts to consider, explains Danielle. We wanted a space where people felt welcome to gather and where we could always engage with any guests. Ample storage was an absolute must because I like to have all the gadgets and plenty of food on hand- having lots of pasta is essential for an Italian!" 
The Kitchen Layout.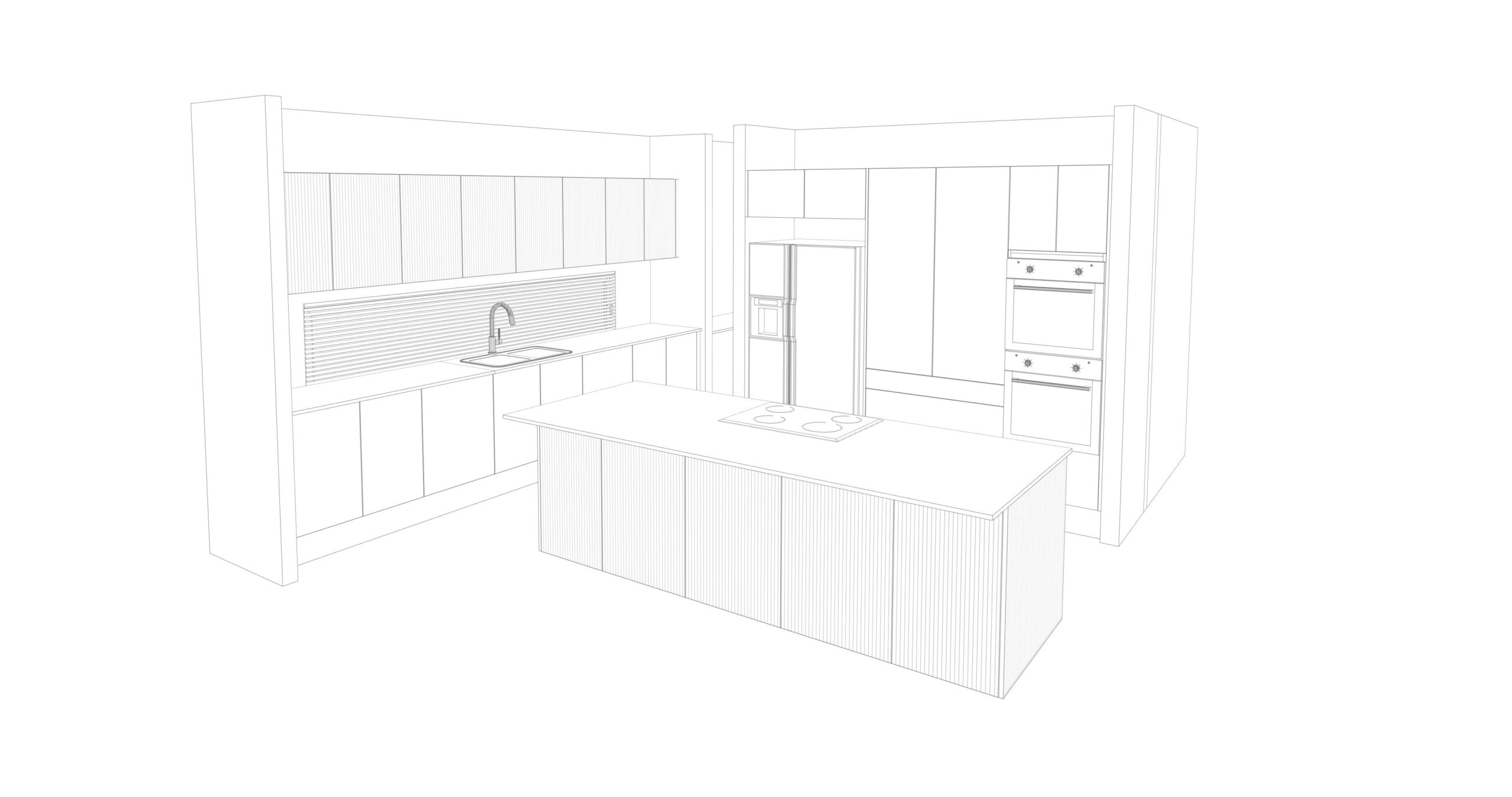 Perfect for open-plan living, the L-shaped design allows the cooking, cleaning and prep zones within easy reach of one another. The island bench, topped with Caesarstone Cloudburst Concrete, spans a generous 2.9 metres, offering plenty of seating, additional storage and a feature Bora Induction Downdraft cooktop. Below the window, cleaning up is a breeze thanks to the combination of a sink and tap, integrated dishwasher and bin. Several sleek cooking appliances, as well as a fridge, have been placed behind the island, ensuring the kitchen ticks all the boxes for these home chefs. 
"I concentrated on how I would move in the area, from scraping dirty dishes into the pull-out bin, into the sink for a rinse, and then right into the dishwasher in a fluid assembly line, says Danielle. I also wanted a workspace where I could always join in on the fun if we had guests over and still interact, which is why we opted for the Bora Induction Downdraft cooktop in the island bench over a regular rangehood, which may have potentially closed in the open atmosphere we were hoping to achieve."
Butler's Pantry.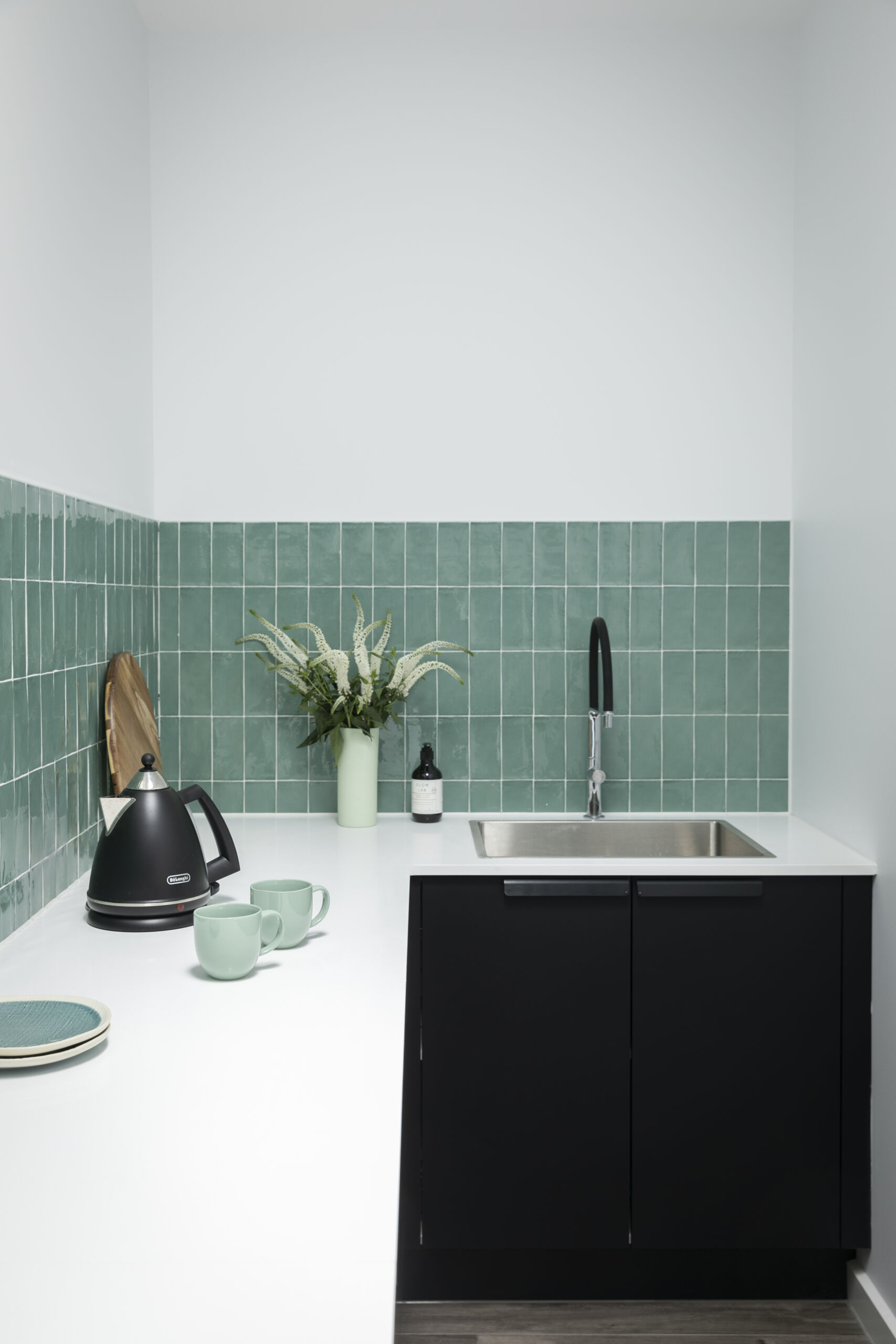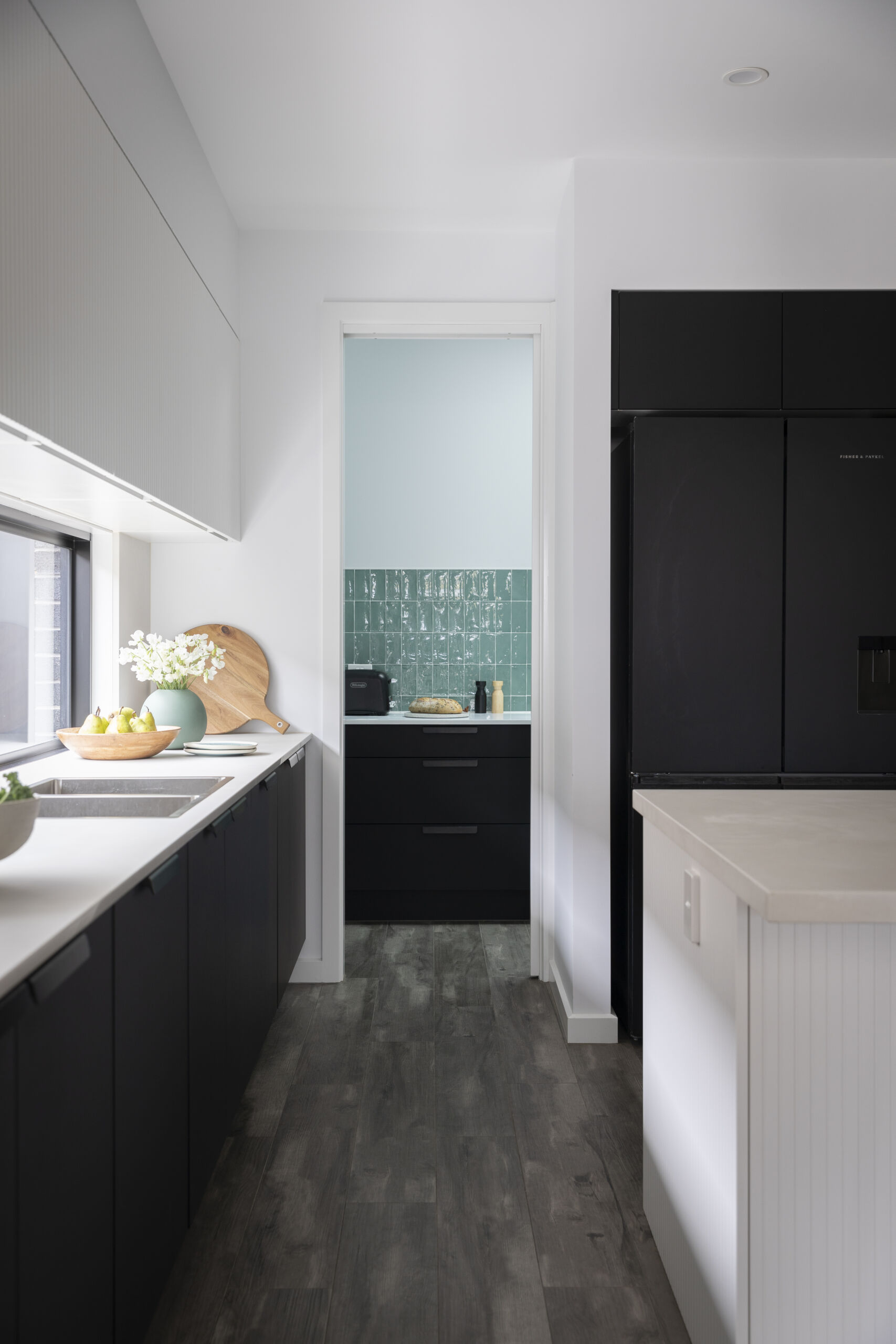 The Kitchen Style. 

Aesthetically, the kitchen balances a contemporary yet welcoming style. A mixture of Artarmon Black Ultramatt and Avoca Classic White joinery, both from Kinsman, create a monochromatic palette. "I knew I wanted something a bit unique and brave but also something that wasn't going to date too quickly, Danielle says. However, a black kitchen was always the dream!" 
Rather than a completely black kitchen, the introduction of the vertically-fluted Avoca door provides contrast and texture. "The Avoca door profile is stunning! I knew it was a bold move, but we don't regret it, smiles Danielle. It gives our monochrome space beautiful texture and originality; we always get compliments about it." Matte black handles have been used on the lower cabinets while Kinsman's integrated Volpato handles have been used on the wall cupboards above the window for a sleek look. 
The Laundry.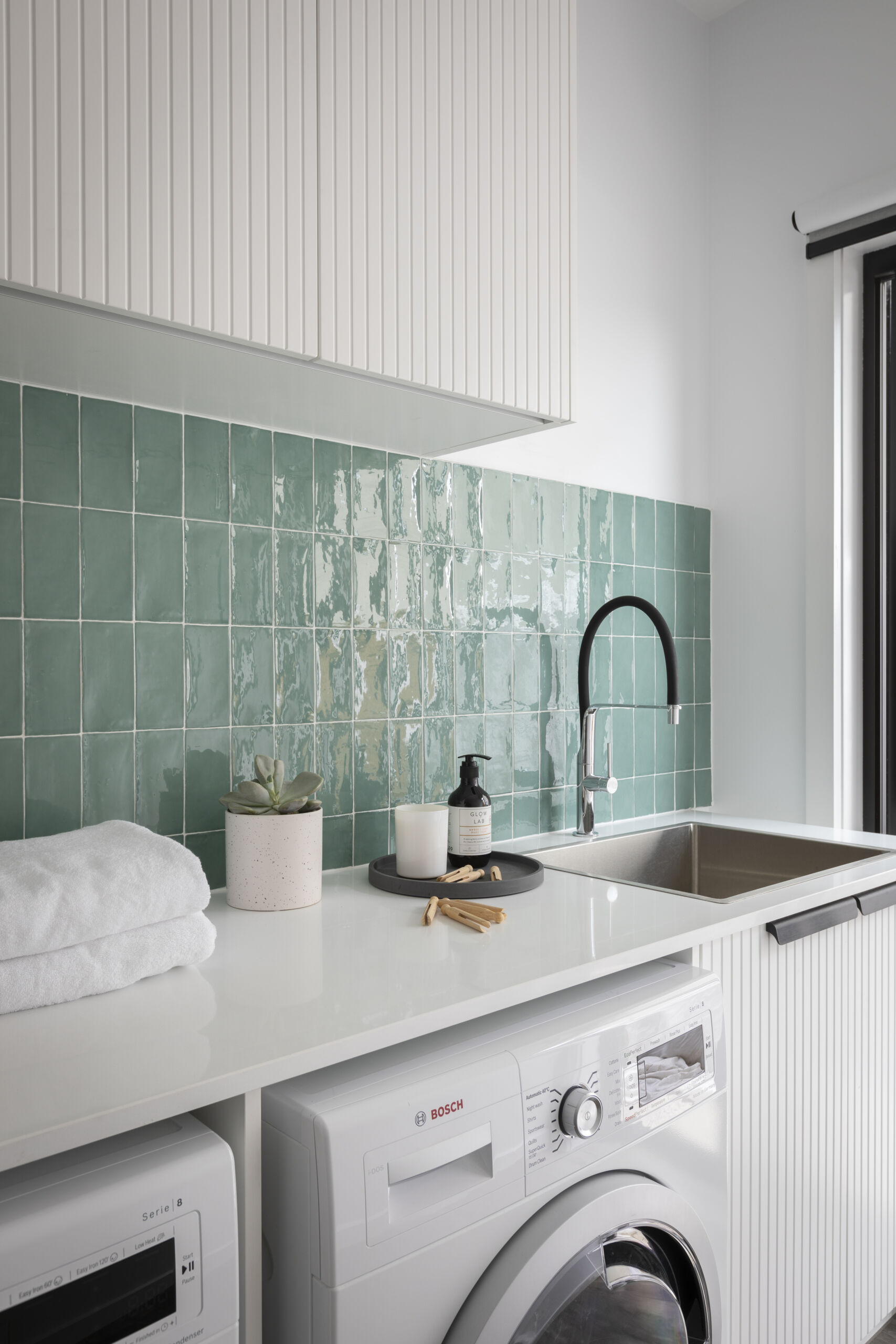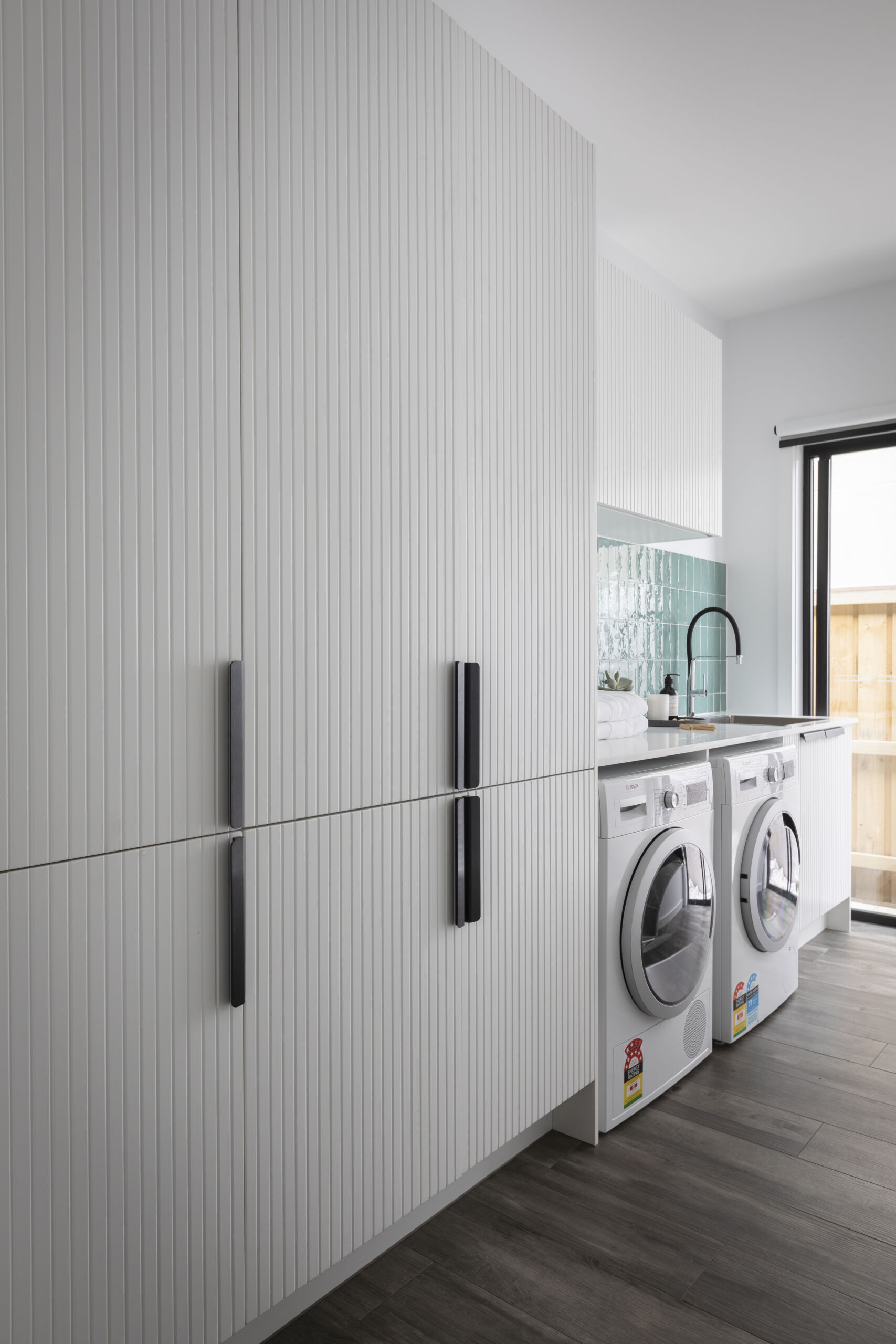 Located towards the rear of the house, the laundry mirrors many of the stylistic elements of the kitchen – primarily seen in the use of Kinsman's Avoca cabinetry in a matte 'Classic White' and the cheerful teal tiles seen within the butler's pantry. Here, the fluted joinery dominates the room, the white tones a perfect choice to bounce light around the room, creating a sense of space. Sleek matte black handles complement the lines of the joinery, while the wall cabinets feature Kinsman's Volpato handles for a seamless look. 
The washing machine and clothes dryer were placed side by side, creating a 1.2-metre bench above them. "One of my top priorities was to make sure we had enough bench space to sort and fold clothes, explains Danielle. Following that was a large sink to soak and wash things by hand without needing a large bucket." 
A blend of wall and floor cupboards provide easy storage and organisation of cleaning and laundry essentials, while tall banks of cabinetry to the left present both a broom and linen cupboard. "We did sacrifice pull-out hamper baskets, but we make do with portable ones on the opposite side of our laundry room. However, we were able to fit in a broom closet with an electrical connection for our vacuum and a linen cabinet, adds Danielle. Overall, we are happy with what we were able to accomplish with the limited space available to create a beautiful and practical room."
The Laundry Layout.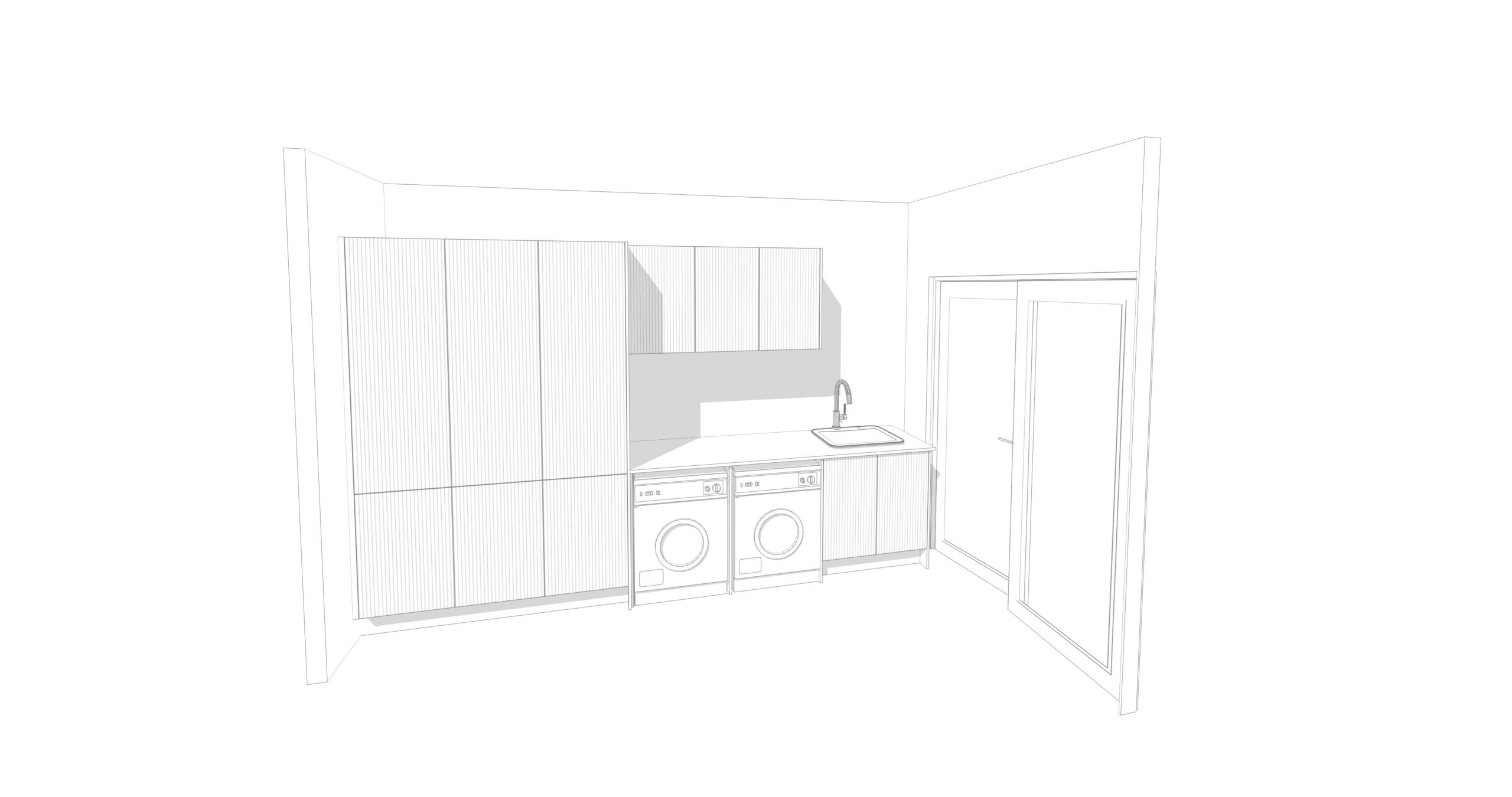 The Laundry Style. 

Working with Kinsman. 
When asked if she would recommend Kinsman, Danielle responded. "Absolutely, and I can say this with confidence after working with the company and being a paying customer. Kinsman is a trusted Australian-owned company that provides products that are not only of exceptional quality and meet Australian Standards but also showcase on-trend colours, materials, and products." 
"Our designer assisted us by interpreting our vision and ideas into a tangible design for this dream space whilst respecting our budget. The process is streamlined, and communication is made easy with the online portal system."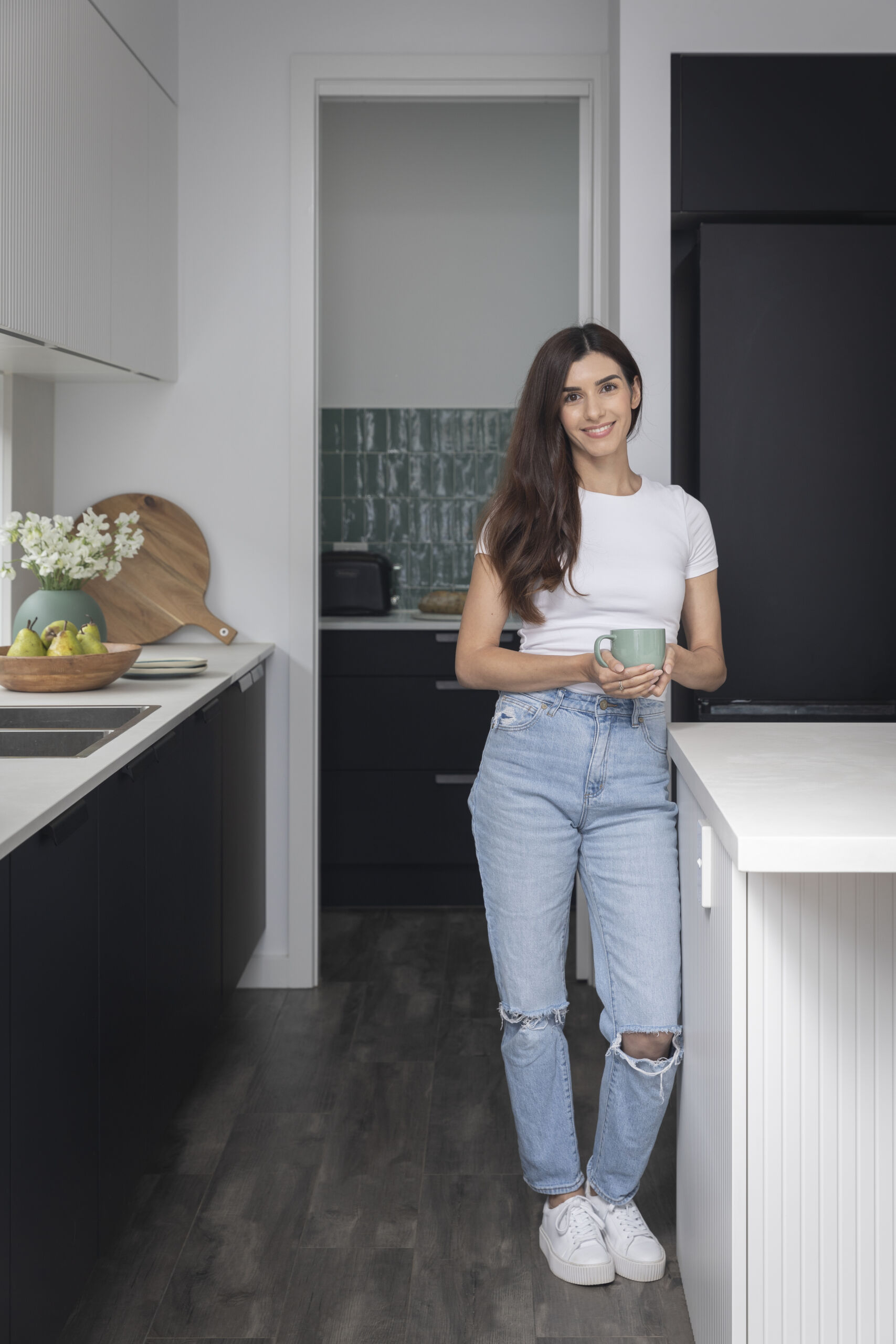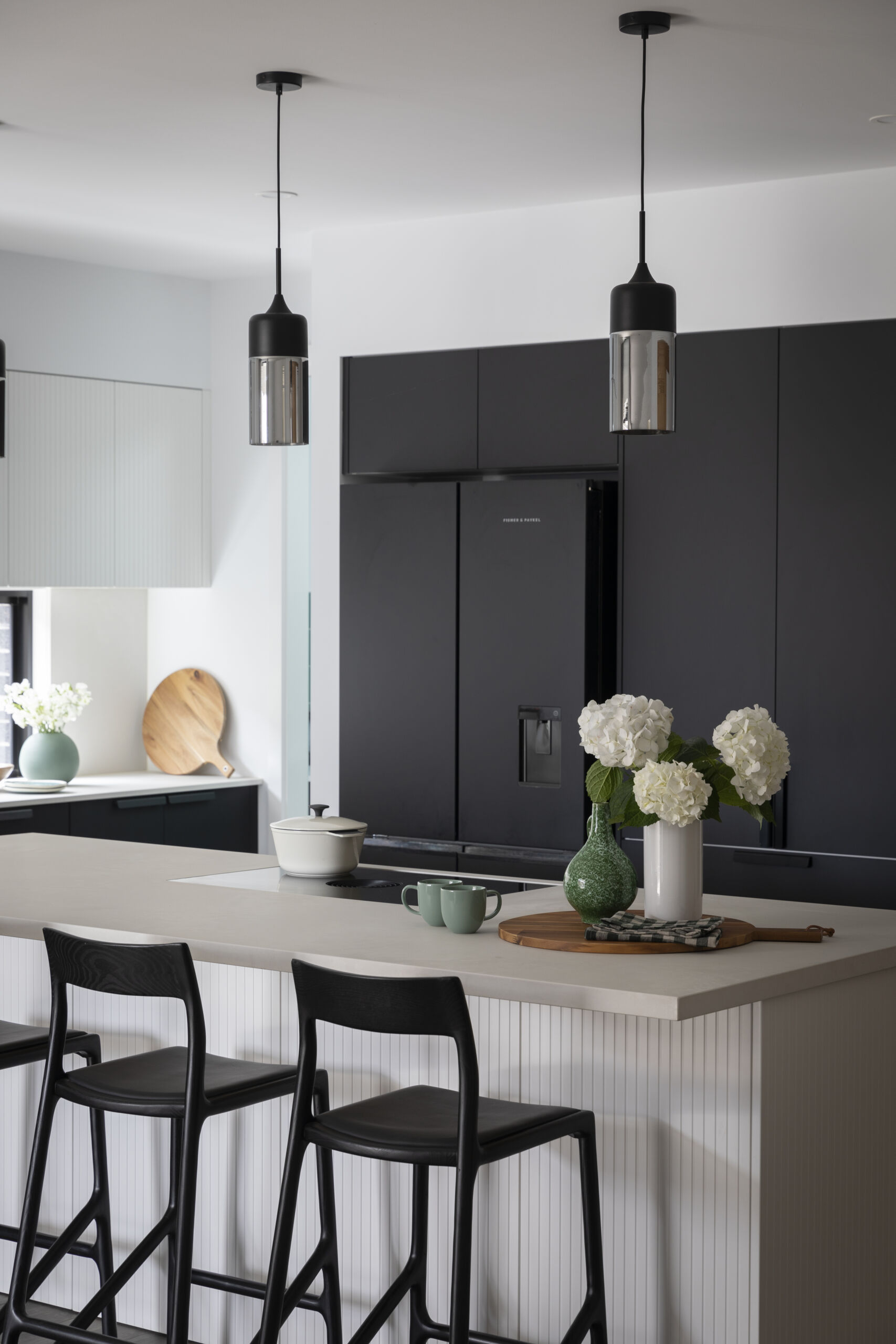 Create your dream kitchen and laundry with Kinsman today!
Book your in-store, in-home, or virtual appointment HERE.
For more images, inspiration, and product information, download our Ideas & Inspiration Catalogue HERE.
Project details:
Kitchen joinery: Kinsman Avoca White Matt & Artarmon Black Ultramatt
Laundry joinery: Kinsman Avoca White Matt
Benchtops Caesarstone Cloudburst Concrete in the kitchen and pantry/laundry is Caesarstone Pure White
Kitchen splashback – Cloudburst Concrete
Laundry splashback – Equipe – Masia Jade 150×75
Flooring – Amazon Mid Grey 198×1200 – Beaumont Tiles
Door/drawer hardware – Kethy – L839 Brushed Matt Black
Tapware – Phoenix – Cook and Bathe
Sinks – Franke – Cook and Bathe
Appliances (kitchen) – 2X Bosch HBG675BB2A, Bora Pure Induction Cooktop with Downdraft – Recirculation, Fisher and Paykel Fridge, Bosch Dishwasher
Appliances (laundry) – Bosch (not sure of models)
Lighting – Beacon –  Lunar 1 Light Small Cylinder Pendant in Black/Smoke
Paint colours – Lexicon Half – Dulux
Bar stools – Sitting Pretty – Havana Stool
Artwork in hallway off kitchen – Mahlah
Any other styling props like vases, chopping boards, laundry supplies etc) Ecology     Mugs, Delonghi Kettle and Toaster, Maxwell & Williams Crockery, Stanley Rogers Cutlery