The humble laundry is often a forgotten room when renovating due to its utilitarian nature. We get it, when giving guests a tour of your home how much time do you spend showing them the laundry?
Well, the five amazing laundry spaces created on The Block Oslo perfectly demonstrate that this is a room that can be stylish and become somewhere you want to spend time in and show off.
Each laundry presented showcases different design element and colour palettes but what they all have in common is that they all tie in stylistically with the main kitchen areas and offer a plethora of storage options. Read on to explore each laundry in more detail.
The Laundry/Pantry Spaces
During Kitchen Week three couples presented to the judges a combined laundry/pantry space. This is an effective design layout if space is tight but you still want to create a room that works hard and looks great.
House 3: Deb & Andy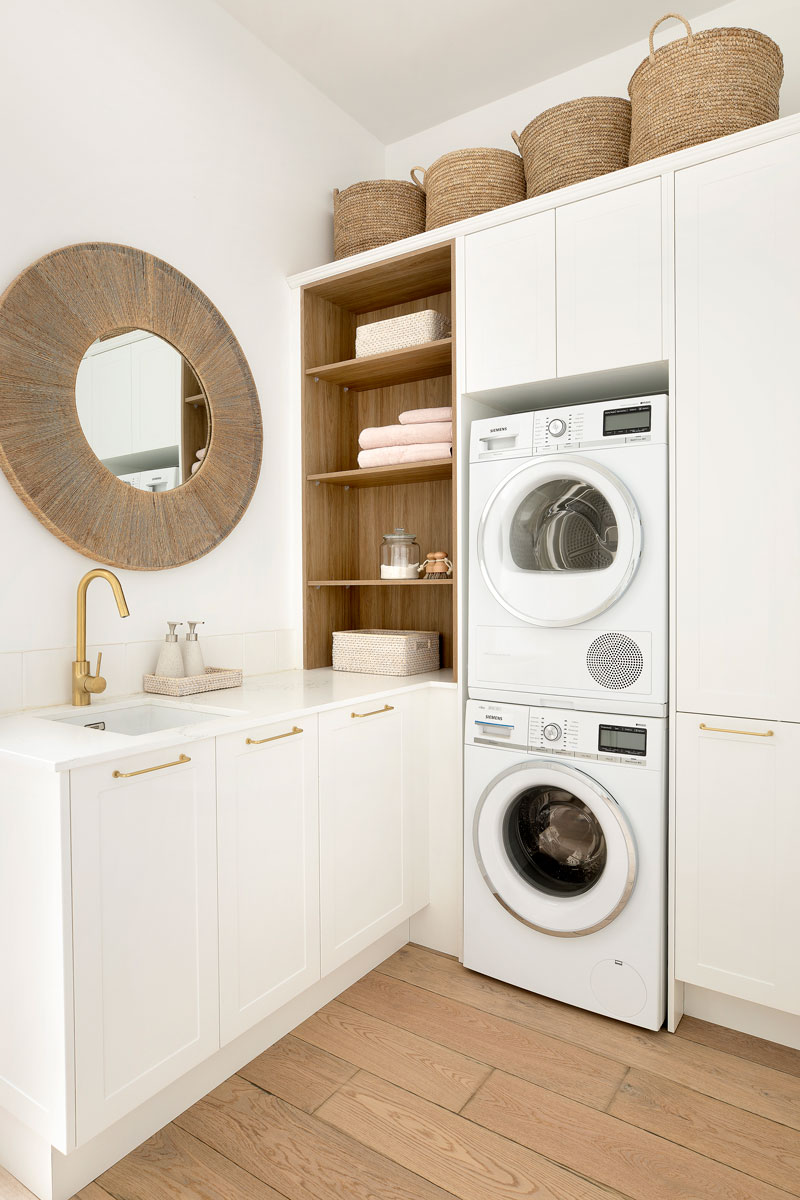 Tucked around the corner from their winning kitchen Deb & Andy have created a space that doubles as both a laundry and pantry, providing additional storage.
Mirroring their easy luxe aesthetic seen in the main kitchen, this room features Kinsman Somersby Classic White Matt cabinetry with Brushed Gold Bar handles, Chadstone Prime Oak Woodmatt open shelving, and an additional sink and tap, plus Siemens washing machine and dryer. The Caesarstone benchtop in Empira White, also used in their kitchen, completes the look.
Get the Look:
Cabinetry: NEW Chadstone Prime Oak Woodmatt, Somersby Classic White Matt
Handles: NEW Brushed Gold Bar 34-K-132, Touch Catch
Benchtop: NEW Caesarstone® Empira White
Sinks: By Franke
Taps: By Contestants
Appliances: By Siemens
House 2: Tess & Luke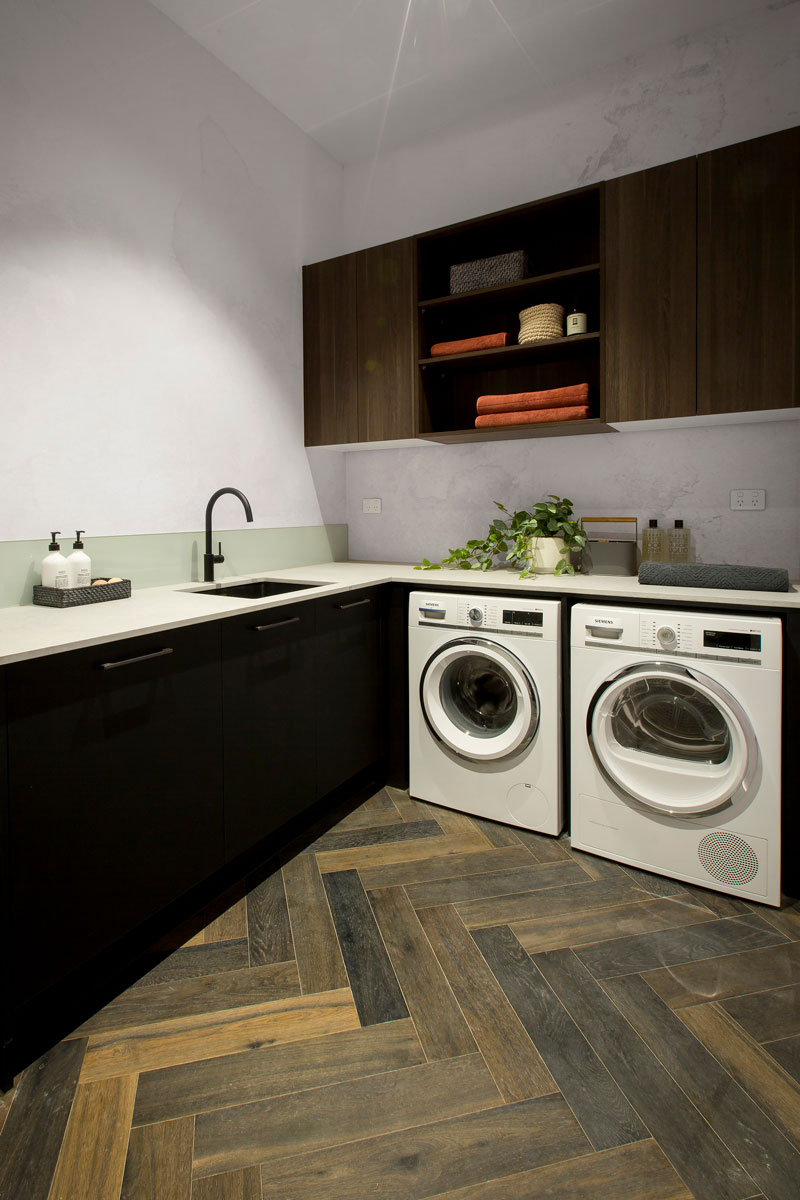 Effortlessly complementing their main kitchen area, Tess & Luke revealed a walk-in combined pantry and laundry space concealed behind matching Black Ultramatt doors for a seamless cabinetry look.
The large L-shaped bench space provides ample room for folding laundry, with generous storage created with the mixture of cabinetry and shelving in Black Ultramatt below the sink and tap and Ballina Café Oak for the open shelving and cupboards. The pair choose a Caesarstone® Airy Concrete benchtop and Industrial Black handles to add to this impressive space.
Get the Look:
Cabinetry: NEW Artarmon Black Ultramatt, Ballina Café Oak
Handles: Industrial Black 160mm, Touch Catch
Benchtop: Caesarstone® Airy Concrete
Sink: By Franke
Taps: By Contestants
Appliances: By Siemens
House 4: El'ise & Matt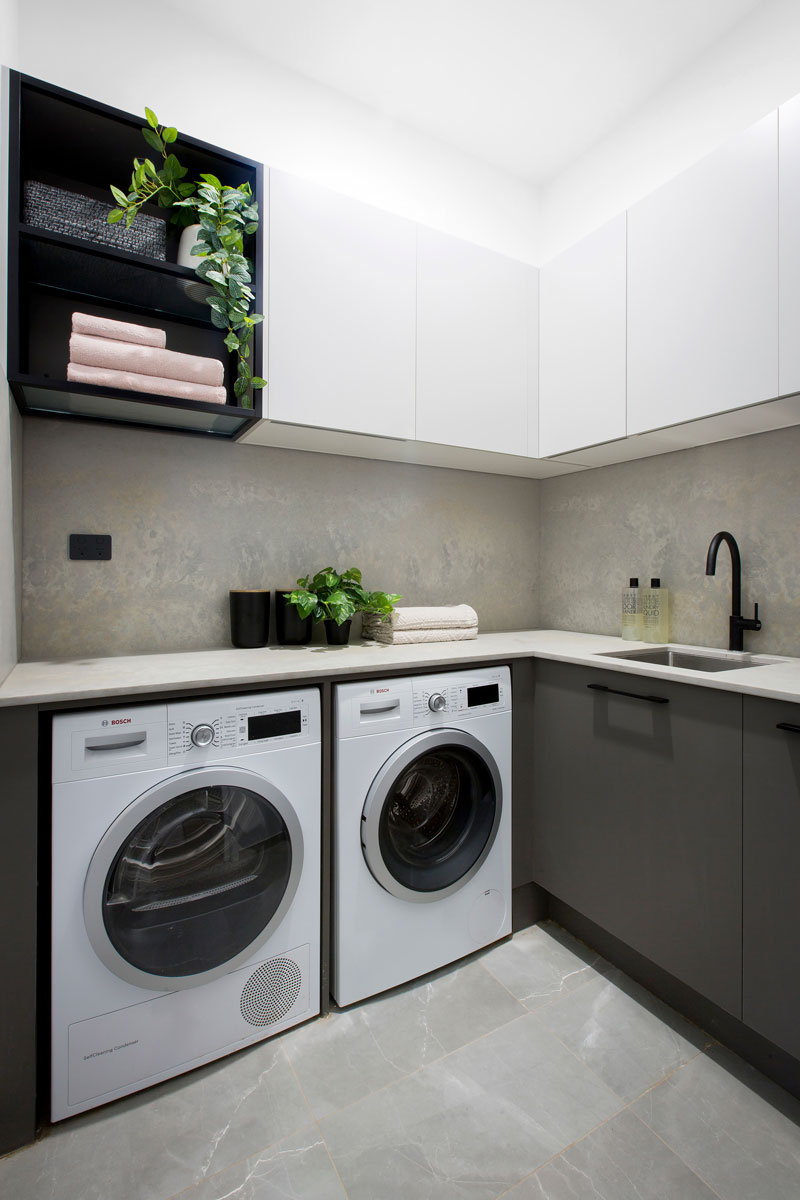 El'ise & Matt's dual-toned colour palette seen in their kitchen was continued in the couples' laundry and pantry space. Artarmon Mink Ultramatt doors house a Bosch washing machine and clothes dryer as well as a laundry hamper.
Top kitchens cabinets in Chadstone Oyster Grey sit next to open Black Alumin Framing with glass shelves and the splashback in Cloudburst Concrete from Caesarstone completes the look for a room that is both stylish and functional.
Get the Look:
Cabinetry: NEW Artarmon Mink Ultramatt, Chadstone Oyster Grey Matt
Handles: Black Anodised Bar 236mm 12-K-80, Volpato, Touch Catch
Benchtop & Splashback: NEW Caesarstone® Primordia
Accessories: Laundry Hamper, 2020 Black Alumin Framing
Sinks: By Franke
Taps: By Franke
Appliances: By Bosch
The Stand-alone Laundries
Two couples – Mitch & Mark and Jesse & Mel presented separate laundries in their homes. Both spaces were well received by the judges thanks to their thoughtful layout and stylish features. Below we explore each room in more detail.
House 1: Mitch & Mark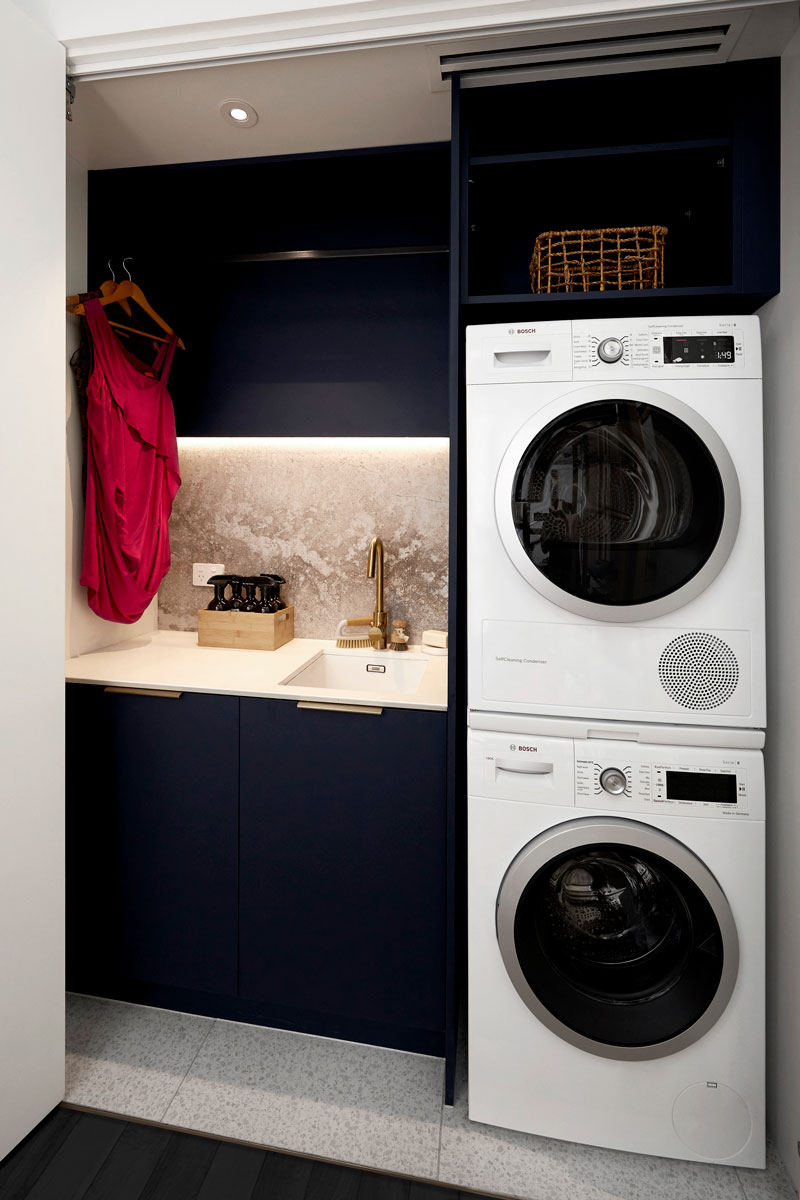 The first laundry to be revealed on The Block this season, Mitch & Mark presented a stunning space with a well-thought-out layout which showcases two new door finishes from Kinsman Kitchens- Oxley Supa Ultra White and Oxley Supa Oxford- a stunning bold Navy.
The Caesarstone® benchtop in Pure White paired with the white undermount Franke Bowl sink contrasts against the splashback in Caesarstone Excava which is highlighted with warm Flexy LED strip lighting.
This laundry space houses everything behind closed doors in a clean white appearance with Brushed Gold Lip Pull Handles. Offering plenty of storage for linen and cleaning products, handy accessories such Laundry Wire Pull Out, Black Hanging Rail and hanging space to drip dry clothing above the sink, this is a laundry that ticks a lot of boxes.
Get the Look:
Cabinetry: NEW Oxley Supa Ultra White, NEW Oxley Supa Oxford
Handles: Brushed Gold Lip Pull 12-K-110
Benchtop: Caesarstone® Pure White 20mm Sharknose edge
Splashback: Caesarstone® Excava 20mm
Sink: By Franke
Tap: By contestants
Accessories: Laundry Wire Pull Out, Black Hanging Rail
Appliances: By Bosch
House 5: Jesse & Mel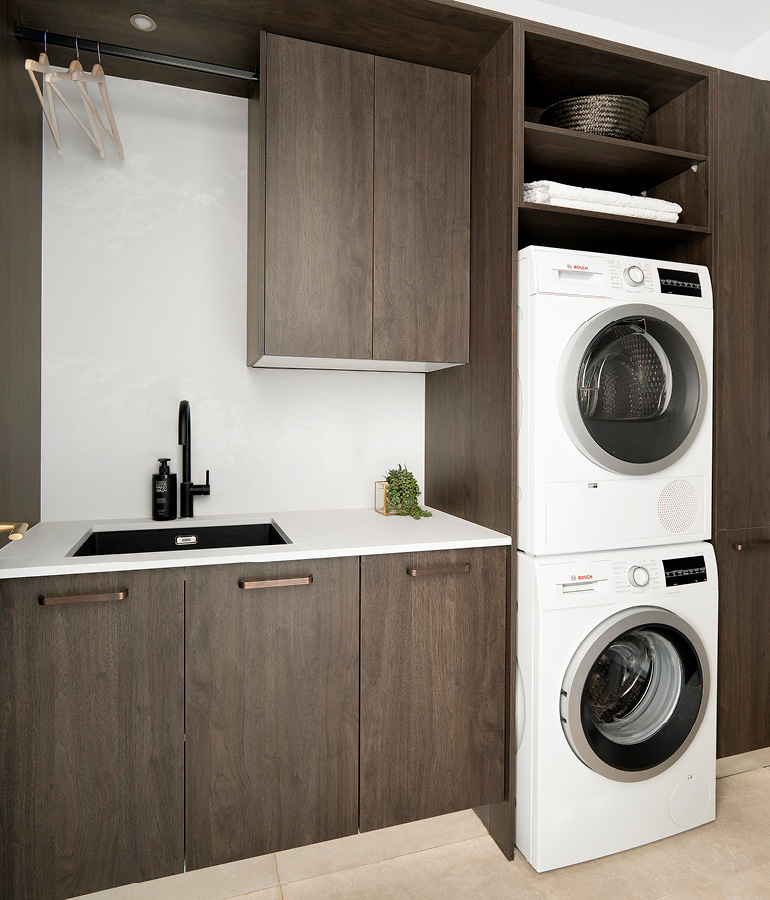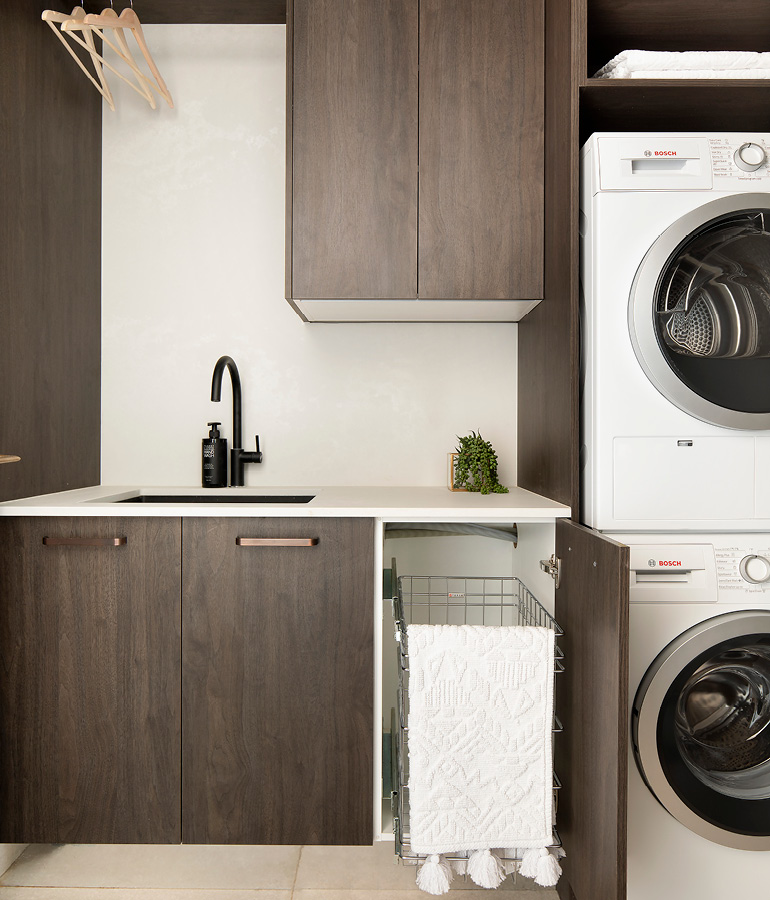 Jesse & Mel have created a stylish and functional laundry space which ties in effortlessly with the design aesthetic of the rest of their house. Echoing their chic kitchen style the couple again choose Chadstone Perugian Walnut Woodmatt paired with Brushed Orb handles. Darren loved their door colour choice and all the judges agreed that it was beneficial that this laundry was the only stand-alone space that can be completely closed off from the rest of the house.
Not just a good-looking space, this laundry works hard too – featuring a benchtop in Caesarstone's Cloudburst Concrete for folding and plenty of storage including cupboards, open shelving and a tall cupboard that includes a broom cabinet on one side and shelving on the other for linen storage. The couple also selected a Wire Side Mounted Hamper and a Black Hanging Rail to complete their successful laundry design.
Get the Look:
Cabinetry: NEW Chadstone Perugian Walnut Woodmatt
Handles: NEW Brushed Orb 34-K-142
Benchtop: Caesarstone® Cloudburst Concrete
Kickboards: Mirror-like Board
Accessories: Wire Side Mounted Hamper, Black Hanging Rail, Broom cabinet/Linen storage
Sinks: By Franke
Taps: By Franke Appliances: By Bosch
Ready to create a laundry that will make you look forward to laundry day? Book your expert design appointment today HERE. Plus, if you are looking for more laundry and kitchen inspiration, download our new Spring catalogue HERE, to see all The Block kitchens and more!