Deb & Andy's fresh and light-filled kitchen took the judges breath away and with so many show-stopping features it was easy to see why it took out the top place on Kitchen Week. "If I could pick up this kitchen and take it with me, I would," said Neale, adding that it was one of the best kitchens he'd ever seen on the show.
Below we explore some of the amazing design features of Deb & Andy's kitchen and offer tips on how you can create the best kitchen on your block.
Know Your Kitchen Style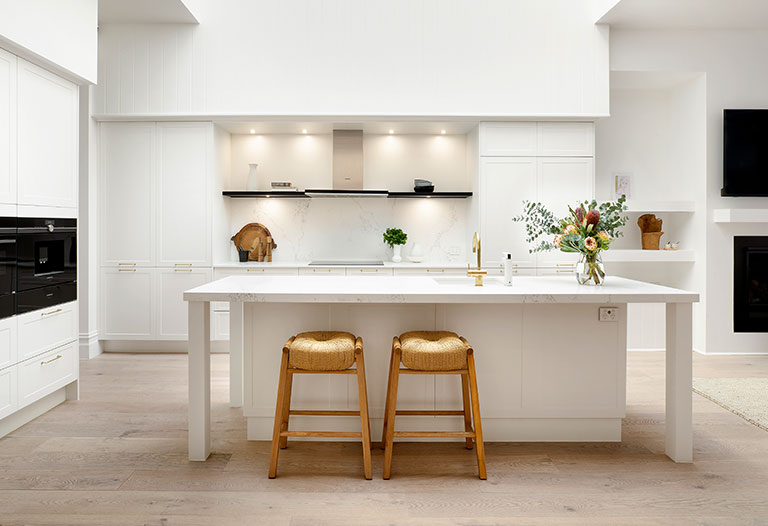 Deb & Andy's winning Kinsman Kitchens delighted the judges.
Deb & Andy's kitchen evokes a modern yet classic look that celebrates the New Classic design style. Effortlessly elegant and timeless, this palette focuses on white and neutral tones, gold-hued accessories and Shaker-style cabinetry.
The New Classic style is reflected in the Shaker-look Somersby Classic White cabinetry used throughout the kitchen, paired with Chadstone Prime Oak shelving, with our new Brushed Gold Bar handles enhancing the look.
Let There Be Light!
"Let there be light!" Shaynna cried as she walked into the light-filled kitchen. All of the judges agreed that they loved the void, which Andy and Deb moved and made larger at the suggestion of their All Star companions Josh and Jenna. Their choice of white Somersby cabinetry and the Caesarstone benchtops and splashback in new colour Empira White complements and further adds to creating a fresh and uplifting space.
Design tip: Don't overlook lighting in the design phase! A considered lighting plan can really change the look and feel of your kitchen space as well as its functionality. We love how Deb & Andy have used downlights to effectively light key working areas such as the island bench and LED Flexy lighting under the kickboards to add warmth to the whole room.
It's All in the Detail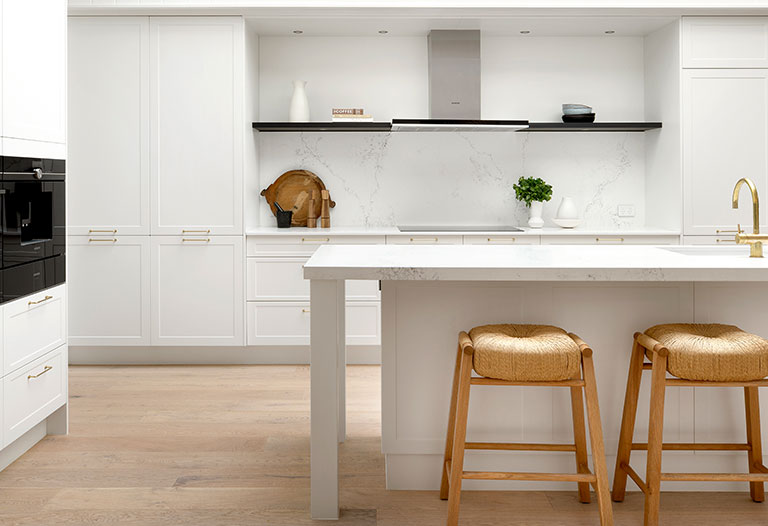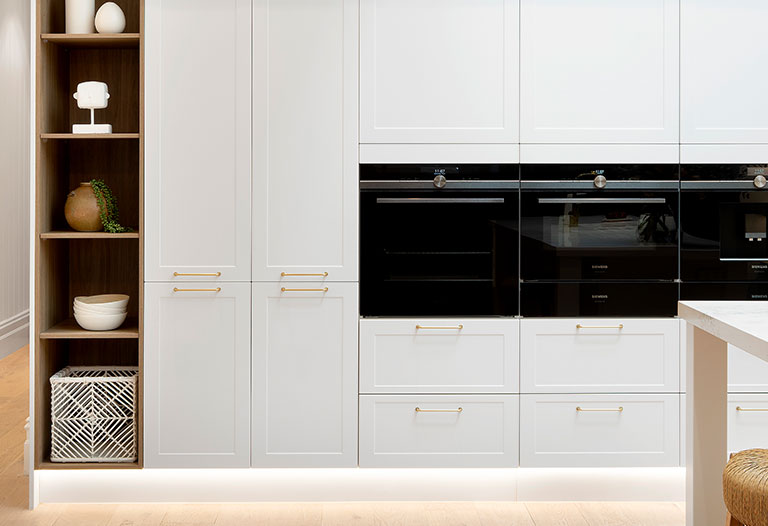 Andy & Deb elevated their kitchen with clever design features such as the Pilaster Legs on their island bench and open shelving.
Smaller yet equally important design features complete the look of Deb & Andy's kitchen. The island bench showcases Pilaster Legs and has been designed to wrap around the entire space maximising seating, ensuring that this is a kitchen that acts as a gathering place and is the true heart of the home.
Design tip: Add interest in your kitchen with shelving as this allows you put precious items on display and inject your personality into the room. Experiment with artwork, décor items such a vases, vessels or candles as well as beautiful kitchen accessories.
Short on space? A single but well-placed shelf can have big impact! For example, the thick shelving in Black Ultramatt above the cooktop continues the line of the canopy rangehood and allows space for styling vignettes as well as keeping the space open and airy.
Presenting Your Appliances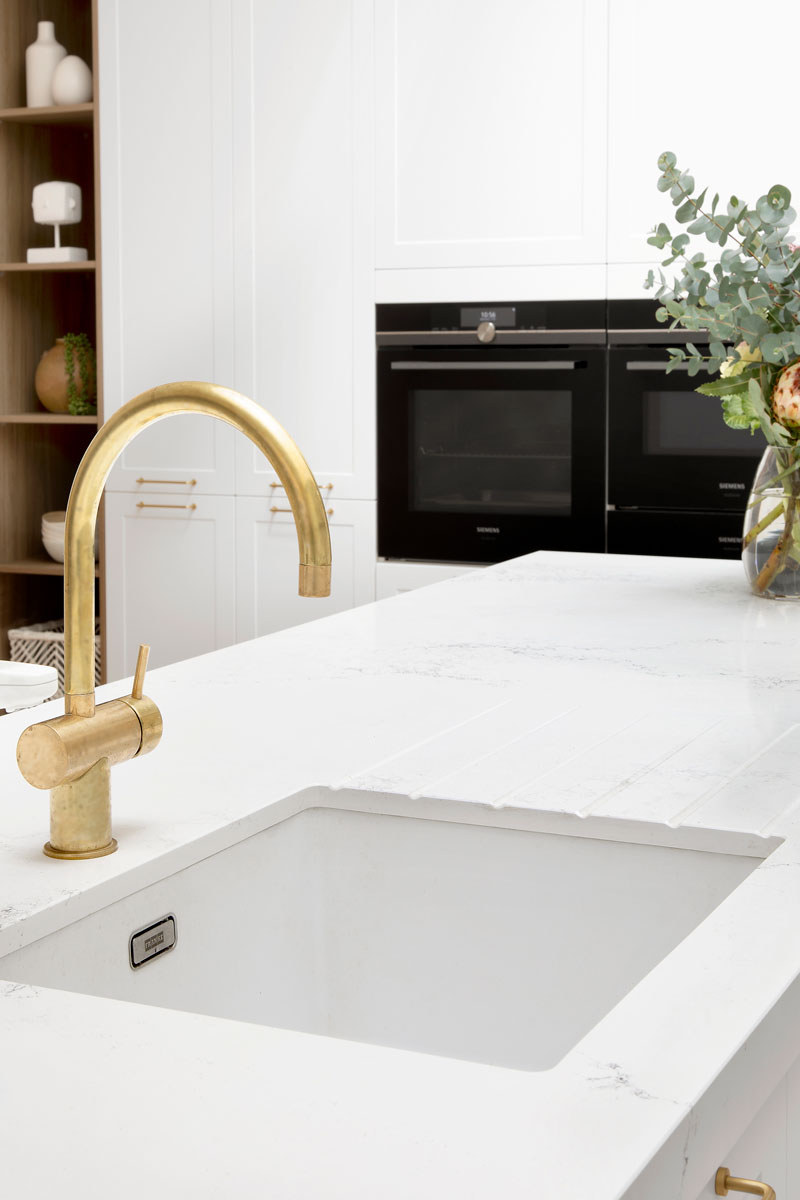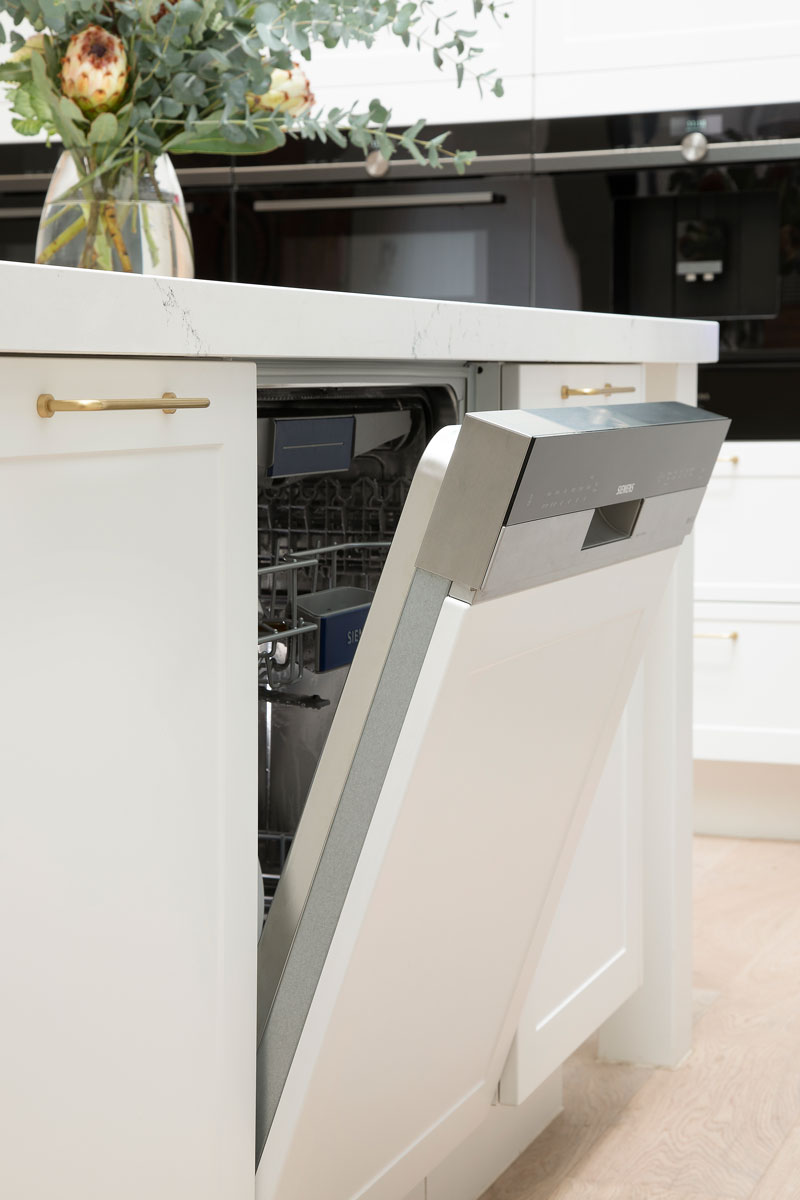 Clever consideration as to whether to integrate your appliances or leave them on display will transform your kitchen.
When designing their kitchen with us Deb & Andy made it clear they wanted to create a kitchen that was extremely functional as well as beautiful. As a mother of four children, Deb understands what is needed in a kitchen that needs to cater to a lot of people- whether for a large family or when entertaining- from storage to a large island bench to top-end cooking appliances.
Appliances play a vital part in any kitchen design and we love how the appliances have been placed and presented in this kitchen. Deb & Andy choose to integrate appliances such as the fridge and dishwasher to create a seamless and sleek look. The horizontal panel of appliances to the left of the island add a focal point and relief from the cabinetry. This clever use of integrated and non-integrated appliance design adds to the success of this stunning kitchen.
Design tip: Work with your Kinsman Kitchens designer to ensure your appliance placement is on point and allow them to work hard for you. For example, a common mistake is to place a fridge at the end of the room against a wall. As a fridge door should be able to swing more than 90 degrees to allow you to open drawers and move shelves, by simply moving it away from a wall and placing it between cabinetry where there is space either side of the doors you now have a fridge that can work effectively for you.

Want to create a winning kitchen look in your home? Book your expert design appointment HERE and take advantage of our amazing offer this month! Plus, ask about how you can get your kitchen before Christmas!
For more inspiration download our new Spring catalogue HERE.