"There's nothing quite like kitchen week!" exclaimed judge Neale Whitaker walking into the first The Block kitchen in House 1, and here at Kinsman Kitchens we couldn't agree more. Our debut as the official kitchen and laundry sponsors for The Block 2019 at The Oslo has seen the creation of five amazing kitchens, pantries and laundries. Below we explore what each couple revealed to the judges last night on what is one of the biggest weeks on The Block. Which kitchen look is your favourite?
WINNERS HOUSE 3: Deb & Andy – Australian Luxe meets Californian Cool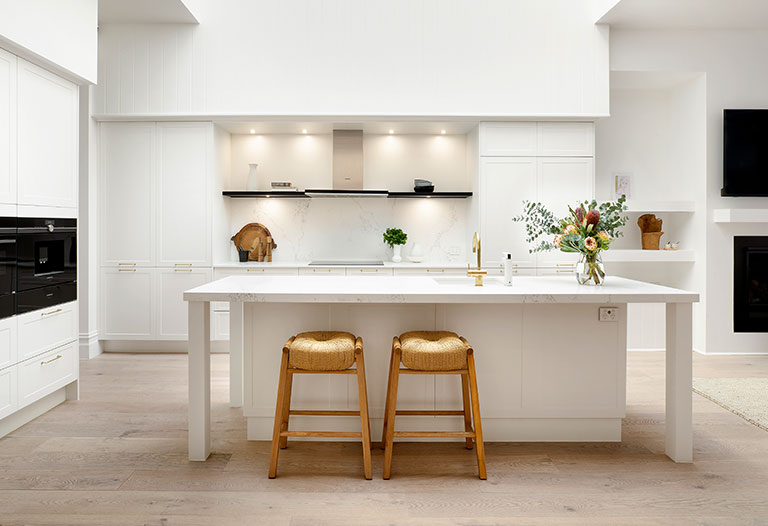 Deb and Andy's winning kitchen evokes a modern yet classic look that celebrates both luxurious Australian and Californian design styles. This style is reflected in the Somersby Classic White Matt cabinetry used throughout the space- a modern take on the classic Shaker look.
This is a space that has an immediate impact. "Woah!" gasped Darren as he entered. Shayna added, "Let there be light!" Indeed this kitchen space is awash with natural light thanks to high ceilings and a skylight, as well as a fresh palette of whites and light timbers with a pop of black. This is seen in their successful use of our new Chadstone Prime Oak Woodmatt cabinetry and Caesarstone's new Empira White, featured on both the benchtop and splashback.
Smaller yet equally important design features complete the look. New Brushed Gold Bar handles and internal accessories such as the Walnut Cutlery Tray and Internal Pull Out Drawers in a Tall Pantry add instant glamour and luxury. The island bench showcases Pilaster Legs and has been designed to wrap around the entire space maximising seating. The thick shelving in Black Ultramatt above the cooktop continues the line of the canopy rangehood and allows space for styling vignettes as well as keeping the space open and airy.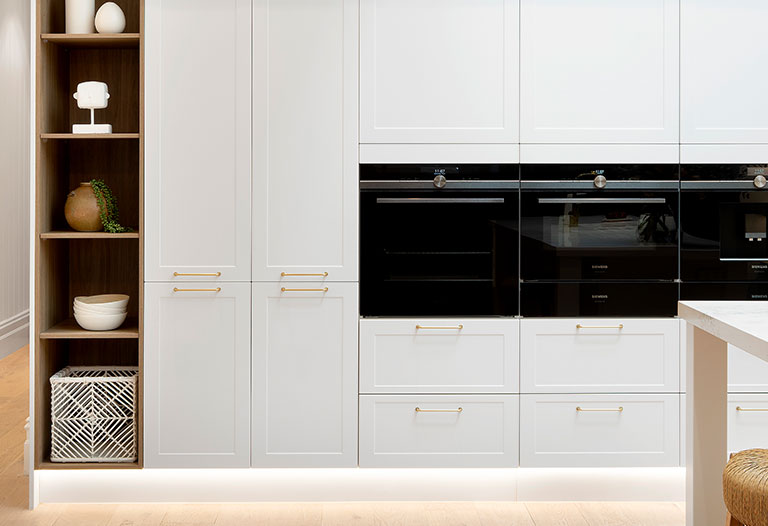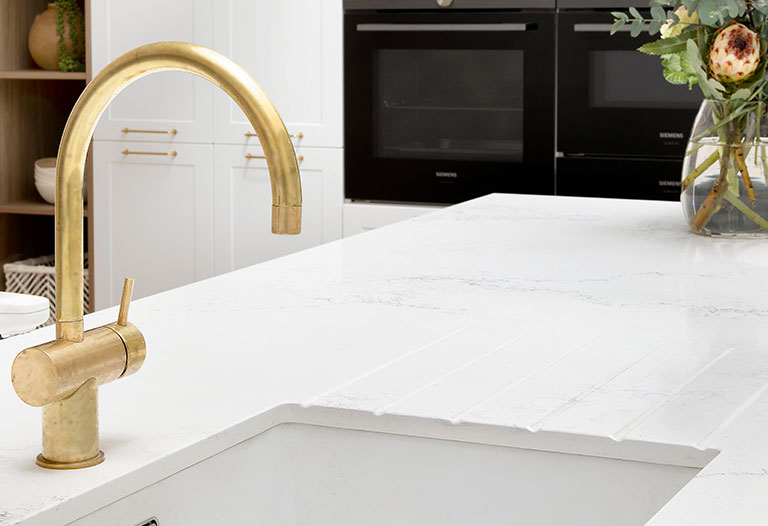 Tucked around the corner Deb & Andy have created a space that doubles as both a laundry and pantry, providing additional storage. Mirroring their easy luxe aesthetic seen in the main kitchen, this room features Somersby Classic White Matt with Brushed Gold Bar handles, Chadstone Prime Oak Woodmatt open shelving, and an additional sink and tap, plus Siemens washing machine and dryer.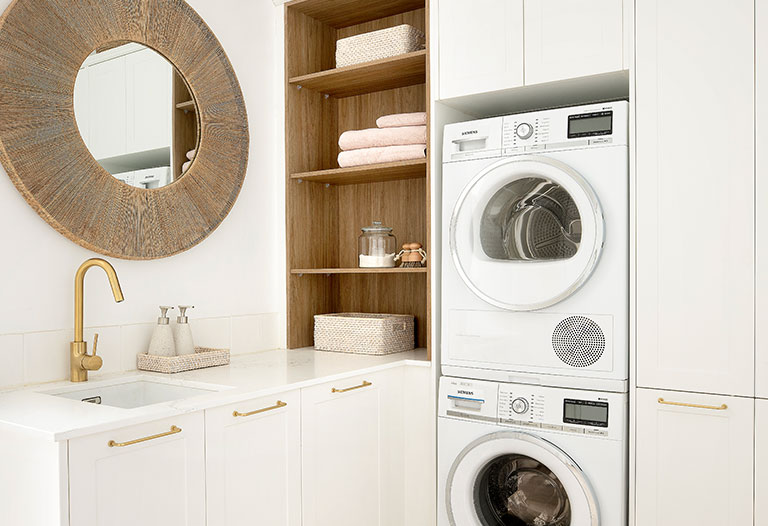 Key Features:
Cabinetry: NEW Chadstone Prime Oak Woodmatt Somersby Classic White Matt, NEW Black Ultramatt
Handles: NEW Brushed Gold Bar 34-K-132
Benchtops: NEW Caesarstone® Empira White
Accessories: Walnut Cutlery Tray, Knife Holder, Foil Holder and Spice Rack; Internal Pull Out Drawers, Design Sides Glass Drawers, LeMans Corner Pull Out Shelf System, Cutlery Tray
Sinks: By Franke
Taps: By Contestants
Lighting: Warm LED downlights
Fridges: By Bosch
Kitchen & Laundry Appliances: By Siemens
HOUSE 5: Jesse & Mel – Contemporary Classic
2nd Place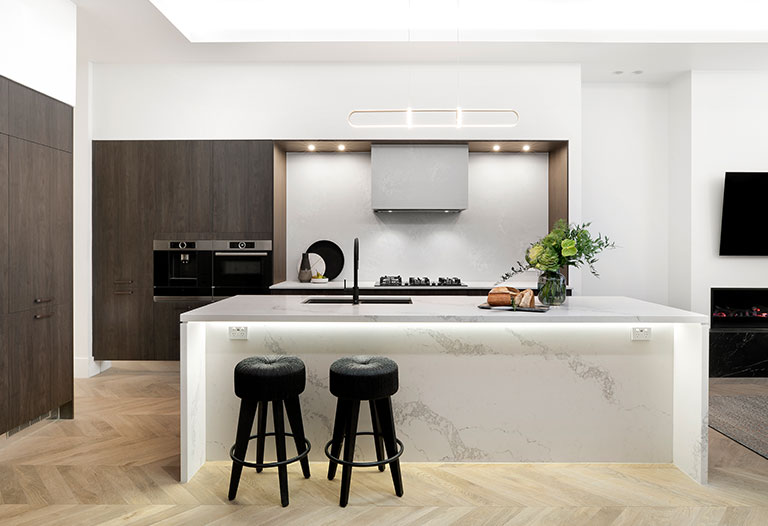 Jesse and Mel have created a contemporary yet timeless kitchen that features their signature dark, opulent and rich colour palette, complementing the rest of their home. Boasting a plethora of storage, high-end appliances, accessories, and distinct design features, this is a kitchen that celebrates both style and function. Darren was smiling as he entered the kitchen saying that this is his 'kind of room' and declared, 'This is a success!'
The couple's use of various tones and textures inject interest and personality into this space. Warmth has been created through the use of the Perugian Walnut Woodmatt cabinetry which features a subtle woodgrain embossing paired with Brushed Orb handles- both of which are new to the Kinsman Kitchens range. Darren loved the use of different timber looks saying, "This is how you mix timber types".
To add to the layered design look, the couple has used two stunning Caesarstone colours throughout the kitchen. Statuario Maximus, with its classic marble-look design of soft whites and greys, has been used across both the island and back benchtops. Caesarstone Cloudburst Concrete has then been used across the splashback and wrapped over the rangehood adding an unexpected and visually stunning effect. Mirror kickboards have been used throughout, evoking a floating look.
The pair have paid just as much attention to the internal accessories and attention to detail. Bosch appliances have been either semi or fully integrated with the cabinetry to create a sleek and seamless look or have been arranged in a bank for ease of use. Not only is there plenty of storage but it works hard in this kitchen, making it a home cook and entertainer's dream. Spice trays, cutlery dividers, internal drawers within tall pantry units, glass design side drawers- you will find these all here in this room.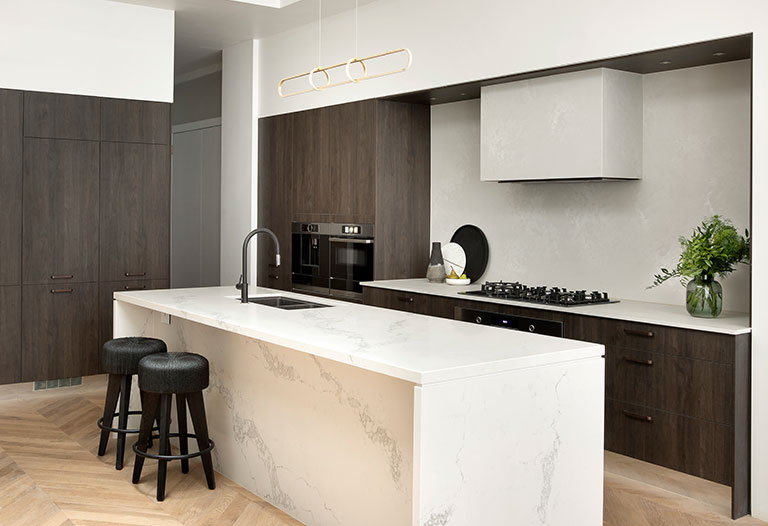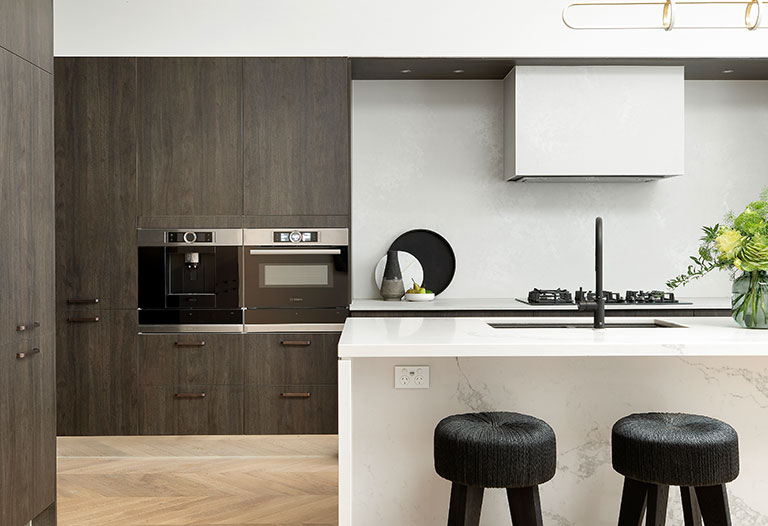 Jesse and Mel have opted to create a dedicated butler's pantry behind their kitchen, rather than combining it with a laundry space. This pantry complements the main kitchen area both in terms of finishes but also in design details. A perfect area to carry out prep, hide mess and store small appliances it offers an additional oven, dishwasher, bin, broom cupboard, and sink and tap as well as plenty of extra storage thanks to cupboards and drawers.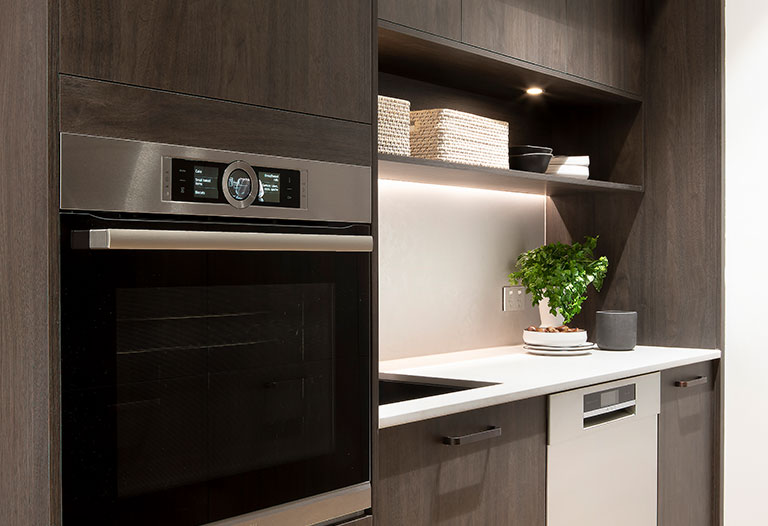 Key Features:
Cabinetry: NEW Chadstone Perugian Walnut Woodmatt
Handles: NEW Brushed Orb 34-K-142, Volpato
Benchtops: Caesarstone® Statuario Maximus & Cloudburst Concrete
Kickboards: Mirror-like Board
Accessories: Internal Drawers, Design Side Drawers, Steel Cutlery Trays, Spice Tray, Pull Out Bin
Sinks: By Franke
Taps: By Franke
Lighting: Warm LED Flexy
Appliances: By Bosch
HOUSE 2: Tess & Luke – Industrial Entertainer
3rd Place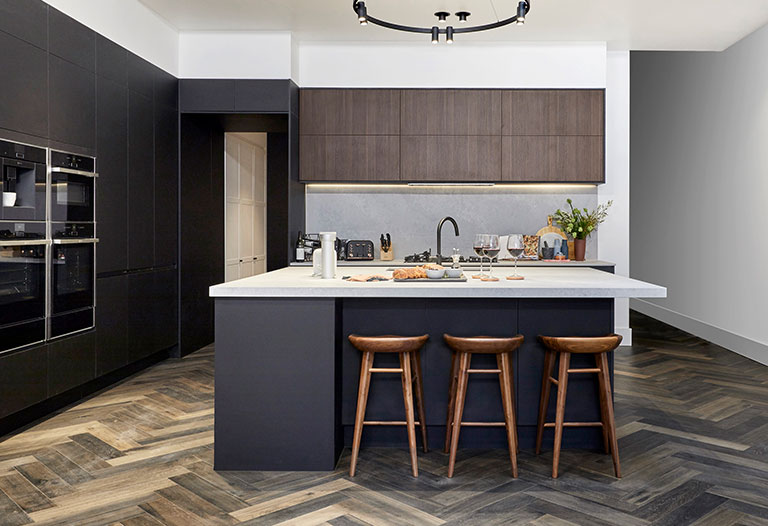 Tess and Luke have created a stylish Industrial Entertainer kitchen space that celebrates function and modern good looks. Stepping into their kitchen for the first time, the judges were impressed. "Very dramatic" exclaimed Shayna. It's huge!"
Prominent to their look is the L shaped run of cabinetry in Black Ultramatt doors with integrated Marq handles which are resistant to finger-marks and scuff marks which showcase a cube of four Neff appliances. Above the cooktop they have used Ballina Café Oak doors which features our new Electric Bi-Fold Lift Up cabinetry. Utilising motion sensor technology, this system injects further luxury into this kitchen- simply touch the corner of the cabinetry and voila the cabinets open by themselves! To close simply press the button at the bottom of the cabinet!
Their island benchtop in Caesarstone Airy Concrete is another eye-catching design feature of this space, ideal for preparing food and entertaining. The judges loved it as well. "I love the big kitchen island because I just believe that it's where life gets lived, commented Neale. "I can imagine life being lived at this bench, the heart of the home".
Effortlessly complementing the main kitchen area, Tess & Luke have created a walk-in combined pantry and laundry space concealed behind matching Black Ultramatt doors for a seamless cabinetry look.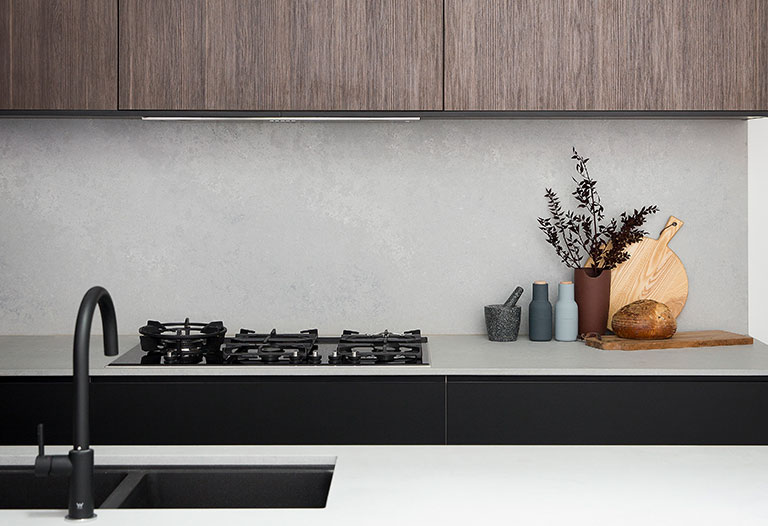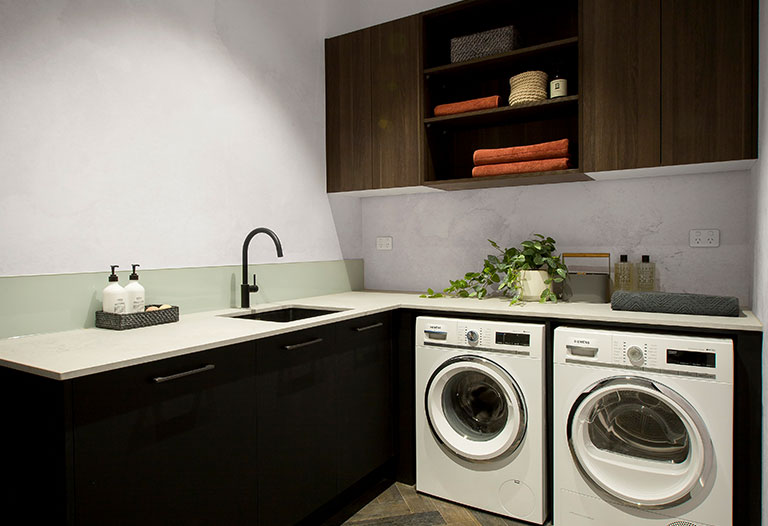 Key Features:
Cabinetry: NEW Artarmon Black Ultramatt, NEW Marq Black Ultramatt, Ballina Café Oak
Handles: Marq, Industrial Black 160mm (laundry)
Benchtops: Caesarstone® Airy Concrete
Accessories: Internal Drawers, Design Sides Glass Drawers, Pull Out Bin, Foot Pedal (Bin)
Sinks: By Franke
Taps: By Contestants
Lighting: Warm LED Downlights, Warm Flexy Strip
Fridge: By Bosch
Kitchen Appliances: By Neff
Laundry Appliances: By Siemens
HOUSE 1: Mitch & Mark – Glamorous Showstopper
4th Place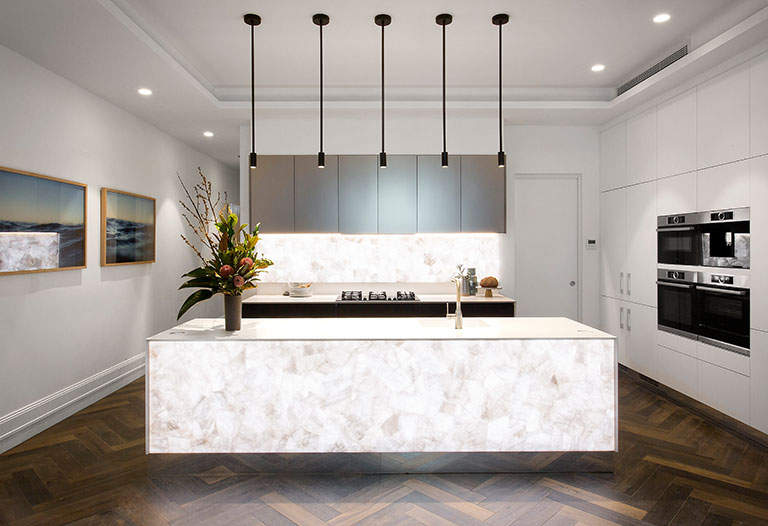 Mitch and Mark have created a glamourous kitchen by mixing classic white tones with metallics and bold navy. Oxley doors in Supa Ultra White and Pure White Caesarstone benchtops contrast perfectly with wall units in Oxley Titan with base units in Kinsman's new Oxley Marq Supa Oxford, a stunning door in a super matte Navy finish. Also taking centre stage is the back-lit Caesarstone Concetto White Quartz on the island. The mirror-like board kick gives the illusion of a floating, glowing box and this illuminated finish is also used across the splashback, adding to the bold style. The impact of this back-lit style is immediate. "Look at all that light that comes from the stone," exclaimed Shanya as she stepped into the room. Bosch appliances including two side by side integrated fridges, sleek Matt Anodised Bar and Volpato handles and thoughtfully placed LED strip lighting complete the look.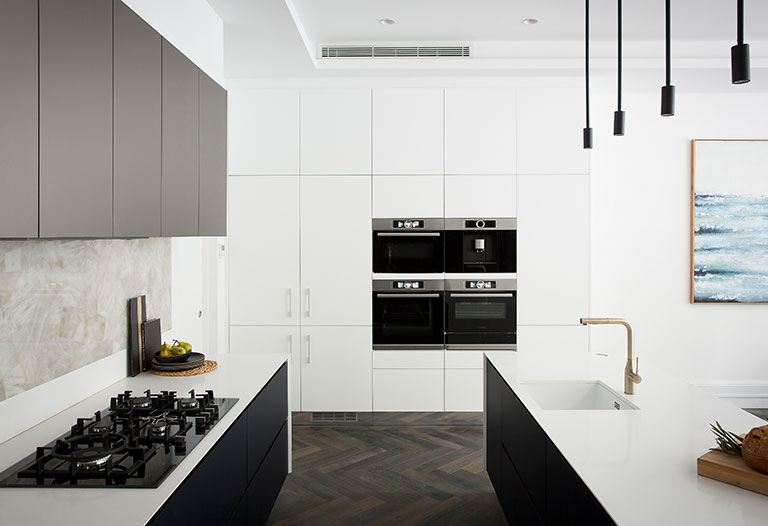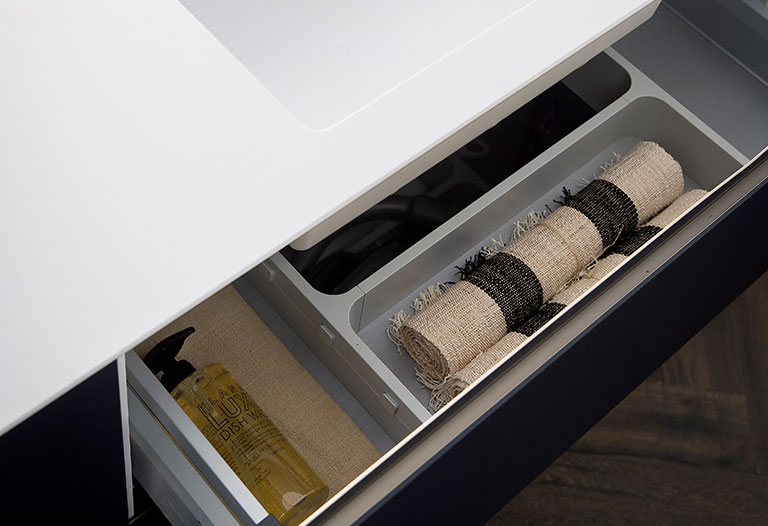 The glamour continues in their butler's pantry hidden behind the kitchen where judges met iconic Melbourne chef Adam D'Slyva from Tonka. Mirroring the colour scheme in main kitchen space, Mitch and Mark have used Oxley Titan and Oxley Marq Supa Oxford doors again to great effect. Pure White benchtops from Caesarstone, an additional sink & tap, and bin and semi-integrated dishwasher.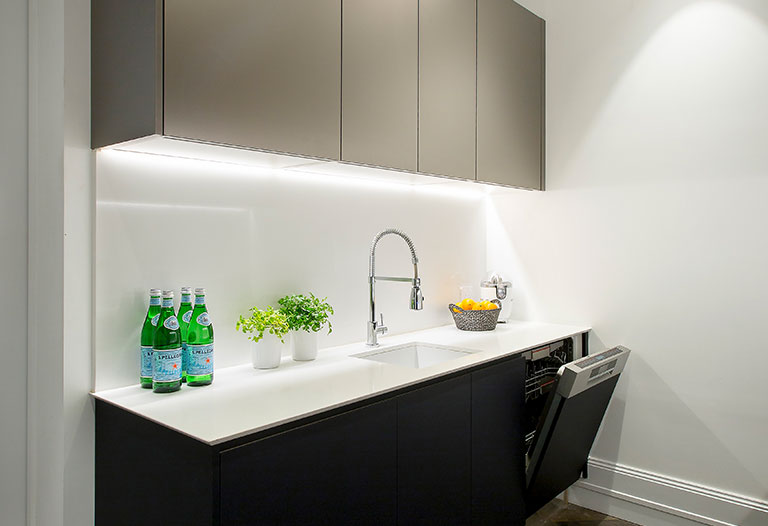 Key Features:
Cabinetry: NEW Oxley Supa Ultra White, NEW Oxley Marq Supa Oxford, Oxley Titan
Handles: Matt Anodised Bar 236mm 12-K-71, Volpato
Benchtops: Caesarstone® Concetto White Quartz & Pure White
Kickboards: Mirror-like Board
Accessories: Design Side Drawers, Steel Cutlery Tray, Pull Out Bin, Internal Drawers
Sink: By Franke
Tap: By Contestants
Lighting: LED Strip
Appliances: By Bosch
HOUSE 4: El'ise & Matt – Classic Elegance
5th Place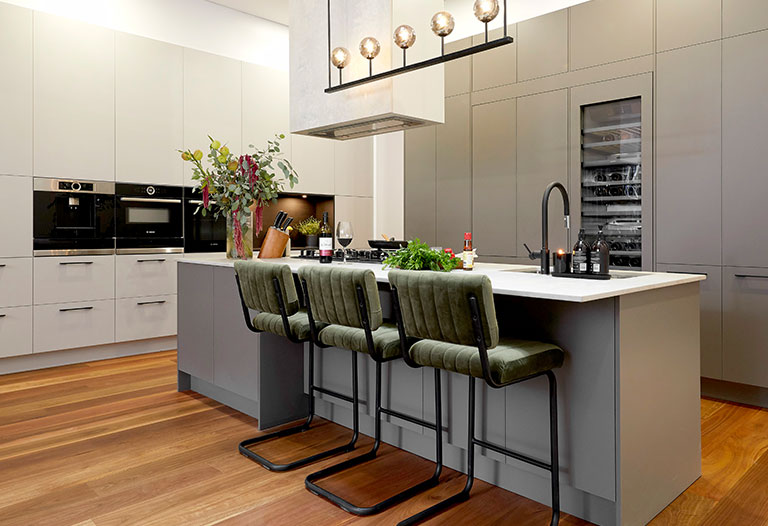 El'ise and Matt have created an elegant entertainers kitchen teaming with storage, luxurious appliances, and a modern colour palette, causing it to stand out from the crowd. "This is much more a kitchen that wraps itself around you," says Neale, "I think there is a lot to love in here."
The sheer scale of this kitchen space has an immediate impact. Storage is abundant, created by the L-shaped bank of cabinetry in two complementing natural tones. To the left Chadstone Oyster Grey cabinetry houses tall cupboards and drawers hidden within base cabinetry for cutlery inserts and spice trays, as well as a vertical bank of Bosch appliances and an open display unit in Ballina Black Wenge. Behind the island bench, new Artarmon Mink Ultramatt cabinetry features further storage, integrated appliances and the highly coveted Gaggenau fridge and wine cabinet.
The central island provides a beautiful setting for family and guests to gather around and is the heart of the home. Caesarstone's new organic concrete-look Primordia has been used both across the island and wrapped around the rangehood which has been suspended from the ceiling adding to the grandeur of the space.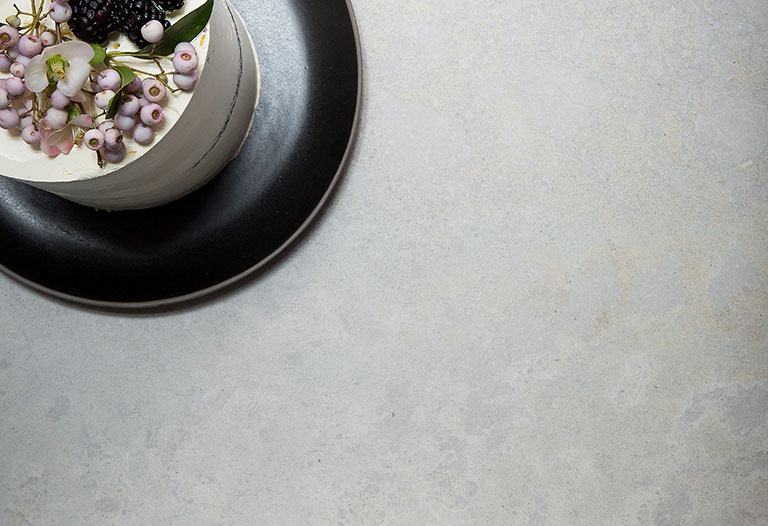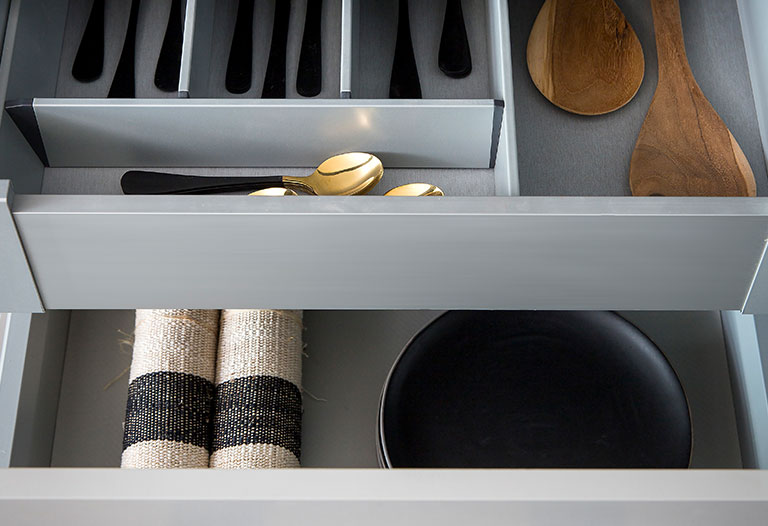 The dual-toned colour palette has been continued in the couples' laundry and pantry space. Artarmon Mink Ultramatt doors house a Bosch washing machine and clothes dryer as well as a laundry hamper. Top kitchens cabinets in Chadstone Oyster Grey sit next to open Black Alumin Framing with glass shelves and the splashback in Cloudburst Concrete from Caesarstone completes the look for a room that is both stylish and functional.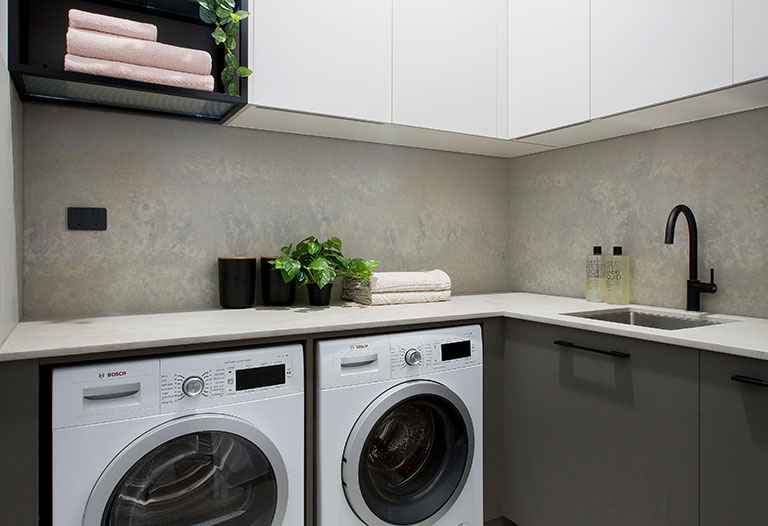 Key Features:
Cabinetry: NEW Artarmon Mink Ultramatt, Chadstone Oyster Grey Matt, Ballina Black Wenge Ravine
Handles: Black Anodised Bar 236mm 12-K-80
Benchtops: NEW Caesarstone® Primordia
Accessories: Cutlery Insert, Spice Tray, Pull Out Bin, Wire Laundry Hamper, 2020 Black Alumin Framing (laundry)
Sinks: By Franke
Taps: By Franke
Lighting: Warm LED Downlights, Warm Flexy Strip
Fridges: Gaggenau 400 Series Integrated French Door RY492504, Gaggenau 400 Series Vario Wine Climate Cabinet RW466364
Kitchen & Laundry Appliances: By Bosch
This year's Kitchen Week has provided plenty of new kitchen ideas and inspiration for viewers, with the judges' declaring that they don't remember ever seeing five such different kitchen designs.
And as the heart of the home and the room that sells houses, the kitchens within The Block houses will no doubt be a key factor in the winning bid prices on The Block Auction Day!
Love what you see and want to know how you can create the best kitchen on your block?
Download our new Spring catalogue HERE for more inspiration on how to transform your kitchen today with Kinsman Kitchens.
Ready to start your kitchen journey today? Simply book your expert design appointment HERE and take advantage of the best The Block kitchen special offer ever!