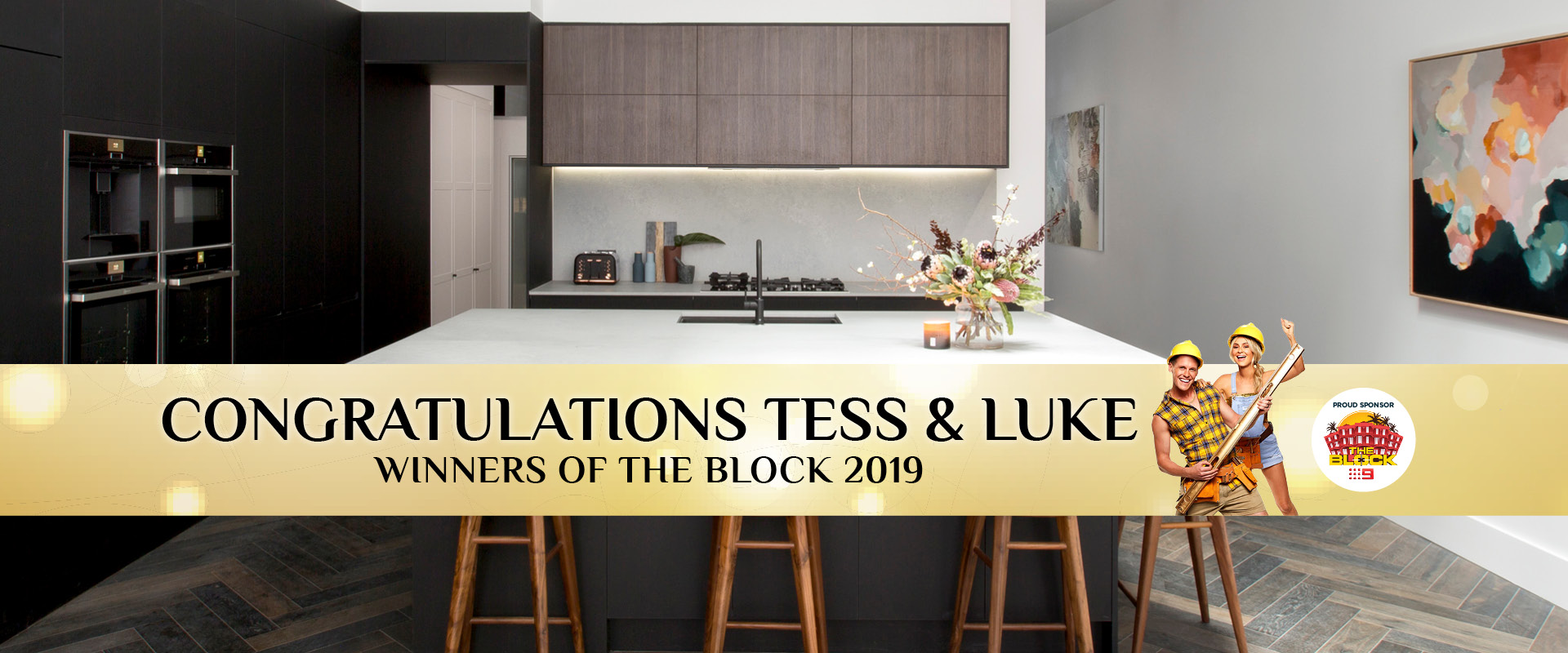 The biggest build in its history, The Block Oslo 2019 has been nothing short of action-filled and the auction was no exception. A big congratulations to all the contestants- who all walked away with a strong profit, collectively taking home more than $2.3 million!
An even bigger congratulations to Tess & Luke who took out the winning title! The newlyweds sold their house for $3,620,000- an incredible $630,000 above their reserve! Add the $100,000 for winning the series – and they have walked away with a life-changing win of $730,000!
Tess & Luke had been underdogs throughout the build, overcoming many obstacles from losing building teams, to looking as though they may not be able to finish their house in the final weeks. However, in the end they presented a beautiful and unique house – featuring not one but two Kinsman Kitchens and a laundry/pantry space which undoubtedly created a lot of appeal on auction day. Below we explore the spaces we created with Tess & Luke in more detail.
Main Kitchen – The Industrial Entertainer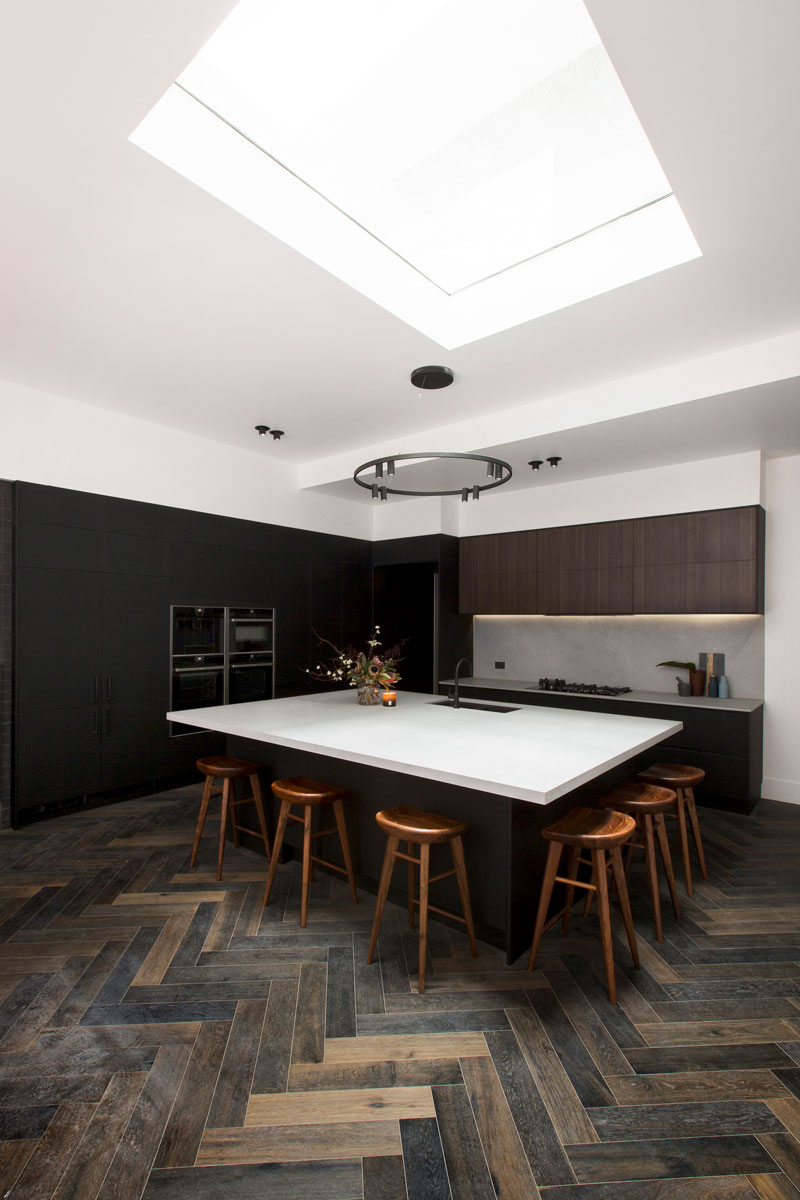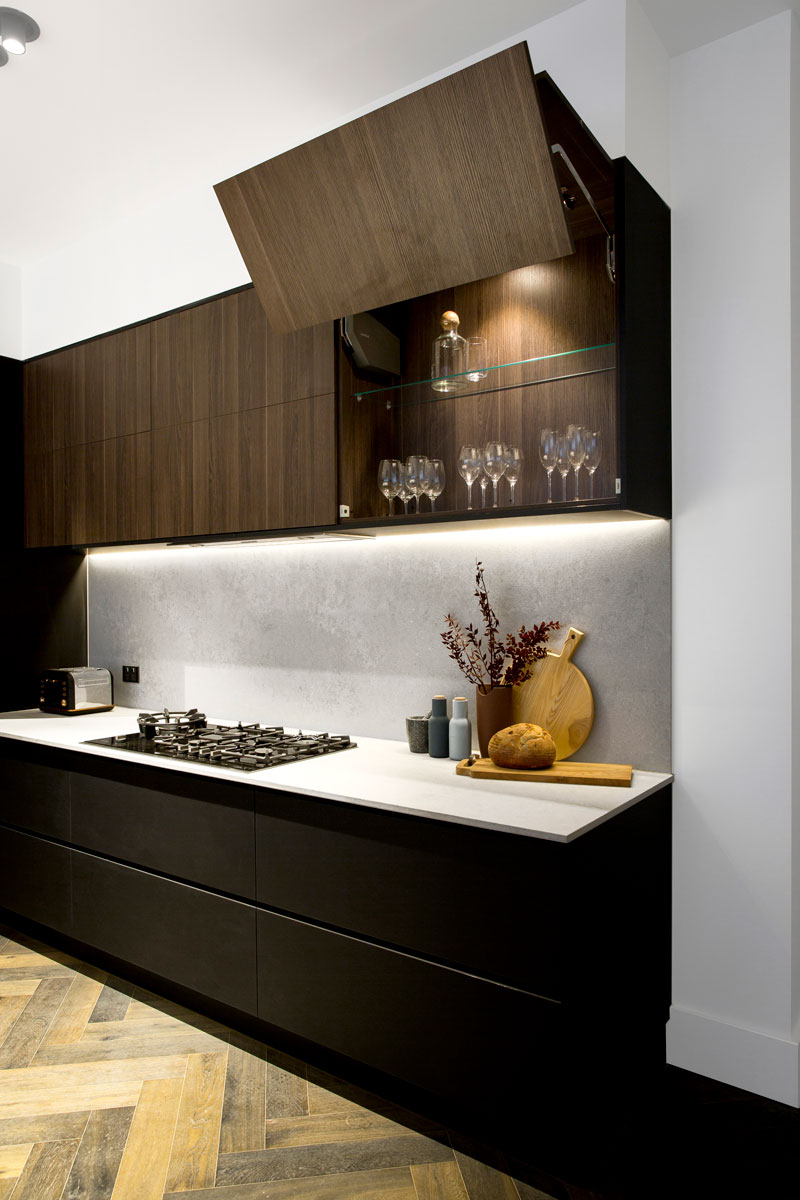 The judges loved Tess & Luke's main kitchen (left) with its moody colour palette and a huge island bench. "I love the big kitchen island because I just believe that it's where life gets lived, commented Neale. "I can imagine life being lived at this bench, the heart of the home". It also features our new Electric Bi-Fold Lift Up cabinetry (right).
Tess and Luke have created a stylish Industrial Entertainer kitchen that celebrates function and modern good looks. Stepping into their kitchen for the first time, the judges were impressed. "Very dramatic" exclaimed Shayna. It's huge!"
Rumour has it that the buyer of House 2 was persuaded to by his family to purchase this particular apartment because of the kitchen – in particular the huge island bench in Caesarstone Airy Concrete.
The largest island bench ever seen on The Block it is ideal for preparing food and entertaining. The island bench was actually part of Tess & Luke's redo room towards the end of the series as they had added a dining table to the island which the judges did not think was a good design idea. To amend this, the island got extended by 300mm to allow additional seating on the right hand side- meaning that it now measures 3m x 2.1m!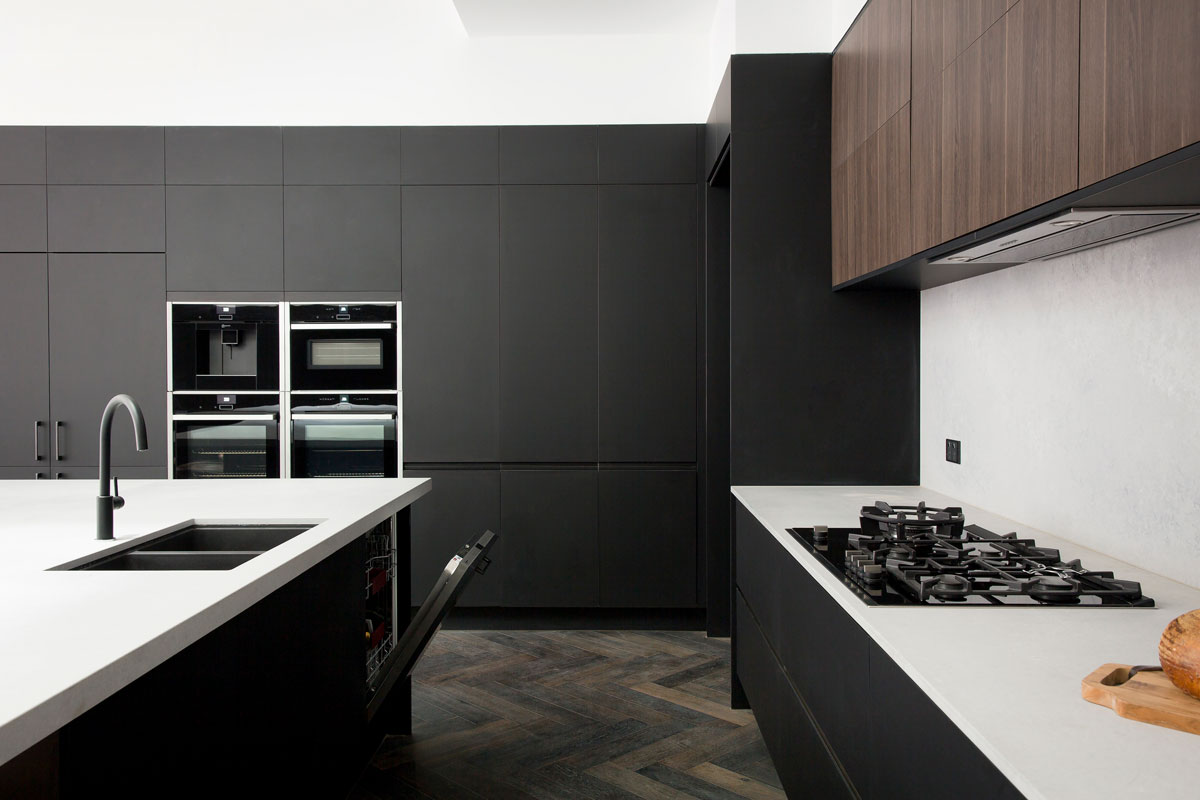 We love the L shaped run of cabinetry in Black Ultramatt doors with integrated Marq handles. Above the cooktop they have used Ballina Café Oak doors which features our new Electric Bi-Fold Lift Up cabinetry. Utilising motion sensor technology, this system injects further luxury into this kitchen- simply touch the corner of the cabinetry and voilà the cabinets open by themselves! To close simply press the button at the bottom of the cabinet!
Combined Pantry & Laundry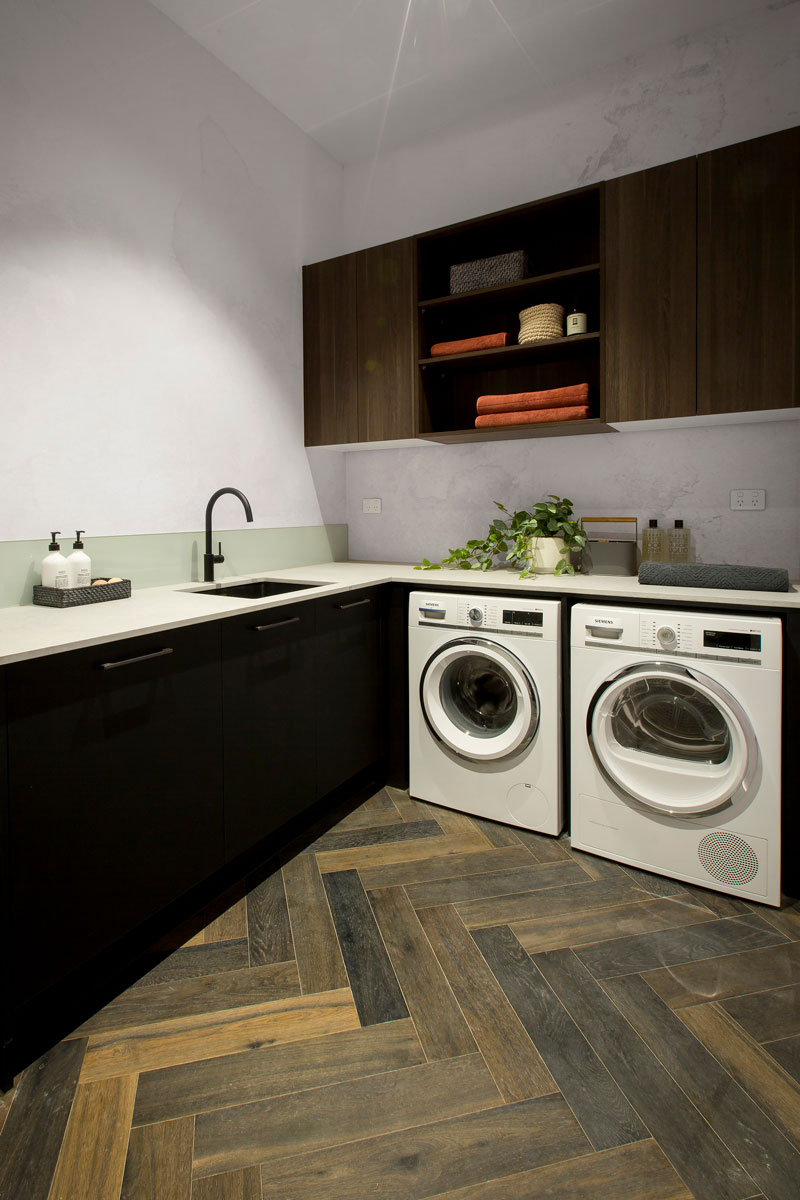 Effortlessly complementing the main kitchen area, Tess & Luke have presented a walk-in combined pantry and laundry space concealed behind matching Black Ultramatt doors for a seamless cabinetry look.
Creating this combined space is an emerging trend in Australian interior design as it is an effective design layout if space is limited but you still want to create a room that works hard but looks great at the same time. Tess & Luke have done just that with a multi-functional space that covers cleaning, food prep and storage space.
Kitchenette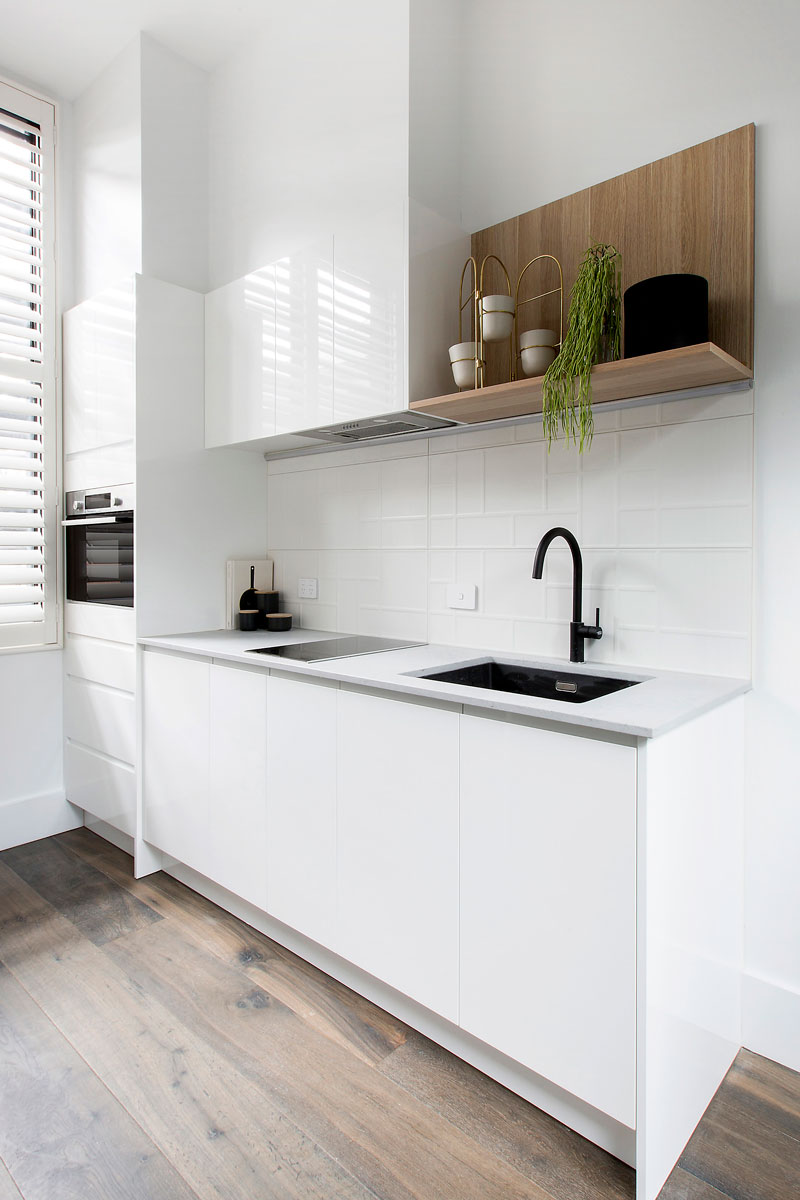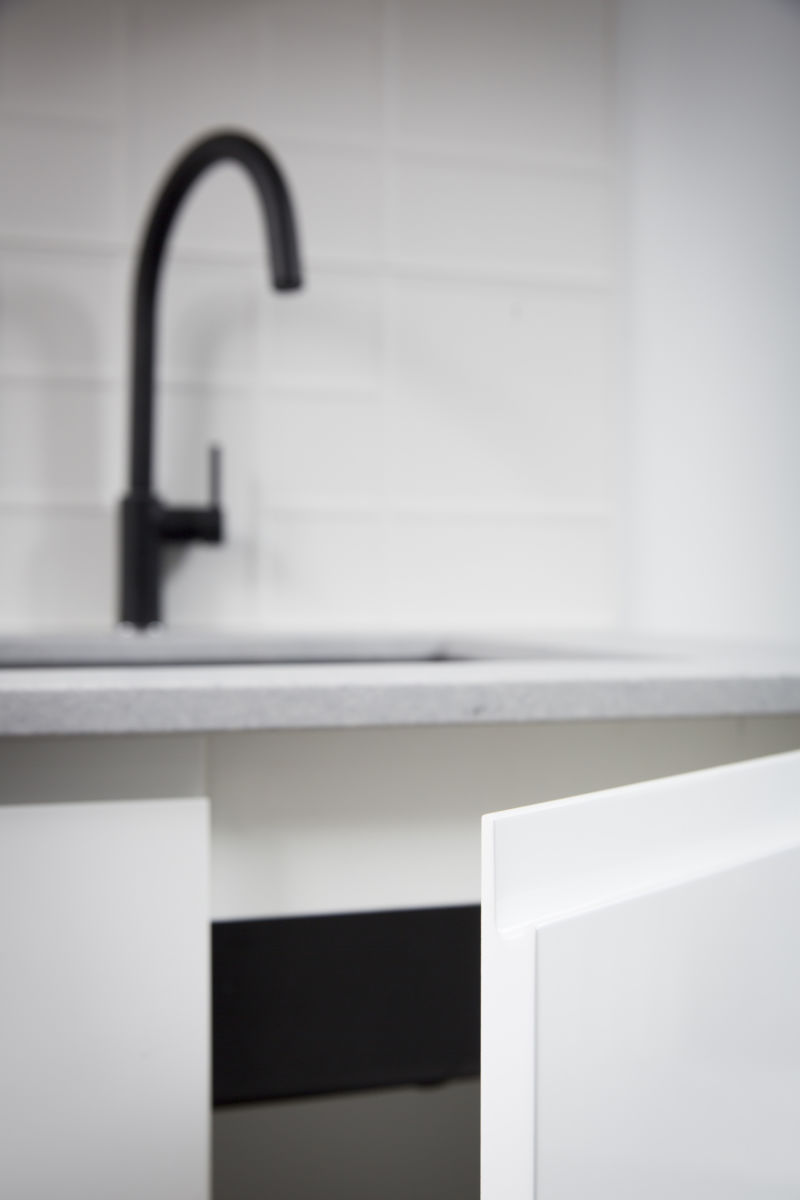 The judges loved the kitchenette in Tess & Luke's winning studio which features Kinsman's new XPRESS Jody profile door with J-shaped integrated handle (as seen on right).
Tess & Luke blew the judges away with their winning self-contained studio which features a sleek kitchenette from Kinsman. Using a soft neutral palette, the kitchenette features the new XPRESS Jody profile White Gloss Polyurethane door with a J-shaped integrated handle. The use of Whistler open shelving- a light and soft timber-look laminate- adds warmth and contrast to all the white tones. And in a nod to their main kitchen space the couple selected a Caesarstone top in Airy Concrete and black accessories.
PS. In case you missed it here is the breakdown of the amazing results from the auction.
Winners: Tess & Luke – House 2
Reserve: $2,990,000
Sold for: $3,620,000
Total profit: $630,000 + $100,000 for winning = $730,000
2nd place: El'ise & Matt – House 4
Reserve: $2,990,000
Sold for: $3,450,000
Total profit: $460,000
3rd place: Deb & Andy – House 3
Reserve: $2,990,000
Sold for: $3,420,000
Total profit: $430,000
4th place: Jesse & Mel – House 5
Reserve: $2,990,000
Sold for: $3,378,000
Total profit: $388,000
5th place: Mitch & Mark – House 1
Reserve: $2,990,000
Sold for: $3,374,000
Total profit: $384,000
Ready to create a winning kitchen with Kinsman? Book your expert design appointment HERE. For more inspiration, including all the details of The Block kitchens, download our new Spring catalogue HERE.