Blockheads Blow The Judges Away With Their Home Theatres
More than kitchens and wardrobes, here at Kinsman, we love to create joinery for your entire home, allowing you to create cohesion throughout all rooms. Our definition of home has changed in the past two or so years, which is reflected in a rise in home offices, second living areas and home theatres, with many of us focusing on transforming our homes to complement the way we truly live.
In a first on The Block, this week saw the Blockheads tackling half of their Basements, with Houses 1, 3, and 4 enlisting our help to create entertainment units for their Home Cinemas. So reach for your popcorn and step into the home cinemas that will give you an excuse t0 never go to the movies again!
House 1: Ronnie & Georgia, Score: 28.5, Place: Equal 2nd
Ronnie and Georgia had a very clear vision of what they wanted to achieve this week: to create a sophisticated home cinematic experience that was cohesive and complementary to the rest of their house. With standout features such as a starry ceiling and investment tech, they have produced a room that you would never want to leave!
As part of their design, Ronnie and Georgia included a generous entertainment unit along one wall, which provides the perfect place for the screen and other audiovisual essentials. A plethora of additional storage has been achieved with seven cabinets with Touch Catch handles, including two Deep Internal Drawers which provide the perfect place to store and organise snacks. A mini fridge is concealed behind the cabinetry, meaning that you have everything you need at your fingertips without it being on show and distracting from the screen.
Deep, opulent Bottega Oak Woodmatt joinery adds instant glamour to the room, pairing beautifully with a Caesarstone® top in Vanilla Noir. Matching kickboards in Bottega Oak Woodmatt include LED Strip Lighting underneath, evoking a floating effect. The overall look is stylish and perfectly suited to the rest of the room and Georgia's colour choices.
Shaynna Blaze loved the colour scheme of the whole room. "They started with this beautiful natural tonal palette, she said. And they've brought it to the cinema! This is perfection in a colour palette!"
The other judges agreed, especially Neale Whitaker, who reconsidered his feelings about a home theatre, never thinking he would want one. "But now I have just done a 180 degrees, he smiled. This has turned my views totally on their head because it's so desirable."
Key Features:
· Cabinetry: Bottega Oak Woodmatt
· Benchtop: Caesarstone® Vanilla Noir
· Kickboards: Matching Bottega Oak Woodmatt
· Handles: Touch Catch
· Accessories: Internal Drawers
· Lighting: Hafele LED Strip
House 3: Tanya & Vito, Score: 25.5 (after 2 points were deducted), Place: 4th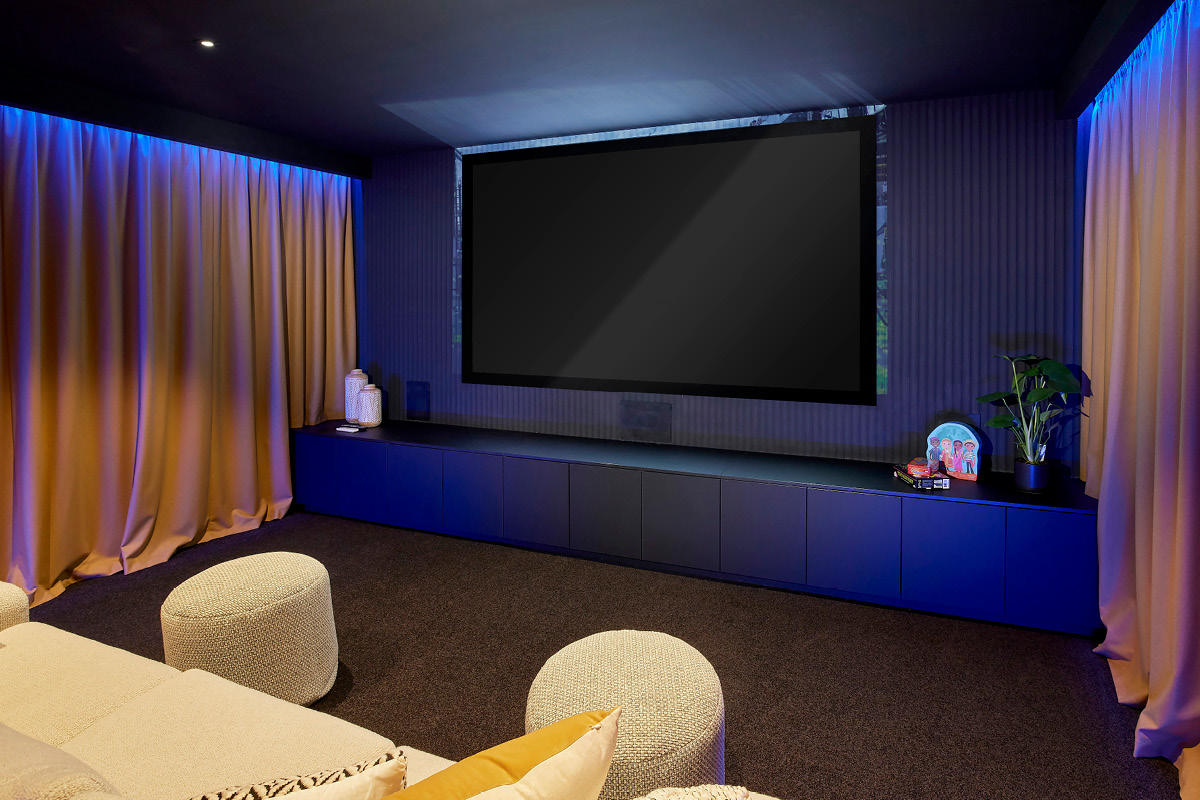 After a tumultuous week on The Block, Tanya and Vito elevated their Home Cinema with a chic, straight-line home entertainment unit featuring Kinsman joinery. With the largest space presented this week, the sheer size of the room is impressive on its own. "I swear, I've been in some cinemas that are smaller than this, exclaimed Neale. "It's like one of those private cinema clubs."
Thanks to bold Volcanic Black exterior doors paired with warm timber-look Estella Oak Matt interior finishes, a modern and sophisticated palette adds a chic and functional feature within the space. Cabinetry has been left handleless, the Touch Catch doors adding to the sleek look. LED Strip lighting illuminates the design perfectly and adds the finishing touch to this successful design.
The judges loved the fresh and tonal colour scheme that Tanya and Vito evoked within the room. "I like the different play of textures and colours in here, said Darren. Obviously, it's a neutral palette." The mixture of white, tan and black creates a level of luxury that ensures this home cinema will be one of the favourite rooms in House 3.
Key Features:
· Exterior doors: Volcanic Black
· Interior finish: Estella Oak Matt
· Handles: Touch Catch
· Lighting: Hafele LED Strip
House 4: Luke & Josh Score: 19, (after 2 points were deducted) Place: 5th
Luke and Josh's Home Cinema features a plethora of storage, red velvet walls and an Iron Man statue! Ticking all the boxes, the impressive home entertainment storage unit created with Kinsman joinery takes centre stage in the design, a design standout for the judges.
A mixture of tall and lower cabinetry in White Cement doors from our FX Series adds to the industrial colour scheme, complemented with bold Square Hook Matt Black handles. There are thin 20mm tops in Caesarstone's® Frosty Carrina throughout, with open shelving in Estella Oak Matt also included.
The design balances style with function, with Inner Drawers and accessories such as Lift Down Doors, ensuring that the unit works hard while looking beautiful. Premium LED Verti-Strip lighting within the cabinetry illuminates the contents within, providing the finishing touch.
While the judges appreciated the unit's generous storage for the room, they felt that a darker door finish would have worked better, concerned that it would stand out too much when the lights were down. However, the entertainment unit remained the highlight for the judges, who couldn't look past the commercial styling and small layout reflected in their scores- which was further impacted by the 2 point deduction Houses 4 and 3 received for their part of the 'cheating scandal'.
Key Features:
· Exterior doors: FX Series White Cement
· Interior finish: Estella Oak Matt
· Benchtops: Caesarstone® Frosty Carrina
· Handles: Square Hook Matt Black 34-K-125
· Accessories: Hafele Lift Down Doors, Inner Drawers
· Lighting: Hafele Premium LED Verti-Strip
I
nspired to create your very own cinema within your home with Kinsman?
Book your in-store, in-home, or virtual design appointment HERE. For more inspiration, images, and product details, download our Wardrobes Catalogue HERE.
Follow Kinsman on our social platforms to get all the details from The Block Fans v Faves (plus so much more).
Instagram: @kinsmangroup
Facebook: /kinsmangroup