There are many reasons why you might be considering renovating parts of your house at the moment – in particular to add value to your home and to ensure it suits your lifestyle and needs. Key rooms include the kitchen and laundry, and the inclusion of home offices and media rooms is also on the rise.
More than just kitchens, here at Kinsman we can help you transform your kitchen, laundry, home office, media rooms, wardrobes, and more. If you decide to makeover more than one room at a time, matching cabinetry is a wonderful way to create a sense of harmony and connection throughout your home.
Below we share four of our favourite joinery styles. Which is the perfect fit for your home? 
Flat, bright white cabinetry.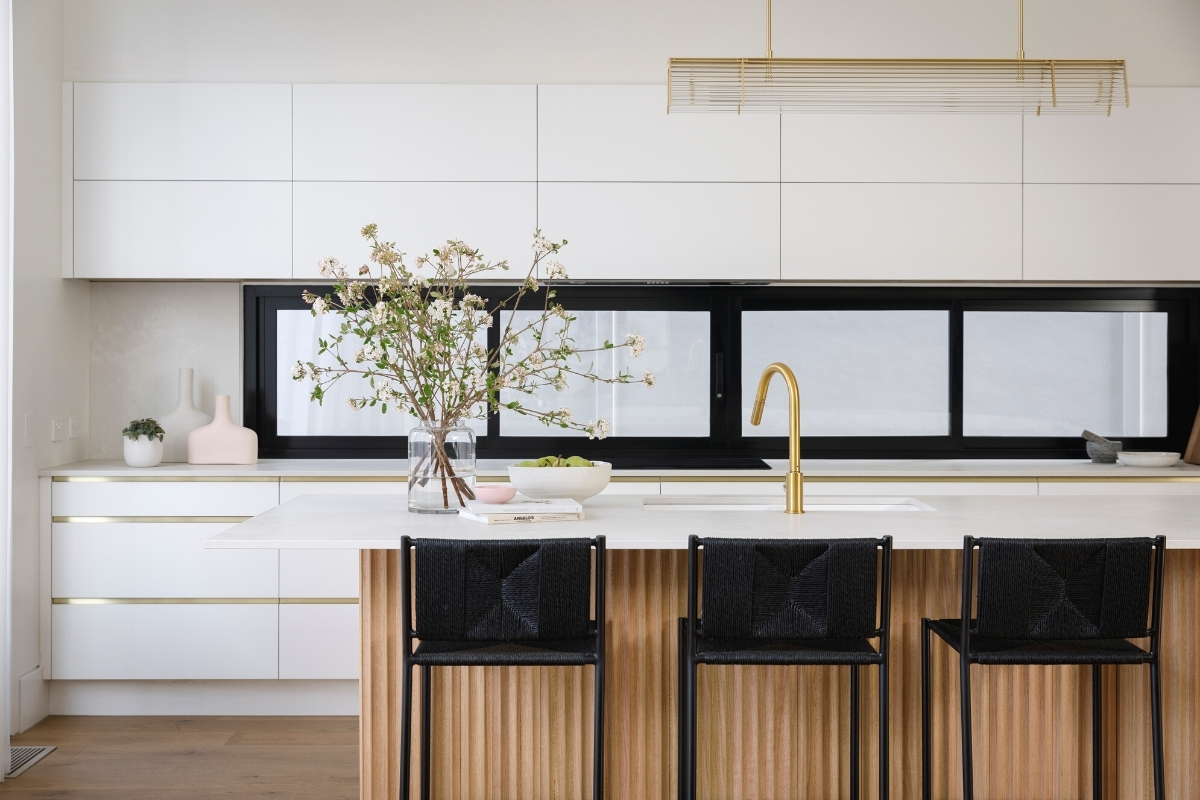 Luke & Jasmin's light and bright kitchen blew the judges away on the 2020 series of The Block, especially with their selection of Kinsman's Oxley Supa Ultra White Matt cabinetry with Marq handles in UltraGold.
Right on trend, we love pairing crisp white joinery with a smooth flat profile with integrated handles for a sleek and chic look that can be used throughout your home. Opting for our Marq integrated handles in either metallic hues such as our UltraGold or Brass-look are not only functional but also add instant luxury.    
Take this look from your kitchen right through to your bedrooms, as seen above and below, for a look that is both effortlessly modern and timeless!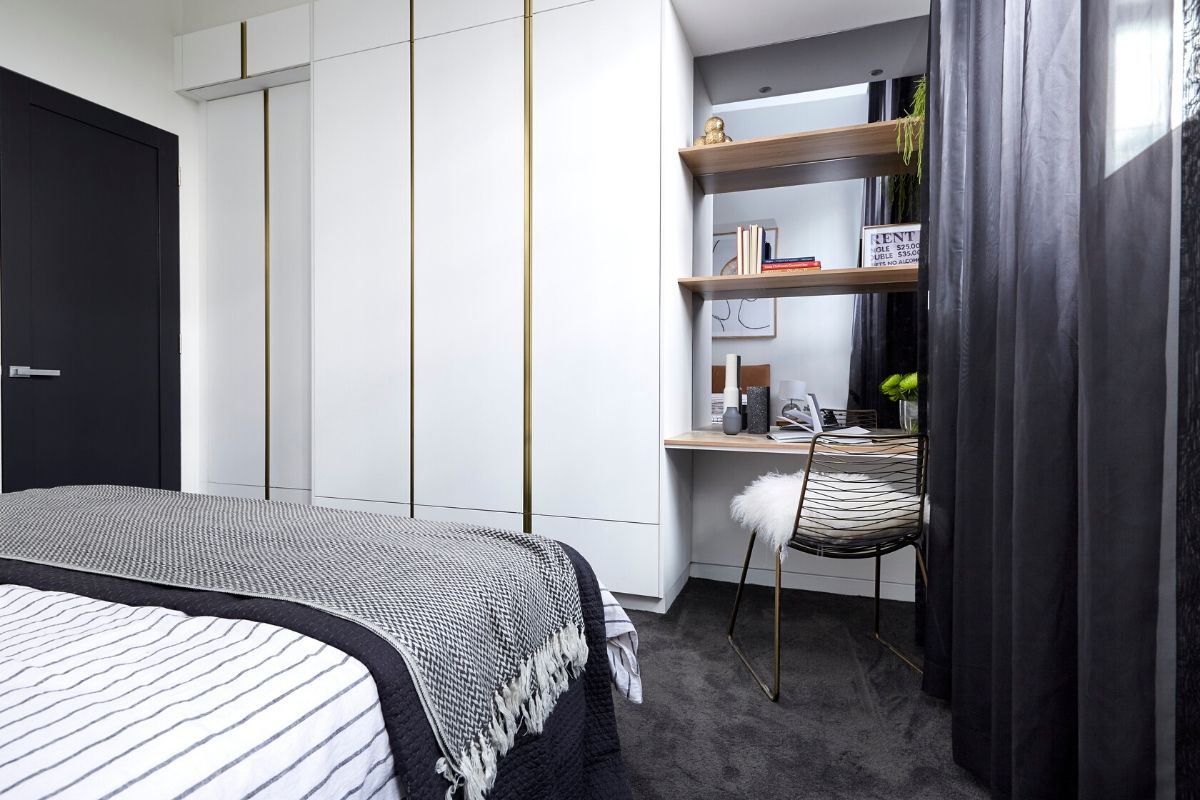 White Shaker-profile cabinetry.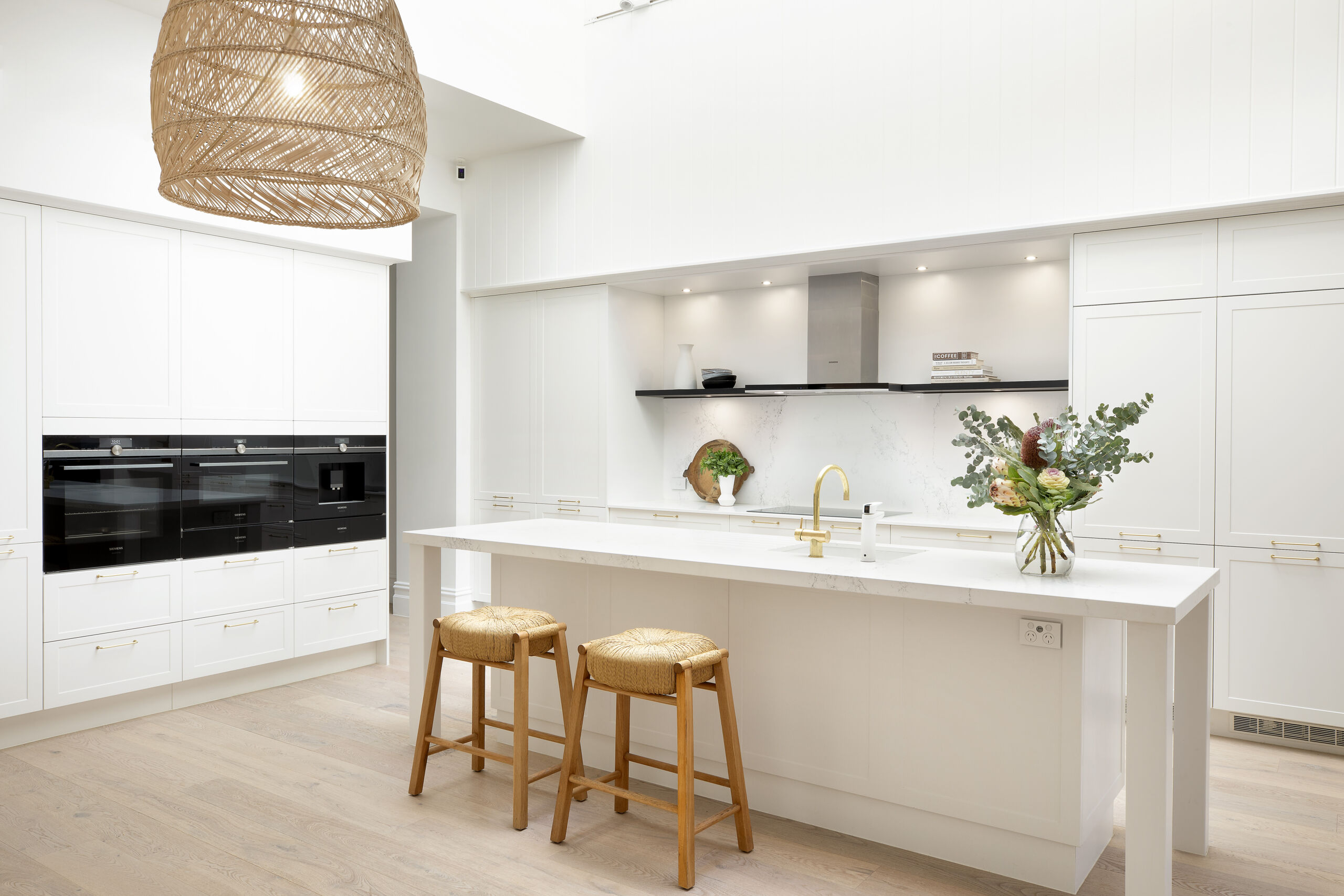 One of our most requested door profiles, Kinsmans Somersby cabinets are a classic Shaker-inspire profile door- perfect for those who love a coastal or Hamptons-inspired home. Use throughout your entire home for a cohesive look, and inject warmth and interest with timber and metallic accents.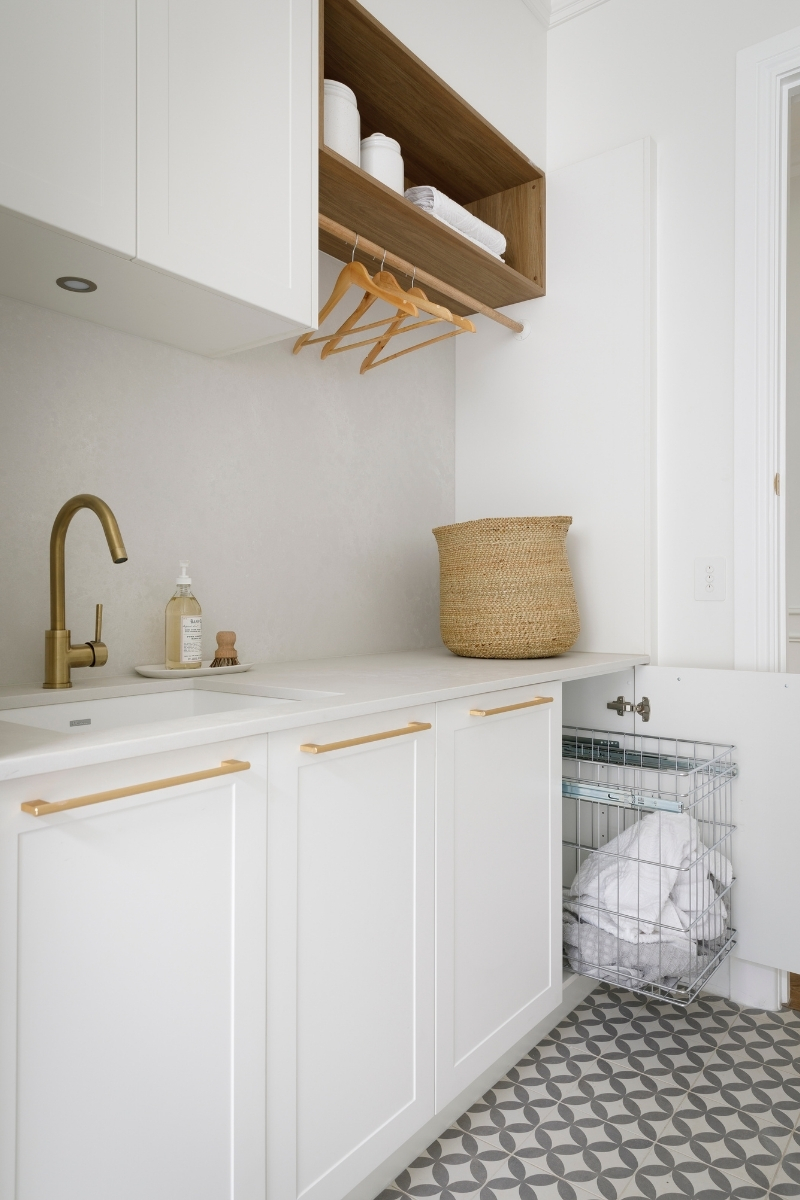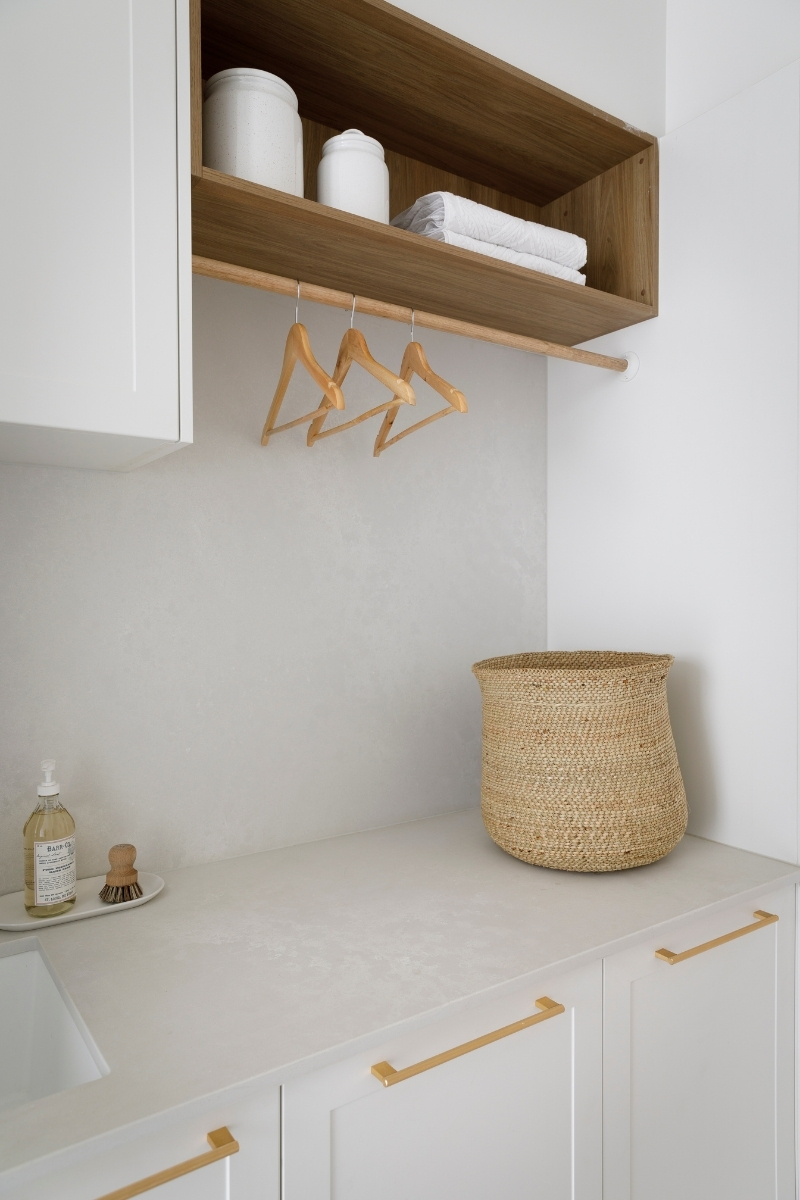 Luke & Jasmin designed their laundry to complement the heritage-style of the front area of their home with Somersby Classic White Matt joinery, Brushed Dark Brass Bar handles and open shelving in Chadstone Prime Oak.
Timber-look open shelving in kitchens, laundries and media rooms is a wonderful additional to this style to add warmth to your space, and for wardrobes consider interior finishes in Natural Oak Matt. Gold and Brass-inspired hardware, accessories and styling decor are a wonderful way to add a sense of luxury and complement the understated yet beautiful profile of Shaker-style joinery.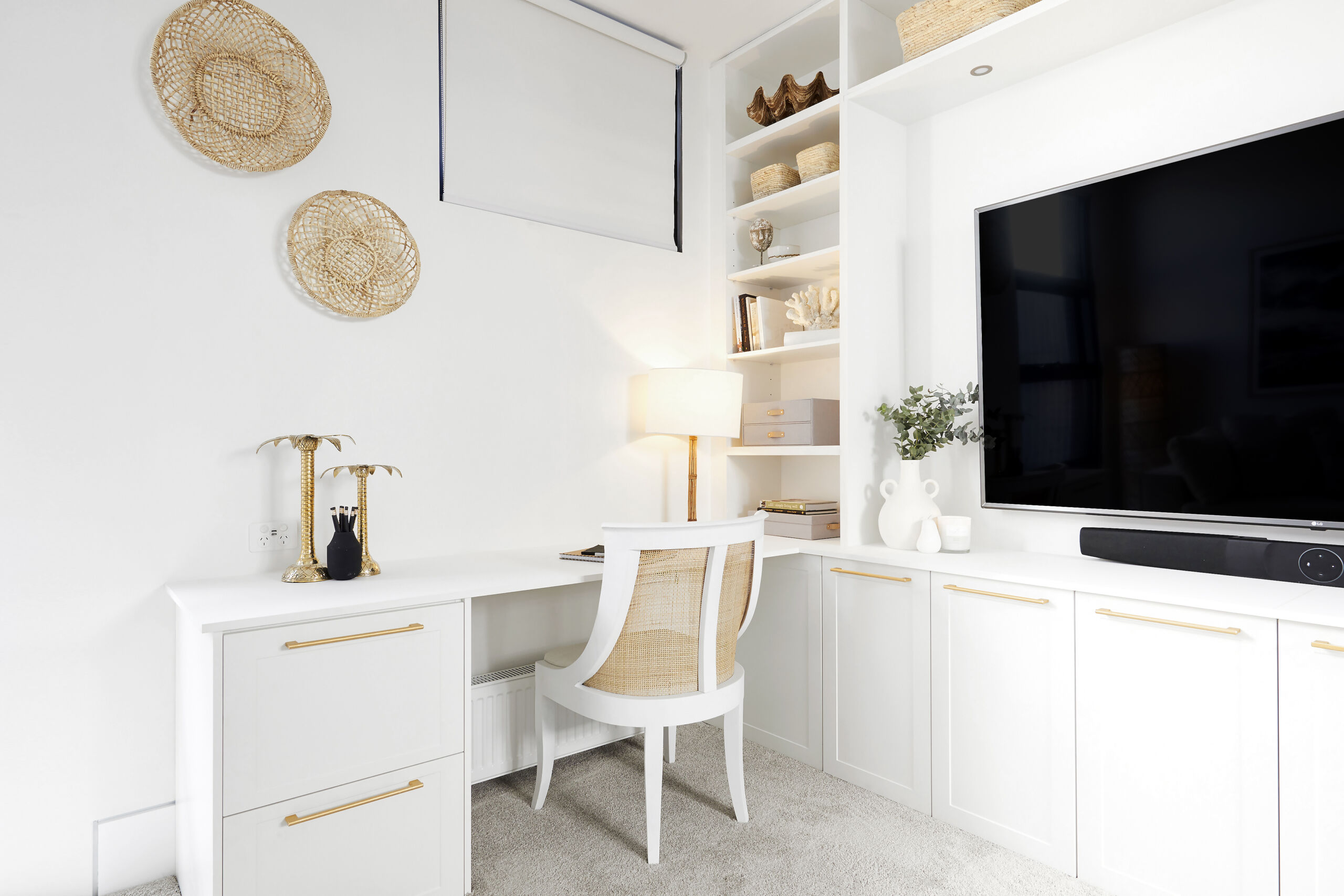 The use of Somersby Classic White Matt joinery teamed with Dark Brass Bar handles allowed Luke & Jasmin from The Block 2020 to create a Media Room that anyone would enjoy working in. 
Flat cabinetry profiles in warm timber tones.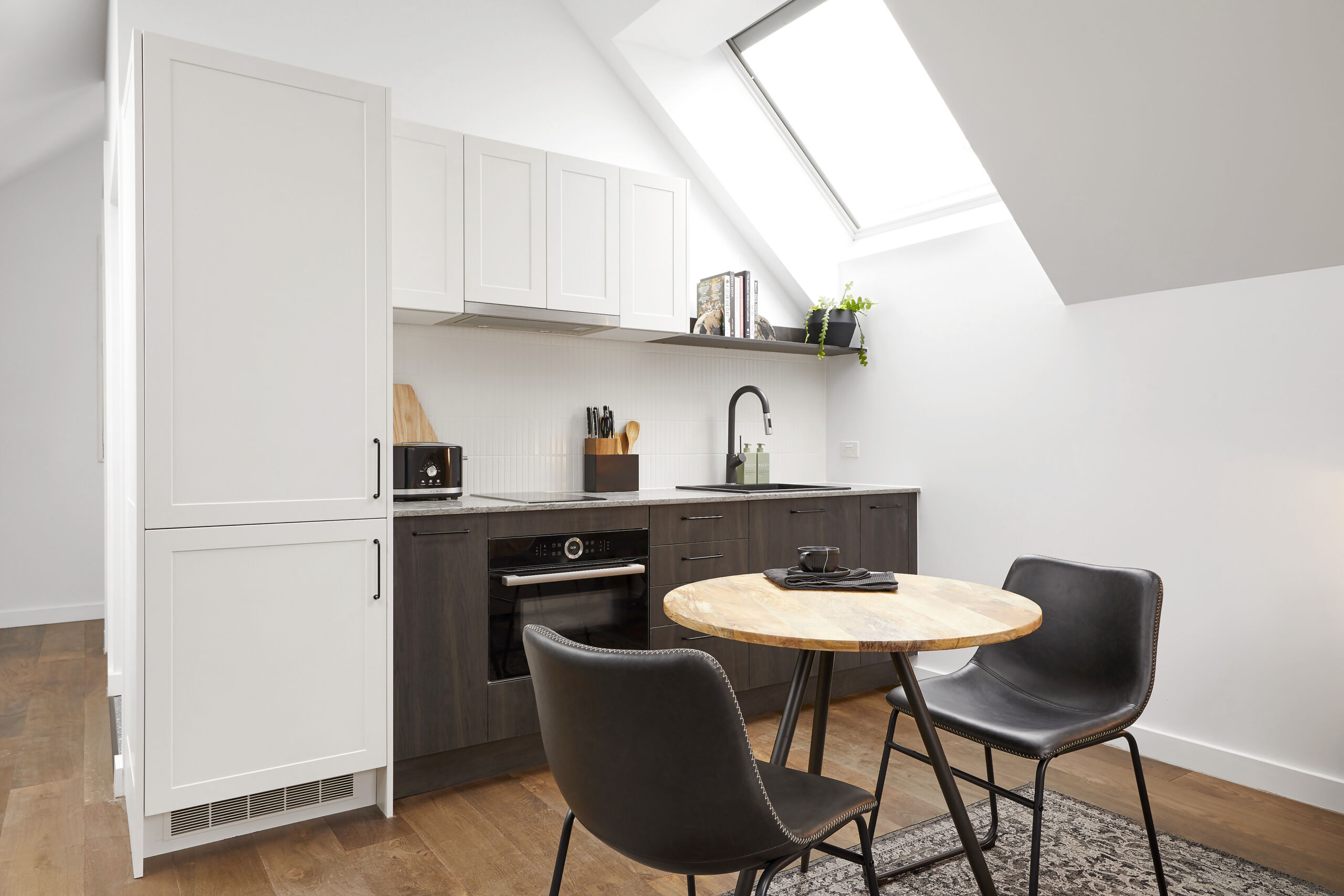 Sydney couple Sarah & George presented this winning kitchenette on The Block 2020 which combines Chadstone Bottega Oak Woodmatt doors with Shaker-style Somersby Classic White Matt cabinetry with Caesarstone Turbine Grey countertops.
We are seeing a rise in popularity in timber-look cabinets in darker and warmer tones, and its no surprise. Making a feature of timber tones throughout your homes evokes instant warmth and opulence. Timber pairs beautifully with concrete benchtops, matte black accessories and handles, as well as our 2020 Black Alumin Frame Shelving.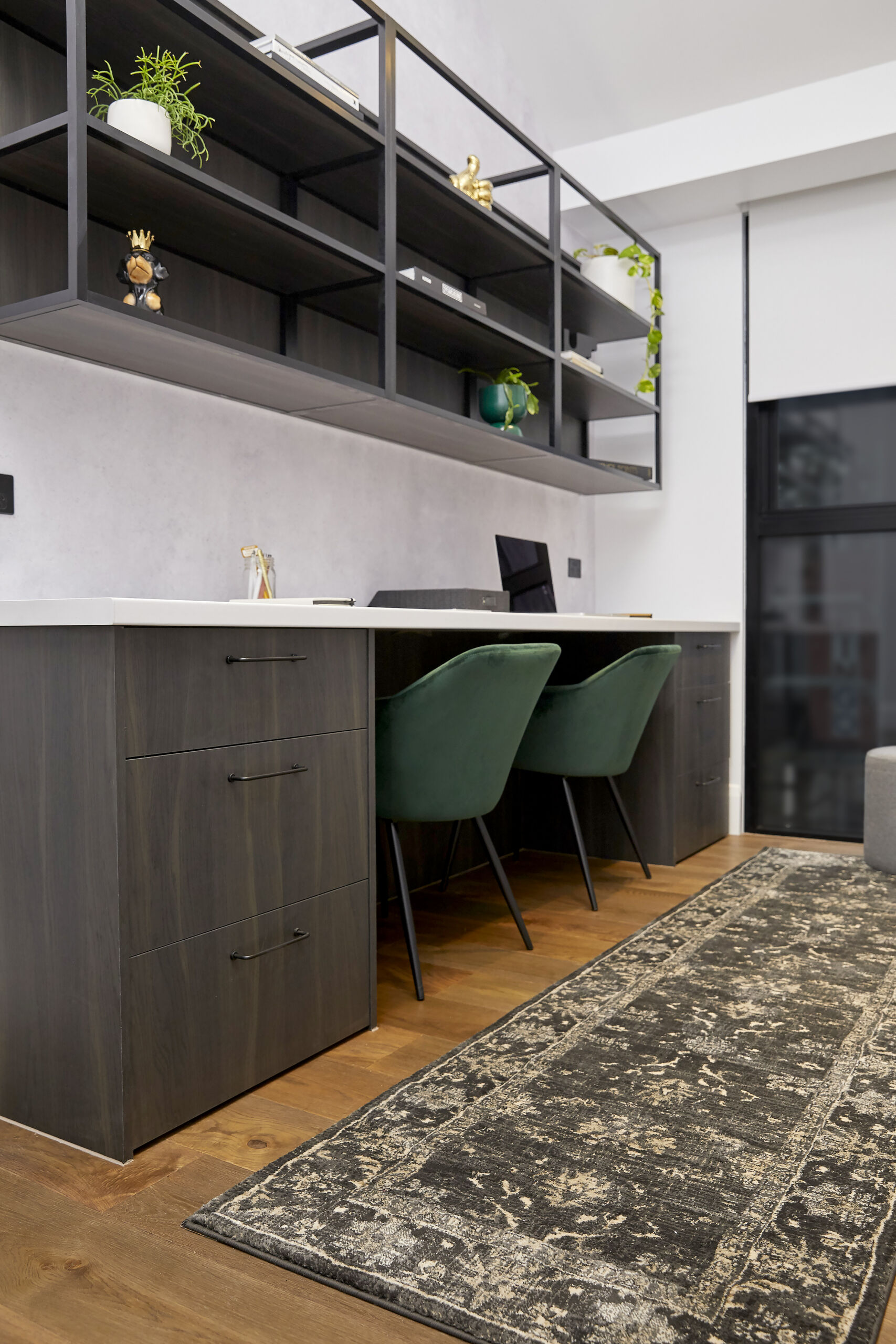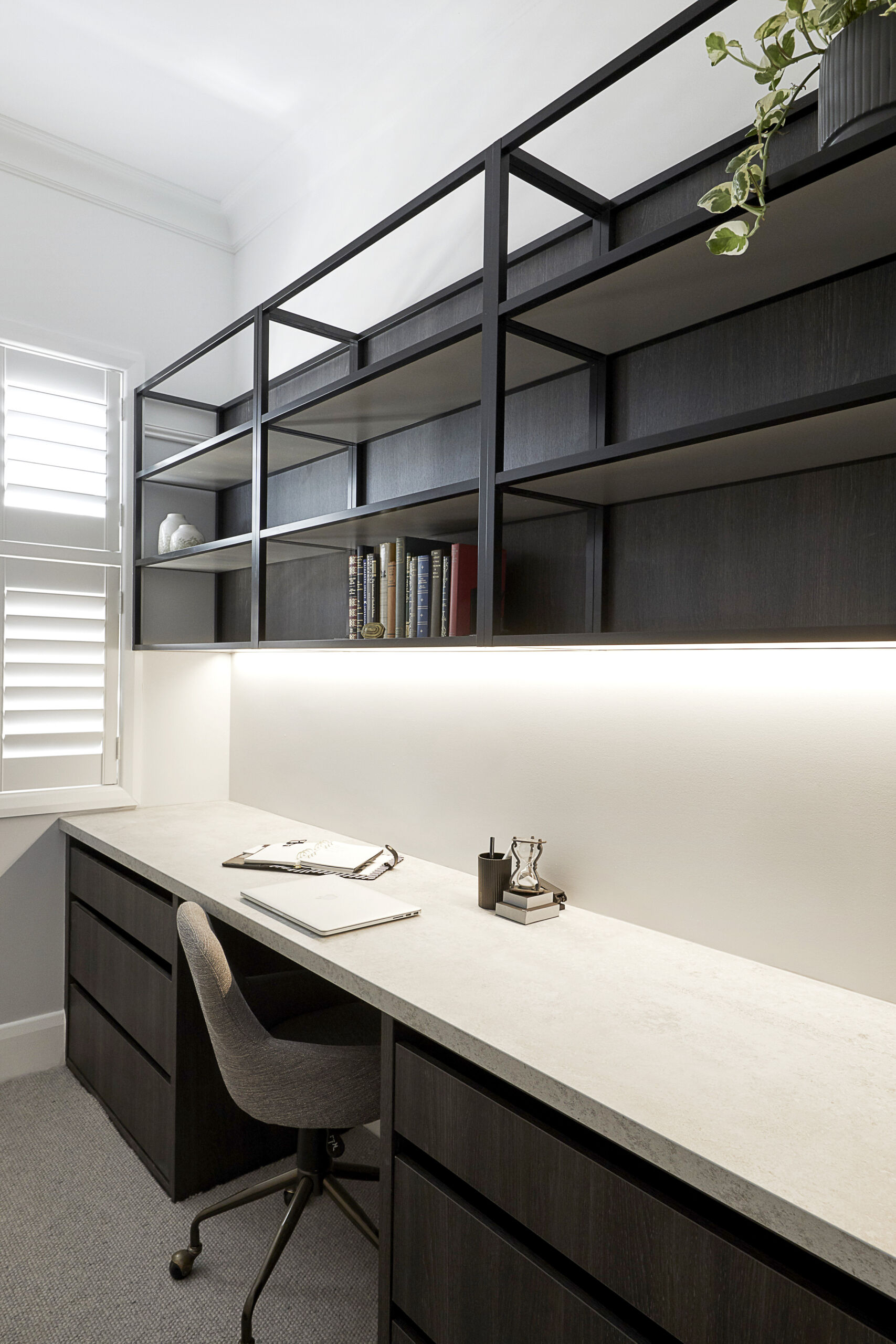 In keeping with the rest of their home Sarah & George created a study space from Kinsman's Home Office Range. Black Frame Wall Cabinets take centrestage, complementing Dark Natural Oak cabinetry. 
In kitchens and laundries we recommend using timber-look cabinetry, such as our Chadstone Bottega Oak Woodmatt, on the bottom run and mixing it with a neutral look at the top. In media rooms, home offices and wardrobes, be bold with an all-timber look and team with a statement handle such as our new Brave Bow Matt Black Handles.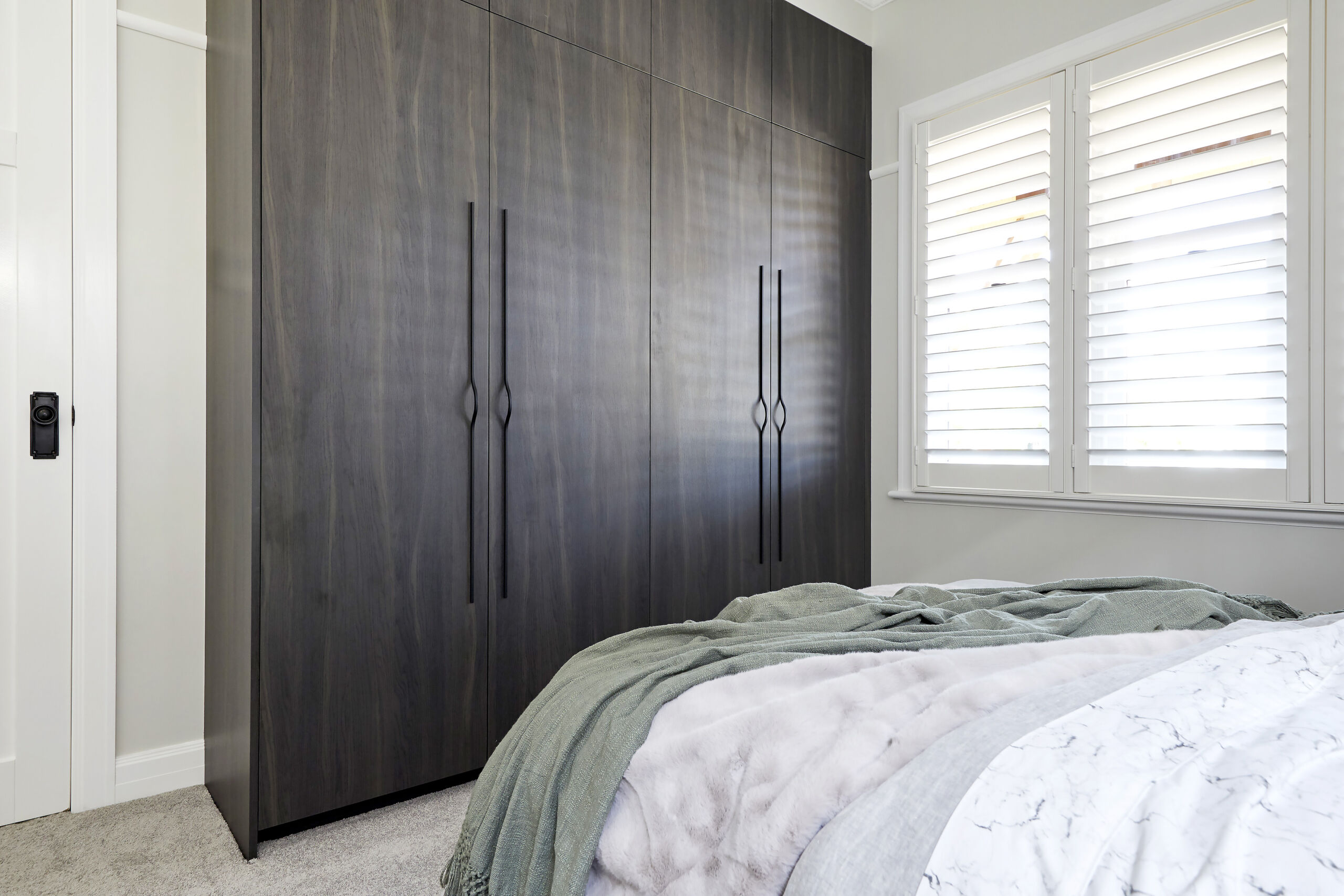 Daniel & Jade created a dreamy bedroom larger due to a Hinged Kinsman wardrobe which teams exterior doors in Bottega Oak Woodmatt, Grey Textile Interior Finishes, and Brave Bow Matt Black Handles. 
Matte Black cabinetry.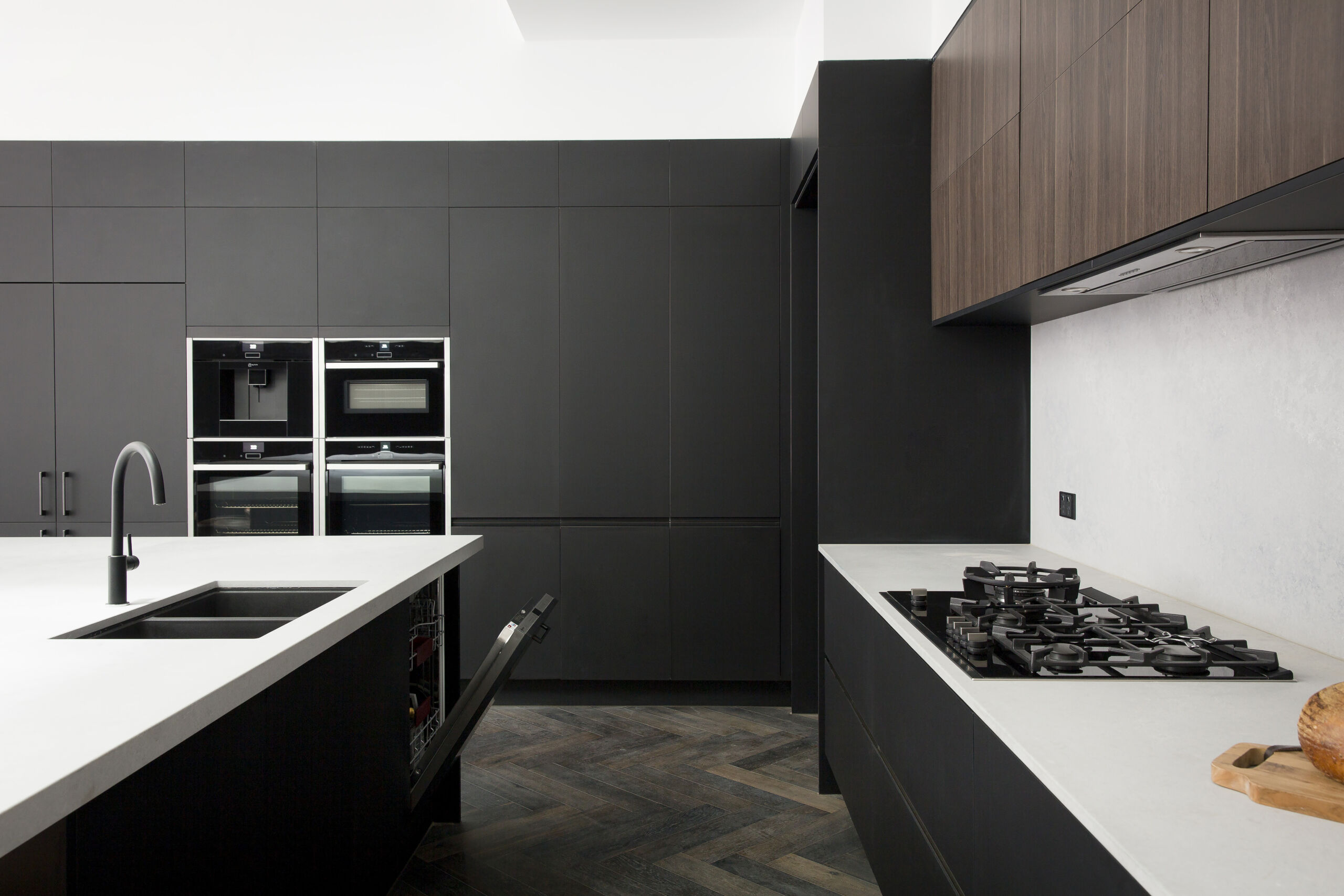 Winners of The Block 2019, Tess & Luke created a modern, industrial entertainers kitchen that celebrates function and modern good looks thanks to Artarmon Black Ultramatt cabinetry.
For those who love an Industrial or New York style, a sleek matte black colour palette is a wonderful option. In kitchen design we love to use matte black joinery such as Artarmon Black Ultramatt throughout or pair with white joinery for a monochromatic look. A flat door profile suits a sleek modern look but we also love this shade in a Shaker-profile for a dramatic take on a country or Hamptons inspired kitchen.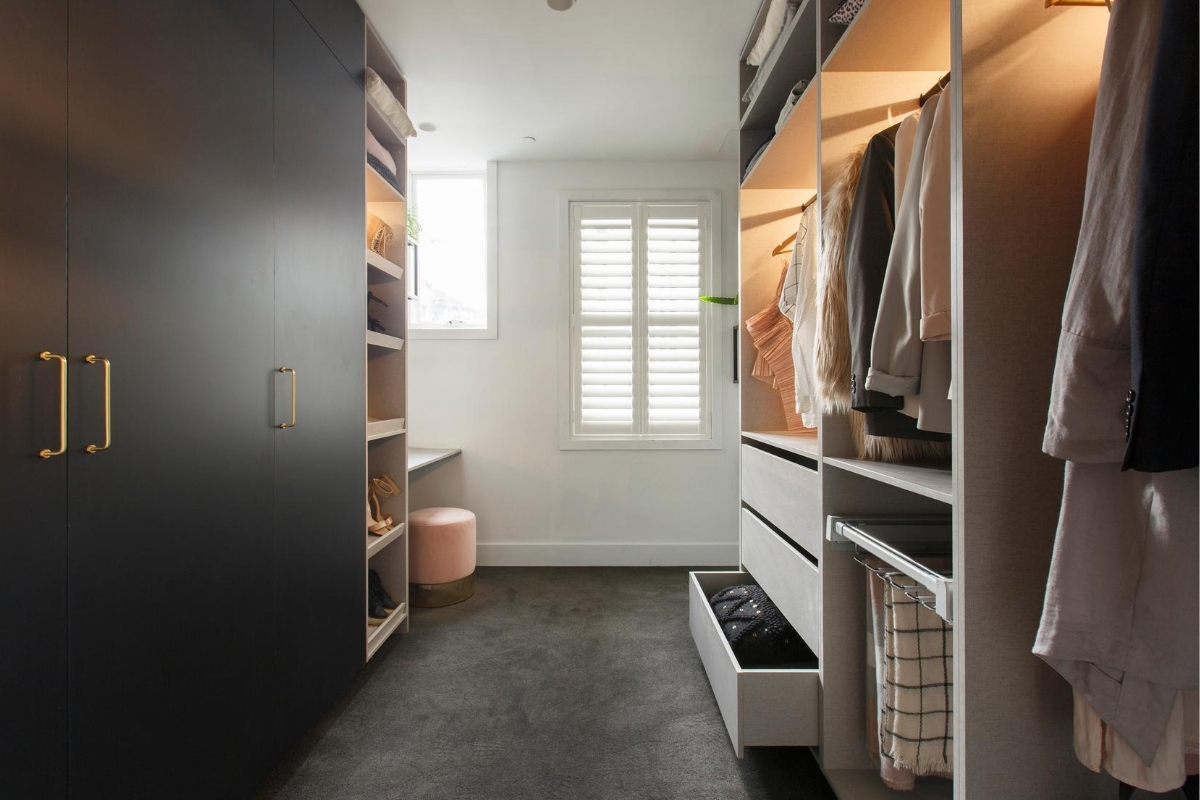 Fan favourites Norm & Jess presented a glamourous Walk-in Master wardrobe on The Block 2018, featuring Volcanic Black exterior doors and Greige Textile Natural interior finishes.
Laundries, bedrooms, studies and media rooms also look amazing with matte black cabinetry. Soften the look with pops of soft greys and timber and give thoughtful consider to details such as handles and styling decor as they will help you create the look you wish to achieve to life.