When homeowners Jesse & Tori bought land in Winchelsea, a suburb within the Victorian Surf Coast Shire (just a short drive from famous beaches such as Bells Beach) they had the opportunity to create their dream home for themselves and their young daughter. They enlisted the help of Kinsman to bring to life the perfect kitchen, butler's pantry, laundry, media room and wardrobes to suit their needs and style.
Below we step inside their brand new Kinsman kitchen, butler's pantry and laundry, and share the inspiration, materials and secret weapons that have transformed this space into a beautiful family home.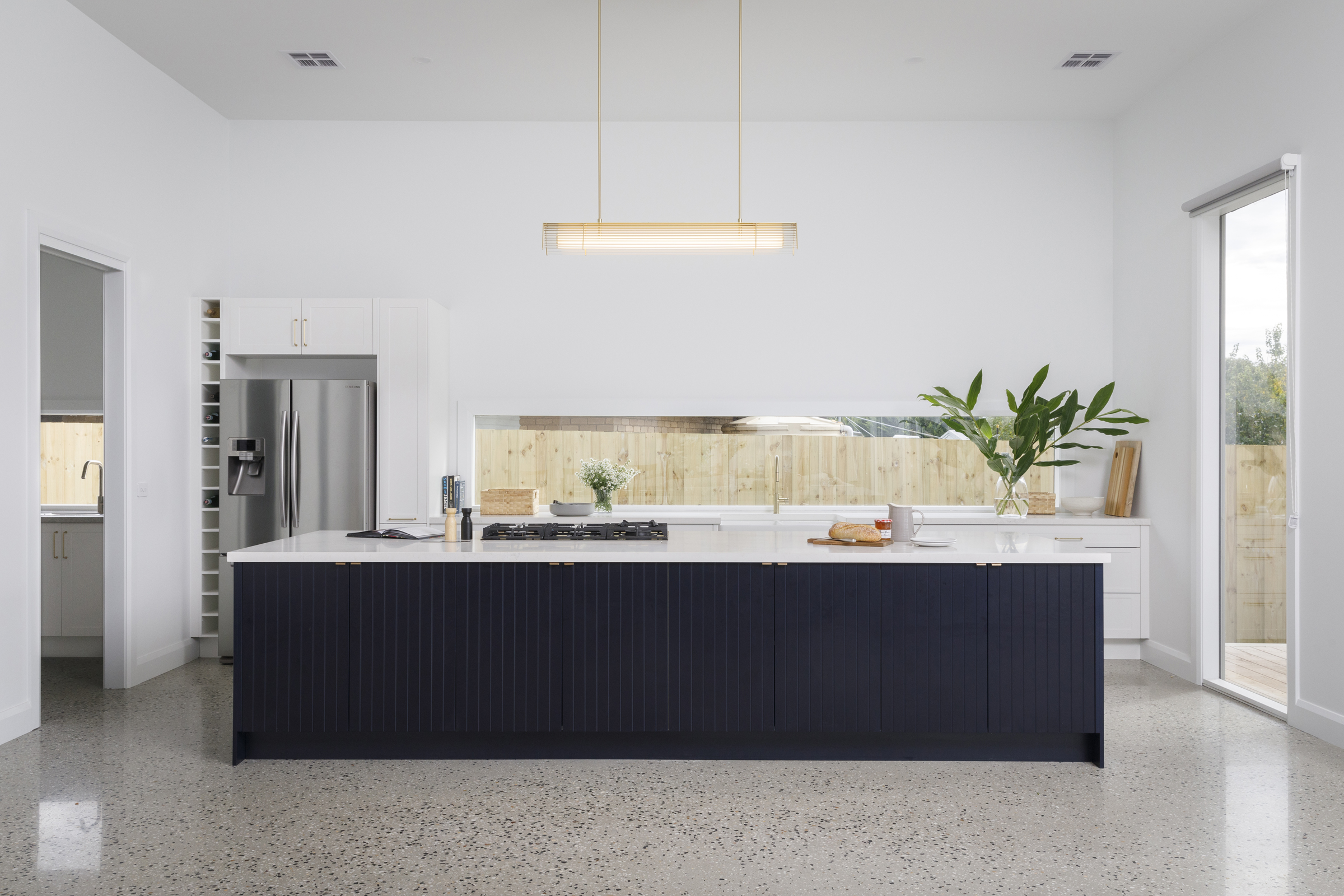 Who lives here? Homeowners Jesse & Tori and their young daughter.
The Brief.
To create cohesive spaces that celebrate a Modern Country aesthetic. All rooms needed to be highly functional and stylish and required plenty of storage and prep area for this family of three who love cooking and entertaining.
The couple also had something at the top of their list for the kitchen- an island bench with a cooktop and integrated rangehood. "This was our non-negotiable item, explains Tori. We spoke to our designer about how we would achieve this, and they designed the kitchen around it. It was important to us as we love to cook and socialise with our family and friends, and this design feature symbolises that."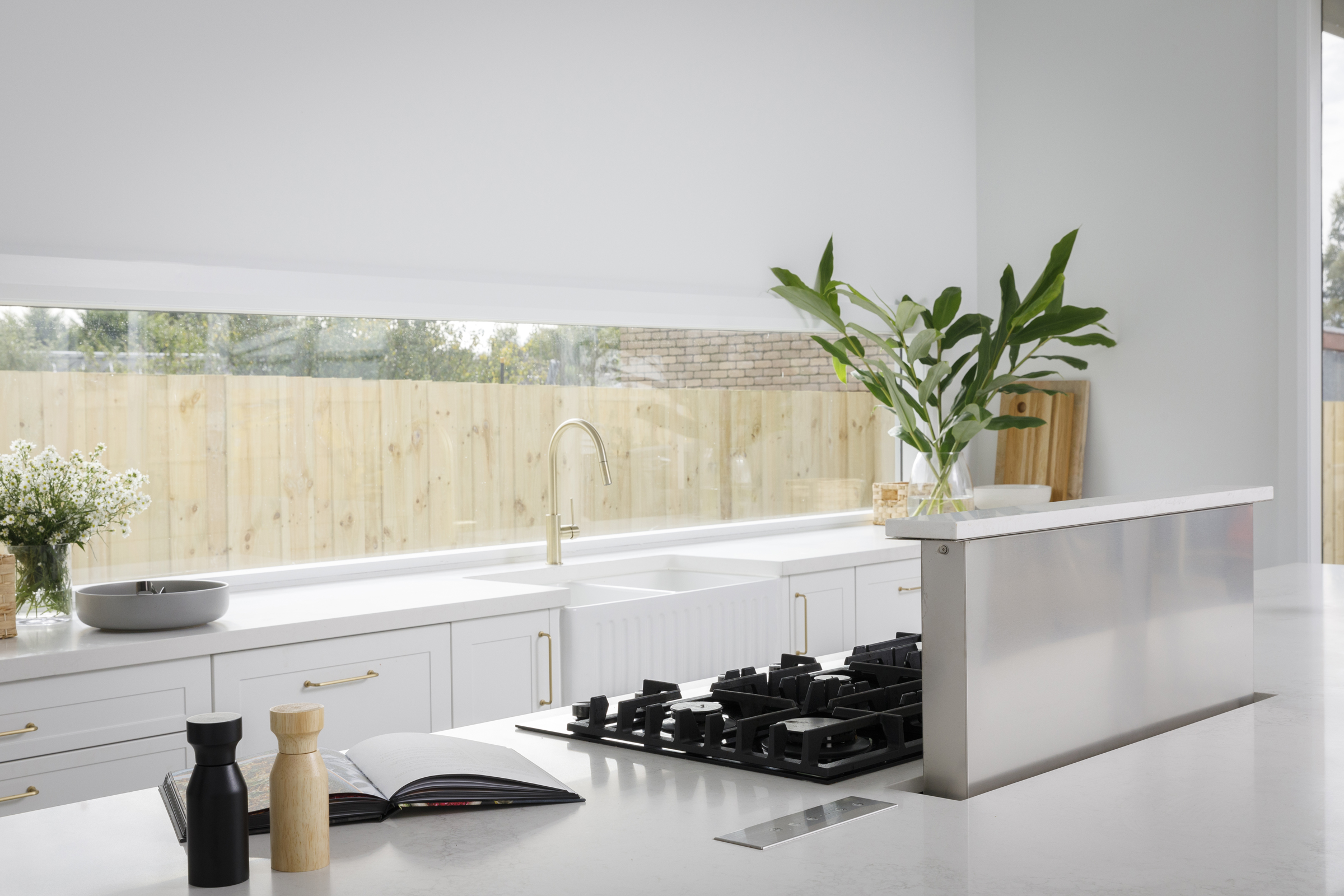 The Style & Colour Palette.
A mixture of cabinetry in Kinsman's classic Shaker-profile Somersby in White Matt and Avalon in Oxford (a bold Navy hue) provides the perfect palette for a Modern Country style. "We love the look of crisp white kitchens but also wanted to add in a statement with the dark navy paneling wrapped around the island bench" says Tori.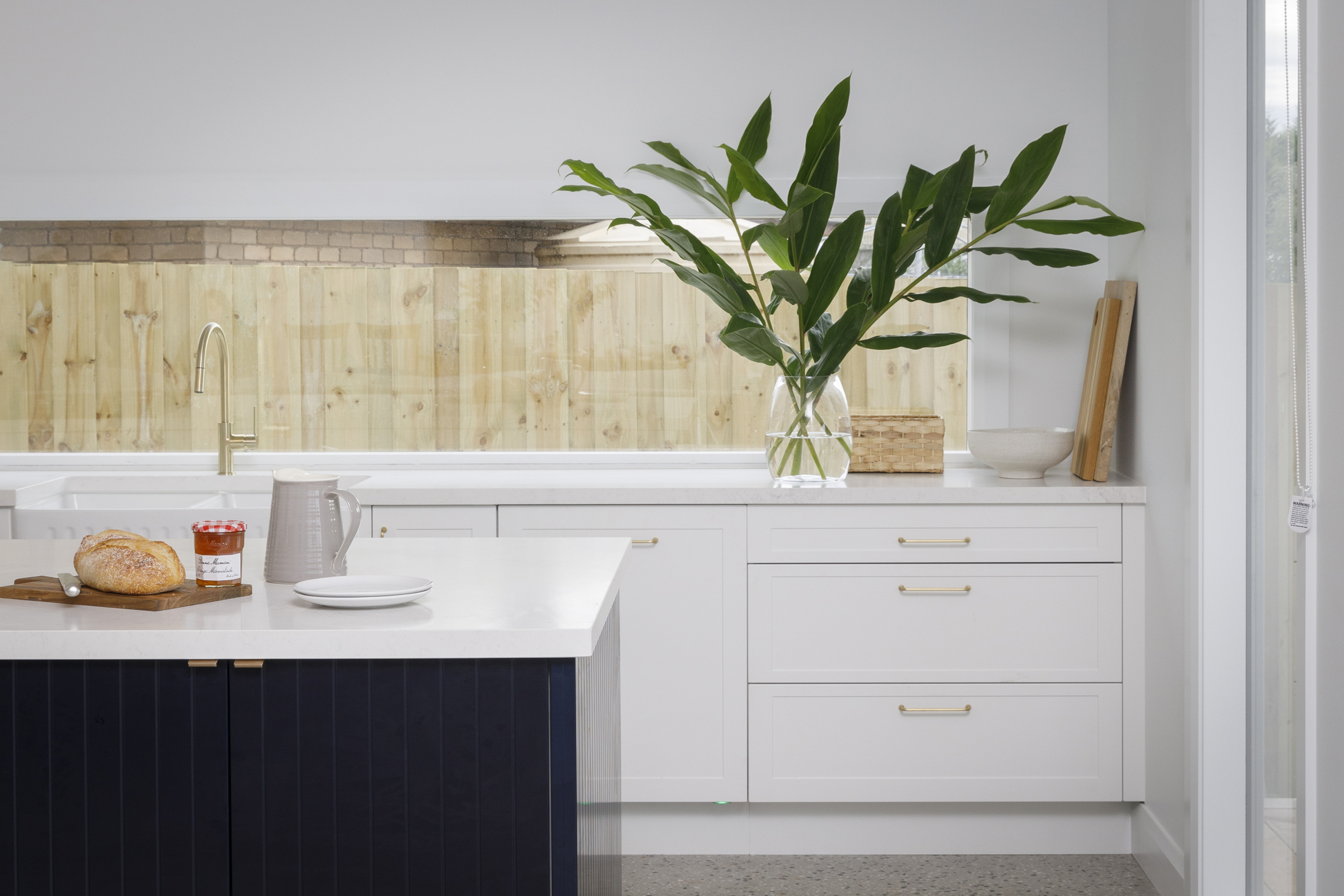 Modern and more traditional features are balanced in perfect harmony. A white farmhouse sink, gold-look tap, brass pendant, Caesarstone® Calacatta Nuvo benchtops and Matt Brass Rounded Bar handles (paired with the white Somersby joinery) complement the more contemporary additions such as polished concrete flooring, window splashback, and navy panel-look cabinetry which contrasts beautifully with brass-look pull handles.

The layout.
The galley style kitchen includes an island bench to ensure that storage, functionality and style are maximised. A butler's pantry adds further storage, allowing the main kitchen space to be free from clutter. The design of the kitchen centred around Jesse and Tori's love of cooking and entertaining and having enough space so that their young daughter could also enjoy creating in the kitchen while being safely away from the main cooking zones.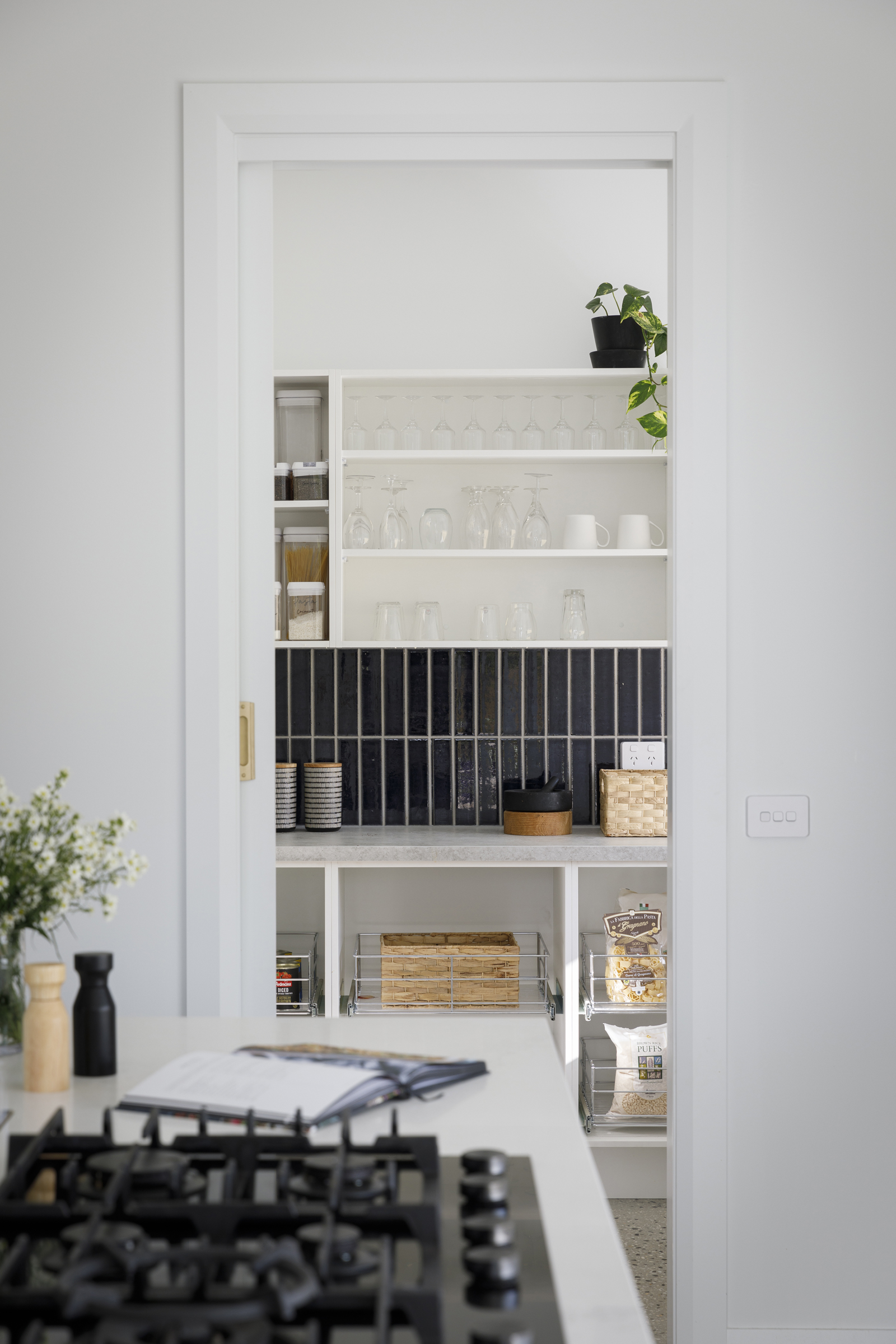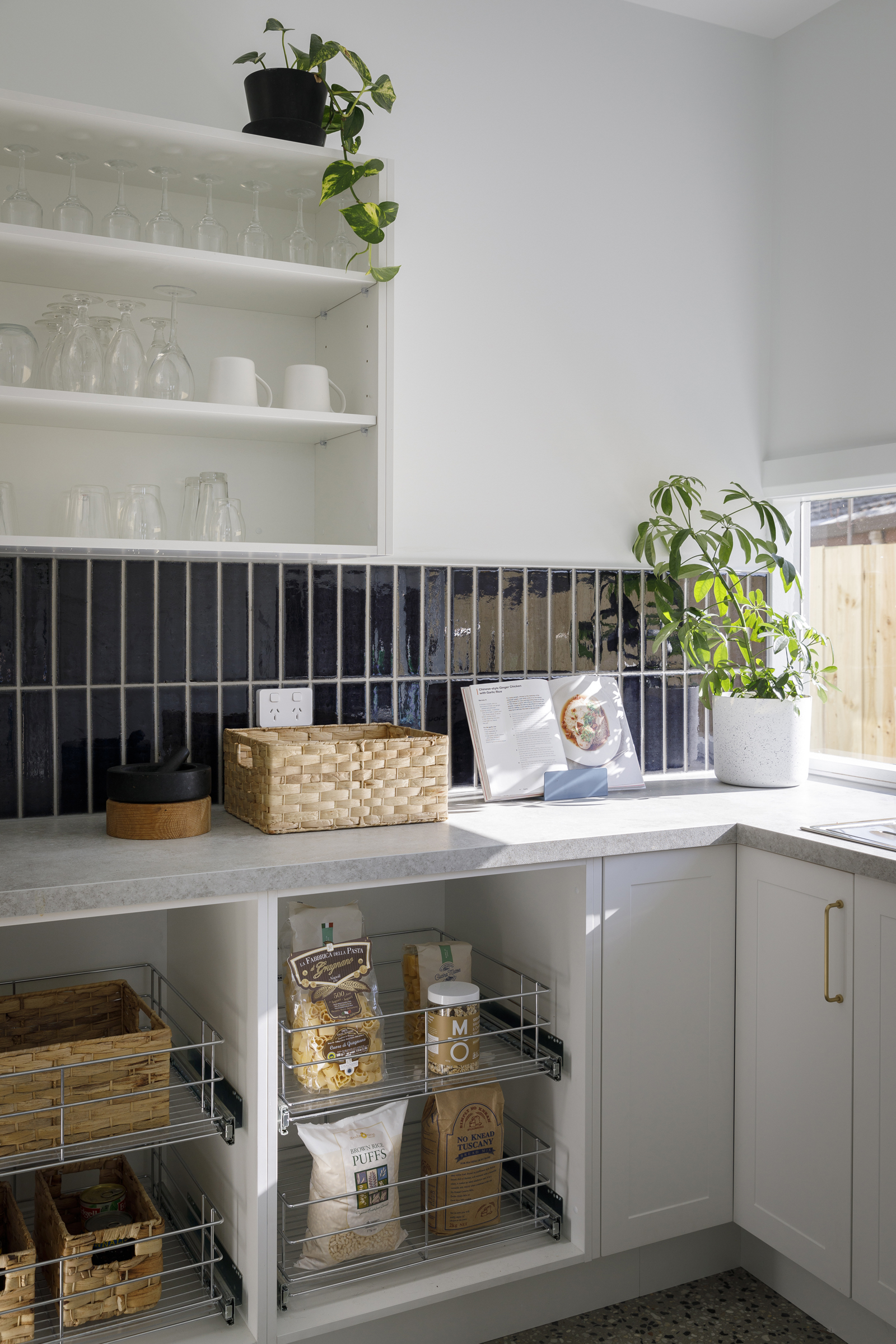 The island bench.
As mentioned above Jessi and Tori had a very clear vision for their island bench. Spanning just over 3.7 metres, the Electrolux gas cooktop and Sirius downdraft rangehood take centre-stage. Due to its size there is plenty space for seating, perfect for entertaining. An oven and microwave sit on the inside of the design, and drawers and cupboards provide further storage space.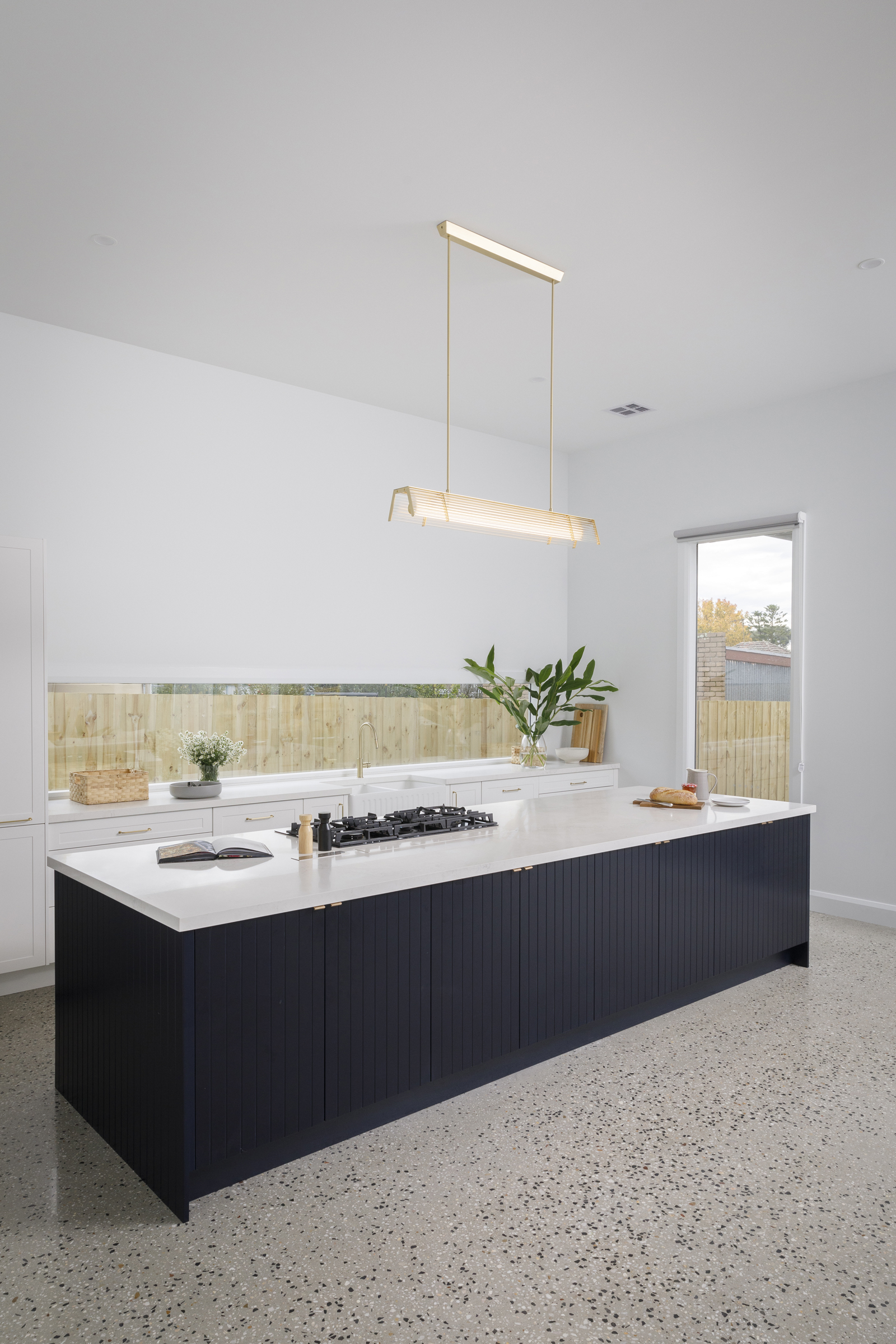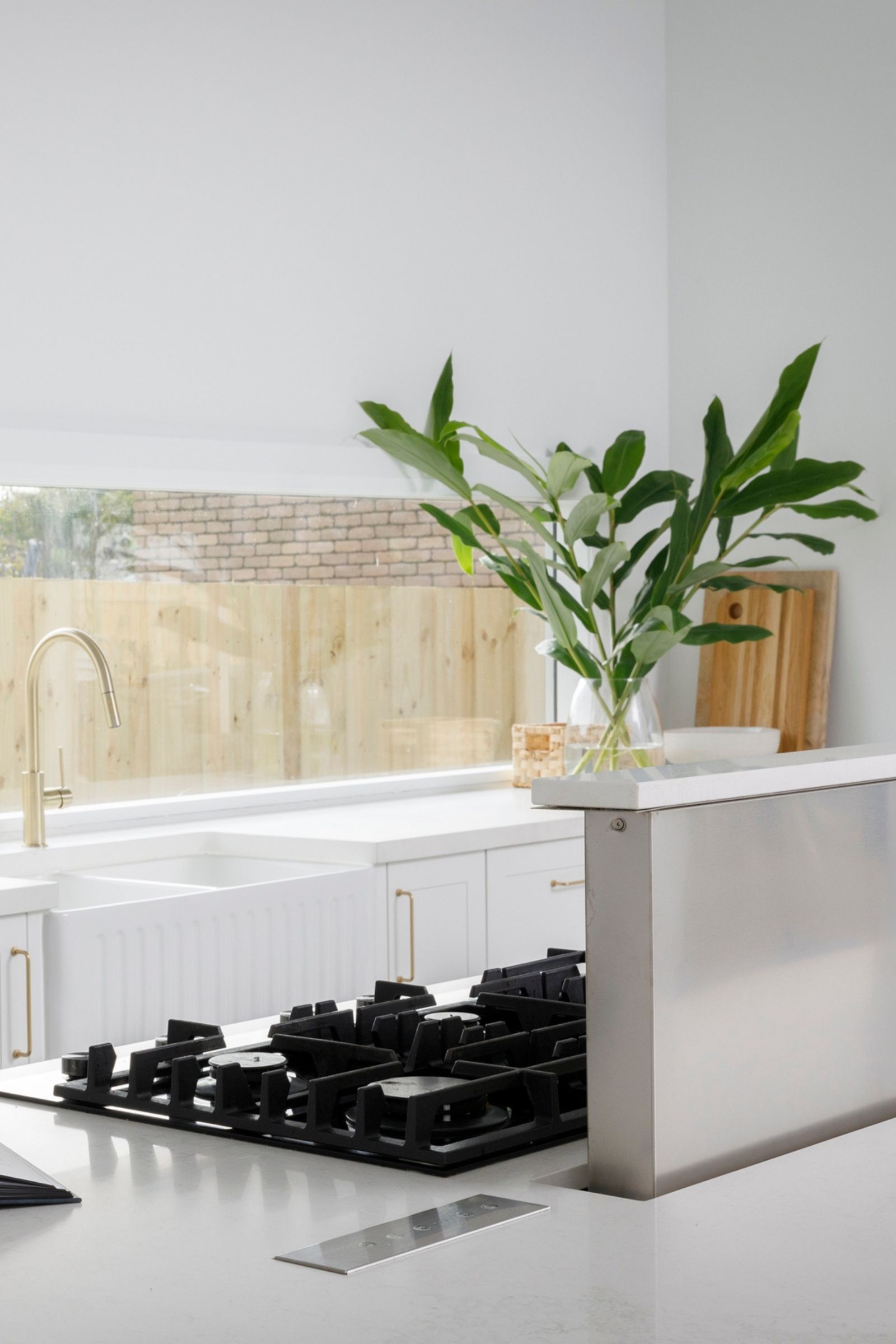 Storage solutions.
Ample storage was a must in Jesse and Tori's new Kinsman kitchen. After assessing exactly what needed to be stored in the main kitchen, a combination of drawers and cupboards have been included in the design. Not just a stunning showpiece in the room, the inclusion of an island bench almost doubles the storage space.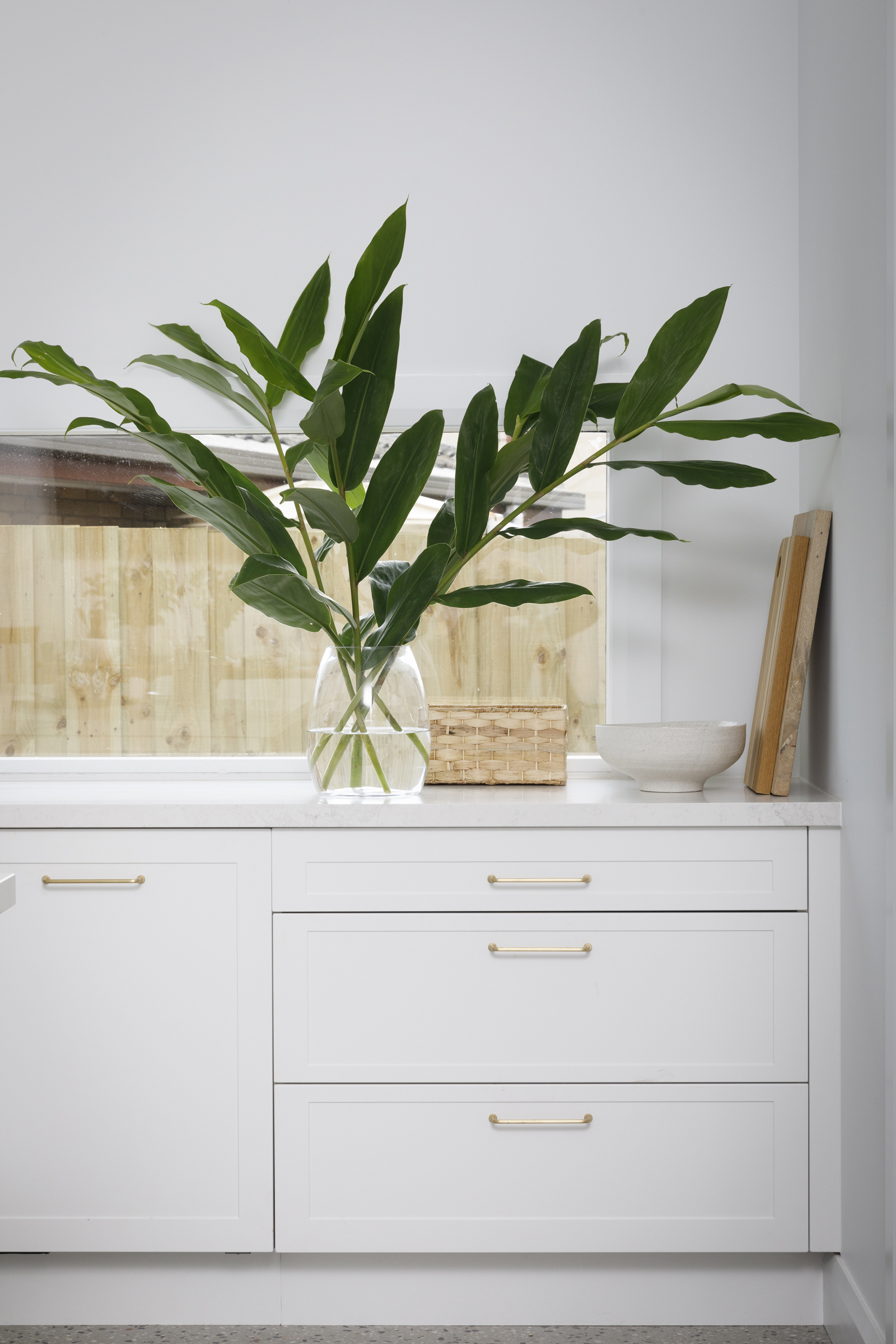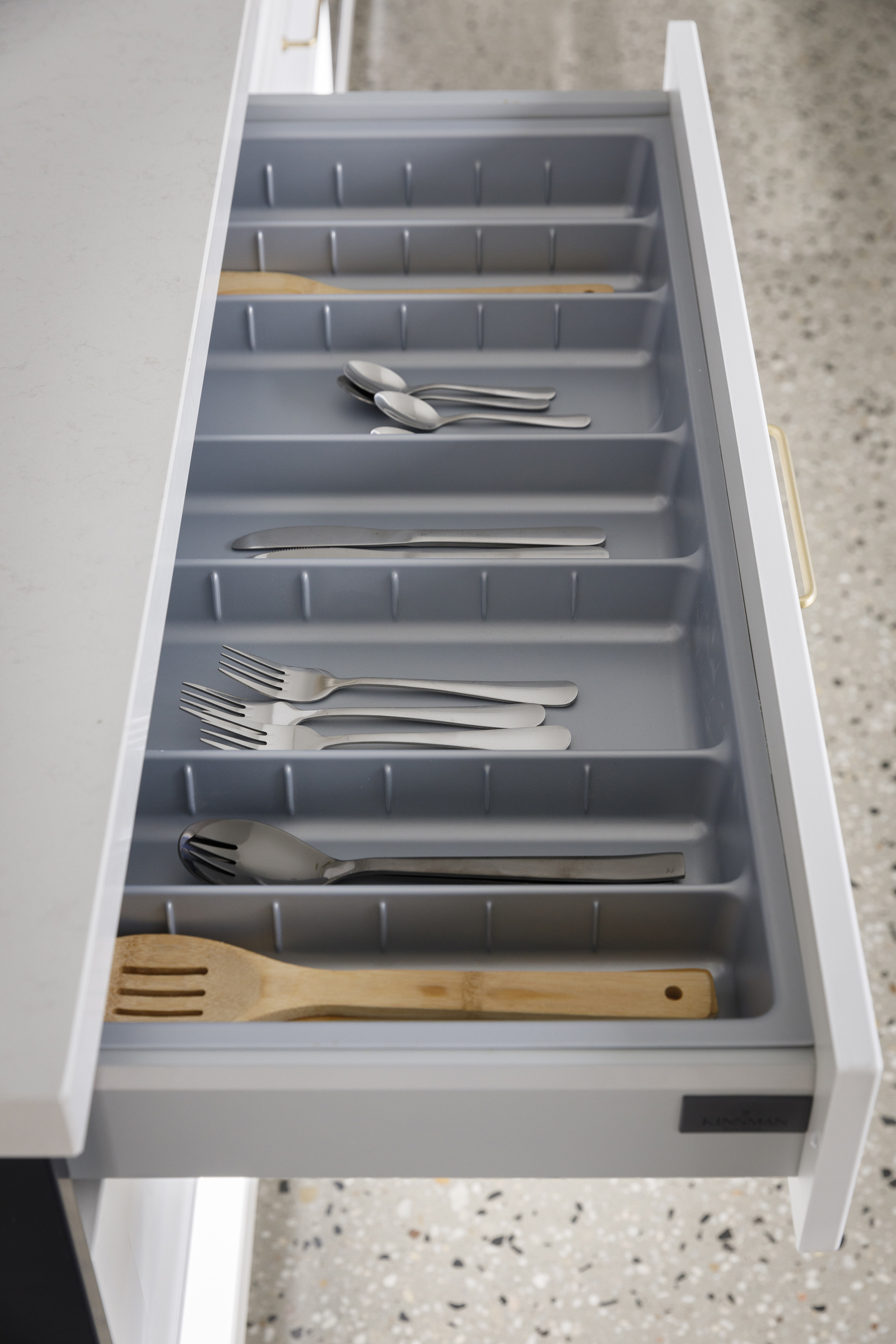 The design also includes accessories such as the ORGA cutlery trays which ensure that cutlery and utensils are easily organised, and two integrated Ninka bins. "I love all this extra storage, says Tori. Also on the recommendation of our designer, we added a 'sauce and spice' cupboard next to the fridge, which really captured our vision of having a chef's kitchen."
The butler's pantry.
To the left of the main kitchen sits the generous butler's pantry. Showcasing a practical U-shaped design, it measures 3.4 x 2.1 metres. The kitchen's workhorse, the room features a mixture of open shelving, cupboards, and Kinsman's Stainless Steel Drawers, providing plenty of storage for pantry essentials, space for glassware, less frequently used crockery and serving ware.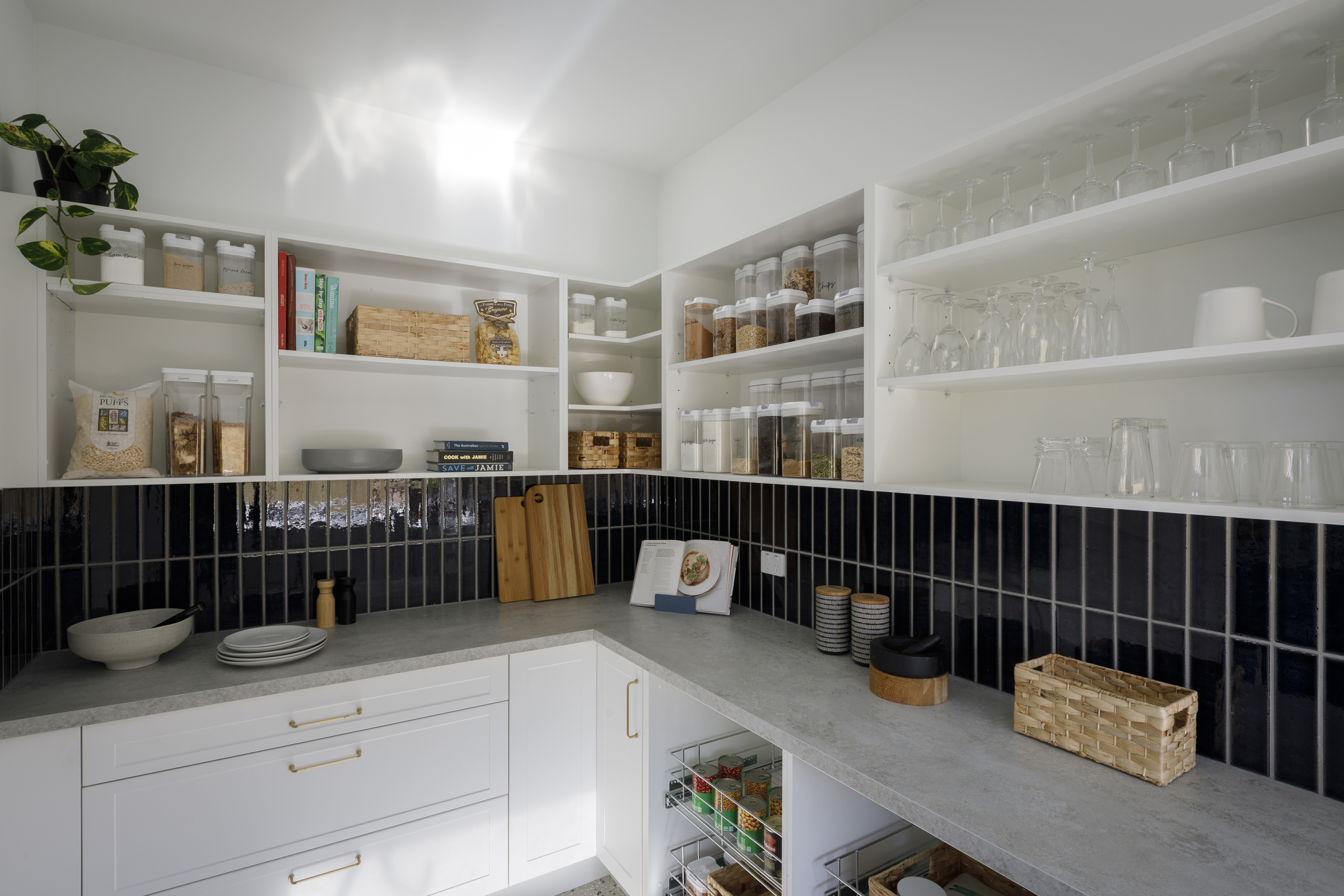 An additional sink and tap – as well as plenty of prep space, thanks to expansive countertops in Kinsman's Premium Laminate Chalk Ceramic Streamline, ensure that the pantry is the perfect space to prep for entertaining and then hide away any mess behind the sliding door.
The appliances.
The perfect Chef's Kitchen needs excellent appliances, and this kitchen has them in spades! One of the benefits of choosing Kinsman is that we are found within selected The Good Guys stores, meaning their consultants can assist you in finding the perfect appliances to go in your new Kinsman kitchen. "As we were building a new house, we needed new appliances throughout, explains Tori. We found getting them through The Good Guys was a great deal, and it was seamless to have everything from the one place."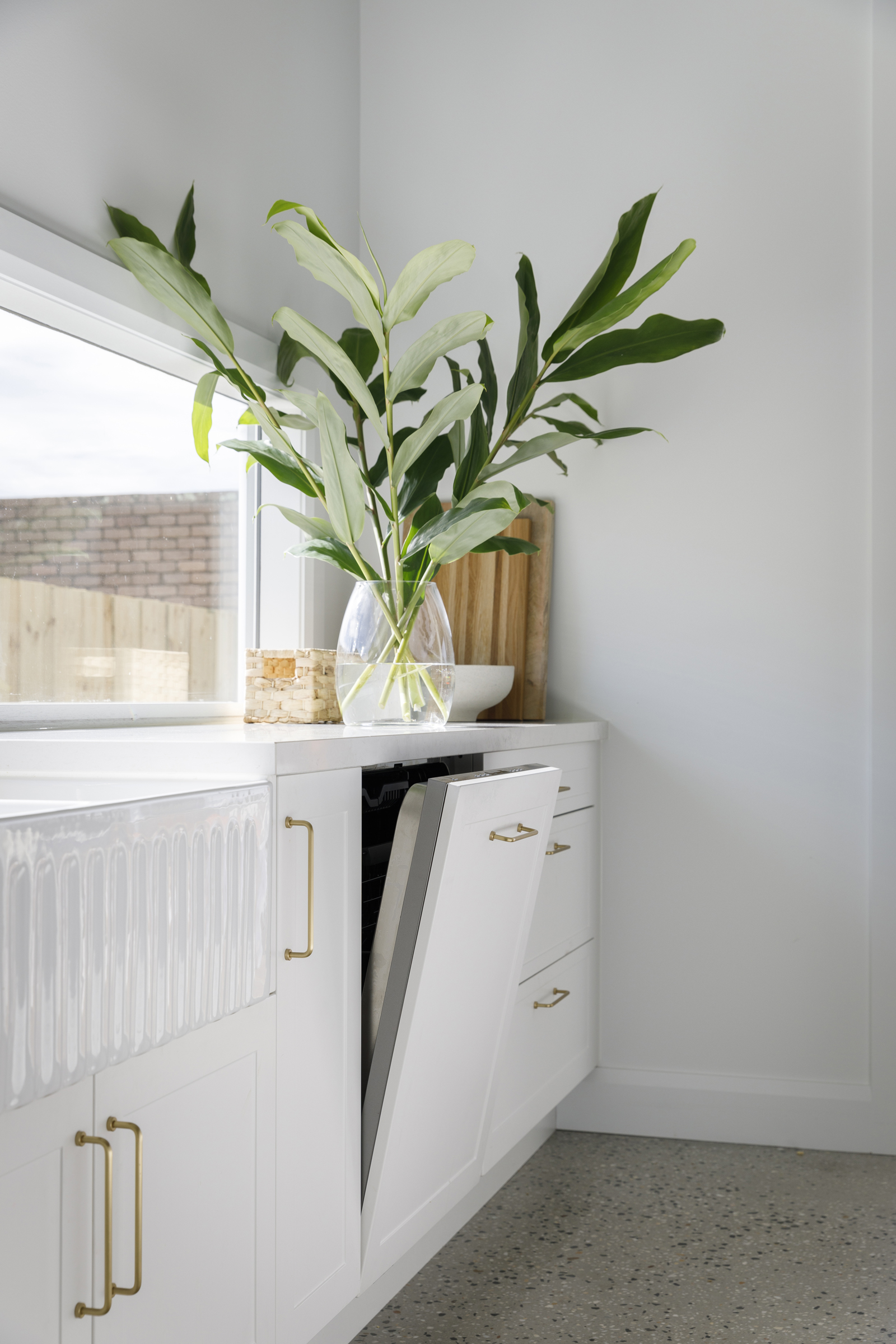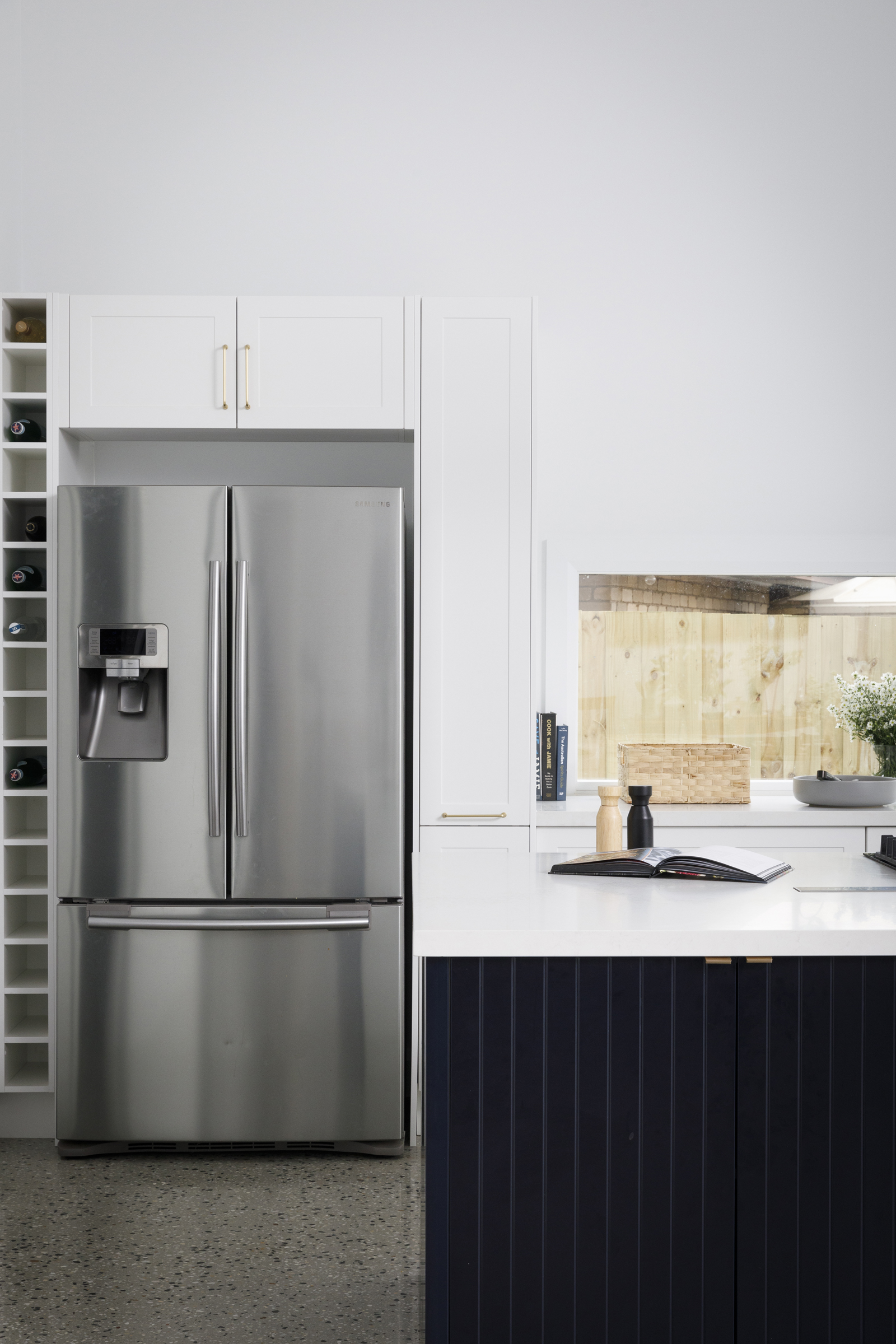 The laundry.
The laundry reflects the finishes and fixtures of the kitchen, carrying through the Modern Country look. Cabinetry in Somersby White Matt and Avalon Oxford feature once more, with Matt Brass Rounded Bar handles used throughout. A farmhouse sink, brass-look tap and the Penny Round Marble Mosaic tiled splashback complete the look.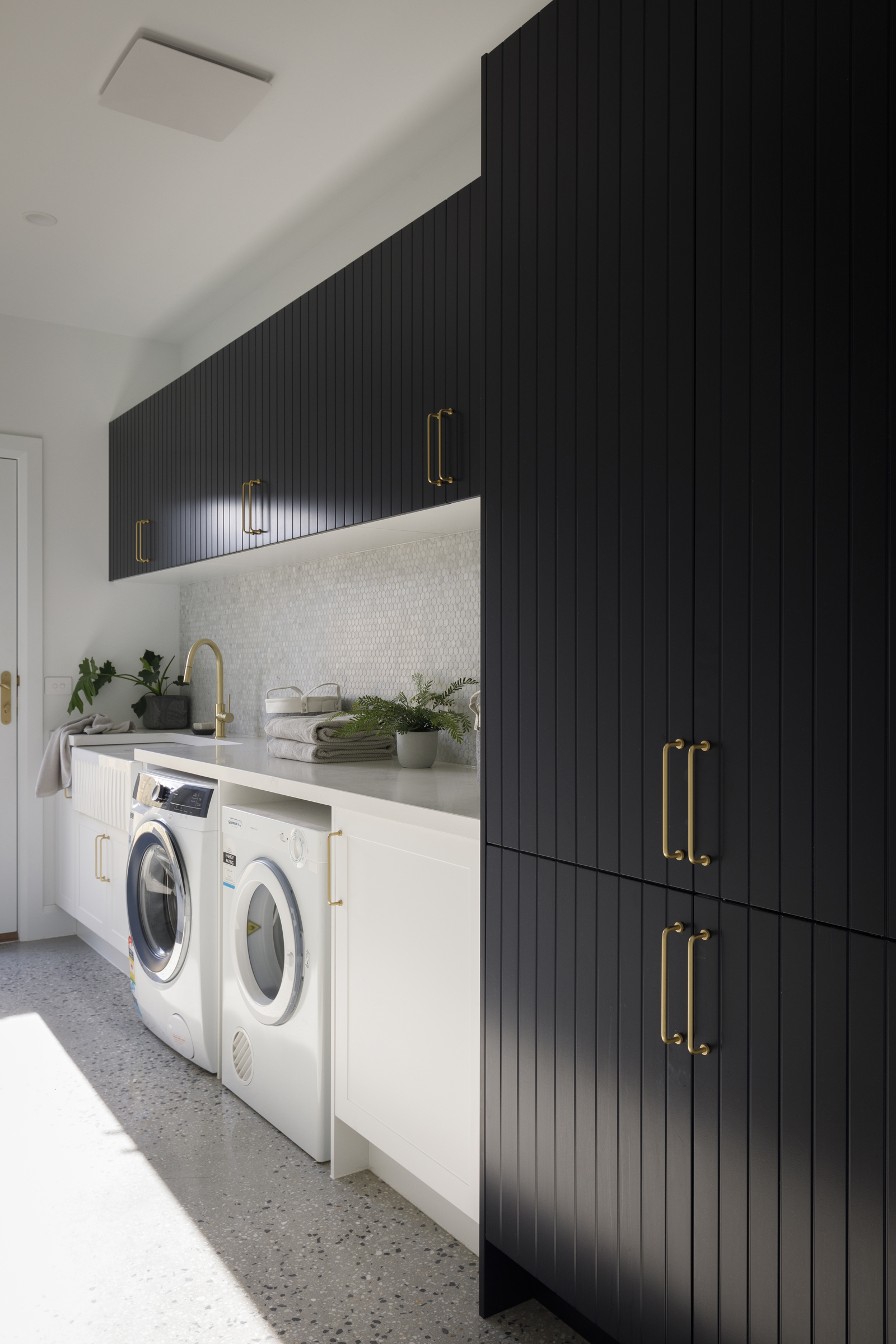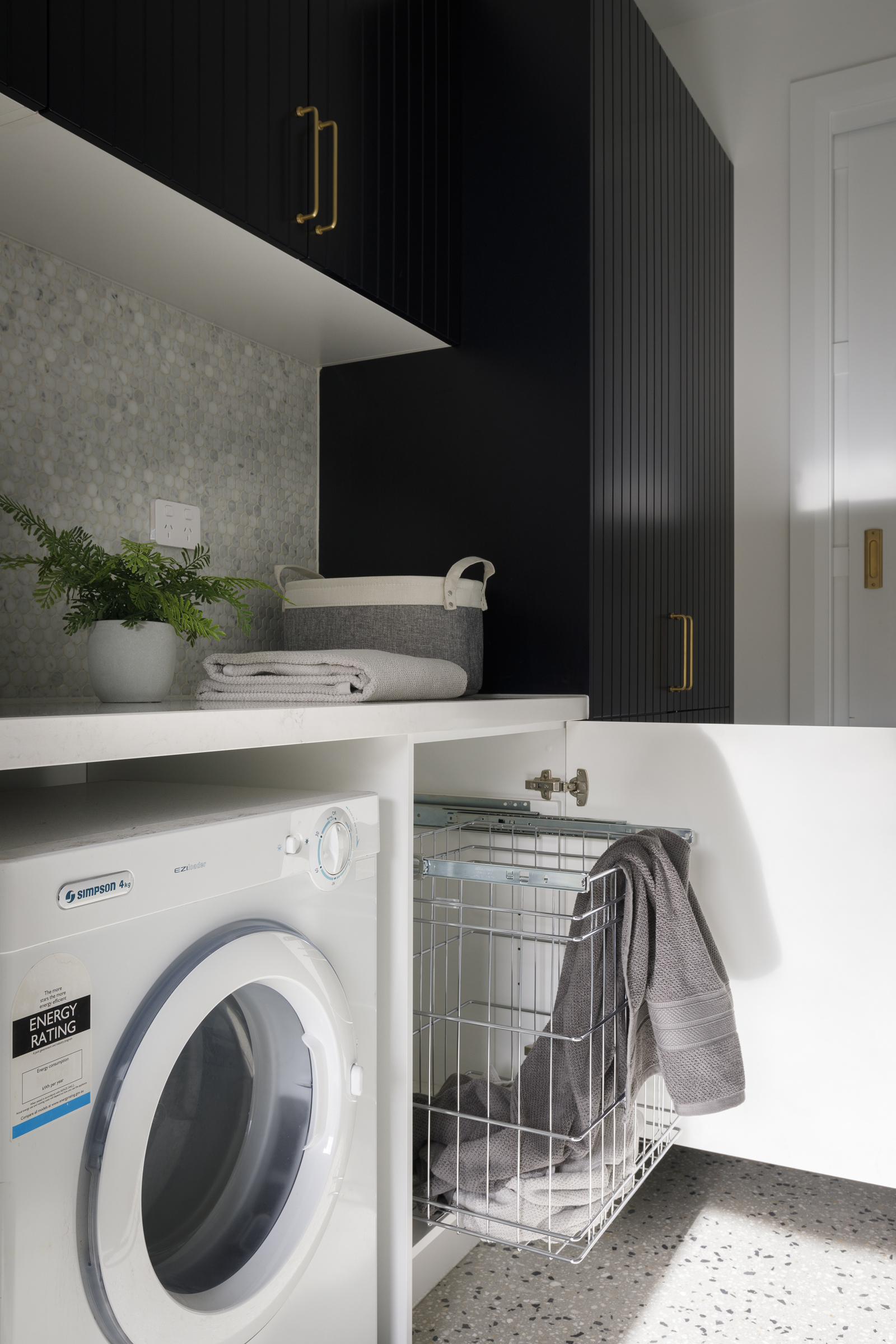 A front-load washing machine and front load dryer sit side by side below Caesarstone® Calacatta Nuvo benchtops, providing plenty of folding space. The design also includes a Laundry Pull-Out Wire Basket, keeping laundry organised and concealed. Tall cupboards have been included in the layout to provide space to store items such as brooms and mops.
The Kinsman Experience.
 "The experience was brilliant. To have a one-stop shop for our entire build saved us time and money, smiles Tori. We really enjoyed working with the designer, and the online portal was simple to use. It was amazing watching the installation and watching our design come together. We have already recommended Kinsman to multiple people!"
Inspired to create your very own perfect kitchen, pantry and laundry with us?
Book your in-store, in-home, or virtual appointment HERE. For more inspiration and product information, download our Ideas & Inspiration Catalogue HERE.
Full kitchen details.
Cabinetry: Somersby White Matt, Avalon Oxford
Benchtop: Caesarstone® Calacatta Nuvo, Chalk Ceramic Streamline
Handles: Matt Brass Rounded Bar 160mm 34-K-132
Kickboards: Matching
Splashbacks: By owners
Accessories: Stainless Steel Drawers, Ninka Bins, ORGA Cutlery Tray, Laundry Pull Out Wire Basket  
Taps: By owners. For similar see Kinsman's Retractable Gooseneck Tap in Brass-look.
Sink: By owners. Henley Double Fluted Farmhouse (kitchen), Franke Double Bowl (pantry), Franke Bolero Inset Under-mount (laundry).
Flooring: Polished concrete
Lighting: LEDlux Rivit LED 1200mm Dimmable Pendant in Brass from Beacon Lighting
Appliances: From The Good Guys
Photography: Marcel Aucar
Stylist: Ruth Welsby