When homeowners Jesse & Tori bought land in Winchelsea, in the Victorian Surf Coast Shire, they had the opportunity to create their dream home for themselves and their young daughter. They turned to Kinsman to bring to design and bring to life two wardrobes and a home office to complement the rest of the home, including their brand new Kinsman kitchen and laundry.
Below we take a closer look at their two new wardrobes and home office which offer style and storage in spades!
Master Walk-in Robe.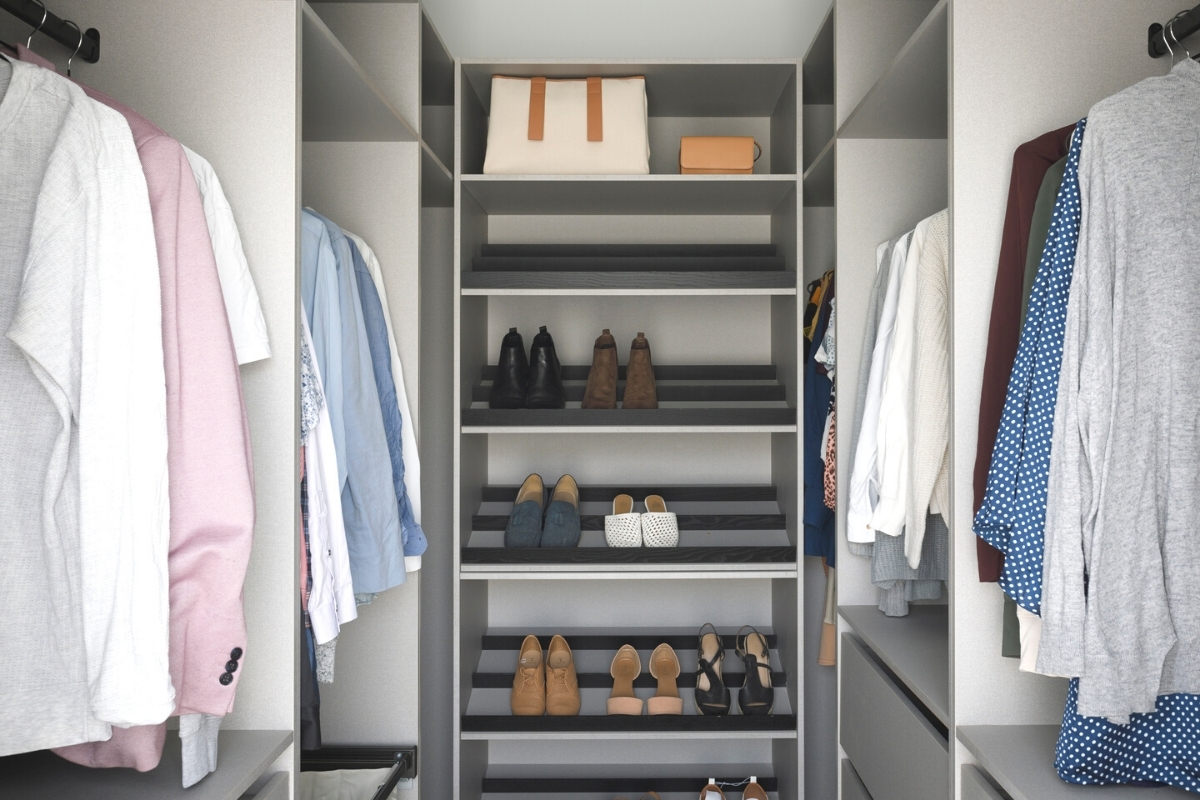 The U-shaped Walk-in robe in the Master Bedroom has been tailored to create the perfect space to store Jesse & Tori's clothing, shoes and accessories. The first thing that you see stepping into the glamorous space is five Angled Shoe Racks – the matte black detailing contrasting beautifully with the exposed Interior Finishes in Greige Textile Natural.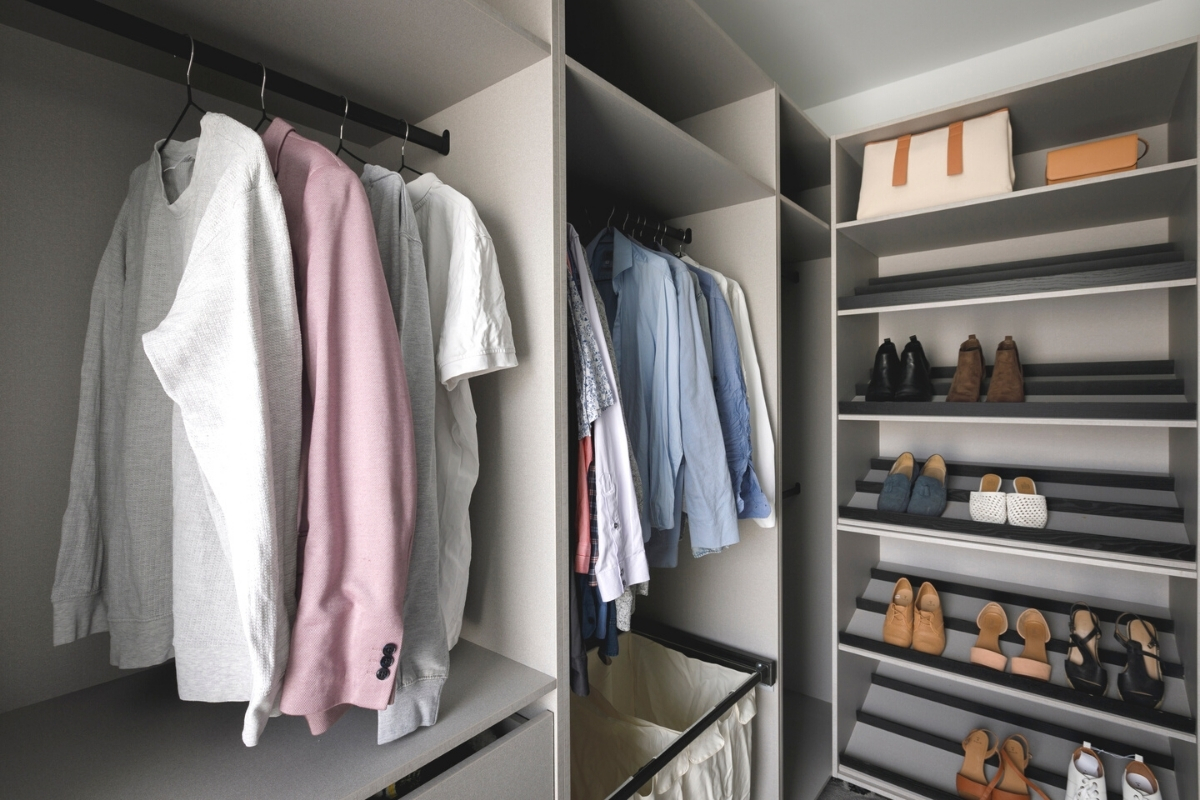 Banks of cabinetry measuring 4.5 metres sit either side of the shoe racks, creating a 'His & Hers' layout. To the right, Jesse enjoys both full hanging and half hanging space as well as two sets of three soft closing drawers. Opposite, Tori also has full hanging and half hanging units and one set of drawers. What sets his side apart however is the inclusion of two laundry hampers – which keep the robe tidy and makes laundry day a breeze.

Hinged Wardrobe with Study Nook.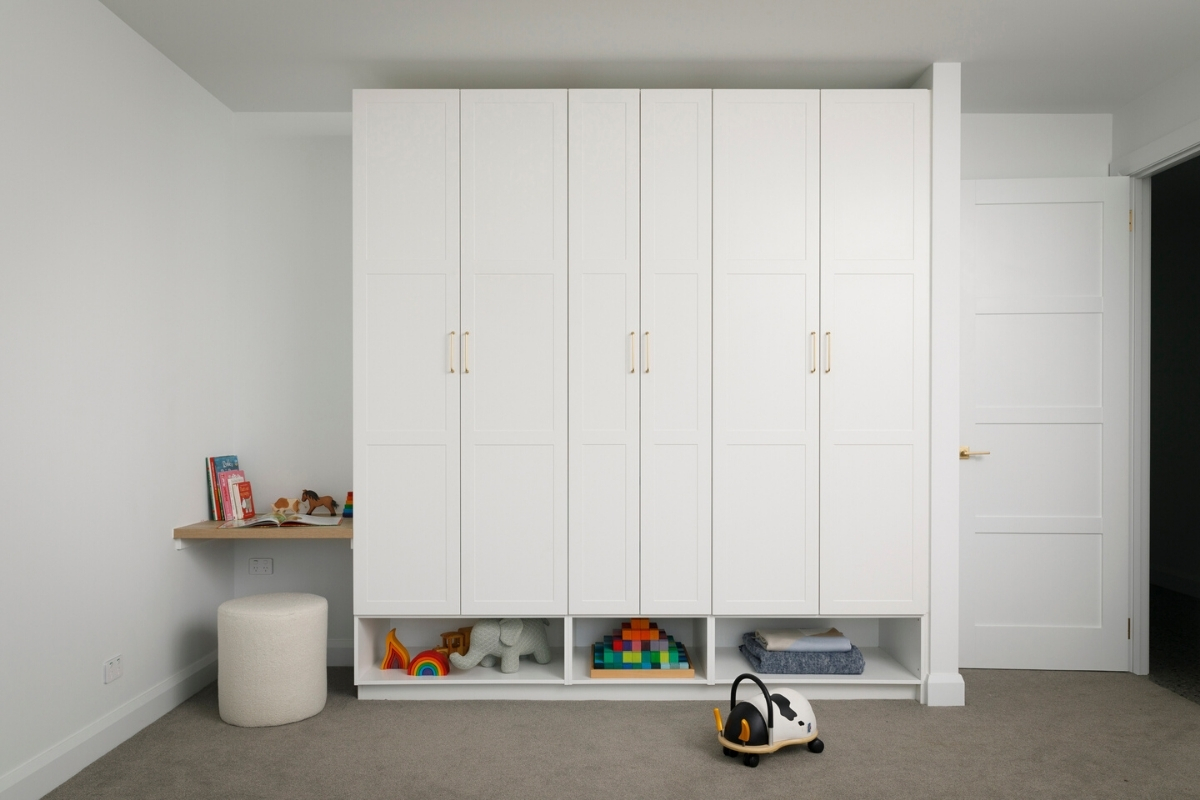 Light and bright, the Hinged Wardrobe for Jesse & Tori's young daughter is fit for a princess! Perfect for storing clothes, accessories and toys, the design features shaker-profile Somersby White Matt joinery, paired with Matt Brass Rounded D handles evoking the Modern Country style seen throughout the rest of the home.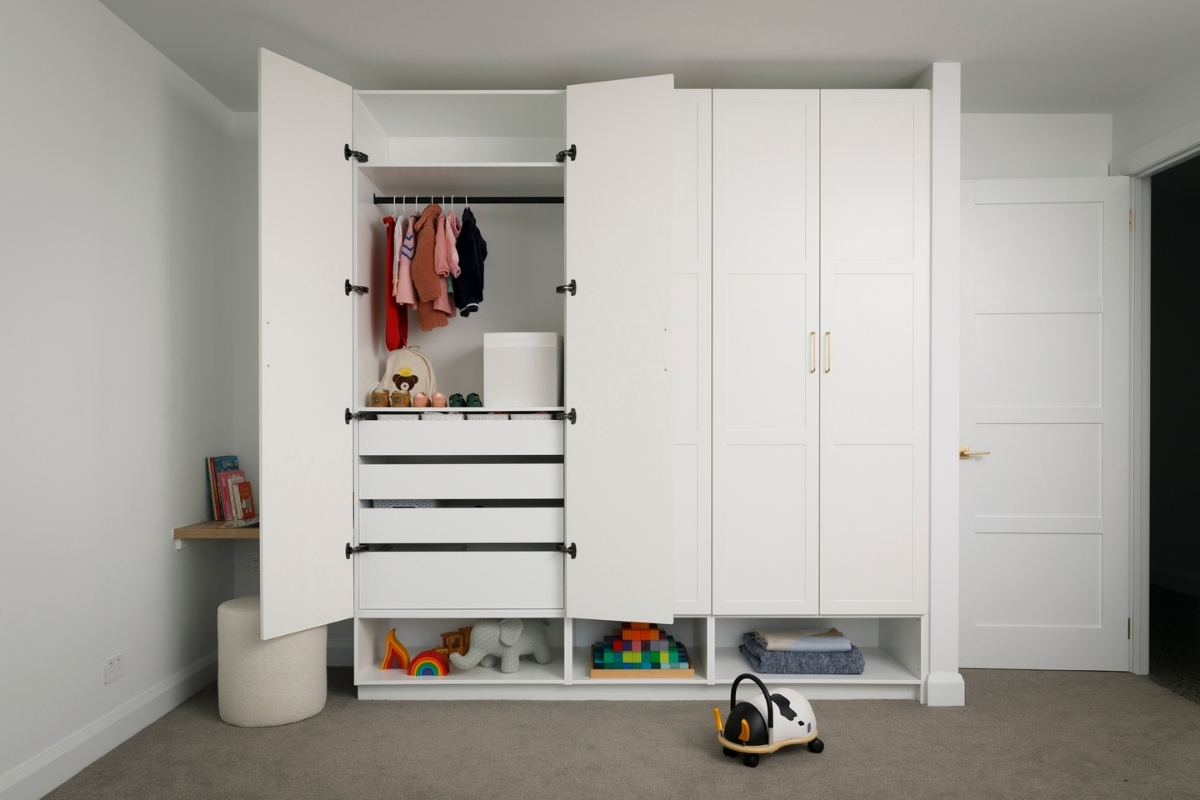 Opening up the doors to Interior Finishes in White Satin, storage abounds in this closet. Created by three sections, the robe offers a mixture of half hanging space, open shelving and drawers. Exposed open storage boxes at the base of the robe provide easy access to much loved toys, and having them out on display adds a pop of colour and personality.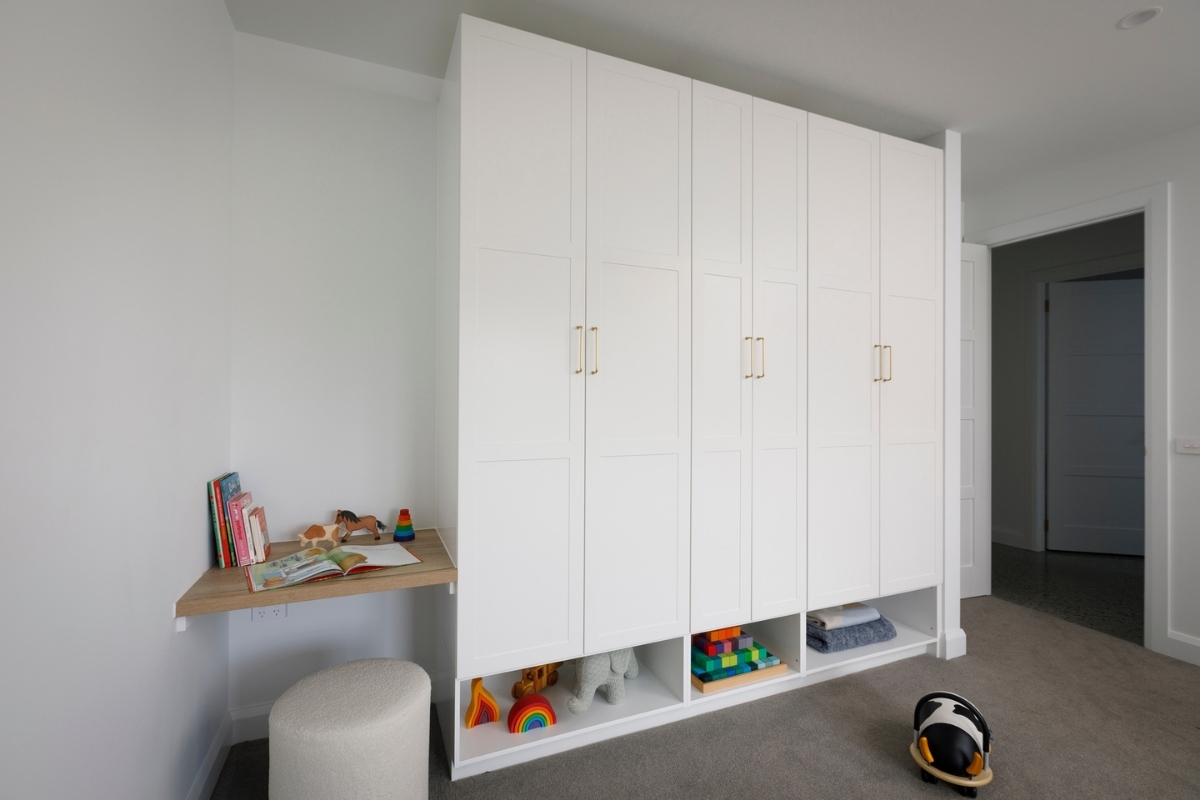 A desk topped in Kinsman's Natural Halifax Oak Streamline premium laminate sits to the left of the wardrobe, creating a quiet zone to read and create. The beauty of this design is its versatility and ability to grow with its owner, for example the desk can be turned into a study zone when she starts school and the open storage boxes can store shoes or other items if needed.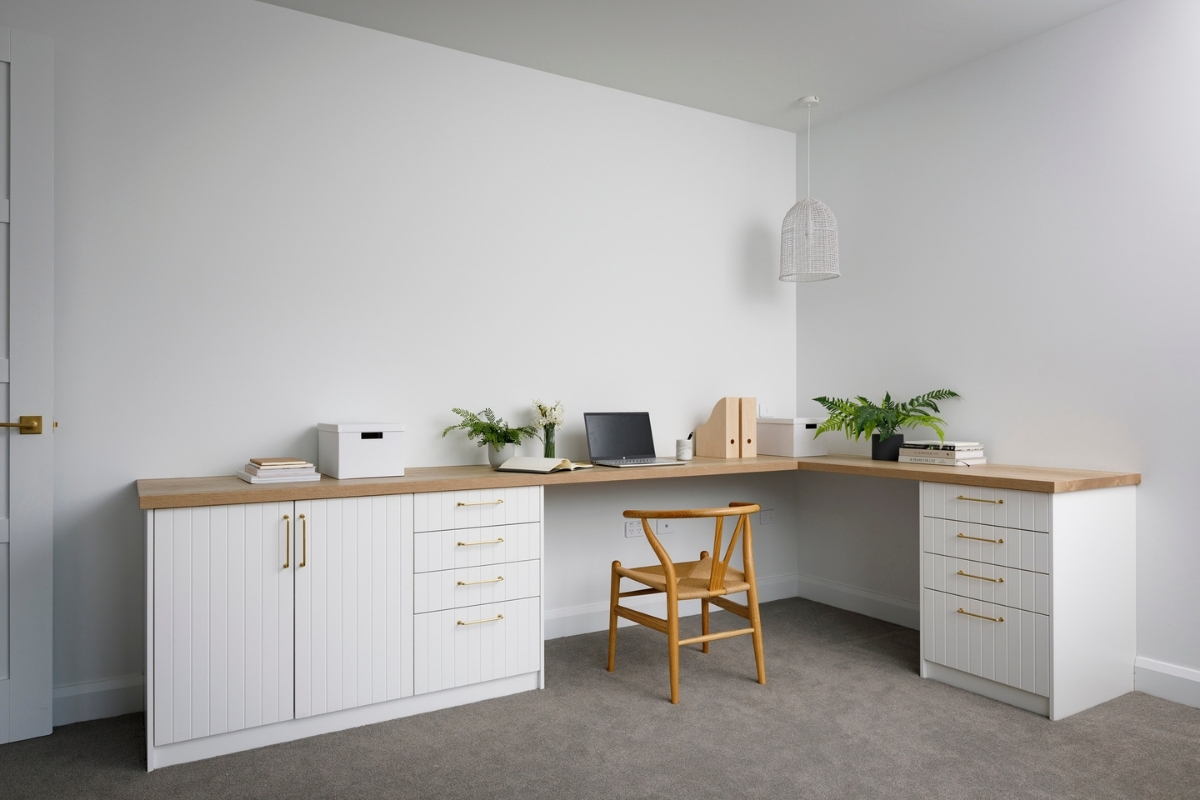 The L-shaped layout of the home office used by both Jesse & Tori, not only offers the perfect work zone for the couple it also allows plenty of space for the rest of the room, allowing it act as a media room and guest space.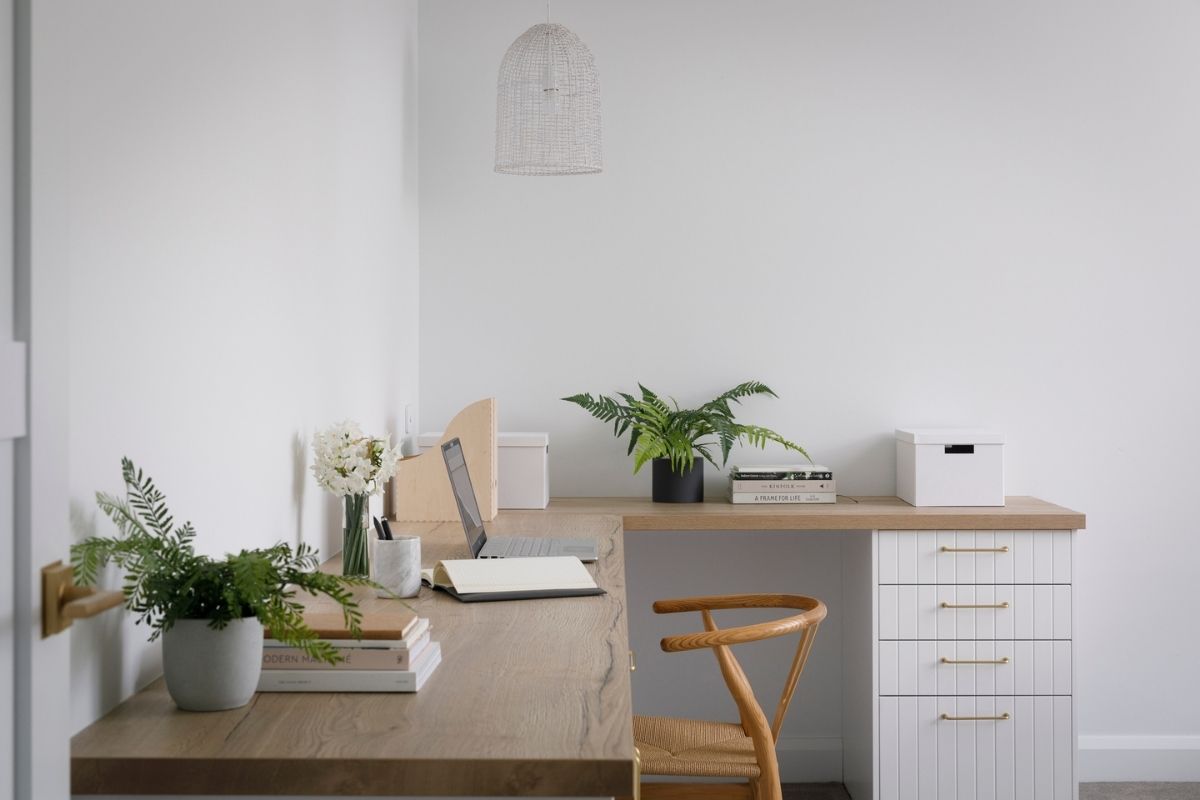 Style notes mirror the kitchen and laundry spaces, as seen through the use of panelled Avalon Classic White cabinetry and Matt Brass Rounded D handles. A desk topped in Natural Halifax Oak Streamline premium laminate allows for plenty of work space. Storage is also generous thanks to two cupboards and eight soft close drawers.

Transform your wardrobes, home office and media room today with Kinsman!
Book your in-store, in-home, or virtual appointment HERE. For more inspiration and product information, download our Wardrobe Catalogue HERE.