How to Create the Perfect Media Room or Home Entertainment Space
The inclusion of media rooms in Australian homes is on the rise, with many of us choosing to entertain at home. Whether it's a standalone entertainment centre or a multipurpose space that combines other designs such as home offices, a media room is a wonderful inclusion to any home.
Below we answer some of our most frequently asked questions about creating the perfect media room design and look back on some of our favourite creations from The Block 2020.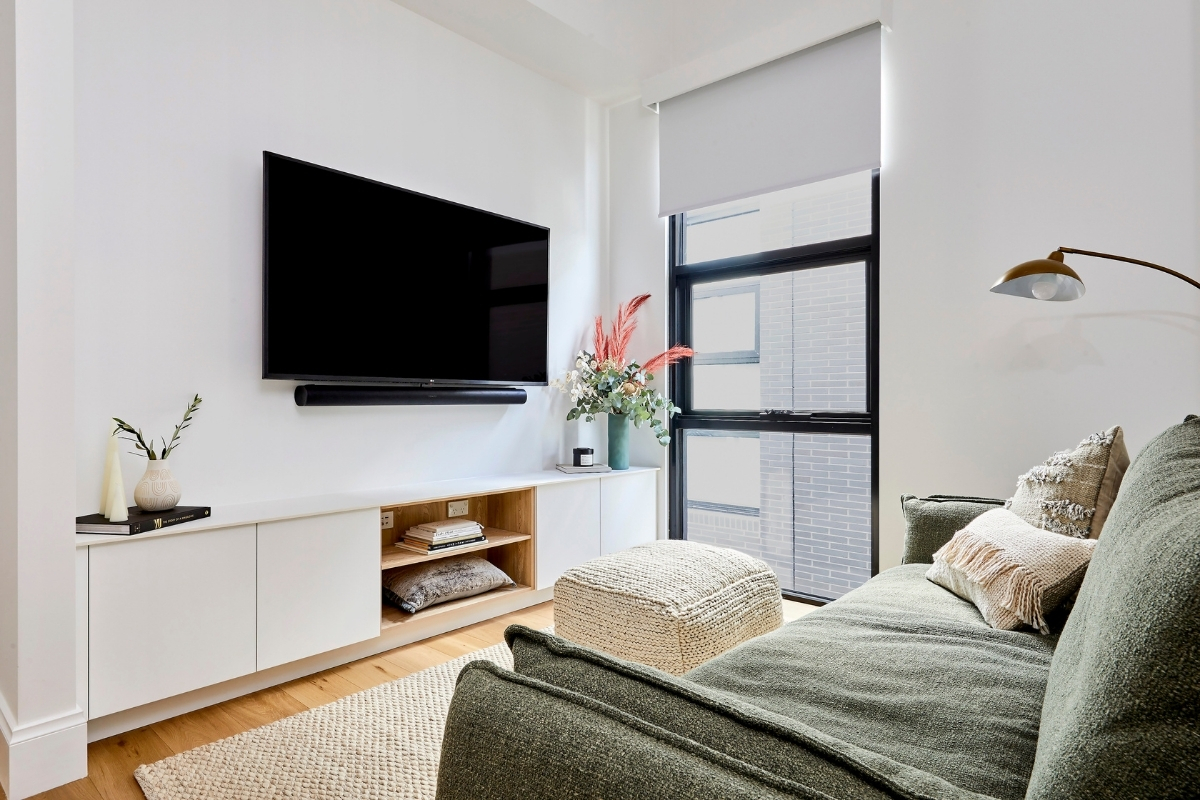 Winning team Jimmy & Tam added a cosy & bright entertainment room to their main house on The Block 2020, creating a second living room design that a range of users could use from a couple to teenagers.
 What is a media room?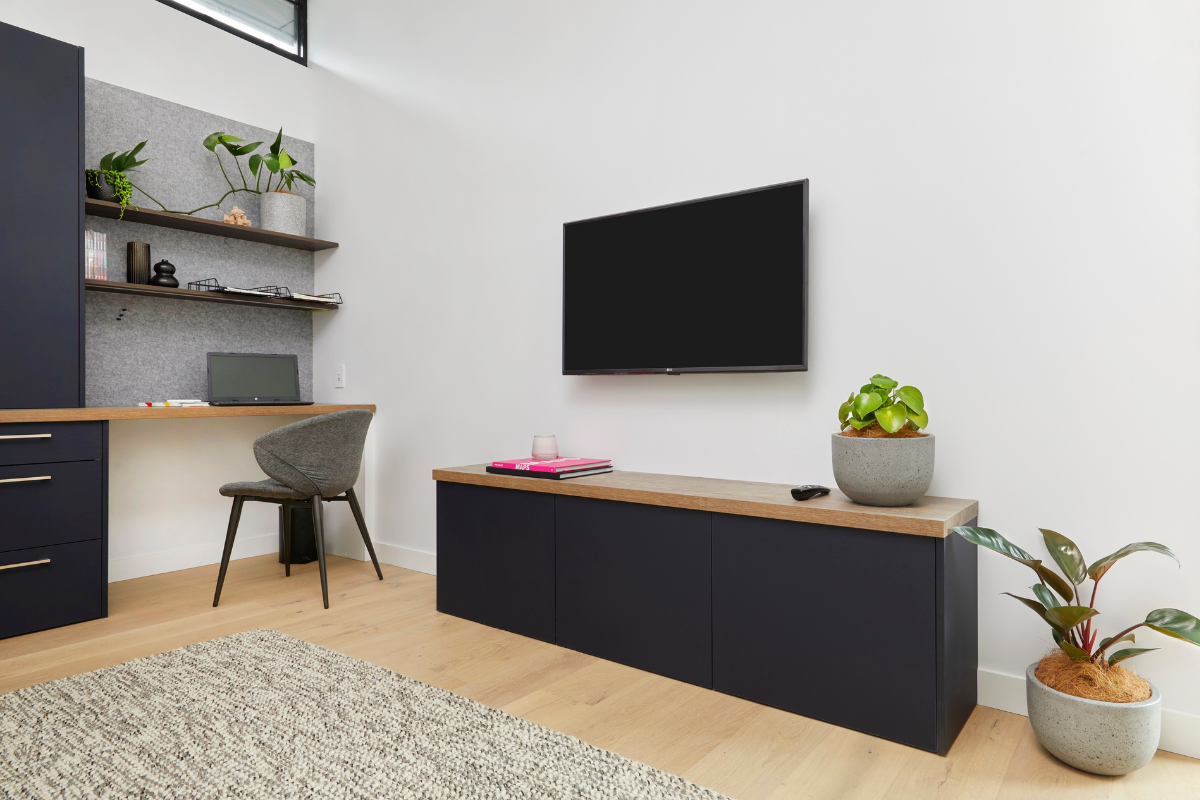 Daniel & Jade designed a generous living zone that includes a home office for two people, a television and entertainment unit for extra storage and a comfortable lounge to enjoy watching a movie or playing a game- perfect for a modern family media room.
A. A multipurpose room, a media room typically includes key audio-visual components such as a television and comfortable seating. More versatile than a traditional home theatre, contemporary media rooms focus on a social experience that goes beyond watching movies in a darkened room- they're a great informal gathering hub within your home and suit both large and small spaces.
What electronic devices should I include in a media room design?
A. How you will be using the room will dictate what you should include in the space, but we like to include a few key design features as a starting point. Consider a mixture of audio-visual components ranging from televisions, surround sound systems, projectors, computers, and gaming consoles, depending on who will be using the area.
What are some of our favourite media room layout ideas?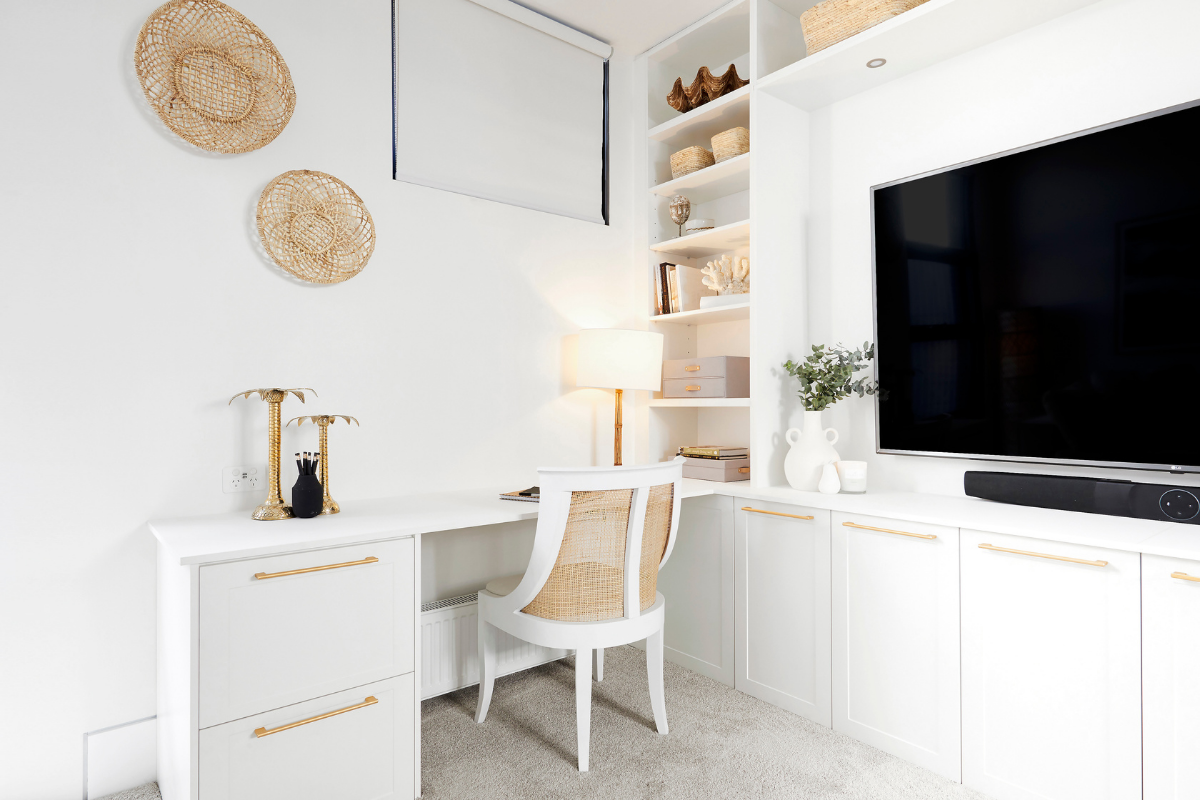 For a contemporary media room experience,  Luke & Jasmin designed a TV unit adjacent to a desk area, surrounded by open shelving, to ensure every inch of space was used as functional storage.
A. The beauty of a media room is that many different configurations work. You may like to opt for a classic design that includes your audio-visual equipment on an entertainment unit sitting across from a lounge or armchairs, to create an inviting and casual gathering place to socialise, which works incredibly well in both small and large areas.
One of our favourite home media room layouts maximises functionality by combining a media room with a home office. A great option is to create a U-shaped layout where the desk flows into the entertainment centre with an option for bay seating to create a place to relax while offering additional storage.
How can I include storage in a media room?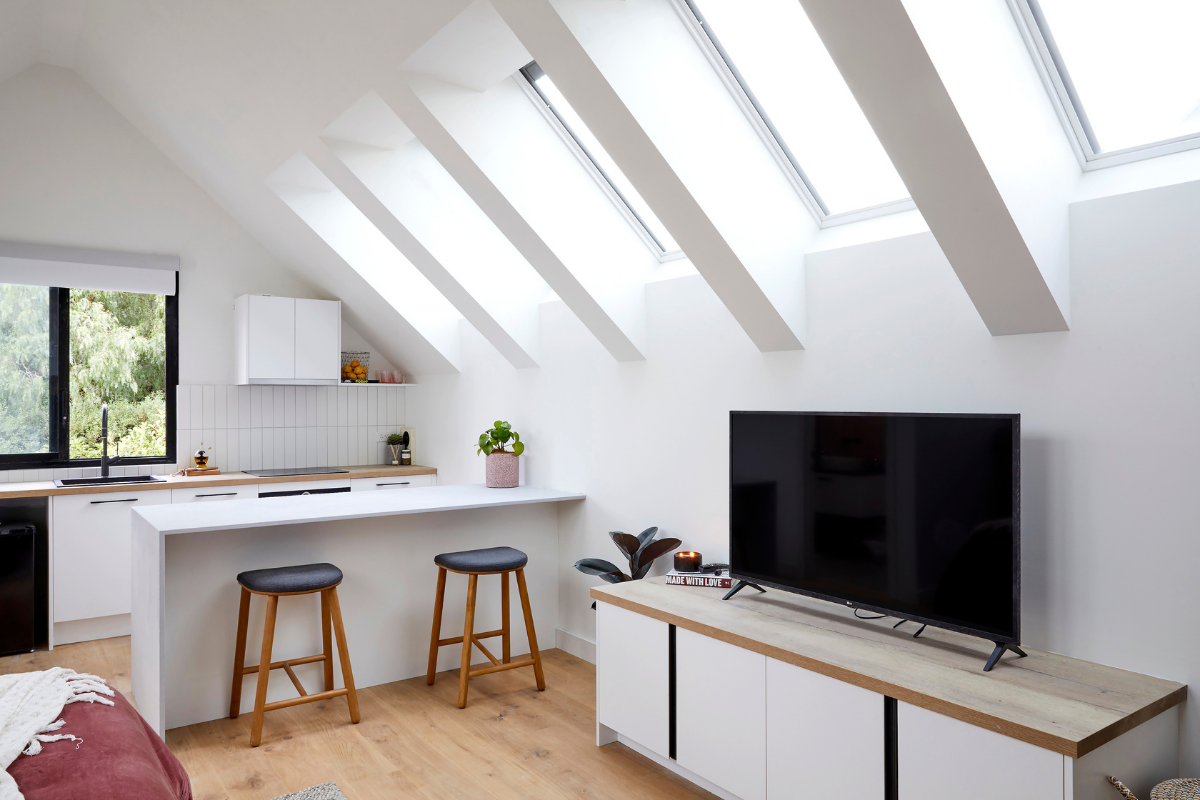 Harry & Tash added much-needed storage to their studio, including an entertainment unit created with White Satin cabinetry and Black Marq handles, topped with Natural Halifax Oak laminate.
A. Because there is never too much storage in a home, a media room is a great space to include additional storage! It can be as simple as placing your television on or above an entertainment unit with drawers or cupboards. If space permits, we also love to place audio-visual pieces within a larger, full-wall library which can combine open shelves with drawers and cabinets.
What colour palette should I use in my entertainment centre in terms of joinery and paint?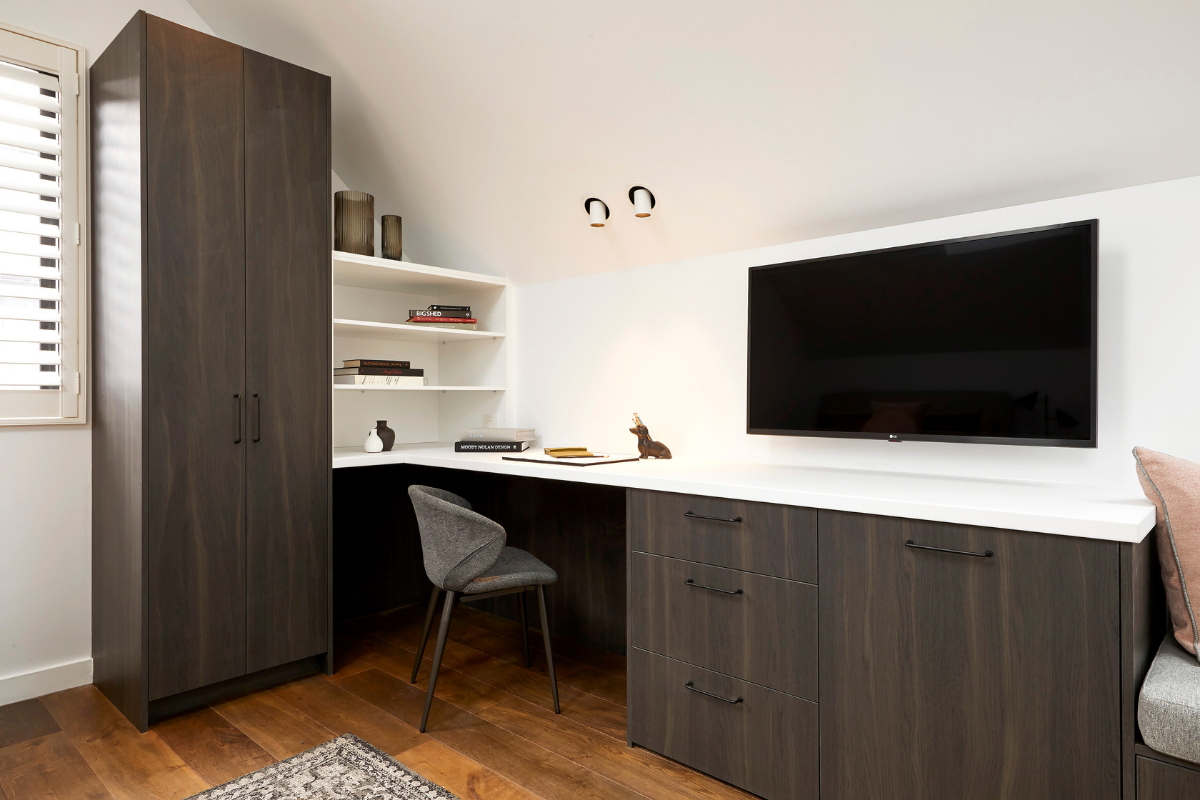 Sarah & George included a multifunctional home entertainment space that includes a television and bay seat, perfect for relaxing within their studio apartment.
A. Using matching or similar joinery that already exists within the home, both in terms of door profiles and colours, will bring a sense of harmony and connection. When choosing paint colour for your walls, think about the size of the room and how you will be using it. For example, white shades work well in a space that focuses more on socialising and entertaining, while smaller rooms feel cozy and inviting with warm and earthy tones. If you want to create a 'cinema vibe' in your media room, dark paint colours will help bring that vision to life.
Should I include windows within a media room?
A. Again, this will depend on whether you already have windows in the space, or if it is a new build, whether you wish to include them or not. We recommend including windows in your media room and paying attention to your window treatments. Curtains and blinds are wonderful when they're opened/up to allow in natural light but can be closed/lowered when watching television or gaming, and you wish to block out the light.
Create your perfect media room/entertainment space with Kinsman today!
Book your in-store, in-home, or virtual design appointment HERE. For more inspiration and ideas download our Home Office catalogue HERE.