We all dream of a new kitchen that could grace the pages of a magazine, one that is stylish, functional and the heart of your home. However, you may be concerned that your allocated budget for your kitchen renovation may stop you from getting your perfect kitchen. The good news is that there are a number of cost-effective and stylish ways that you can achieve a high-end look without blowing the budget and below we share our top 6 tips to making this a reality.
Tip 1. Select doors with a flat profile.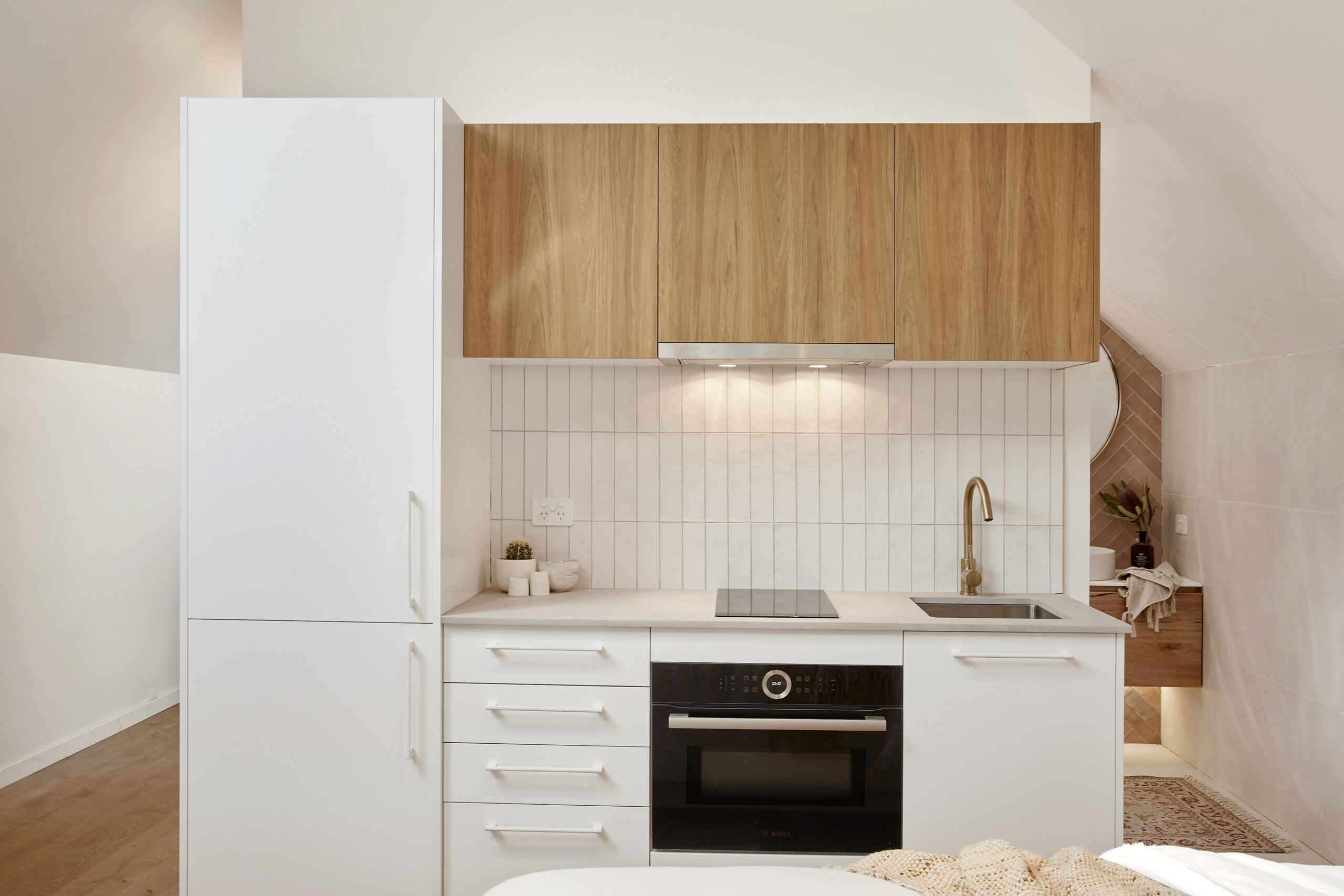 Luke and Jasmin's light and bright kitchenette from The Block 2020 is right on trend showcasing cabinetry in our Essendon White Satin and Prime Oak Woodmatt.
Sleek and stylish, doors with a flat profile are a great cost-saving design solution. A popular choice in modern Australian kitchens, they provide a beautiful blank canvas to allow other features in your kitchen to shine. Our Ballina and Chadstone door ranges are a great option, available in a variety of textures, tones and finishes, ensuring that you can find the perfect option for your new space.
When it comes to creating a cost-effective layout and configuration for your kitchen joinery, we recommend using larger cabinetry to cover more space rather than a mixture of smaller cabinets. Mix cupboards with adjustable shelving with deep drawers to ensure that your kitchen is stylish, functional and on-budget.
Tip 2. Handle it with style.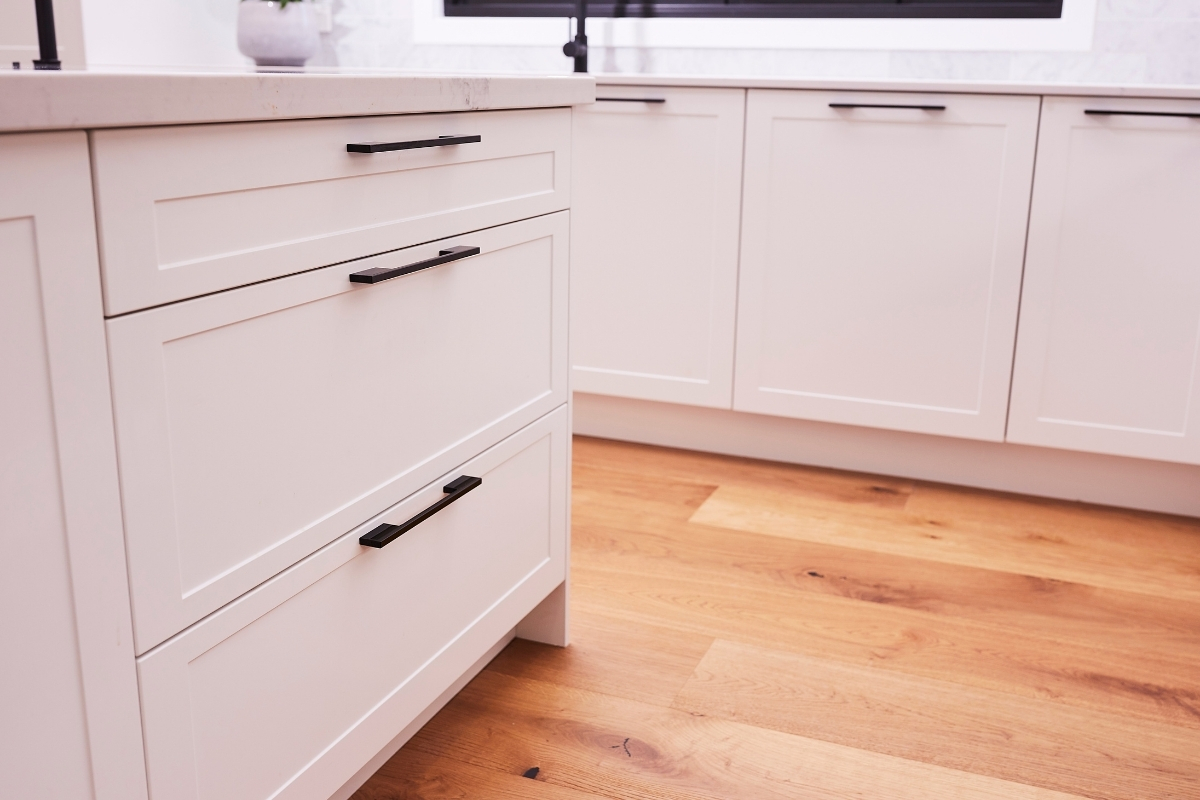 Add interest and personality to your kitchen with thoughtful handle selection.
They're a small detail but handles will add the finishing touch to your kitchen and are an effective way to evoke the style you want to achieve. If you have opted for a flat door profile in your new kitchen, adding handles will add an eye-catching detail and are highly functional – after all you'll be using them a lot!
Within our Designer Kitchen Range we offer numerous handle designs at a range of prices. From bar, knob, pull and cup designs and available in colours ranging from silver, brass, timber and black tones- there is a handle style and colour way to suit any kitchen!
Tip 3. Consider benchtops from our premium laminate range.
Evoke the look of marble, timber, concrete and many more without the price tag and maintenance by selecting a laminate benchtop for your new Kinsman Kitchen.
Manufactured in Europe, our laminate benchtops are available in a variety of colours at an affordable price, making them a practical and economic solution. Boasting low maintenance and easy-to-clean qualities, laminate countertops are a consistently popular choice.
Design tip: Love quartz benchtops but can't afford to have it throughout your entire kitchen? If you have an island bench as part of your design consider a slim 20mm Caesarstone® top and then pair it with laminate tops on the back benches, as well as in any pantry and laundry spaces.
Tip 4. Opt for a flat pack kitchen.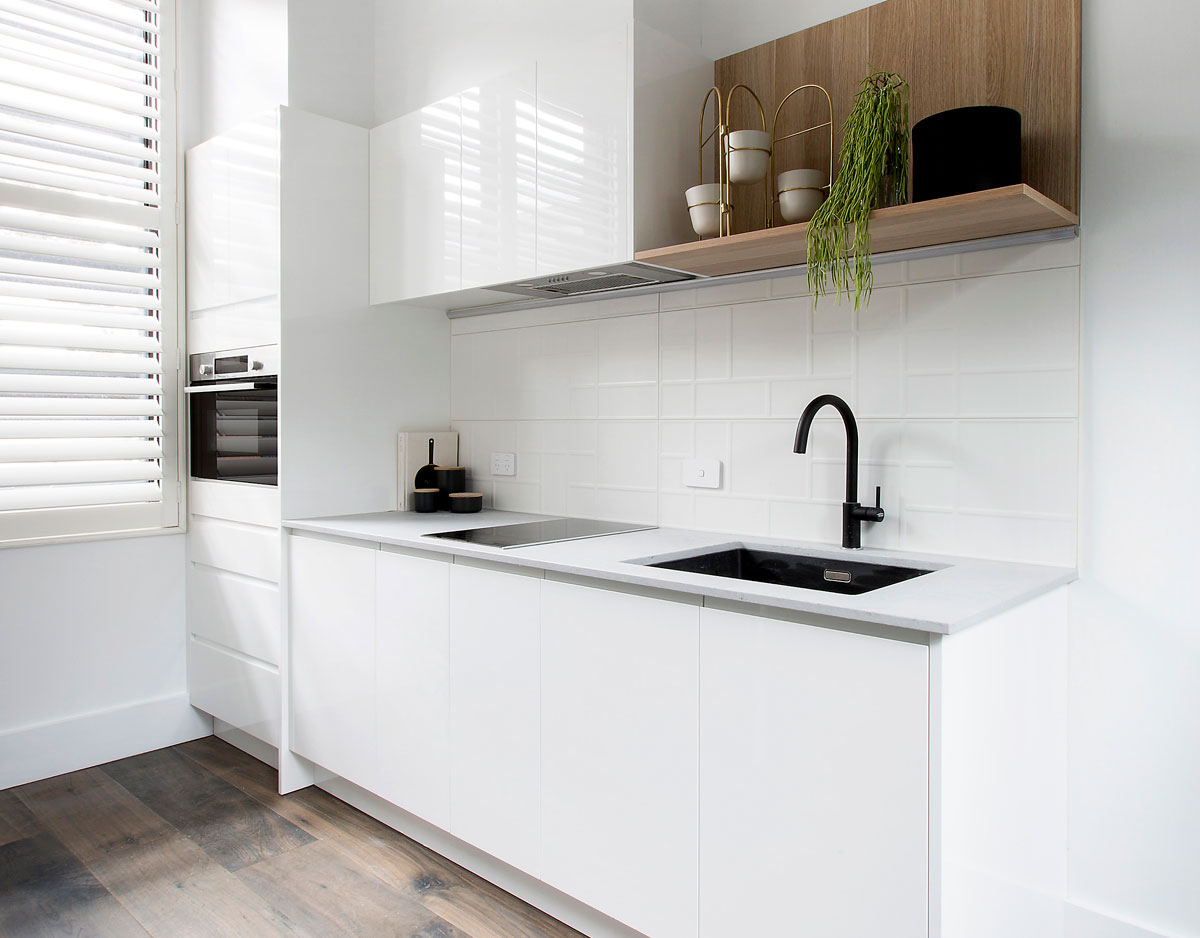 Our Xpress Kitchens Range is sure to impress with many standout features and arrives at your door ready to assemble.
The Xpress Kitchen Range is our exciting flat pack kitchen collection, arriving ready for you to assemble, making it an ideal choice for budget conscious customers. Xpress is the fastest solution we offer, with your kitchen delivered just 10 business days after final payment!
Where other flat pack kitchens may fall short on quality and features, your Xpress Kitchens is sure to impress. With 12 door options, 8 laminate benchtops and 10 Caesarstone® tops, as well as a wide selection of handles and accessories, this collection has a lot to offer.
Tip 5. Meet our Studio Range.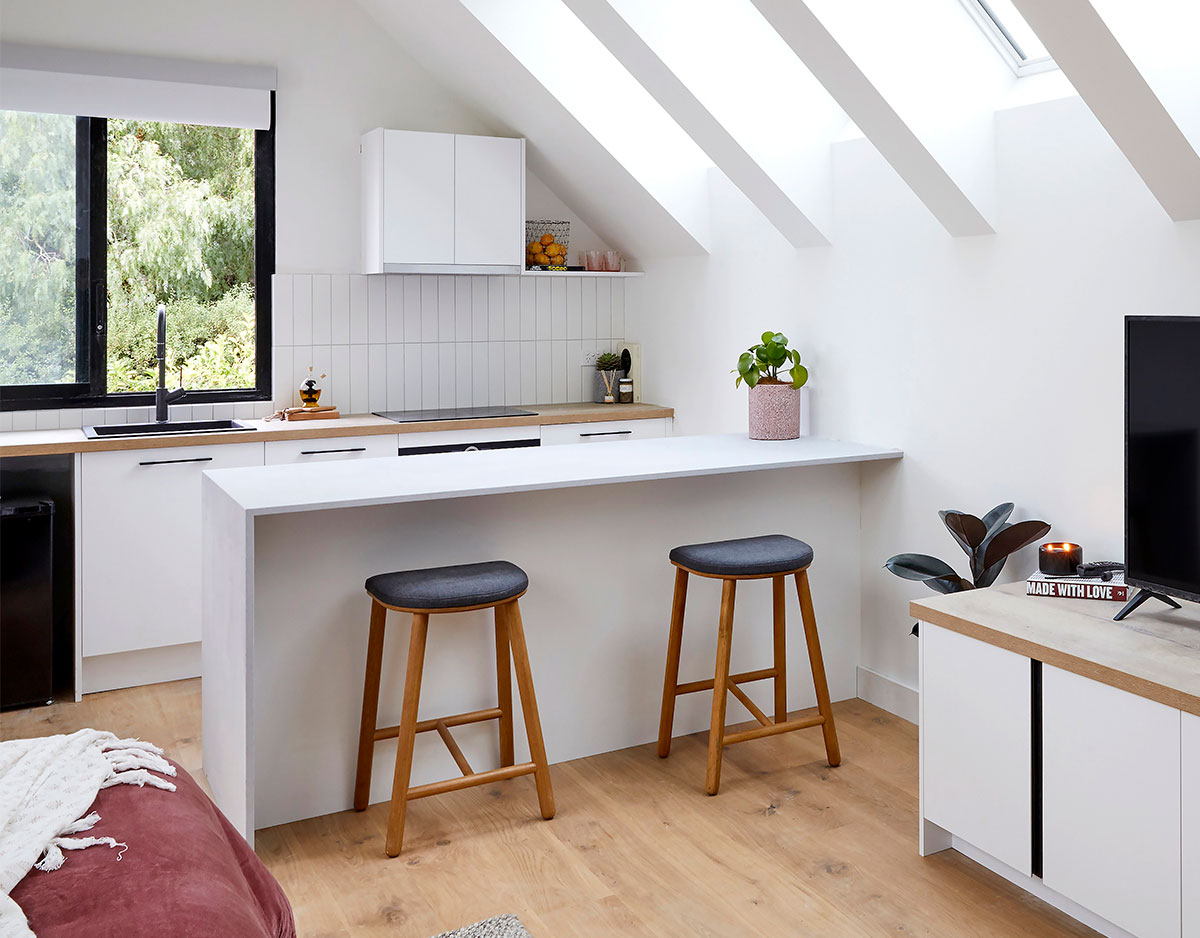 Harry and Tash created this stunning studio kitchen using the Studio Range, showcasing the quality, style and depth that this collection offers.
If flat packs don't appeal, then our Studio Range is a wonderful alternative to consider. The newest addition to the Kinsman family, this collection offers cabinetry delivered fully assembled- saving you time and money.
There are a range of cabinets to fit your kitchen, laundry or home office space, as well as four on-trend and stylish cabinet door colours. To complete your space, there are a variety of laminate and Caesarstone® benchtops, handles and accessories for you to choose from. The end result is a stylish design that doesn't come with a designer price tag.
Tip 6. Invest in smart storage solutions.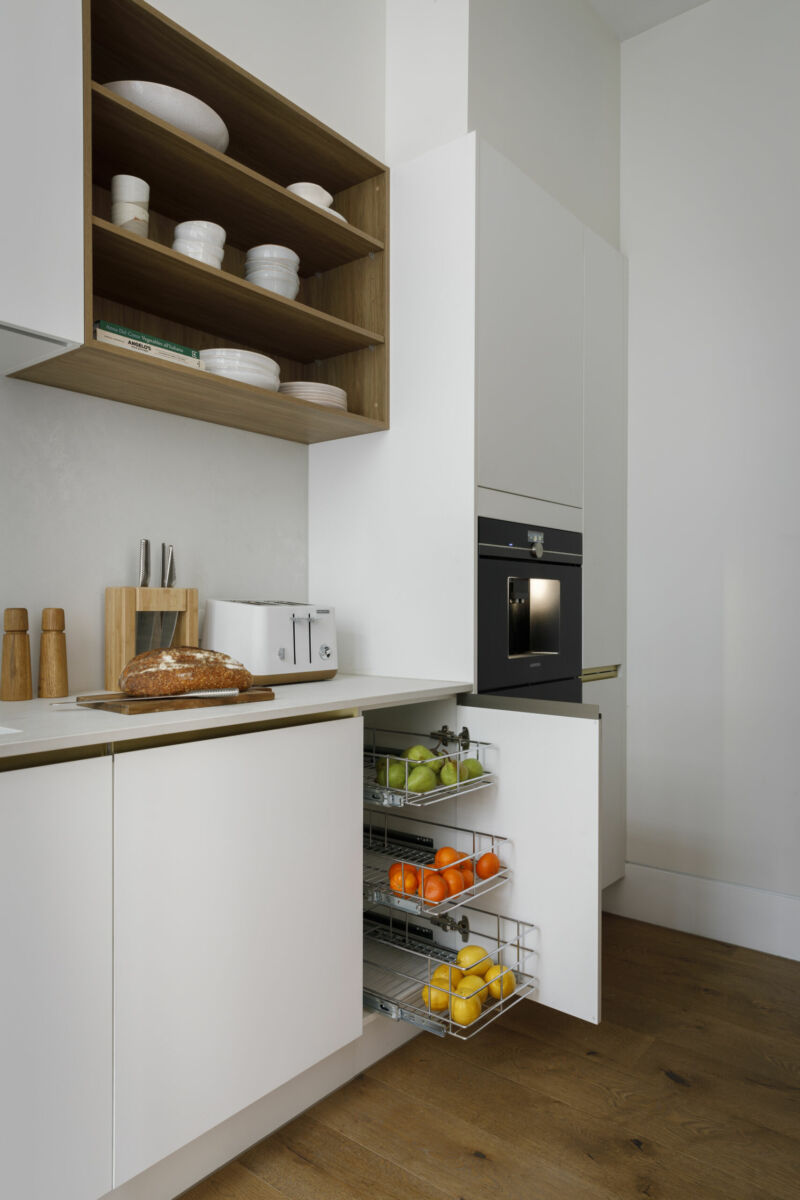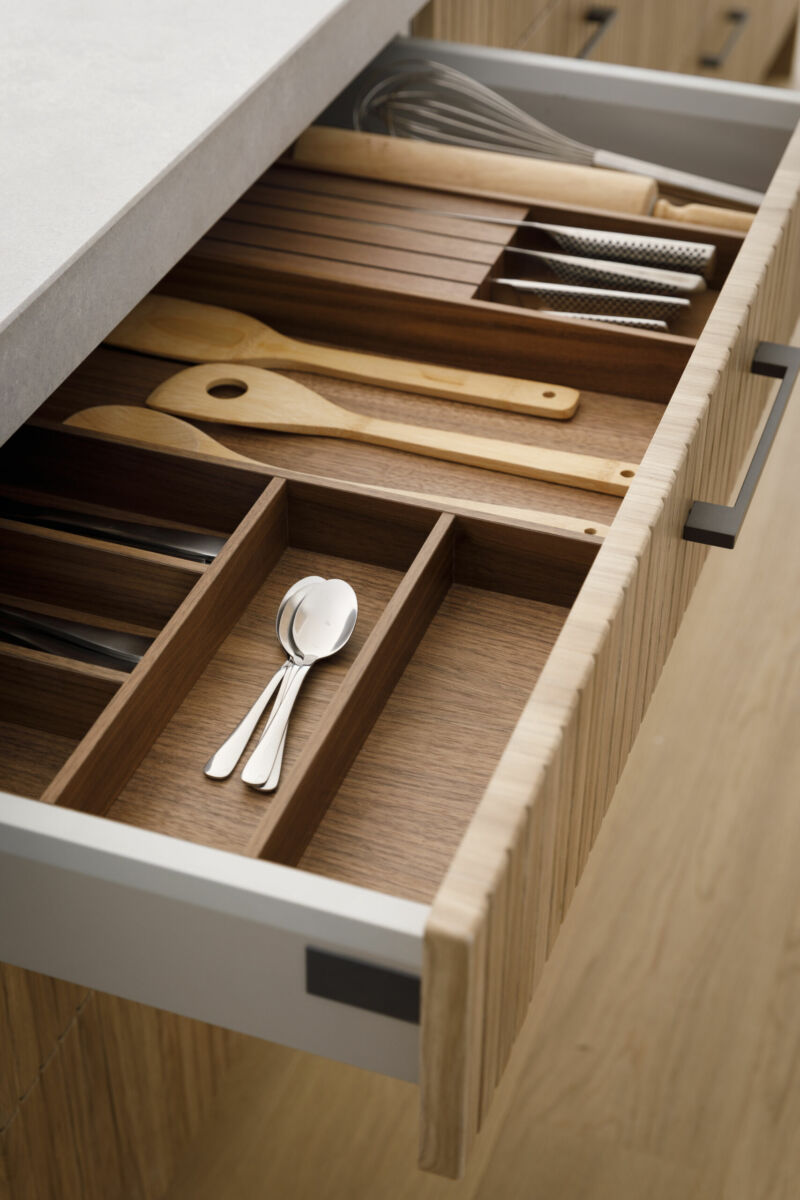 Ensure every part of your new kitchen is used and easy to access with our range of storage accessories.
Investing in smart storage solutions will ensure that you will have a kitchen that not only looks great but works beautifully and ensure organisation is a breeze. Keep everything you need within reach, as well as organised and easy to find and include accessories such as cutlery and utensil dividers, corner carousels, pull-out bins and pantry solutions.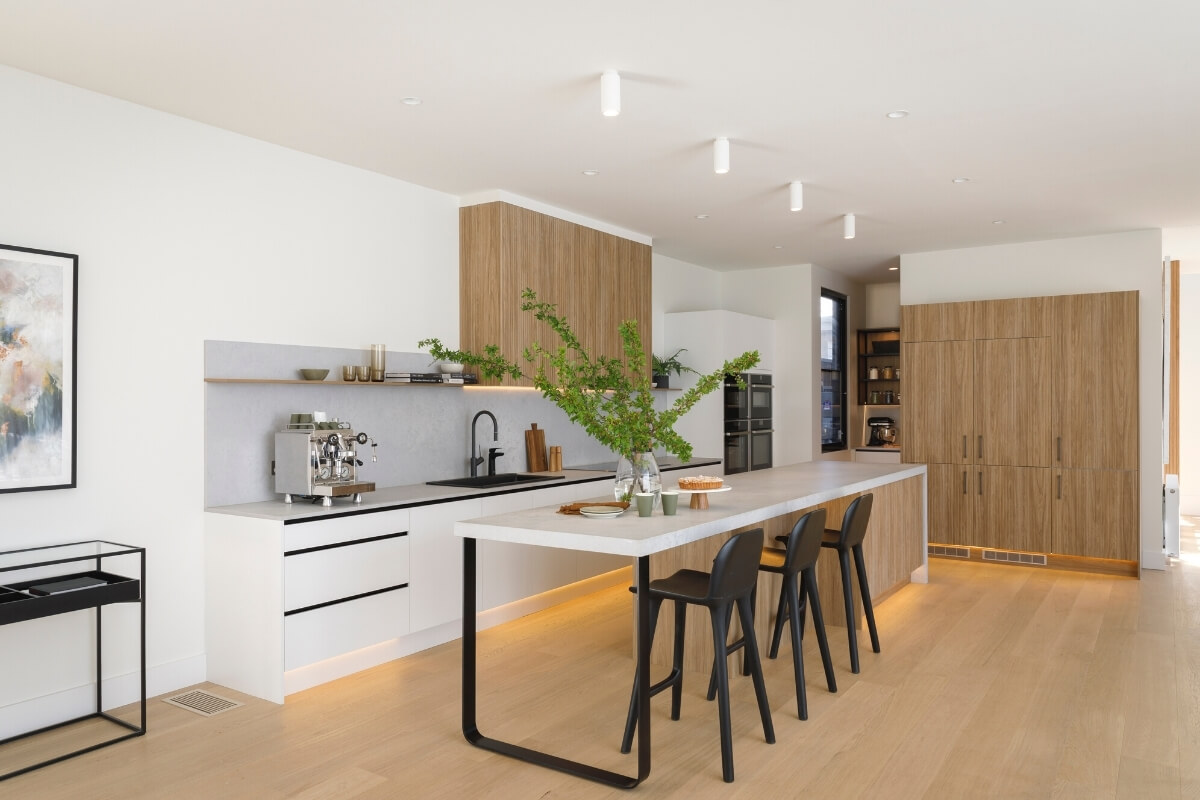 Add open shelving to break up banks of cabinetry and introduce colour and personality through styling decor.
Also consider breaking up banks of cabinetry on your back wall with open shelving. Aside from being a savvy design choice, it will keep the design perfectly on trend, allowing you create an area within your kitchen where you can add styling decor through a mixture of items such a cookbooks, greenery, candles, boards, ceramics, small artwork and kitchen items such as grinders and mortar and pestles – the possibilities are endless!
Inspired to create the perfect kitchen for your home, family and lifestyle?
Why wait? Book your in-home, in-store or virtual design appointment HERE.
For more inspiration and ideas download our latest catalogue HERE.