Take your wardrobe's style and functionality to a whole new level using a smart selection of lighting options within the Kinsman Wardrobe range. From classic options such as LED downlights and strip lighting, to our interior Premium LED Verti-Strip lighting within your cabinetry and new kid on the block Loox Multi-Dimensional Mirror, the possibilities and combinations are endless! Read on to discover the collection in detail and find the best solution for your new Kinsman Wardrobe.
Design tip: Ask your expert wardrobe designer about our door sensors which activate internal lighting when the wardrobe door opens/closes with soft on/off switching. We also offer remotes!
Loox Multi-Dimensional Mirror.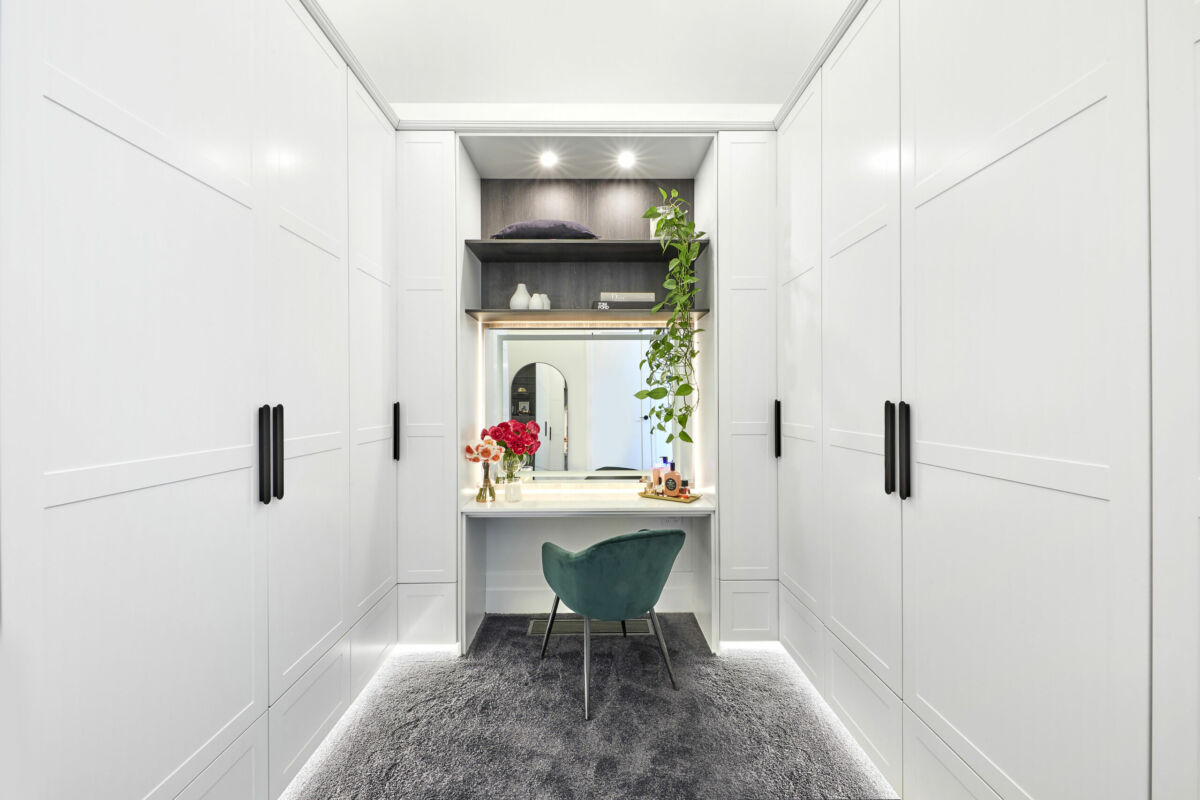 Feel like a Hollywood star with our new Loox Multi-Dimensional Mirror! Combining both make-up lighting and mood lighting, a demister, and a Bluetooth powered sound system, this Smart Mirror will make getting ready an enjoyable experience each day!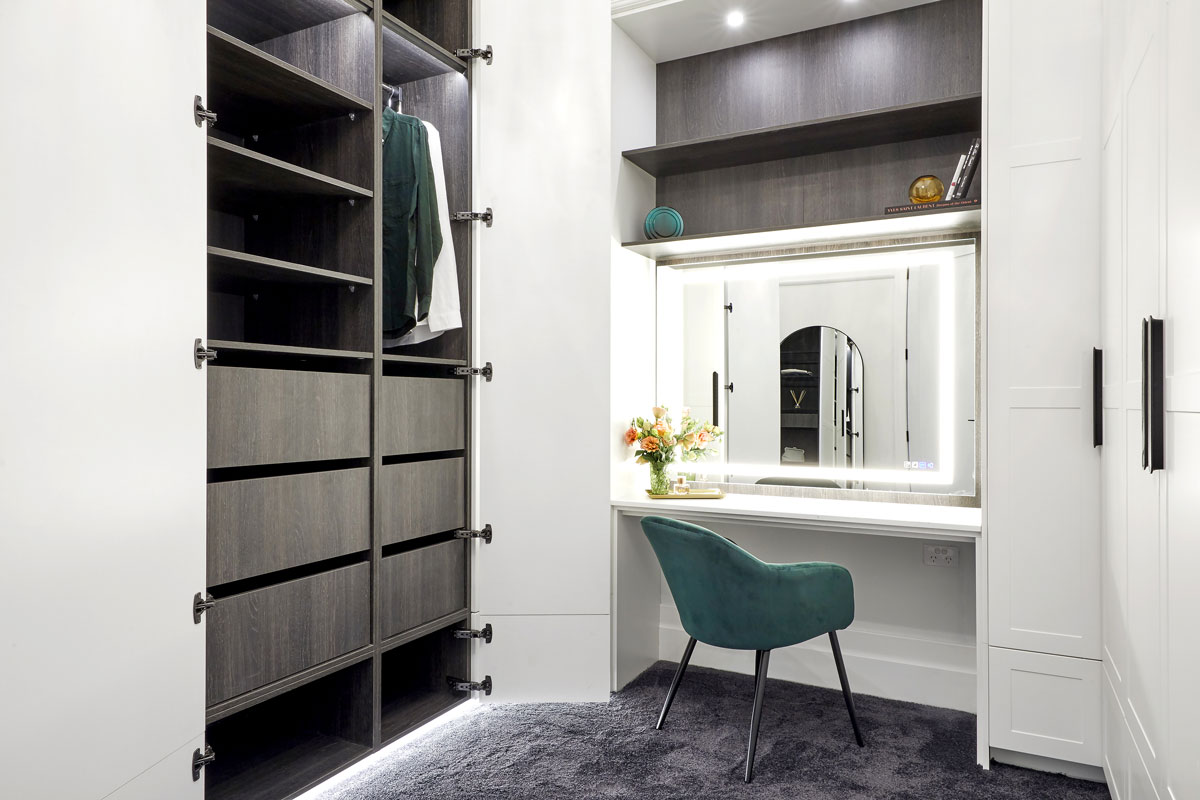 The pre-configured mirror unit is easy to install (by a qualified electrician), and flexibility is provided by vertical or horizontal mounting. It's easy to clean thanks to an integrated touch switch on the mirror surface, and the built-in LED Warm White lights provide the perfect hue for your robe.
Premium LED Verti-Strip Lighting.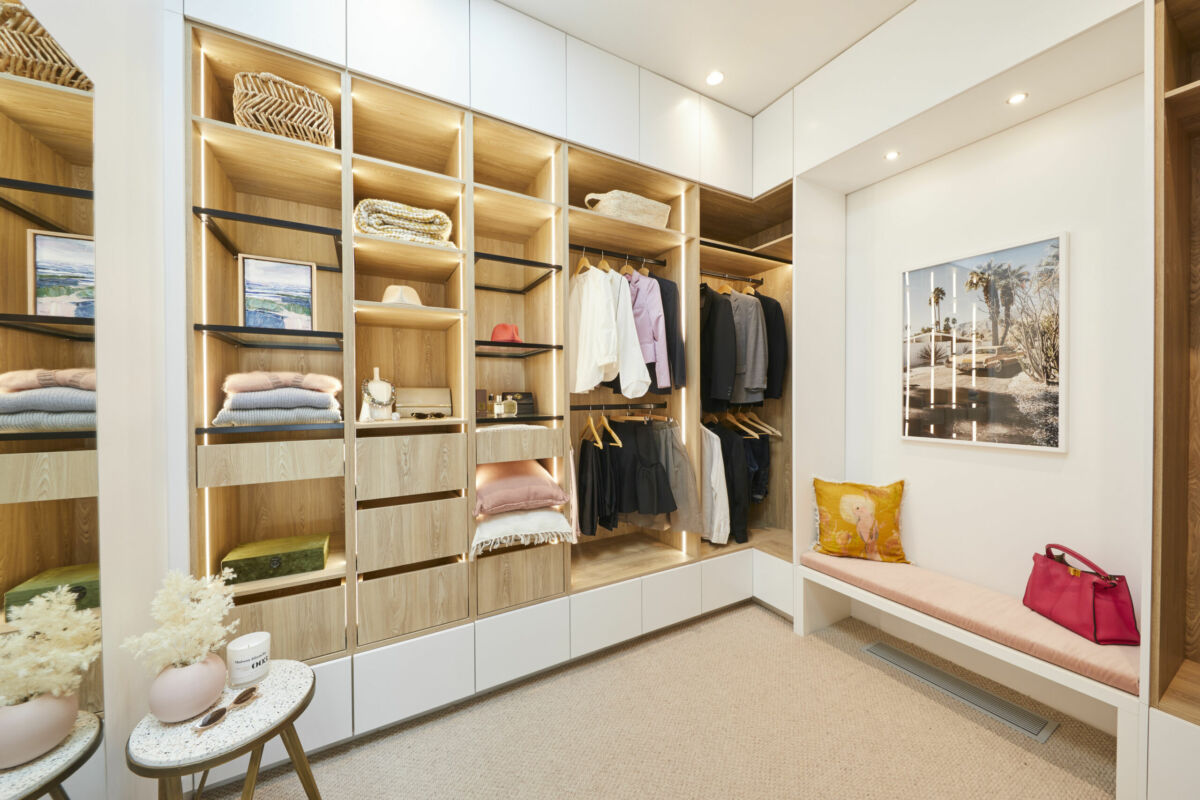 Our Premium LED Verti-Strip lighting perfectly illuminated Jimmy & Tam's 'His & Hers' Master walk-in robe which boasted a fresh palette of white and timber (The Block 2020).
Create the perfect balance between function and ambiance with the inclusion of our Premium LED Veti-Strip lighting. This stunning option features LED warm strip lighting which is recessed vertically into the side cabinet interior- perfectly illuminating the contents of your wardrobe.
LED Light Bar in Black.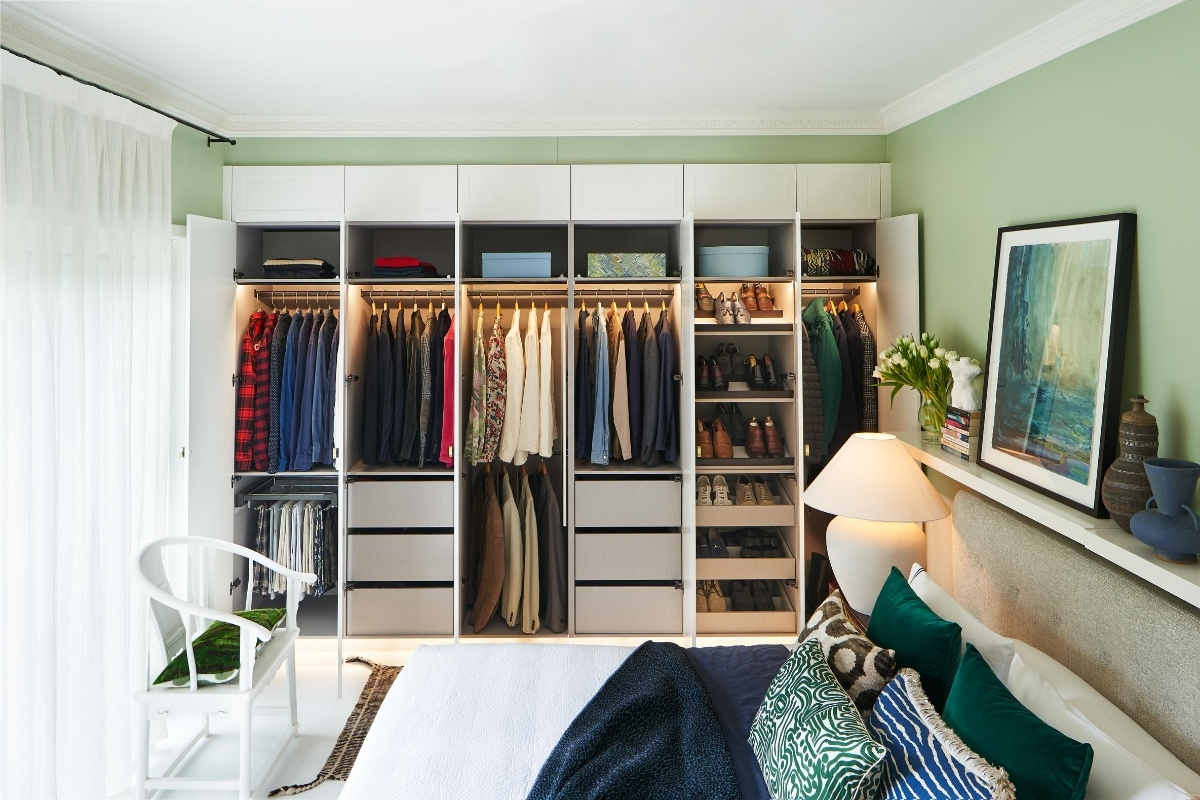 Our new LED Light Bars in Black illuminates the top of your wardrobe, providing an effective yet understated look within your closet.
For an understated and stylish option you may like to consider a Light Bar for your new Kinsman Wardrobe design. Running across the top of your wardrobe, an angled strip light is mounted at the front of the module, shining light directly back into the robe providing ample lighting throughout.
Strip Lighting.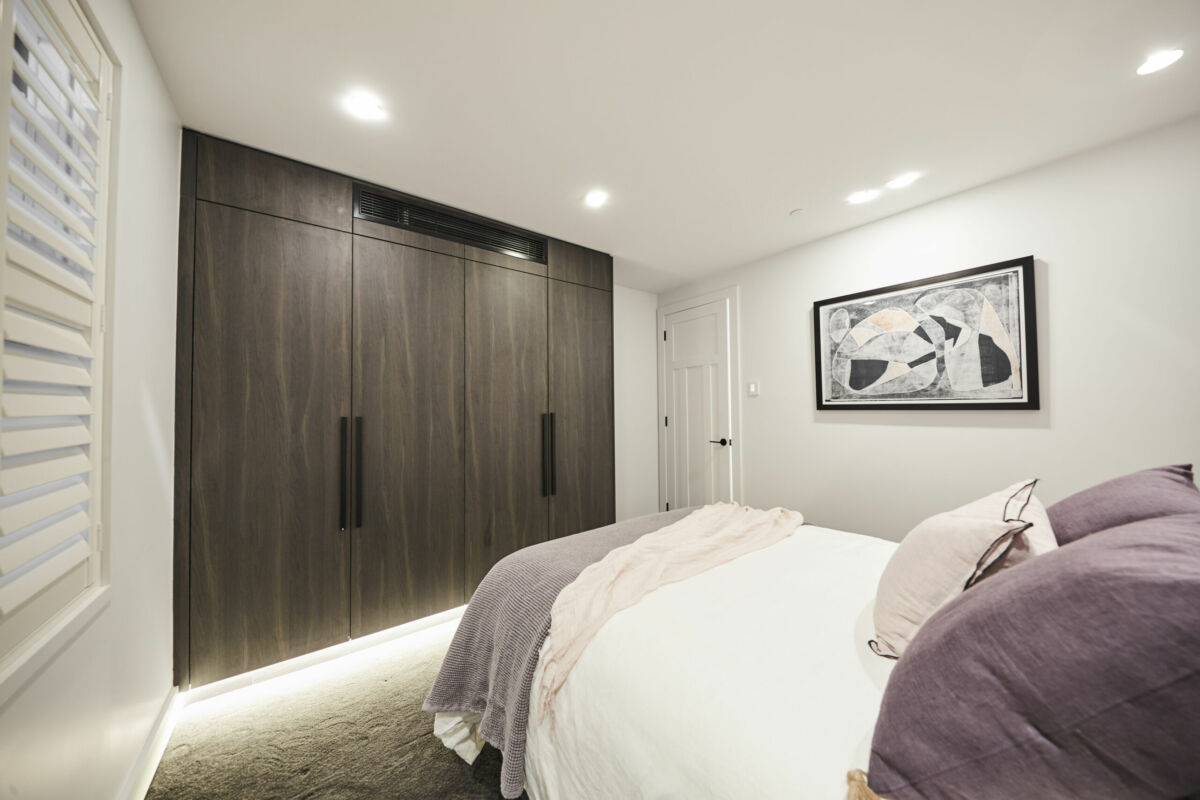 Simple Strip lighting at the base of your robe will add a level of sophistication to your bedroom space.
Simple yet effective, we love to incorporate Strip Lighting into our wardrobe designs. Perfect for using at the bottom of your robe, this option also makes a great night light for children's rooms! Available in Cool or Warm White light, it can only be applied horizontally.
Downlights.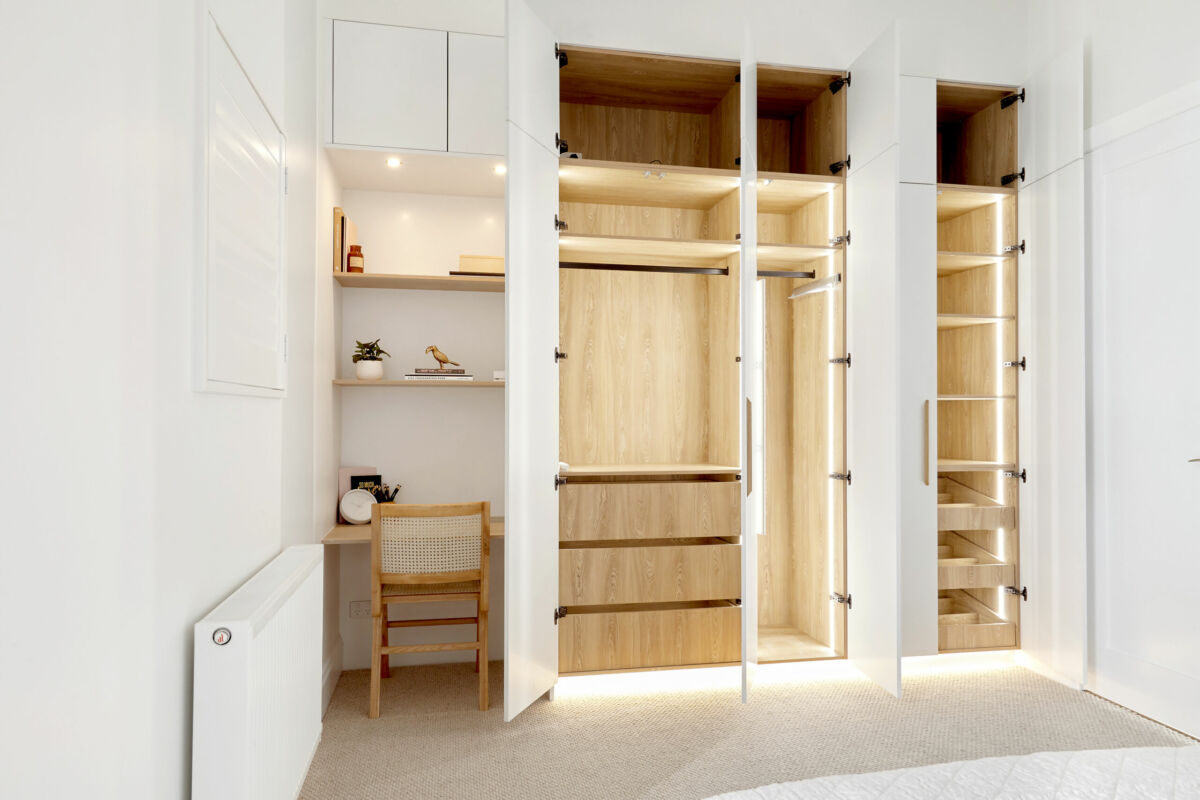 Jimmy & Tam added a study nook to their third Guest Bedroom, which was well-lit by two downlights.
Popular to use throughout the entire home, downlights should also be considered within your robe design, in particular working incredibly well as effective lighting for a study nook that has been added to a Hinged wardrobe layout. Our recessed downlights are available in 3000k warm white or 4000k cool white temperature.
Ready to shine bright in 2021 with a new Kinsman Wardrobe that celebrates storage, style and great lighting?
Book your in-home, in-store or virtual design appointment HERE.
For more inspiration and ideas, as well as to see all the amazing wardrobes from The Block 2020, download the latest Kinsman Wardrobes catalogue HERE.