This year has marked a significant change in the way in which we use our homes. Our homes have become more important than ever: not only with many of us working from home but also with household numbers increasing, from children moving back into the home to grandparents joining the family unit.
With these additional demands on your home and its available space, adding a studio or granny flat is a perfect solution to adding value to your home as well as maximising its liveable footprint. The beauty of such spaces is that they can be designed in a way that allows them to flexible, adaptable rooms that can evolve over time depending on your needs from a seperate self-contained living space, home office, teenager retreat- the possibilities are endless!
There are certain key elements to a studio space that are must-haves, and at the top of that list is the inclusion of a kitchenette. Typically a smaller, scaled-back version of a full-sized kitchen found in the main family home, we love to design kitchenettes that may not be large in size, but still pack a design and functionality punch.
Below, we take a look at the kitchenettes from The Block both from this year and in 2019 and list our top ingredients for the perfect kitchenette.
Neutral & Organic Colour Palettes.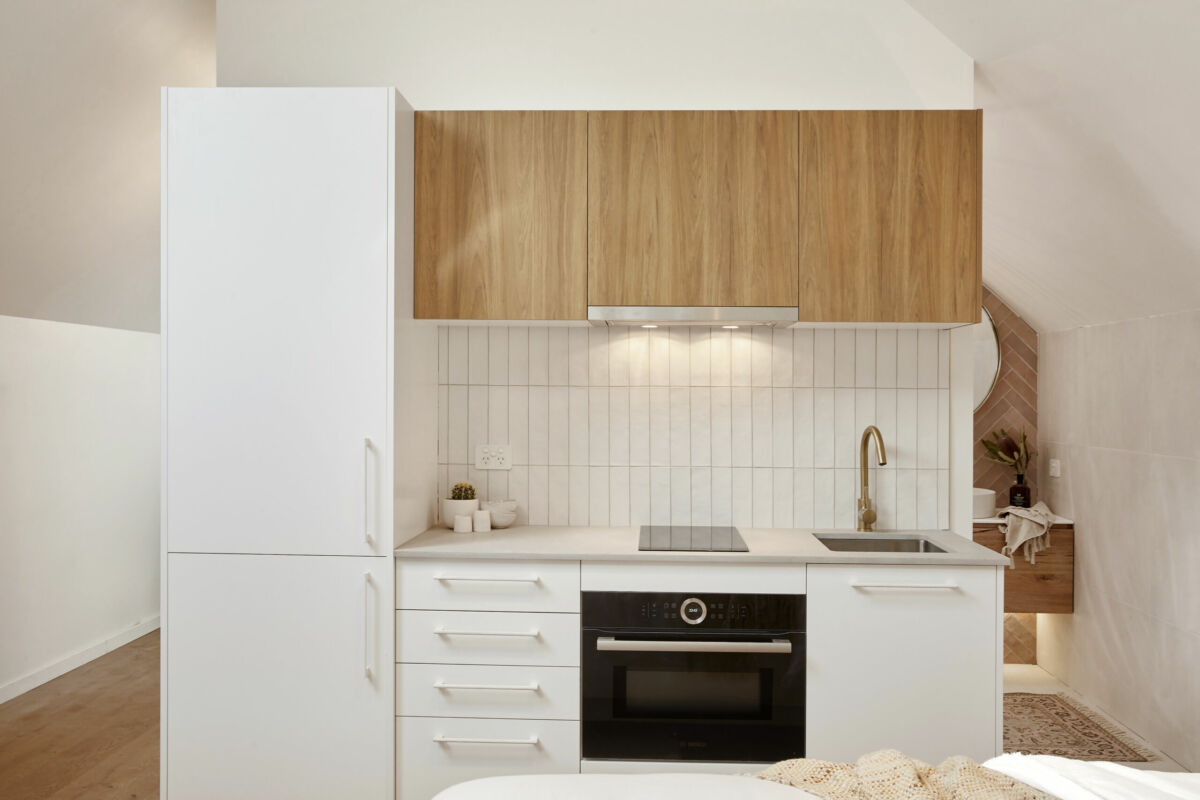 Luke & Jasmin selected a palette of Studio Range's White Satin and Prime Oak Woodmatt for their studio's kitchenette on The Block 2020.
In 2021, kitchen and kitchenette colour schemes will reflect natural, raw and organic tones and textures. Expect to see bright whites in matte finishes and soft greys, with timbers tones adding warmth and texture. Neutral colour palettes creates the illusion of more space and reflect natural light, making them a perfect choice for your kitchenette.
Maximise Storage & Space.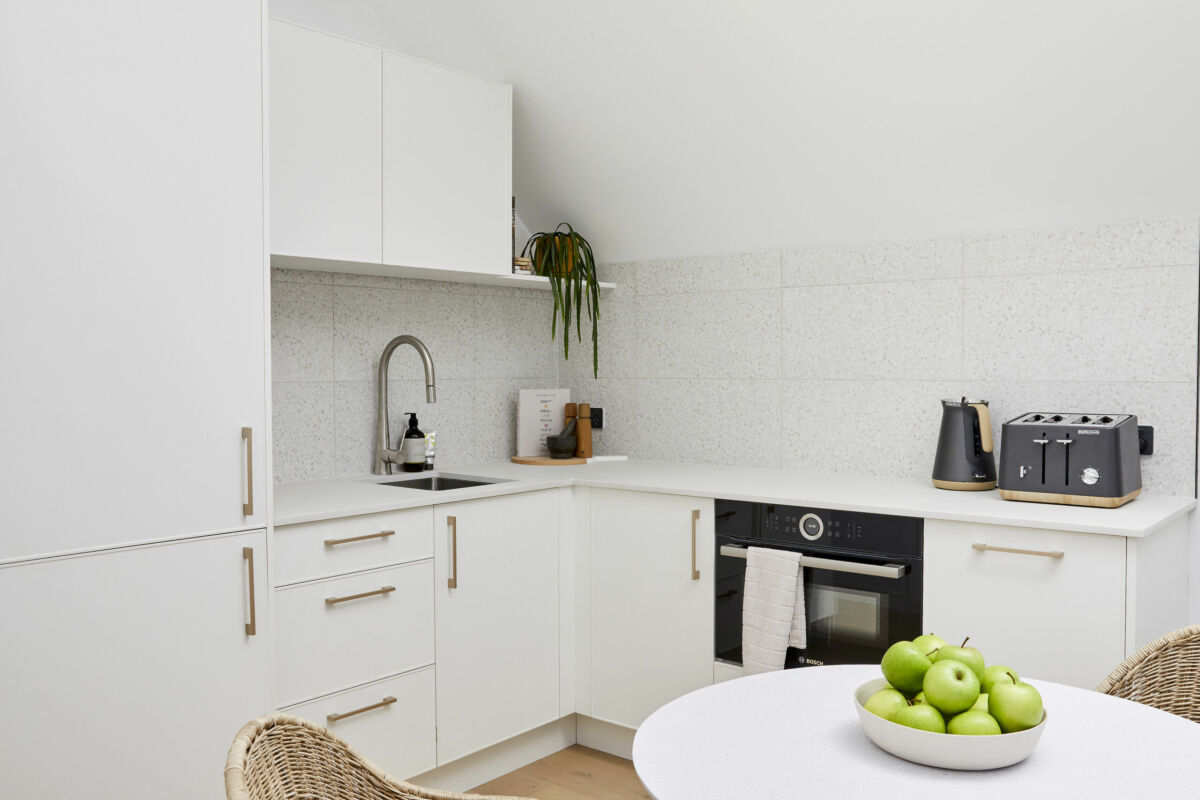 Daniel & Jade's kitchenette coupled a natural colour scheme and L-shaped layout, creating a spacious room that impressed the judges (The Block 2020).
While compact in size, kitchenettes shouldn't lack in storage or space. An L-shaped layout instantly creates a sense of spaciousness within a studio, allowing a small dining set to be placed in the centre. The layout also provides ample bench space for meal prep, as well as plenty of room for small appliances such as kettles, toasters and coffee machines.
Incorporate a mixture of tall, under bench and wall cabinetry as well as drawers into your design to maximise storage within your kitchenette.
Island Benches.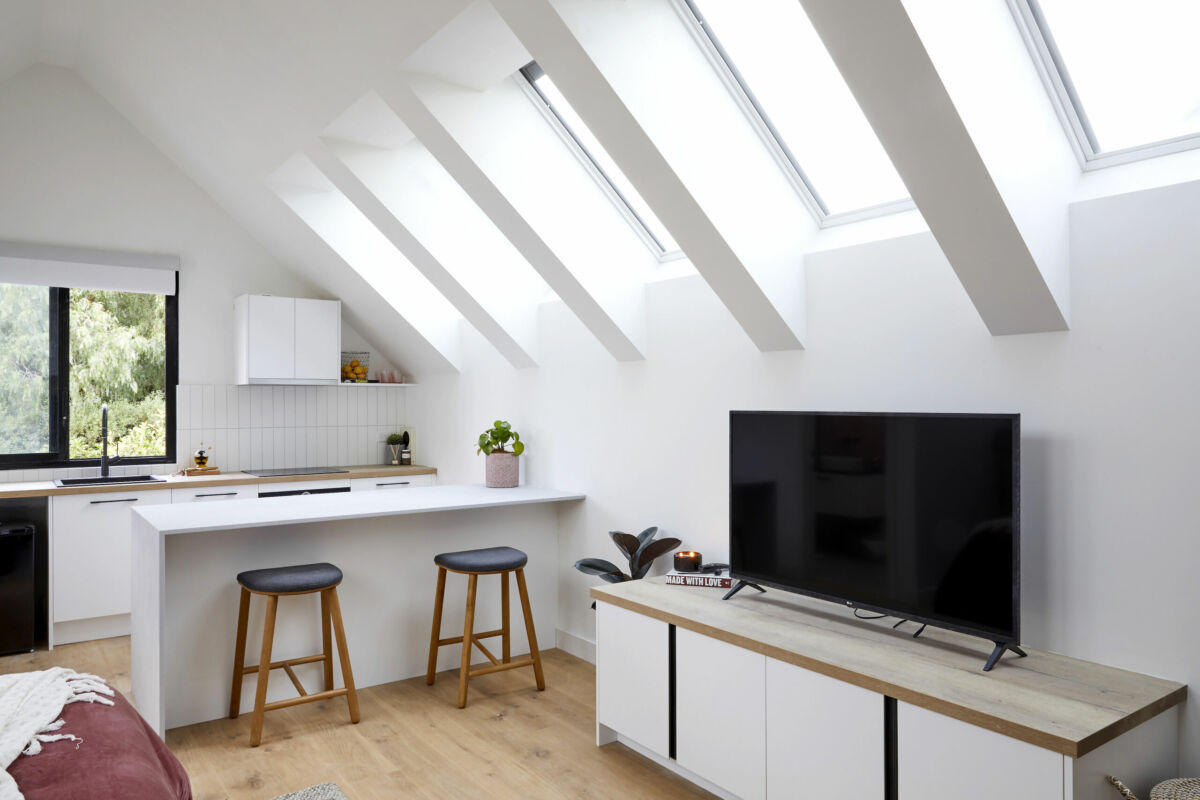 Harry & Tash from House 1 from The Block 2020 added a luxurious island bench in Caesarstone's Airy Concrete, adding precious prep and dining space to their studio.
If space permits, consider adding an island bench to your design. Not only will it add to the prep and cooking space for your kitchenette, it can also replace a traditional dining table and/or work desk. Just remember if you plan to use your bench as a home office or study space to add in power points so you can charge your phones, tablets, laptops etc.
Keep it Sleek.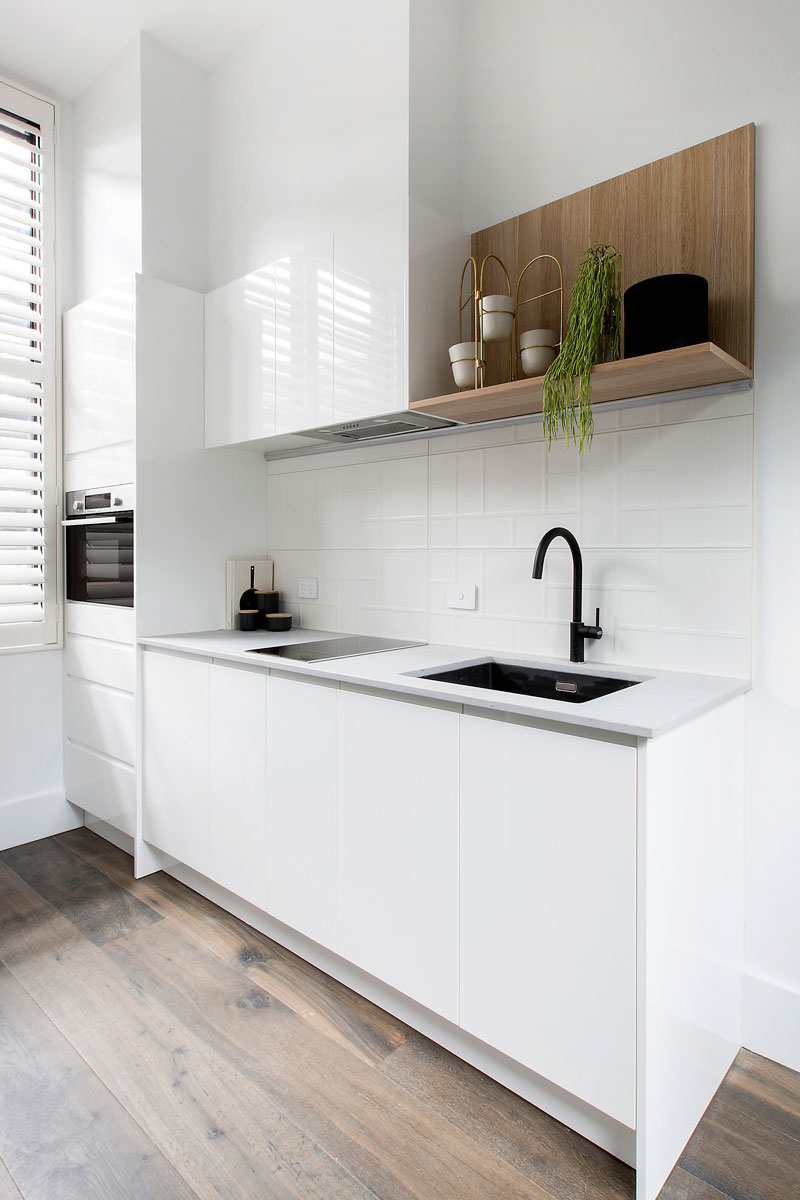 Winners of The Block 2019 Tess & Luke presented a stylish and functional kitchenette that celebrated a sleek and seamless look.
When space is tight, keeping your kitchenette sleek and seamless with the inclusion of integrated handles and/or touch catch cabinetry is a wonderful design choice. Our XPRESS kitchen range is a perfect and cost-effective solution, with our Jody White Gloss cabinetry with J-shaped integrated handles is a popular look.
Create a Multifunctional Zone.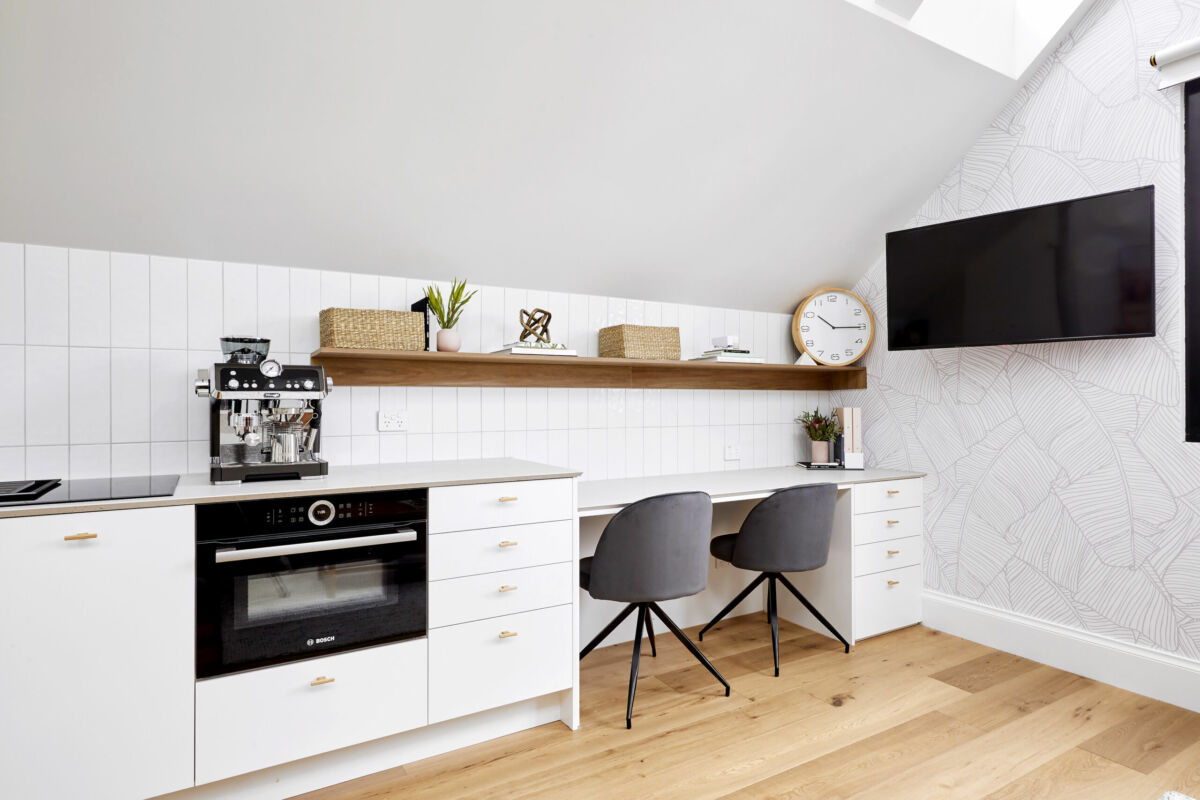 The judges loved how winners of The Block 2020 Jimmy & Tam created a modern, hybrid dining or desk area that flowed on seamlessly from their kitchenette.
Connect your kitchenette to a home office/study area by running the two spaces along a long wall- to create distinction between the two by dropping the benchtop from the kitchenette down to a suitable desk height. Include floor drawer units for extra storage and open shelving above the desk area to add styling decor, indoor plants and other items that inject colour and personality.
Add a Hidden Laundry.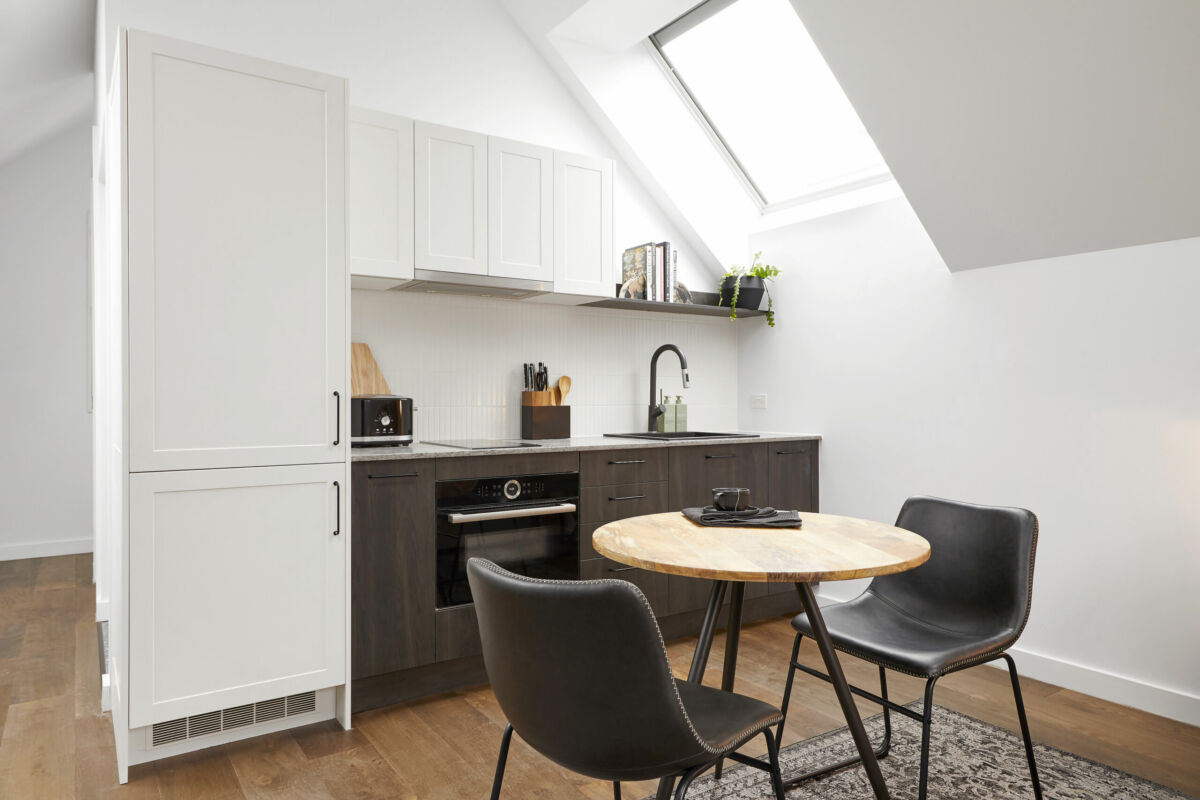 Sarah & George wow'd the judges with their studio that included a hidden laundry within their kitchenette design (The Block 2020).
Take inspiration from European interior designs and incorporate a laundry into your kitchenette space- ensuring that your studio is a fully contained living space. Both rooms require plumbing so having them sit side by side makes perfect sense, and we love to hide the laundry behind beautiful cabinetry to create a seamless look.
Include Open Shelving.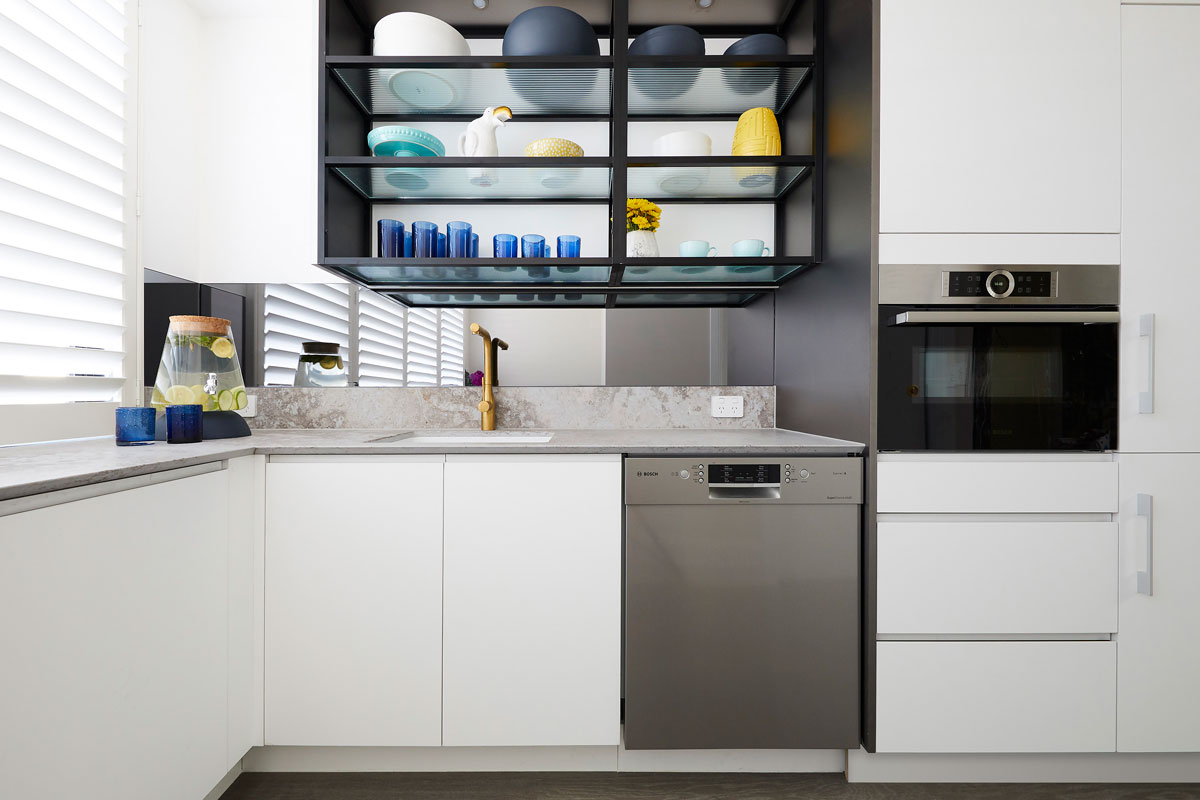 Mitch & Mark caused quite the stir on The Block 2019 when they revealed an entertainment area during Master Bedroom Week. The glamorous and functional kitchenette serviced their entertainment area and complemented their Palm Springs design theme.
Breaking up blocks of cabinetry, and injecting a sense of flow and openness to your studio space, select open shelves for a decorative and functional addition to your kitchenette. Our 2020 Black Alumin frames with broadline glass shelves provide a striking visual effect within any kitchen space, allowing natural light in and providing decor styling opportunities. Display a mixture of your favourite cookbooks, kitchen accessories, pantry staples, sculptural items, and greenery on shelving that is bound to serve as focal point within your room.
Ready to create a kitchenette within a studio or granny flat that adds value to your home and increases its liveable footprint?
Book your in-home, in-store or virtual design appointment HERE.
For more inspiration download our latest catalogue HERE.