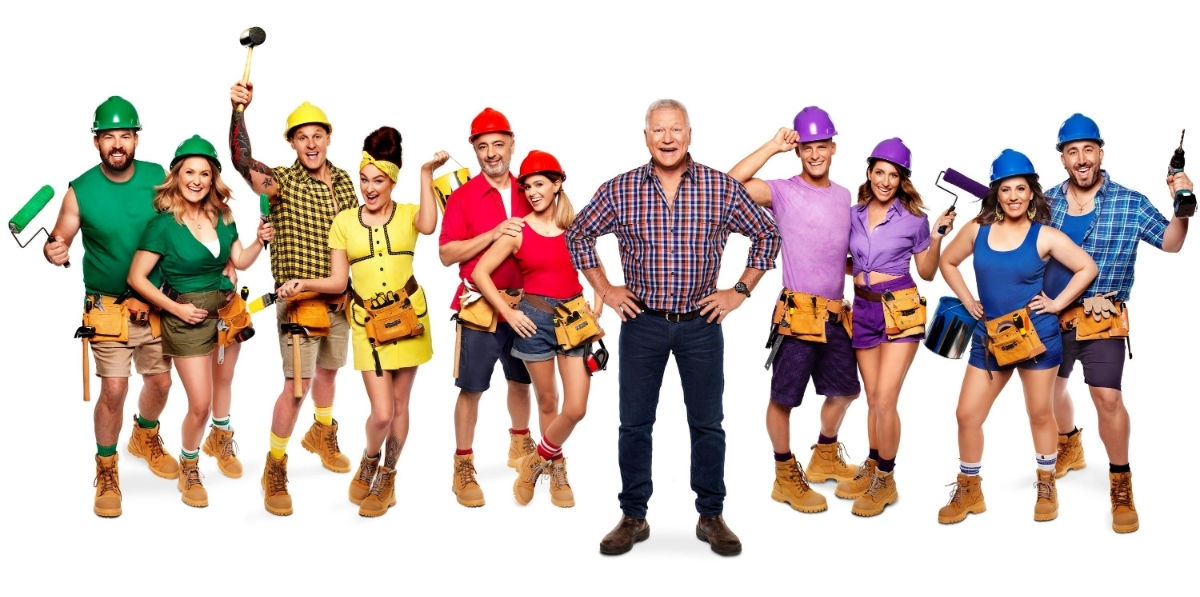 Kinsman Kitchens and Wardrobes Returns to The Block
Official Supplier of kitchens and wardrobes to The Block 2020
with partners BSH and Caesarstone®
The Block season is upon us once again, and Kinsman is proud to announce that it's back on The Block showcasing a host of Australian made kitchens, wardrobes, home offices and much more. Having been The Block's official sponsor of kitchens and laundries in 2019, and the official sponsor of wardrobes in 2018, Kinsman is ready to return and embark on a wonderful journey through time.
2020 Blockheads will be tackling the most challenging renovation yet as they are provided with five run-down houses on a 2761-square metre stretch of land in the bayside suburb of Brighton in Melbourne, a stone's throw away from last year's The Oslo Hotel. With five couples competing against each other to bring a house from history back to life, each couple will be given a specific decade to influence their designs and décor. From the era of Titanic to a decade better known for rock n roll and leather jackets, this year's contestants endure the biggest rollercoaster of all time.
This season, The Block is set to showcase a collection of Kinsman Kitchens, Pantries, Laundries, Wardrobes and Home Offices. Kinsman's design experts are dedicated to helping bring the new steadfast Blockheads visions to life. Throughout the season, contestants will create contemporary Australian inspired spaces that increase usability and liveability while addressing the specific decade's flair with a range of the latest on trend styles and colour-ways to choose from. Guaranteed to inspire millions of viewers, these homes will be some of the very first in Australia to feature Kinsman's three new profile door designs for kitchen cabinetry in 2020; Camden, Avoca and Avalon, also introducing 11 new colours to the range.
Kinsman Kitchens and Wardrobes Marketing Manager, Carla Madgwick said that The Block is the perfect platform to showcase the versatility of the Kitchen and Wardrobe ranges that Kinsman have to offer as well as inspire Australians with dream homes that are affordable and don't compromise quality:
"The Block has proven itself to be the most popular renovation show in Australia and we're absolutely thrilled to be a part of this journey through time. The future meets the past with our smart accessories and storage solutions which are bound to 'wow' the viewers when they see our different ranges brought to life. We're excited to demonstrate the breadth of styles that our ranges have to offer using quality materials and luxury finishes that are perfectly designed for modern living but without the designer price tag – it's the luxury look for less."
The five new teams competing to win this season are;
• Harry (57) and Tash (32) — The first father and daughter renovation duo, an IT manager and a social media project manager from Melbourne.
• Sarah (27) and George (33) — Teacher and electrician from Sydney.
• Daniel (35) and Jade (34) — Farmer and hairdresser from Wandearah in South Australia.
• Luke (35) and Jasmine (36) — Chippy and teacher from Perth.
• Jimmy (33) and Tam (31) — Plumber and bar manager from Brisbane.
Follow Kinsman on this season of The Block on social:
Instagram: @kinsmangroup
Facebook: /kinsmangroup
Ready to start your own Kinsman transformation? Book an in-home, in-store or virtual design appointment HERE today!