Style aficionado and TV personality, Neale Whitaker enlisted the help of Kinsman Kitchens & Wardrobes to transform the master bedroom wardrobe which he and his partner David share in their Berry home. Having undergone a staged renovation of their 1930s brick cottage on the South Coast of NSW, which included a stunning Kinsman Kitchen, Butler's Pantry and Laundry, next on the list was the master robe, which proves to be just as impressive.
The design vision was for a 'modern yet rustic' look which respects the style, location and heritage of the home while maintaining a contemporary feel. Shaker-style Somersby doors were a perfect choice, having been previously used in the kitchen and laundry, but to keep the look fresh and neutral White Matt was selected. The soft Grey Textile internal finish complements the look perfectly.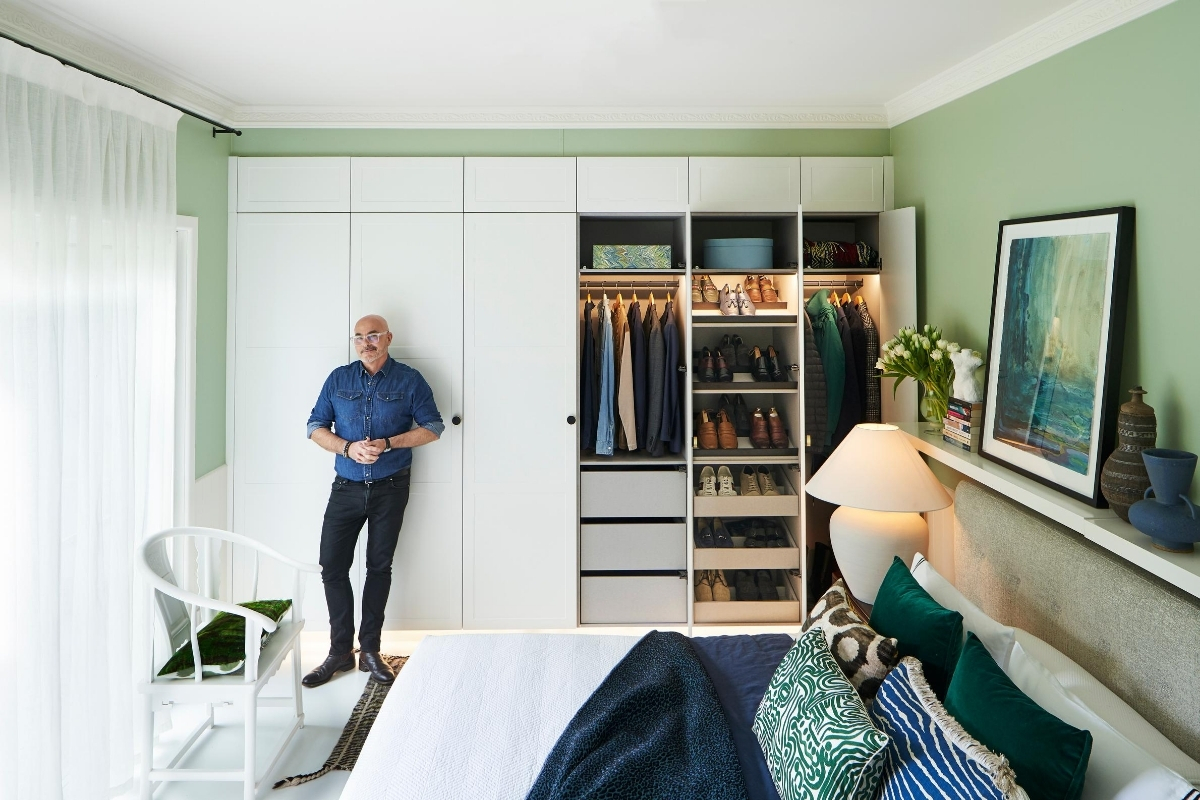 Eye-catching Radio Knob Black with Brass Plate Ring handles were used along the Hinged doors, a bold alternative to the brass-look typically seen with Shaker profile-doors, adding a modern touch.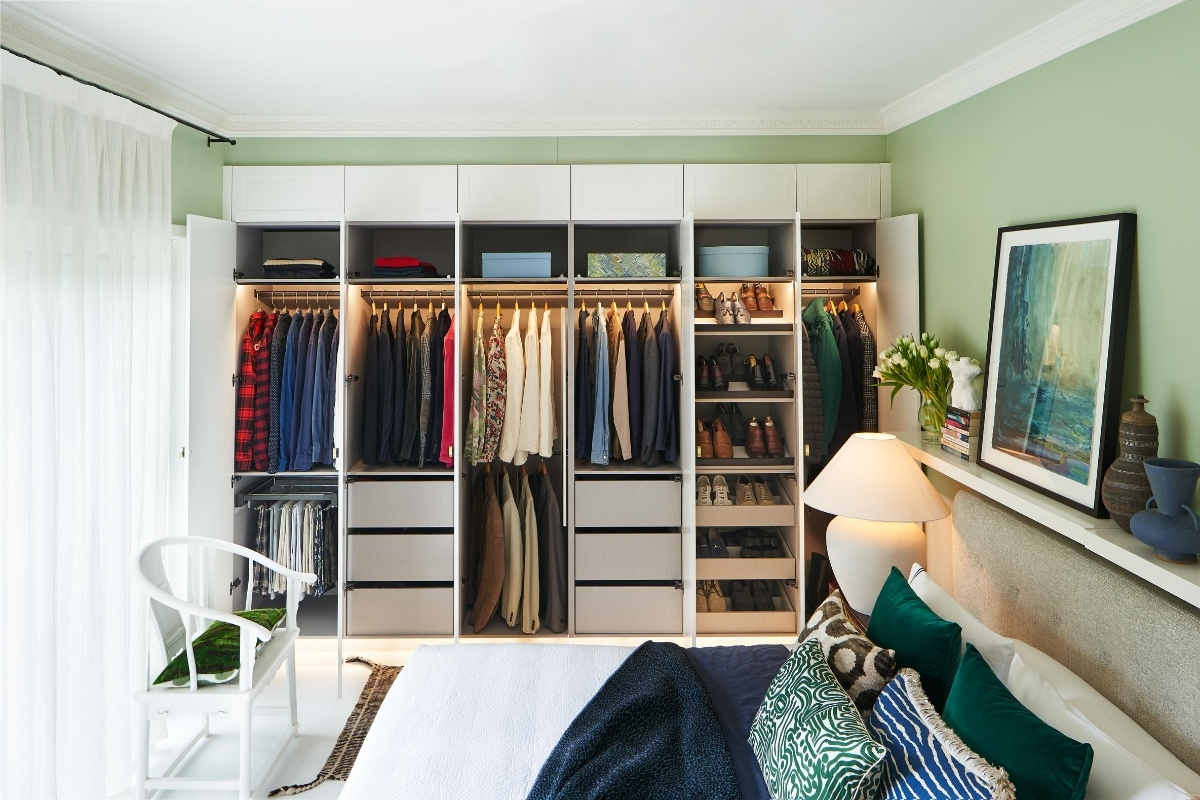 If you're thinking that Neale and David are the owners of an array of beautiful and enviable clothing, footwear and accessories you'd be 100% correct, and this generous 3.5 meter long hinged wardrobe is the perfect home for them. Comprising of six columns featuring various storage solutions, the design was created based on the exact items that needed to be stored within this closet, plus allowing for a few extra purchases in the future!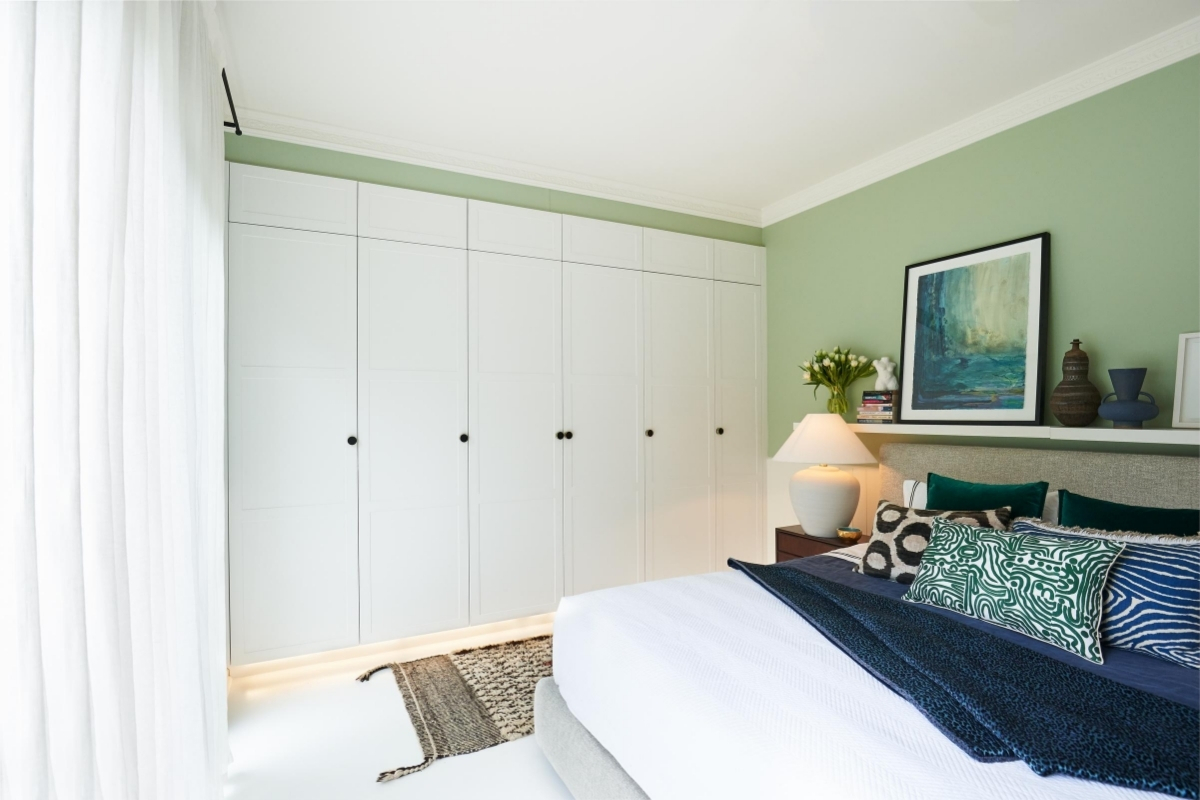 Within the robe, the 'wish list' included a pull-out mirror, trouser rail and a smart lighting scheme, so all of those were factored into the design. A mixture of hanging space, two sets of soft close drawers, open boxes and shelving also feature.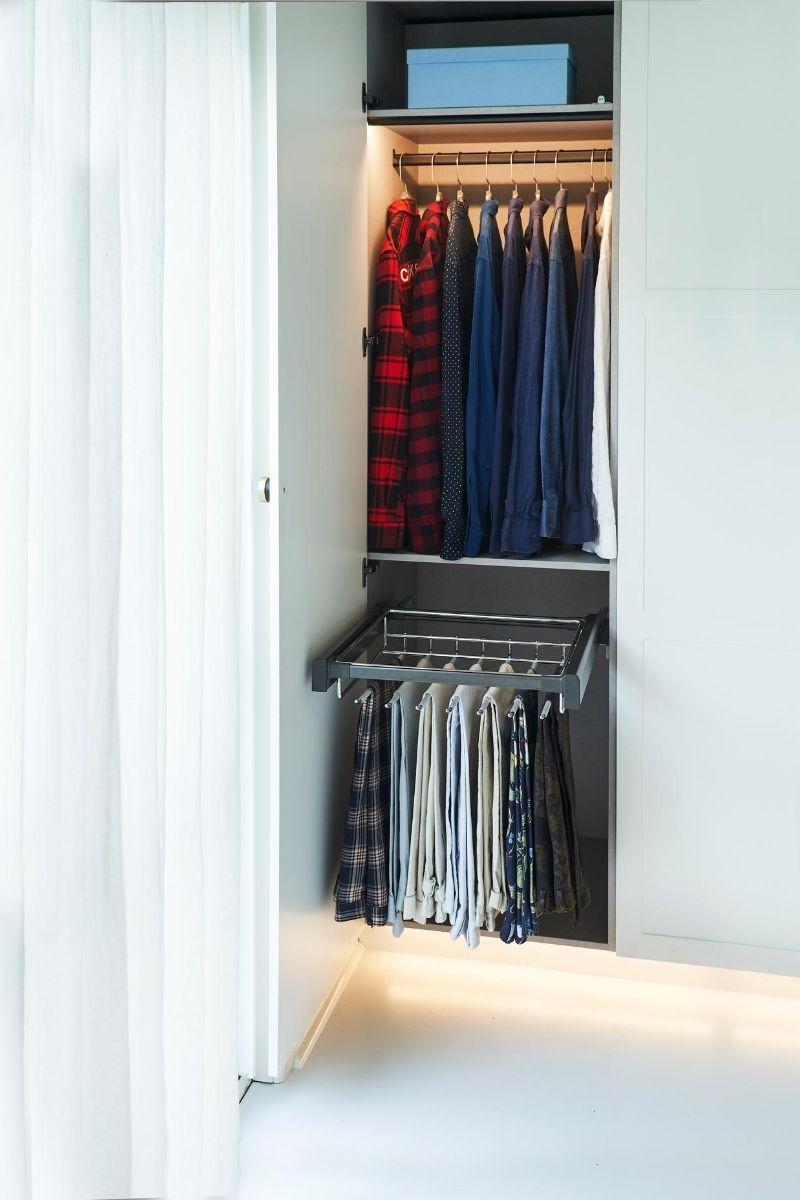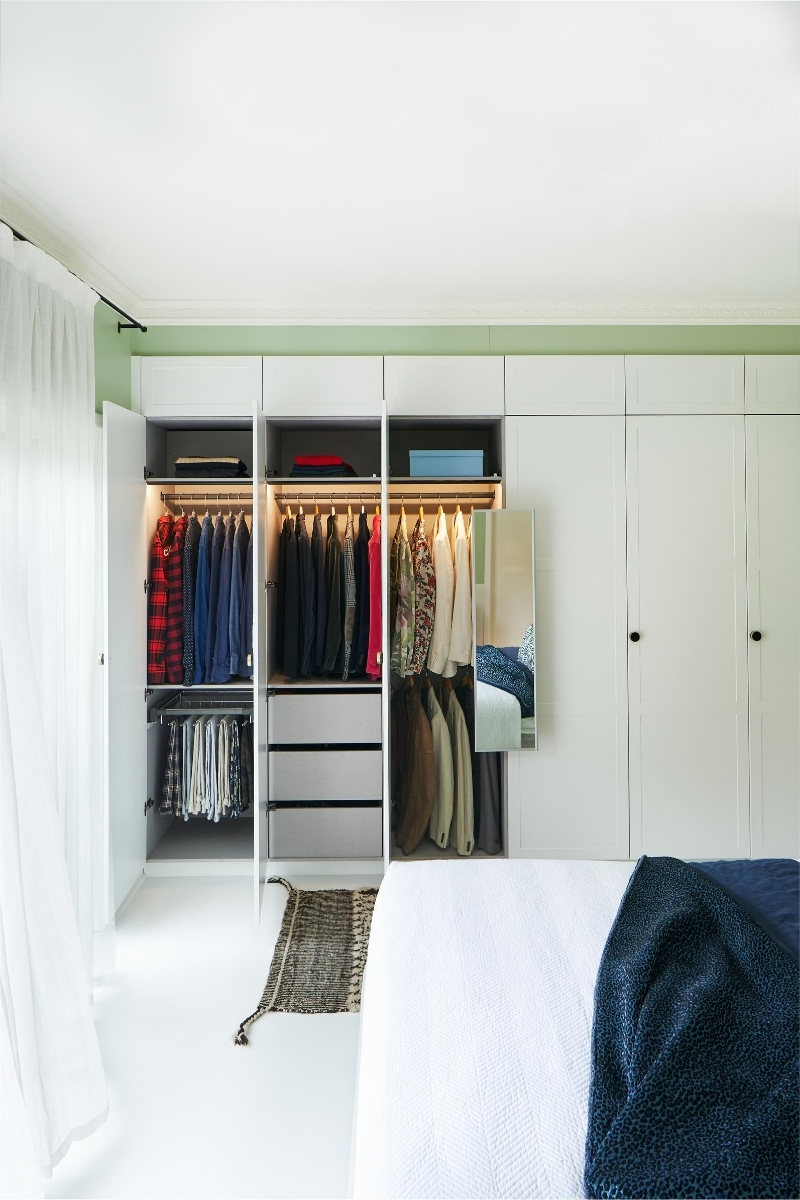 One column is dedicated entirely to footwear, offering a plethora of much-needed storage. Fixed Shoe Racks with black detailing place stylish dress footwear on display, with Pull-out Shoe Drawers giving home to more casual selections.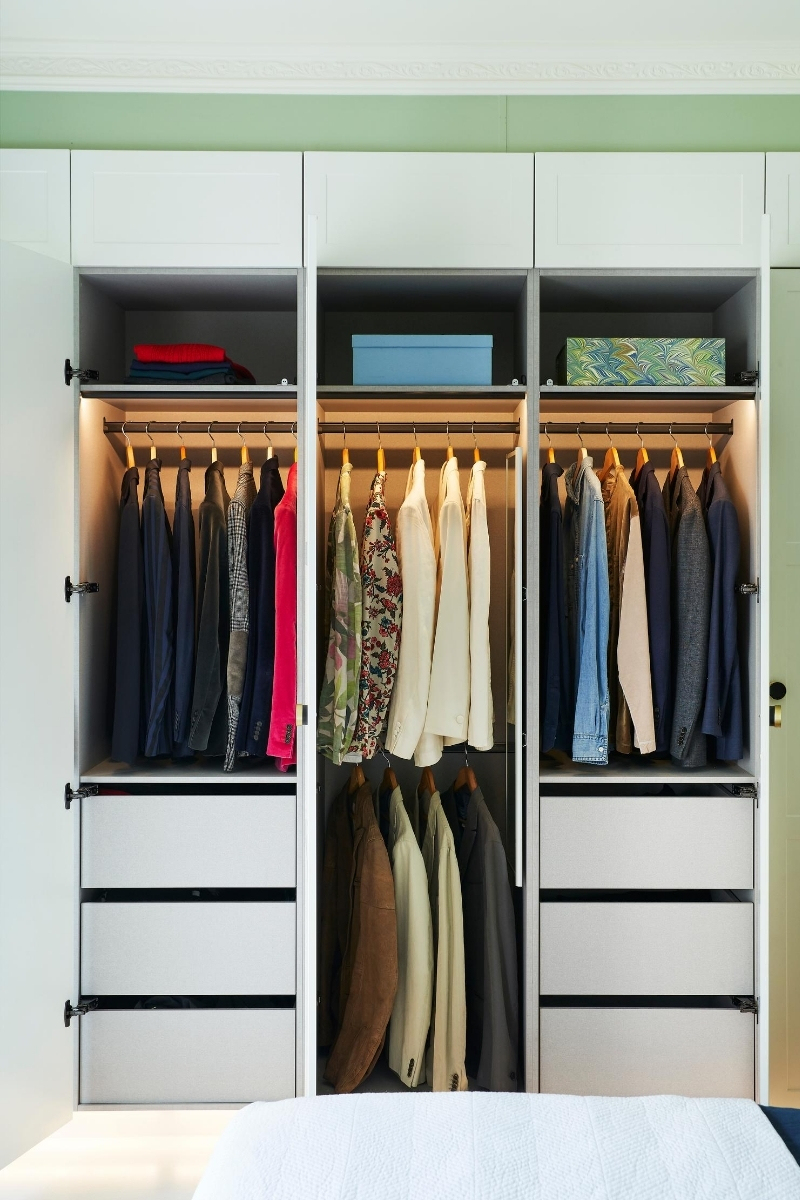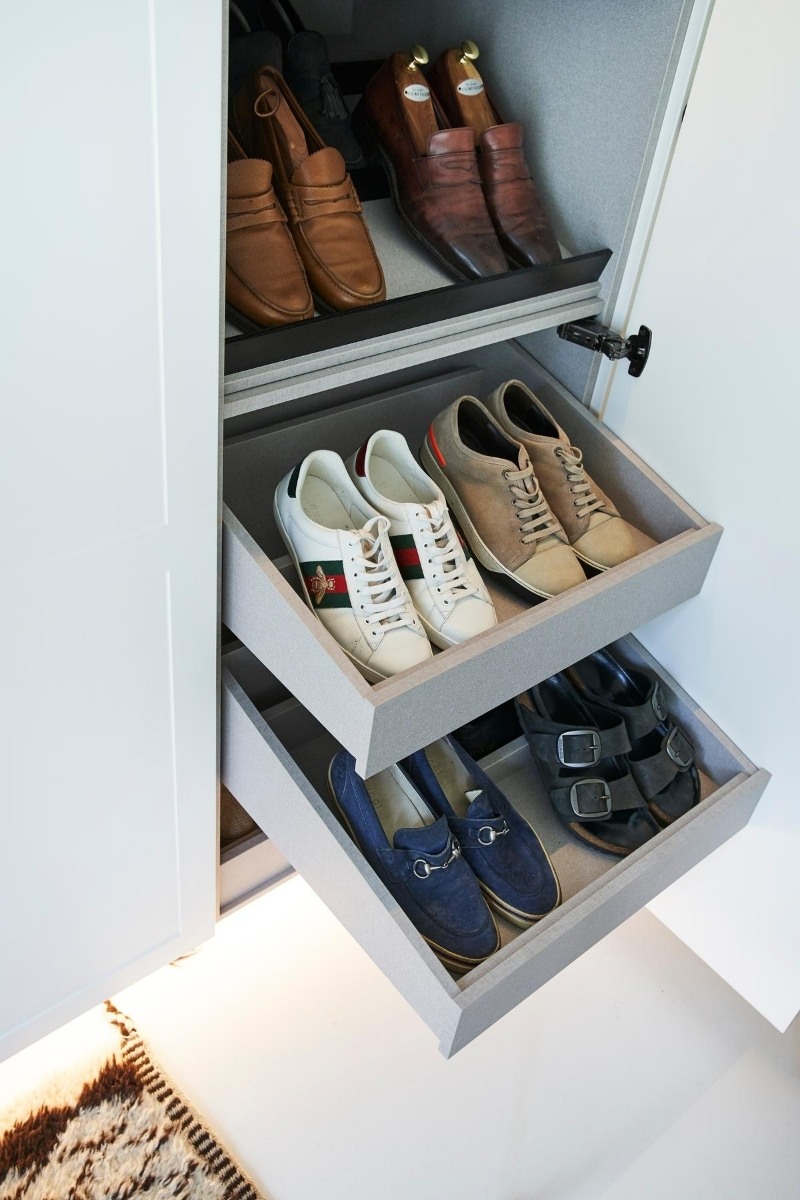 Often an overlooked element, a carefully considered lighting scheme brings the robe to life and allows garments to be seen and selected easily thanks to LED light bars and motion sensors.
The result is a chic, stylish and highly functional wardrobe that ticks the boxes for the owners. Whether getting ready for a country walk with their beloved dogs or packing for a trip to Sydney or Melbourne, the design ensures that Neale and David can get what they need easily and quickly.

Ready to create your perfect Kinsman Wardrobe for your home?
Book your free in-store, in-home or virtual design appointment HERE today. For more inspiration, download our latest catalogue HERE.
Details: Doors: Somersby White Matt Interior finish: Grey Textile Handles: Radio Knob Black with Brass Plate Ring (22-K-124), Touch Catch Accessories: Fixed Shoe Racks, Pull-out Shoe Drawers, Pull-Out Trouser Rack 600W, Folding Mirror Lighting: LED motion sensors, LED Light Bar Black
Photography: John Paul Urizar @johnpaulurizar
Styling: David Novak-Piper @davidnovakpiper