In this final instalment of our Kinsman Kitchens Makeover Series for 2019, we take a look at a modern, urban galley style kitchen in Ryde, Sydney. You won't believe the transformation from an original 1950s kitchen to ultra-chic and modern space that turns heads.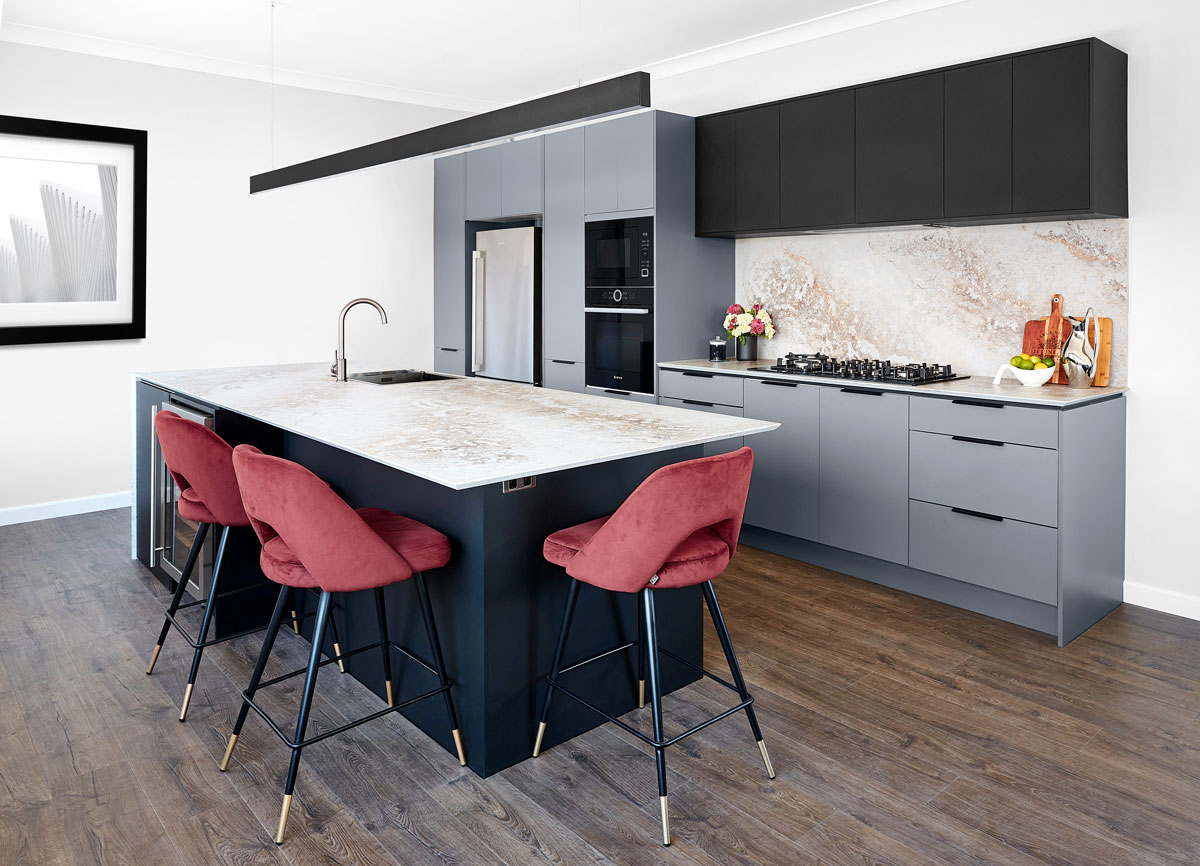 Who lives here? Corporate couple (and soon-to-be newlyweds) Nicole and Carl plus Chloe, their beloved dog.
The Problem: Nicole and Carl wanted to transform their very original 1950s white and orange laminate kitchen with booth seating. Storage was sparse and the position of the kitchen made it feel closed off to the rest of the home and impacted on the flow of the main living, dining, and kitchen area.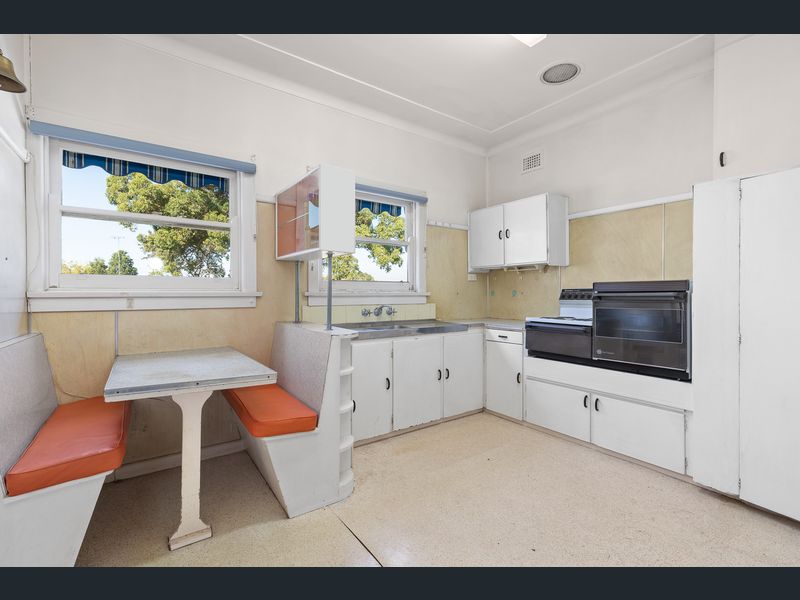 The Brief:
Nicole and Carl were open to the layout of the kitchen as long as it maximised the functionality of the space. They loved the idea of a modern galley-style kitchen that caters to their lifestyle- one where they can cook together, do work and entertain their loved ones.
Storage was another key design element that they wanted in their new kitchen- the more the better!
They also knew that they didn't want an 'all-white kitchen' and wanted to look at other colour options that would be modern yet timeless and suit the rest of their home with natural undertones.
The Solution:
Cabinetry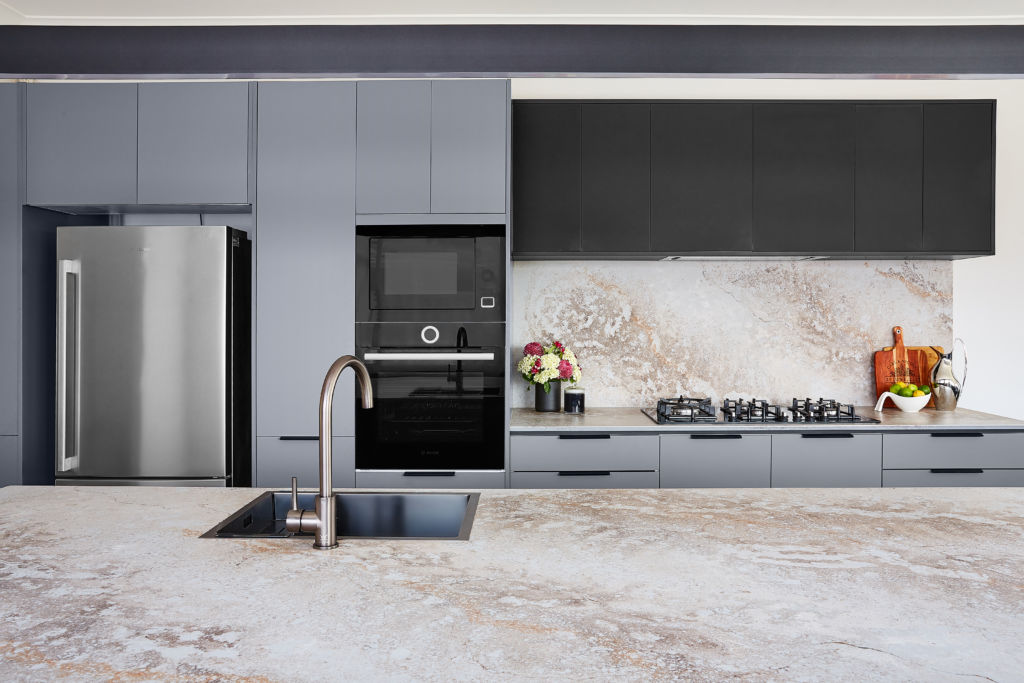 One of the first things that Nicole and Carl knew for certain is that they didn't want an all-white kitchen. Artarmon Mink cabinetry, a natural mid-grey door has been paired with Artarmon Black Ultramatt resulting in a modern and moody colour palette.
"One of my favourite things in our new kitchen is the matte black cabinetry," explains Nicole, "initially I was a bit unsure about it sitting above the rangehood and cooktop as I worried that it would get dirty and be hard to clean but I've found it to be very easy to clean and fingerprints don't show up which is great!"
Benchtop & Splashback
Another highlight of this uber modern kitchen is the stunning Caesarstone new colour Excava, which boasts a raw concrete look with rust highlights. Used for both the island bench and splashback, this surface adds texture and natural tones while giving a luxe feel. "I was a little wary of the colour because I had seen it before and I wasn't sure it would go with what we were trying to achieve in our kitchen, smiles Nicole. But I think it looks amazing and I'm glad we choose it."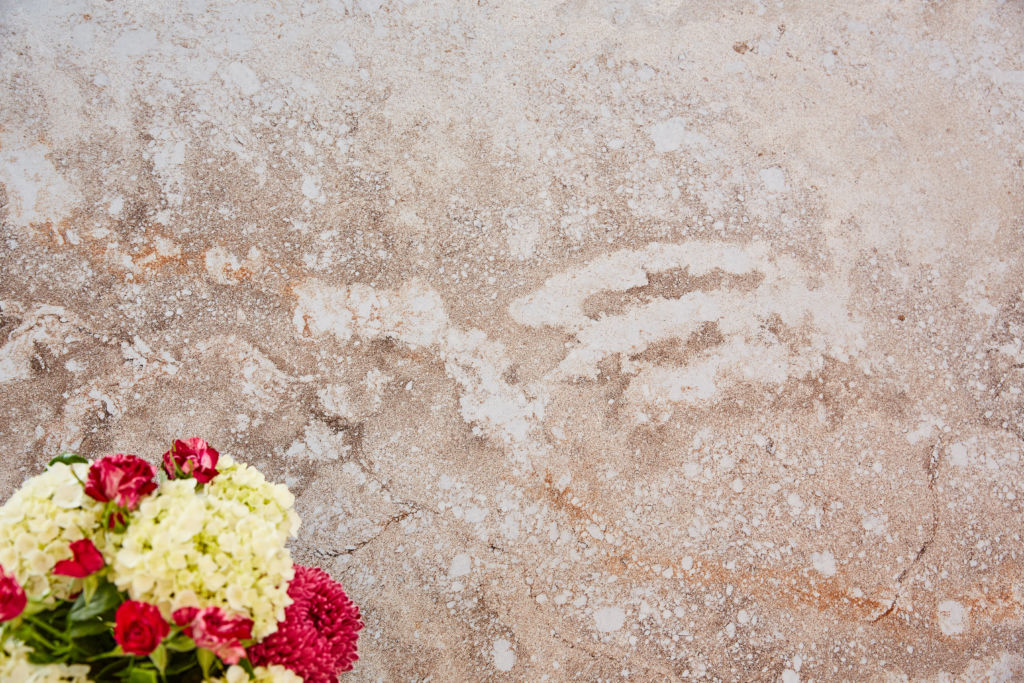 To add to the modern look, a thin 20mm shark nose top has been selected for the island bench, giving the illusion of a floating top created with it's distinct with a sharp and dramatic angle. "I love the shark nose edges on our benchtops," says Nicole, "it's eye-catching and adds a glamourous touch to the whole room."
Lighting:
LED strip lighting has been used along the base of the back run of cabinetry highlighting the cabinetry and flooring to great effect. Lighting is often an overlooked design feature, however here at Kinsman Kitchens we suggest giving careful consideration to it as it can transform your kitchen from both a functional and style perspective. The homeowners agree, "The lighting- while a small detail- really makes a big difference to the kitchen" says Nicole.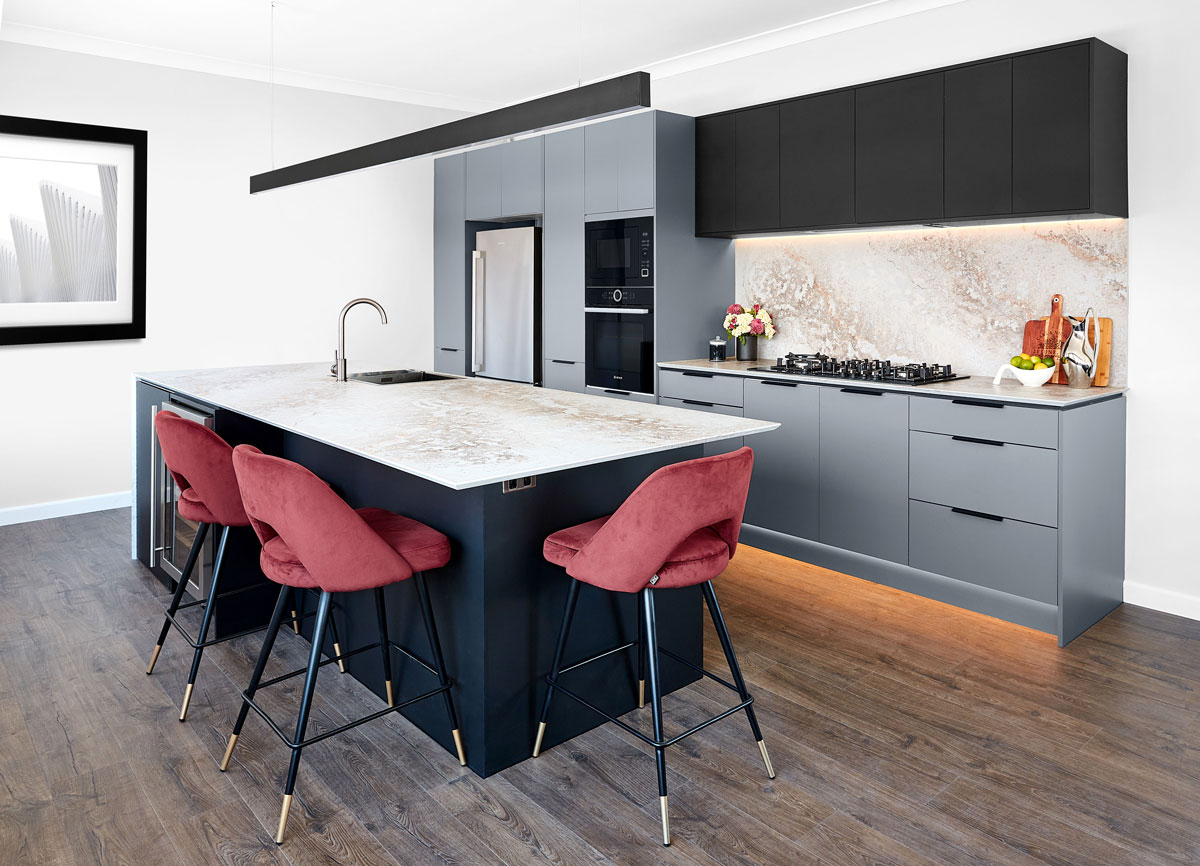 Illuminate your kitchen with LED strip lighting.
Accessories
It's also the finer details that ensure that this kitchen not only looks great but it works hard as well. Generous drawers allow easy storage for crockery as well as large kitchen essentials such as pots and pans. Inside top drawers cutlery inserts and a walnut knife holder make organisation a breeze- a must have for this busy couple.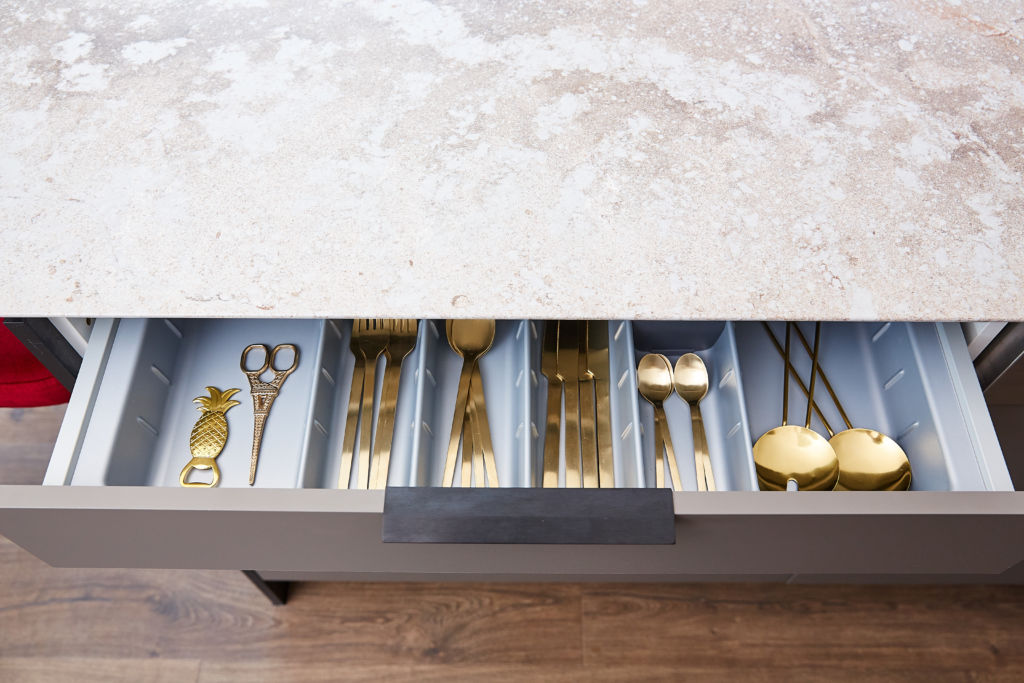 Appliances
Sleek, black appliances have been used throughout the kitchen to complement the darker palette of the space. A compact vertical appliance bank featuring a microwave and oven perfectly complement the black gas cooktop.
Within the island, the dishwasher has been semi-integrated to maintain a sleek and streamline look, while on the other side a wine fridge makes entertaining a breeze!
A power point located at the left hand side of the island ensures that this professional couple can charge their laptops or mobile phones as they work in the kitchen area. "We basically live in this kitchen, explains Nicole, "It's where we prefer to do our work night or day- it's like a modern study- it allows us to be with each other in the living areas while still getting what we need done."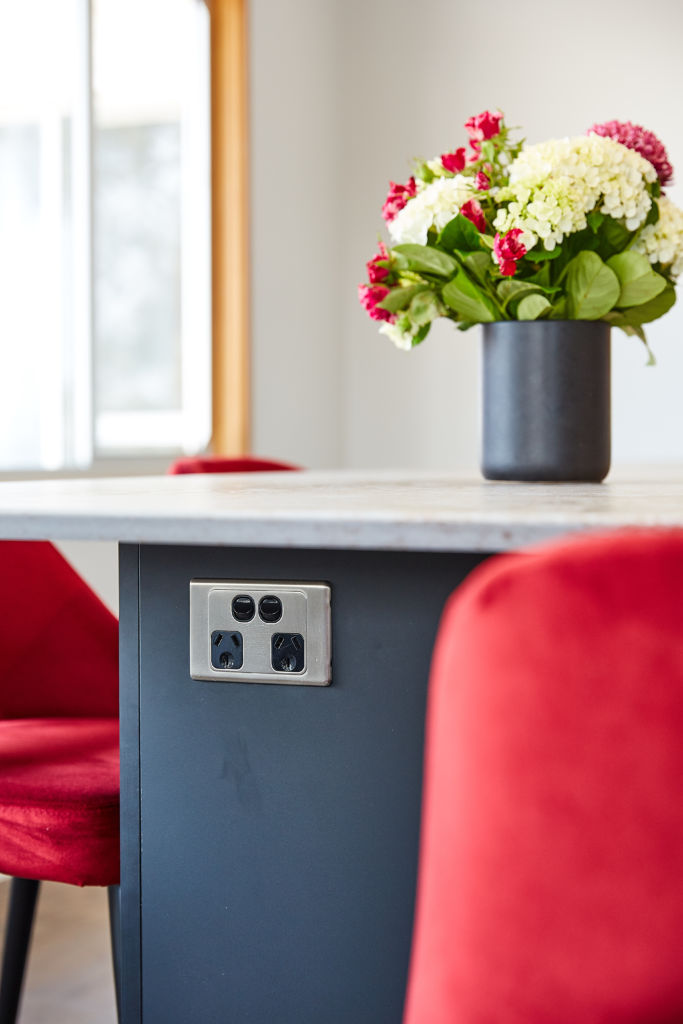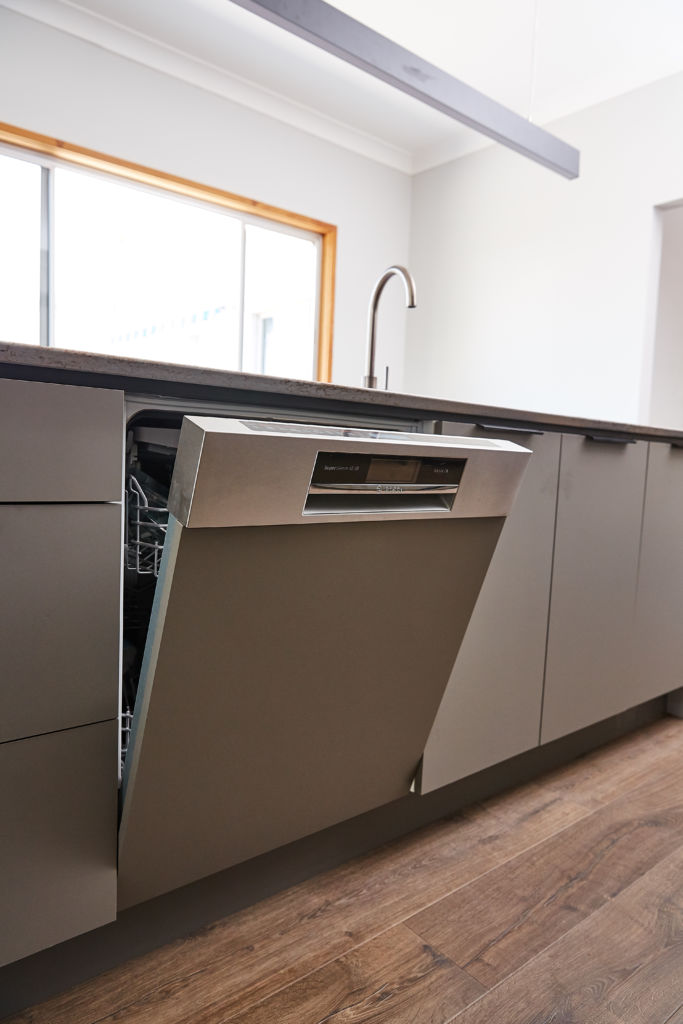 The verdict: "We love our new kitchen! Kinsman Kitchens were fantastic – from the beginning to end there was great communication, we knew when everything was arriving.
Photography: Patrick Moran
Ready to begin your own kitchen makeover? Begin your Kinsman Kitchen journey by booking your expert design appointment HERE.
For more inspiration and ideas, download our Summer catalogue HERE.