Selecting the perfect splashback for your new Kinsman Kitchen is an important design decision to make as they contribute to the overall look and feel of the space. Ideally your splashback will complement your cabinetry and benchtops, as well as the 'style' you have chosen for your kitchen. They offer the opportunity to add colour and texture and with various materials to pick from such as Caesarstone®, tiles and window frames. Below we take a closer look at these options to help you decide which is the right splashback for you and your kitchen.
Caesarstone®.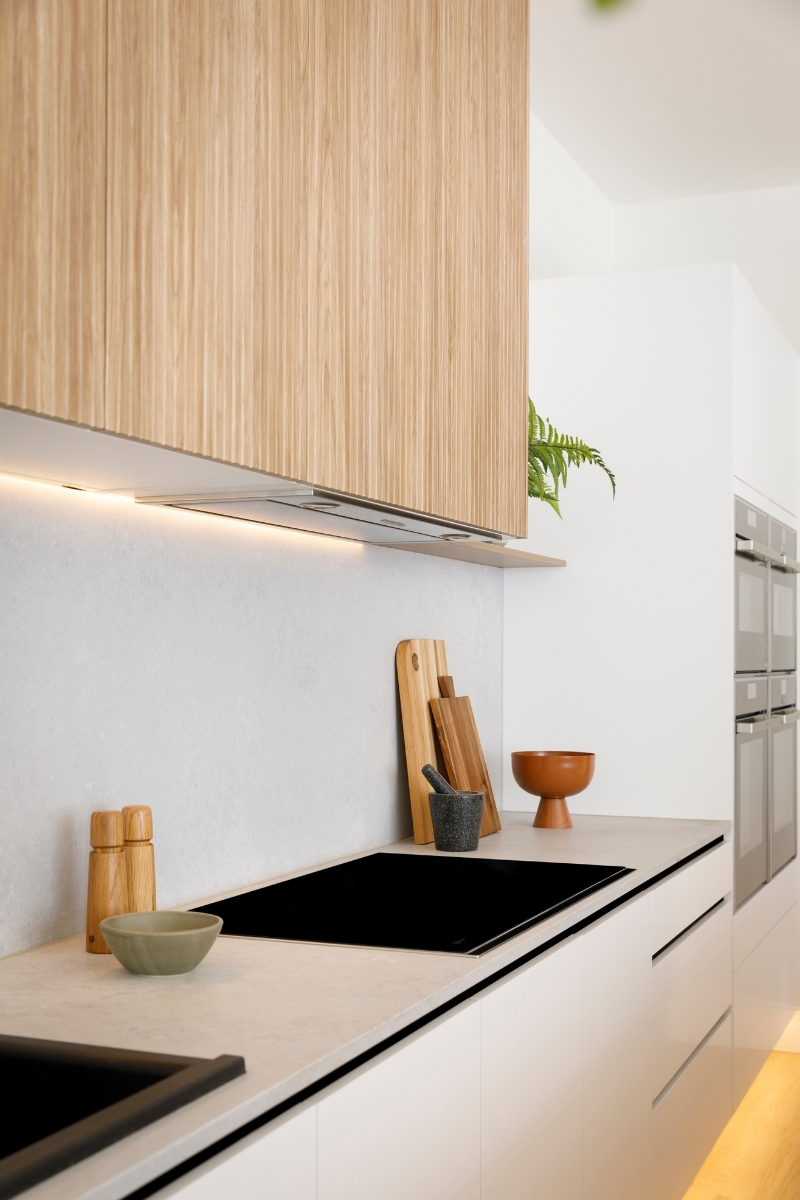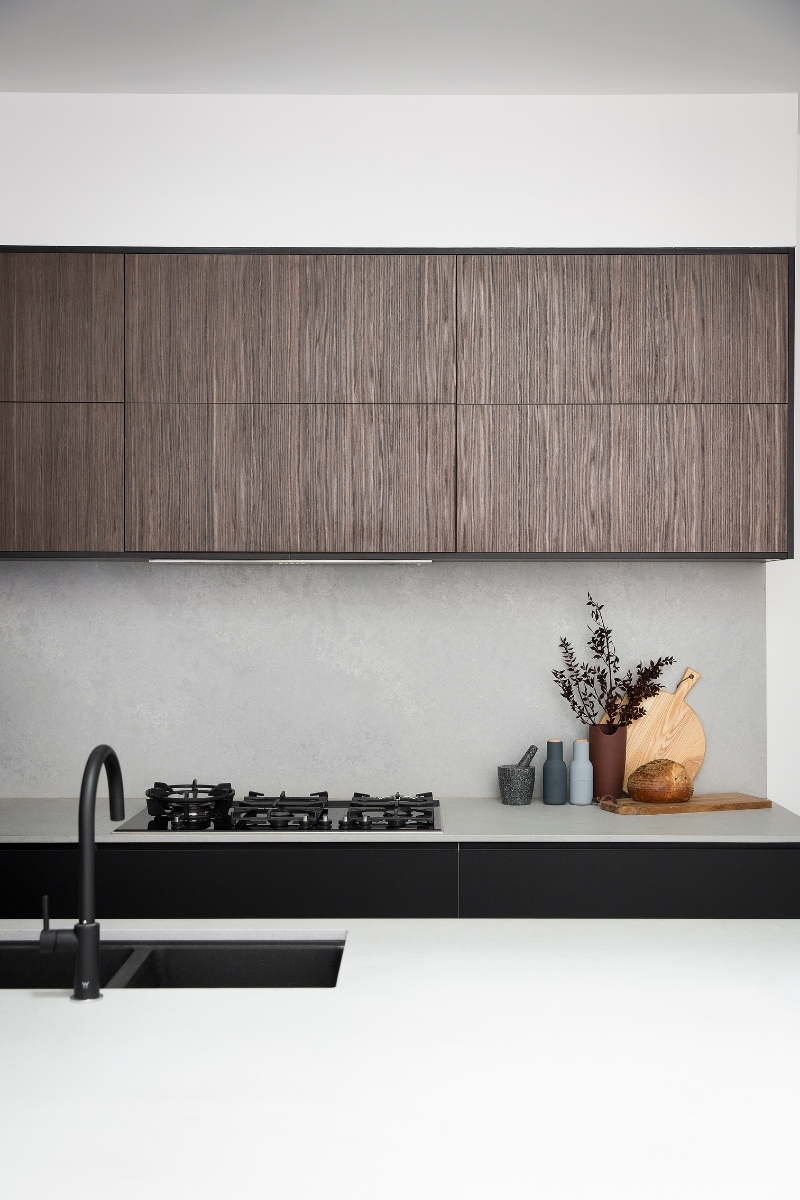 Create a seamless transition from your benchtop to splashback by extending your Caesarstone® quartz top up onto your walls. From marble, terrazzo and concrete looks, and so much more, this option allows you to add a beautiful, raw and natural element to your kitchen and suits a range of kitchen styles from traditional through to uber-modern.
Aside from being a stylish choice, a Caesarstone® splashback has a number of functional benefits including being low maintenance, easy-to-clean and waterproof. Furthermore, it can be installed on the same day as your benchtop, saving you valuable time during the renovation process.
Design tip: For electric and induction cooktops it is a requirement to have a minimum 50mm gap from the back edge of the cooktop to your Caesarstone® splashback, and at least 200mm if you have a gas cooktop. Don't worry- your Kinsman designer will discuss this with you during your appointment and factor it into your design.
Tiles.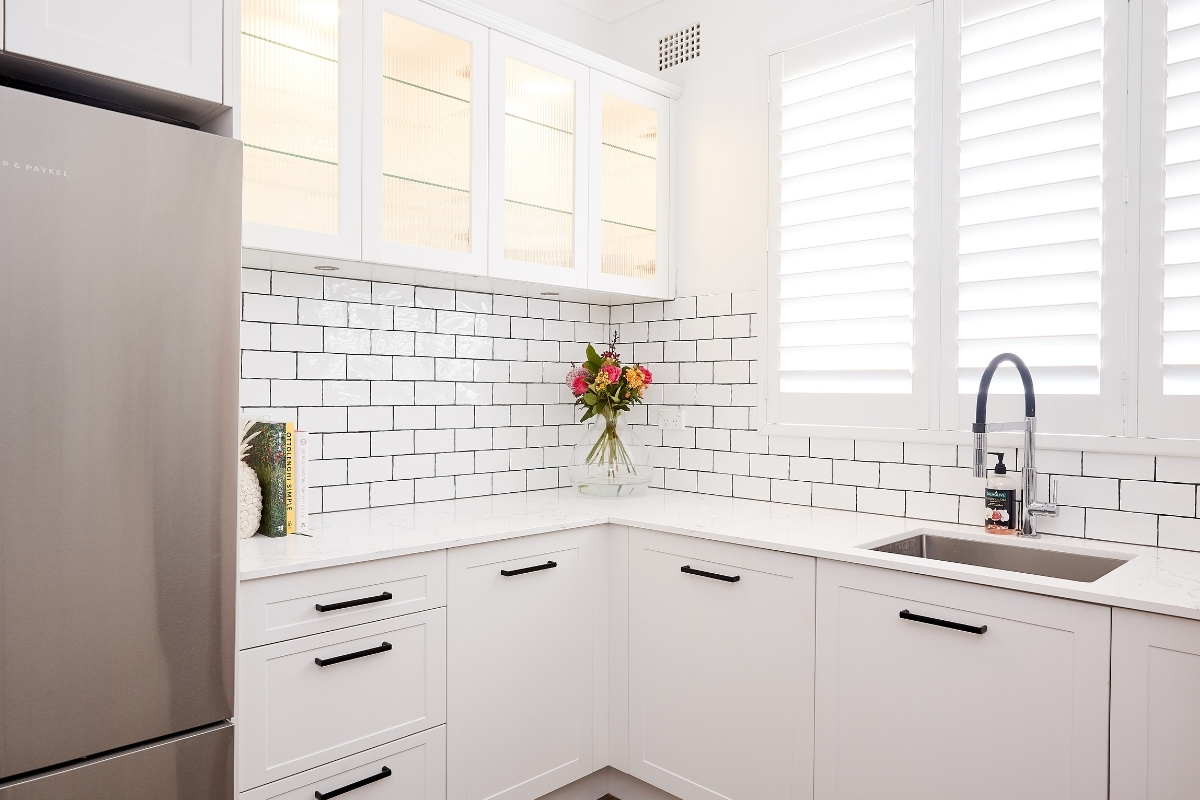 The humble tile has made a comeback in popularity for splashbacks and it's easy to see why! Tiles offer endless options for your kitchen- with a myriad of materials colours, shapes, textures to choose from, there is a tile for every kitchen and home! Ceramic tiles are popular as they are durable, easy-to-clean, readily available and cost-effective. That said, don't overlook other materials such as porcelain, glass and marble.
We love how one type of tile can be used in many different ways to create different looks. Take the cult classic the subway tile for example. Depending on the colour you choose, the finish (glossy or matte) and how you lay it (stacked, in a row, herringbone), you can bring so many different looks to life! Other styles we love are the Kit Kat, fishtail, mosaic, penny circle and square tiles.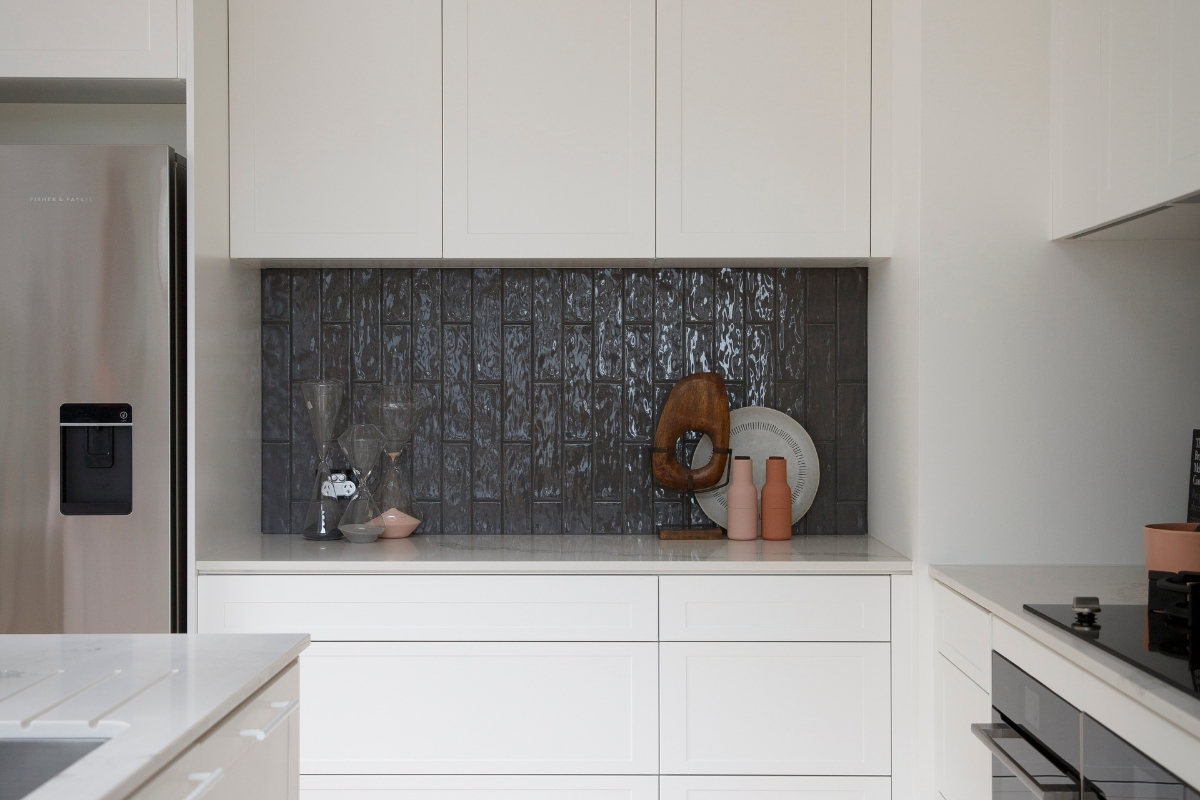 Make a statement with patterned tiles that will ensure your splashback is a centrepiece. A graphic style is perfect if your new kitchen is inspired by Bohemian, Moroccan or Retro styles, and will contrast beautifully against neutral cabinetry.
Design tip. The shade of grout you pick will also impact the look and feel of your splashback. For an understated, classic look it is best to opt for a close match to your tile. Alternatively a contrasting shade will ensure that your tiles stand out and make the splashback a visual highlight within the room.
Window.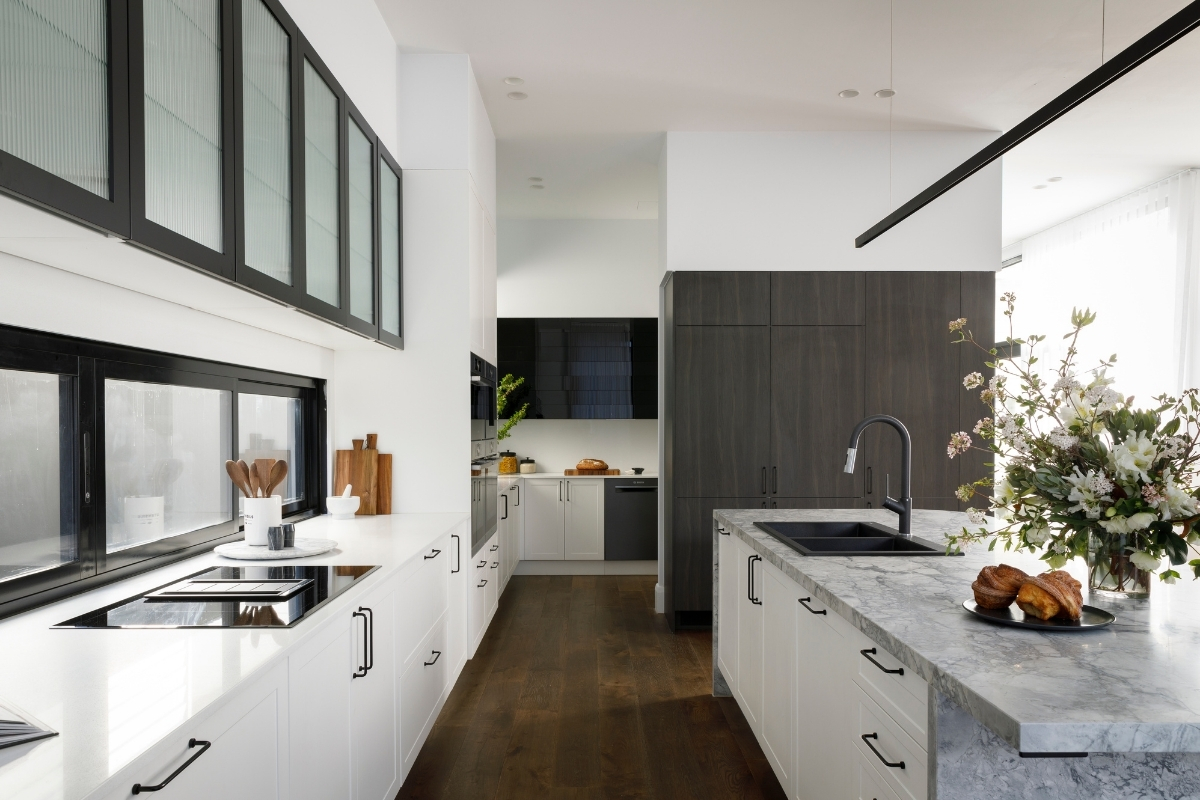 Bring the outside in with a window splashback. and create a frame of natural beauty that not only allows in plenty of natural light (ideal if your kitchen is located in a darker part of your home) but will evolve over time as seasons change and as your plants grow.
Design tip: Opt for on-trend matte black frames to make your window splashback really pop!
Other options.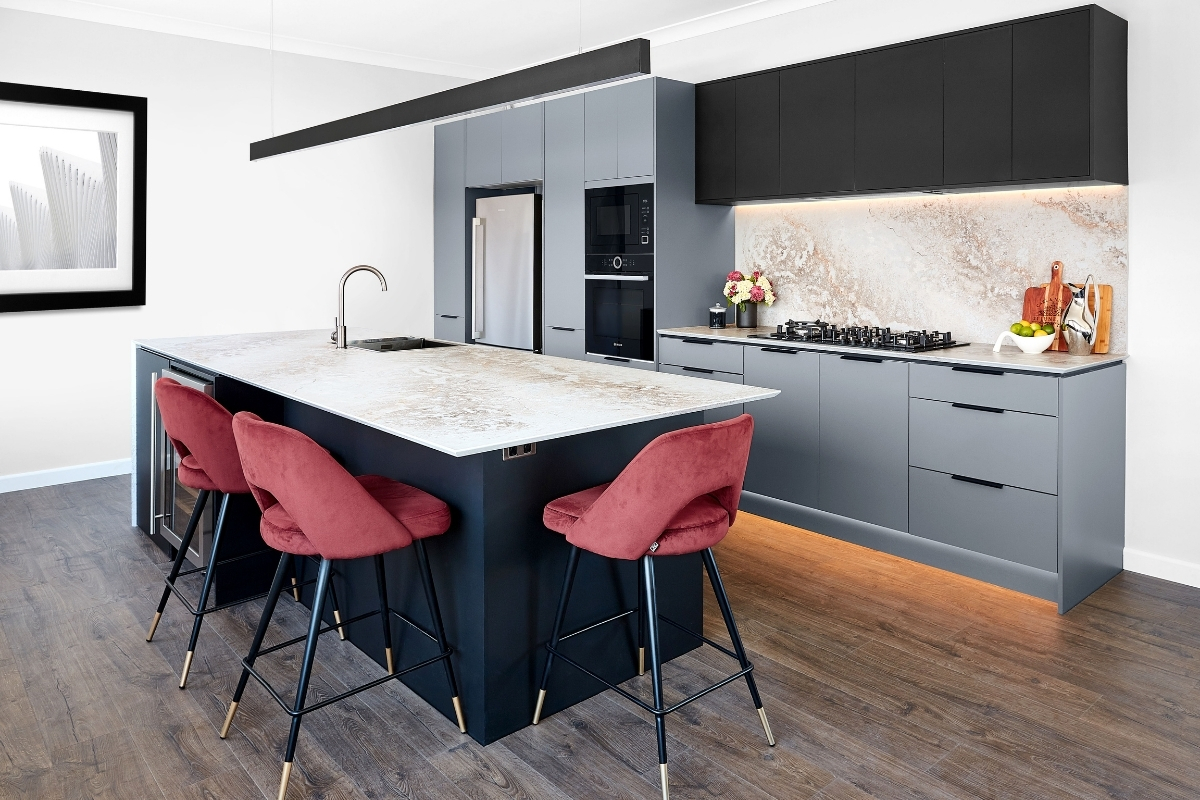 Other materials to consider for your splashback include mirrored glass, exposed brick, toughened glass, pressed metal and stainless steel. All are beautiful and can help you evoke the look you want for your kitchen. However, don't be swayed by looks alone- your splashback should be functional too! Pick a finish and material that is easy to maintain and clean, and will stand the test of time!
Design tip: No matter the material you select for your splashback, enhance the look with a considered lighting scheme. We love to use our LED Strip Lighting under wall upper cabinets to highlight the beauty of your splashback.
Ready to design your perfect Kinsman Kitchen?
Book your in-home, in-store or virtual design appointment HERE.
For more ideas and inspiration for kitchens, laundries, wardrobes and so much more, download our latest catalogue HERE.