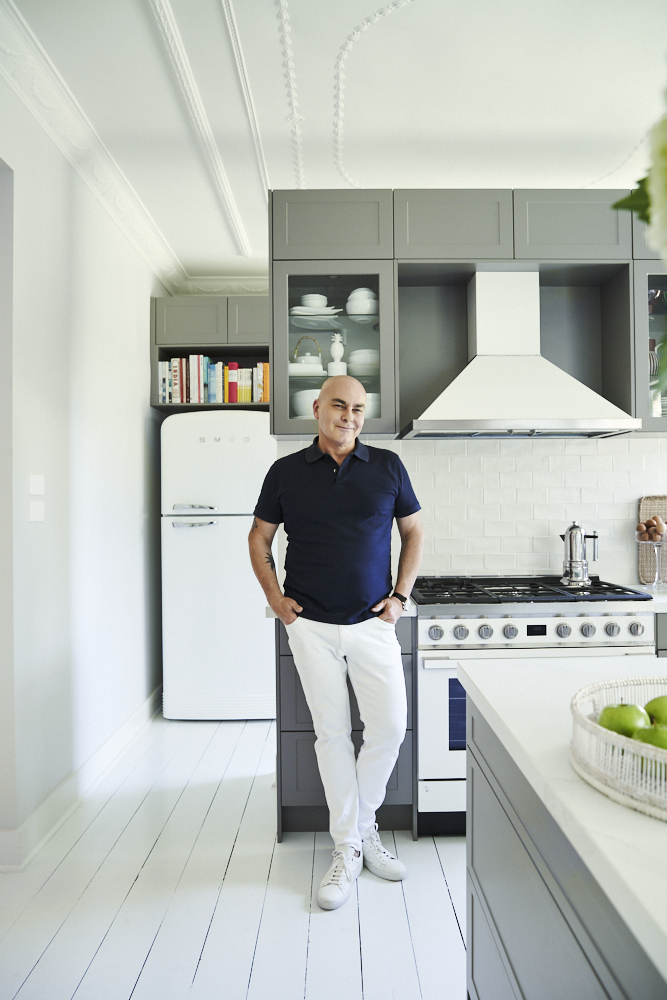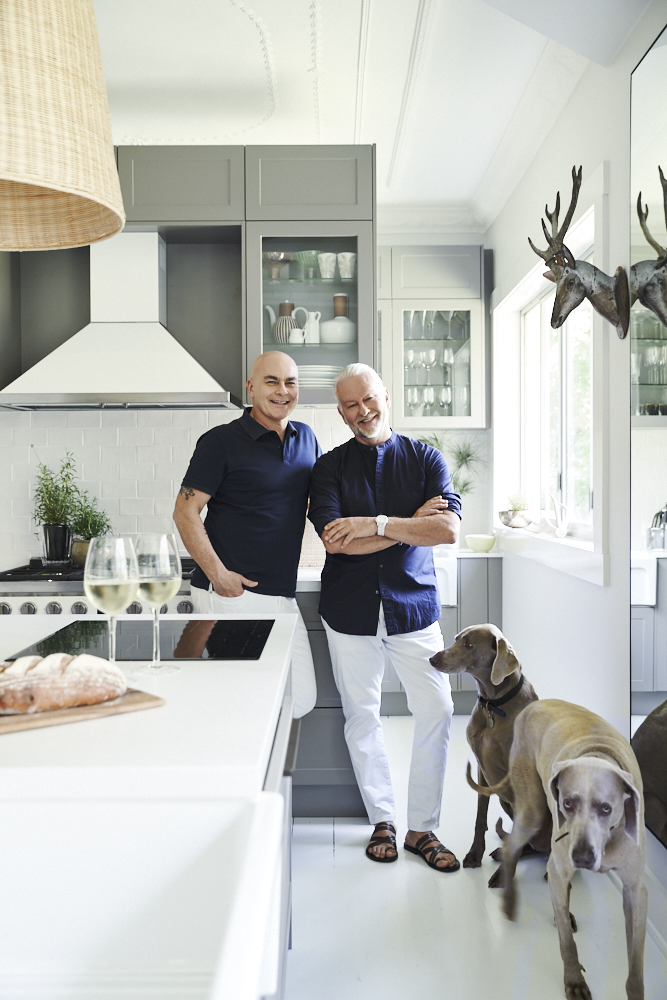 After working with Kinsman Kitchens on Love It or List It Australia, Neale enlisted our help to bring his own kitchen renovation to life.
The vision was for a 'modern rustic' style with a layout and design features that reflect the lifestyle he and David enjoy in their rural home – essentially a serene retreat – from which they commute regularly to Sydney.
In order to achieve their ideal kitchen, Neale and David chose classic elements such as Shaker-style cabinetry in grey with sections of glass doors. This is combined with the classic feel of retro appliances, and juxtaposed with a contemporary oversized island bench – perfect for entertaining. 
With David also being an exacting cook, functionality was imperative, and together with Kinsman they've created a kitchen in which they can enjoy cooking and entertaining with friends and family for many years to come.
We asked Neale for further insight into his modern rustic kitchen design.
KK: What was your inspiration when planning this kitchen?
NW: We knew we wanted a kitchen that was functional and contemporary while respecting the style, location and heritage of the house.
KK: What are your favourite features?
NW: Pretty much everything! The butler's pantry is a real luxury as is the oversized island bench that incorporates storage, a dishwasher and induction cooktop.
KK: Your choice of cabinetry has classic appeal – is it similar or different to your other kitchen back in Sydney?
NW: Entirely different. Our small apartment in Sydney has a very pared-back, industrial vibe – and the kitchen is galley-style.
KK: How did you and David decide on the styling, and is your taste usually the same?
NW: I think we both knew instinctively what was right for the style of the house and how we wanted to live in it. Our taste isn't exactly the same, but it's similar enough to avoid too many clashes! I tend towards contemporary whereas David is more classic, but somehow always manage to meet in the middle. 
KK: What will be your first social gathering in this new kitchen?
NW: Christmas! I'm hoping we will have plenty of opportunities to entertain over the summer break. It's a perfect house for gatherings. 
See below for more of the beautiful details.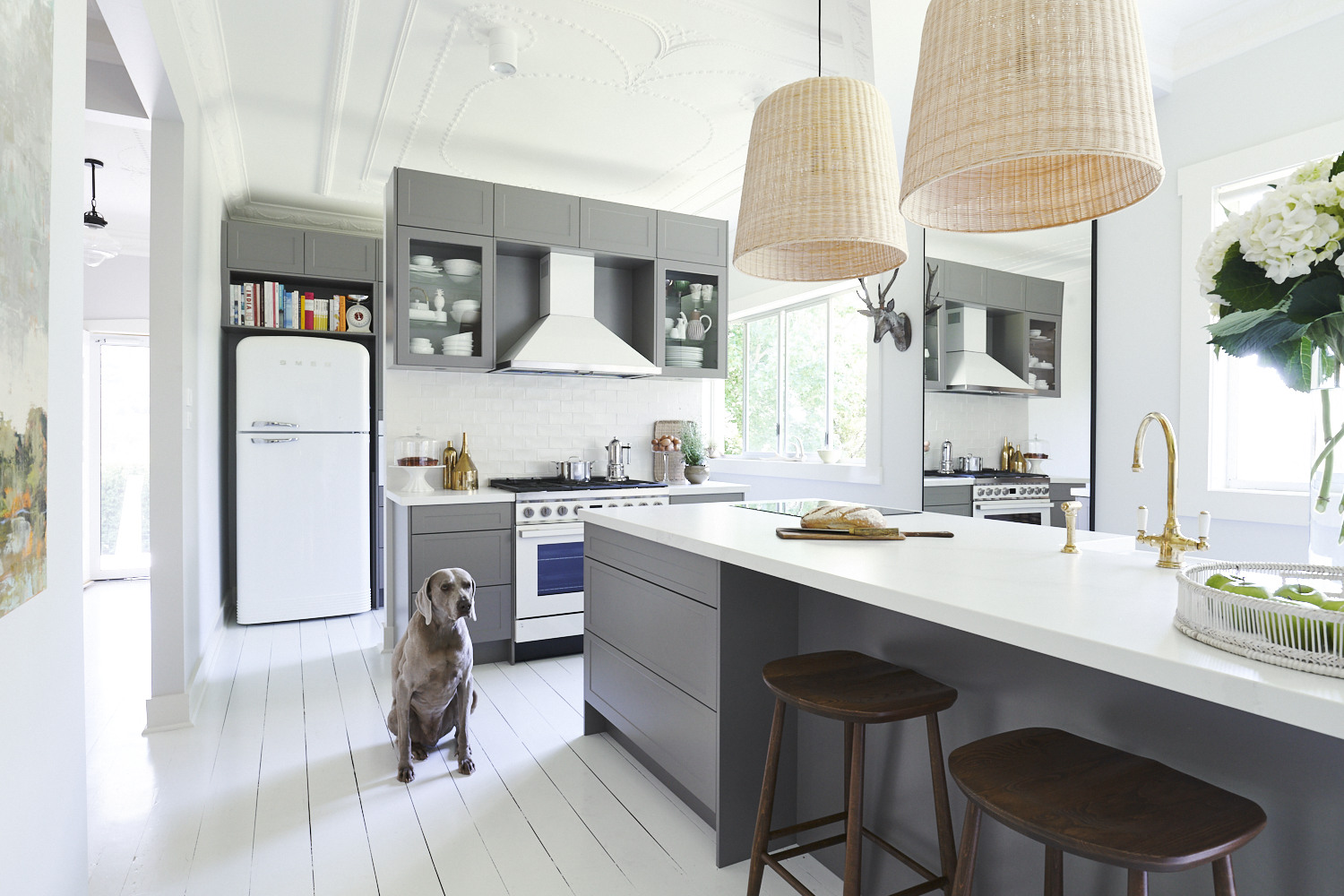 Neale and David's kitchen features modern Shaker style cabinetry in the Somersby door profile from the Designer range, in the colour 'Strata Grey'.  The layout includes a walk-in butler's pantry which enjoys lots of light, and a large Silestone island bench takes centre stage, complete with touch-catch drawers, an induction stovetop and sink.
The inclusion of glass doors in selected cabinetry adds to the country charm and makes the most of the natural light, bouncing it throughout the space.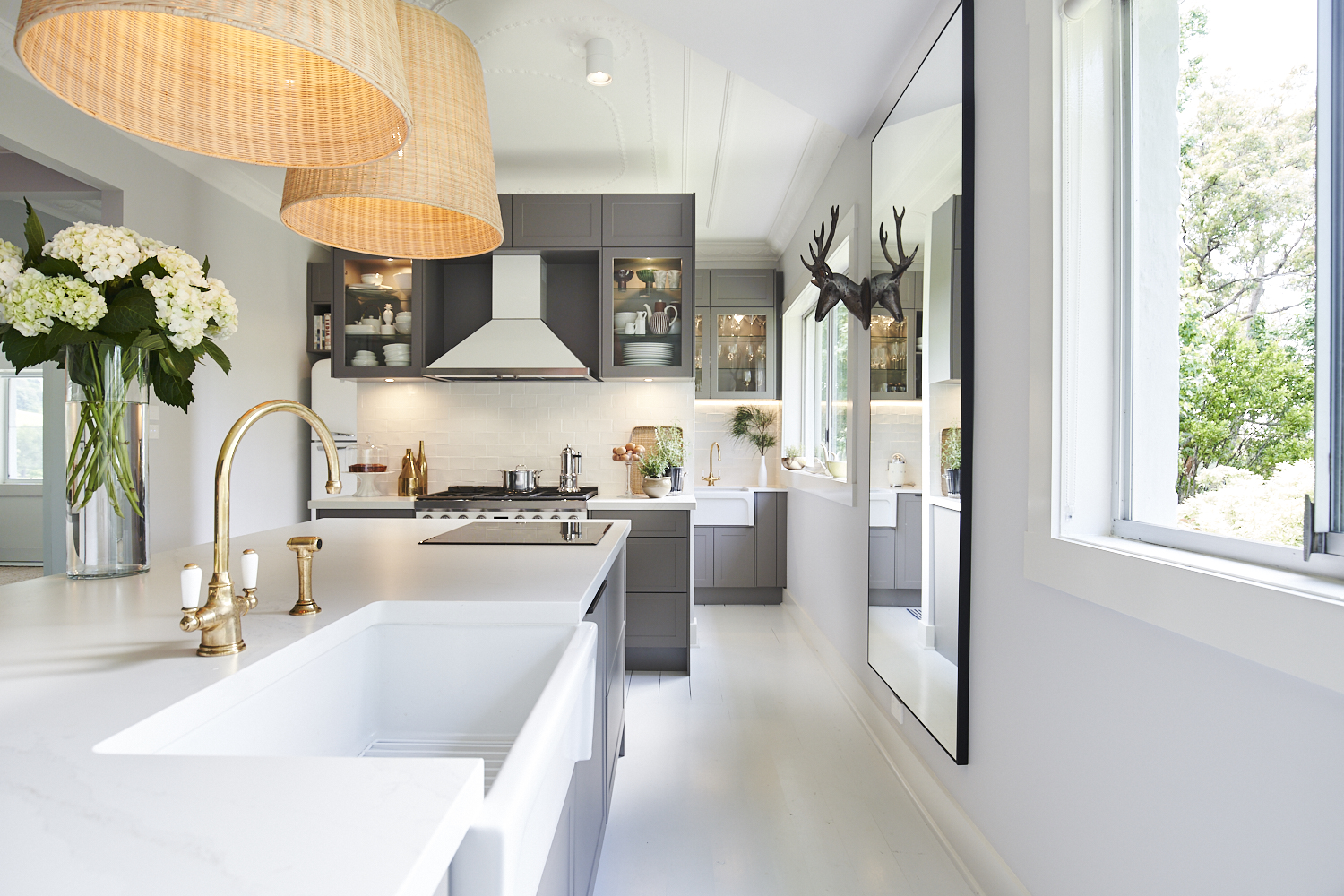 The dishwasher is integrated into the cabinetry, keeping the look seamless.  Glass-sided touch-catch drawers are a practical and refined feature, complementing other details like the simple yet sophisticated white subway tile splashback.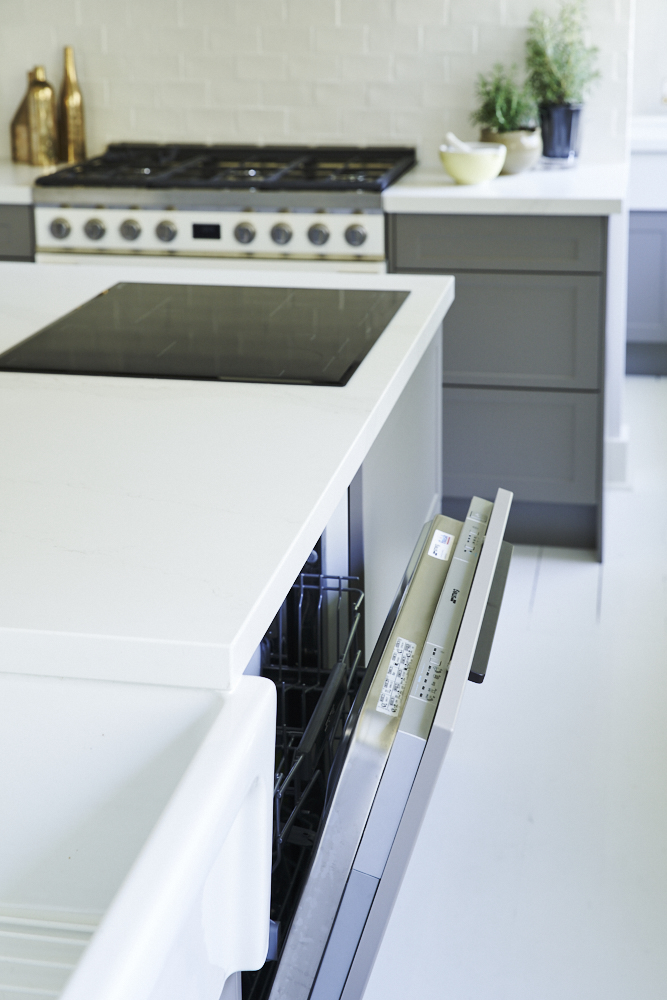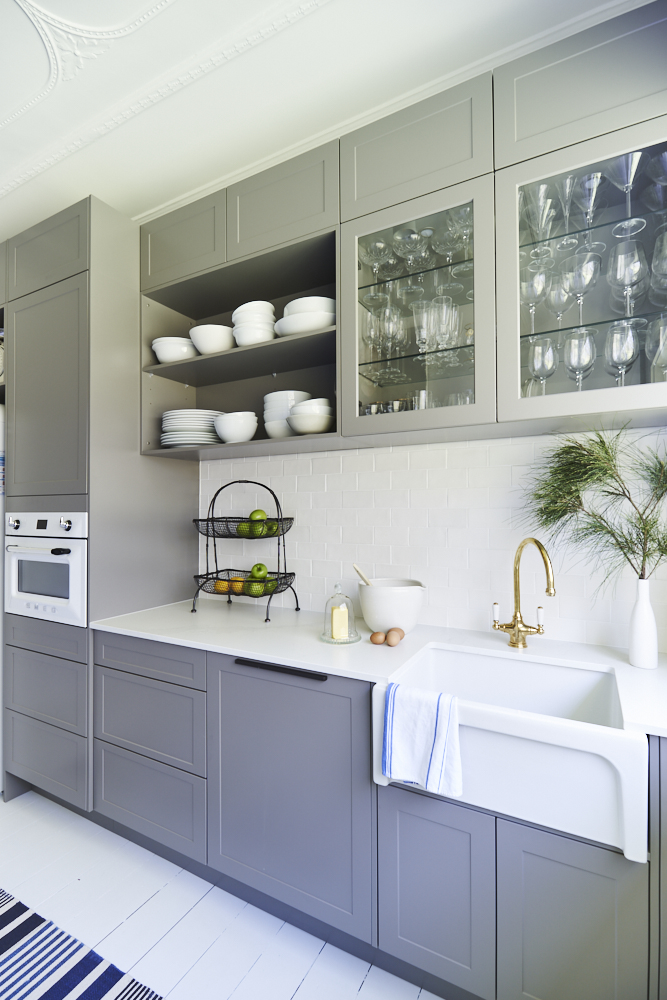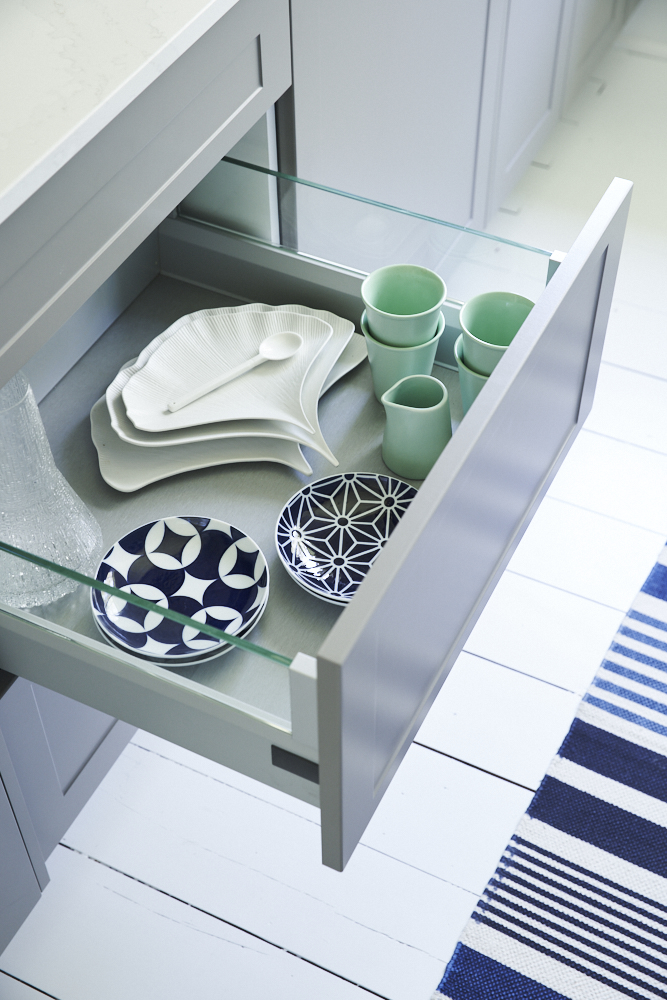 As expected, the laundry is equally beautiful – and also ideal in its functionality. Boasting a long Silestone work bench under large windows with an outlook to their property beyond, the choice of Kinsman's Somersby doors in 'White Matt' is perfect for this light-filled space. 
Their washer and dryer are hidden within the cabinetry on one end of the laundry, while the other end features plenty of storage for linen.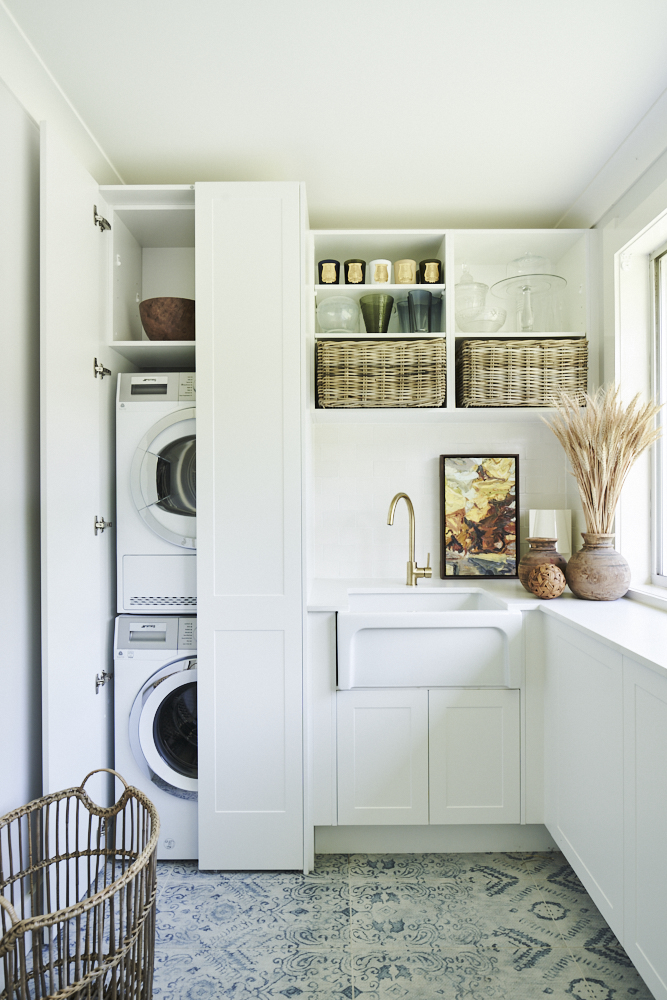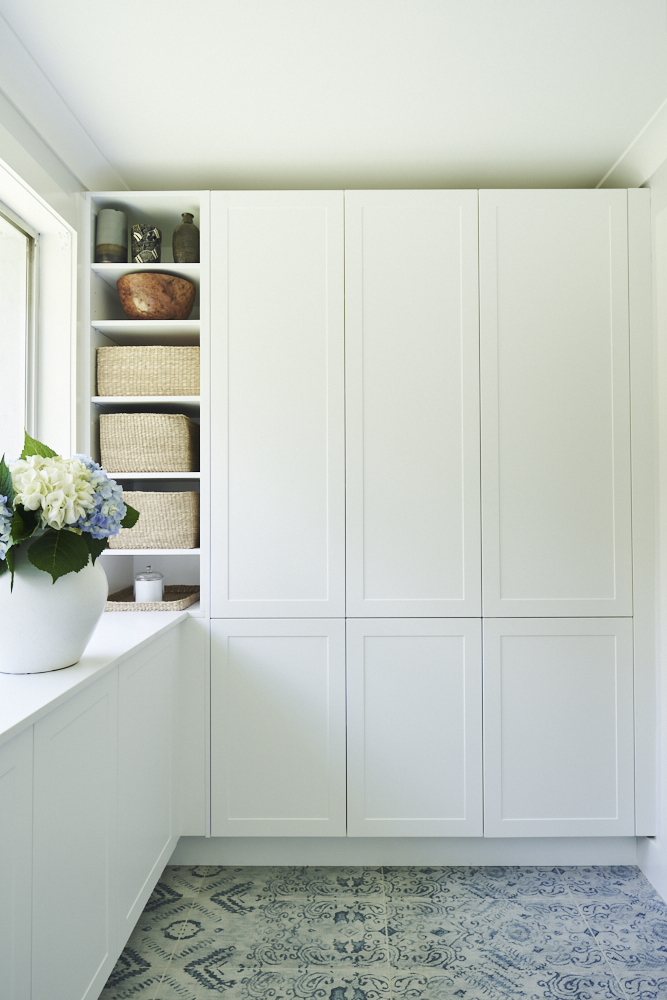 Love Neale Whitaker's Kinsman Kitchen and laundry, and feeling inspired to create your own? 
Simply click here to book in a free design appointment at your home, and you can enjoy a new kitchen in the new year. 
Need more inspiration? Download our latest catalogue HERE.