Returning from the six week lockdown, the Blockheads delivered Guest Bedroom Two with a newfound spring in their step!
With all hands on deck and an extra two days of trades, the judges were impressed with the creativity and confidence that the Second Guest Bedrooms brought to the competition. Read on to explore these wow-worthy Kinsman Wardrobes.
House 1 – Harry & Tash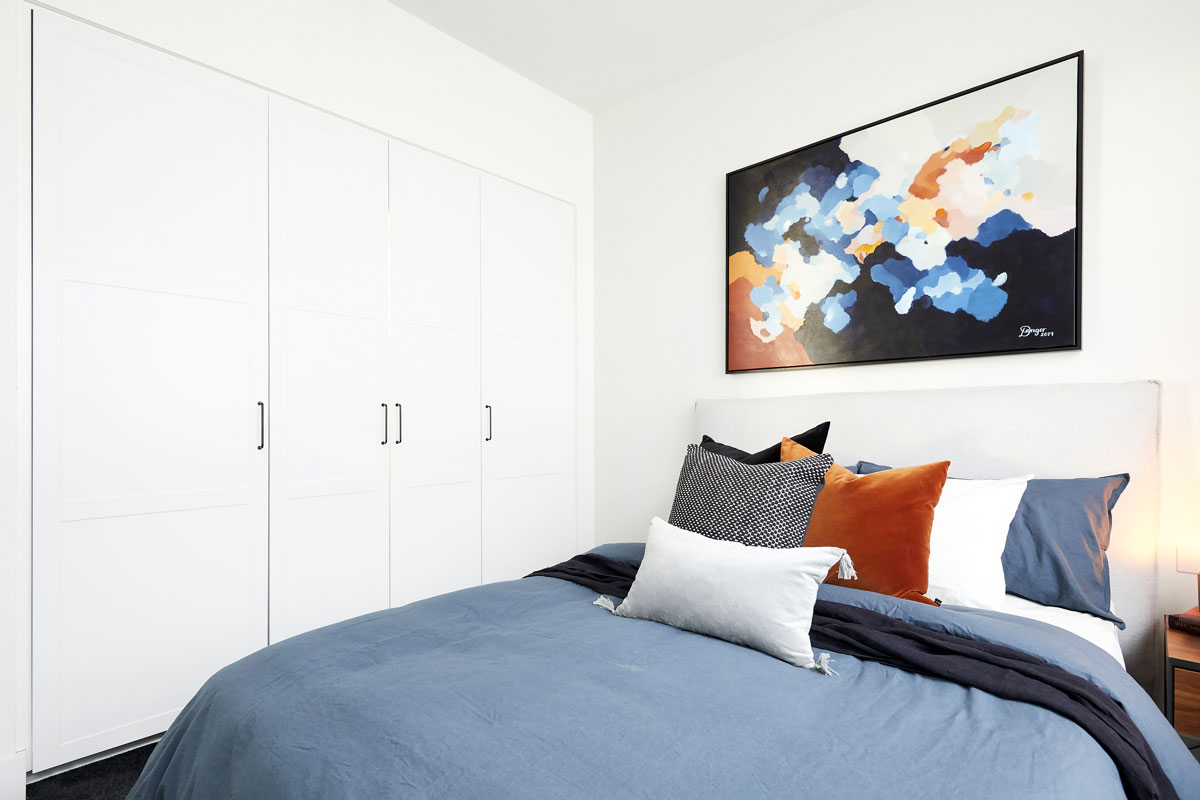 Fresh and clean. Neale felt that this room said "it's glad to be back", a promising start for House 1! Harry and Tash opted for a simple yet elegant approach to their Second Guest Bedroom wardrobe, adding functionality and ample storage to their space. Somersby White Matt cabinetry doors look seamless against the wall, the perfect choice to make the space look larger. Our classic Shaker-style door profile and warm timber-look internal finish mirrors the cabinetry chosen for the Guest Bedroom One and Master Bedroom robes, ensuring that this stylish colour palette and style flows seamlessly throughout the home.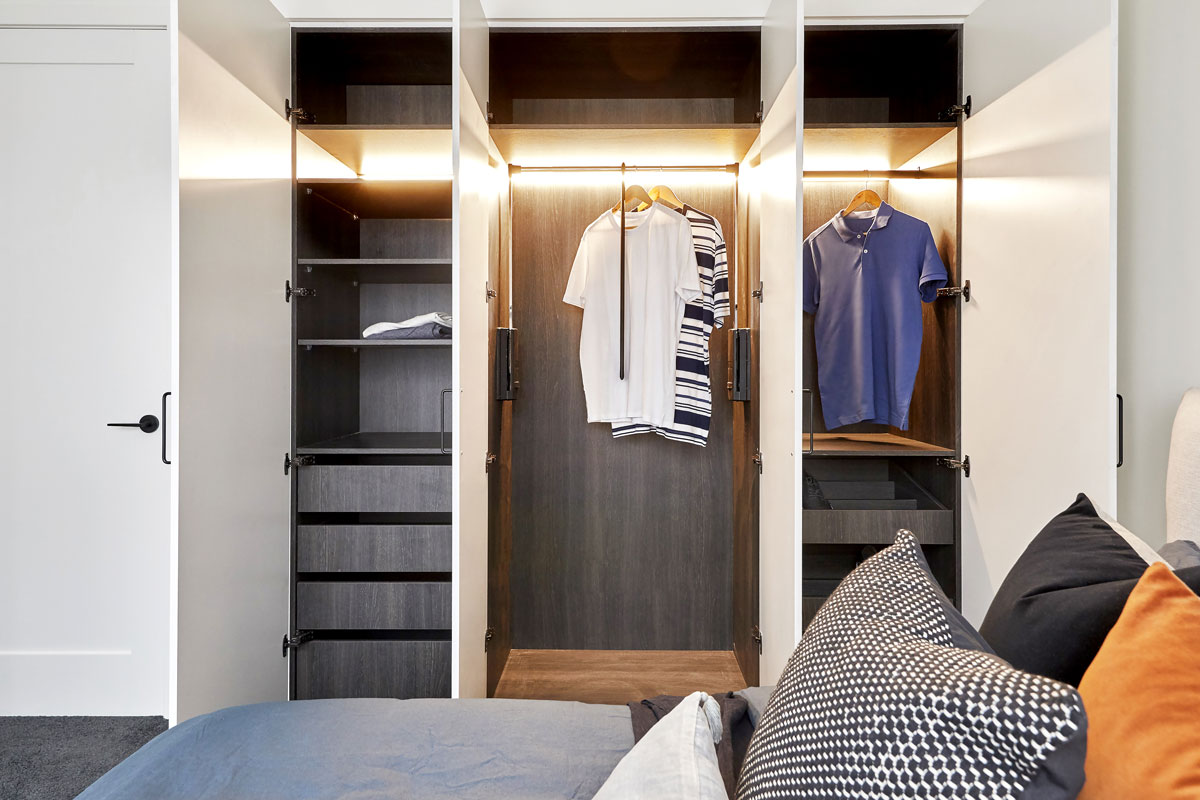 The pair have delivered efficient use of the small space by including essential accessories such as pull down hanging rails, drawers and shoe storage, all illuminated by our Warm LED Strip Lighting for clear viewing and opulence.
Cabinetry by Kinsman Wardrobes
• Exterior doors: Somersby White Matt
• Internal finish: Dark Oak Natural
Details
• Handles: Satin Black Rounded D (22-K-131)
• Accessories: Wardrobe Lifts, Shoe Drawers
• Lighting: Warm LED Strip Lighting
House 2 – Sarah & George
Sarah and George haven't held back with their bold and beautiful choice of Beton Texture concrete look doors complemented by elegant black framing. This robe radiates a cool and calm aesthetic with its textured and industrial style colour palette.
The couple have used a combination of both sliding and hinged doors, creating an immediate visual impact in their space. Our new and opulent Brave Bow Matt Black handles have been paired with hinged doors, perfectly balancing the black accents of the sliding cabinetry.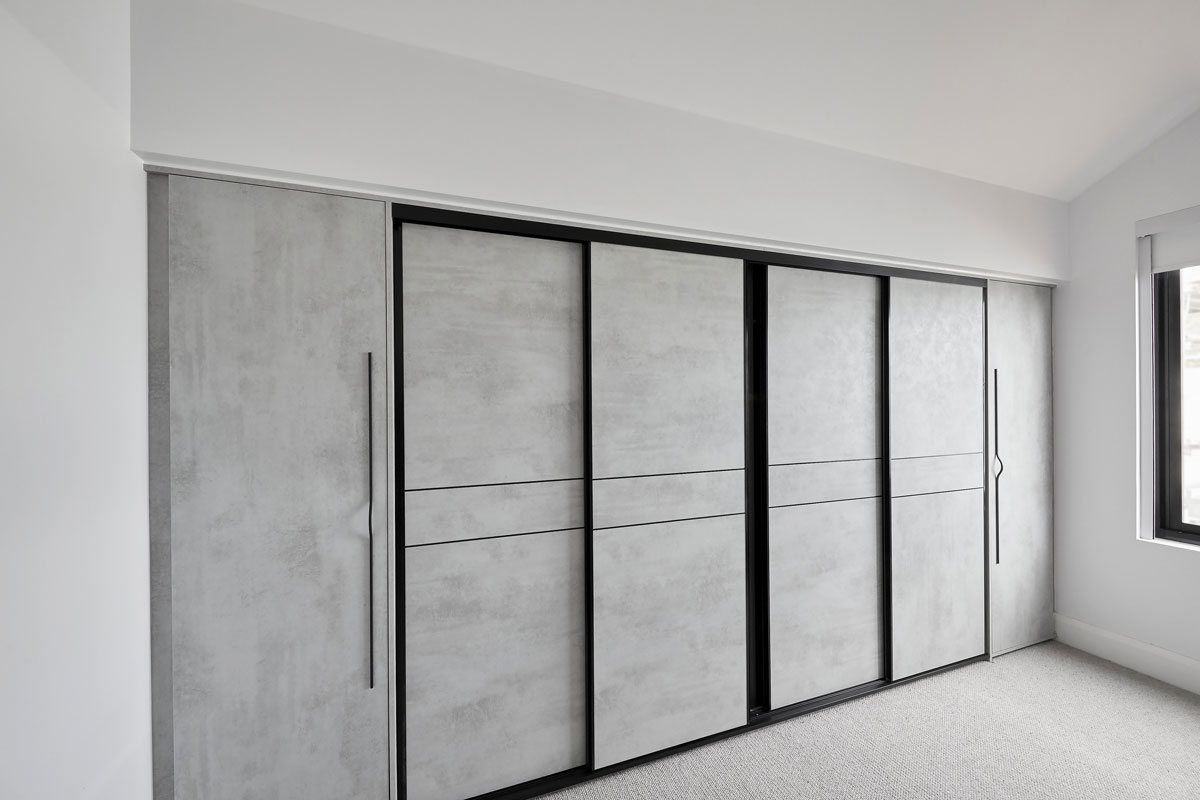 Neatly tucked behind the seamless monochrome façade is our Dark Oak Natural internal finish which ties in with the rest of the home. In this room, it contrasts in both texture and warmth to the exterior doors adding to and accentuating its grandeur.
As well as oozing style, this robe offers a wide selection of storage which judge, Darren, thought was fantastic. "I'm just going to take a quick peek inside. What have you got? Double hang, long hang, mirror inside… Shelves and drawers for days," he said as he opened the doors.
Cabinetry by Kinsman Wardrobes
• External Doors: Beton Texture
• Internal Finish: Dark Oak Natural
Details
• Handles: Tri Panel Frame in Black Satin, Brave Bow Matt Black handle (38-M-08) NEW
• Accessories: Folding Mirror, Drawers
• Lighting: LED Light Bar in Black
House 3 – Daniel & Jade
Splitting one Guest Bedroom into two, Jade and Daniel's space has allowed them to gain an extra bedroom while accommodating generous identical wardrobes in both rooms. The Block judges agreed that both rooms felt sophisticated, the open shelving that the robes offered proved a perfect way to add style and personality to the rooms.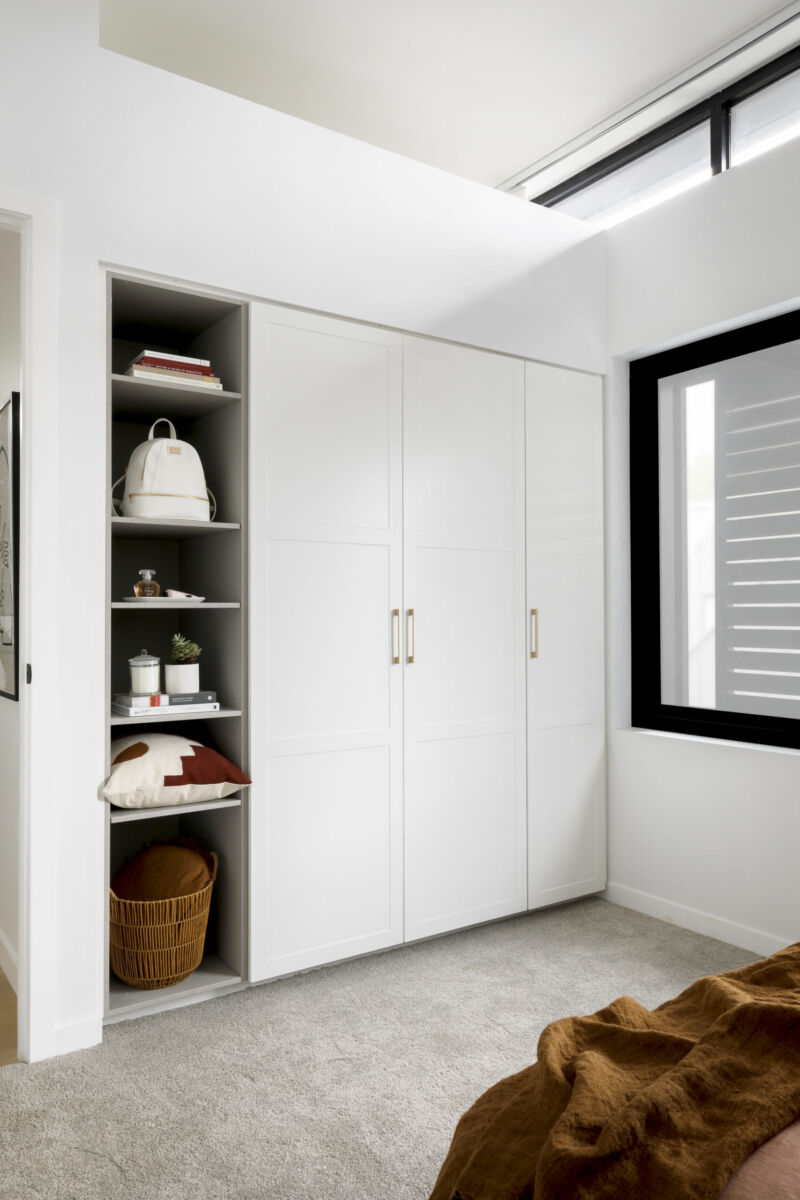 The couple have chosen a light and neutral colour palette; the perfect way to maximise space in a smaller room. Champagne Bar handles add a subtle contemporary touch to the classic Shaker-style doors. This elegant simplicity lets the styling in the rest of the room do the talking.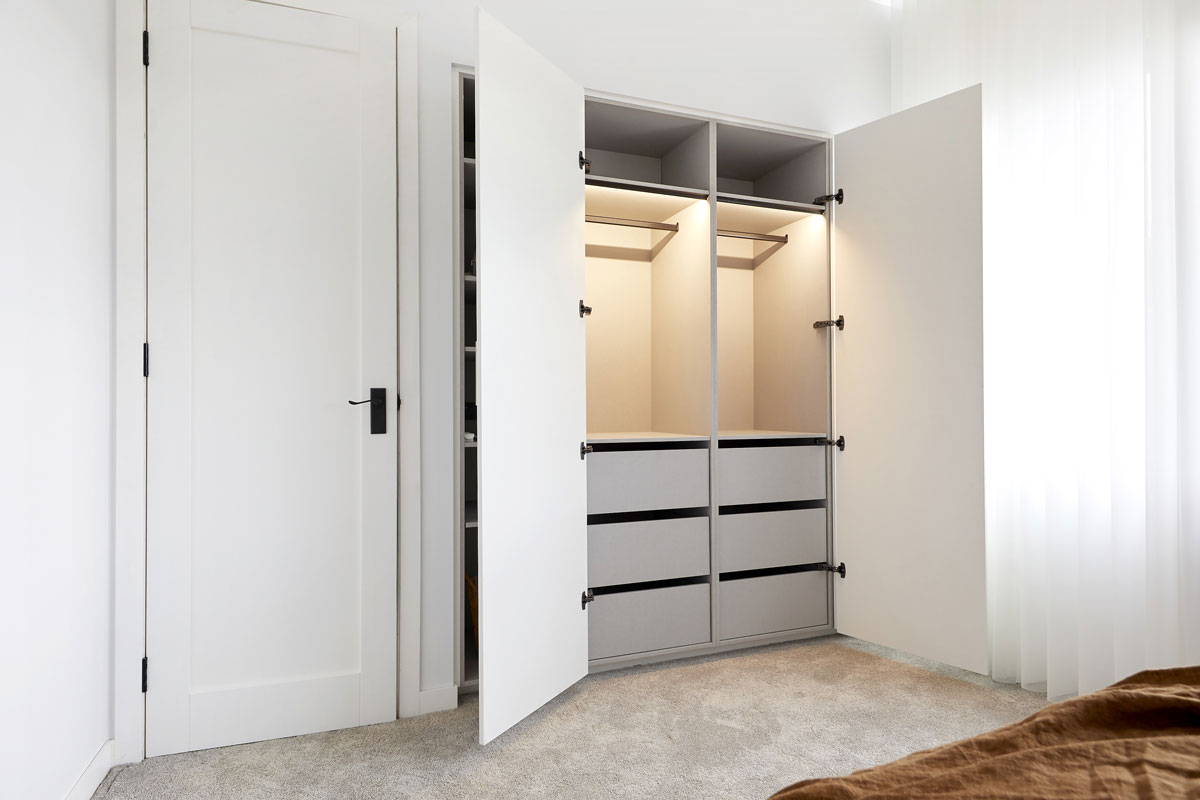 Inside the robe features a Grey Textile interior finish, ensuring the theme is kept effortlessly light and airy from exterior to interior. All the essentials needed in a guest bedroom can be found in these wardrobes including adjustable shelving – a flexible storage solution that can be adapted to whoever is staying in the room, hanging rails, deep draws and extra height cabinetry perfect for storing those extra duvets or blankets.
Cabinetry by Kinsman Wardrobes
• Exterior doors: Somersby White Matt
• Interior finish: Grey Textile
Details
• Handles: Thin Flat D Shaped Champagne Handle (15-K-148)
• Lighting: LED Light Bar in Black
House 4 – Luke & Jasmin
Luke and Jasmin chose our Modern Oak Natural timber-look cabinetry which Darren was itching to talk about! "Can we just talk about these robes? That laminate on the Kinsman wardrobes is so timber-like it could be real timber." A finish which appears throughout the wardrobes within this home. This allows the couple to display continuity while giving every room its own style and unique feel. In this guest bedroom, the cabinetry doors have been paired with our new Ribe Black Stain Timber Handle, together exuding a contrasting natural luxe look.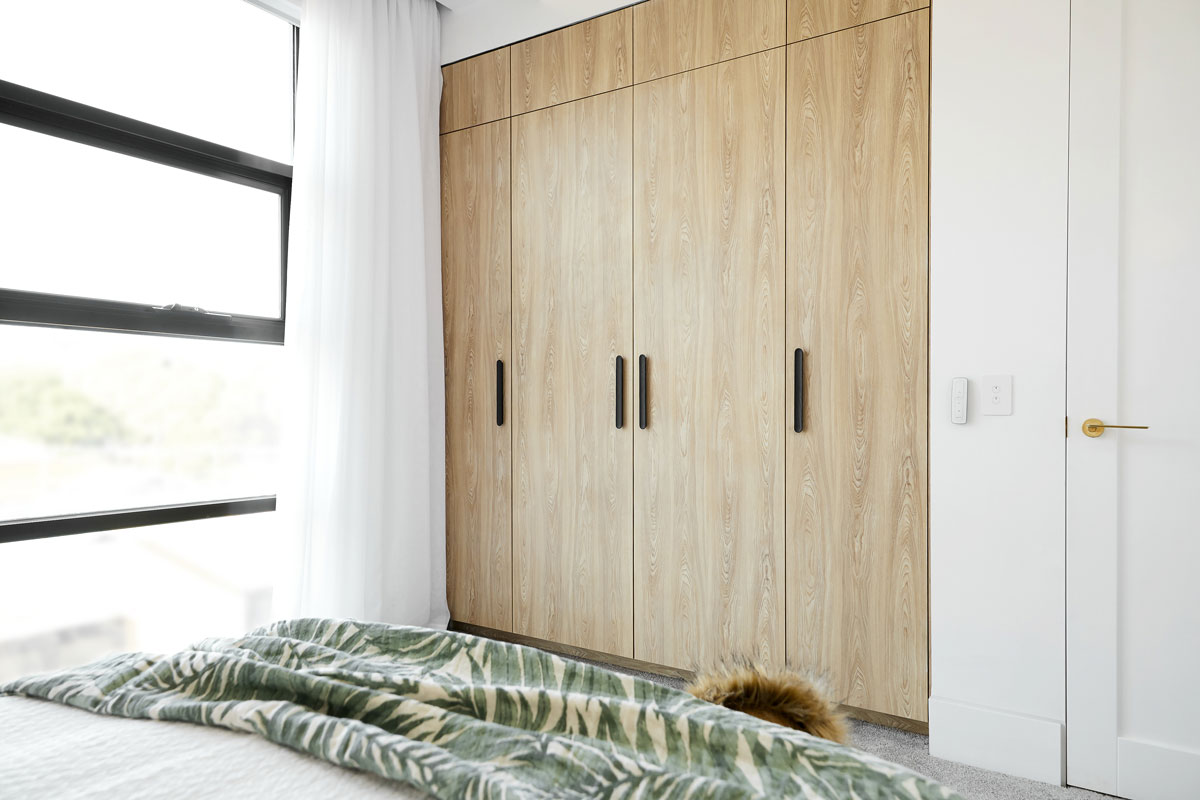 With practicality and function in mind, the pair chose to double stack cabinets to maximise storage space and efficiency. Premium Verti-Strip Lighting elegantly illuminates the contents of the robe, hanging space, drawers and shelving, adding a touch of glamour as well as practicality for easy viewing and adding a warm ambience to the room.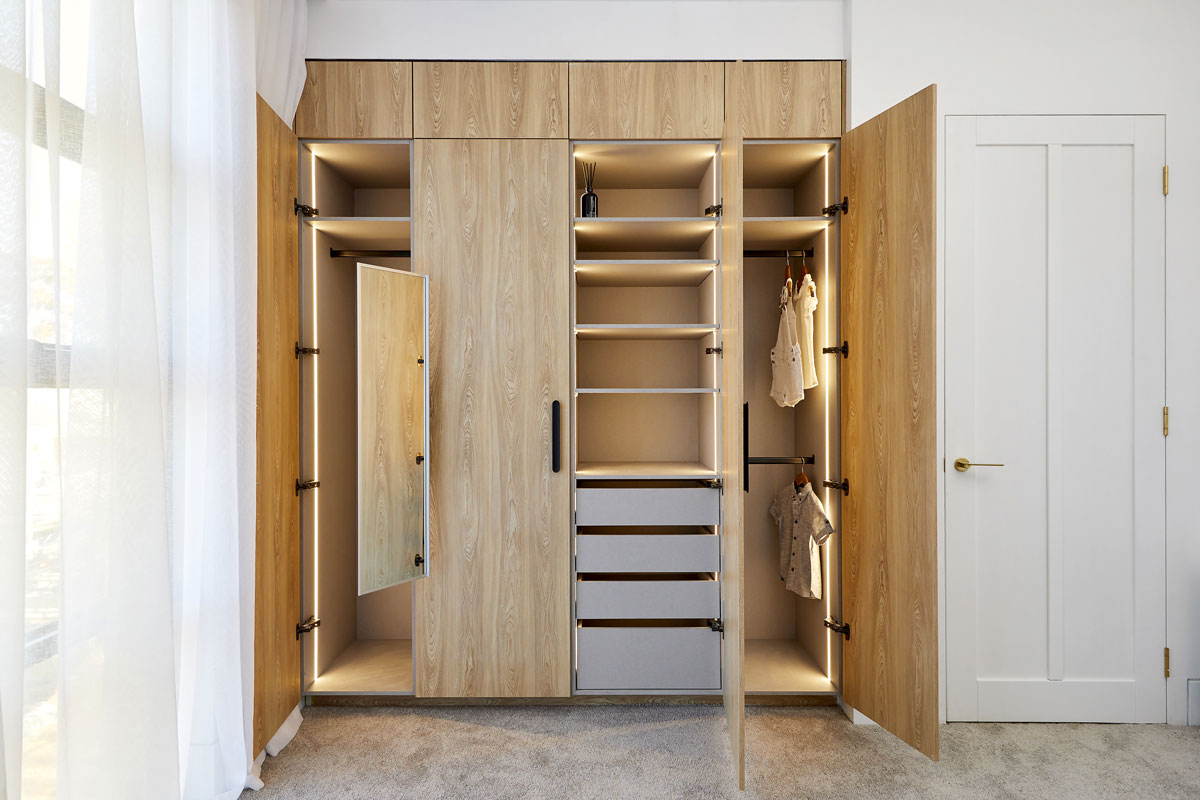 Grey textile interior drawers contrast with the timber-look doors in both colour and texture, taking luxe to the next level with its linen look and feel. Black hardware, handles and a pull out mirror are sure to accentuate the sophistication of this robe.
Cabinetry by Kinsman Wardrobes
• Exterior doors: Modern Oak Natural
• Interior finish: Grey Textile
Details
• Handles: Ribe Black Stain Timber Handle (34-K-151) NEW
• Accessories: Premium Verti-Strip Lighting, Folding Mirror
House 5 – Jimmy & Tam
A seamless flow of White Satin doors paired with our new Natural Ash handle and Modern Oak Natural internal finish feels all very familiar in Jimmy and Tam's Second Guest Bedroom. Consistency is key when it comes to style with this couple; a natural classic colour palette streams throughout the bedroom robes of this home.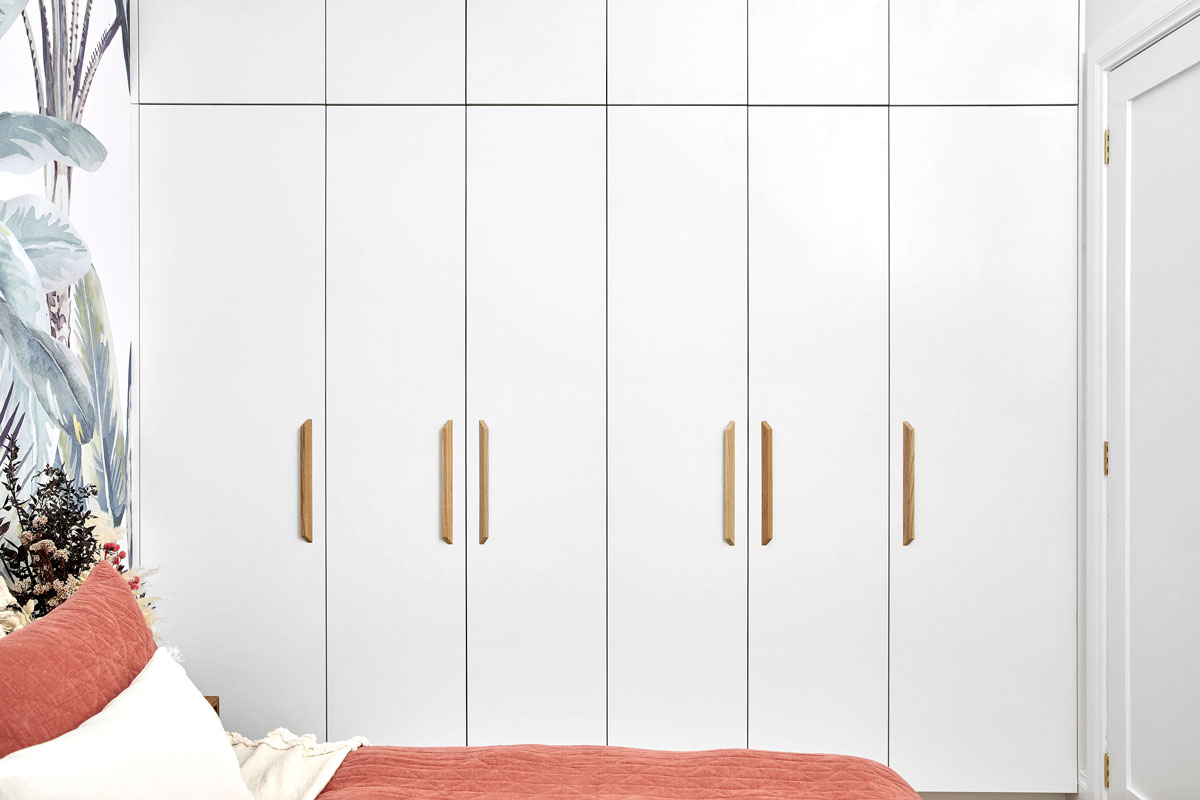 The judges commented that the size of the wardrobes give this Guest Bedroom a Master Bedroom feel. Behind the doors of this sleek and stylish robe sits ample storage and smart accessories, ensuring that the wardrobe space has been completely maximised. Double stacked cabinetry means that this wardrobe reaches the height of the room, oozing grandeur and providing a place for everything. This robe received a big tick from Shaynna in the storage box – "There are a lot of doors in here — you've got hanging, drawers, shelves" she observed.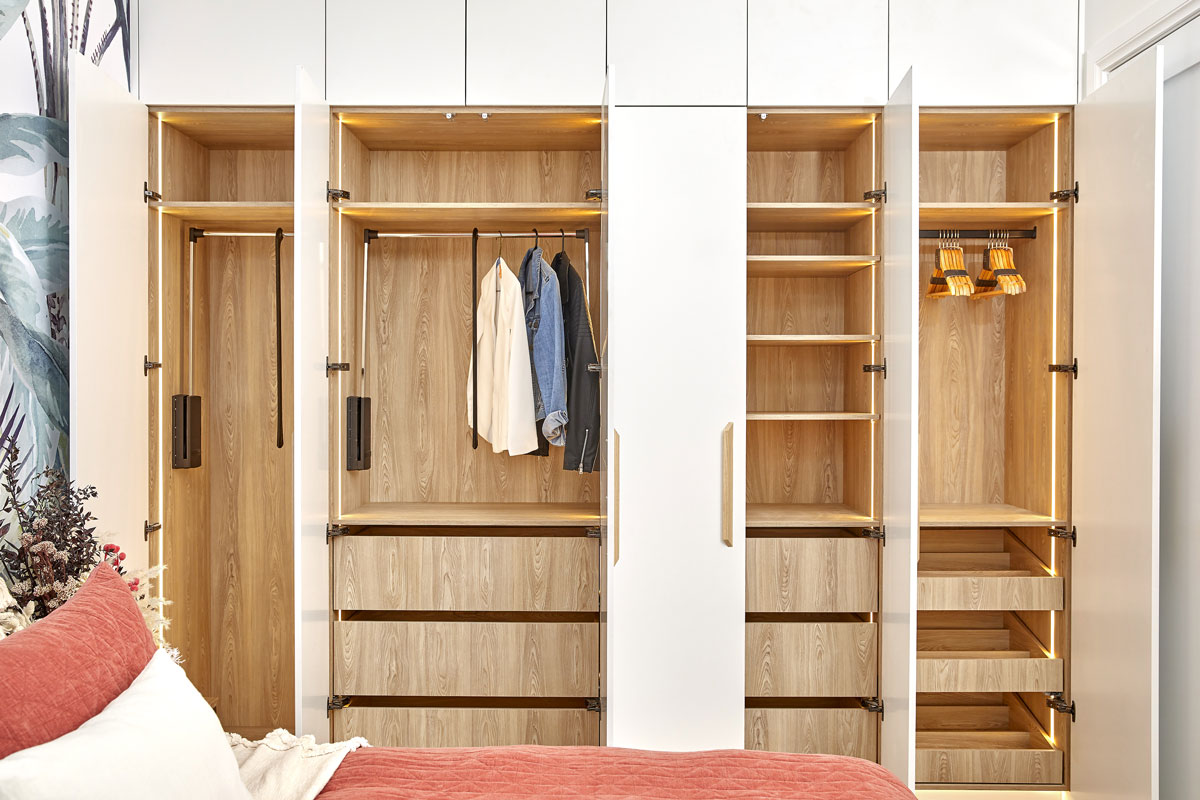 Pull down hanging rails have been implemented for accessing garments easily, no matter who is staying in the room. Premium Verti-Strip Lighting is aesthetically pleasing with its lavish look and is activated by a motion sensor allowing the lights to turn on and off when the doors are open and closed.
Cabinetry by Kinsman Wardrobes
• Exterior doors: White Satin
• Internal finish: Modern Oak Natural
Details
• Handle: Barcco Natural Ash Bar (38-M-06), Touch Catch
• Accessories: Folding Mirror, Wardrobe Lift, Show Drawers, Premium Verti-Strip Lighting, LED Motion Sensors
The Blockheads have delivered another brilliant bank of Kinsman Wardrobes adding functionality and style to their homes! Make sure you stay tuned for more Kinsman wardrobes, home offices, kitchens and laundries this season.
Inspired to create your very own Kinsman Wardrobe? Book your in-home, in-store or virtual design appointment HERE. Alternatively, download our latest wardrobe catalogue HERE and flick through for more wardrobe inspiration.
Follow Kinsman on our socials: Instagram: @kinsmangroup Facebook: /kinsmangroup