How to Maximise Space in a Small Laundry
If you are planning a kitchen renovation, did you know it is also the perfect time to makeover your laundry? Create a seamless flow between the two spaces by matching cabinetry, benchtops and handles throughout and having the work done at the same time.
You may be tempted to ignore your laundry if space is tight, thinking that there is only so much you can do with a small space. However, here at Kinsman we believe that good things come in small packages and love designing laundry rooms of any size in a way that maximise functionality, storage and style.
Below we take a look at our top tips for getting the most out of a compact laundry.
Embrace a Neutral Colour Palette.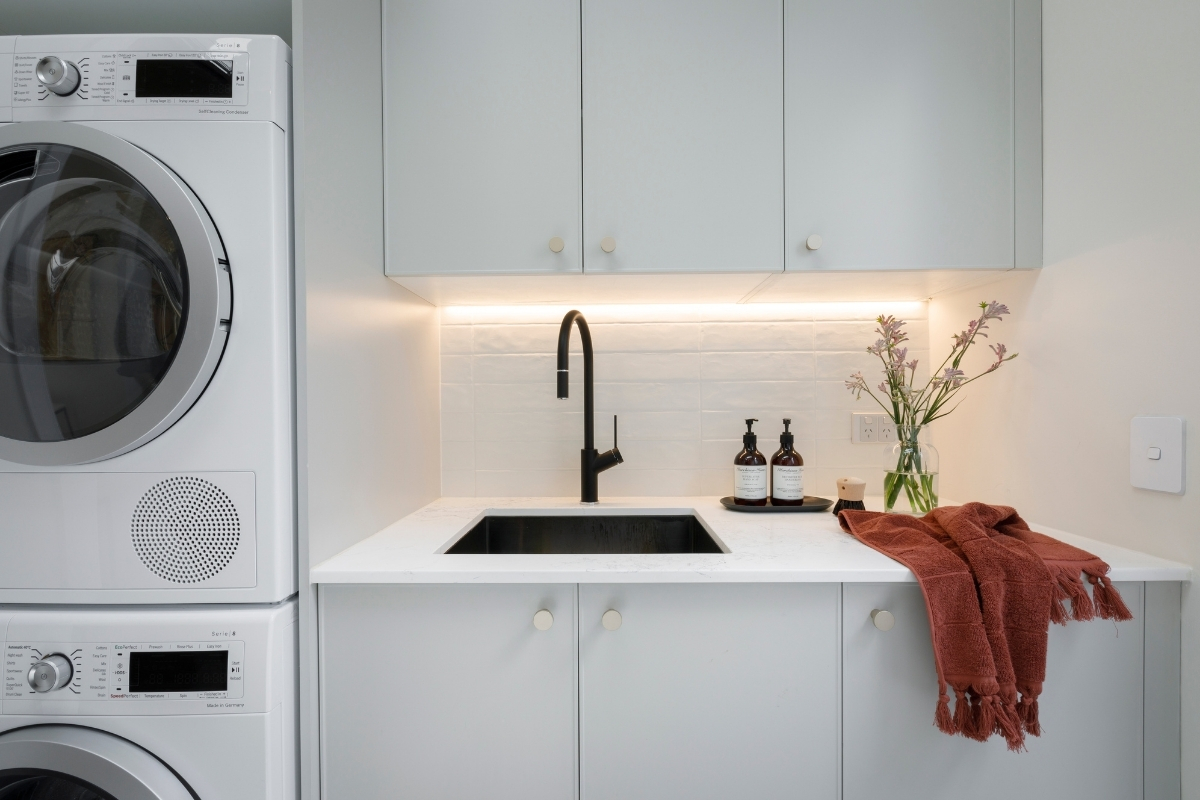 Simple, yet effective, a neutral colour palette will instantly create the illusion of your room being larger and brighter than it really is. Bright whites are right on trend and lend themselves beautifully to creating a stylish laundry room. However, an all-white colour scheme isn't the only choice, with soft greys, timbers and panel-look joinery all wonderful options when it comes to evoking a sense of space and style in your laundry.
Place Appliances Side by Side.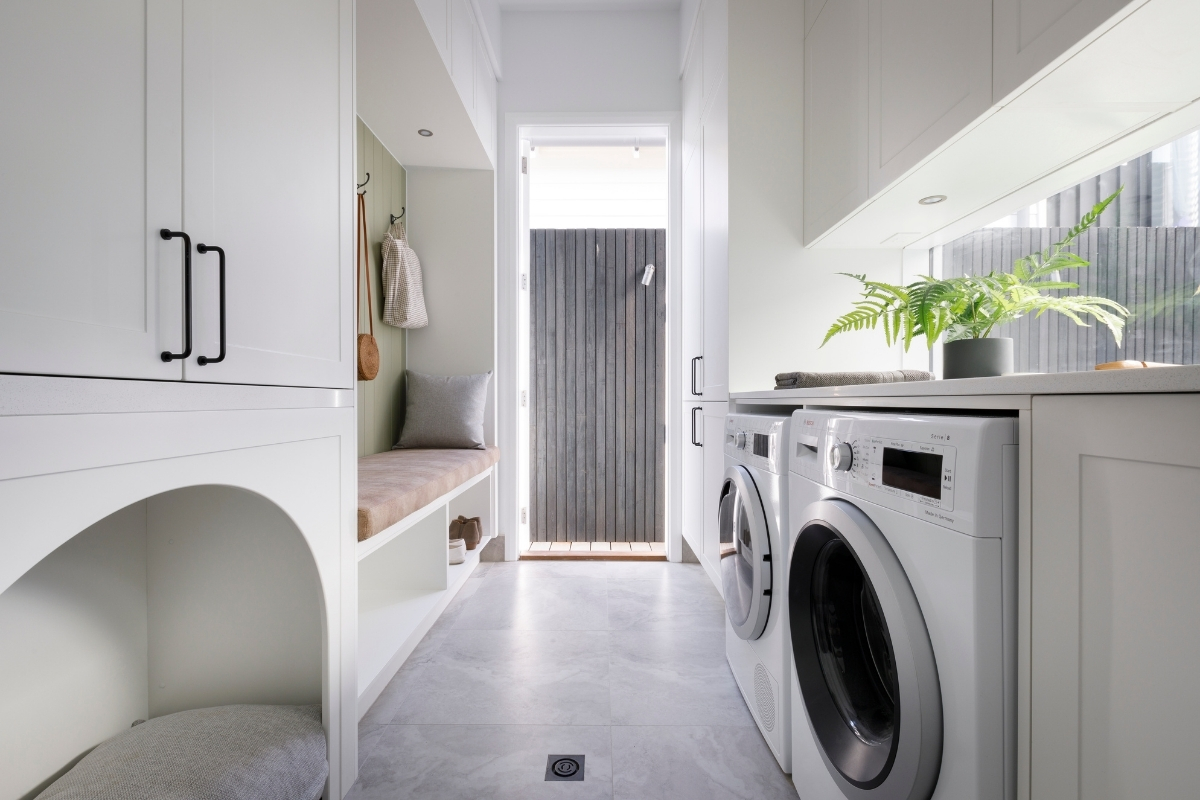 When renovating your laundry, we recommend deciding upon the positioning of your appliances first which is typically determined by the location of existing plumbing. Another consideration is whether the appliances will be stacked or placed side by side, and we recommend wherever possible to opt for the later. This configuration ensures you can easily move your wet washing to the dryer, without having to worry about the dryer being too high to reach comfortably, or the logistics of securing the dyer to the wall.
Maximise Bench Space.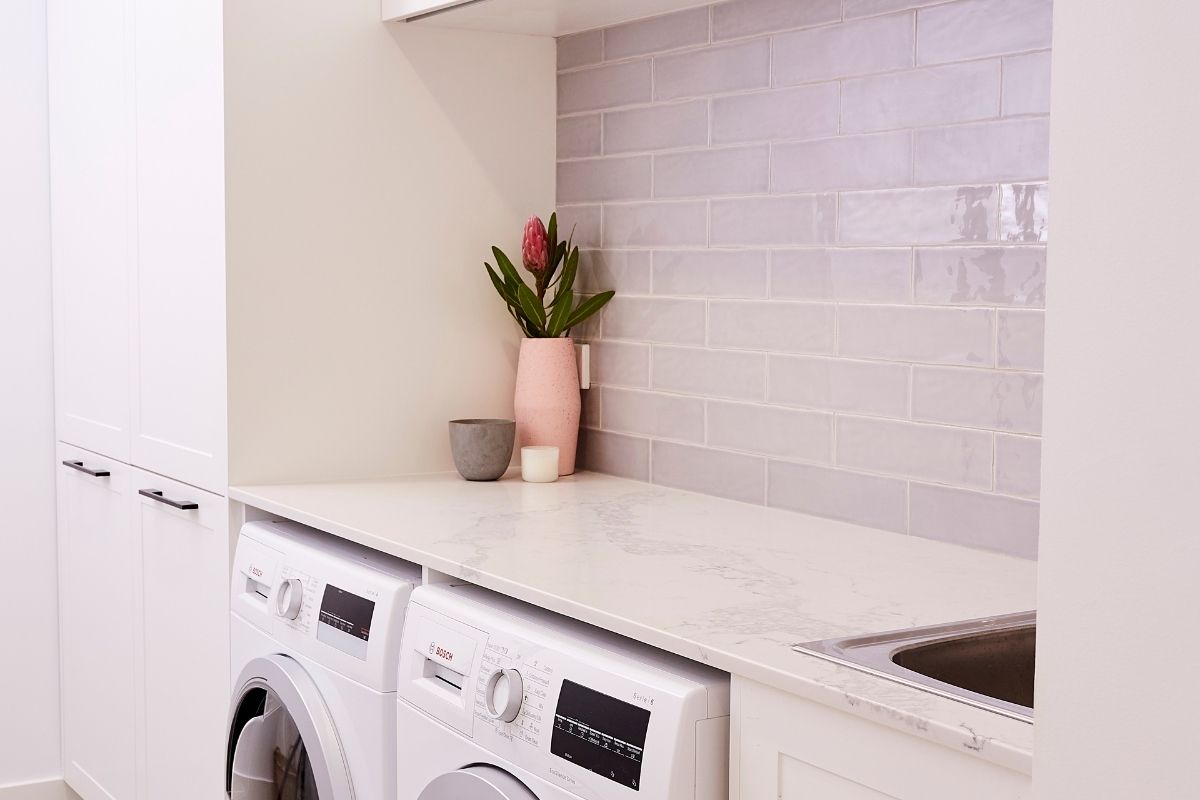 Another advantage of placing your laundry appliances side by side is that you can then place a benchtop above them, creating a generous folding station. Ensure that your countertop has sufficient depth as well as length, and is made of moisture-resistant materials such as Caesarstone® or Kinsmans' high-tech laminates.
Maximise Storage.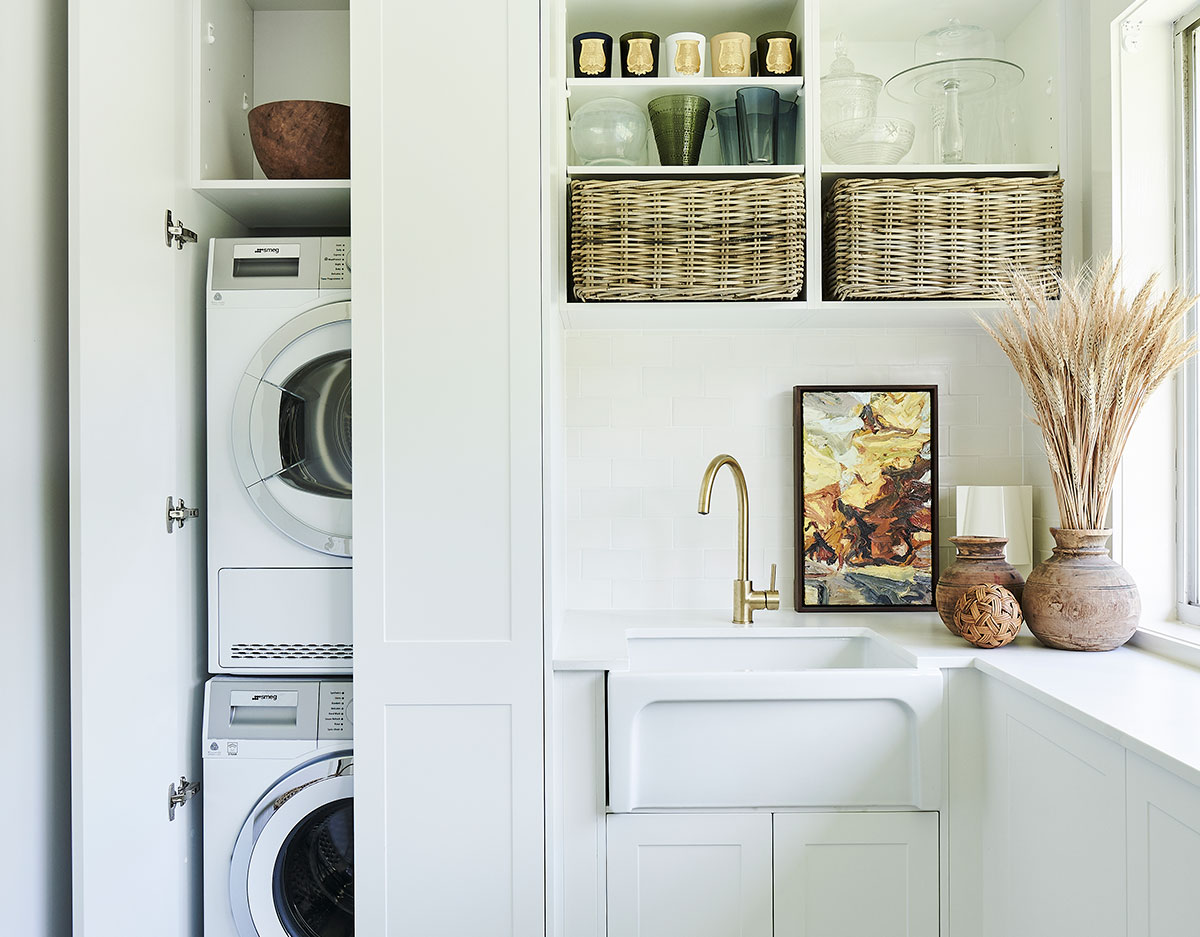 Laundries are a wonderful room for adding storage thanks to the inclusion of cupboards and open shelving. If your laundry's design includes a sink and tap, placing a cupboard below them provides the perfect space to place detergents and other cleaning products out of sight.
Open shelving not only provides additional storage, it also allows you to add styling elements such as candles and plants to the room, ensuring that your laundry is both stylish and functional. If space permits, include tall cabinetry for easy storage of brooms, mops and ironing boards.
Include Internal Accessories.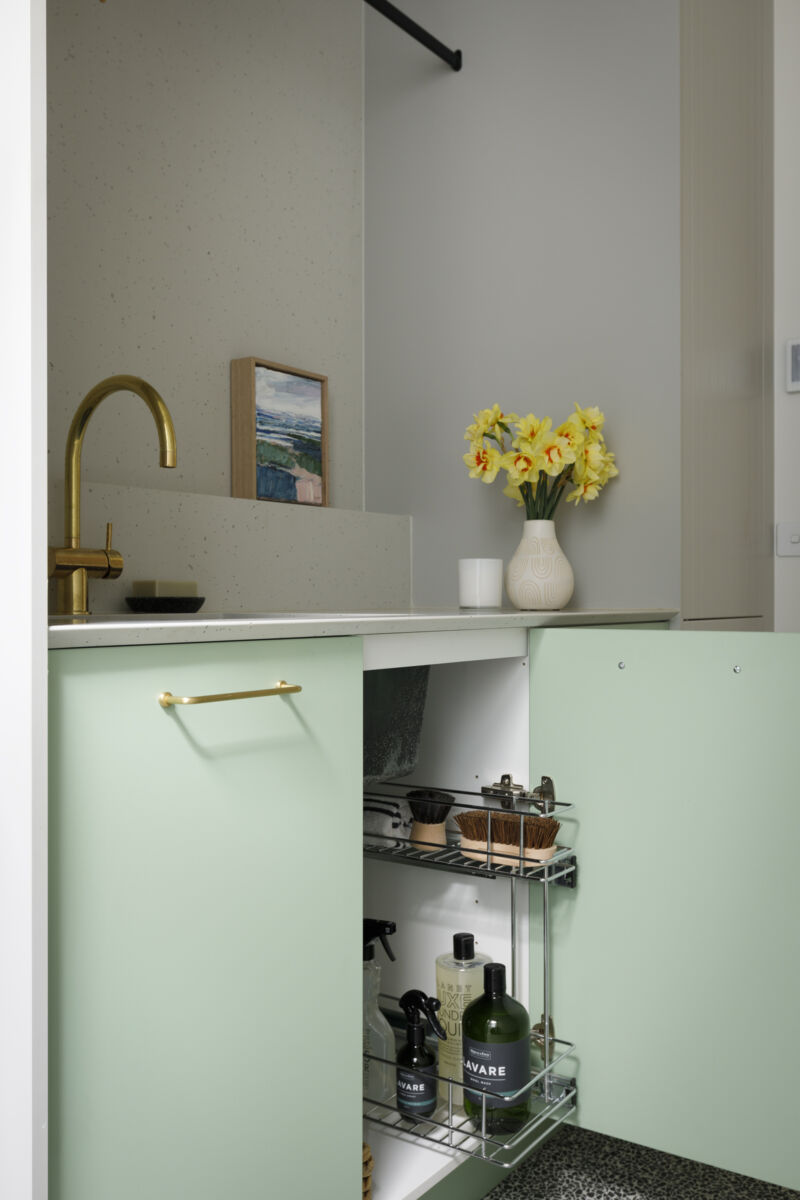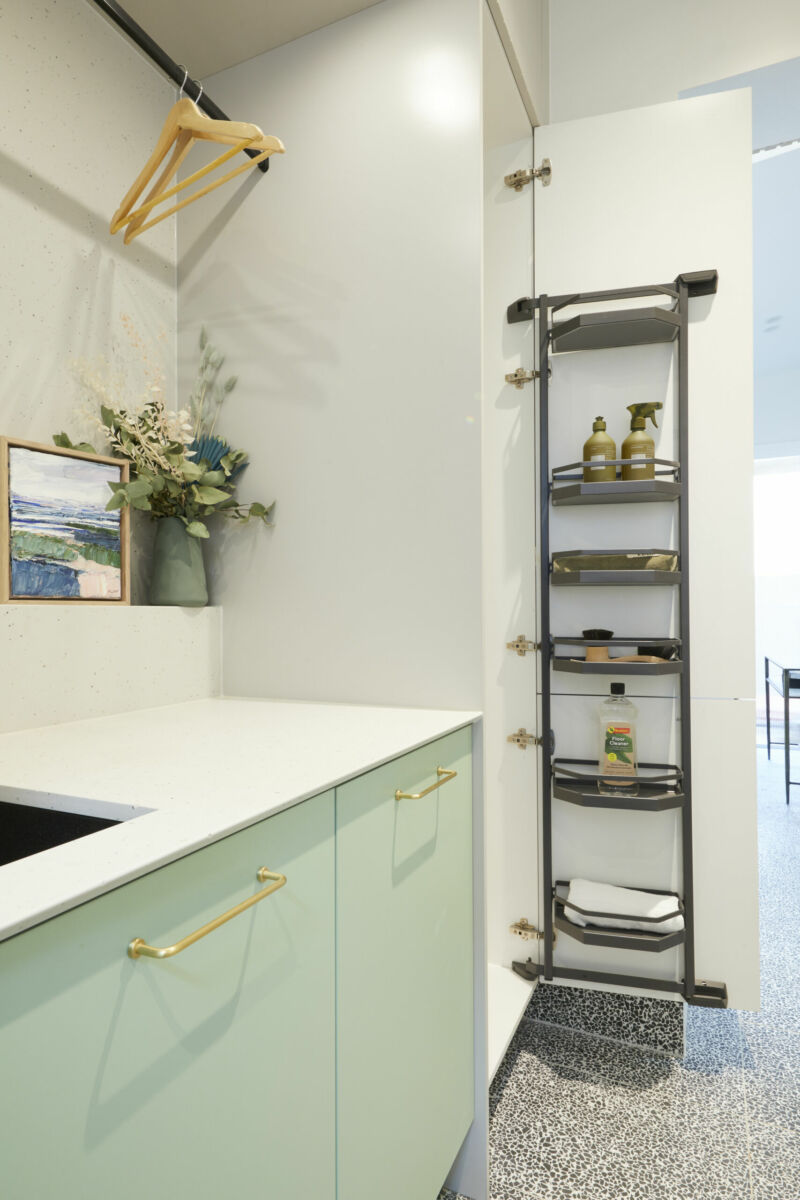 Maximise the functionality of any cabinets in your laundry with the inclusion of internal accessories. Our laundry hampers make light work of sorting clothing and our range of wire pull-out shelving and accessories will maximise efficiency and tidiness- both of which are must haves in any laundry, especially when space is tight!
Add a Hanging Rail.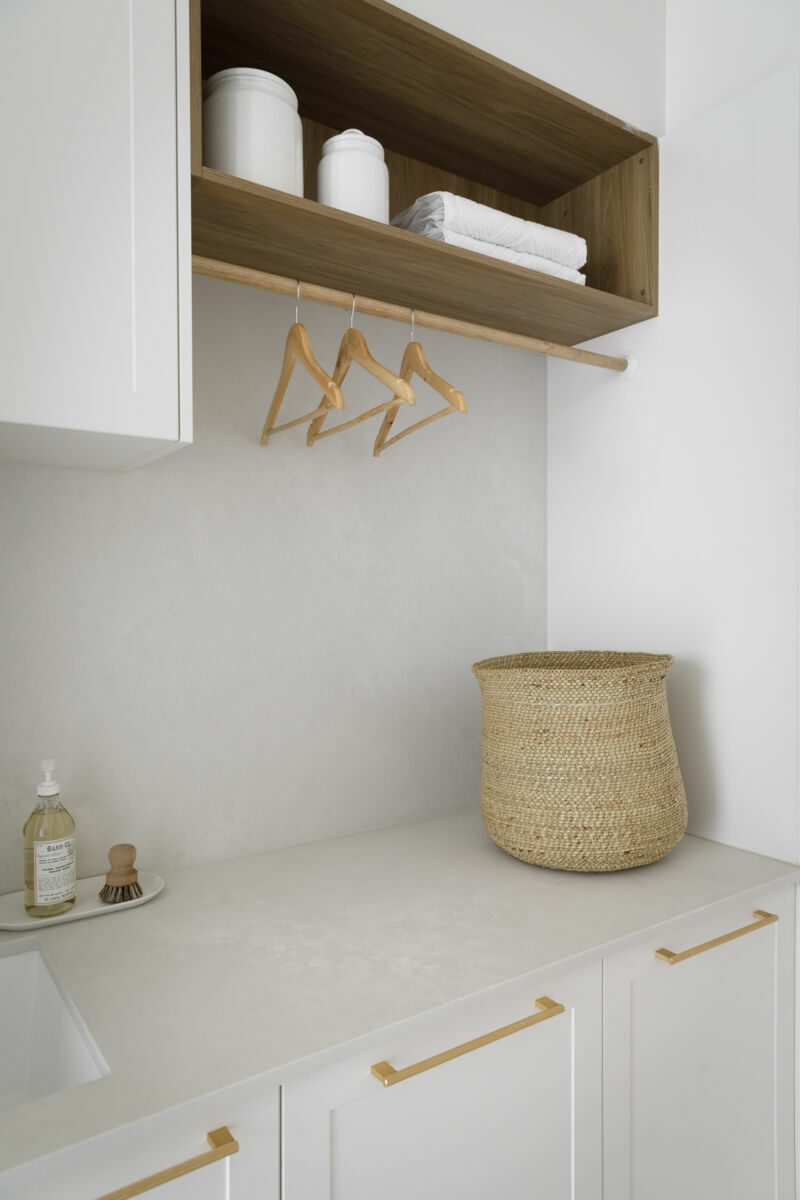 Placing a hanging rail beneath wall cupboards is a practical solution that will make laundry day even easier. Consider placing the rail over a sink so clothes can drip dry, or over benches for air drying. Ensure you consider the space between your benches and railing so that your clothes can fit easily.
Create your perfect laundry with Kinsman today!
Book your in-store, in-home, or virtual design appointment HERE. For more images, inspiration and product information, download our Ideas & Inspiration Catalogue HERE.