It's been the contestant's biggest week on The Block so far… Kitchen Week! State of the art kitchen masterpieces have been revealed, the best in Block history might we add, and we're sharing the down low on them right here!
You heard all the oohs, ahhs and wows as the judges gushed over these magical rooms. This year the Blockheads have truly excelled to create dream kitchens and perfect pantries packed with ahead of the curve designs, and super smart gadgets like our new Black Glass Climbers. Every space is simply oozing with functionality and luxury. So let's take a closer look!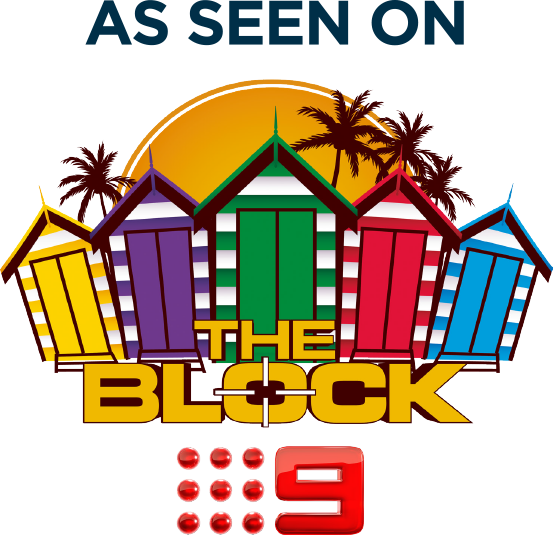 House 1 – Harry & Tash
Score: 29/30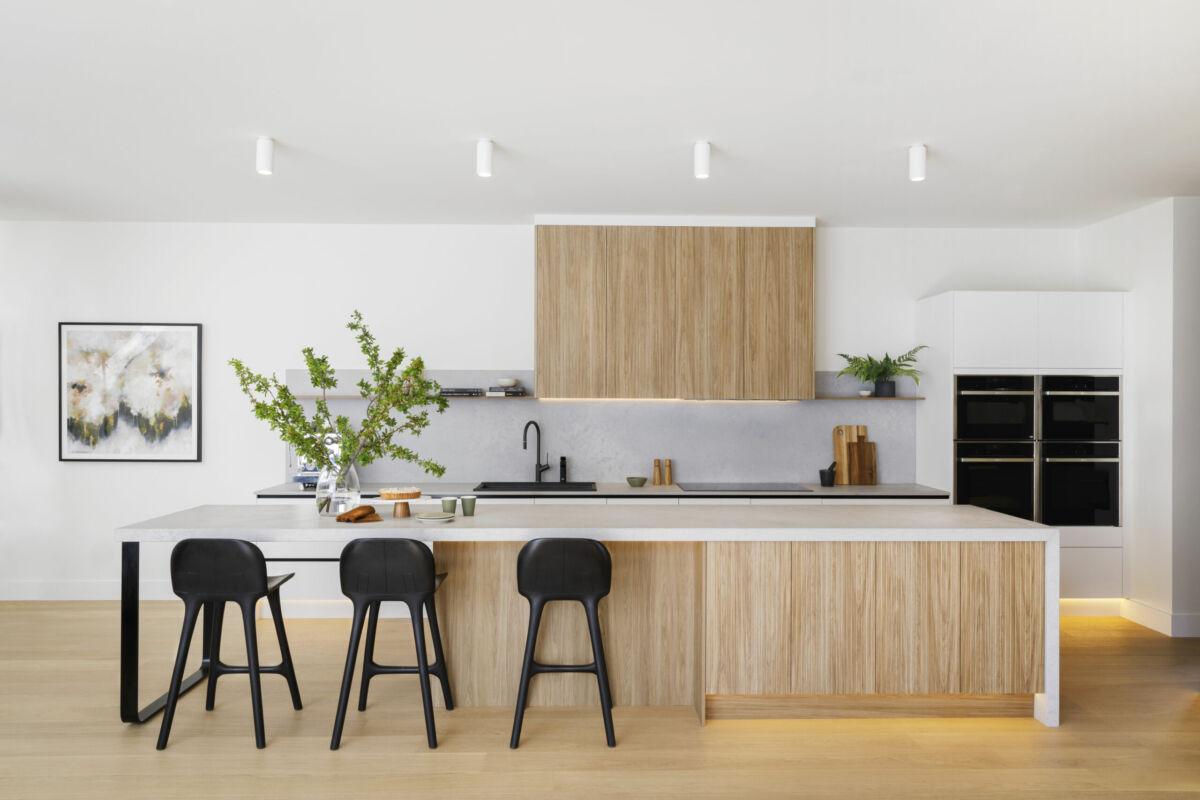 Throughout their family-focused kitchen, Harry and Tash have chosen a thoughtful mix of contemporary and period styling with their colour and finish choices. Essendon cabinetry in White Satin features Kinsman's new Crest Channel Handle, a continuous black channel handle which is inset into the cabinetry carcass itself. The effect is magnified with the use of Kinsman's new feature, vertical profile Avoca doors in Prime Oak Matt.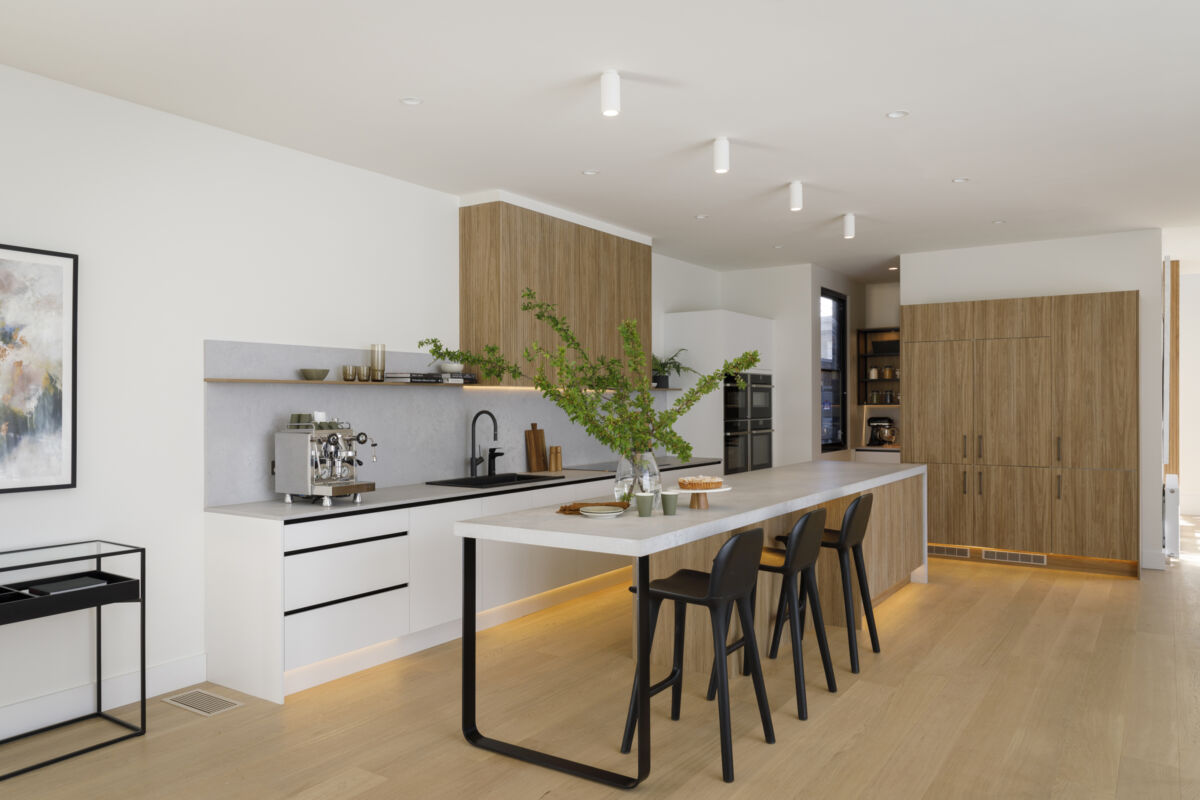 Shaynna Blaze declared that their 4.3m long benchtop in Caesarstone's Airy Concrete was a 'catwalk'. The father and daughter duo knew they wanted to create a kitchen space based on how they lived and being able to bring people together in the space was a 'must-have'. This generous island paired with Kinsman's new black 'U' framed leg on one end creates a seamless seating area for up to 8 people, allowing friends and family to gather in the heart of House 1.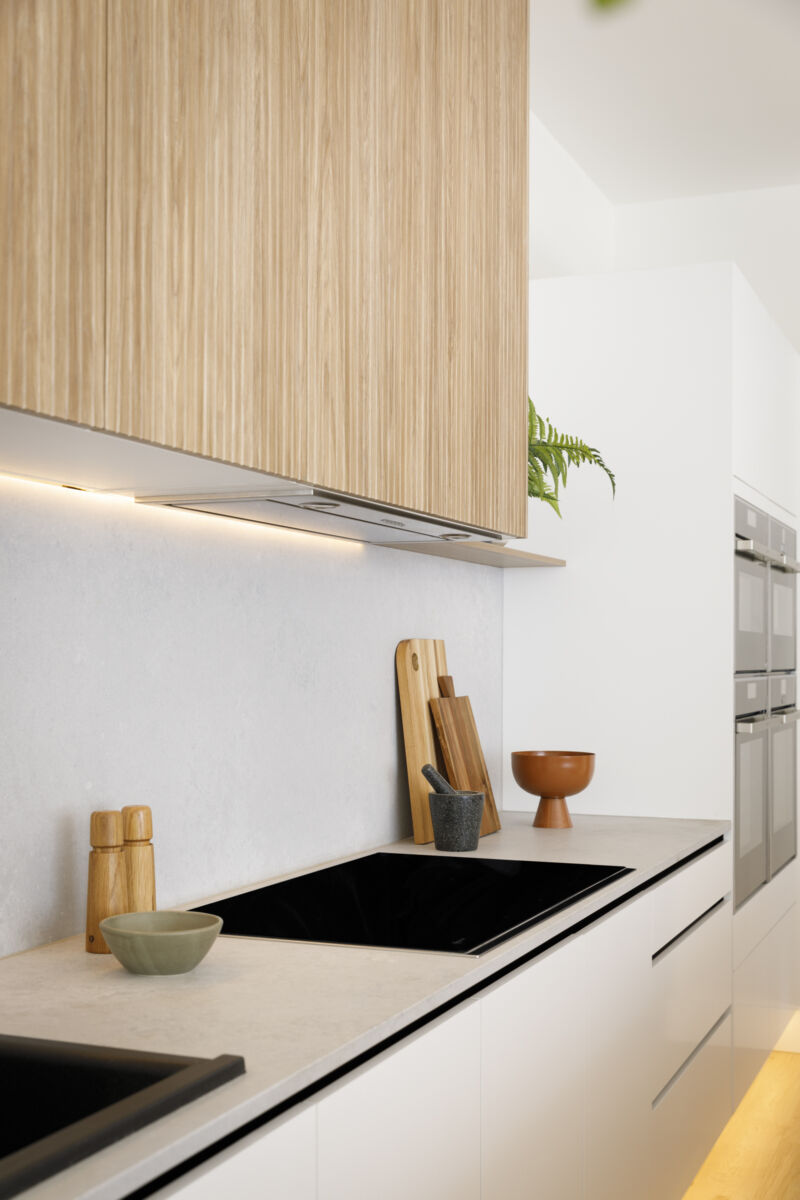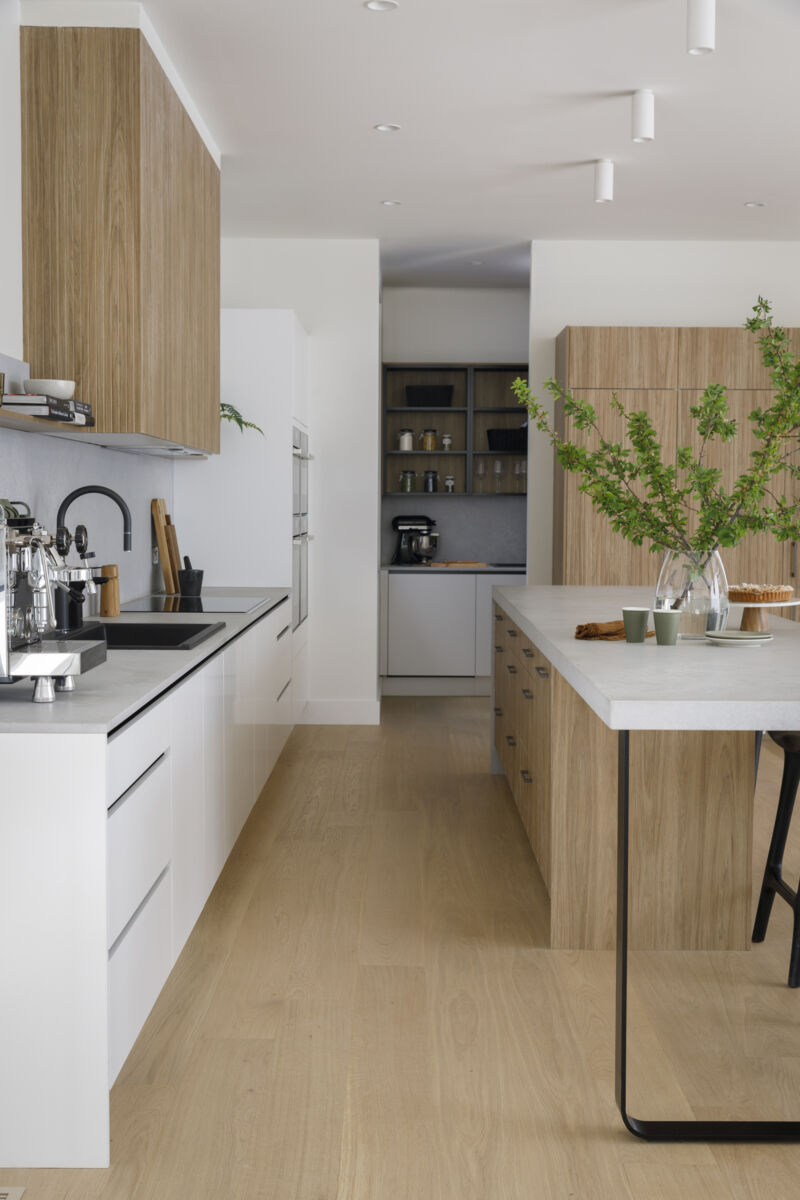 Beyond the island, the eye is drawn to the feature rangehood box and floating timber shelving along the back of the kitchen, with a splashback in Airy Concrete, adding to the functionality and beauty of the design. Our Avoca Prime Oak Matt doors have also been used on the large bank of cabinetry that conceals the integrated double fridge by Bosch, another must-have from the Melbourne-based team.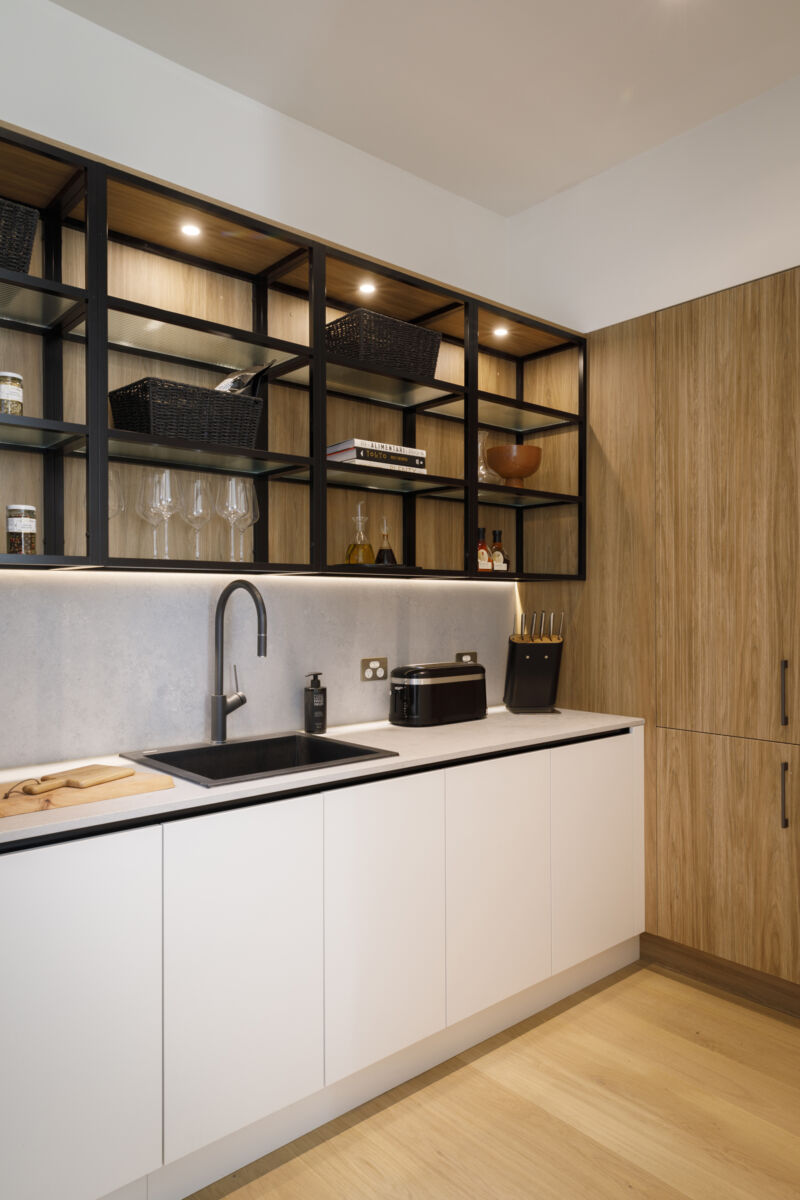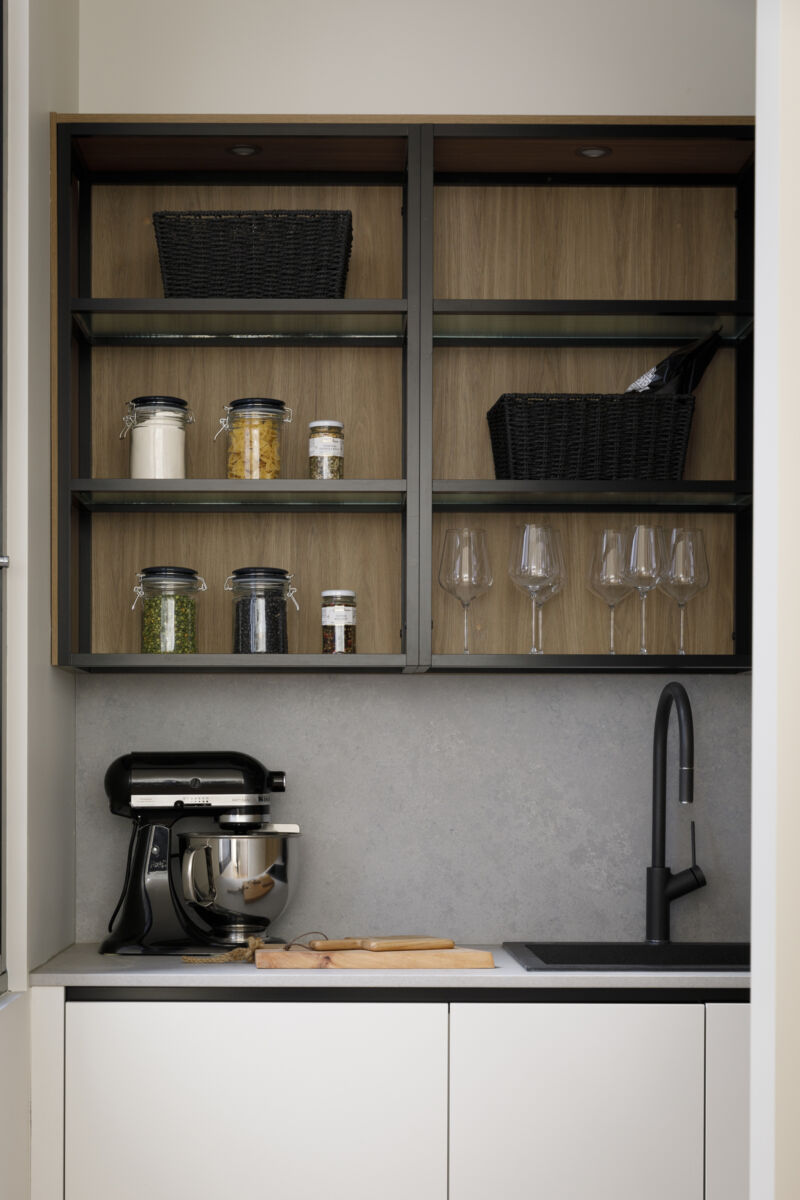 Within the butler's pantry, 2020 Alumin Black Framing with broadline glass shelving acts not only as an eye-catching feature, but also as practical storage and decorative zone, while the use of Essendon White Satin and Avoca Prime Oak Matt cabinetry keep the space light and airy.

Key Features:
Cabinetry: Platinum Range Avoca Prime Oak Matt, Ballina Essendon White Satin
Handles: Platinum Range Crest Channel Handle, Platinum Range Thin Flat Bar in Graphite 15-K-147
Benchtops: Caesarstone Airy Concrete 20mm Arris edge
Splashbacks: Caesarstone Airy Concrete
Kickboards: Essendon White Satin, Prime Oak
Accessories: 2020 Alumin Black Framing with Broadline Glass, Walnut Cutlery Trays and Knife Holder, Design Side Glass Sided Drawers, TT2C Stainless Steel Towel Rail, NEW Ninka Bin
Sink & Tap: Oliveri
Lighting: LED Warm Downlights, Warm LED Strip (Pantry)
Fridges: Bosch
Appliances: NEFF
House 2 – George & Sarah
Score 28/30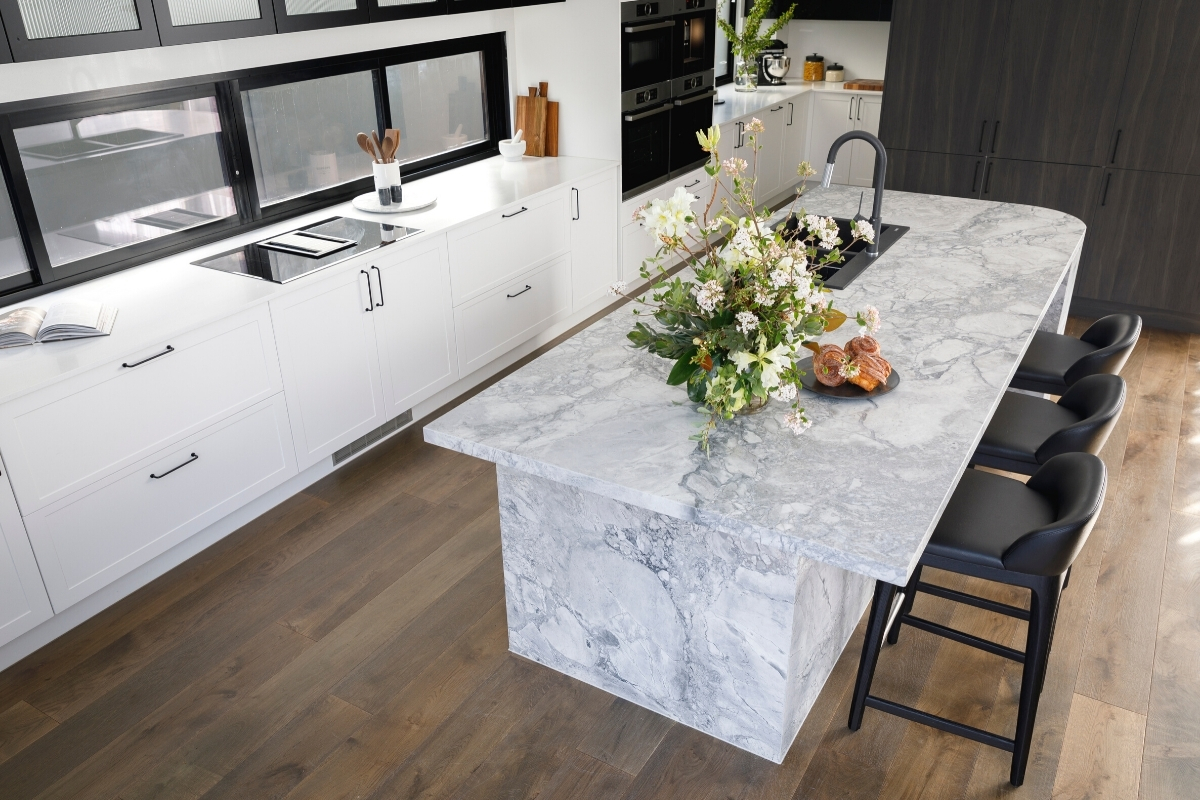 Sarah and George have developed a modern contemporary take on a traditional shaker-style kitchen, resulting in a space that radiates sophistication and charm. Somersby shaker-profile doors in Classic White have been combined with the dark timber tones of Bottega Oak in a Woodmatt finish to establish a monochrome palette, bringing character and depth to the room.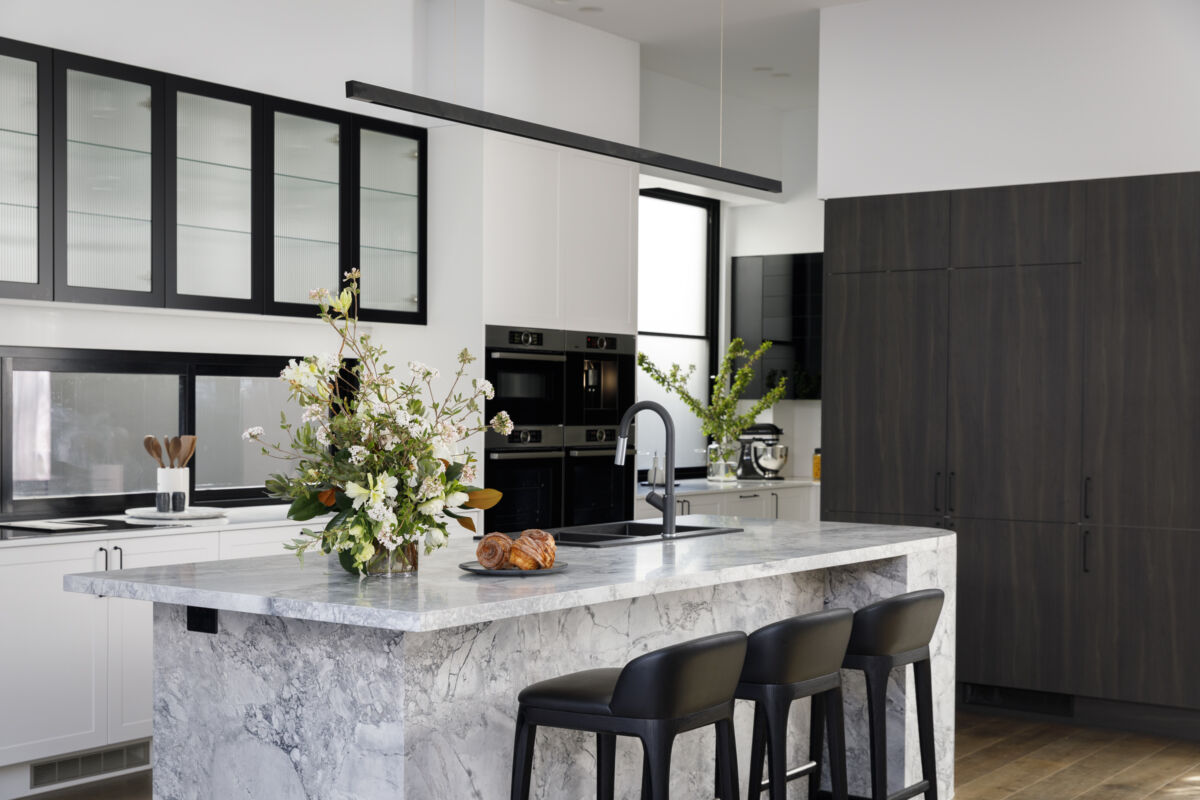 Sitting pretty above the back run benchtops in Caesarstone's Intense White, our Somersby Black Matt Frames with Broadline Glass provides another stunning feature and complements the monochrome scheme.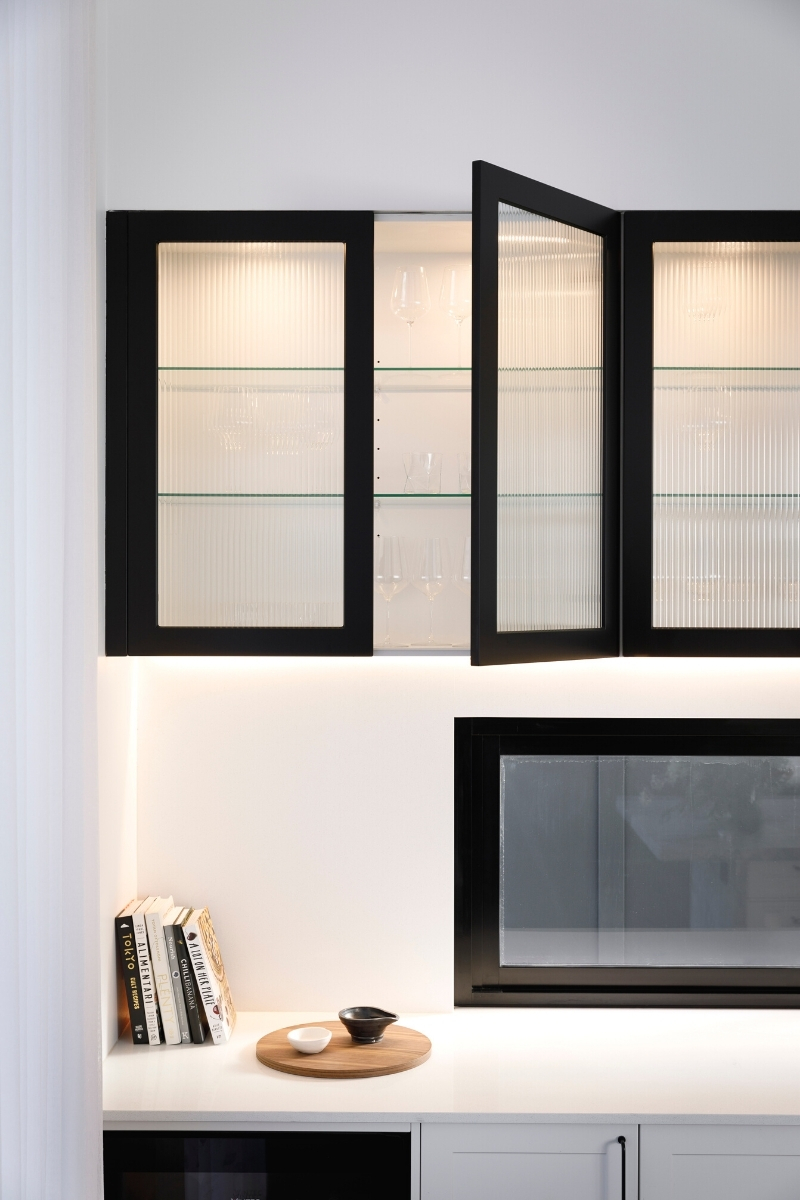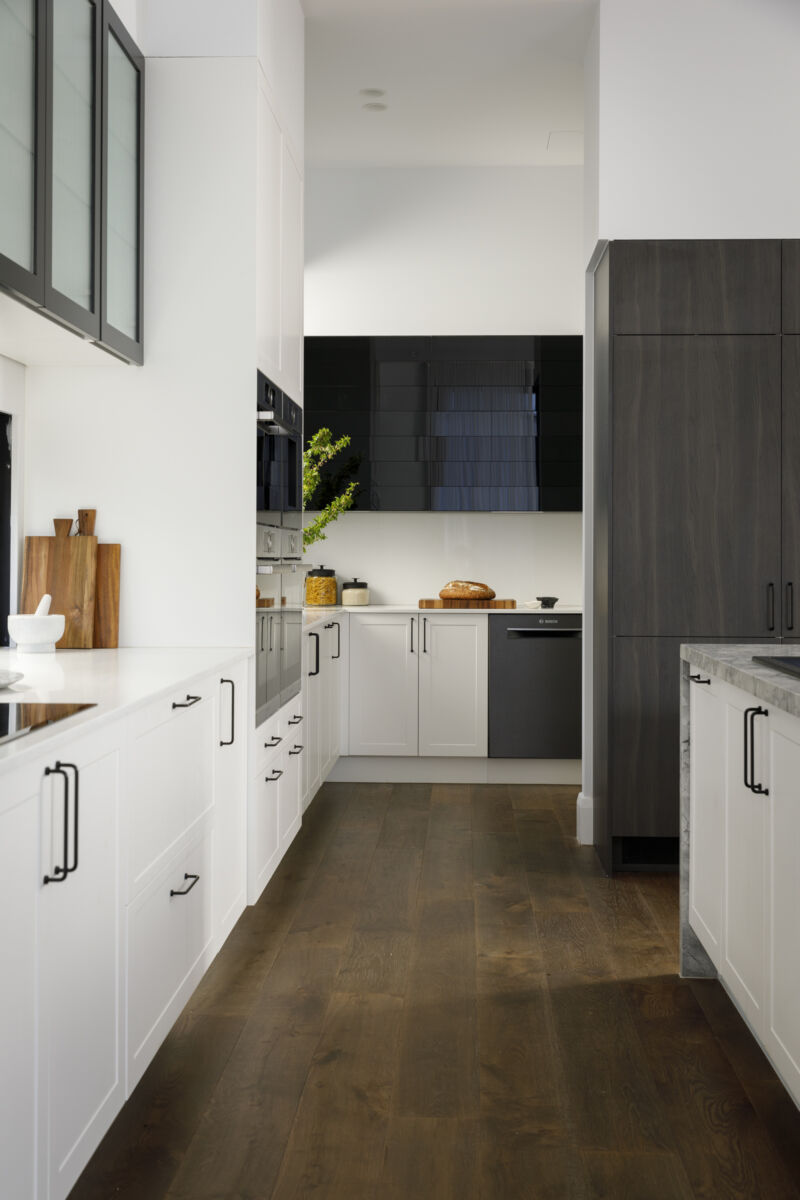 Wanting to create a kitchen that is truly the heart of their home, where families can come together to share meals and celebrate, the Sydney couple knew that they wanted to create an island bench that allowed them to achieve just that. The curve of the natural stone top softens the space – Darren Palmer literally hugging it as soon as he stepped into the room on judging day!
The adjoining pantry space features our new Glass Climber cabinets which, at a fingers touch, raise the glass frame doors electronically to reveal the contents within. Internal lighting automatically turns on as the doors lift, maximising the style and functionality of their inclusion. All this combined with a plethora of storage, an additional sink and tap, and dishwasher makes this hardworking space one that anyone would love spending time in!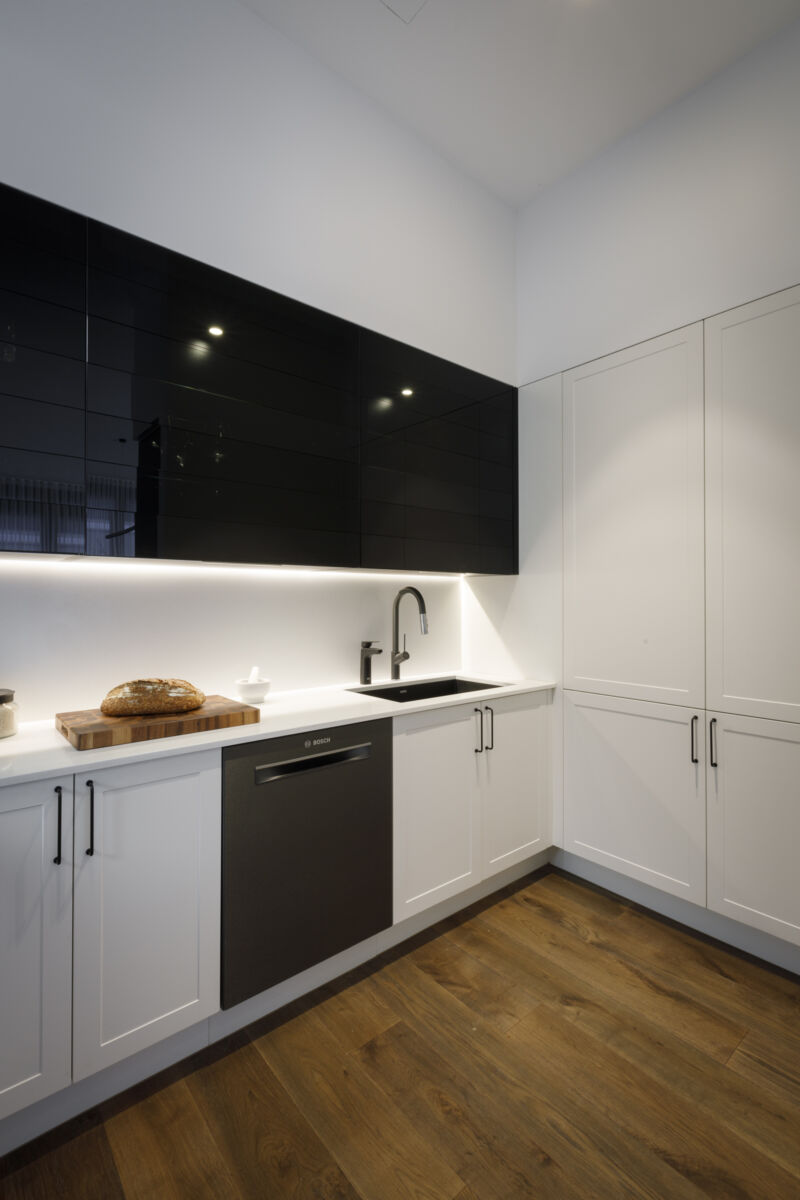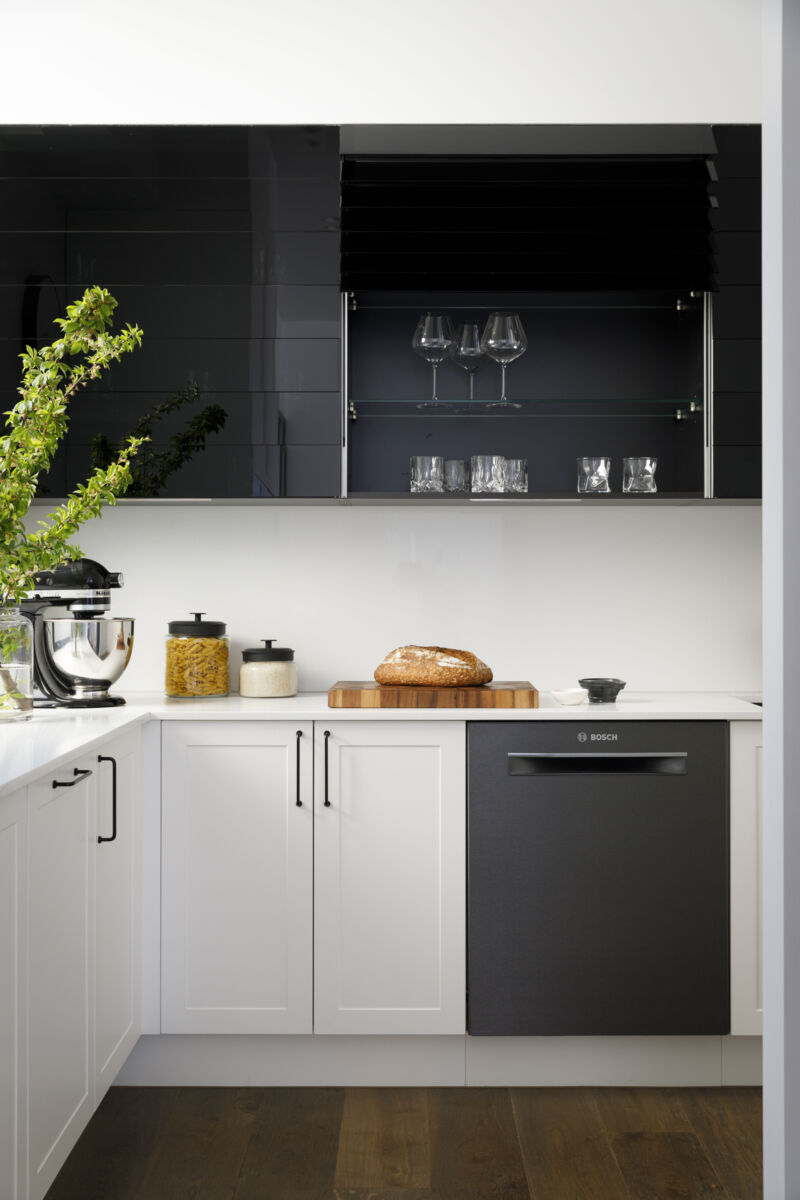 Key Features:
Cabinetry: Somersby Classic White Matt, Somersby Black Matt Glass Frames, Chadstone Bottega Oak Woodmatt
Handles: Satin Black Rounded Bar Handle 22-K-131, Touch Catch
Benchtops: Caesarstone Intense White 20mm Pencil Round
Splashbacks: Caesarstone Intense White
Kickboards: White Matt, Chadstone Bottega Oak
Accessories: Platinum Range Black Glass Climber Cabinets, 1S Drawer Uppers (Internal Drawers), Internal Stainless Steel Drawers with Acrylic Bases, Steel Cutlery Trays, Draw Non-slip Matts, Design Side Glass Sided Drawers, NEW Ninka Bin
Sinks & Taps: Oliveri
Lighting: Warm LED Downlights
Appliances: Bosch
House 3: WINNERS Jade & Daniel
Score: 29.5/30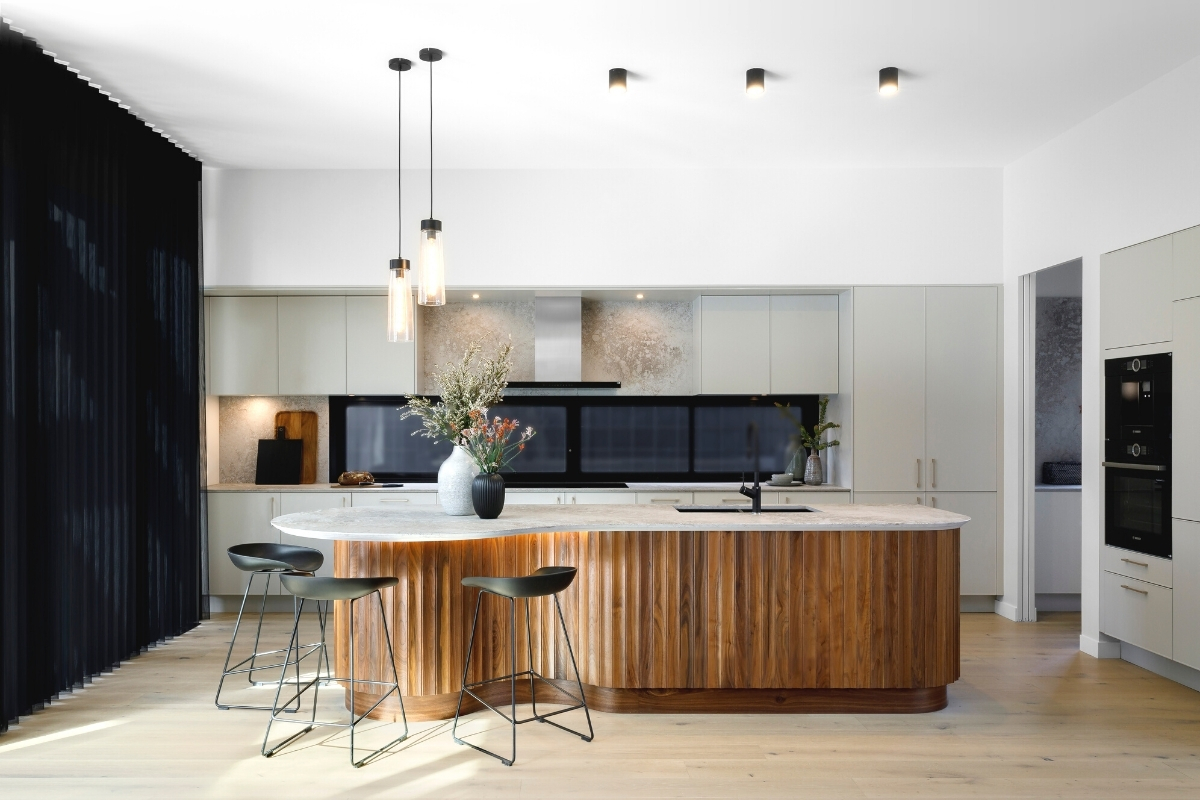 Jade and Daniel have created an elegantly designed kitchen that celebrates a natural and warm colour palette. The judges loved the welcoming space and thanks to some strong scores and a bit of help from a bonus point courtesy of the famous The Block Gnome, the farmers from South Australia took out the win for Kitchen Week!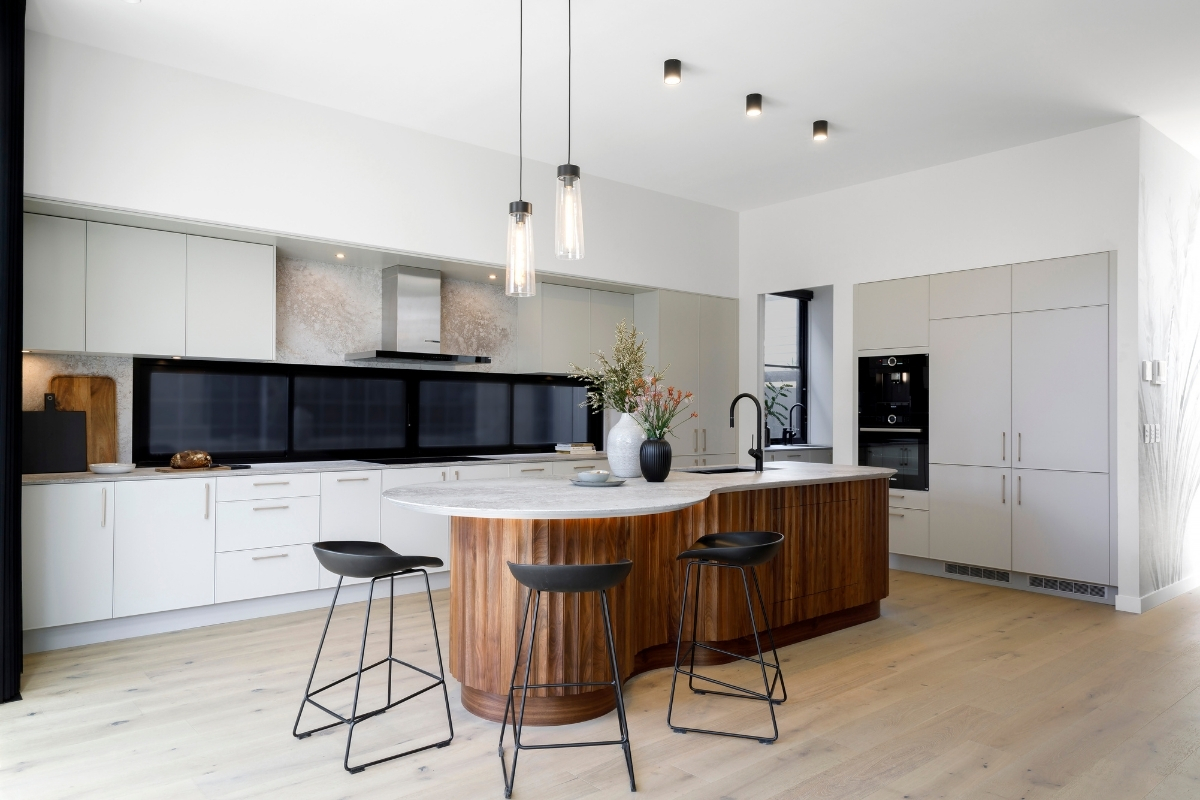 Kinsman's new Camden cabinetry has been used in Oyster Grey Matt, its thin profile a modern and subtle take on the ever-popular Shaker-style door, coupled with our new Thin Flat Bar handle in Champagne. The grey cabinetry contrasts beautifully with the concrete and rust tones in Caesarstone's Excava, which has been used for both the benchtops and splashbacks.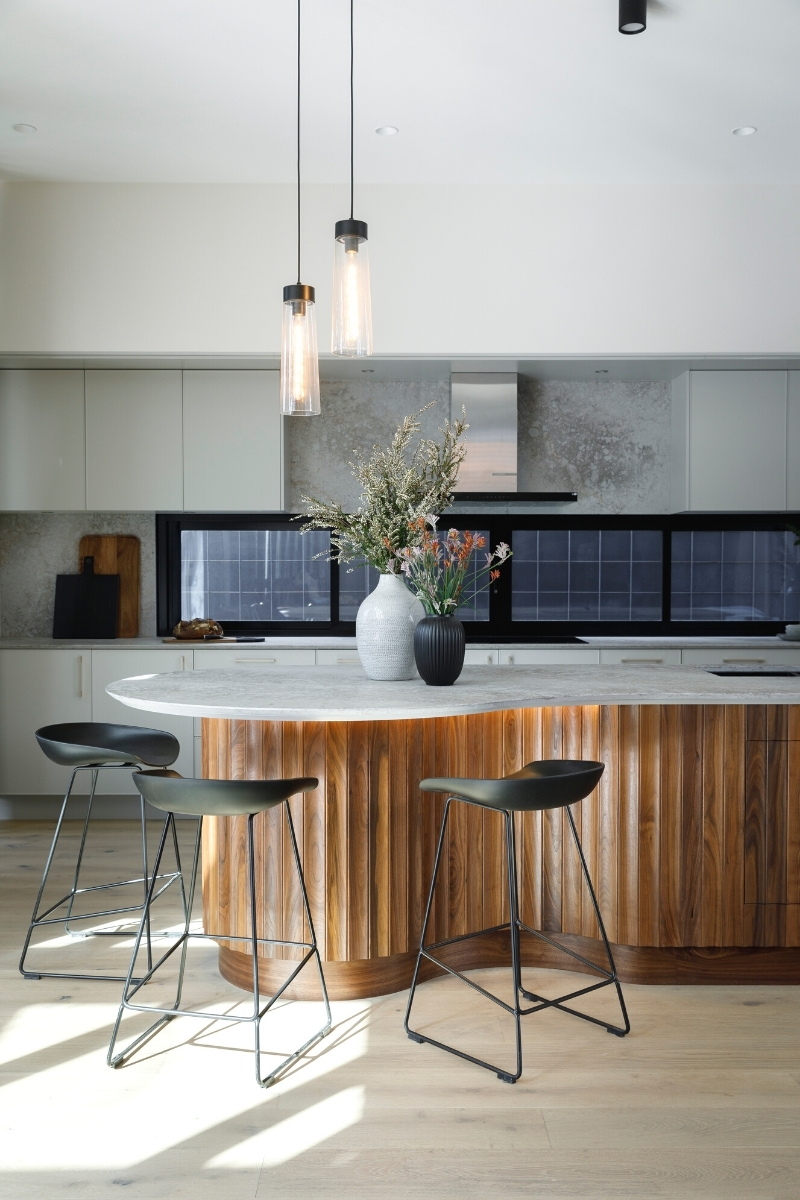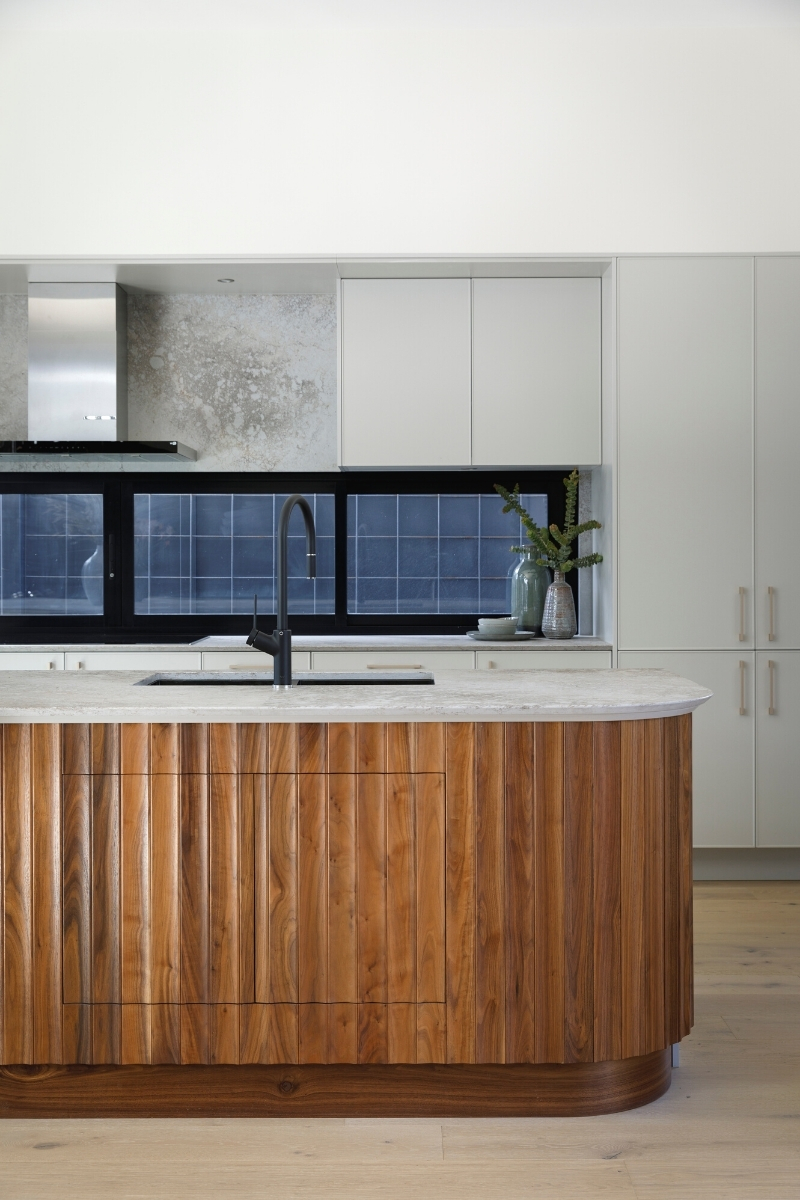 Shaynna Blaze described their centrepiece island bench 'beyond a work of art', and we agree! The pair worked with renowned Melbourne-based furniture designer Christian Cole who reworked the island bench design so that it features custom decorative panelling surrounding the back bar. Not only does it act as the gathering place within the kitchen, but it's also brimming with storage- did we mention it has a secret Whiskey cupboard?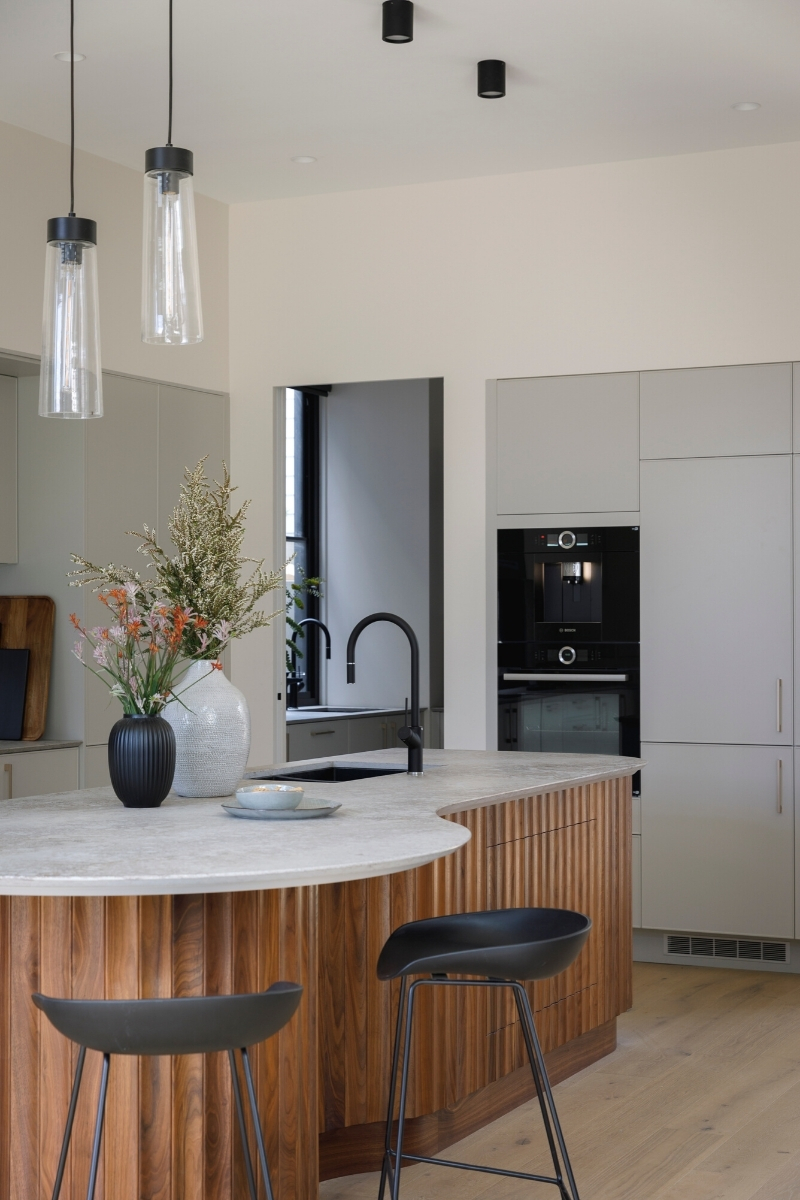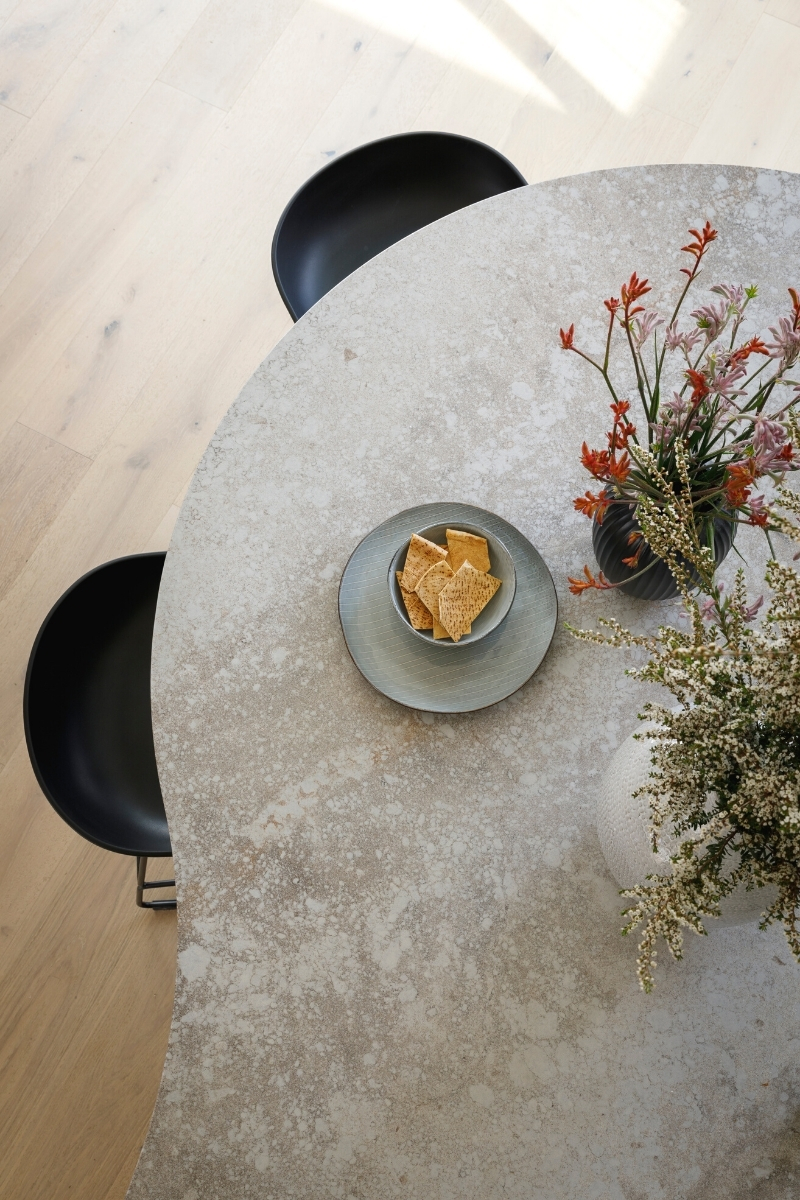 Their butler's pantry offers generous storage and prep space as well as two Bosch ovens, and Kinsman's 2020 Alumin Black Framing with broadline glass, complementing their main kitchen area perfectly and ensuring that their kitchen is the heartbeat of House 3.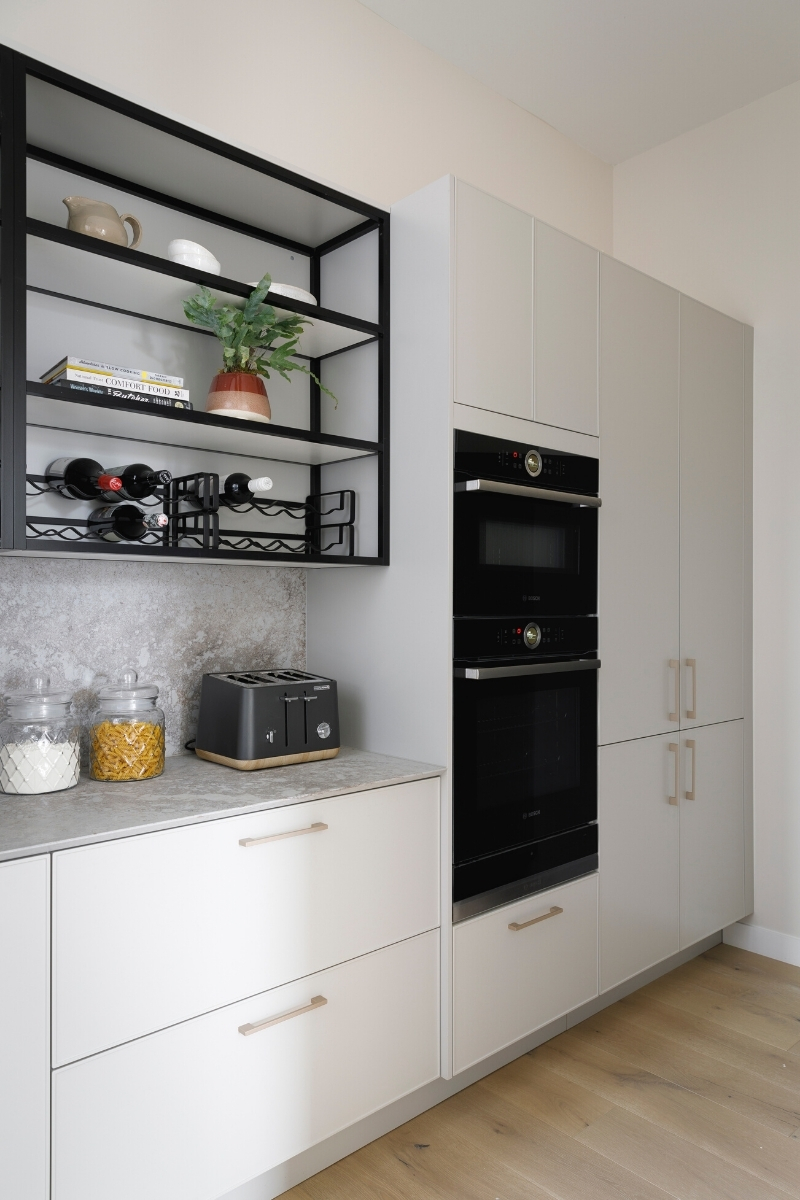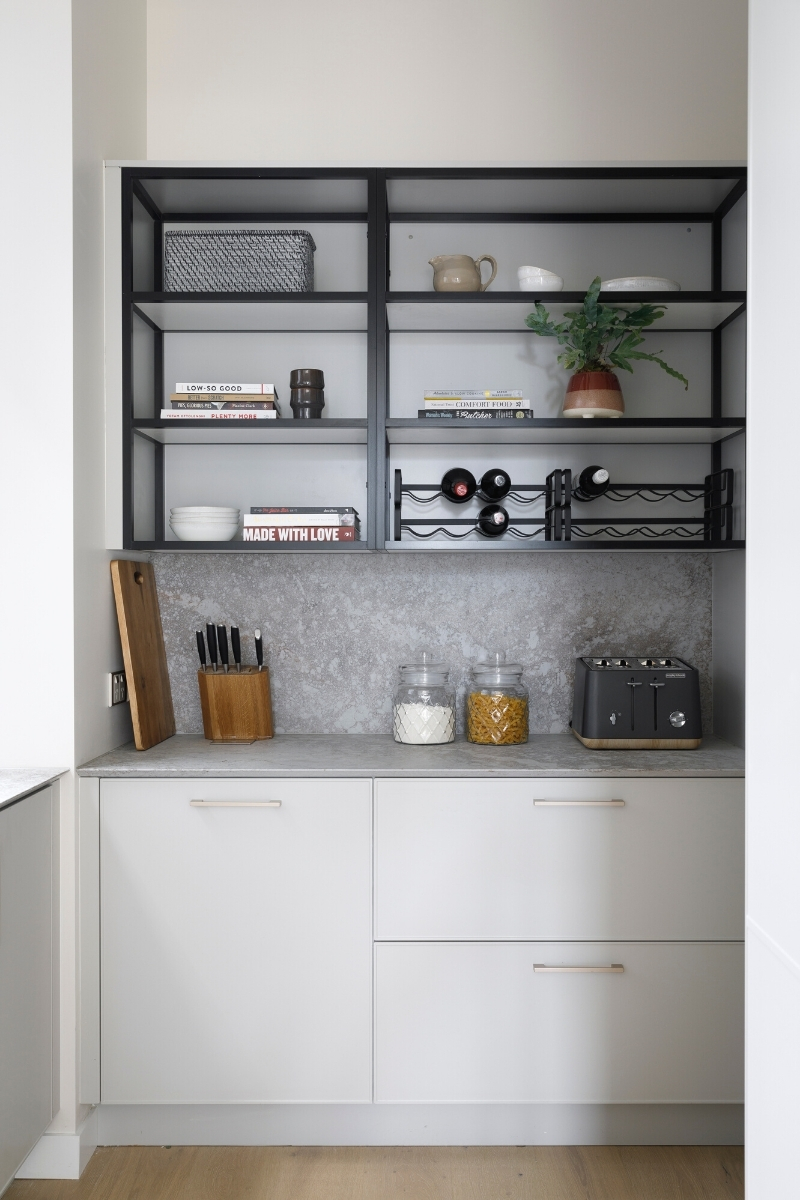 Key Features:
Cabinetry: NEW Camden Oyster Grey Matt
Handles: Platinum Range Thin Flat Bar in Champagne 15-K-148
Benchtops: Caesarstone Excava 20mm Sharknose
Splashbacks: Caesarstone Excava
Kickboards: Oyster Grey Matt
Accessories: Internal Drawers, 1S Drawer Upper Internal Drawers, 2020 Alumin Black Framing with Broadline Glass, NEW Ninka Bin
Sinks: Oliveri
Tap: Oliveri
Lighting: Warm LED Downlights, Warm LED Strip
Appliances: Bosch
House 4 – Luke & Jasmin
Score: 28/30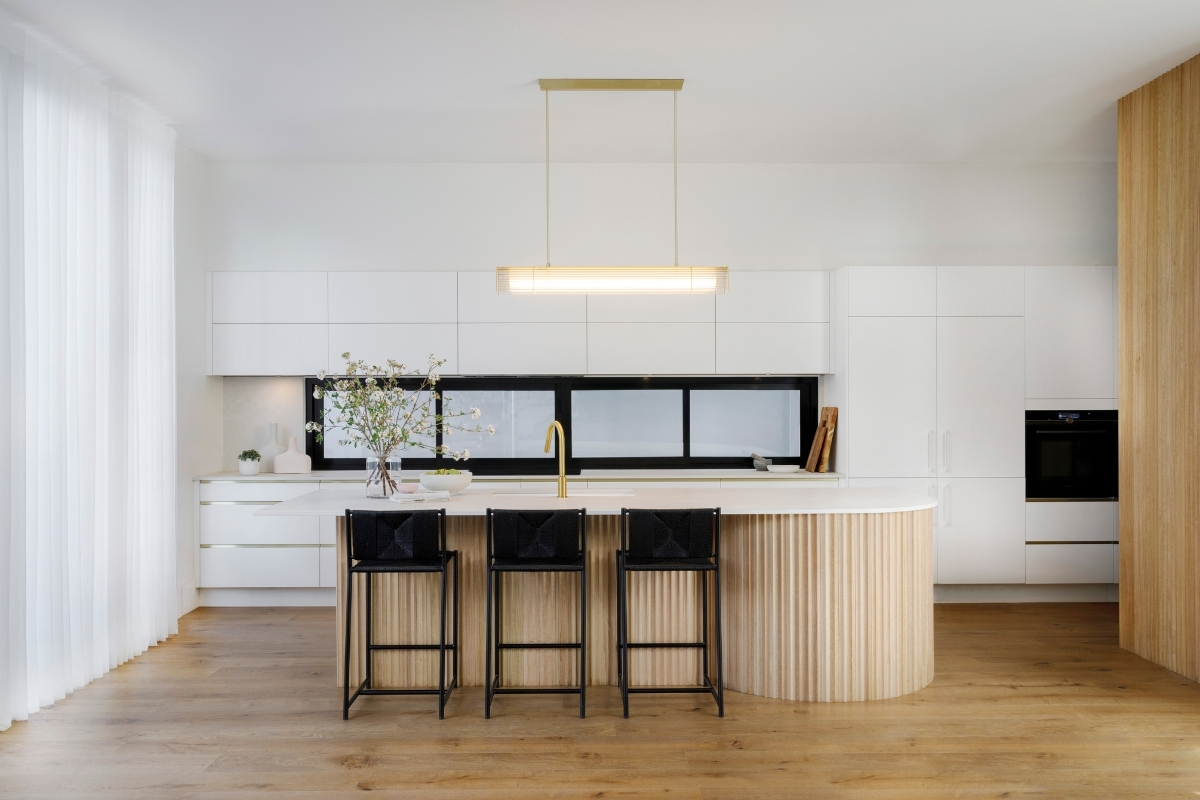 Light and bright, Luke and Jasmin's kitchen celebrates a white-on-white palette with touches of timber to create a modern and fresh look. White cabinetry dominates the space, through the use of Oxley Supa Ultra White doors, a silky-smooth pure matte finish with surface technology, reducing fingerprints and scuff marks.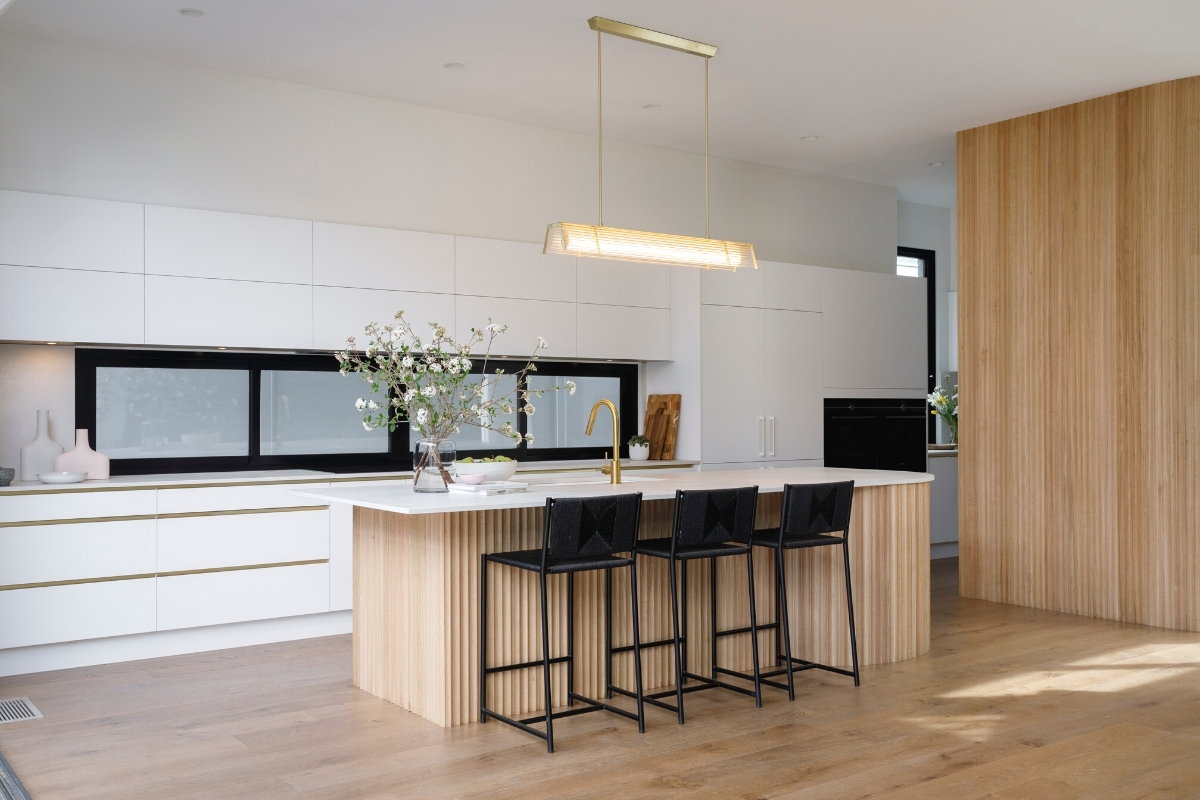 The Ultra White cabinetry provides a beautiful blank canvas, allowing key elements to shine. Handles are nowhere to be seen; instead, the pair opted for integrated Marq handles, in Kinsman's new UltraGold colour, adding instant glam to the look. Top cabinets feature our new Bi-fold Lift Up Cupboard, a feature that delighted the judges. The handle and cabinetry colour scheme connect with the other features within the room such as the white Oliveri sink and brass tap.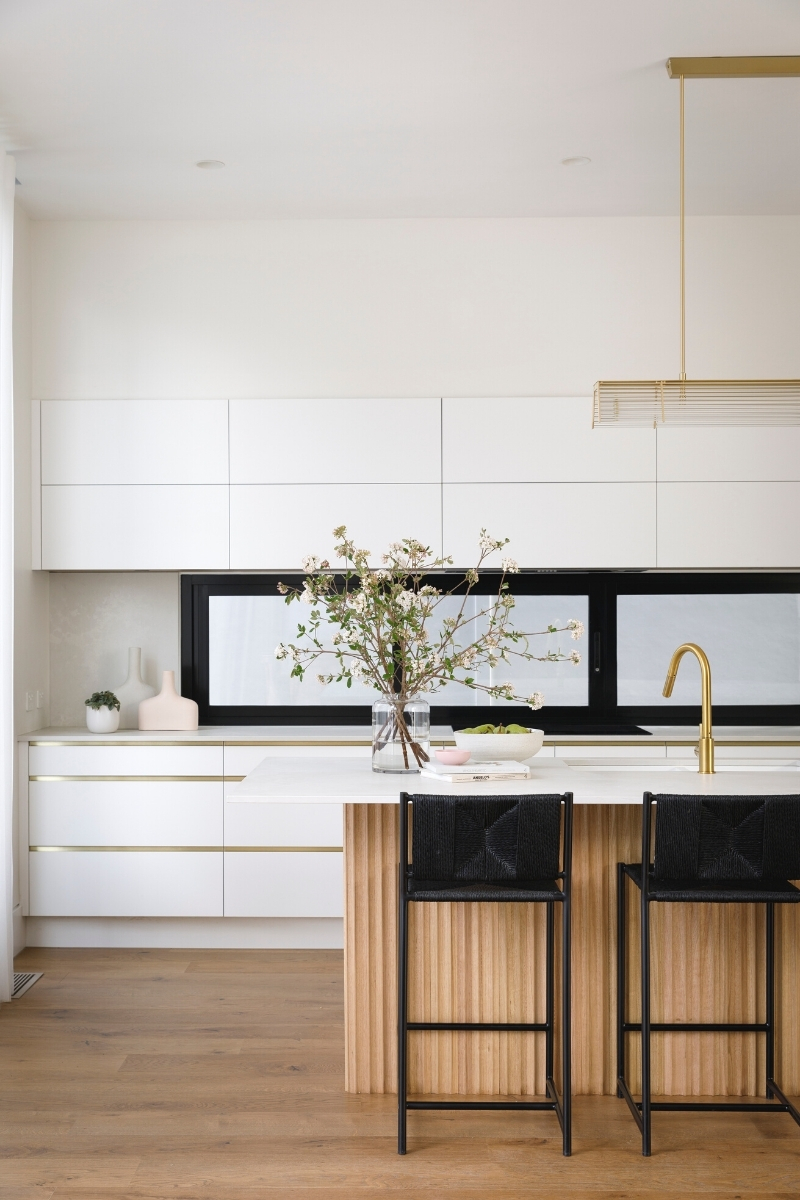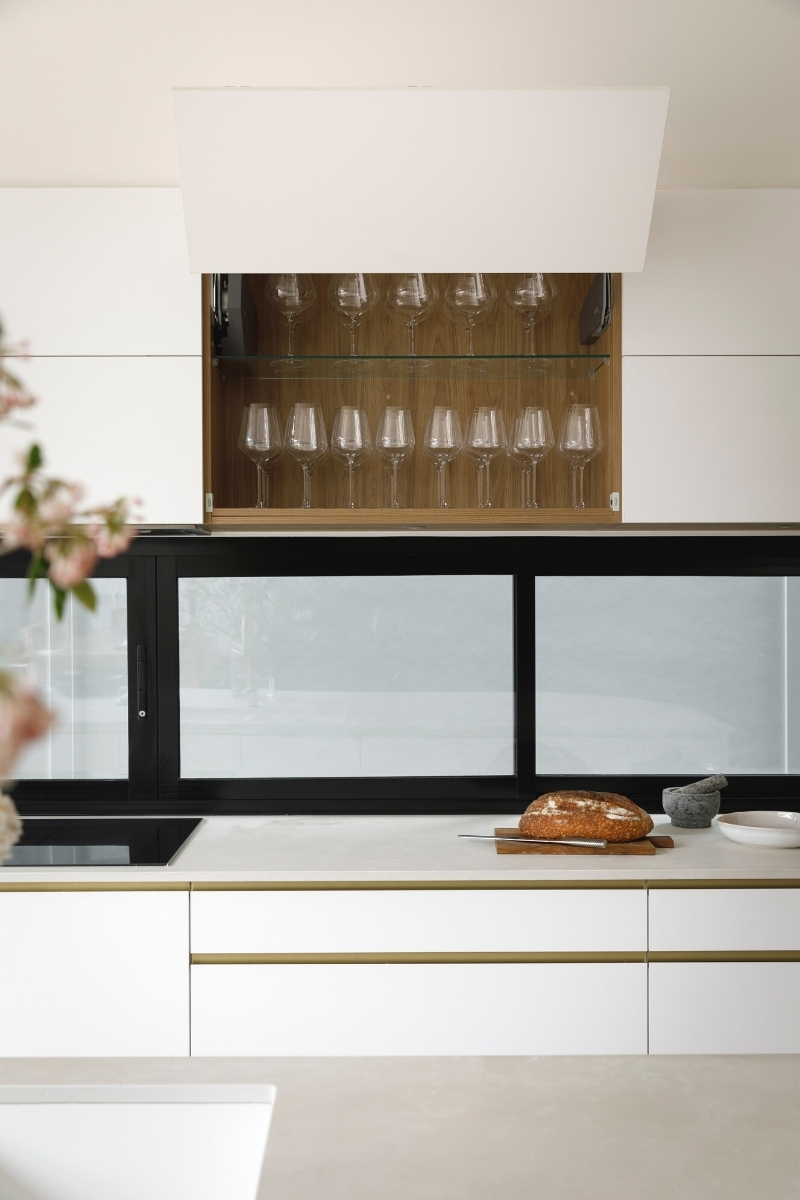 Caesarstone's Cloudburst Concrete has been used for both the benchtops and splashbacks, creating a seamless look, the pale white and grey tones of the quartz tops complementing the colour palette of white and timber. The curve of the island bench and feature timber wall, mimic that of their Master Bedroom revealed earlier in the build, establishing a flow throughout the home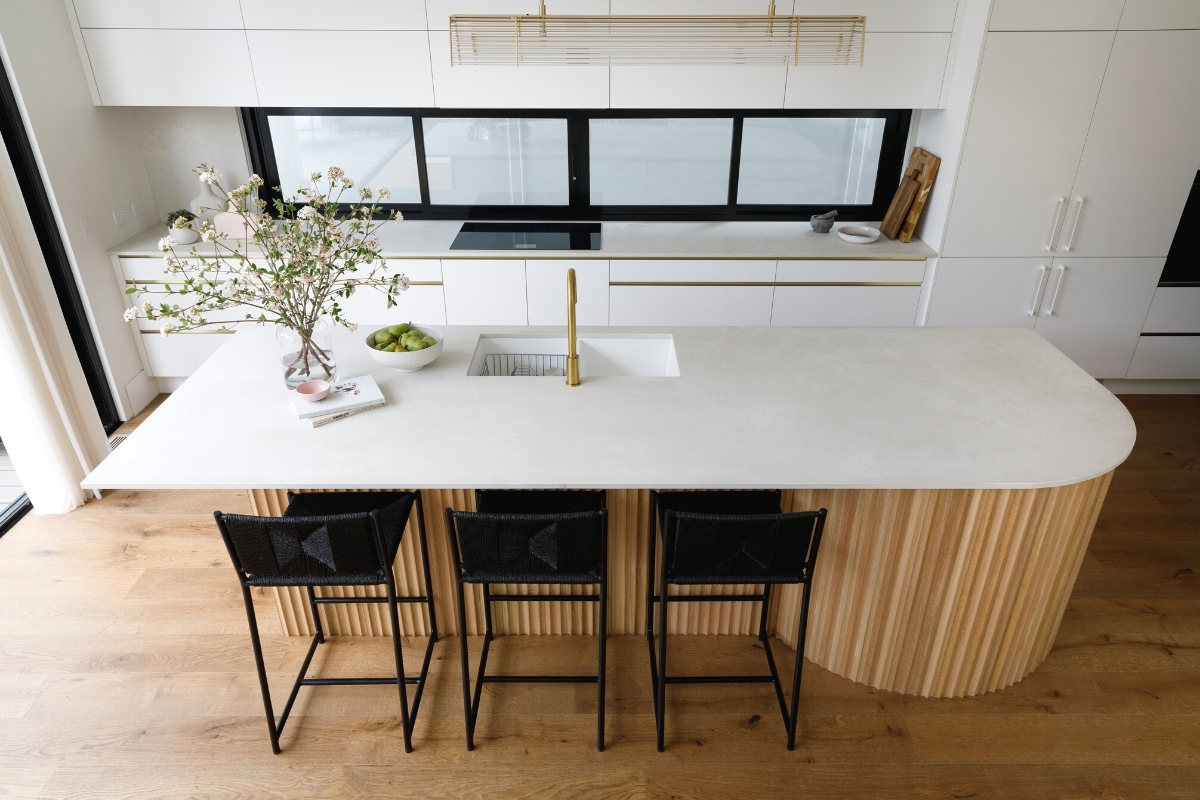 Open shelving in Chadstone Prime Oak in a Woodmatt finish used in the pantry space allows for the storage of cooking essentials as well as decorative decor items, while sitting across from Siemens appliances. Timber-look tones are also found in the main kitchen area, through the use of decorative cladding surrounding the island benches' bar back, tying both the kitchen and pantry together.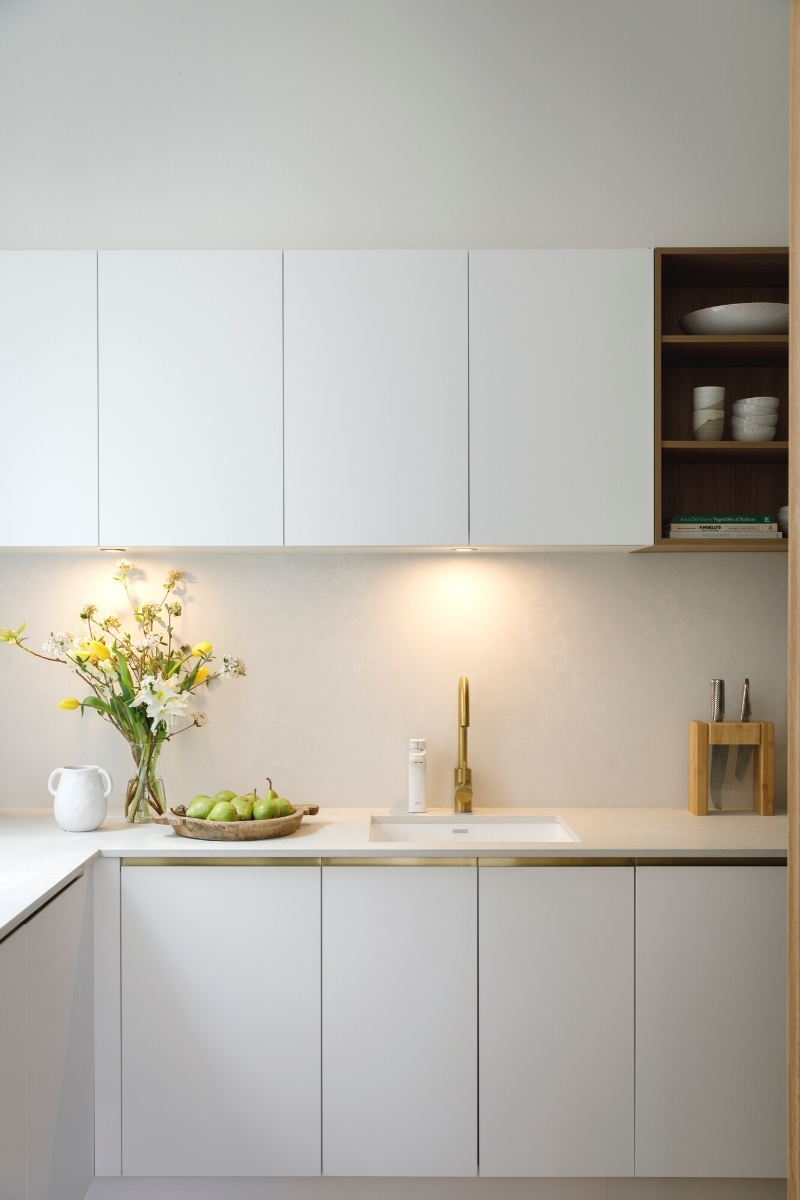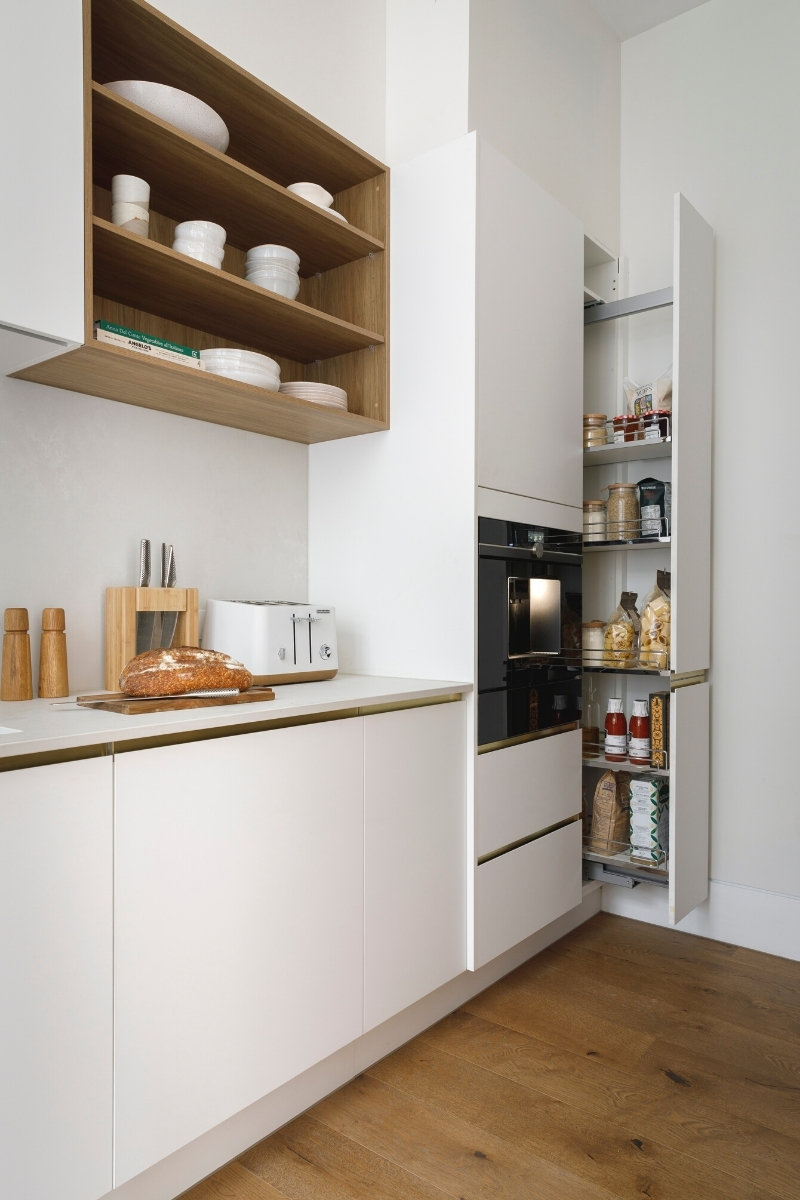 Key Features:
Cabinetry: Oxley Supa Ultra White Supa Matt, Chadstone Prime Oak
Handles: Platinum Range MARQ Handle in UltraGold, Touch Catch Benchtops: Caesarstone Cloudburst Concrete 20mm Pencil Round
Splashbacks: Caesarstone Cloudburst Concrete
Kickboards: Supa Ultra White Accessories: 1S Drawer Upper Internal Drawers, Pull Out Pantry, NEW Ninka Bin
Sinks: Oliveri
Taps: By contestants
Lighting: Warm LED Downlights
Appliances: Siemens
House 5: Jimmy & Tam
Score: 29/30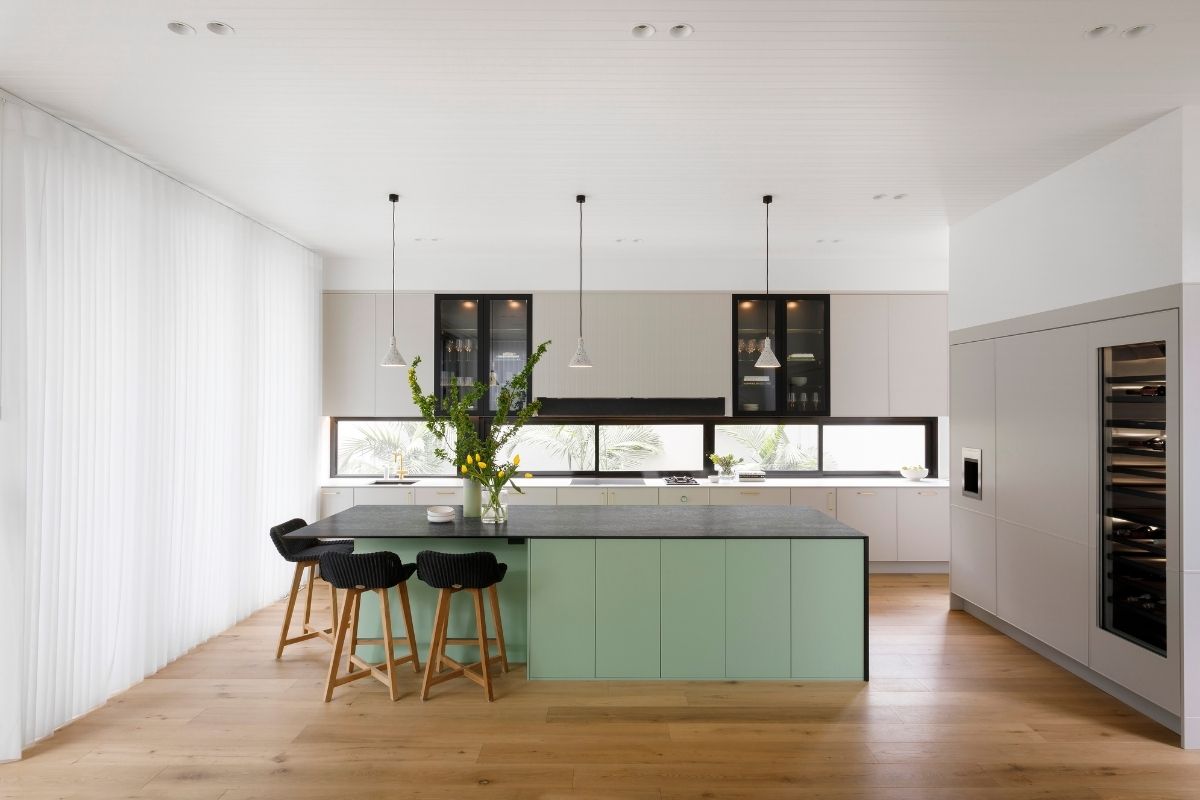 Jimmy and Tam have injected a fun and fresh vibe into their generous and welcoming kitchen, which Shaynna described as looking 'great at every angle'. They have paired several new and exciting door and benchtop finishes and colours from our range to keep the space modern and full of interest, while still celebrating the 1950s heritage of the home. Plus, let's not forget that they won the Gaggenau appliance package, meaning that their kitchen is a home chefs dream come true!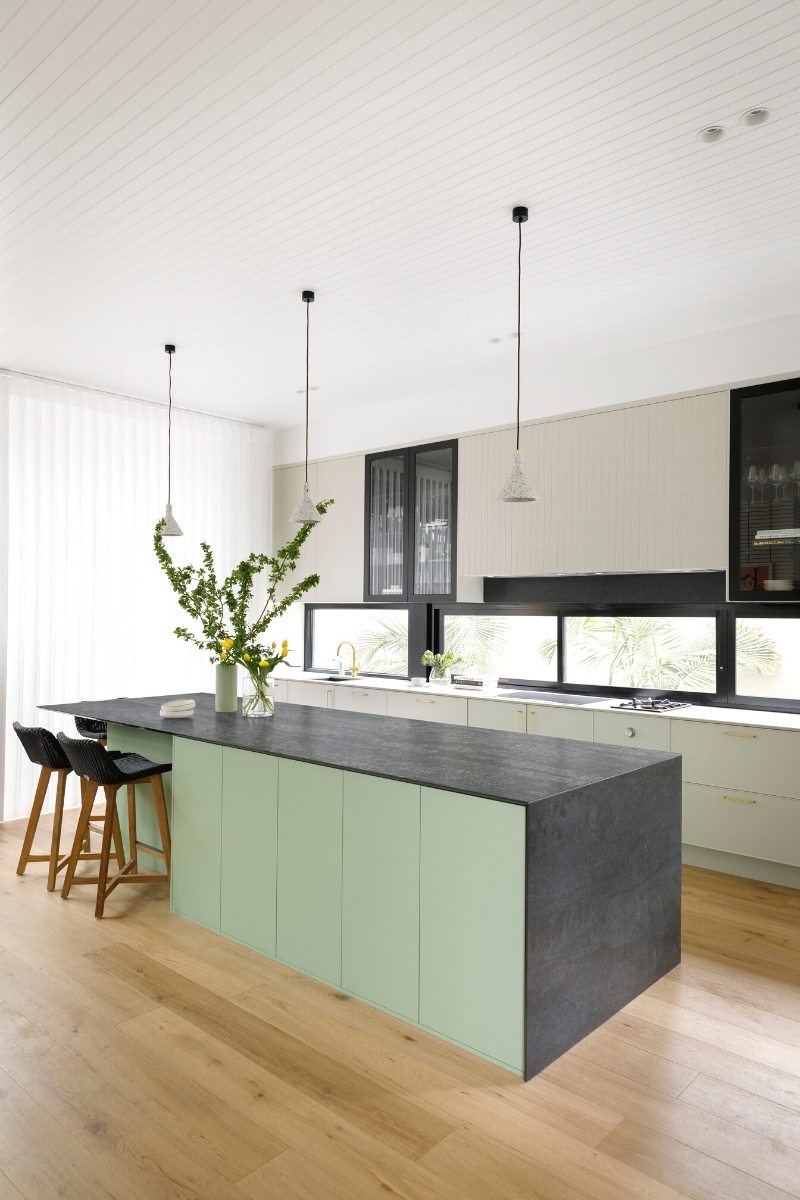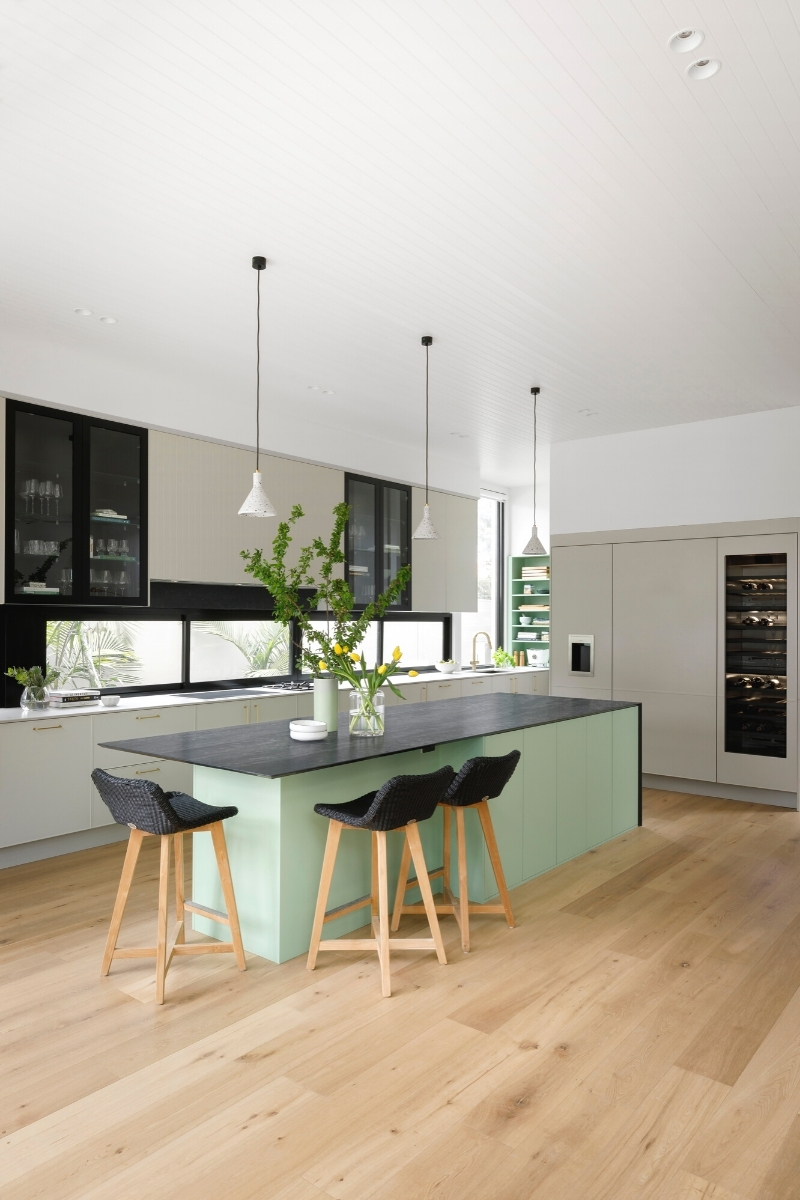 Their selection of cabinetry is a masterpiece in blending colours and textures while maintaining harmony. New Avalon panel look profile doors in Oyster Grey Matt act to accentuate the ceiling heights in the room with beautiful effect, while Camden Oyster Grey Matt doors with their thin shaker profile provide a subtle and elegant touch. A combination of Matt Brass Rounded Bar and Touch Catch handles add to the look, while Clear Glass Mid-Height cabinets along the back wall break up the cabinetry while accentuating the scale of the space.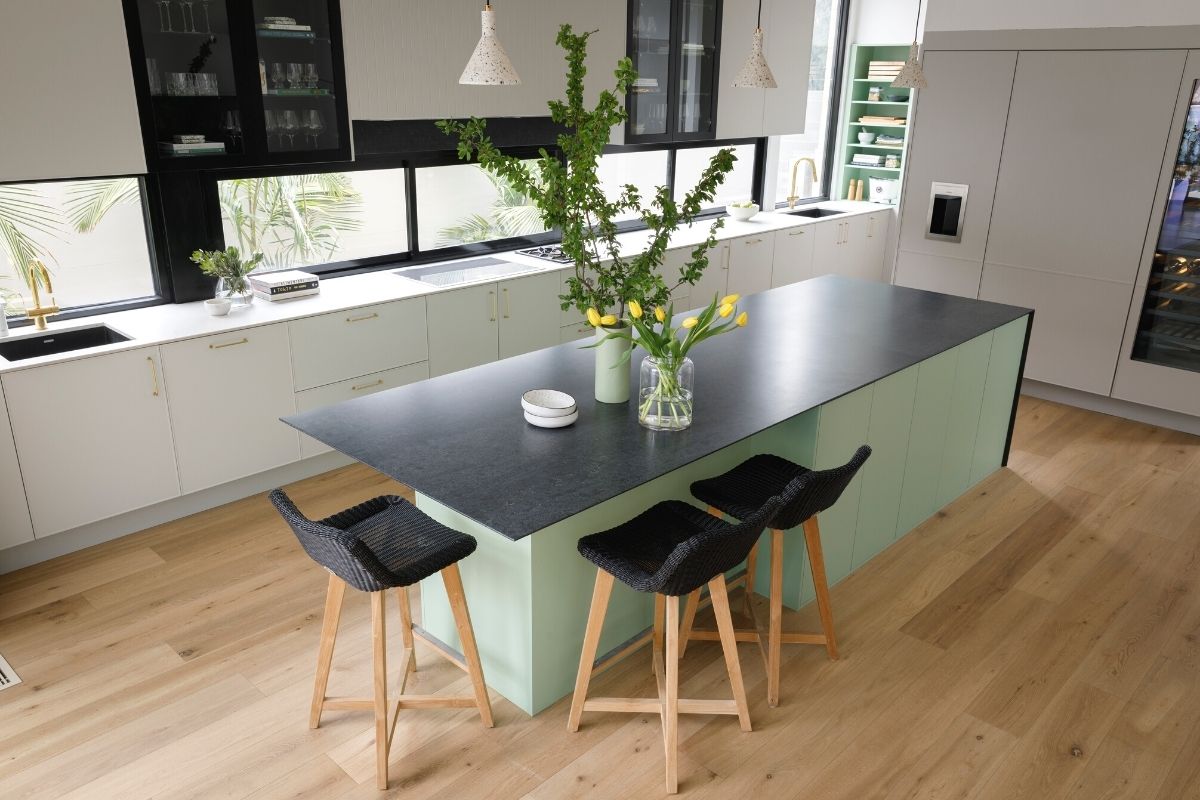 The island bench provides the perfect gathering place in the kitchen. It's topped with Caesarstone's new colour Black Tempal in a slim 20mm Sharknose edge, and is wrapped with Kinsman's new Ballina Enamel accent colour – a strong mid-tone green with warm undertones It wouldn't have been a kitchen from this b couple without a pop of colour, and this green is quintessentially 1950s!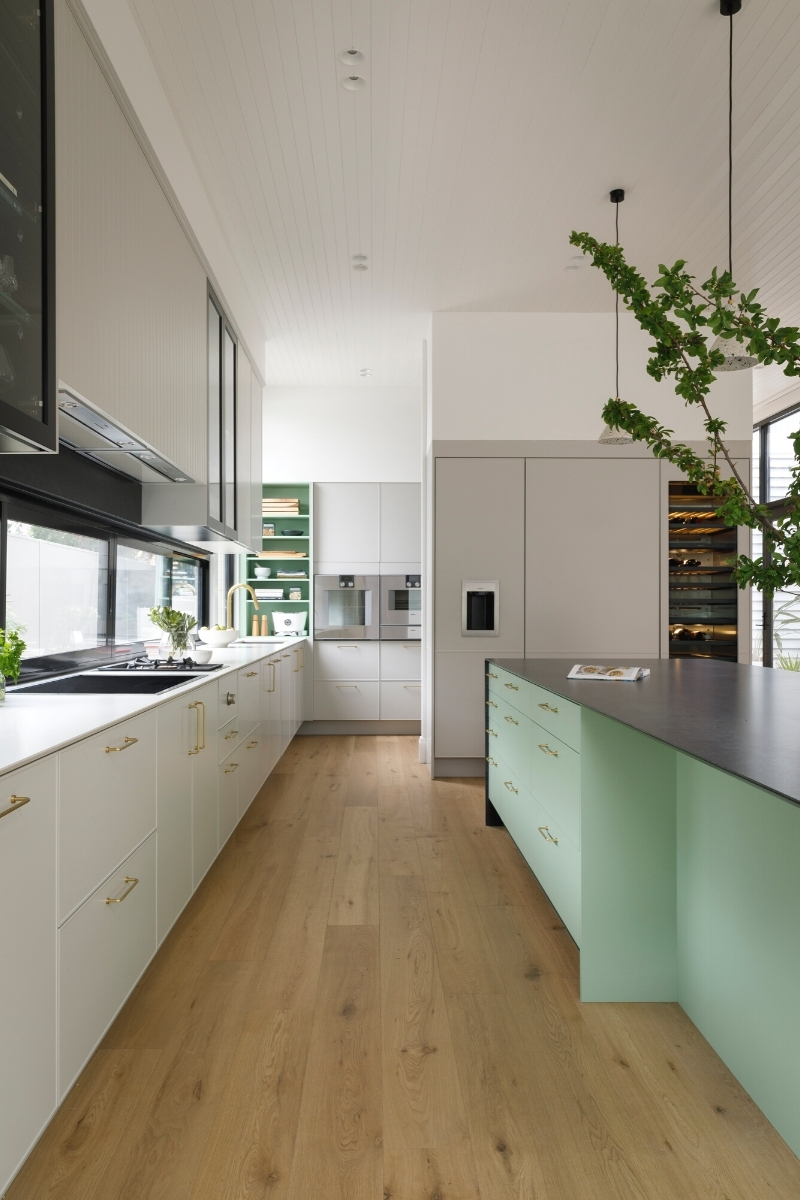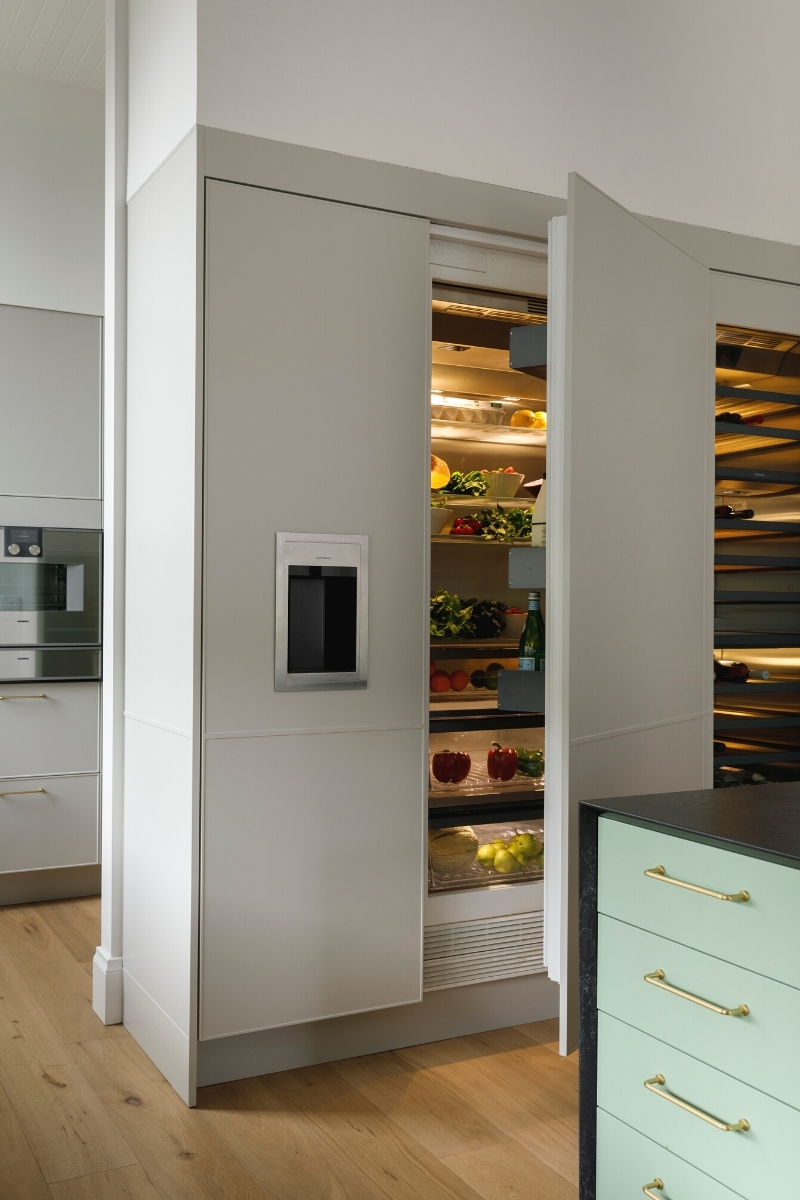 A highly functional and stylish butler's pantry flows on from the open plan kitchen space and is brimming with Gaggenau appliances, mint-green shelving, and plenty of extra storage. The pocket Door System provides hidden access to the pantry from the hallway, adding to the fun and joy of this kitchen which Neale described as 'completely unique'.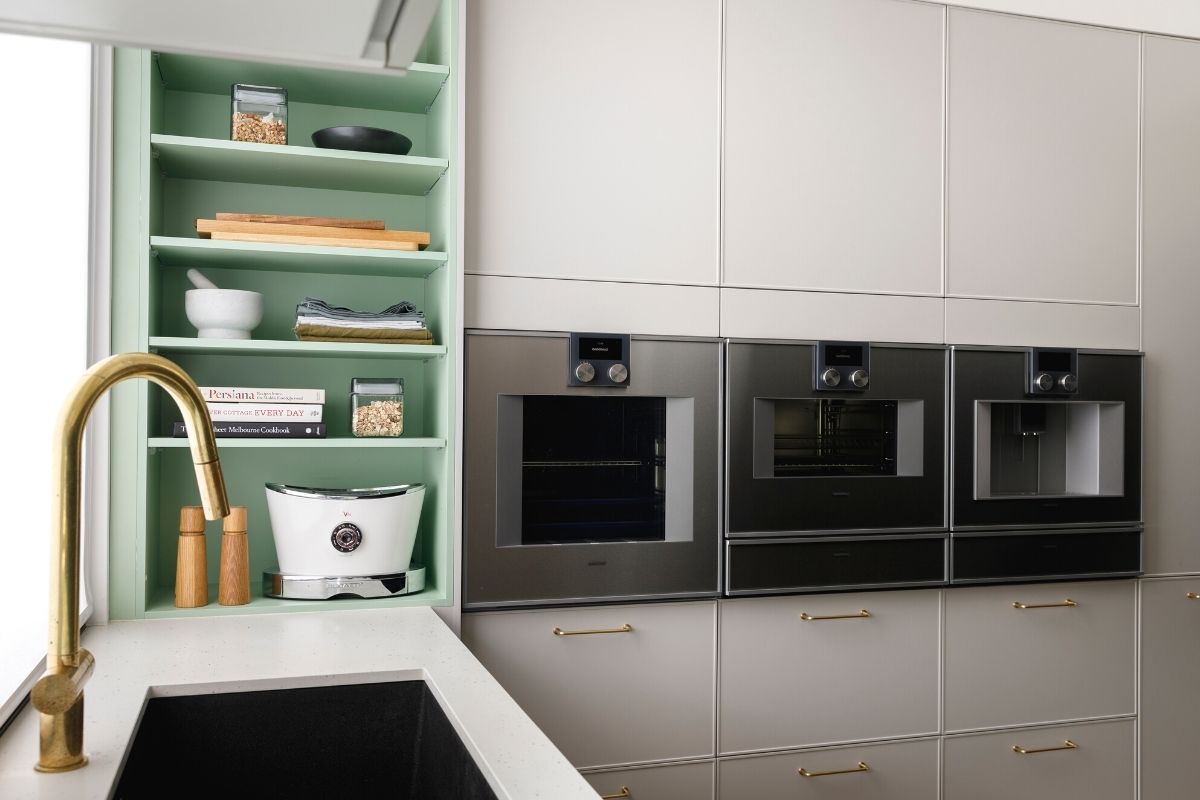 Key Features:
Cabinetry: NEW Camden Oyster Grey Matt, Platinum Range Ballina Enamel, NEW Avalon Oyster Grey
Handles: Matt Brass Rounded Bar 34-K-132, Touch Catch
Benchtops: NEW Caesarstone Black Tempal 20mm Sharknose (Island), Caesarstone Frozen Terra 20mm Sharknose edge
Splashbacks: NEW Caesarstone Black Temple
Kickboards: NEW Ballina Enamel, Oyster Grey Matt
Accessories: Internal Drawers, Steel Cutlery Trays, Design Side Glass Sided Drawers, NEW Ninka Bin
Sinks: Oliveri
Taps: By contestants
Lighting: Warm LED Downlights, Warm LED Strip
Appliances: Gaggenau
As Darren Palmer said, if these kitchens were on any other year of The Block – they would have won! We don't know how the judges could choose. Each and every kitchen and pantry has added functionality and style to their homes. Stay tuned for more Kinsman wardrobes, home offices, kitchens and laundries on The Block this season.
Photographer: Marcel Aucar
Stylist: Ruth Welsby
Inspired to create your very own Kinsman Kitchen? Book your in-home, in-store or virtual design appointment HERE. Alternatively, download our latest Ideas and Design catalogue HERE and flick through for more kitchen inspiration.
Follow Kinsman on our socials: Instagram: @kinsmangroup Facebook: /kinsmangroup