The new Blockheads were taken on an emotional rollercoaster through time during their first week of The Block; with a chance to win $10,000 cash plus a $120,000 Gaggenau appliances package to enhance their kitchen design, we've never seen a bigger prize up for grabs in the first week! We saw smiles and tears as five couples raced to complete a guest bedroom worthy of winning the Gaggenau crown. It's safe to say all five teams delivered wardrobes of dreams that impressed the judges.
Let's take a closer look…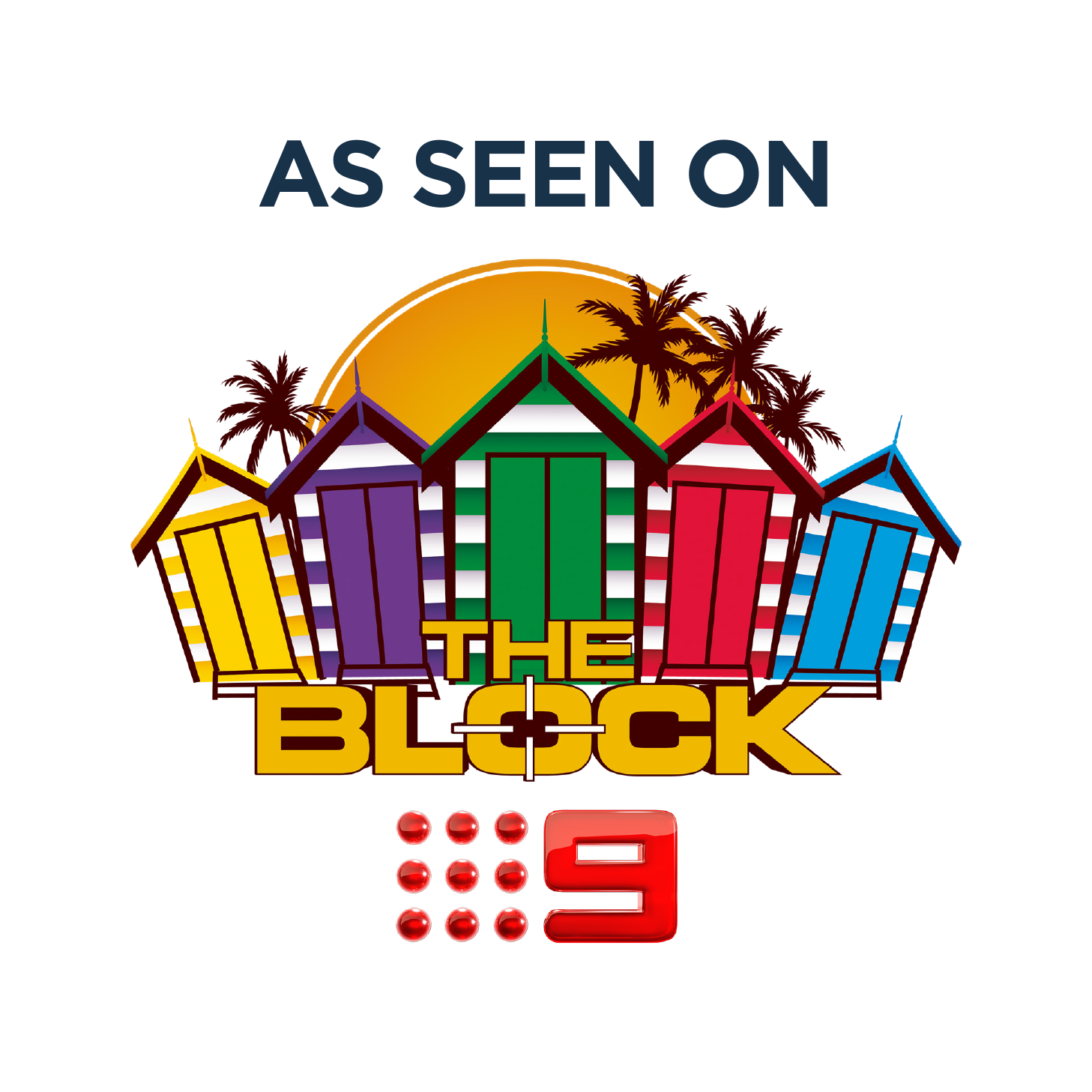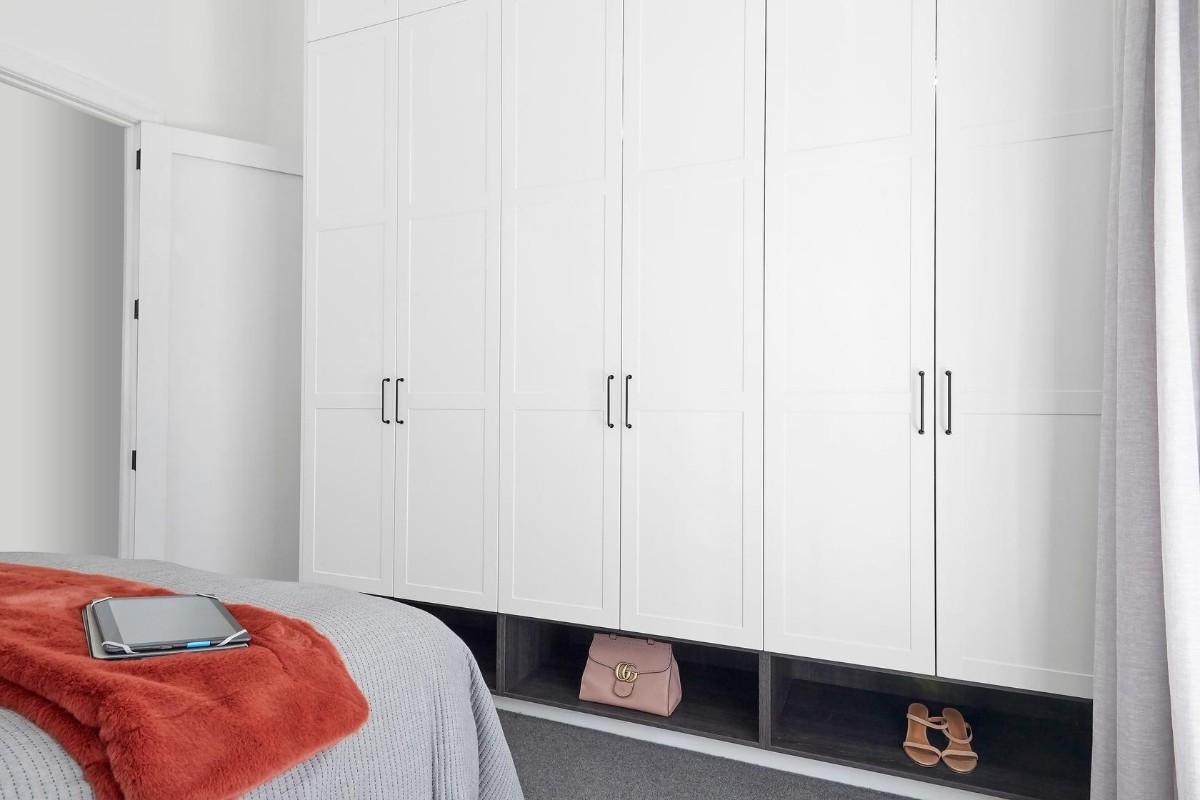 Harry and Tash impressed Shaynna with ample storage that the room provided for a guest bedroom, she even exclaimed that this bedroom could be a Master! The father-daughter duo chose Somersby Shaker-style doors in Classic White Matt emulate the period features of the house perfectly. Paired with Kinsman Wardrobes' Satin Black lounge handles, this wardrobe boasts modern elegance with a timeless touch. Contrasting with the fresh white cabinetry doors, the rich interior of this stunning robe features Dark Oak Natural cabinetry which contrasts not only in colour, but texture too.
Warm LED lighting enhances the opulence that this wardrobe has to offer, showcasing a lavish display of clothing as well as producing clear visibility of the Top and Pants Rails. The wardrobe lift mechanism ensures garments that are hung on the top rail of the wardrobe can be pulled down and accessed easily at a comfortable height.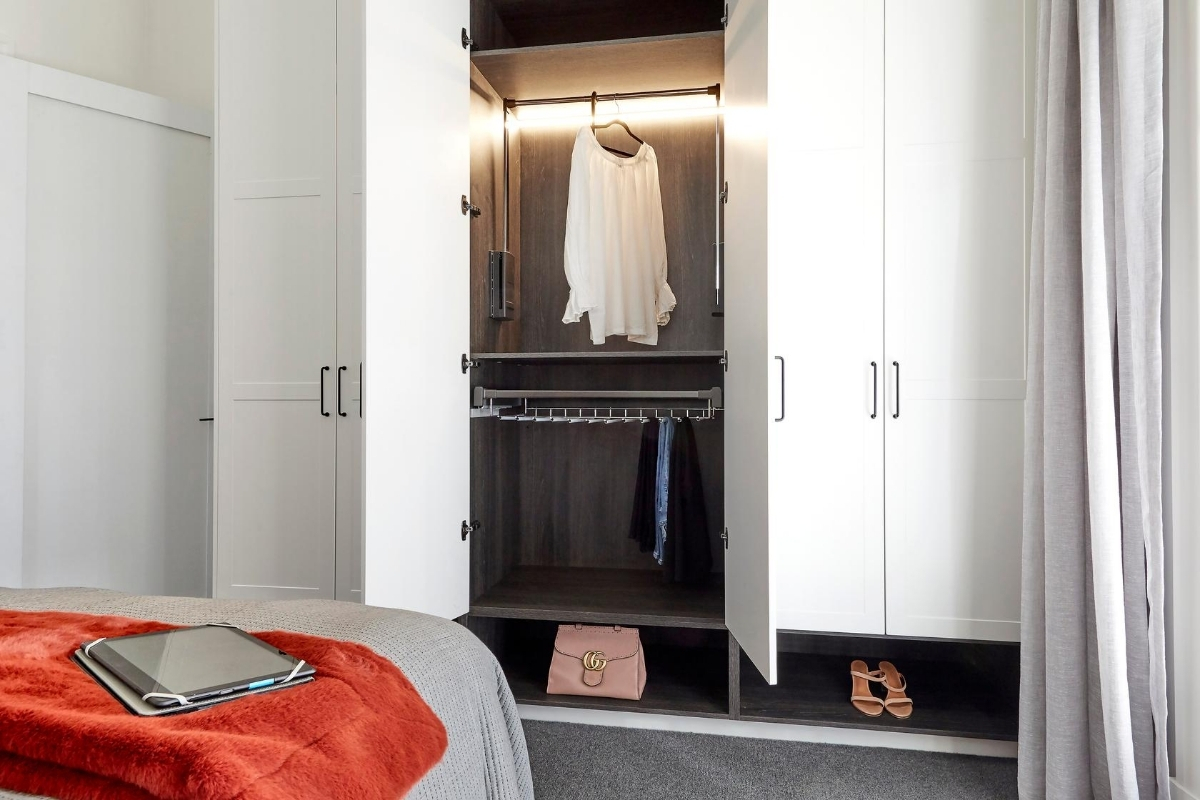 Last but certainly not least, the open shelving combinations beneath the cabinetry doors match the luxurious interior of the wardrobe in Dark Oak Natural. This design presents immediate contrast when you walk into the room and allows prize possession such as handbags or your favourite shoes to take pride of place on display, adding a personal touch.
Cabinetry by Kinsman Wardrobes
Exterior doors: Somersby White Matt
Interior finish: Dark Oak Natural
Details:
Handles: Satin Black Rounded D (22-K-131)
Accessories: Wardrobe Lift, Trouser Rack
Lighting: Warm LED Strip Lighting
House 2 – Sarah & George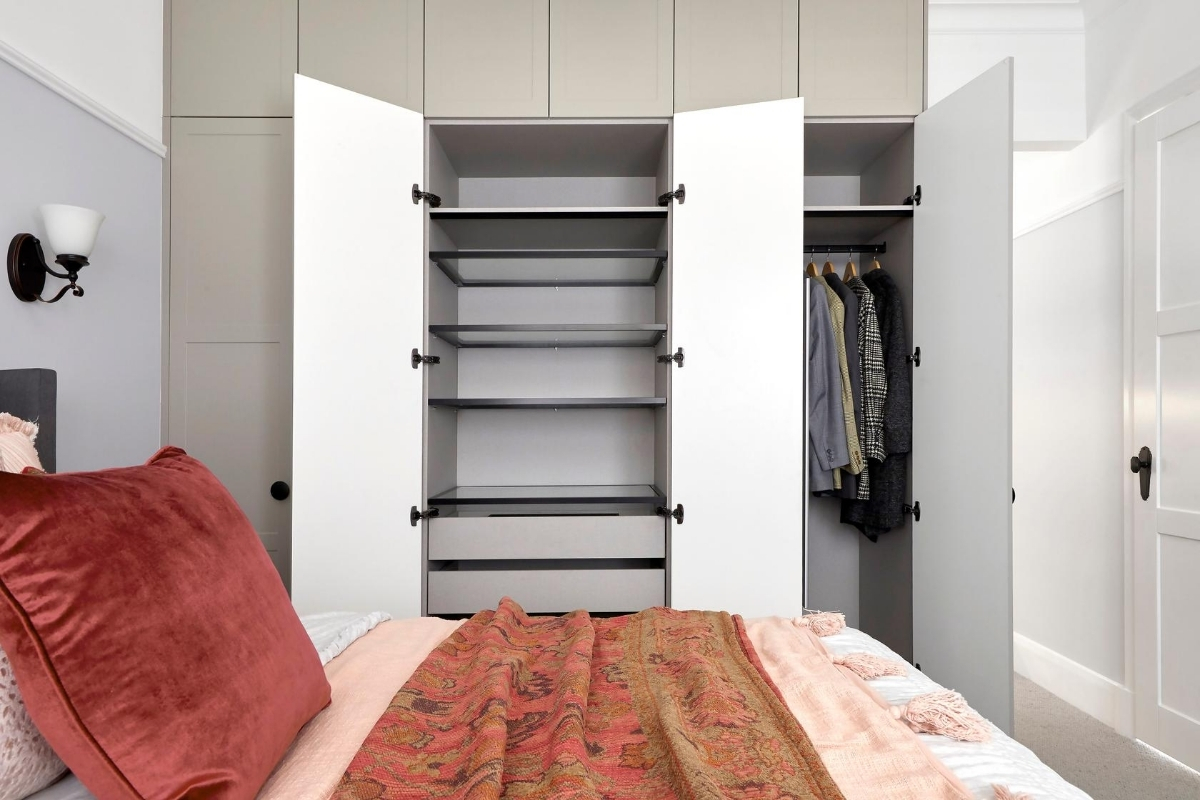 In Sarah and George's guest bedroom, Neale Whitaker claimed "My favourite thing in here are the wardrobes". The couple achieved a light and airy feel with Stone Grey cabinetry, adding a modern twist to our classic Somersby Shaker-style doors; perfect for the 1940s period of this home. Dark toned timber round dial knobs combined with the light cabinetry ooze luxe. When the hinged doors are opened, grey linen look interior is revealed with ample hanging space, elegant black framed glass shelves and draw combinations which showcase a display of jewellery. Black angle front lighting features in each wardrobe unit, accentuating glamour with interior glass shelving, allowing the light to generously flow throughout the cabinet.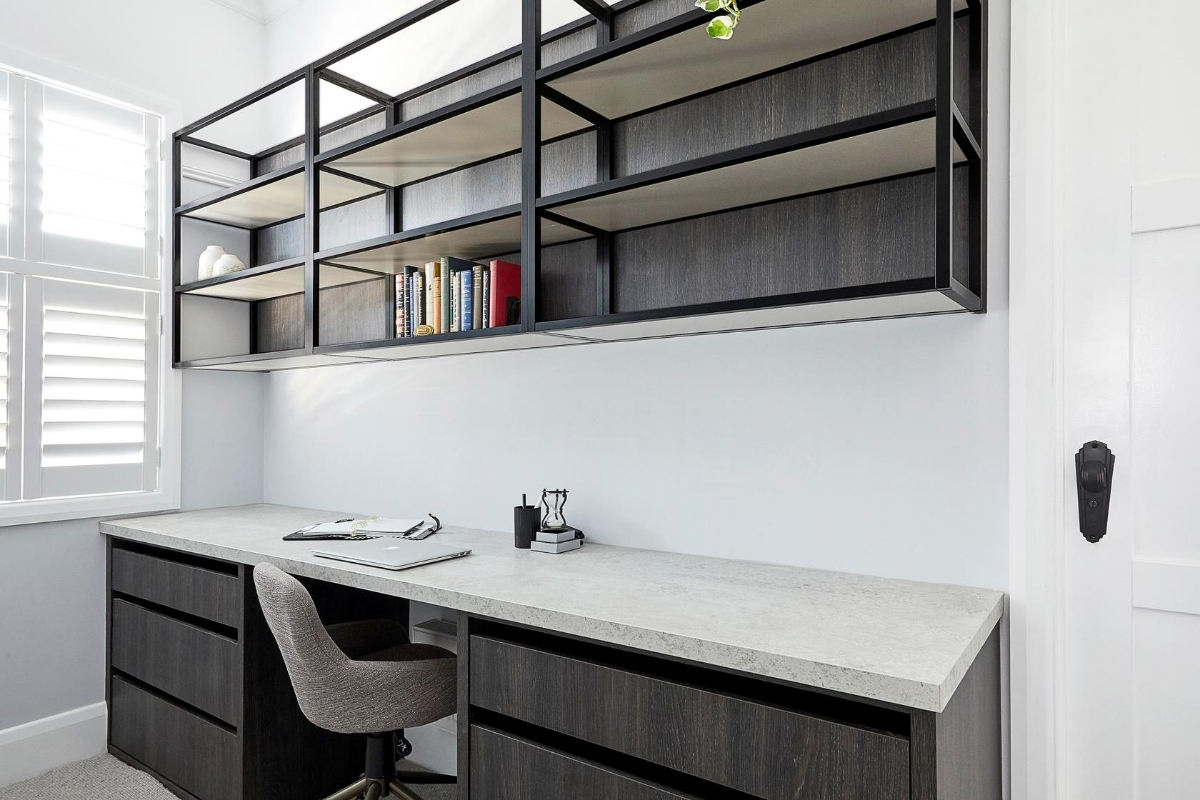 Joined to the bedroom is a multifunctional room that can be used as a study, dressing room or make-up station, built from our Home Office range. Darren Palmer was a huge fan of the airy laminate benchtop in Chalk ceramic finish, saying that it looked just like stone. The Dark Oak Natural cabinetry chosen for the open draw units, seamlessly flow from the dark toned timber accents featured on the bedroom wardrobe door handles and throughout the rest of the home. Timber backing has been chosen for the Black Frame Wall Cabinets that hang overhead, balancing the warm timber colour within the room. LED strip lighting flows down behind the Black Frame to ensure that the space remains light and to accentuate grandeur.
Cabinetry by Kinsman Wardrobes
Exterior doors: Somersby Stone Grey Matt
Interior finish: Grey Textile (Wardrobe) and Mountain Oak (Home Office)
Details
Desk: Chalk Ceramic Laminate
Handles: Capello Oak Black Knob (22-K-150), Touch Catch
Accessories: Black Frame Glass Shelves
Lighting: NEW LED Light Bar in black
House 3 – Daniel & Jade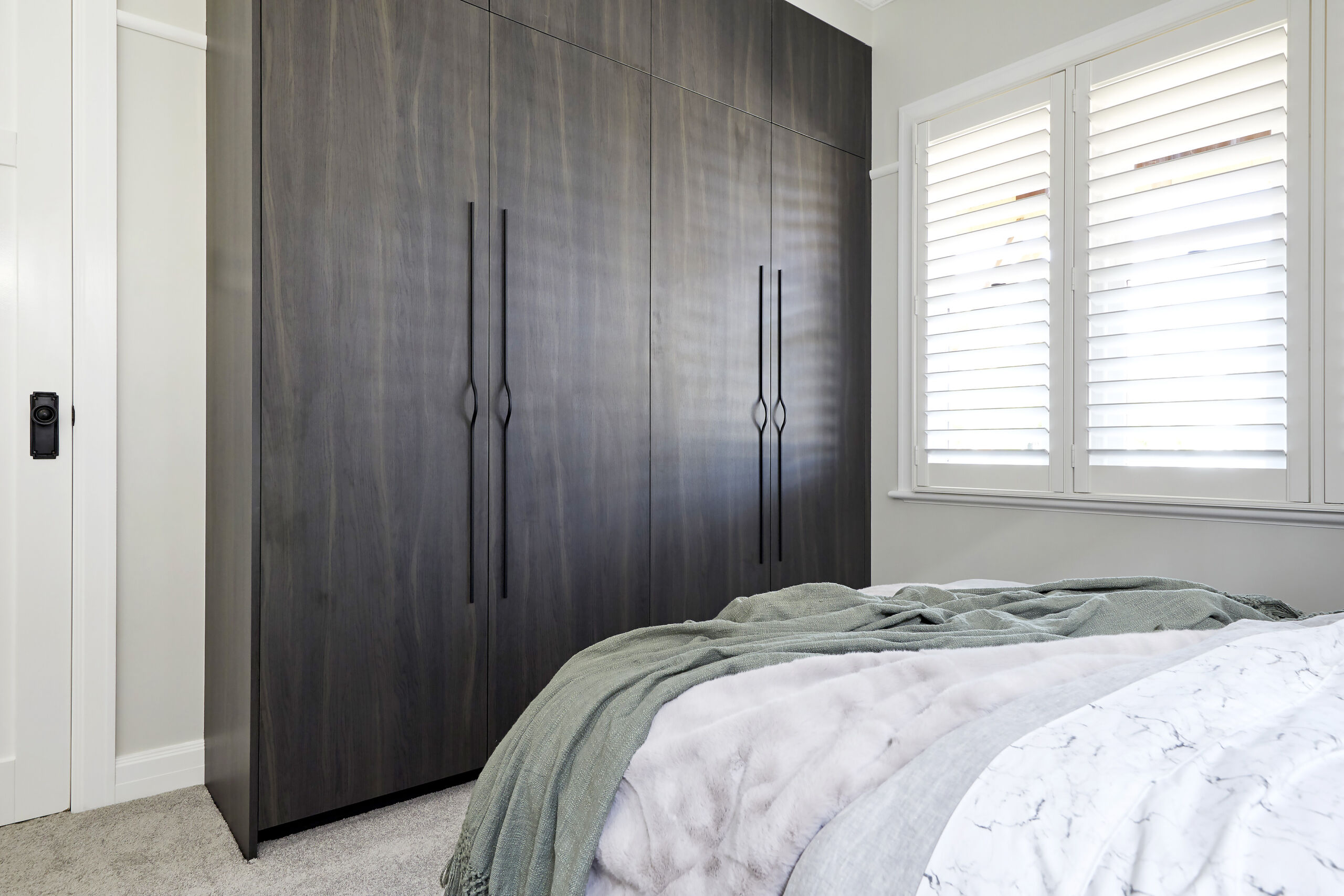 A monochromatic colour palette of dark timber tone, Bottega Oak, and the contrasting interior of grey textile creates a soft and opulent aesthetic to this guest bedroom. With shoe rack pull outs, plenty of drawer and hanging space, the lightly coloured interior finish paired with Warm LED lighting lends itself well to visibility of garments within the wardrobe and adds warmth to this cool and natural colour palette. Jade and Daniel have chosen Matt Black Brave Bow handles which the judges agree take this wardrobe back to the 1930s through its grand design and ornate detail; complementing the texture of the oak-look doors.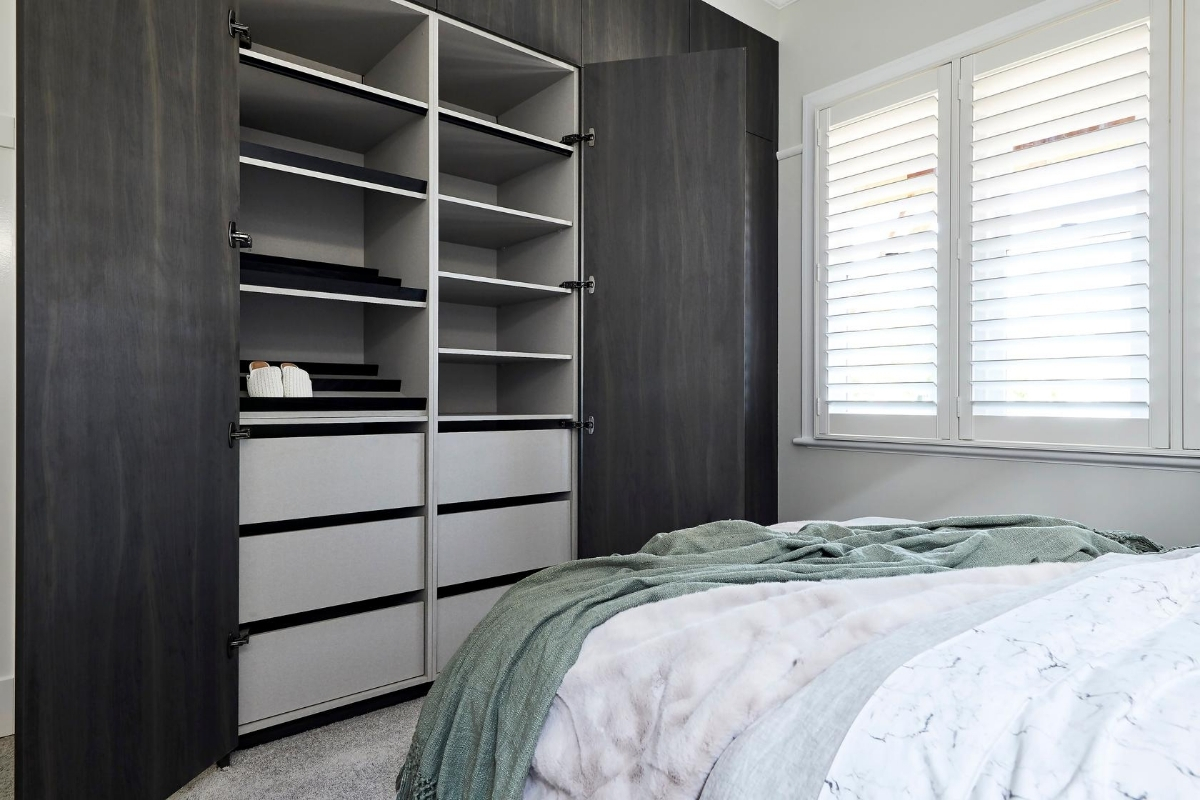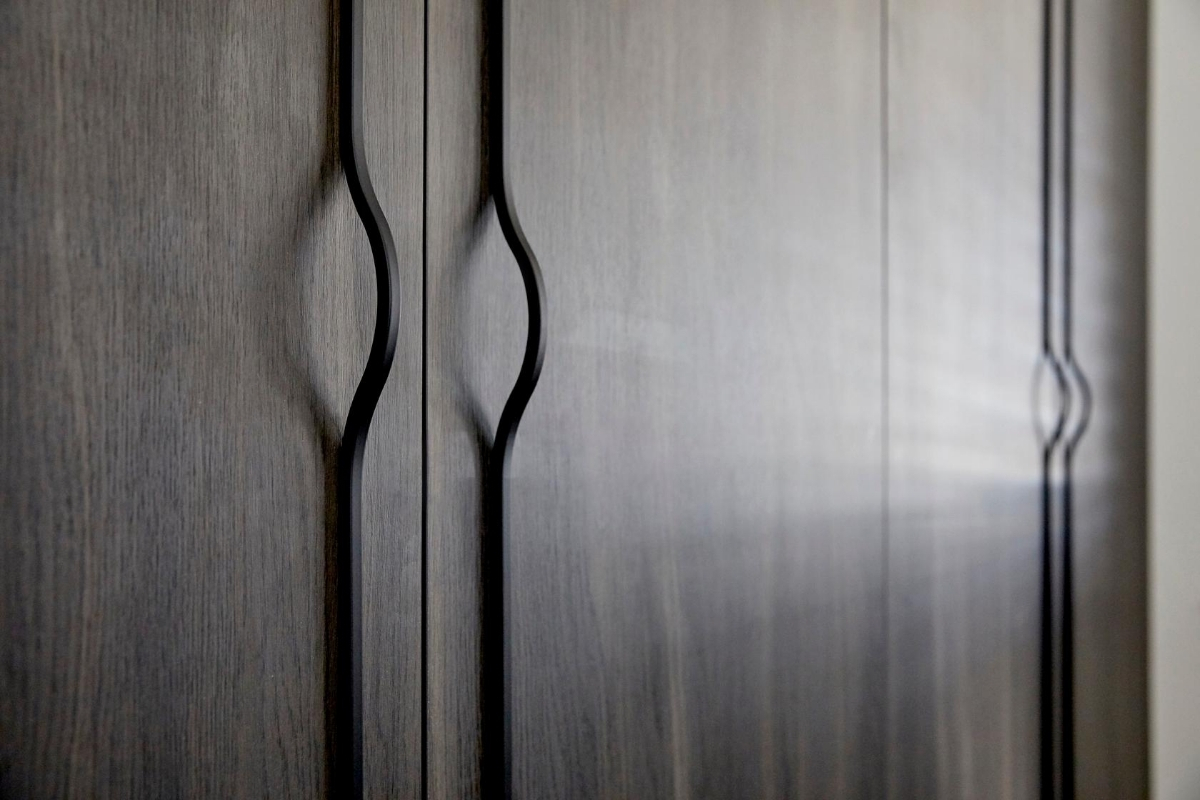 Cabinetry by Kinsman Wardrobes
Exterior doors: Bottega Oak Woodmatt
Interior finish: Grey Textile
Details
Handle: NEW Brave Bow Matt Black Handle (38-M-08), Touch Catch
Accessories: Shoe Racks
House 4 – Luke & Jasmin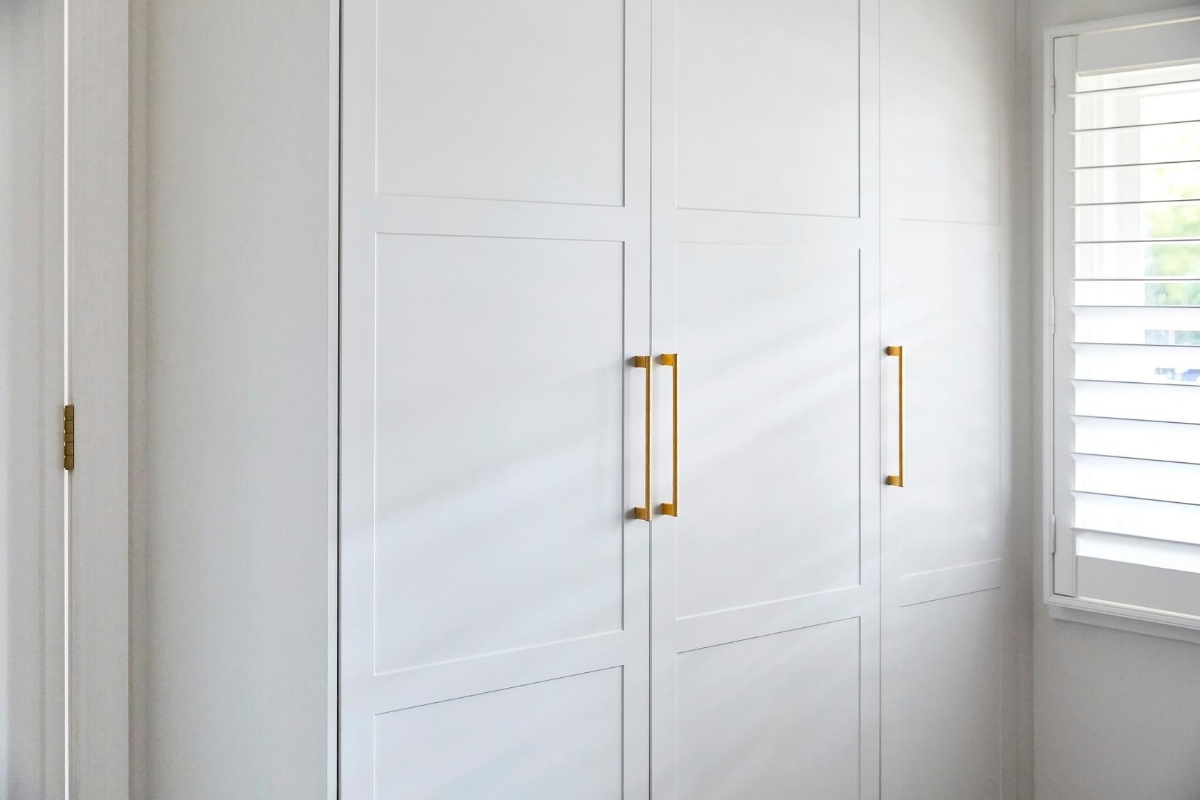 Fresh and polished. Luke and Jasmine have chosen our Somersby profile doors in Classic White Matt, the perfect choice as The Block judges felt that this robe was reminiscent of the 1910s era with the panel-look cabinetry which has been beautifully paired with a Brass handle for effortless elegance.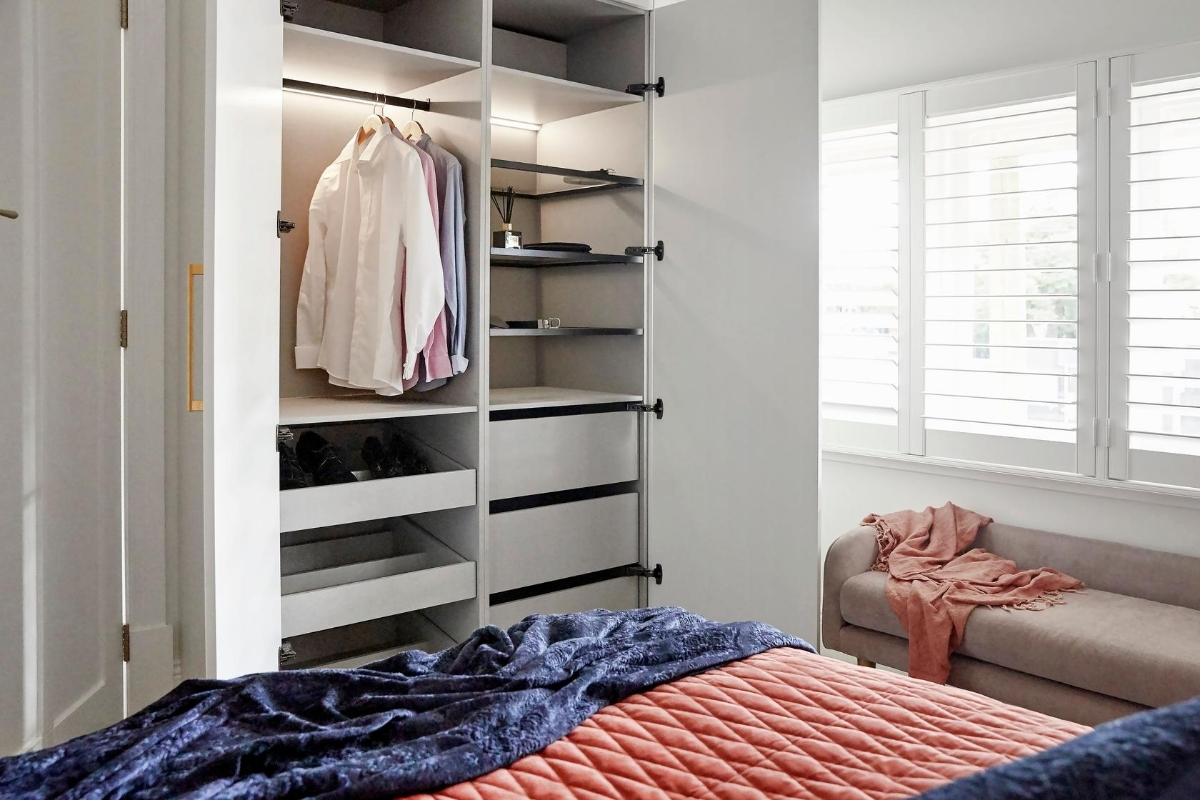 The cool textile grey interior is brightened with LED lighting against Black Hanging Rails, putting the spotlight on clothing. Shoes are hidden away but easily accessed and viewed in pull out shoe draws. Deep draws provide even more storage space and Black Glass Frame Shelving allows for styling opportunities with scents, jewellery, belts and bags, adding a touch of sophistication and style.
Cabinetry by Kinsman Wardrobes
Exterior doors: Somersby White Satin
Interior finish: Grey Textile
Details
Handles: NEW Brushed Dark Brass Bar (15-M-03), Touch Catch
Accessories: Black Frame Glass Shelf, Shoe Drawers
Lighting: Warm LED Strip Lighting
House 5 – WINNERS Jimmy & Tam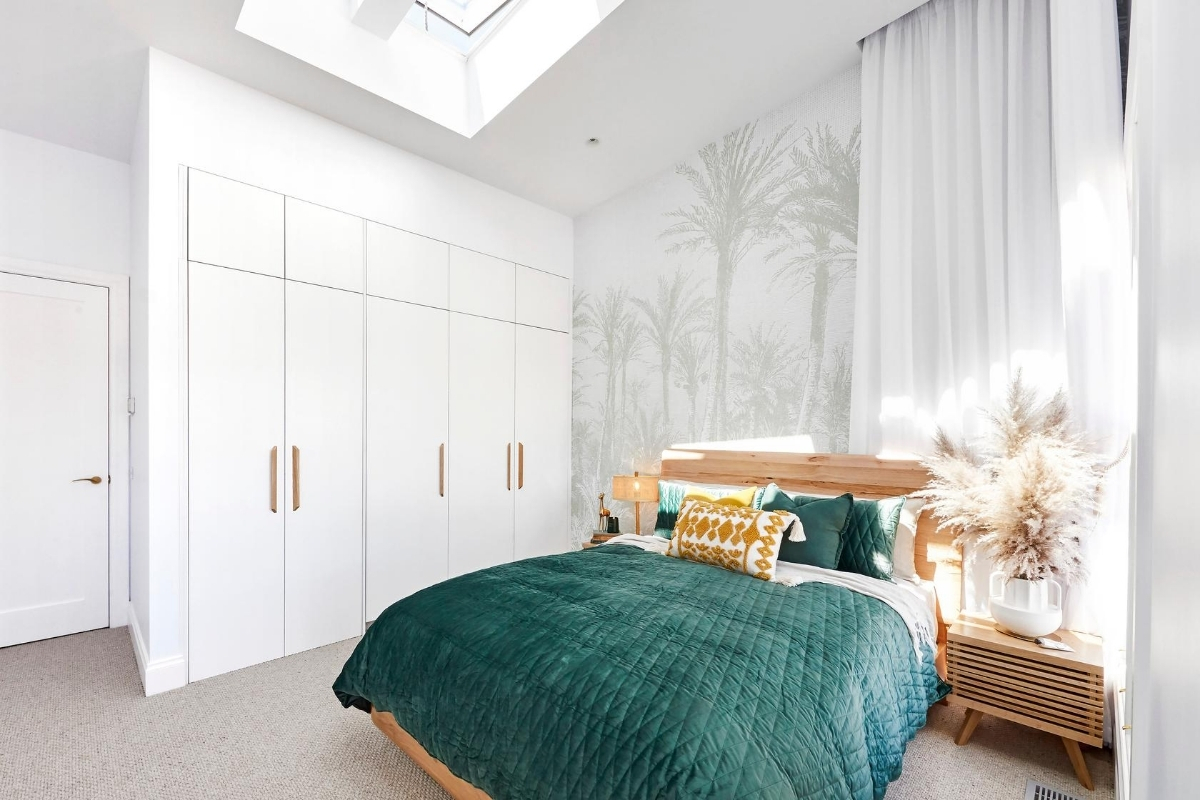 Jimmy and Tam's winning guest bedroom felt like a 1950s beach party according to Shaynna. This was definitely reflected in the neutral and classic robe; the couple balanced White Satin doors and timber-look textures of Modern Oak Natural interiors. Natural Ash handles complete the look by coordinating with the interior tones, a beautifully simple theme.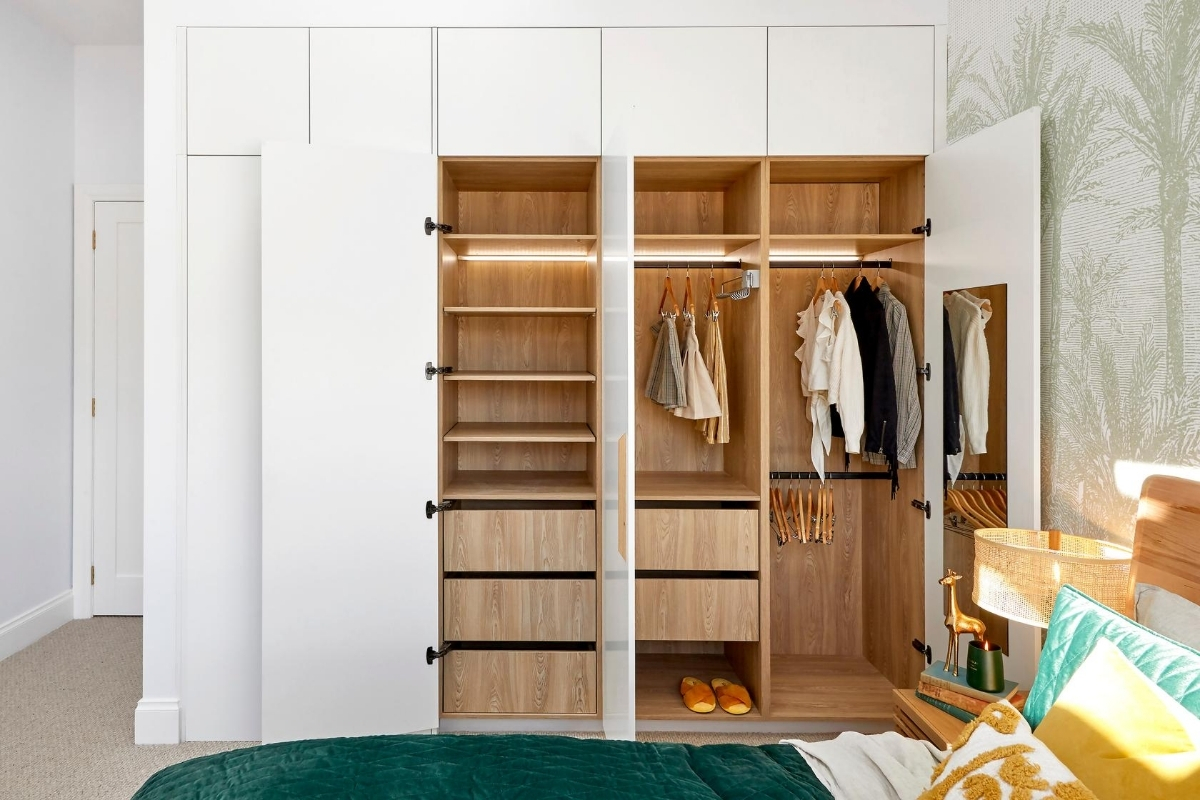 Taking a look inside the wardrobe, black hanging rails stand out against the light timber adding dramatic accents of dark colour which balances shadows of shelving and storage within the left side of the robe. Besides storage, Jimmy and Tam had functionality in mind and the judges were left impressed… the far left cabinet doors provide secret access through to the guest room's ensuite. "But they've integrated that look, so this all reads as one big bank of cabinetry. Again that's the level of finesse and detailing that I applaud." said Darren.
Cabinetry by Kinsman Wardrobes
Exterior doors: White Satin
Interior finish: Modern Oak Natural
Details
Handles: NEW Barcco Natural Ash Bar (38-M-06)
Accessories: Tie/Belt Rack
Lighting: LED Light Bar
We've all been wowed with week one's wardrobes on The Block! Make sure you stay tuned for more Kinsman wardrobes, home offices, kitchens and laundries this season.
Inspired to create your very own Kinsman Wardrobe? Book your in-home, in-store or virtual design appointment HERE. Alternatively, download our latest wardrobe catalogue HERE and flick through for more wardrobe inspiration.
Follow Kinsman on our socials: Instagram: @kinsmangroup Facebook: /kinsmangroup