Spring is here, and with many of us spending more time at home than ever before, creating a clutter-free space is the perfect way to celebrate. Not only does an organised room look beautiful, it gives a sense of calm and peace, something all of us are craving at the moment. A tidy kitchen and wardrobe is a great place to start with your spring clean, and below we reveal our favourite tips for getting started.
The Kitchen.
Cleaning your kitchen may seem like a daunting task, so we recommend focusing on 2 areas which make the biggest impact: your pantry and cutlery and utensil drawers.
Pantry. Organising your pantry is a game changer!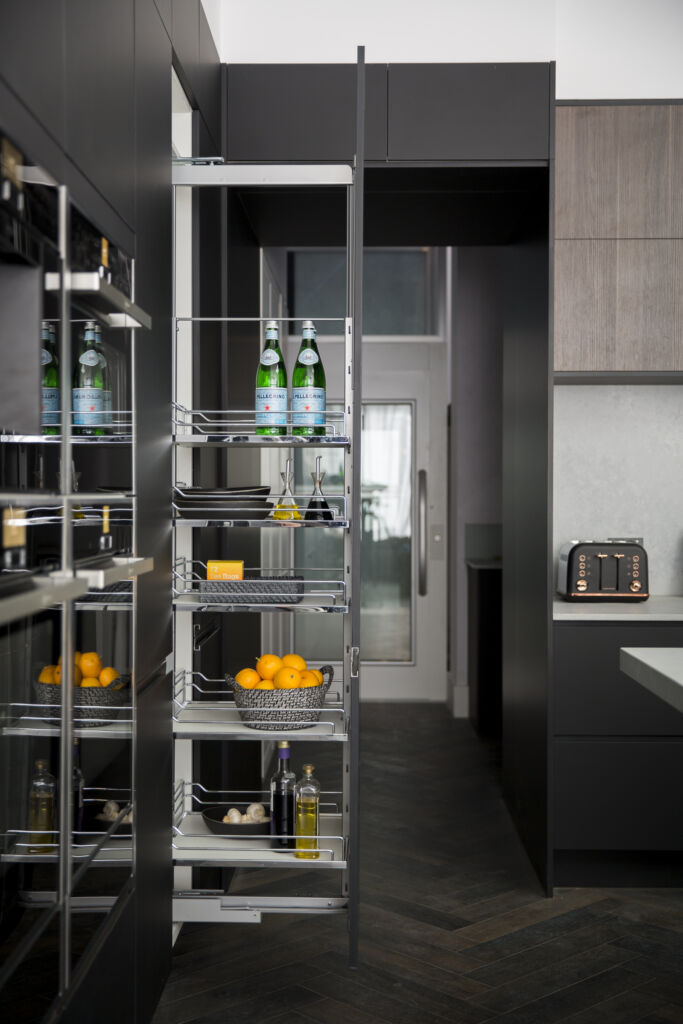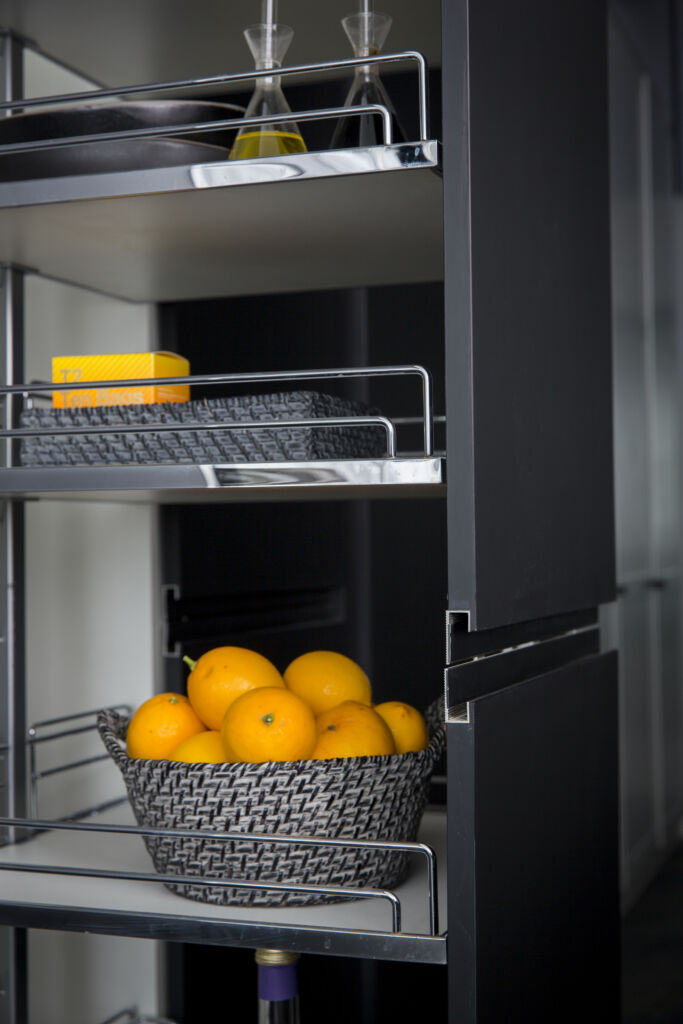 Step 1. Remove everything from your pantry, all place it out on display on your benchtop so you can see everything all together. Throw out anything that is out of date and group the rest into 'like' items, allowing you to find food items with ease. Store tinned items together, then flours, sugars, pasta & rices, oils & sauces, herbs & spices and so forth.
Step 2. Clean the pantry shelves and internals.
Step 3. If matching clear containers and pretty labels are your jam, now is the time to place all items in them, ready to sit pretty in your pantry.
Step 4. Thoughtfully and strategically place items back into the pantry. Keep staple items that you use daily at eye level (such as cereals, pasta, and other cooking staples) while placing treats and baking items up high on top shelves (out of sight, out of mind) and small appliances at the lower levels.
Designer tip: Short on space? Maximise your pantry footprint with our clever storage solutions, including our Full Extension Pantry in polished chrome, which allows optimum access to the back of the unit (plus, the baskets are fully adjustable).
Cutlery & Utensil Drawers. A quick spring clean of these highly used drawers is a project that makes a big impact!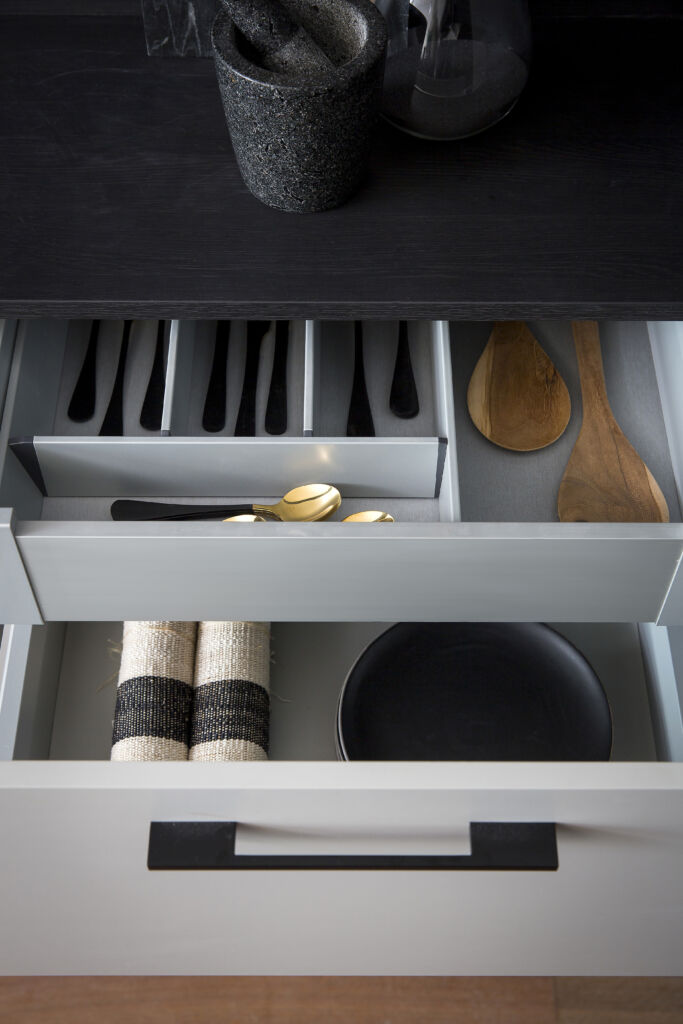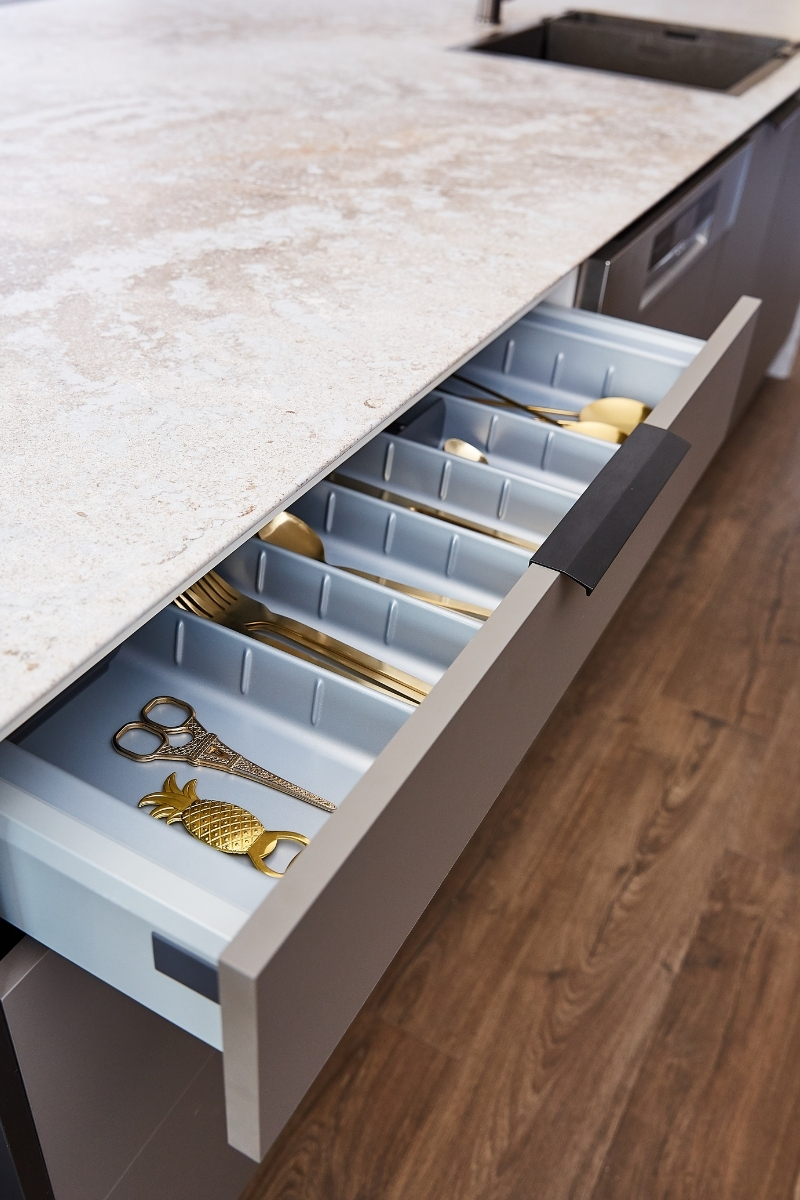 Step 1. Take everything out of your cutlery and utensil drawers. Group all like items together.
Step 2. Put aside any duplicate utensils and where possible donate them. The more edited your collection, the easier it will be to maintain your beautifully organised drawers.
Step 3. Wipe and clean out empty drawers.
Step 4. Replace all items. Our extensive range of cutlery trays and inserts allow keeping cutlery and kitchen utensils neat and tidy a breeze!
The Wardrobes.
Follow these 3 simple steps to a tidy and well-organised robe that will make getting ready a joy!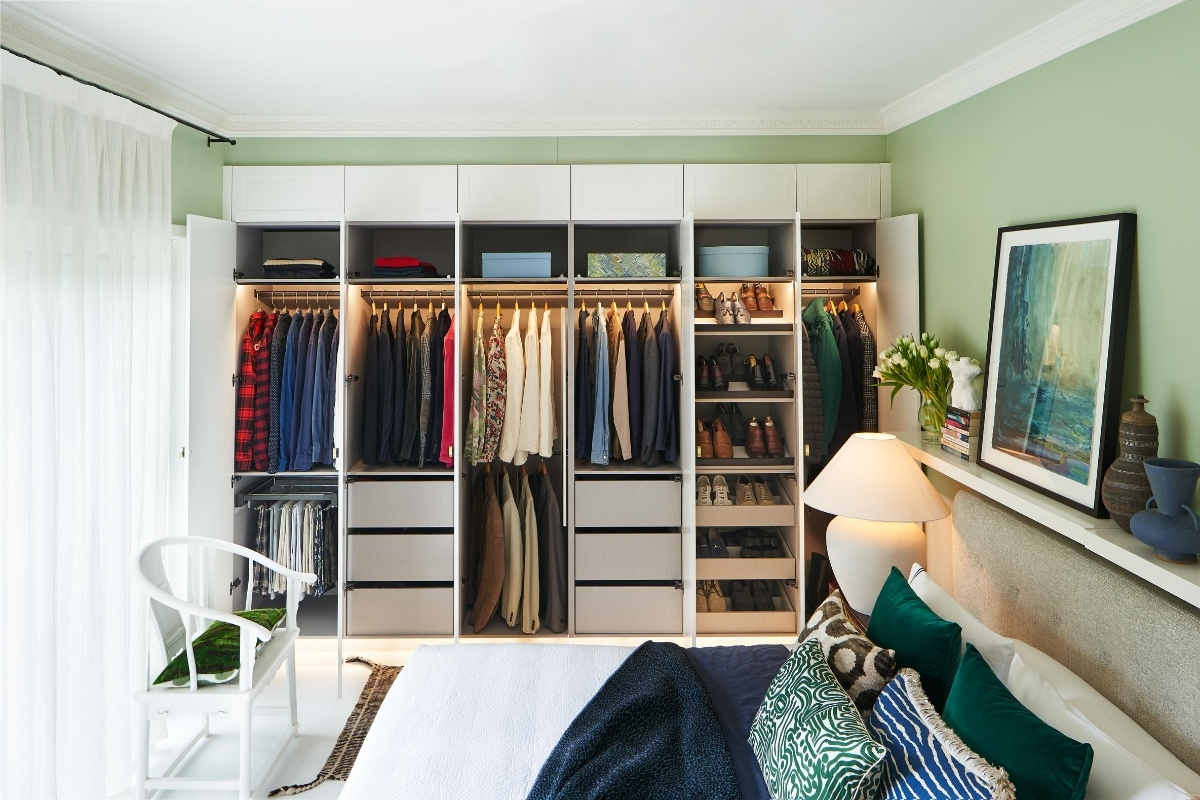 Step 1. Take everything out of your wardrobe and divide into 3 groups: keep, store and donate. For any items that you're storing we recommend placing them up high so they are safe, while allowing you easy access to the clothes you are going to keep and be wearing during the warmer months.
Step 2. Organise the items you are going to keep- clothing, shoes and accessories- according to whether they will be stored in hanging space, open shelving or drawers. As a rule of thumb hanging space should be utilised for clothing such as dresses, coats, jackets, skirts and trousers; basics and underwear placed in drawers, and accessories stored in open shelving.
Step 3. Utilise Kinsman's smart storage solutions, such as our sleek Black Hanging Rails, Pull-out Trouser and Tie/Scarf Racks, Multifunction Insert Drawers, Jewellery Drawers and Laundry Hampers to put everything away in your wardrobe with style and ease. Arrange footwear using our Shoe Racks and Drawers, and display your favourite accessories, fragrances, artwork and/or florals on open shelving- our Black Frame Glass Shelving adds to the glamour!