Kinsman brought wonderful wardrobes, harmonious home offices and elegant entertainment spaces to The Block this week! Wowing the judges with stunning, stylish spaces, the Blockheads have now completed their Final Upstairs Rooms.
Sarah and George in House 2 finally took the well-deserved win that they've been desperate for. Scoring a total of 28 ½ points, Neale said "Everything they've chosen is so right". The couple were ecstatic to have the judges on their side, adding a valuable $10K cash to their bank.
Once again, the contestants delivered rooms to impress that leave us all wanting to renovate! So, let's take a look at the finer details and find out how you can get The Block look.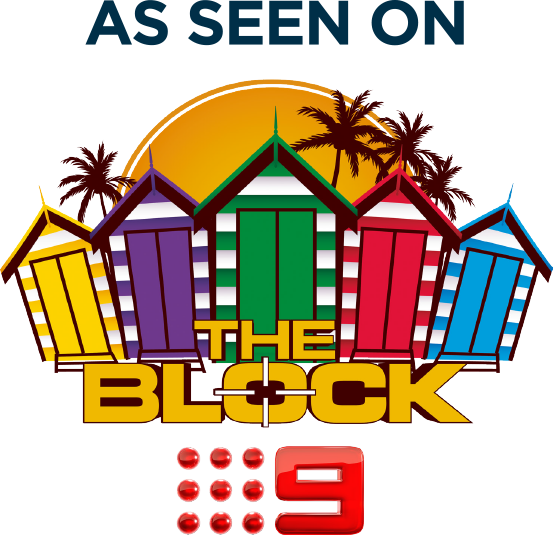 House 1 – Harry and Tash
Wardrobe
For this space Harry and Tash had versatility in mind so that the new homeowner could use it as a bedroom, home office or rumpus. To bring this idea to life, the VIC team chose to design a multi-functional wardrobe. Bursting with both storage solutions and entertainment, it ticked all the boxes for Darren, Neale and Shaynna who admired the joinery, observing its design and opulence. Embracing a balanced approach, this spacious robe accommodates a duo of hanging space, drawers and shelving; perfect for clothes, linen, toys and other household items. The built-in TV nook is where the entertainment begins, complete with LED downlights and a textured Chalk Ceramic laminate benchtop, adding a luxurious focal point displaying prized possessions.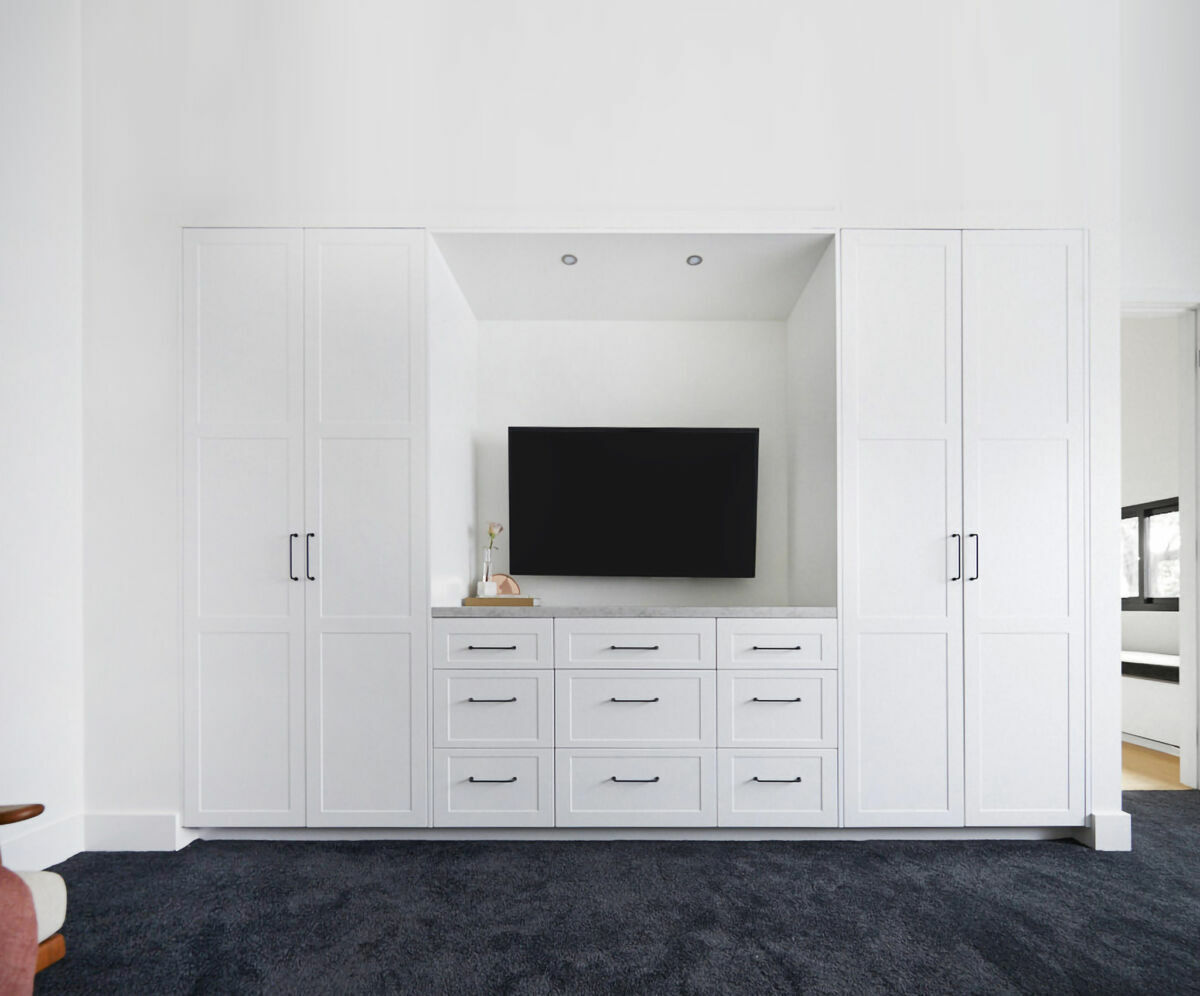 The sleek colour palette of Somersby White Matt and Dark Oak Natural interior finish is a seamless approach that runs through the wardrobe joinery throughout the house. To ensure that the room is as light and airy as possible, the white cabinet doors conceal the dark and indulgent interior.
Cabinetry by Kinsman:
Exterior Cabinetry: Somersby White Matt
Interior Finish: Dark Oak Internals
Details:
Handles: Satin Black Rounded Bar handles 22-K-131
Benchtops: Chalk Ceramic Benchtop
Lighting: Black angled LED Lighting, LED Downlights
Home Office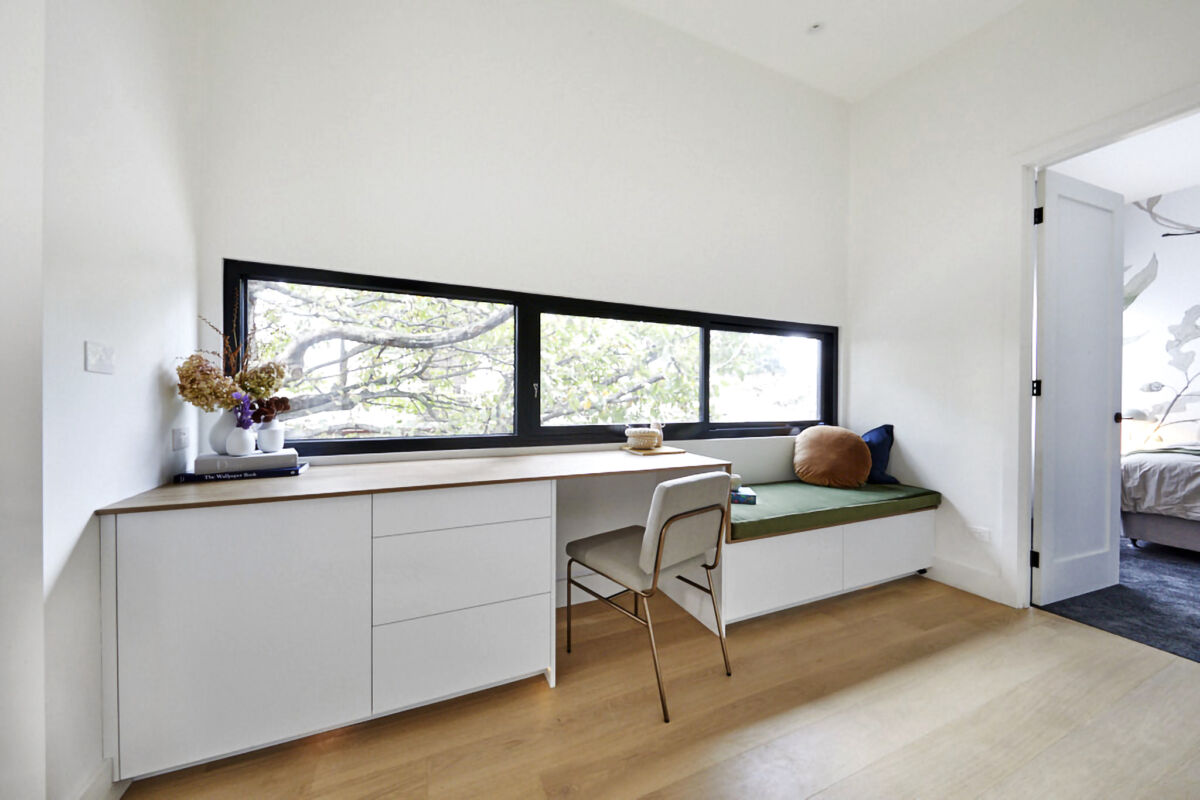 Harry and Tash maximised functionality from wall to wall by pairing a practical desk area gracefully with a window seat. Standing in front of a light and bright stretch of windows with a view, the judges were impressed with the materials and colour palette reflective of the outside view. "You'd never get any work done! A great space, it's got cupboards here, lots of storage, there's actually storage under the bench there, it's got light". Shaynna commented. In contrast to their wardrobe finishes, this home office displays a sleek and handle-less style featuring Touch Catch and Push To Open white drawers, topped with a Prime Oak benchtop ensuring a flawless flow of light and airy elegance throughout the home.
Cabinetry by Kinsman:
Exterior Cabinetry: Essendon White Satin
Details:
Benchtops: Prime Oak Woodmatt Panelling 
Handles: Touch Catch Doors, Push To Open Drawers
House 2 – Sarah & George
Wardrobe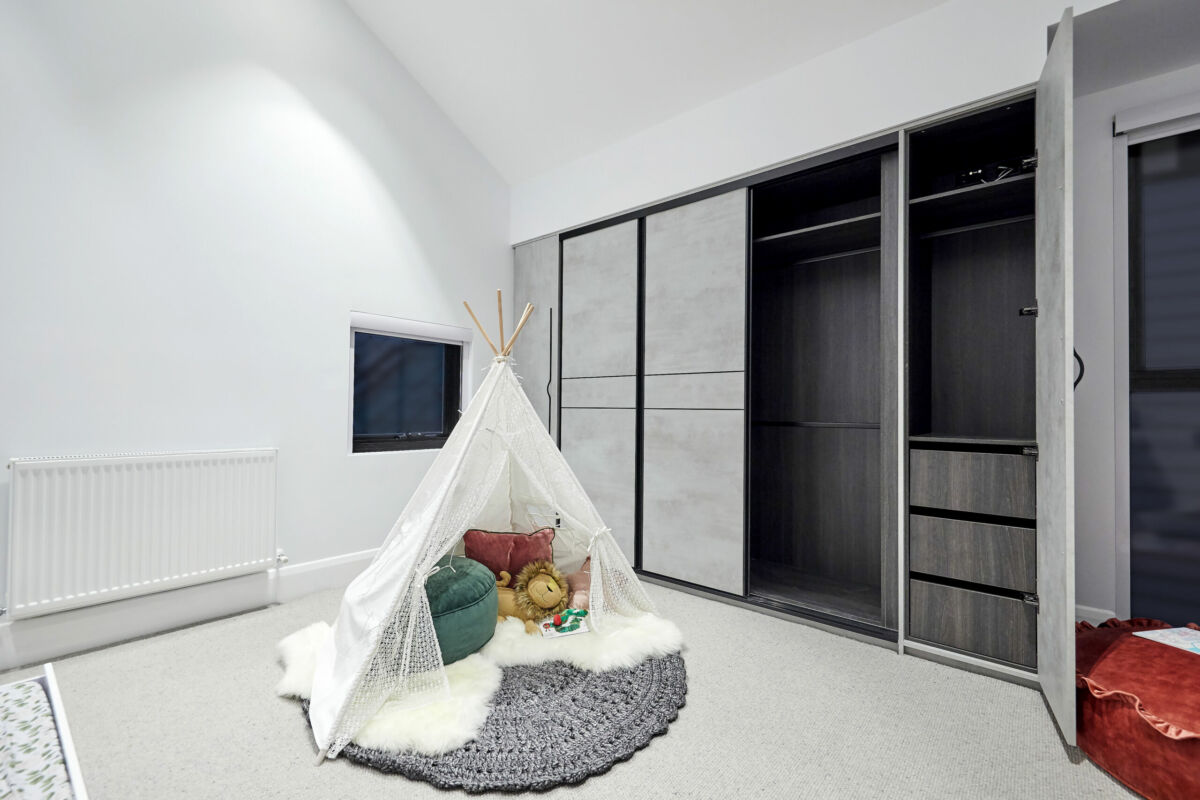 Sarah and George created a whimsical kids bedroom which immediately lit up the judges faces and pulled on their heartstrings, creating the emotional connection that this couple were longing for. The NSW team replicated their Second Guest Bedroom robe, opting for a smaller wall of storage concealed by the same style of Hinged and Sliding Beton Texture doors from our brand new FX range. The Hinged doors feature our new and sophisticated Brave Bow handle, which complements the sleek black sliding door frame, accentuating an industrial and contemporary style. Behind closed doors sits our opulent Dark Oak interior finish which houses a myriad of drawers, hanging and shelving space.
Cabinetry by Kinsman:
Exterior Cabinetry: Beton Texture
Interior Finish: Dark Oak Natural
Details:
Handles: Brave Bow handles 38-M-08
Accessories: Folding Mirror, Black Sliding Door Frame
Home Office
To tie in with their Guest Bedroom One home office, Sarah and George opted for rich and opulent Bottega Oak Woodmatt cabinetry paired with Satin Black handles for a subtle look. A contrasting Alpine White Quadra benchtop sits above the drawer space for a bright and elegant finish, this creates a generous desk area for two to enjoy. Observing that working from home is the new normal, the judges agreed that this room confidently sends out a strong message of the importance of a home office space.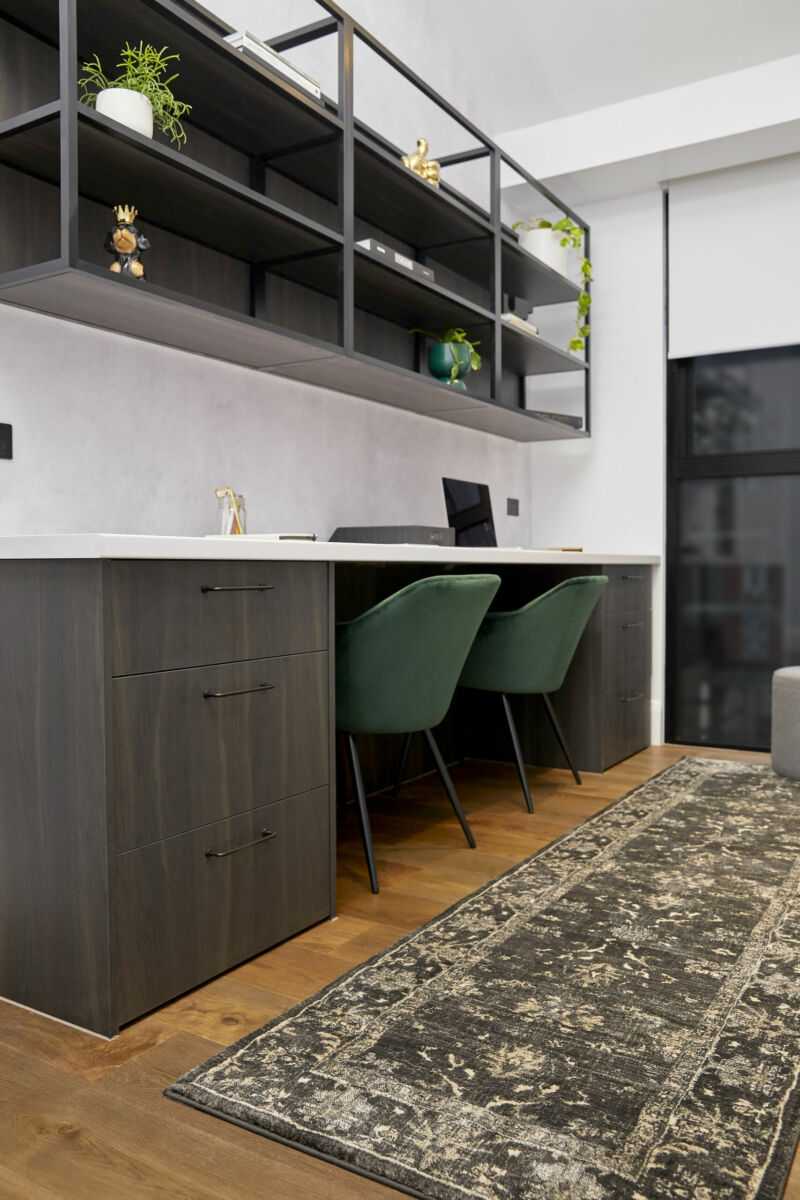 Above the desk features our 2020 Black Alumin Frame Shelving with Bottega Oak panelling which ensures that the room is truly balanced, consistent in its style and provides a sleek and contemporary focal point in the room. Harmonising style and function, the open shelving unit provides extra overhead storage while maintaining the concept of space – not to forget it's a great opportunity to showcase prize possessions.
Cabinetry by Kinsman:
Exterior Cabinetry: Bottega Oak Woodmatt
Interior finish: Dark Oak Natural
Details:
Benchtop: Alpine White Quadra
Handles: Satin Black Rounded D 22-K-131
Accessories: 2020 Black Alumin Frame Shelving
House 3 – Daniel & Jade
Wardrobe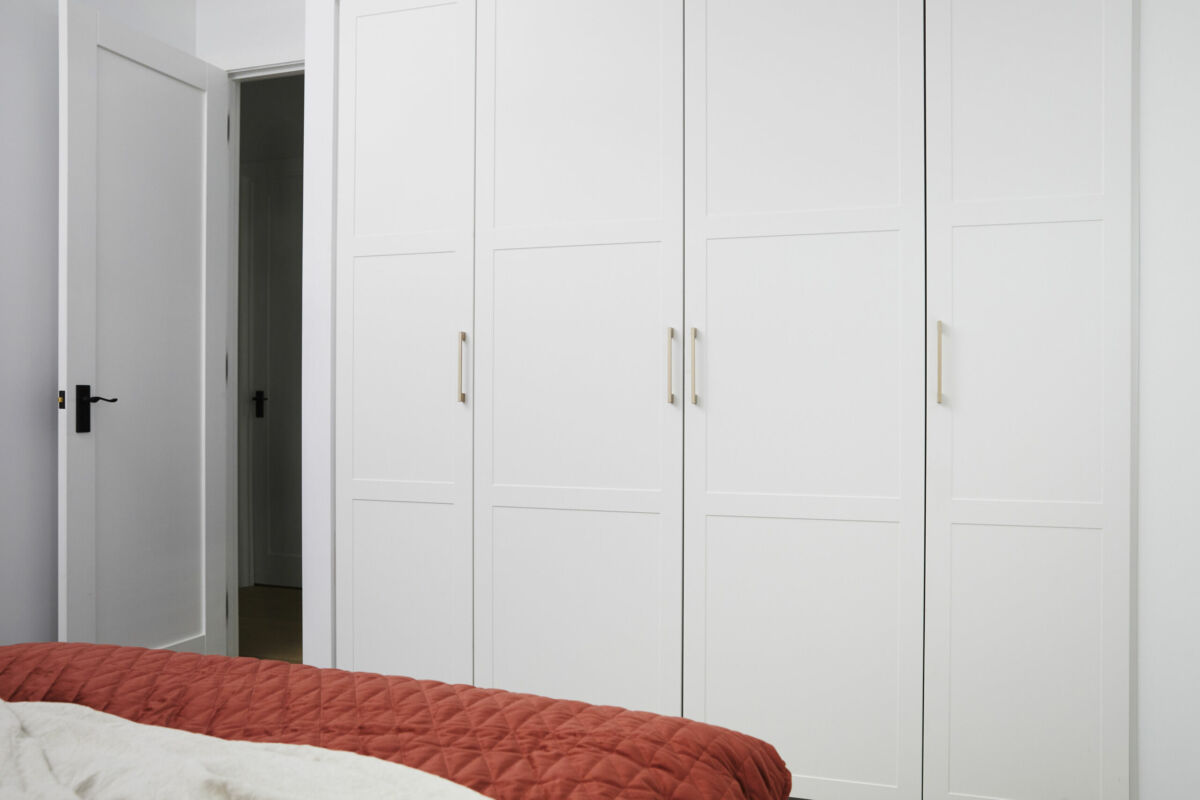 Daniel and Jade opted for a sophisticated and chic look with our Somersby White Matt profile door, giving the robe personality and depth. The couple have mirrored their wardrobe with the guest bedroom next door, to tie the two spaces together seamlessly while providing ample storage space. Shaynna loved the choice of finish of the bedroom wardrobes. "They're light and bright, and that beautiful champagne colour on the handle is so gorgeous," she said. Our new Thin Champagne Handles add a touch of modern metallic glamour against the classic Shaker-style profile door. The fusion of contemporary and traditional is even more evident when the doors are opened to reveal a Grey Textile interior finish complemented with pops of black hardware. Light from our Angled LED Light Bars brighten the whole space, elevating the wardrobe's opulence and practicality tenfold.
Cabinetry by Kinsman:
Exterior Cabinetry: Somersby White Matt Doors
Interior Finish: Grey Textile 
Details:
Handles: Thin Flat Champagne Bar Handle 15-K-148
Lighting: Black Angled Wardrobe light
Home Office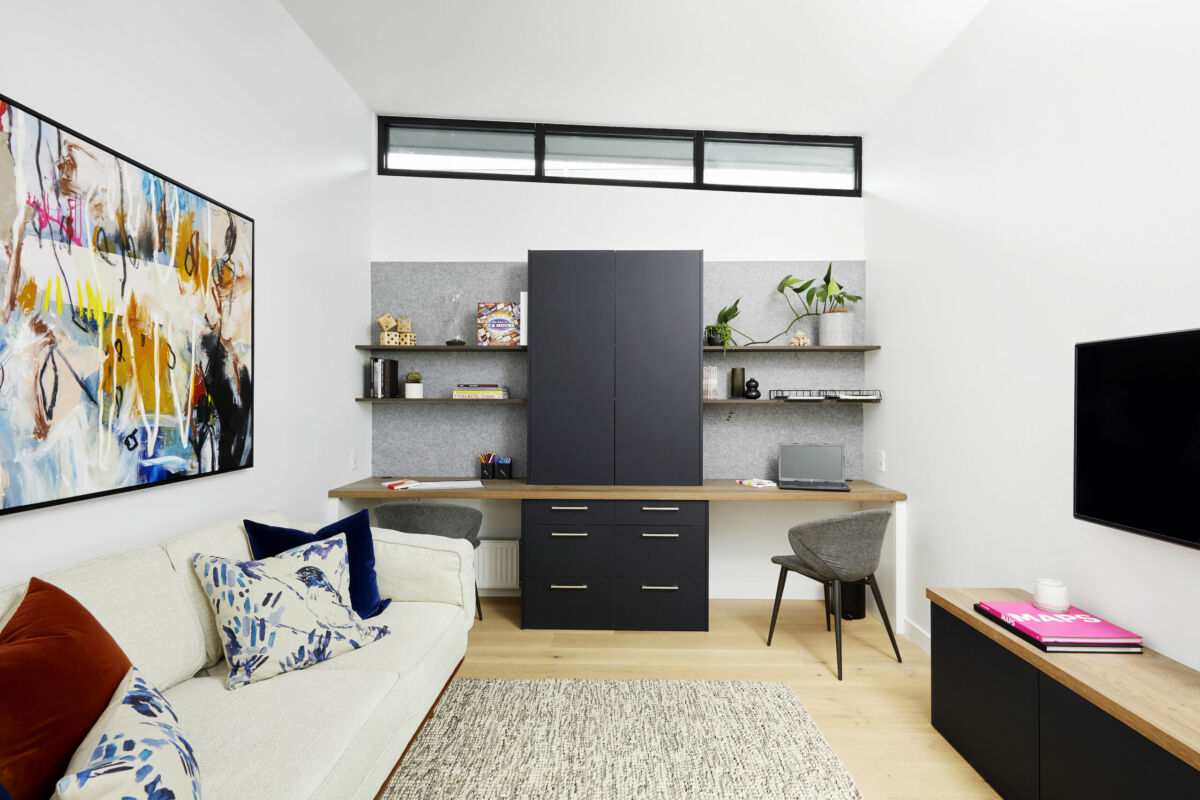 Daniel and Jade wowed the judges with the spacious living zone which doubles up as a rumpus room and study nook. A dark and moody palette of Supa Oxford's rich blue Anti-Finger mark surface cabinetry has been chosen, perfect for a multi-functional and busy space. Beneath the windows sits a coveted home office for two, with stylish open shelving and practical cabinetry dividing the desk space. Darren was captivated by the design and how it reflects lifestyle; "Using the drawers to separate the spaces makes a lot of sense in terms of where you want to work and how you want to work", whether it's adults working or kids studying. The desk spaces and TV cabinets are topped with Tabacco Halifax Oak Premium benchtops, keeping the space light and neutral, perfect for a family just like their own.
Cabinetry by Kinsman:
Exterior Cabinetry: Supa Oxford Supa Matt, Prime Oak open shelving
Details:
Benchtops: Tabacco Halifax Oak Premium
Handles: Thin Flat Champagne Bar Handle 15-K-148
House 4 – Luke & Jasmin
Wardrobe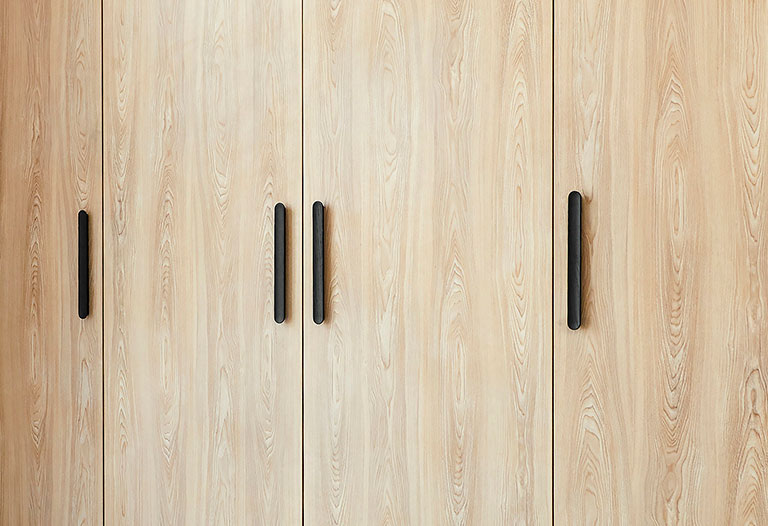 Luke and Jasmin have kept a natural theme consistent with their Final Upstairs Rooms robe; exterior doors in Modern Oak Natural and Black Ribe Stain Timber Handles are opened to reveal a luxurious neutral backdrop in Grey Textile, illuminated by Premium Vertical Strip Lighting radiating opulence into the room. Accommodating plenty of hanging space, shelving, drawers and shoe storage, this robe covers all the practicality bases regardless of the room's occupants.
Cabinetry by Kinsman:
Exterior Cabinetry: Modern Oak Natural
Interior Finish: Grey Textile Internals
Details:
Handles: Black Ribe Stain Timber Handle 34-K-141
Accessories: Folding Mirror, Premium Verti-Strip Lighting
Home Office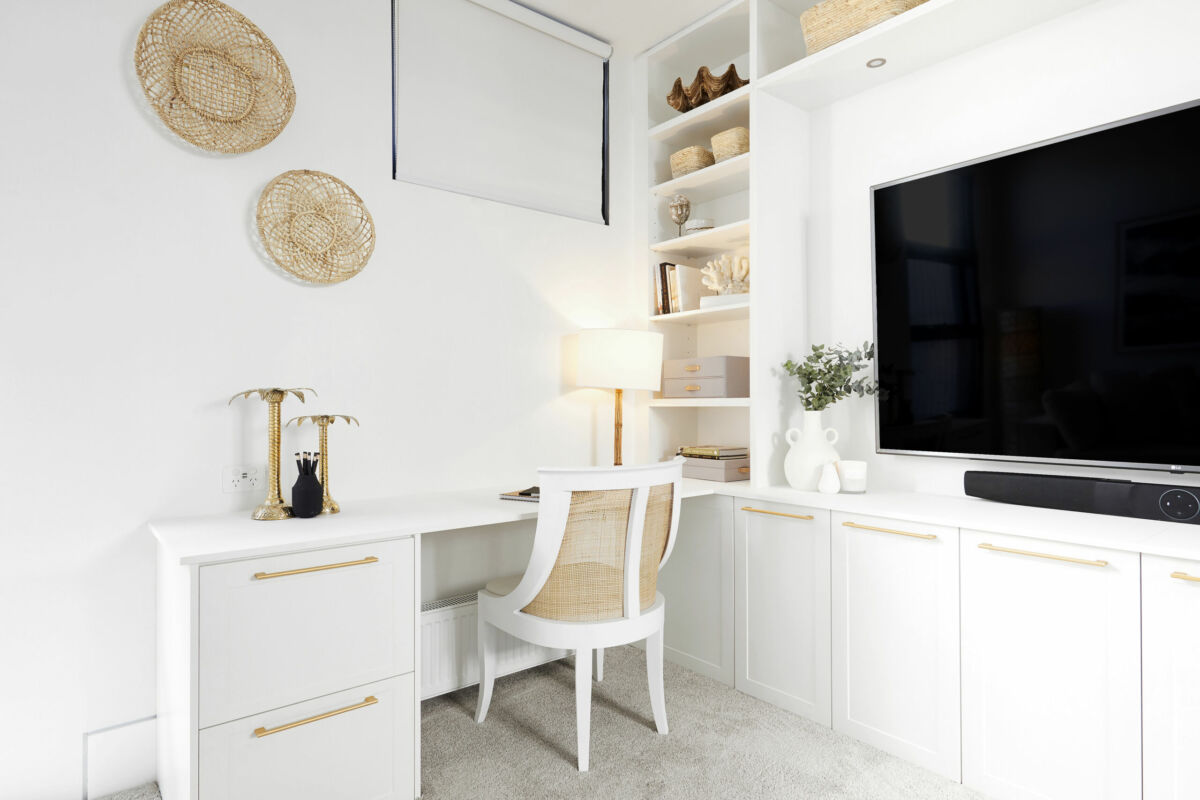 "We've got another TV room-slash-desk/office space, which I think is really clever, that you get that dual amenity in here" Darren said. The couple chose a modern classic look of pure white cabinetry with pops of metallic to add instant charm to their home office and entertainment space. Using a combination of Somersby Classic White Matt doors, Classic White Matt Shelves and a Supa Ultra White benchtop, this white on white look is beautifully elegant and tranquil, comprising a coastal look.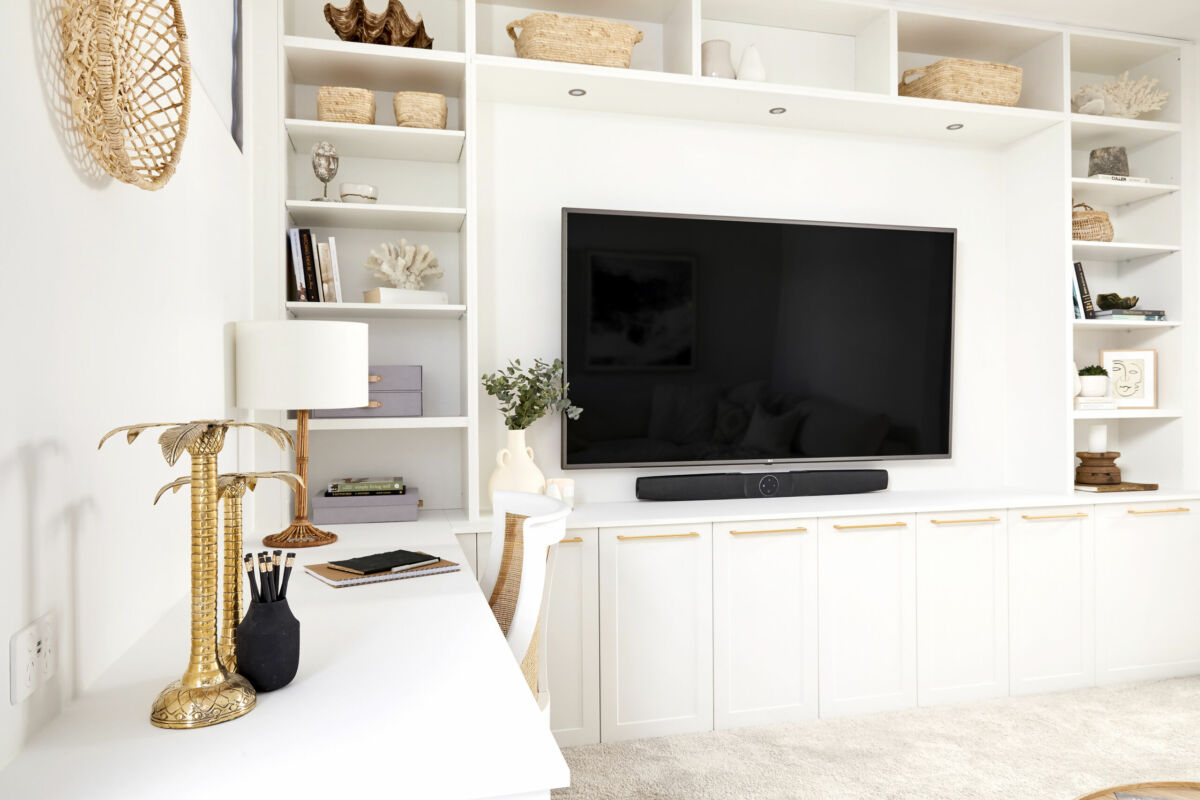 The cabinetry sits in an 'L shape' design with generous desk space complete with deep draws for functionality. Adjacent to the home office is a TV unit, surrounded by open shelving to ensure every inch of space is used as functional storage or for styling purposes; adding sufficient personality to the room while keeping it sleek and stylish. LED downlights shine into the TV space, making cabinetry a soft focal point in the room, with its neutral white palette. Low line cabinetry was a must-have for this couple, ensuring the judges and new homeowner would be wowed with ample storage space.
Cabinetry by Kinsman:
Exterior Cabinetry: Somersby Classic White Matt
Open Shelving: Classic White Matt
Details:
Benchtop: Supa Ultra White
Handles: Dark Brass Bar 15-M-03
Lighting: LED Downlights
House 5 – Jimmy & Tam
Wardrobe & Study Nook
Jimmy and Tam's bright and natural palette flows seamlessly throughout House 5, creating a prominent style within their 1950s home. This neutral Scandi-look provides a clean and contemporary backdrop enabling the new homeowner to style the room in any way. Their staple choices include a classic white bank of Satin doors, Modern Oak Natural internal finish lit-up by Premium Verti-Strip Lighting, White Satin cabinetry and new Barcco Natural Ash handles to complement the light timber-look interior. Also accommodating smart accessories like a folding mirror and tie rack. The judges were satisfied with the space – "The lighting's good in there, the shelving's good in there. It's actually a good little space to sit and do your homework or whatever you need to do in there." Darren remarked.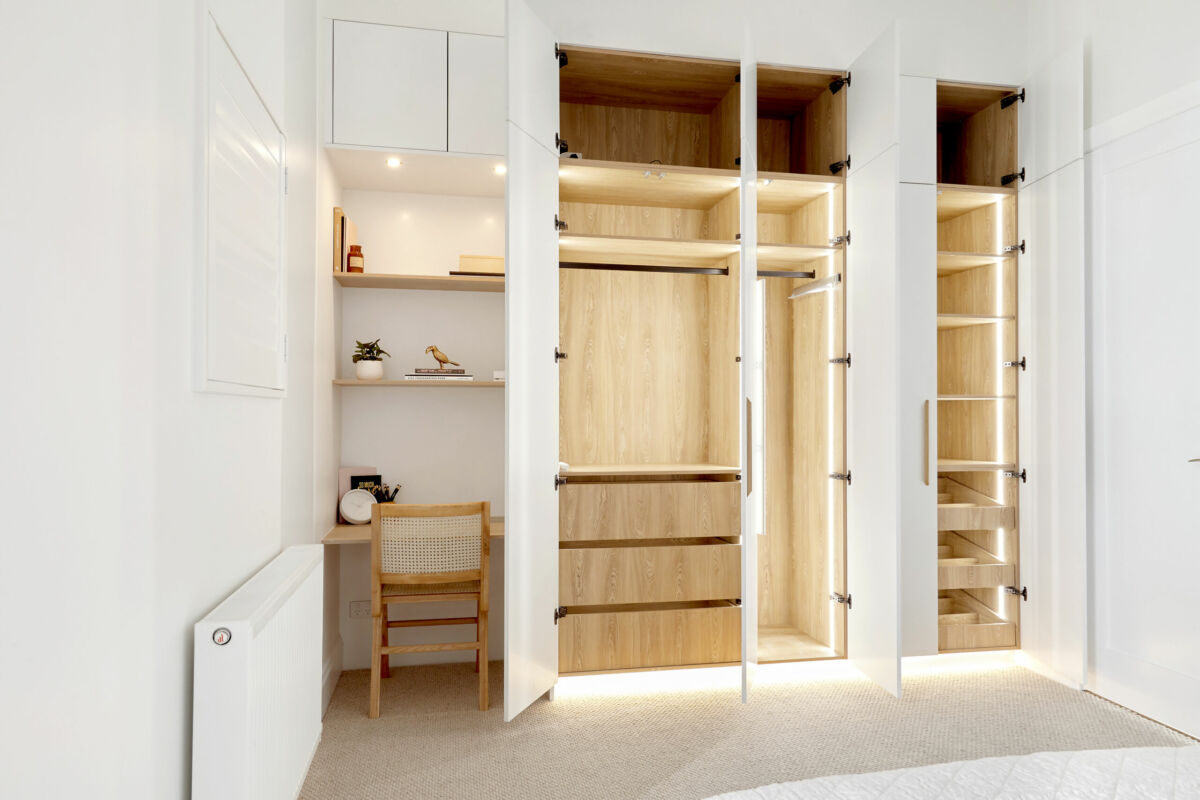 The study nook is a clever use of space when the house doesn't offer room for a separate home office. Modern Oak Natural open shelving and benchtop nods to the natural theme and adds versatility to the room. Overhead storage maximises practical use of space to store household items and houses downlights, perfect for providing ample light to the desk area.
Cabinetry by Kinsman:
Exterior Cabinetry: White Satin
Interior Finish & Open Shelving: Modern Oak Natural
Details:
Handles: Barcco Natural Ash Handles 38-M-06
Accessories: Folding Mirror, Tie Rack
Lighting: Premium Verti-Strip Lighting, LED Door Sensors, LED Strip Lighting
Media Room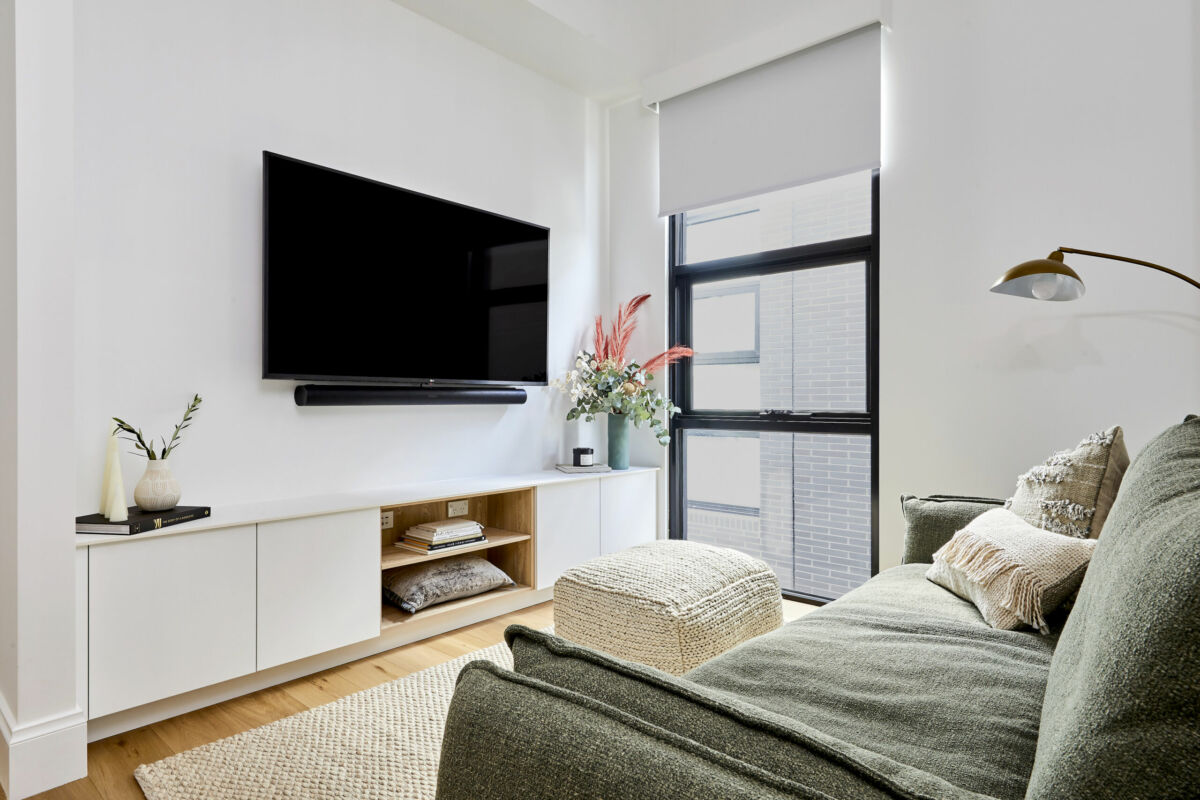 Jimmy and Tam have created a cosy and bright media room utilising the same finishes as their wardrobes throughout the home, White Satin cabinetry is combined with Modern Oak Natural interior finish, carrying a sleek Scandi-look which flows throughout the rest of their home. Darren loved the fine lines at the top of this entertainment unit which exudes sophistication and luxe.
Cabinetry by Kinsman:
Exterior Cabinetry: White Satin
Internal Finish: Modern Oak Natural
Details:
Open Shelving: Modern Oak Natural
Handles: Push To Open Drawers
Inspired to create your own Kinsman Wardrobe or Home Office?
Book your in-home, in-store or virtual design appointment HERE. For more inspiration download our latest catalogue HERE.