Coastal Kitchen, Laundry and Wardrobe Renovation 
Kinsman to transformed homeowner Allison's, laundry and master wardrobe within her family's Sydney home. Her vision was to create spaces that celebrate a beach kitchen vibe and balance style with function. 
The Coastal Kitchen Design Brief.
Who lives here? Allison, her husband Michael, and their two children.
Allison and Michael had a lot of ideas of what they wanted to achieve in their new modern coastal kitchen, which connects to an open plan living and dining space. Central to the brief was creating a functional kitchen that celebrates an earthy, coastal aesthetic. "Our brief was to have lots of storage and practicality, says Allison. We love cooking and entertaining, we eat at the kitchen bench with the kids every night, and we wanted the design to reflect this."
The Modern Coastal Style Kitchen.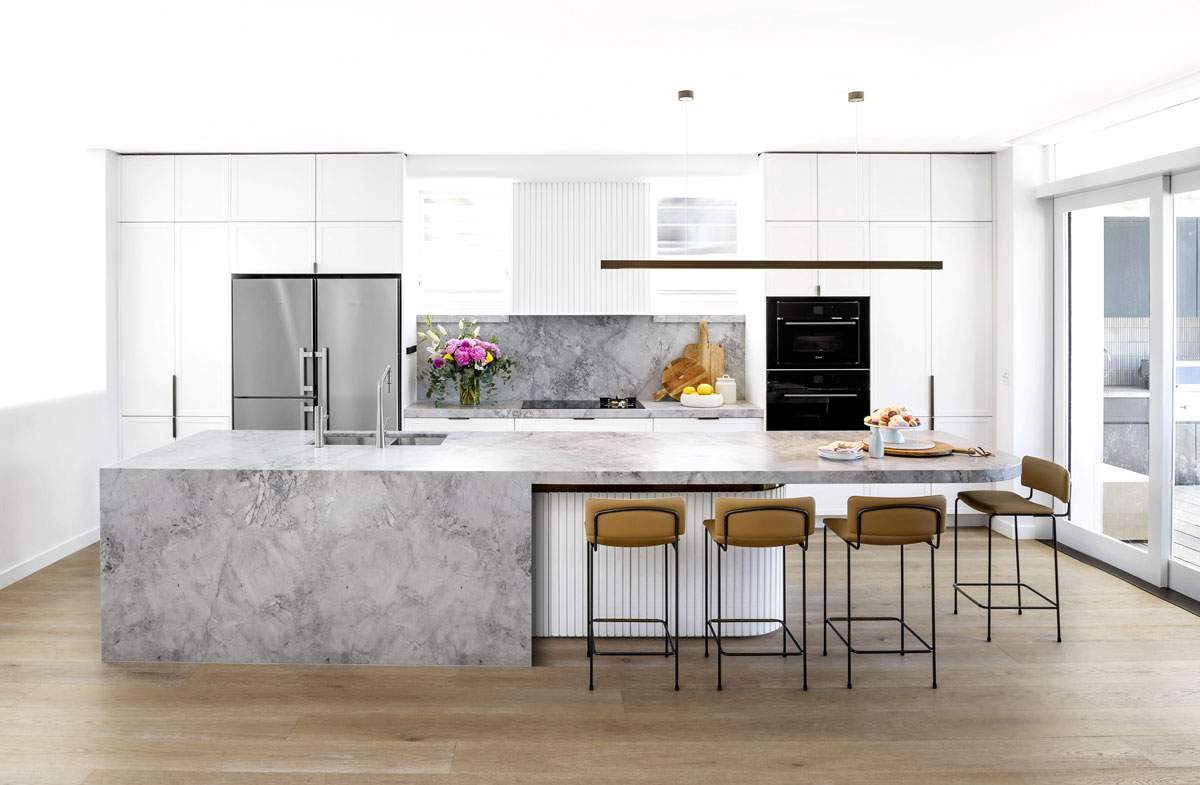 Stepping into the upstairs living zone of the home, the kitchen takes centre stage. A palette of crisp whites and moody greys effortlessly evokes a relaxed yet chic beach vibe. Montauk cabinetry in Classic White Matt dominates the space, its Shaker-style design with a 40mm rail door profile pairs beautifully with the grey and white hues of the stone splashback.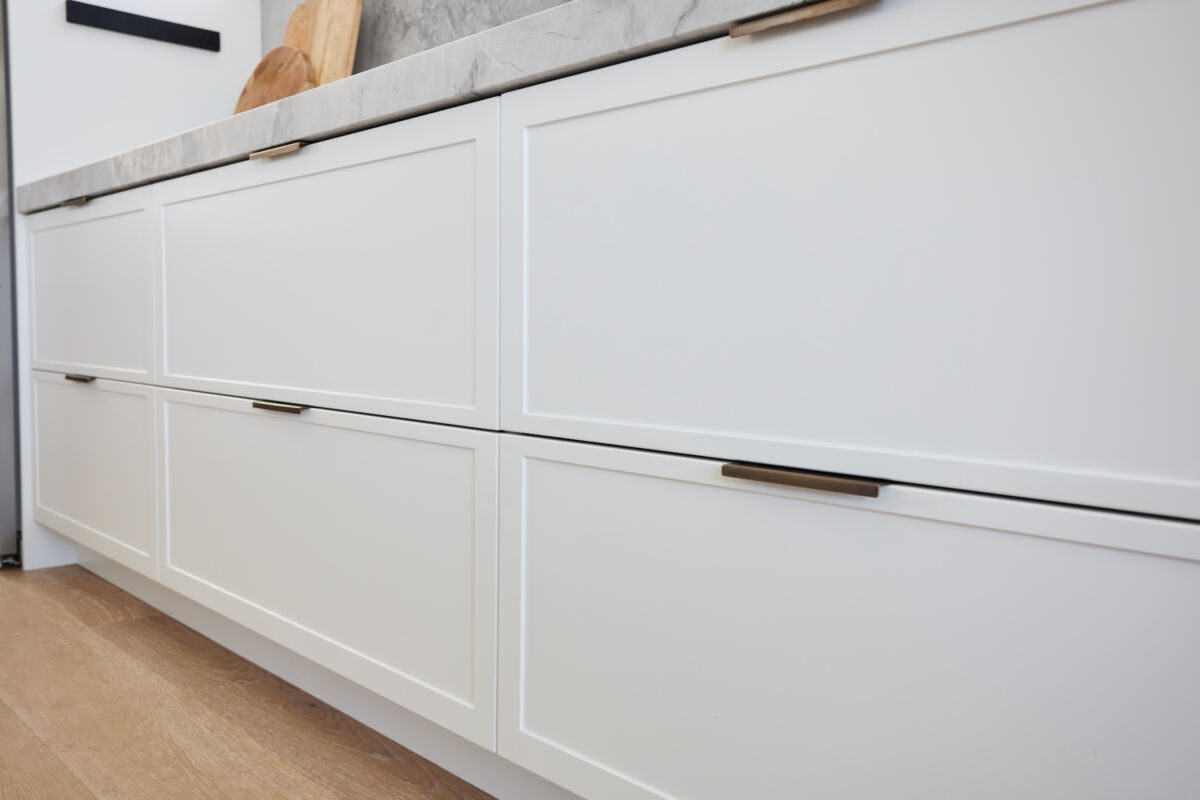 A custom limestone surface has been used to top the head-turning 4.1-metre long island bench, featuring dramatic grey veining and shadowy undertones and a stunning curved design. The design includes an extension of the stone to create ample seating on one end so that the family can sit together and eat meals. The surface was also used across the back benches and taken up onto the splashback. The brass pull handles seen throughout add a touch of warmth.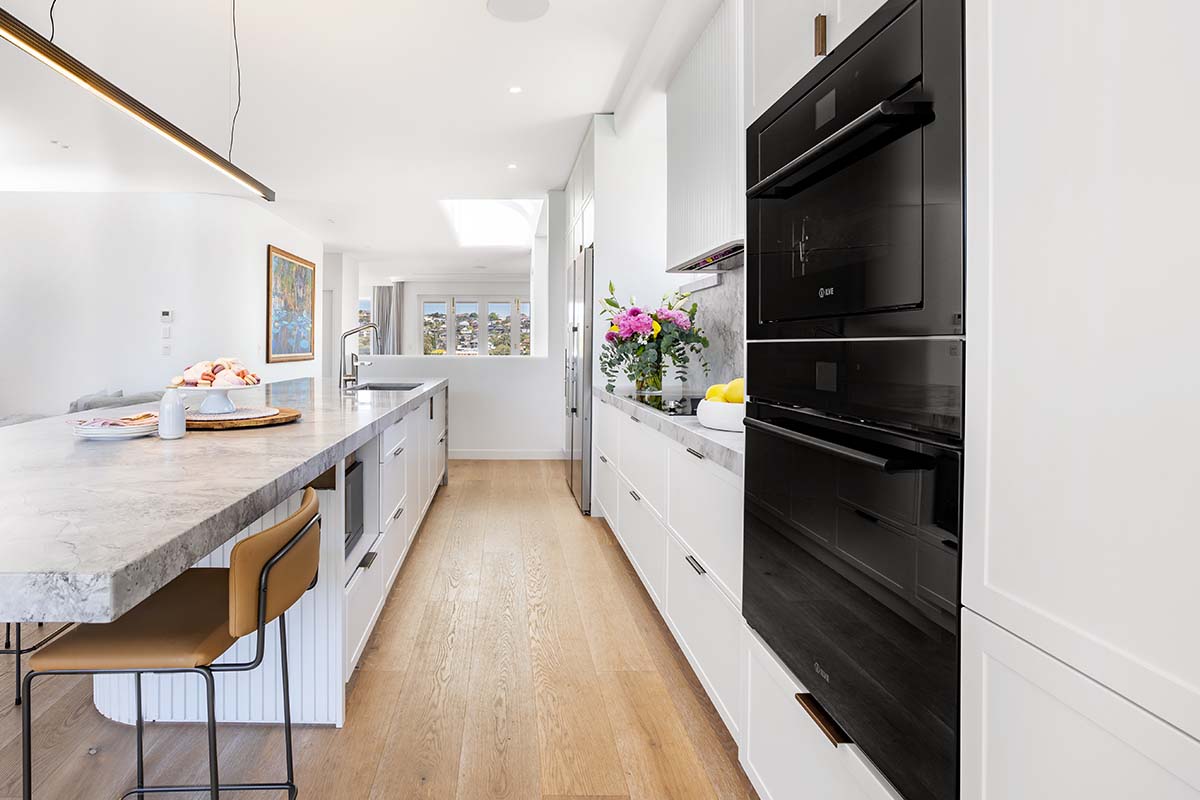 "The colour scheme changed as the house took shape, explains Allison. Initially, we were going with a light wood panel look, but in the end, we decided we wanted crisp white to match the stone and pale oak timber floors."

The Kitchen Layout.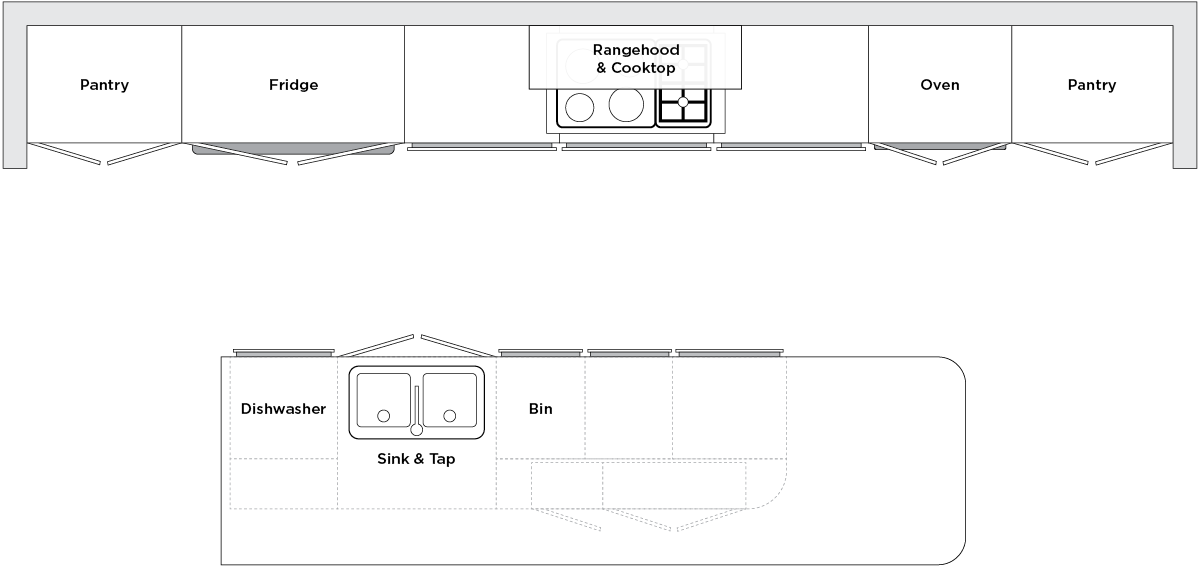 The new kitchen is as much a study of function as beauty. The design centres around achieving the five kitchen zones: preparation, cleaning, cooking, consumables and non-consumables. The island bench not only provides an excellent surface for food preparation, but it also features a bin, a sink and dishwasher drawers integrated behind joinery, meaning that cleaning up is a breeze.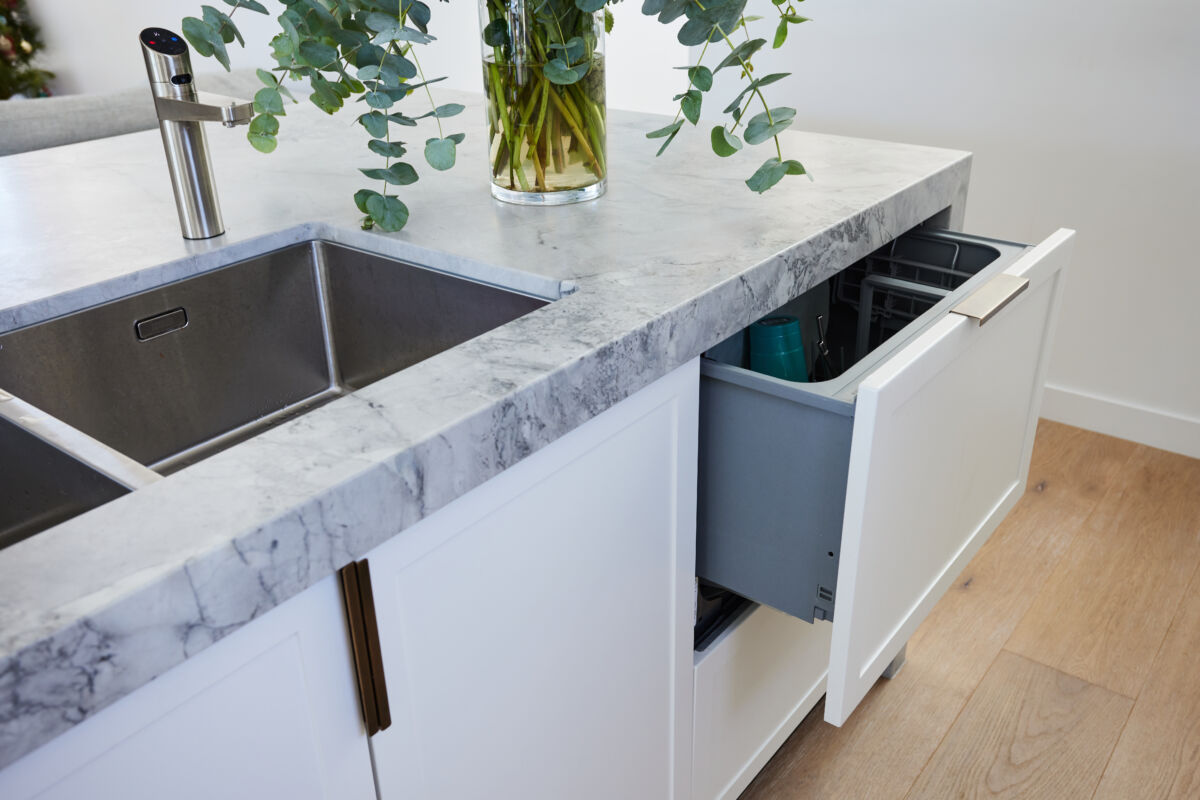 The back run of cabinetry that spans more than 6.4 metres creates an ideal cooking zone thanks to the induction cooktop, ovens, and extra bench space for food prep. Soft-close deep drawers with Glass Design Sides house bulky pots and pans, while utensil drawers and a Spice Drawer further enhance the cooking experience.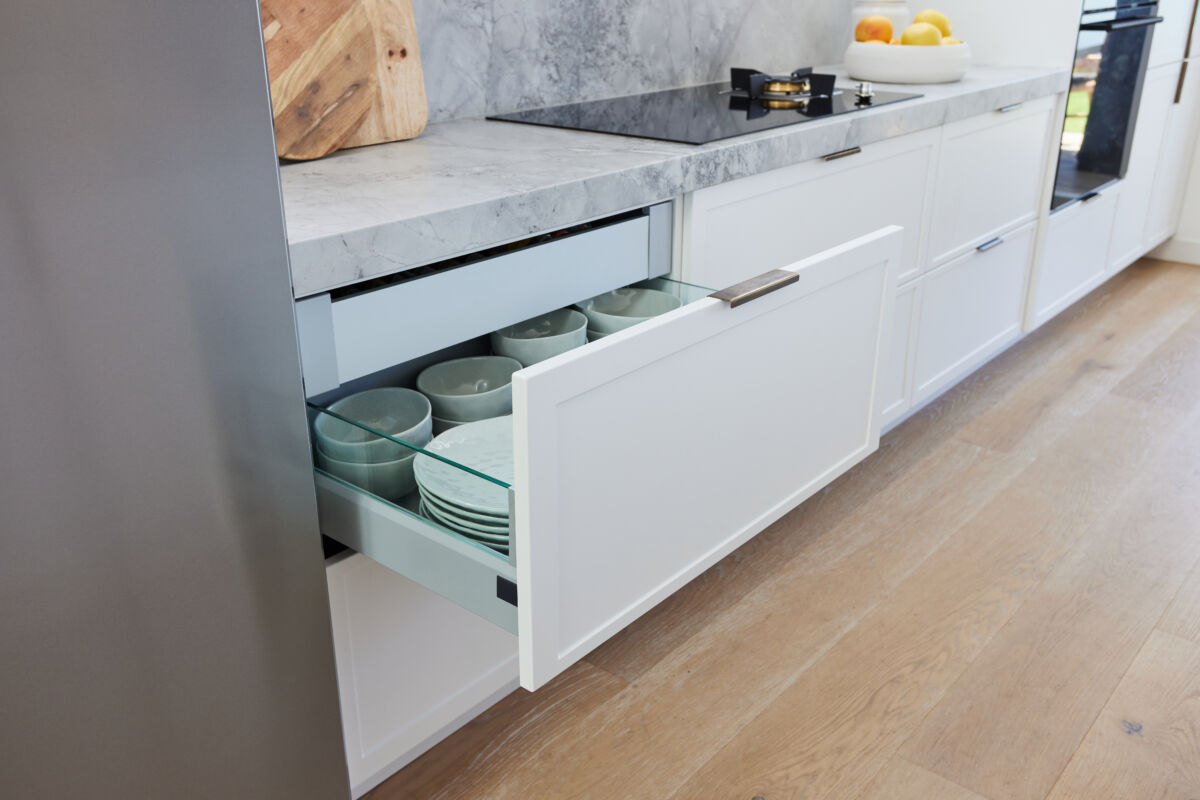 The back countertop also includes a refrigerator and a pantry- meaning that consumables and non-consumables have also been taken care of. The pantry and fridge are also within easy reach of the island bench, ensuring ease when Allison and Michael pack or unpack groceries. Another favourite is Allison's tea cupboard which easily stores her favourite tea pots and cups for easy access after a long day at work. 
The location of where all of these elements went was of utmost importance when designing the kitchen, and was something that Allison and the Kinsman team put a lot of time into getting right.
"I wanted the design team to determine where certain drawers, et cetera went based on how we cook. If left up to me, I knew the plates and glasses would be at the other end of the kitchen to the dishwasher," laughs Allison.
Kitchen details: Cabinetry: Montauk Classic White Matt, Fluted Rangehood Joinery & Island Surround Panelling: By client , Benchtop: By client (for similar see Caesarstone® Noble Grey™ or Turbine Grey™), Handles: By client (for similar see Kinsman's Brushed Matt Brass Pull 160mm 34-M-27), Touch Catch, Accessories: Glass Design Sides, Spice Drawer, LED Premium Warm Strip Lighting, LED Downlights, Appliances: By client, including Liebherr fridge, Ilve pyrolytic oven, steam oven and cooktop.
The Coastal Inspired Laundry.
While the laundry may present a simple layout, it delivers smart design and style in spades. A washing machine and clothes dryer, both from Bosch, have been stacked on one end, allowing for plenty of folding space next to the sink and tap, with a mixture of drawers and cupboards maximising storage.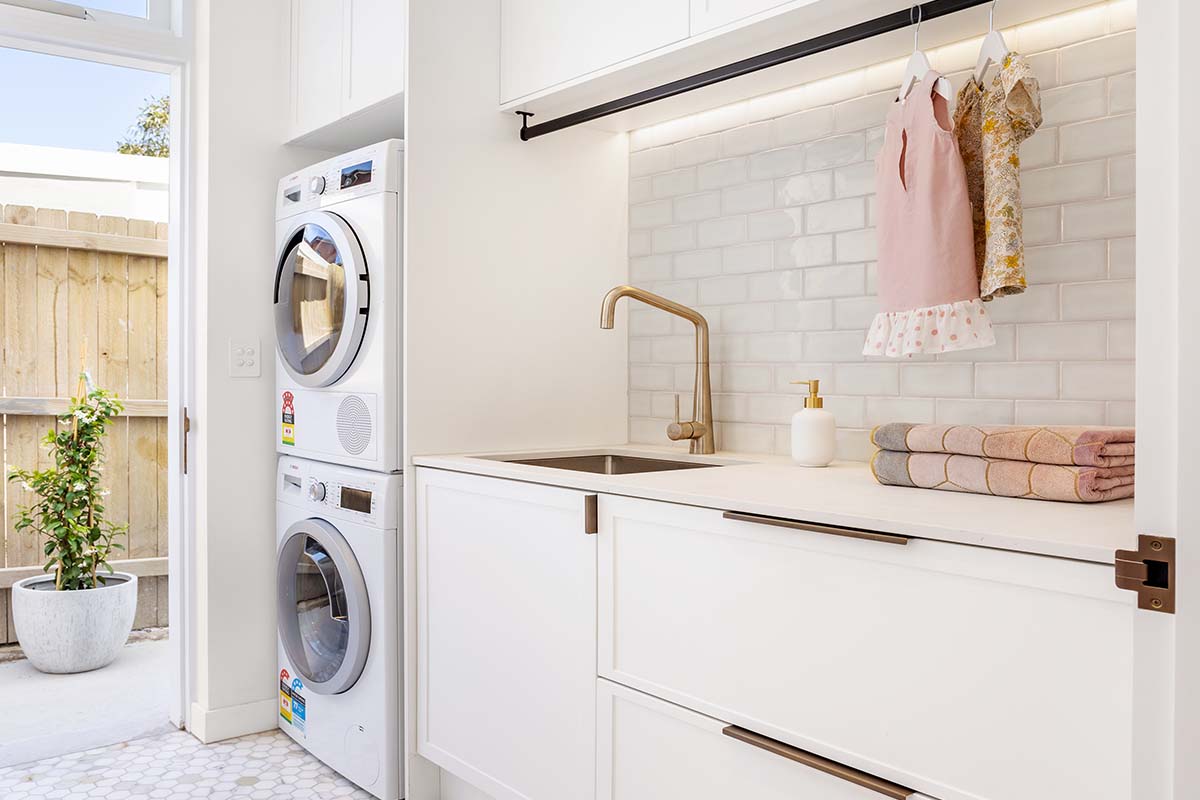 An all-white colour palette has been achieved due to a mixture of Montauk Classic White Matt cabinetry, a white subway-tiled splashback and a marble-look benchtop. The sink, tap and pull handles add a pop of on-trend brass, the choice of metallic perfect for the modern coastal vibe Allison wanted to achieve.
Beyond its good looks, the layout provides plenty of storage and organisation. Deep drawers with Glass Design Sides feature below the counter, while wall cupboards with touch catch handles sit above the splashback and appliances, ensuring every inch of the laundry has been maximised. A Black Hanging Rail has been added, while LED Premium Warm Strip Lighting completes the look.
"I love the two dirty clothes drawers for sorting dark and light garments, says Allison. That, and the drying rack above the sink."
Laundry details: Cabinetry: Montauk Classic White Matt, Benchtop: By client (for similar see Caesarstone® Statuario Maximus™ or Frosty Carrina™), Handles: By client (for similar see Brushed Matt Brass Pull 160mm 34-M-27), Touch Catch, Accessories: Glass Design Sides, Black Hanging Rail, LED Premium Warm Strip Lighting, Appliances: By Bosch
The Coastal Inspired Master Wardrobe.
Sitting between the Primary Bedroom and Ensuite, the Master Walk-In Robe creates plenty of storage for both Allison and Michael. The entire room was completely redesigned to produce a secluded parent zone, the wardrobe once a small, unused bedroom.
The new wardrobe features a generous galley-style layout with a central island for additional storage. The look and feel of the closet references the kitchen – light, bright and uncluttered, with White Matt Montauk cabinetry making another appearance, this time paired with large, bold handles. The central island bench is topped with the same limestone material used in the kitchen and includes six deep, soft close drawers and two cupboards, providing plenty of organisational space.
Tall banks of cupboards line each wall, spanning 2.7 metres each, creating a 'His & Hers' layout. Black hanging rails, soft close drawers and open shelves feature throughout, as does a Tie Rack and Wardrobe Lift. "The pull-down lever on the wardrobe lift is a huge bonus as it allows us to maximise space at the bottom for shoes, explains Allison. For me, it was about ensuring not one inch of space was wasted. I really thought through where everything would go. Not to mention it was also a great opportunity to cull our wardrobes!"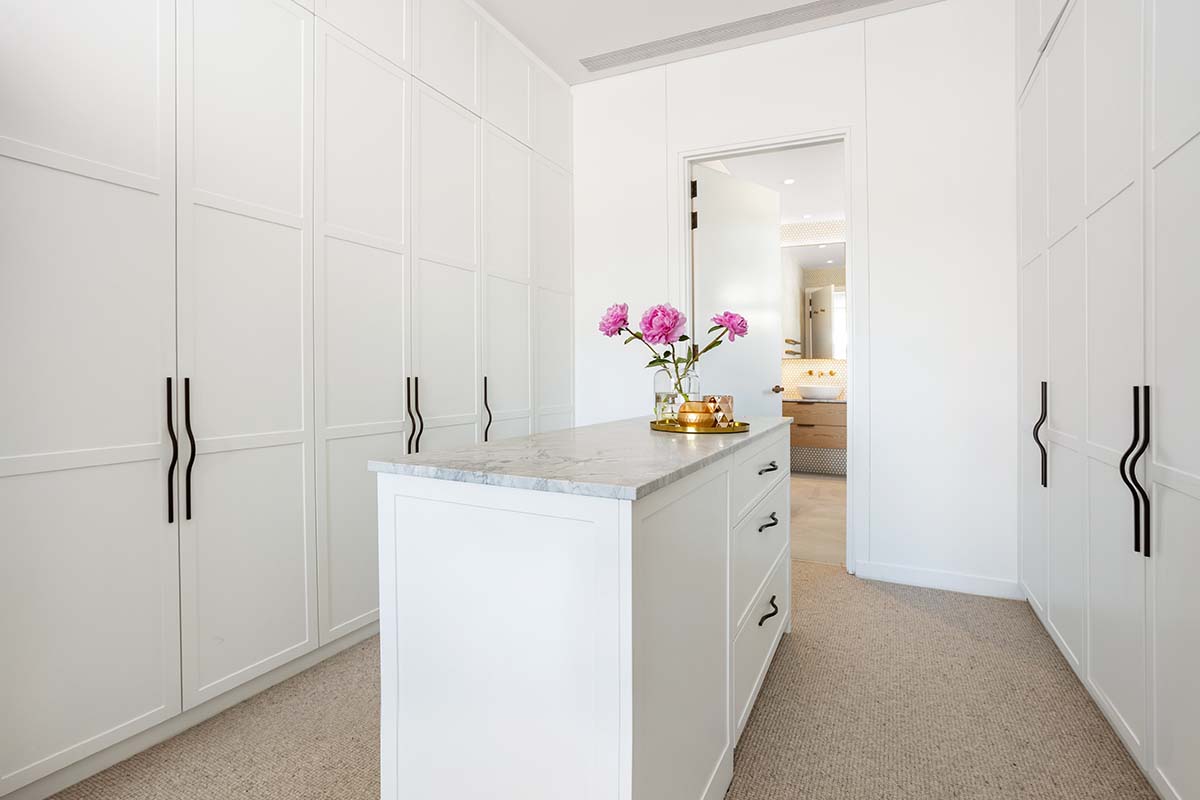 Another favourite feature for Allison is the Premium LED Verti Strip Lighting, which illuminates the contents of the closet and the Natural Oak Matt interiors is another nod to the coastal look Allison loves. "We love the lighting in the cupboards, she says. It was important that there was a switch rather than the lighting automatically turning on when you opened the doors. It means there are no pesky lights left on at night."
Wardrobe details: Exterior Doors: Montauk White Matt, Interior Finish: Natural Oak Matt, Island Benchtop: By client (for similar see Caesarstone® Noble Grey™), Handles: By client (for similar see Brave Bow Matt Black 38-M-08), Touch Catch, Accessories: Premium LED Verti Strip Lighting, LED Downlights, Tie Rack, Wardrobe Lift, Black Hanging Rails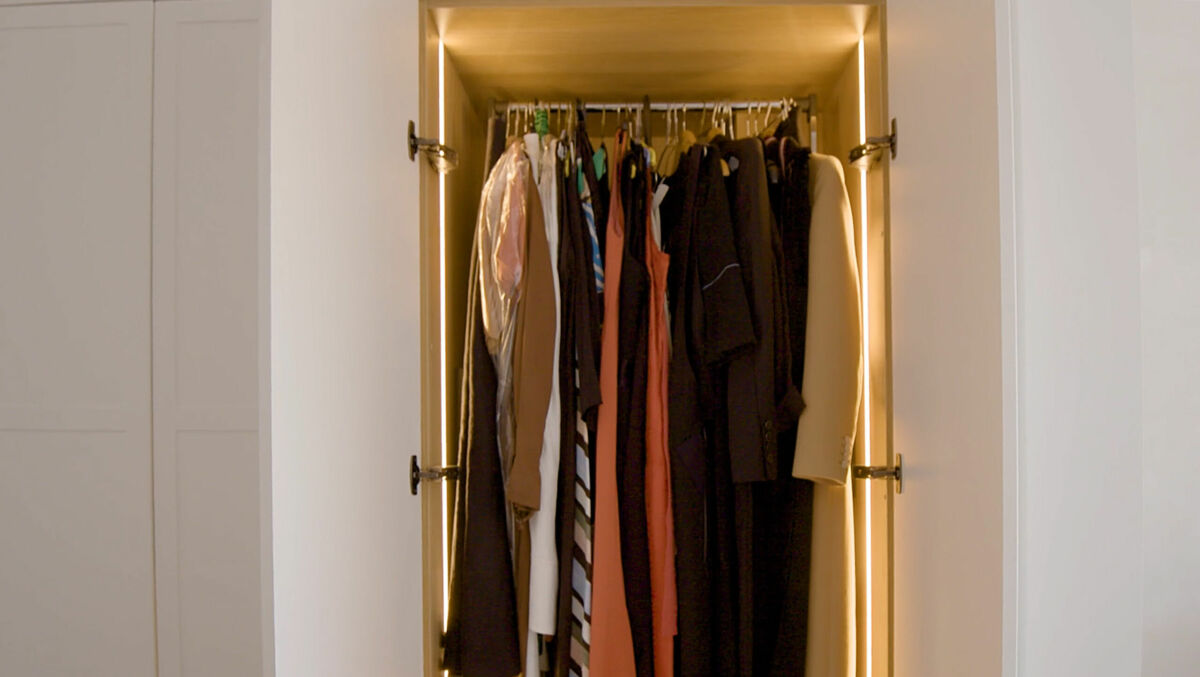 The Kinsman Experience.
"The Kinsman team was terrific, smiles Allison. I told our designer what we use the kitchen for and what a normal week for us looks like, and she pulled the design together. From there were tinkered with what worked and didn't for us. I liked it the moment it was finished. A year of hard work to see it all come together!"
Allison's best piece of kitchen renovation advice?
"My advice would be to have your concept and mood board but be guided by the experts, says Allison. My husband and I are not natural interior designers, and some of our ideas clashed with the location or amount of light we had. We found Kinsman very easy to work with."
Create your perfect coastal kitchen with Kinsman today!
For expert modern coastal kitchen advice, book an in-store, in-home, or virtual appointment. Download our Ideas & Inspiration Catalogue for more images, inspiration, and product information.
Photography: Patrick Moran
Styling: April Sharratt