How to achieve your perfect kitchen style 
Now is the perfect time to start renovating your kitchen.  One of the first decisions you will need to make selecting your kitchen style.
There are many fantastic and popular options to choose from, from Coastal and Hamptons to Urban and Mid-Century Modern. Know which one you love but not sure how to bring it to life? Or are you still trying to decide which style suits you, your family and your home? 
Your cabinetry selection- its colour, and finish- is one of the main ways you can achieve the look you love. Below we look at the hottest kitchen styles and how to create them with our door options. 
Contemporary Classic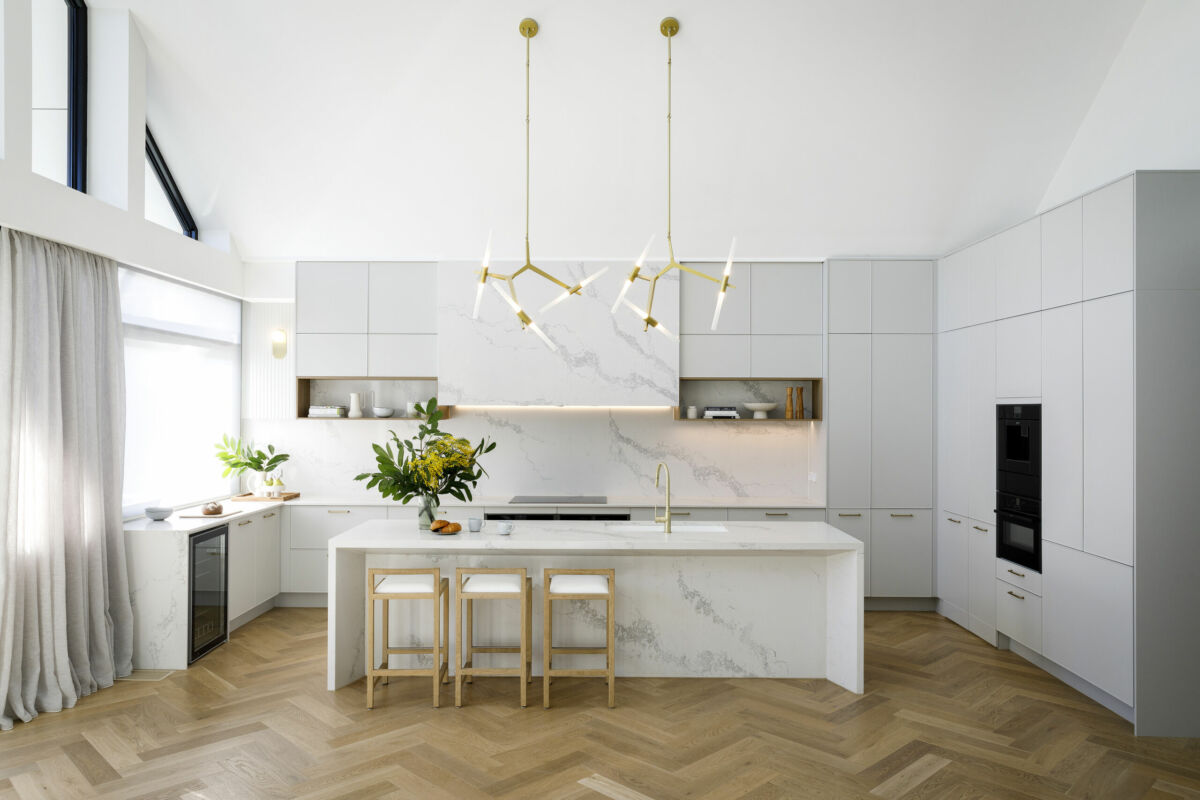 Effortlessly elegant and timeless, the Classic palette focuses on neutral and earthy tones, brass-hued accessories and Shaker-style cabinetry to create a modern version of a Hampton's, coastal or French Provincial inspired kitchen.
As alternative to a traditional, bold Shaker profile, we love our Camden door, which has an elegant and subtle thin detailing. A soft grey, such as Oyster Grey, is a wonderful alternative to an all-white colour scheme. Incorporate timber-look open shelving in Chadstone Prime Oak Woodmatt, marble-look benchtops, brass handles, and hardware to bring the look to life. 

Country Luxe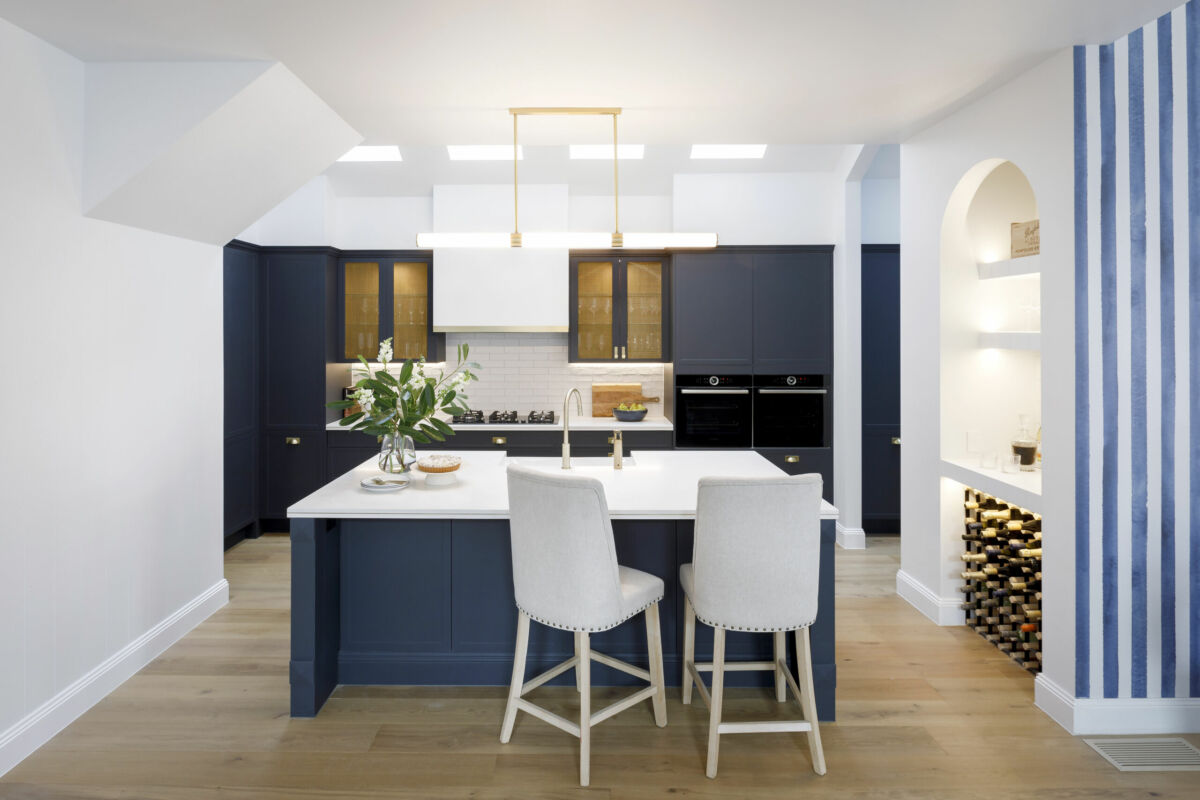 Country-inspired kitchens are becoming increasingly popular within Australian homes, and work well within city dwellings just as well as rural ones. And really, who wouldn't want to bring the warm and welcoming nature of the country into a city-based home? 
Decorative door profiles are a must in this popular style, and Shaker door profiles lend themselves perfectly to the look. However, turn up the luxe factor with inky blue joinery with a pop of brass. Montauk Ink Matt doors with Patina Mesh inserts are an exciting option, especially with marble-look benches and detailed brass handles. The Montauk door is new to the Kinsman range, featuring a 40mm rail door profile, offering a modern take on a classic look. 

Monochrome Magic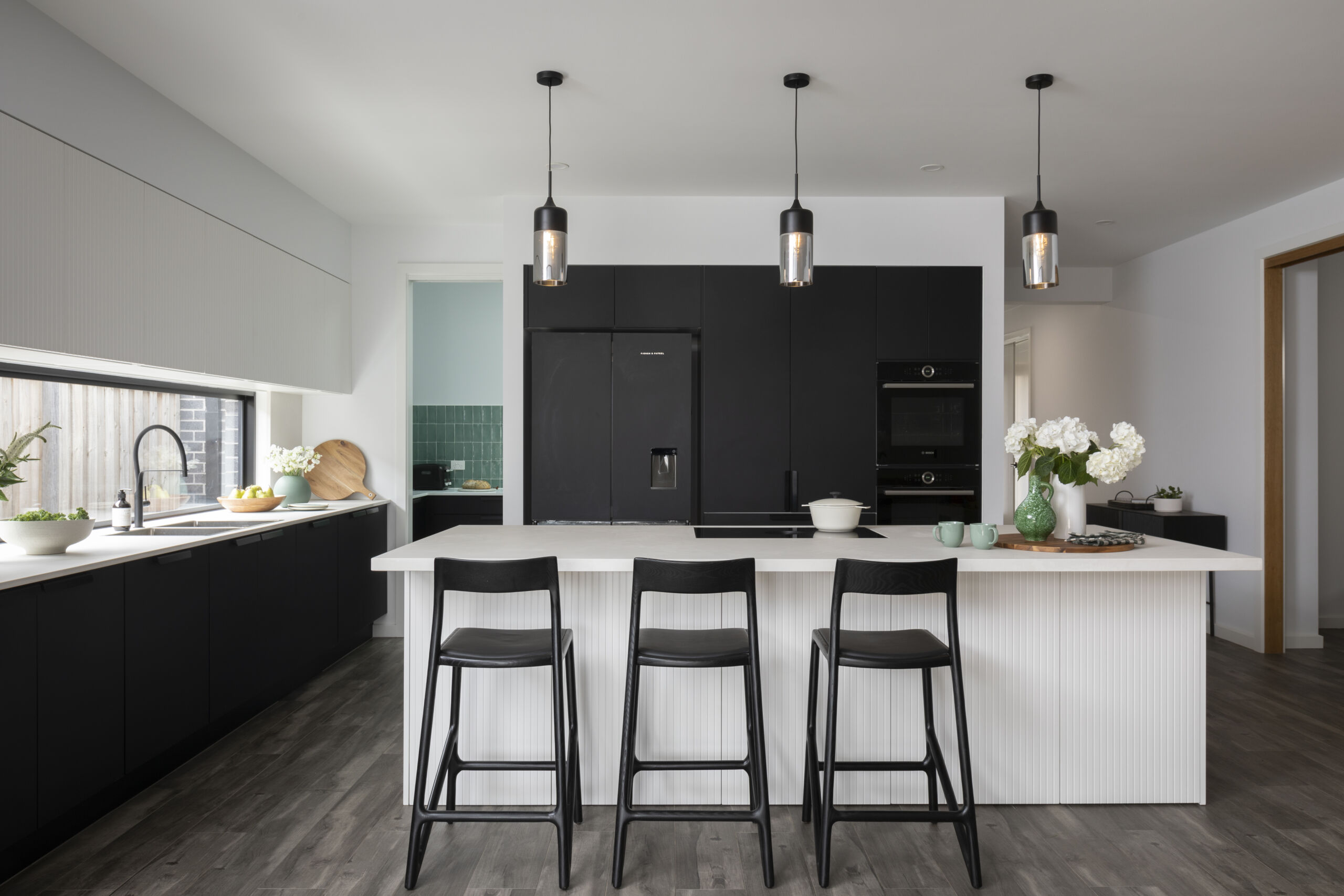 Aesthetically, the monochrome kitchen celebrates a clean style that easy to style with your favourite accessories in the kitchen.  A mixture of Artarmon Black Ultramatt and Avoca Classic White joinery, both from Kinsman, create a monochromatic palette. 
Rather than a completely black kitchen, the introduction of the vertically-fluted Avoca door provides contrast and texture. It gives the monochrome space beautiful texture and originality; sure to get many compliments about it. Matte black handles have been used on the lower cabinets while Kinsman's integrated Volpato handles have been used on the wall cupboards above the window for a sleek look. 

Coastal Beauty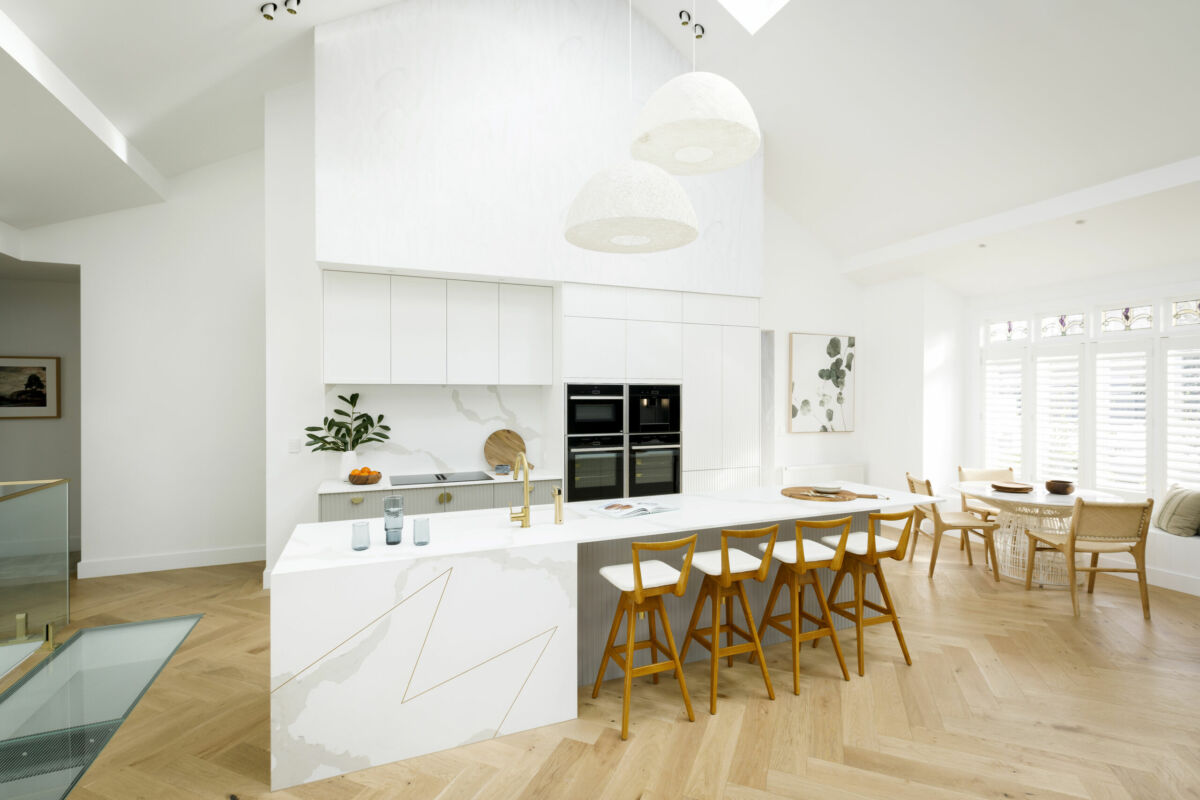 Bring the natural beauty of the seaside into your home with a Coastal-inspired kitchen. A popular style in Australian homes, there are various ways you can achieve this look. For a modern and chic take, opt for shades of white and grey in your cabinetry's colour palette. 
Our new Sorrento door evokes a coastal feel with its deeply fluted profile. A bold design, we suggest pairing it with another door style. Our new Montauk door is a beautiful option; its modern Shaker-style works perfectly with a Coastal meets Hamptons theme. Opt for a classic white colourway to allow the rest of your finishes, such as Calacatta-inspired countertops and splashbacks and brass handles, to shine through.  

Urban Cool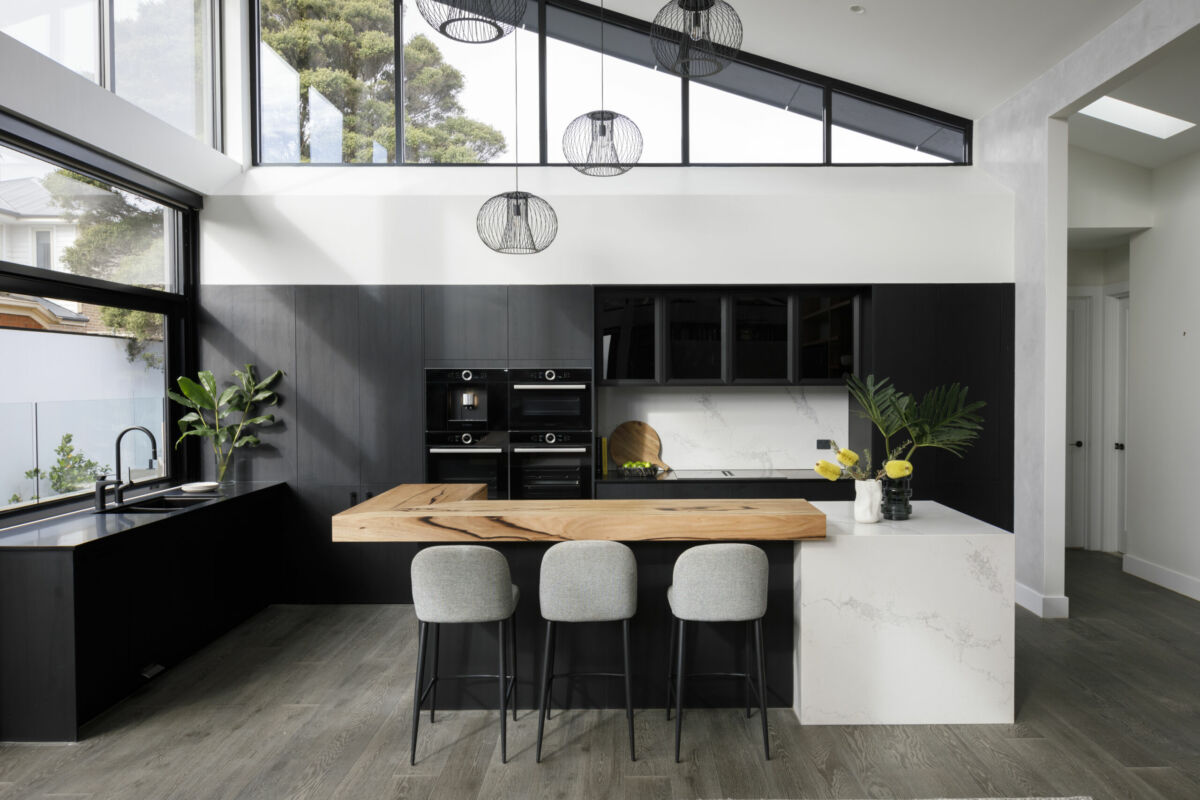 Wish to create a bold, urban kitchen style? An all-black colour palette is sure to turn heads and make a design statement. The exciting thing about black-hued cabinetry is that you can introduce different textures and tones to create a layered look. 
Not sure where to start? You may like to consider two of our new additions to the Kinsman collection. Our Ballina doors in French Dark Grain Pure Grain feature a heavily embossed dark woodgrain and look incredible when paired with black benchtops such as Jet Black from Caesarstone®. Wall cabinets in Black Aluminium Frame Doors with black-tinted Acrylic Inserts provide another visually arresting feature and are also new to Kinsman. Introduce a touch of timber to break up the banks of cabinetry while adding an element of warmth.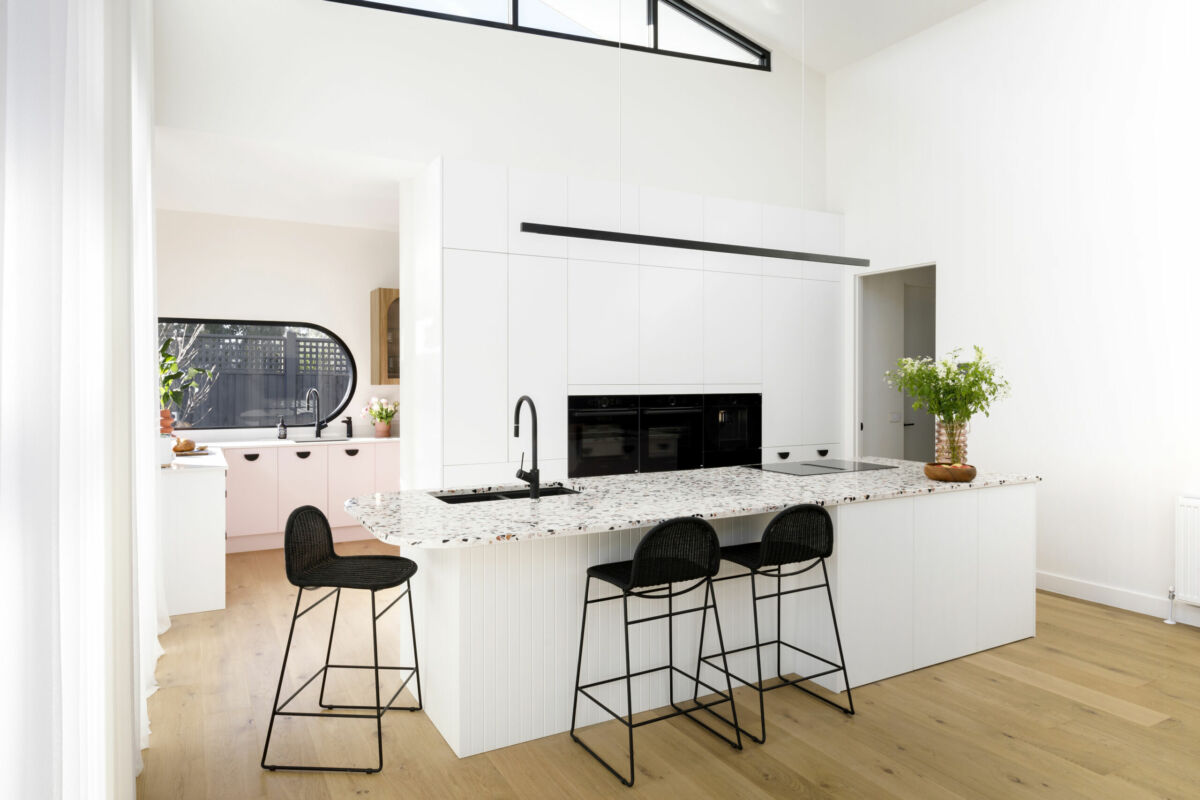 Play with texture and colour for a fresh take in a Mid-Century Modern kitchen. This design and architectural style celebrates clean lines, open floor plans, glass and a connection between the indoors and outdoors- lending itself perfectly to Australian homes. Add an Art Deco twist with splashes of colours- our brand new Ballina Rose' All Day is the perfect shade of blush pink. 
Panelled cabinets in white provide the perfect base, but why not include wall cabinets in our new Archie doors? The new 60mm Archie offers an elegant arched detail paired with Clear or Broadline Glass inserts. Select in the Prime Oak Woodmatt colourway – the timber tones are a nod to the connection to nature, while the glass inserts also complement the Mid-Century style in a modern way.